Building LGBTQ Political Power Across the Nation
15th anniversary of David Bohnett scholarship program at Harvard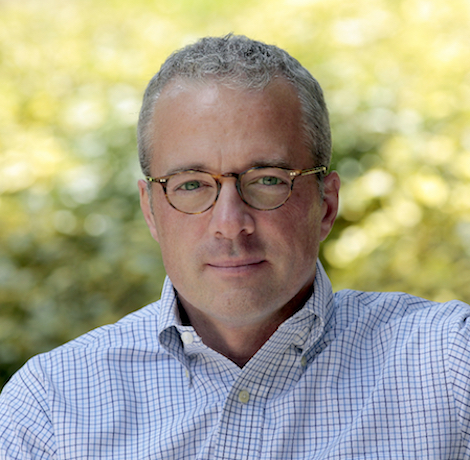 Election Night 2017 was a historic one for the LGBTQ community. Candidates across the country campaigned hard, talked to voters, raised funds, and spread their message. Their diligent work paid off. Forty LGBTQ candidates won their races. And now, more than ever, it is crucial that LGBTQ leaders have a seat at the table when critical decisions affecting our rights are made.

In 2002, at the suggestion of our good friend Fred Hochberg, a number of funders met in the Washington, D.C. home of Marylouise Oates to pool their funds to cover several partial scholarships to the Senior Executives in State and Local Government Program at Harvard Kennedy School. The program had existed for decades, but, even by its own admission, it suffered at times from a lack of diversity, including the absence of exceptional LGBTQ elected and appointed officials.

The Fellowship that the funders created was immensely popular, and it quickly became clear to all of us that a larger long-term commitment was required. Victory Institute's mission is "to change the face and voice of America's politics and achieve equality for LGBTQ Americans by increasing the number of openly LGBTQ officials at all levels of government." Its mission makes Victory Institute the perfect partner for the nation's premier leadership program; you see, as funders, it's our goal to bring like-minded folks together. This, to us, seemed a match made in progressive policy heaven.  

In 2005, the Los Angeles-based David Bohnett Foundation began to fund the program in earnest and, since then, with our investment of more than $1.7MM, the David Bohnett LGBT Leadership Fellows Program has become not simply a signature program for Harvard and Victory Institute but a great example to other funders about the power of investing in the leaders who will determine the future of our community and, indeed, our country. Designed for senior and mid-career executives from state, county, and local governments, as well as their elected counterparts, the curriculum thrives on the political expertise and real-world experience of its esteemed participants. Fellows for each class are chosen to represent a full spectrum of governmental levels, functional responsibilities, geographic distribution, and diversity in the LGBTQ community.

Funders are always asked how we measure the success of a grant. When I look at the caliber and quality of the 143 Fellows whom we've helped attend Harvard, the transformative leadership skills they've developed, and the essential relationships they've honed both in Cambridge and after they've returned home, I know that by any measure this program is a success.
This training has enabled those leaders to move forward in their careers and achieve higher levels of public service, including:
Jolie Justus – Missouri State Senate, now running for Mayor of Kansas City
Ricardo Lara – member of the California State Senate, now running for Insurance Commissioner
Annise Parker – former Mayor of Houston, now set to become President and CEO of Victory Fund and Victory Institute
David Richardson – Florida state representative, now running for Congress in 2018
Brian K. Sims – former staff counsel for policy and planning at the Philadelphia Bar Association, now a Member of the Pennsylvania House of Representatives in the 182nd district
Kyrsten Sinema – U.S. Representative from Arizona's 9th congressional district, now running for U.S. Senate against an anti-LGBTQ challenger
Lupe Valdez – Dallas County Sheriff, an elected position, now running for Governor of Texas
In the past several decades, the LGBTQ community has made significant strides in achieving equality, including the U.S. Supreme Court's overturning California Proposition 8, helping make marriage equality the law of the land; gains in employment and healthcare protections; repealing "Don't Ask, Don't Tell" in the U.S. military; and establishing the Hate Crimes Sentencing Enhancement Act.
However, in the time of Trump and its accompanying surge of homophobia, transphobia, and white supremacy, these advancements are under threat. For instance, Trump wants to reinstate a ban on transgender Americans serving in the military, while a Federal court ruled that the military must pay for trans-inclusive medical services, including gender-affirming surgeries. It is vital that we have highly skilled representatives at all levels of government to safeguard our rights – as court challenges may or may not result in positive outcomes.

We are encouraged by the recent election wins that more than doubled the number of elected openly transgender officials in the United States, creating much needed visibility for the trans community and more pressure on lawmakers to make progress on equal rights legislation.

With these landmark victories, we look forward to welcoming more trans applicants for the 2018 Bohnett Fellows program. We encourage members of the LGBTQ community to consider applying to the Harvard Senior Executives Program, three-week sessions that take place during the months of June and July. Individuals wishing to be considered should apply to both the Harvard Kennedy School and Victory Institute. See further details at victoryinstitute.org/bohnett.

The Bohnett Leadership Fellows' increasing power and influence in local, state and national governance is supported by the David Bohnett Foundation's mission to improve society through social activism by applying philanthropy strategically.
— Michael Fleming is the Executive Director of the David Bohnett Foundation
Target & Bud Light show hypocrisy of "Corporate Pride"
Bud Light & Target came under far-right fire for including LGBTQ+ people in products & advertising. The speed at which they caved? Not good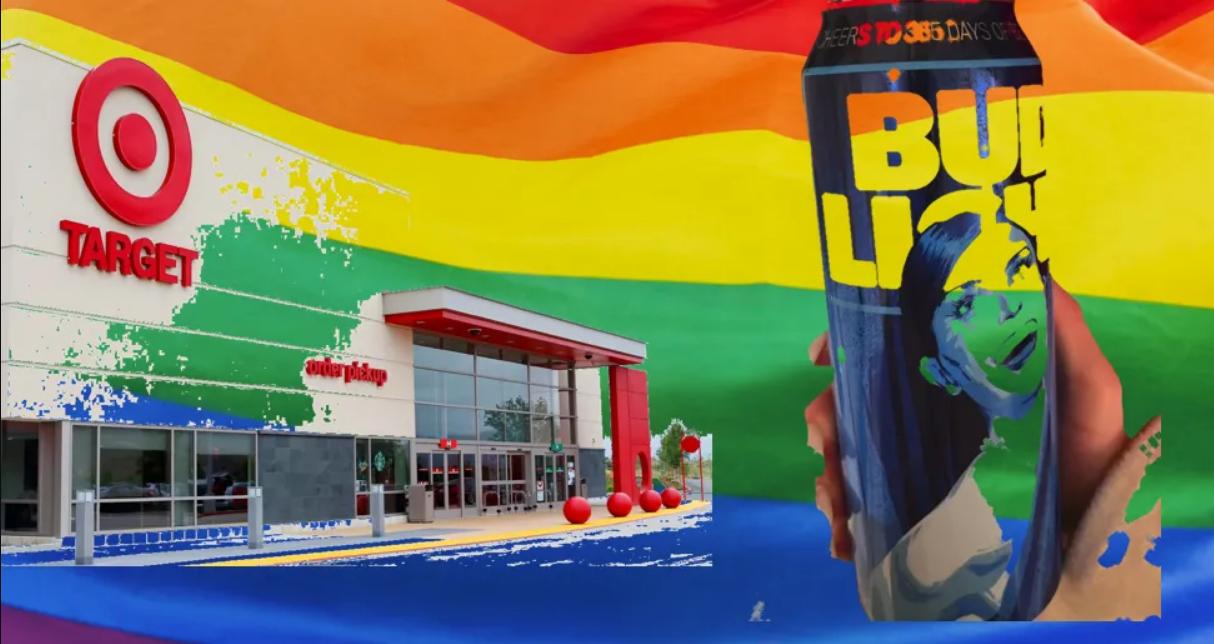 By Erin Reed | WASHINGTON – Even before Pride season has begun, evidence of corporations succumbing to far-right, anti-LGBTQ+ led boycotts is emerging.
Bud Light, for instance, recently faced pressure after featuring transgender influencer Dylan Mulvaney on its cans. The simple act incited a boycott campaign by anti-LGBTQ+ conservative activists, including Matt Walsh. In response, Bud Light placed the executives responsible for the campaign on leave.
Following this, Target faced a similar situation when it displayed its annual Pride merchandise. Calls for boycotts from the same far-right influencers ensued. Videos emerged of individuals trampling on Pride displays in stores and harassing staff members. Target's reaction was to pull several Pride items and relegate Pride displays to less visible parts of its stores.
When these companies faced anti-LGBTQ+ hostility, they backed down with little resistance. This reveals the reason why transgender people have been wary about corporatization of Pride: if corporate advocacy consists merely of rainbows that disappear at the first gust of fascist wind, it amounts to net harm. That support was never truly there.
This is all happening against the backdrop of a broader cultural climate marked by over 530 bills directed at the transgender community, withholding of medication for transgender youth and adults, bans on books featuring LGBTQ+ characters, cancellations of Pride parades, travel warnings discouraging LGBTQ+ individuals from entering certain states, and arrests of transgender individuals in restrooms.
The retreat of corporations from supporting the LGBTQ+ community, caving to anti-LGBTQ+ pressures, does more than fail to assist the community they professed to support when adversaries looked away. It actively damages the community by feeding a narrative that suggests LGBTQ+ individuals are not worth protecting.
Bud Light and Target came under far-right fire for including LGBTQ+ people in products and advertising. The speed at which they caved shows why LGBTQ+ people have warned about corporate pride.
The campaign against LGBTQ+ inclusion in stores is not grassroots, but rather a calculated move by the same far-right influencers responsible for the early anti-trans bills this year. Matt Walsh, who advised on and posted the very first anti-trans bill this year, delineated the strategy in April. His approach: "Pick a victim, gang up on it, and make an example of it. We can't boycott every woke company or even most of them. But we can pick one, it hardly matters which, and target it with a ruthless boycott campaign. Claim one scalp then move onto the next."
What followed was mass harassment and violent threats to LGBTQ+ advocates and store employees. Of Particular note is Ethan Schmidt, whose videos of walking through Target knocking down Pride signs began to reemerge. See this video from Ethan Schmidt tearing down pride signs in target, originally from 2022:
Ethan Schmidt has since promised to revive his actions, warning, "We're gonna be exposing Target… We are going to be going on hunting expeditions soon. Hunting LGBTQ+ supporters across Arizona and Phoenix." '
Numerous other videos have emerged. One person's viral tiktok expressed anger over rainbow themed and tuck-friendly clothing while going through Target racks. OAN anchor Alison Steinberg expressed dismay at cards that include two moms and two dads. Matt Walsh called for people to "make pride toxic for brands. If they decide to shove this garbage in our face, they should know they'll pay a price."
Sure enough, Target acquiesced, announcing that it would be dropping some "controversial items" and moving displays to the back of some stores. Pictures emerged of empty Pride display racks shortly after: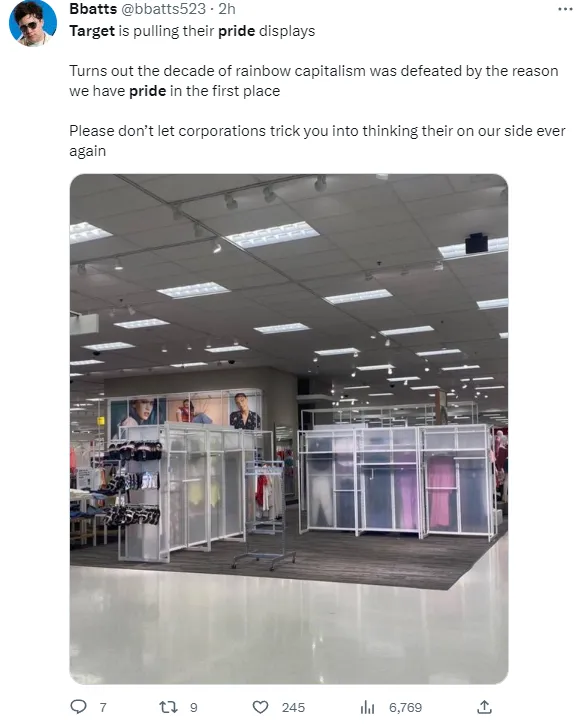 The speed in which some companies are caving to anti-LGBTQ+ sentiment shows the danger in entrusting Pride events to the care of corporations, who have no meaningful skin in the game and who are willing to pull support at moment's notice. Pride has its roots in a response to anti-LGBTQ+ oppression in 1969, particularly the raid on the Stonewall Inn.
Interestingly, both then and now, anti-drag laws proliferate and LGBTQ+ people find themselves targeted by the state and by bigotry on the streets. The first Pride was a riot, and its early celebrations were not about touting corporate advocacy or organizational support for queer people, but rather about fostering our own communities and networks to ensure that overt oppression would never prevail.
By shifting from the original spirit of Pride to Bud Light-sponsored block parties and parades filled with corporate floats where we are merely spectators rather than active participants, we risk losing sight of the essence and purpose of Pride – to forge strong bonds in the face of oppressive forces.
Target is removing LGBTQ Pride products because of terrorist behavior like this.

Yes, this is absolutely terrorism & Target should be ashamed for caving in. Just like Anheuser Busch caved in.

And people wonder why there's so much fear in our community. pic.twitter.com/0kMab9s44k

— Senator Scott Wiener (@Scott_Wiener) May 24, 2023
Moving forward, we need a new vision of Pride that is more in line with the reason Pride was first conceived. This vision of Pride should not be dependent on corporate sponsorships, but rather, should uplift the community and support the creation of social networks. Local organizations should be centered rather than multinational corporations.
This vision of pride is one where we collectively march together in solidarity and celebration and express to the world that our joy will not be eradicated. I envision a pride where local businesses are supported, where drag thrives, where our block parties truly support the locals who call those blocks home.
We must make it unequivocally clear to corporations that raising rainbow flags, only to retreat when confronted by oppressive forces, contradicts the essence of Pride. Symbols demand action to substantiate them.
Corporations wishing to demonstrate support for their LGBTQ+ employees should implement comprehensive paid family leave, include full coverage for trans-specific medical care in their insurance policies, and cease all donations to politicians endorsing anti-trans stances.
Should a company truly aim to support its LGBTQ+ employees, it must stand with queer and trans people, even in the face of harassment and abuse by right-wing aggressors. Instead of hastily retreating in the face of even a fraction of the hatred endured daily by the LGBTQ+ community from these same individuals, these corporations need to show resilient support.
****************************************************************************
Erin Reed is a transgender woman (she/her pronouns) and researcher who tracks anti-LGBTQ+ legislation around the world and helps people become better advocates for their queer family, friends, colleagues, and community. Reed also is a social media consultant and public speaker.
Follow her on Twitter (Link)
Website here: https://www.erininthemorning.com/
******************************************************************************************
The preceding article was first published at Erin In The Morning and is republished with permission.