Maxine Waters: You have a right to be angry at Trump (video)
Rep. Kyrsten Sinema and Adam Rippon also make waves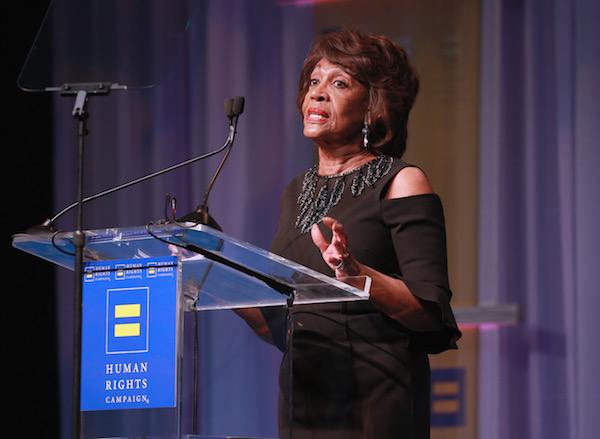 Longtime LGBT ally Rep. Maxine Waters sliced 'n diced, jabbed, up-ended and eviscerated Donald Trump at the Human Rights Campaign gala at the JW Marriott on Saturday, just as the politically hungry crowd hoped she would, calling the Republican president "one of the most dishonorable, deceitful, and despicable people ever to hold public office."
But what really happened at the HRC gala conveyed a broader message than appeared in the headlines about Waters' impassioned speech. Reactions to bisexual centrist Arizona Democrat Rep. Kyrsten Sinema, who is running for the US Senate, and non-political Olympic bronze medal winner Adam Rippon suggest that out-of-power Democrats, keen on the fierce urgency of saving a crumbling democracy, are foregoing any absolutist litmus test to win voter support in the 2018 midterms.
Maxine Waters, affectionately adopted by millennials as their "Auntie Maxine," did not disappoint audience expectations, running through a litany of Trump's crass affronts to human decency—such as pretending he was shooting hoops as he tossed paper towels at desperate Puerto Ricans seeking hurricane relief to supporting reliably accused pedophile Roy Moore in his Alabama Senate race. She also ticked off a list of "hostile overtures" toward the LGBTQ community, including the Trump/Pence proposed ban on open transgender service in the military.
Waters also pledged allegiance to special counsel Robert Mueller, who is investigating possible collusion between the Trump campaign and Russian officials to interfere with the 2016 election, as well as corruption and attempts by the administration to obstruct justice.
"I have so much faith in him. I like the work that he's doing. I organized most of the Democrats to send a letter of support," she said, going off teleprompter. "And in the final analysis I think he's going to get him. And if for some reason he is not able to get him, I'm counting on Stormy to do it."
Waters was referring to porn star Stormy Daniels who is suing Trump over a "hush agreement" about their alleged sexual affair. Daniels has taped an interview with Anderson Cooper for "60 Minutes" that Trump's lawyers are trying to block. Daniels says she'll repay the $130,000 in "hush money" to be able to speak freely. New York Times columnist Charles Blow posits that Trump's wife Melania probably knew about the hook up, which started four months after the birth of their son, Barron. The affair has made Trump's character headline news and perhaps just a tad too much sinning for his white female evangelical base.
The HRC/LA audience was primed for Waters' blistering retort to Trump, who on Saturday continued his racist attacks on the African American congresswoman at a campaign rally for a Pennsylvania special House election. "We have to defeat Nancy Pelosi and Maxine Waters, a very low I.Q. individual," Trump said, as the crowd booed. "You ever see her? You ever seen her? You ever see her? 'We will impeach him! We will impeach the president!' But he hasn't done anything wrong. It doesn't matter, we will impeach him! She's a low I.Q. individual. You can't help it. She really is."
Waters has been calling for Trump's impeachment since Trump fired FBI Director James Comey, saying in a May 2017 tweet that "Donald Trump should follow his FBI Director out the door."
Waters gave one of her most rousing calls for impeachment at the #ResistMarch in West Hollywood last June.
"He's not my president! He's not your president! He lies. He cheats. He's a bully. He disrespects us all. If he thinks he can mess with the LGBT community, he better look at what happened right here in West Hollywood! You deny, you disrespect and you will find that there are the people who have the courage to organize and to take back whatever needs to be taken back. We resist this president because he stands for the worst of everything," Waters said to almost unending applause. "I know that people may not quite be ready. I know that some are a little hesitant. I know that some are saying, 'I'm not so sure, Maxine, what you're saying is the right thing to say.' But I'm saying: Impeach 45!"
But re-taking the House and Senate is required to move beyond rhetorical and nose-thumbing resistance. That means disrupting and protesting harmful actions—and finding ways to compromise, negotiate and move the levers off full-throttle hatred. Minority Leader Nancy Pelosi is among those who want Waters to temper her protests and chill on the impeachment talk lest persuadable independents and disgruntled Republicans voters are turned off by constant opposition with no solutions.
Enter Kyrsten Sinema who is as fiercely for bipartisan outreach as Waters is for impeachment. Interestingly, while the HRC crowd salivated over Waters' fire and fury, they were also respectfully quiet, listened carefully and applauded as Sinema, the bisexual "problem solver" running for Senate in the deep red state of Arizona, espoused the virtues of bipartisanship and veered away from anything that could be misconstrued and misused against her.
Most politicos know Arizona is a must-win state if the Democrats want to retake the Senate. But it didn't hurt that Sinema was introduced by Josh Duhamel, one of the stars of gay director Greg Berlanti's new film, "Love, Simon."
In a relatively soft-spoken manner, with flashes of humor, Sinema talked about meeting people where they are in life and seeking commonality. For instance, Sinema, the first member of Congress to finish an Ironman triatholon in 2013, said she teaches a bipartisan spin class—"that's when yelling is appropriate."
But while she says both parties must work together to get something done, Sinema's also mindful of the importance of character—she says she has not nor will she take campaign money from the NRA.
"As opportunities for our LGBTQ brothers and sisters have grown exponentially over the last decade, we know there is still so much left to do," she told the HRC crowd. "It's up to us to make certain that being gay, lesbian bisexual or transgender will never again be an impediment to success. These battles will take place on many fronts. Under our new president, that has unfortunately meant returning to some of the fights we thought we left behind us," she said to applause, including "that everyone who serves in our military is treated with the respect and dignity that the uniform requires."
After acknowledging the 17th anniversary of federal Prop 8 plaintiffs Jeff Zarrillo and Paul Katami with whom he previously worked through the American Foundation for Equal Rights, HRC President Chad Griffin brought back the fun of throwing of political shade.
"We are living in a different world than we were just a couple of years ago," Griffin said. "Living through this moment can be truly exhausting. Every time we think this president's behavior can't get any more erratic, or that this vice president's attacks on our community can't get any more repugnant, it's like clockwork—a news alert lights up our phones to prove us all wrong yet again.
"By the way," Griffin continued, "have you ever wondered why Mike Pence is so obsessed with gay people? Wouldn't you love to see his brower's history?"
Then Griffin got serious, matching the political moment. "With all the insanity that comes out of Washington, it's tempting to want to simply give up. To tune out; to turn it all off," he said. "But you know what—that's exactly what Donald Trump and Mike Pence and their entire cabinet of deplorables are hoping we'll do. They want us to stop paying attention long enough for them to implement their bigoted blue print for America. But we can't give in. We can't grown complacent. We can't back down. And together we have got to keep holding Donald Trump's tiny little hands to the fire every single day."
Griffin talked about the trans activism of Blossom Brown and Sarah McBride, HRC's 24/7 rapid response team and HRC Rising, the organization's "proactive grassroots campaign" that has identified millions of LGBT voters and 52 million "equality voters," as well. Democrat Doug Jones' Alabama win over Roy Moore was "only a preview of things to come," Griffin said. "If we can win in Alabama, we can win anywhere."
Griffin's message for politicians who stand on the wrong side of history: "we're organized, we're mobilize and we're coming for you on Election Day."
Griffin also said HRC and its members must remember icon Harvey Milk's admonition to "always give them hope" and the importance of coming out. That was more that upheld by gay Olympian Gus Kenworthy, who presented his friend and fellow Olympic medal winner Adam Rippon with HRC's Visibility Award. Kenworthy noted Rippon's "graceful" skating that was also "a little bit ratchet." He said they were proud to represent the US in the Winter Olympics and while they felt love and support, they also experienced a backlash and hatred.
"But neither of us toned it down," Kenworthy said.
The crowd may have expected Rippon to comment on Vice President Mike Pence, whose call he refused to take because of Pence's support for so-called "conversion therapy" for LGBT people. Instead, Rippon riffed on Maxine Waters.
Rippon said his mother found a photo of the skater and Waters and texted him, saying "my hero." He texted her back, asking "which one?" After a comedic pause, Rippon said his mother texted back, saying: "'Good luck with your speech tonight.' So Maxine Waters—thank you for all that you do, including stealing my mother's love."
Everyone laughed. But that was it for politics, per se. Mindful of the thousands of young people who would watch the video of his remarks online, Rippon gave an intensely moving speech about coming out.
"When I was little I used to care so much about what others thought of me," the ice skater said said. "I was mindful of the way I dressed, my mannerisms, the way I talked. I was afraid people would think I was weak. I was afraid of making mistakes. I was afraid that I wouldn't be welcomed by the LGBTQ community because someone like me wouldn't be the role model they were looking for. Maybe I was too gay, and maybe I was just too myself.
"Throughout my life, I have fallen short many times. I have felt depressed. I felt not good enough. And I felt like there would never be a day where I would feel like I belong. I was living life afraid. I remember hearing the quote, 'What would you do if you weren't afraid?' I remember really hearing it, and honestly asking myself, 'What would I do differently?' I remember making the choice to be unafraid.
"I made the choice to not care what others thought of who I was," he continued. "I was going to be truly me. This was the biggest and most important decision I'd ever made: To live fearlessly. To take risks. To let go of my fear of what others may think of me, and to always keep learning. You will find that you will have your greatest success when you wear your scars proudly. Through my shortcomings and from my successes, I've learned that a champion is more than a medal. It's a mindset."
Rippon reminded many that the act of coming out as authentically who you are is a political act of courage. "[You] are smarter than you think," Rippon said. "You hold more strength than you may ever know. You are powerful. No matter where you have come from or where you are going to, there is someone who looks up to you, and they will find inspiration in your strength of just being yourself. Be a role model, and never forget that you can be someone's champion. You are a winner. When we all come together, we can change the world."
There were many in the ballroom who grasped HRC's four prong approach for the evening—unapologetic challenge, bipartisan outreach, grassroots activism, and "the personal is political" coming out stories—but perhaps none wore their politics better than Brian Pendleton, philanthropist, grassroots organizer of last year's #ResistMarch, and flashy dresser, featuring purple sequins on this Saturday night. Pendleton learned political fundraising from the late Dr. Scott Hitt, who helped found ANGLE (Access Now for Gay & Lesbian Equality). After Stonewall and the incremental successes against bigotry in the 1970s, the Religious Right was born in 1977 with Anita Bryant and Jerry Falwell's Moral Majority. The Religious Right flourished under President Ronald Reagan, who allowed HIV/AIDS to turn into a worldwide pandemic. Until the early 1990s when ACT UP and ANGLE and other groups fought back to save lives.
Millennials and students against gun violence have awakened to find civil rights activists fought for being rolled back and a callous administration too untrustworthy to be believed. And the Religious Right, thanks to Mike Pence, has a constant presence in the Oval Office. But as Teri Polo and Sherri Saum of "The Fosters" and Jen Slipakoff, mother of 8-year old trans dancer Allie, explained—the LGBT community is no longer unto itself alone.
Maxine Waters made that connection during the HRC dinner, putting this fight in historic context: "No one has done more for you than you have done for yourselves."
Then Waters named some of the gay people who "helped me become who I am today"—Morris Kight, Sheldon Andelson, Jewel Thais-Williams, Carl Bean, and David Mixner.
Every march she has gone to since November 2016, Waters said, has had one message: keep on fighting.
"I wanted everyone to know they had a right to be angry about the election of Trump—that this president is not normal—but that all is not lost. Because each of us has the power to set this country back on track," Waters said. "I feel very confident and hopeful about the future because I know there's so many people here tonight and in cities and towns across the United States who are about to reclaim their time – and reclaim this country. So we are counting on all of you to show up during the 2018 midterms and vote for people who will restore this democracy and uphold everything that we have fought for to advance LGBTQ equality."
Out U.S. Rep. introduces bill to create U.S. LGBTQ history museum
"It is vital to remember our collective past when certain states seek to constrain & repeal existing rights by passing laws that harm LGBTQ+"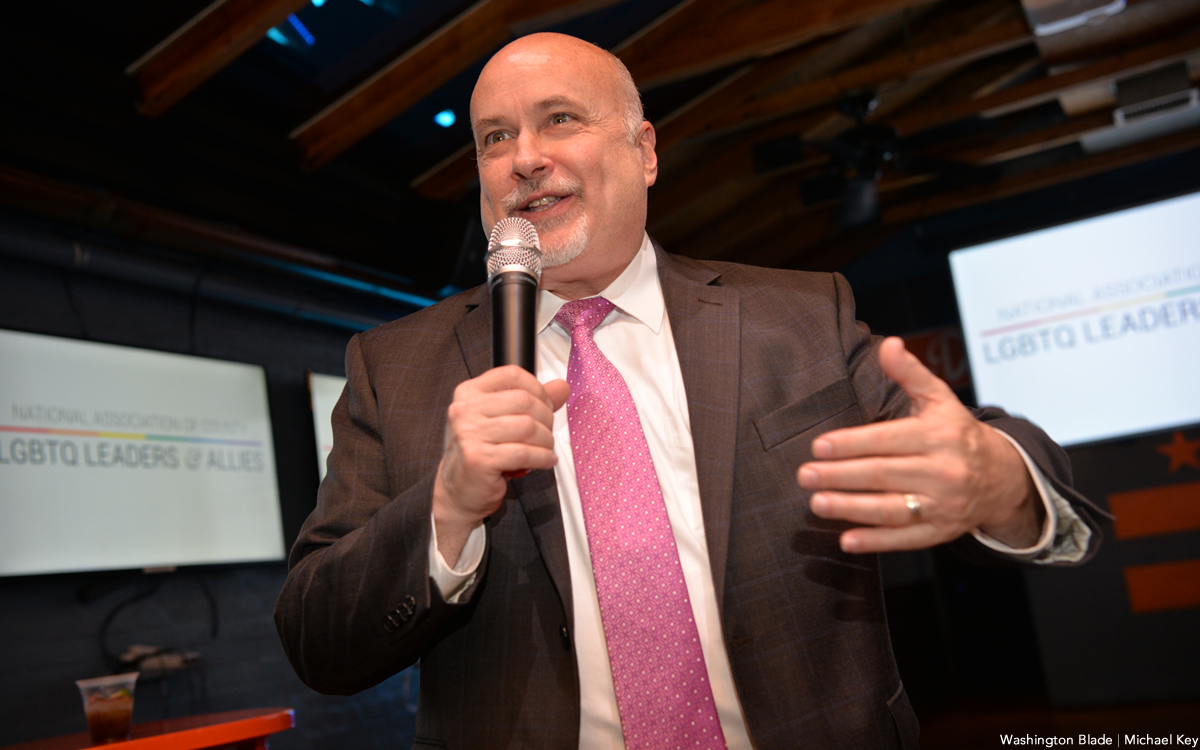 WASHINGTON – U.S. Rep. Mark Pocan (D-Wis.) has introduced legislation that would set up the process to create a National Museum of American LGBTQ+ History & Culture, potentially as an official site within the Smithsonian Institution in Washington, D.C.
Pocan, one of nine openly gay members of the U.S. House and co-chair of the LGBTQ+ Equality Caucus, said in a statement Thursday the measures would are effort to preserve LGBTQ history "as our community faces unprecedented attacks and attempts to erase our history." The pair of bills is H.R.9070 and H.R.9071.
"It is vital to remember our collective past – particularly when certain states seek to constrain and repeal existing rights by passing bills that harm LGBTQ+ youth and our community at large," Pocan said. "Let's tell these stories, and honor the many contributions the LGBTQ+ community has made to this nation with a museum in Washington, D.C."
The first bill, according to a news statement, would creates an eight-member commission of individuals with expertise in museum planning or LGBTQ+ research and culture "to look into the viability of establishing such a facility in the nation's Capital."
Among other things, the commission would be charged with recommending a plan on action for museum, including fundraising for the museum, and submitting to Congress a plan for construction of the museum, the statement says.
The bill would also instruct the commission to address whether the museum should be part of the Smithsonian Institution, based in the nation's capital and the world's largest museum and research complex, per the news statement. The full study, the statement says, would have to be completed in 18 months.
If the Smithsonian were to adopt the a museum on LGBTQ history and culture, it would be similar to other museums under its jurisdiction focused on minority populations in the United States, including the National Museum of African American History & Culture and the National Museum of the American Indian.
The second bill, according to a news statement, would be eligible for consideration by Congress after the commission completes its work and issues its recommendations and allow for formal creation of the museum. More than 50 lawmakers, including all nine openly gay members of the U.S. House, co-sponsor the legislation.
New survey shows 72% of Utah residents back same-sex marriage
Troy Williams, executive director of Equality Utah said he's not surprised to see that a majority of Utahns now support marriage equality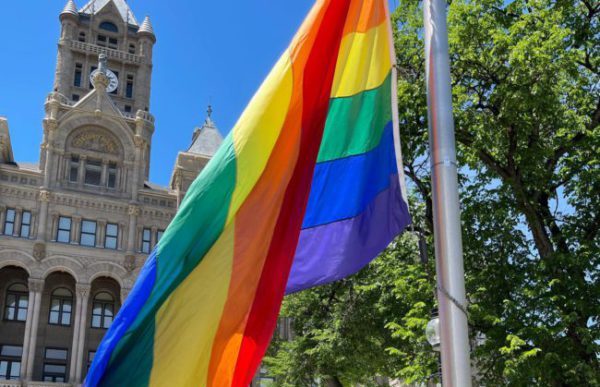 SALT LAKE CITY – The results of a poll run by the Hinckley Institute of Politics and the Desert News found 72% of Utah's residents agree that marriages between same-sex couples should be recognized by law as valid, with the same rights as cis-gender marriages.
"For a state that less than 20 years ago passed laws and a constitutional amendment prohibiting same-sex marriage, there has been a seismic shift in opinion," said Jason Perry, director of the Hinckley Institute of Politics at the University of Utah.
The Deseret News/Hinckley Institute of Politics survey also found that 23% of those surveyed disagreed, while 5% expressed that they don't know.
The poll shows Utahns are aligned with the nation as a whole on the issue. A Gallup poll in May found 71% of Americans say they support legal same-sex marriage, a new high.
Troy Williams, executive director of Equality Utah, told the Desert News that he's not surprised to see that a majority of Utahns now support marriage equality.
"Utah is a pro-family state, and we recognize that families come in all shapes and sizes. When we see loving, committed couples joining in matrimony, our natural impulse is to support and encourage that love. This gives me great hope for the future," he said.
A new poll shows nearly three-fourths of Utahns support legal same-sex marriage. | By @dennisromboy #utpolhttps://t.co/DBJHHNgmnJ

— Deseret News (@Deseret) September 30, 2022
Art spotlights people of color lost to AIDS in the South
The conference was attended by LGBTQ activists from the South, featured 100 quilt panels. Attendees participated in quilt-making workshops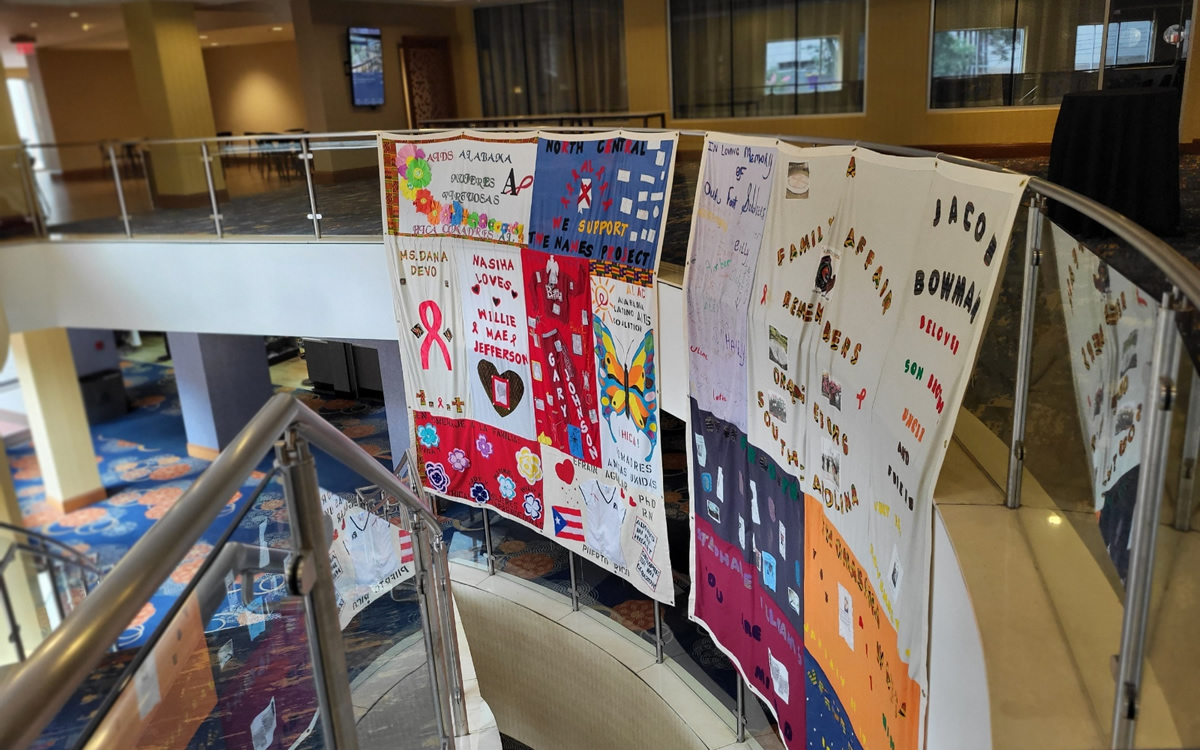 JACKSON – The National AIDS Memorial has joined forces with the Southern AIDS Coalition to stage a series of art exhibitions and educational forums to honor Black and Brown people in the South who have been lost to HIV/AIDS.
The initiative, titled Change the Pattern, began in Jackson, Miss., on Wednesday with curated quilt exhibitions, displays, educational forums, advocacy, storytelling and quilt-making, according to a press release from the National AIDS Memorial. A $2.4 million grant from the biopharmaceutical company Gilead Sciences, Inc., funded Change the Pattern.
More than 500 hand-stitched quilt panels from the area were featured in what the National AIDS Memorial says is "the largest display of the AIDS Memorial Quilt ever" in Mississippi.
"By creating an empowering message and safe spaces for conversation, we can uplift, inspire and make progress toward ending the HIV epidemic, challenge cultural stigmas and continue the legacy of advocacy that the quilt represents," said National AIDS Memorial CEO John Cunningham in the release.
Change the Pattern was announced in honor of Southern HIV/AIDS Awareness Day during the Southern AIDS Coalition's annual Saving Ourselves Symposium that took place in August.
The conference, which was heavily attended by LGBTQ activists from the South, featured 100 quilt panels, and attendees participated in quilt-making workshops to make new quilt panels representing their loved ones.
Interested LGBTQ advocacy organizations in the South were invited to apply for funding to support local quilt-making workshops in their communities so as to ensure that the legacies of Black and Brown people are captured through newly-sewn panels on the quilt through the Memorial's Call My Name program, according to the National AIDS Memorial press release.
The application process opened on Sept. 15 with up to 35 eligible organizations receiving as much as $5,000 to support hosting local workshops.
The first major Change the Pattern Quilt was founded 35 years ago as a visual representation of the need to end stigma and provide equitable resources to communities most impacted by HIV/AIDS, according to Southern AIDS Coalition Executive Director Dafina Ward.
"Change the Pattern is a call to action and change in the South," said Ward. "Quilt-making has such a deep cultural connection in the Black community and in the South. The sharing and telling of these powerful stories through the quilt, coupled with advocacy and open dialogue, can help end HIV-related stigma and bring the stories of those we've lost to light."
As the Change the Pattern initiative occurs, conversations about how to handle health epidemics within LGBTQ communities of color have become national topics, especially with the prevalence of monkeypox cases amongst Black gay men.
Despite earlier panic about the disease, the Centers for Diseases Control and Prevention in a report released on Wednesday said that individuals who were vaccinated against the disease were less likely to be affected over the summer compared to those who weren't.
The effectiveness and duration of immunity after a single dose, however, is not known, and few individuals in the current outbreak have completed the recommended two-dose series, according to the report.
The most recent CDC data reports that 25,509 monkeypox cases have thus far been confirmed in the U.S. Only one death has been reported.