Meet the LGBT staffers — the power behind the lawmakers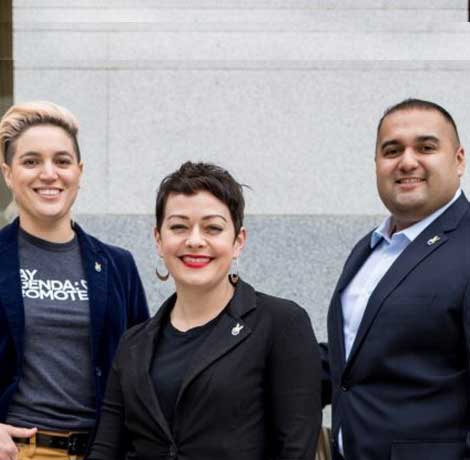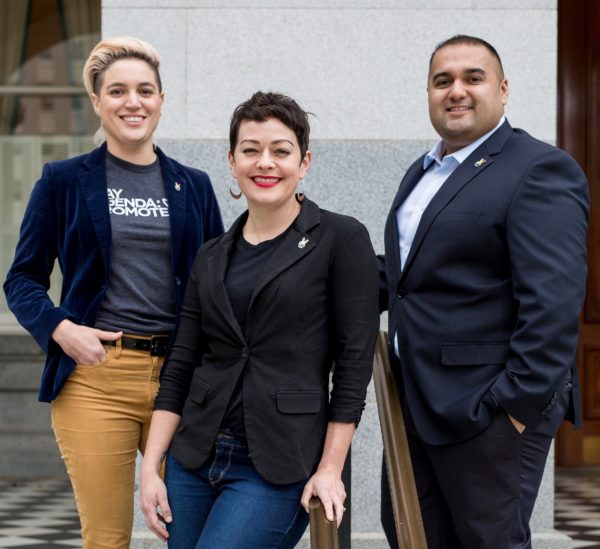 January 20, 1961. Thousands of young people gathered around their television sets to watch John F. Kennedy, America's second youngest President, deliver his stirring Inaugural Address. 
"We dare not forget today that we are the heirs of that first revolution. Let the word go forth from this time and place, to friend and foe alike, that the torch has been passed to a new generation of Americans," said JFK, 43, glowing in that cold winter day. "And so, my fellow Americans: ask not what your country can do for you — ask what you can do for your country."
Awakened to the heartbeat of patriotism, young people rushed to join the Peace Corp or find or create other noble ways to be of public service. Everything felt new. Splashes of color emboldened the counter-culture movement to wiggle like a butterfly out of the black and white conformity of the 1950s and indulge in a fresh freedom of expression.
Almost 57 years later, a new generation—including LGBT youth—is emerging out of stultifying siloes manufactured by the privileged to contain thousands of young people straining to be free from biased rules and outmoded definitions of progress. Many of these young people seem invisible – and yet they are the power behind the lawmakers and being of service in a country in which everyone, theoretically, is equal under the rule of law. And in California, the next generation of lawmakers is welcome.
"Engaging millennials in the political process – whether through voter registration and participation, or by promoting them to senior leadership roles in our government is good for the future of California. I'm fortunate to have talented, hardworking advisors whose diverse backgrounds and perspectives make me a better Secretary of State," Sec. of State Alex Padilla tells the Los Angeles Blade.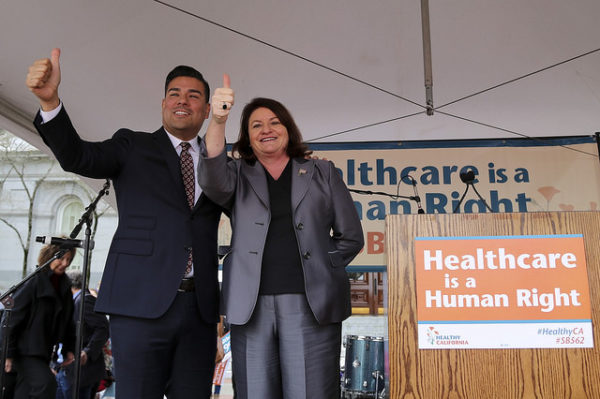 Out State Sens. Ricardo Lara and Toni Atkins introduce Healthcare for All bill (Photo via Facebook) 
And today, young new heroes like Ricardo Lara—who came out at San Diego State "ready to fight"—have worked hard and risen through the ranks, proudly representing both the LGBT and Latino communities. On Nov. 6, he made California history becoming the first openly gay man elected statewide as Insurance Commissioner.
"Growing up when California Republicans like Gov. Pete Wilson were leading the charge against people who looked and loved the way I do was a rude awakening," Lara tells the Los Angeles Blade. "My parents had come to the U.S. without papers and became citizens. I felt like this was my country, but the hatred made me feel like a stranger. As a student I joined the campaigns against laws to deny undocumented immigrants the place in our society they had earned through their contributions to our state. That led to me to seek out mentors who stood against bigotry, and when I had my chance to run for Assembly, I took it."
There was never a question that Lara would run for office "open and unabashed. As Harvey Milk said, 'burst down the closet doors once and for all, stand up and start to fight,'" Lara says. "I had the opportunity to work with brave leaders like Marco Firebaugh, who wrote the law treating undocumented students the same as Californians in college admissions. He proudly represented people who had never had a voice, making sure that gender or immigration status was no obstacle to their success. After I was elected I got to go back to school as a David Bohnett LGBT Leadership Fellow, where I met other young leaders dedicating themselves to serve."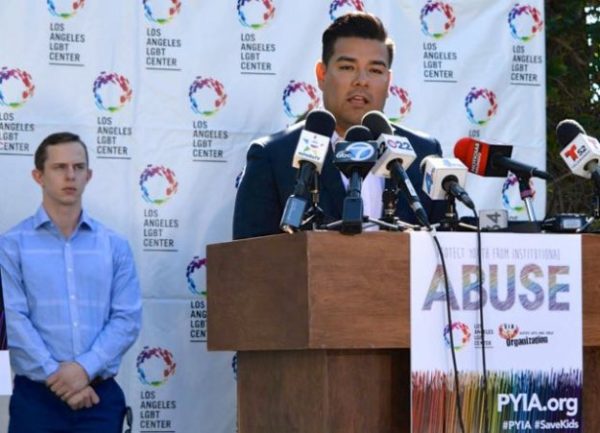 Sen. Ricardo Lara's SB 524, "Protecting Youth from Institutional Abuse Act," regulating the "troubled teen" industry was signed by Gov. Brown in Oct. 2016 (Photo by Karen Ocamb)
Lara now gives back what he received. "I am always excited when a new leader is elected who has never served before, at whatever level. As those who have walked this path, it's our job to remind them that being courageous in their actions is the way to be true to the people who elected you," he says.
"I didn't grow up knowing about Bayard Rustin or Harvey Milk. But when I finally did, the lesson I took was that we can't treat our history as separate from others'. We have to intertwine our efforts for LGBT equality with those of immigrants and their children, women, people living in poverty, African Americans. That's how we will achieve justice," Lara says.
Lara is humble about his own achievements. "Making history as the first LGBT leader elected statewide in California history is humbling. It tells me we have a long way to go to deliver on our values. We will truly make history when that is no longer a question any LGBT person has to answer," Lara says.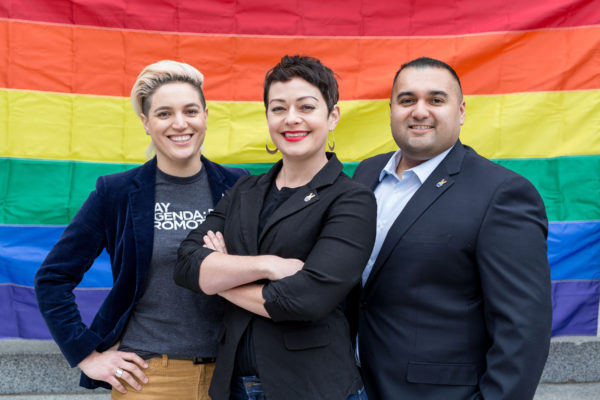 Alina Hernandez, Carrie Holmes, Jesse Melgar (Photo courtesy JZSquared Photography)
Today, young LGBT staffers include Deputy Secretary of State Jesse Melgar, 31, Legislative Director Carrie Holmes, 39, and LGBT Legislative Caucus consultant Alina Hernandez, 32. LGBT staffers also work in the executive branch, the state senate, the state assembly and as advocates — out government operatives who work on the inside of California's halls of power, with over 100 bright LGBT minds influencing public policy across the golden state each day.
Melgar is already a political veteran. A former communications director for Equality California, the California Latino Legislative Caucus and Lara in 2016, Padilla appointed him Deputy Sec. of State and Chief Communications Officer to serve as a key player advancing Padilla's voting rights agenda.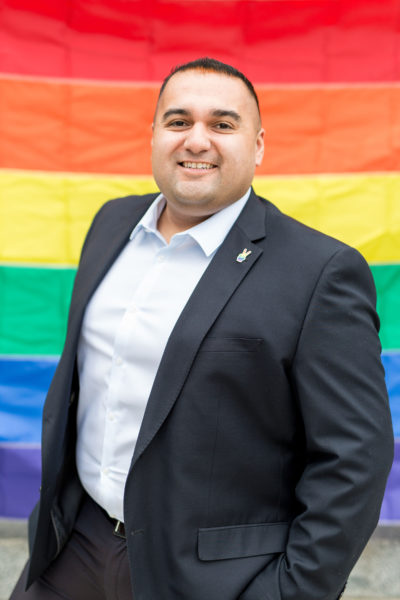 Jesse Melgar (Photo courtesy JZSquared Photography)
"If we don't step up, we get stepped on. When we think about immigrant rights, LGBTQ rights, voting rights – they are all won or lost depending on how active and engaged our communities are," Melgar tells the Los Angeles Blade. "I saw this growing up, studied civil rights and inequality in college, and decided to turn my passion for social justice into a career in public service. Having diversity in all levels of leadership is important, particularly considering the current national political climate."
Melgar was inspired by mentors. "I am where I am today thanks to the support of my family, my partner and incredible bosses and mentors who have supported me throughout my career. I've had a front row seat learning from bold leaders like Secretary of State Alex Padilla, Insurance Commissioner-elect Ricardo Lara, Riverside Assemblyman Jose Medina and so many others. It's inspiring to see leaders who look like you, from similar backgrounds, defy odds and obstacles and lead with authenticity, heart and purpose. It's humbling when bosses take the time to show you the ropes and help you realize your own potential."
Melgar recognizes his responsibility to mentor others. "Someone pushed the door open for us so it's on us to keep those doors open," he says. "This is particularly true for LGBTQ staff who maybe weren't comfortable being out at home or in their communities or at previous jobs. By fostering an open, accepting environment that values diversity, we invite younger staffers to bring their full selves to work. We show them that their perspectives matter and that they are valued members of our teams, as they are."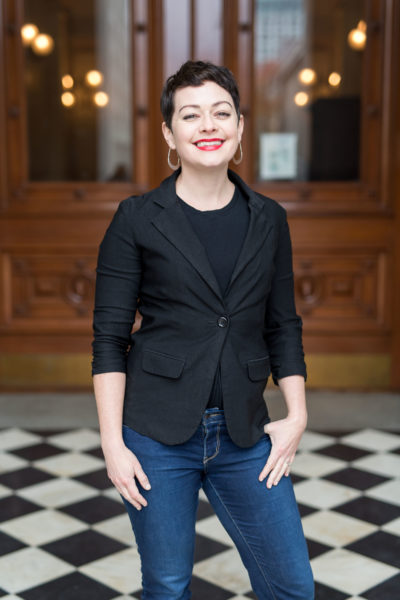 Carrie Holmes (Photo courtesy JZSquared Photography)
Carrie Holmes, Legislative Director for Sen. Jim Beall and President of the Capitol LGBTQ Association, says she's a couple of years too old to be a millennial. "But I got a late start in my career so I'm generally in the millennial peer group." Two personal goals: "I want to get my deadlift up to 300 pounds this year, and get a full night of sleep (I'm not joking, I have an 8-month old baby)."
Holmes says the Capitol Lesbian, Gay, Bisexual, Transgender and Queer Association, founded in 2017 by Bish Paul, an Assembly staffer, is the first non-profit LGBTQ staff association in the country. "Any individual who has expressed an interest in public policy and is-or wants to be- engaged in statewide policy is welcome to join. Our membership includes legislative and administration staff, lobbyists, and policy stakeholders. Our purpose is to recruit and retain LGBTQ individuals, and provide professional development and networking opportunities."
The Association hosts a number of events, provides an immediate support system for new LGBT staffers, started the Rainbow mentors program "to connect seasoned career folks with those either looking to start working in policy or looking for a career change."
"I think, within the LGBTQ community, we must take the time to reach out and open doors for others," she says, "especially in the policy and political realm. It can feel like a very exclusive space and those of us working here need to look around, see who isn't represented, and make the changes needed."
Holmes was motivated to get involved in politics by working in non-profits and educational settings. "I kept running into problematic state laws and funding streams," she says. "I realized how much it mattered who was in power, and became interested in being part of the process of shaping the laws. I got into this path as part of the Capital Fellows program in 2010, and I was the only queer person in my fellowship class. Every one of us has been in the position where we are the only person around who can speak to how a vote, a law, an amendment could impact the queer community or other vulnerable populations.
Holmes intends to step back from the Association this year and is encouraging younger board members to take leadership roles.
"I want to see the influence of queer people of color grow. We want to create a paid internship or fellowship program targeted to the LGBTQ community," Holmes says. "Too many people have to work for free to get their foot in the door, and that just re-enforces existing privilege and power. I want to see Trans women of color hired in the Capitol. And elected. We are chipping away to make the culture more inclusive—we collaborated with the Caucus and leadership in the Legislature to get changes to the dress code and include pronouns on business cards. These are small steps. We want to make our reach broader to include folks working across the state, not just Sacramento."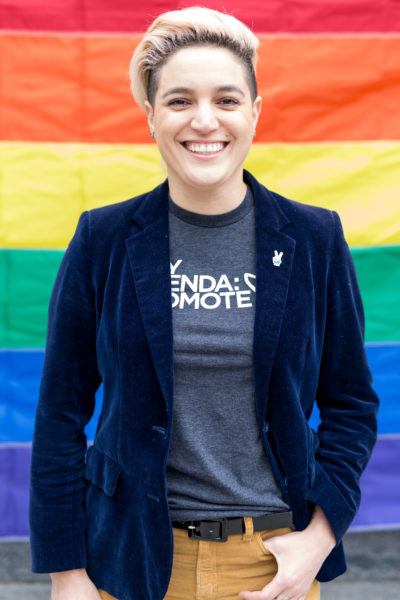 Alina Hernandez (Photo courtesy JZSquared Photography)
Alina Hernandez, 32, is the fierce, funny, former techie consultant to the California Legislative LGBT Caucus whose primary goal is to live a happy life.
"I'm a professional gay," Hernandez says. "I am the manager/agent of the most badass group of openly LGBT elected officials California has ever seen. I'm a little biased."
In 2018, she staffed numerous LGBT specific legislative bills and resolutions, managed listening tours, appointment workshops, and "I helped to facilitate obtaining the option for capital staff to choose to add their preferred pronouns on business cards. At the end of the day, I will go to battle for what is right and inclusive," which she sees as a community effort.
How Hernandez got into politics is a funny question to answer.
"Short answer, Trump! Long answer, after high school, I started to study graphic design with a heavy focus on typography. That soon turned into a career in tech as a hardware/software support technician. After many years of fixing computers, cleaning dirty keyboards, and truly enjoying life as a techie, I was searching for something new," she says.
"Fast forward to January of 2016, I am sitting at a bar in Vegas by myself while I was waiting for a friend to get off work. I sat next to this guy who ordered the exact same sample beer selection as I did. We bonded over this and soon our conversation turned from beer to life," Hernandez says. "He gave me this great idea to create a political app. I wasn't heavy into politics, but I did know technology. I pondered this idea for a while and searched for people to help with this project. I ended up putting that on the back burner.
"In the meantime," she continues, "I created another small business helping baby boomers bridge the gap between technology and themselves. It was great! You would not believe how excited people get when they learn how to use emojis or FaceTime for the first time. I could feel the ground starting to move under my feet and I was looking around for my next big adventure."
Hernandez doesn't know where she'll be in 10 years. "I'll always end up where I am supposed to be," she says. "A great friend once said to me, 'treat everyone like a celebrity because they are.' Truth be told, I received a text message that said, 'California Legislative LGBT Caucus Consultant? You were made for this job.' I put aside my fear of attempting something I had no experience doing and went full speed ahead. I had no idea what I was getting into or what to expect, but I knew the universe brought this position my way for a reason."
Hernandez's Caucus job means she takes lots of meetings, including with "conservative activists who think my very existence is a sin in the eyes of God," she says. "I also take meetings with people who are struggling to come out or want to share their experiences about being LGBT in this political climate. People trust me with their secrets that they have sometimes not even told their own family. In no way is this an easy job—it takes time and patience. This job cannot be defined by a duty statement."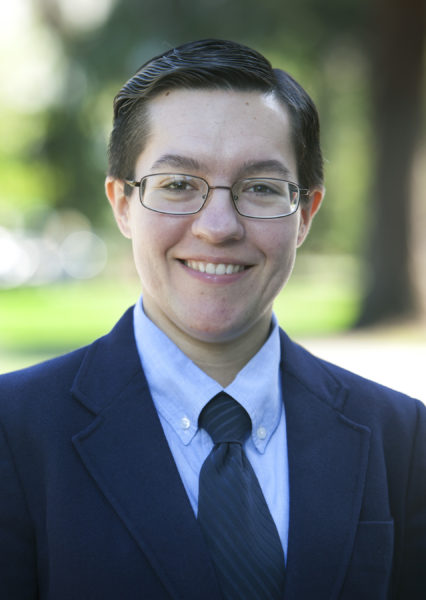 Jo Michael (Photo courtesy Jo Michael)
Jo Michael, 32, Equality California's legislative manager, knows these stories, having helped shepherd through more than 25 successful pieces of sponsored legislation that included educating lawmakers and the public about LGBT policies, especially regarding the transgender community.
"It's particularly challenging in the context of doing legislative work in the Capitol," Michael told his alma mater, McGeorge School of Law. "That can be a significant hurdle…to make clear there is no 'gay agenda.' It's about making sure people are not discriminated against and not excluded from the places other people enjoy access to on a regular and daily basis. It's about equality and being able to have justice as opposed to being able to have anything that's special or different."
Michael, named one of the Best LGBT Lawyers under 40 by the National LGBT Bar Association in 2015, has been working to advance social justice and LGBTQ civil rights since he co-founded his high school's first Gay-Straight Alliance.
"The roads to many of the advances the LGBTQ community has achieved show that LGBTQ people being open and visible helps change hearts and minds. I've been so inspired to see and to be a part of the impact of openly LGBTQ staff in the Capitol community and to advance Equality California's legislative program in Sacramento for 6 years," Michael told the Los Angeles Blade on Dec. 7, his final day at Equality California.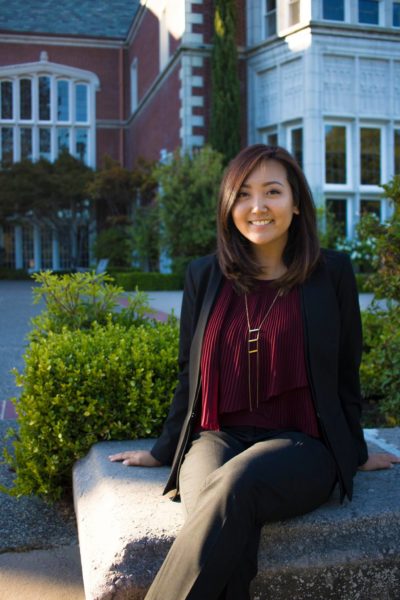 Elle Chen (Photo Elle Chen)
Elle Chen, 23, Legislative Aide to Assemblymember Wendy Carrillo, has also served as a Senior Fellow in the State Senate, consulting on public safety and other policy areas. She has a sense of both the fresh perspective young LGBT staffers can bring to public service, as well as the passion creating the arc of history that led them to the Capitol.
Chen is an Association member for whom intersectionality and interest in a diversity of issues is a given. She is among the new LGBT generation to whom the torch is being passed, answering the call to serve her country, her state and the people.
"You stand on the shoulders of those who come before you," Chen tells the Los Angeles Blade. "Let history inform your policy perspective and acknowledge the narratives that still have yet to be heard."
For more information about the Capitol Lesbian, Gay, Bisexual, Transgender and Queer Association, visit their website at CapitolLGBTQ.org. Here are just some of their members. (All photos provided by the Association or from their Facebook page https://www.facebook.com/CapitolLGBTQAssociation )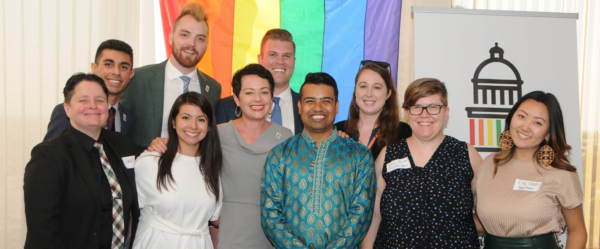 Capitol LGBTQ Association Board
President: Carrie Holmes
Vice President: Deepen Gagneja
Communications Director: Nicole Restmeyer
Treasurer: Brandon Bjerke
External Affairs Director: Biswajit "Bish" Paul
Membership Director: Sean Connelly
Events Director: Sage Warren
Community Outreach Director: Erica Porter
Operations Director: Monica Montano
Fellows & Intern Liaison: Elle Chen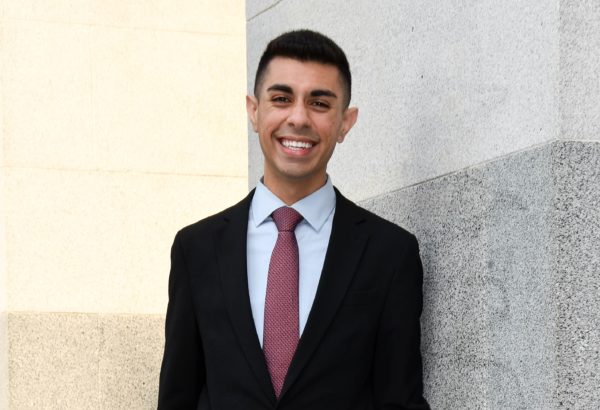 Deepen Gagneja
Age: 24
Senior Legislative Advocate, California Immigrant Policy Center
"It is vital that we acknowledge the intersectionality of the LGBTQ community and advocate for all who face injustice. As a former Capitol staffer, I learned that it's so important to infuse your personal experiences into policy and earn a seat at the table where decisions are made."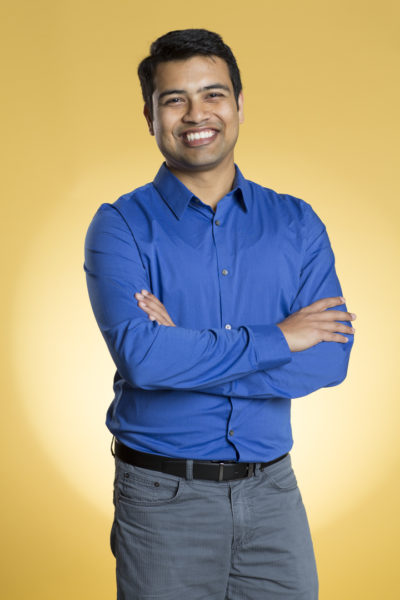 Bish Paul, PhD.
Age: 33
State Policy Manager, TechNet
"As an immigrant, gay, scientist and person-of-color, I have found that often times intersectional voices are missing in our LGBTQ and policymaking communities.  I was the founding President of the Capitol LGBTQ Association since I believe that to be given a seat at the table we need to step up, organize, and demand equity."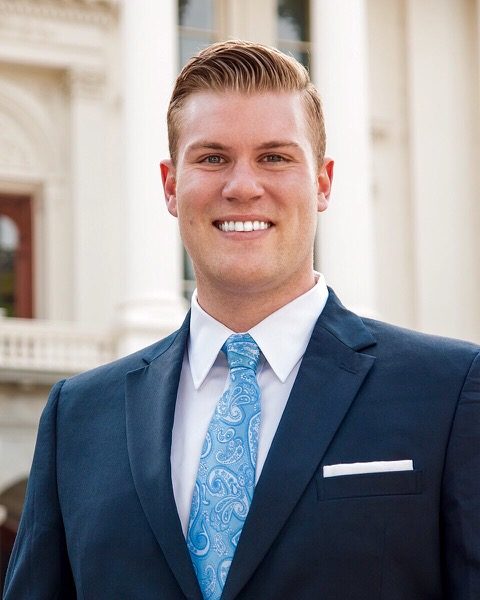 Sean Connelly
Age: 29
Capitol Director, Assemblymember Freddie Rodriguez
"Working in public policy is a great privilege, every day presents a new set of challenges to tackle and problems to solve. It is humbling to know that your work will, hopefully, have a positive impact on someone's life. As LGBTQ+ people, we are acutely aware of how critical politics and public policy is to building the world we want to live in, not necessarily the one we have today."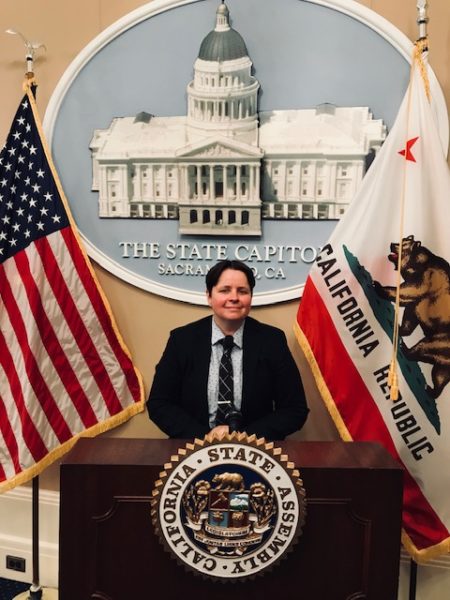 Sage Warren
Age: 29
Victim Services Case Manager, Sacramento LGBT Community Center
"As a social worker, a parent, and an LGBTQ policy advocate, I have learned the importance of fighting for my community's values and protecting its integrity with every opportunity that arrives."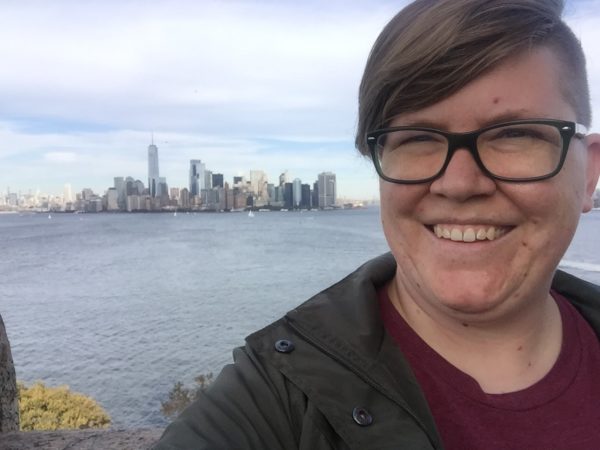 Erica Porter
Age: 27
Committee Assistant, California State Senate Judiciary Committee
"It's really important for queer folx in politics to stay connected to our community and our history. What's the point of being in the room where it happens if you can't bring your community with you?"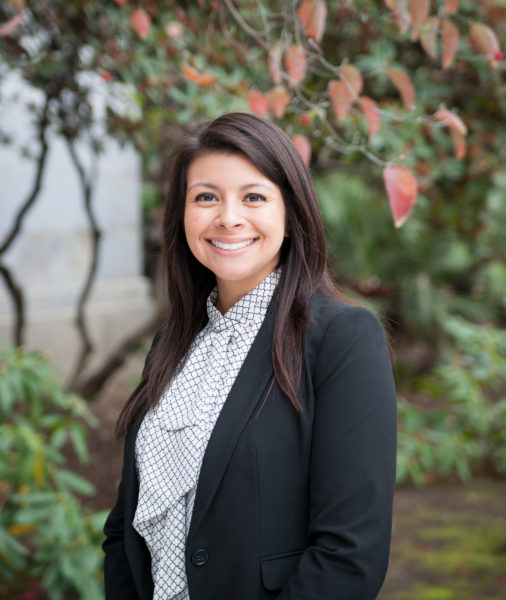 Monica Montano
Age: 29
Graduate Medical Education Director, Physicians for a Healthy California
"It was an absolute humbling experience working within the Capitol and knowing that your work directly impacted all Californians and sometimes the nation."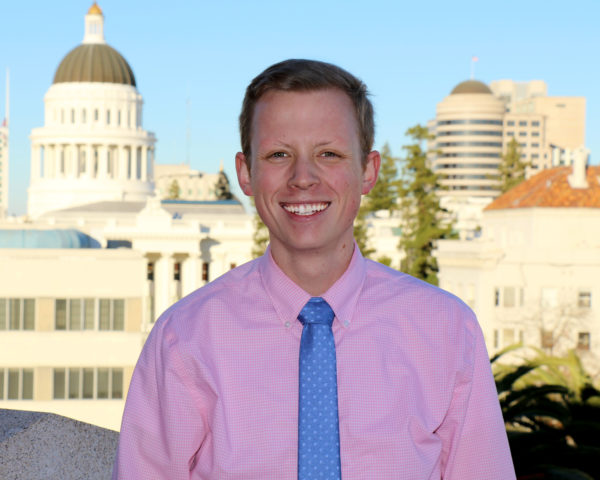 Chris Miller
Age: 23
Press Assistant, California Secretary of State
"Decades of struggle and hardship have made it possible for me to be out in the workplace. While this is not the case in every state, I am proud to serve the State of California as an out gay man. I know that being out at work sends the message that it's okay to be who you are, and I hope to serve as a mentor to those young gay people entering the workforce."
ACLU asks investigation of Texas school districts anti-trans policies
Frisco ISD's new bathroom policy & Keller ISD's ban on books referencing gender violate federal rules prohibiting sex-based discrimination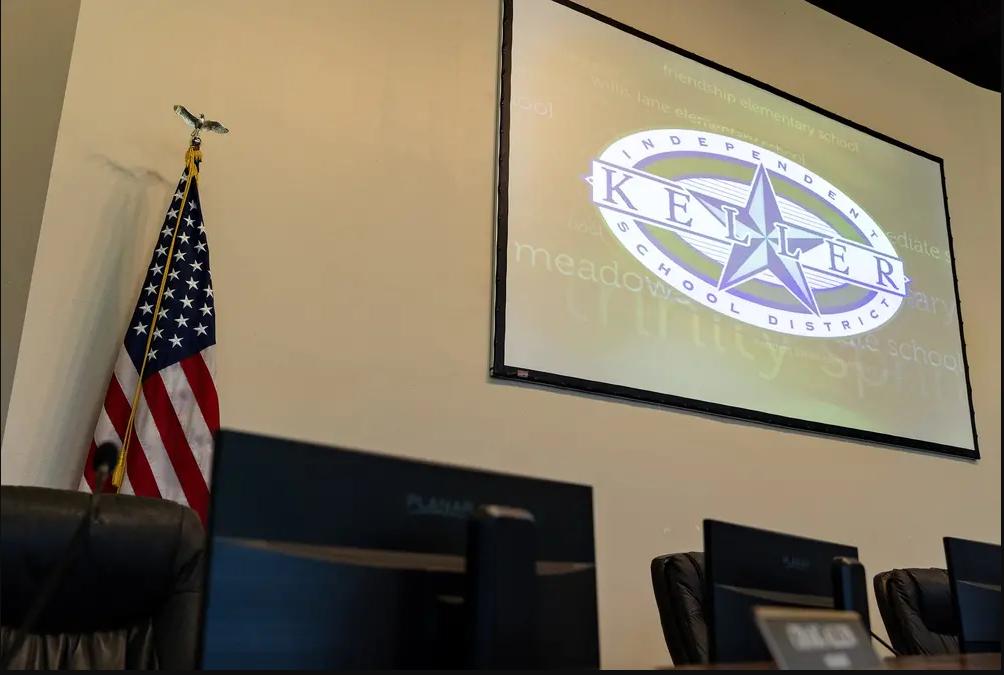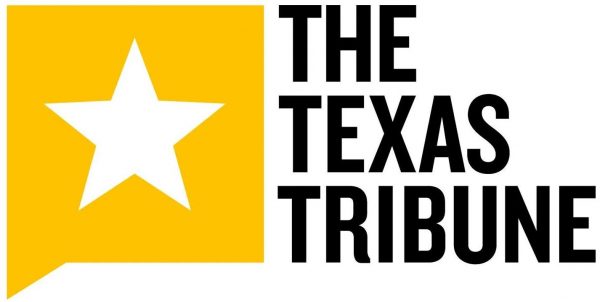 By Brian Lopez | DALLAS – The American Civil Liberties Union of Texas is calling for civil rights investigations into two North Texas school districts over recently implemented anti-transgender policies.
The ACLU, which filed the complaints last week, wants the Department of Education's Office for Civil Rights to investigate the Frisco Independent School District for passing a policy on Nov. 14 requiring students to use bathrooms that align with their gender assigned at birth. The district said it would make accommodations for students who ask to use a private restroom.
The ACLU said Frisco's policy would allow the district to "challenge or second-guess students' official birth certificates."
"It is deeply invasive and unlawful for school administrators to interrogate students' private medical information in this way," the ACLU said in a letter to the Department of Education. "School districts have no right to question students' sexual characteristics such as genitalia, hormones, internal anatomy, or chromosomes."
The ACLU also wants an investigation into the Keller Independent School District, which earlier this month passed a ban on all books that depict or reference transgender and nonbinary people.
"The policy attempts to erase the existence of transgender and non-binary individuals," the ACLU's letter said.
Keller ISD's anti-transgender policy came about six months after three conservative school board members were elected onto the seven-member board. The new members, all of whom received large donations from a Christian political action committee, campaigned on issues like banning books about LGBTQ experiences from school libraries and banning critical race theory, a college-level field of study that explores the idea that racism is embedded in institutions and legal systems.
Public education advocates and Texas teachers have largely said the discipline is not part of the curriculum in Texas public schools but it has become a shorthand for conservative groups to criticize how history and current events are taught with regard to race.
The ACLU claims that Frisco and Keller's policies violate Title IX of the Education Amendments of 1972, which prohibits sex-based discrimination in any school that receives federal funding.
Frisco and Keller are the latest North Texas school districts to have civil rights complaints lodged against them. Earlier this year, the NAACP Legal Defense and Educational Fund filed a similar civil rights complaint against the Carroll Independent School District, based in Southlake, for failing to protect students from discrimination based on their race, sex or gender identity.
Southlake, located between Dallas and Fort Worth, came into the spotlight three years ago after a viral video of white high school students chanting a racist slur prompted community members to share stories of harassment, NBC News reported.
Neither Keller ISD nor Frisco ISD immediately responded to a request for comment.
**********************
Brian Lopez is the Public Education Reporter for The Texas Tribune. He joined the Tribune in August 2021 after a covering local government at the Fort Worth Star-Telegram for a little over a year. The Star-Telegram was his first gig after graduating from the University of Texas at Arlington in May 2020 where he worked for the student-run newspaper The Shorthorn. When not on the job, he's either watching or playing soccer.
The preceding article was previously published by The Texas Tribune and is republished by permission.
**********************
The Texas Tribune is a nonprofit, nonpartisan media organization that informs Texans — and engages with them — about public policy, politics, government and statewide issues.
Quality journalism doesn't come free
Perhaps it goes without saying — but producing quality journalism isn't cheap. At a time when newsroom resources and revenue across the country are declining, The Texas Tribune remains committed to sustaining our mission: creating a more engaged and informed Texas with every story we cover, every event we convene and every newsletter we send. As a nonprofit newsroom, we rely on members to help keep our stories free and our events open to the public. Do you value our journalism? Show us with your support.