Phill Wilson says goodbye to the Black AIDS Institute he founded (Photos)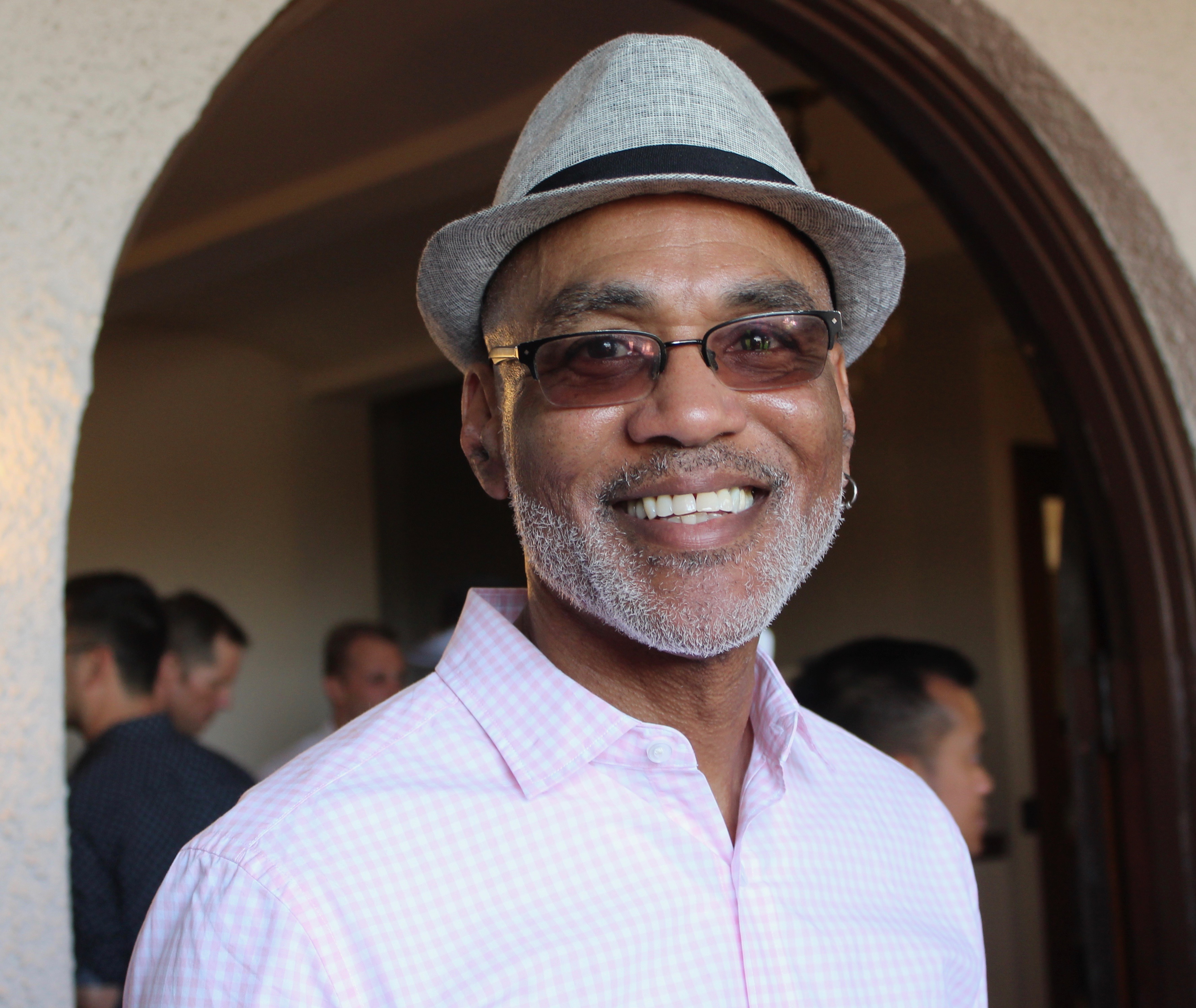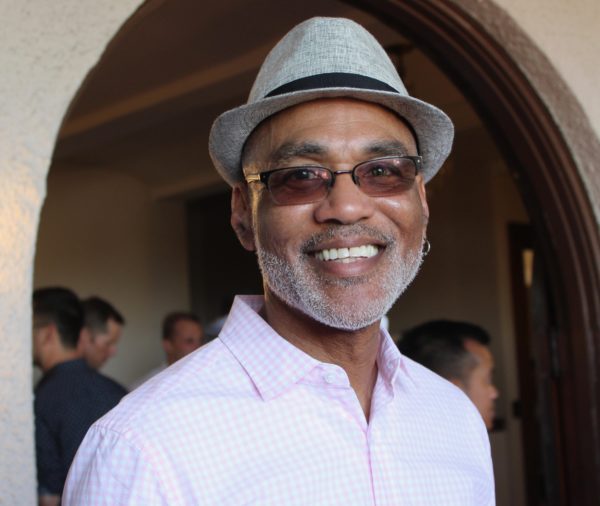 Long before Phill Wilson became internationally renown for his work on HIV/AIDS in the Black community, he was a leader in the fight in Los Angeles as the second LA City AIDS Coordinator, co-founder of AIDS Hospice Foundation and co-founder with Ruth Waters of the National Black Gay and Lesbian Leadership Forum. He also co-founded the National Task Force on AIDS Prevention with his best friend, the late Reggie Williams. In 1999, after a serious struggle with his disease, Wilson and Williams founded a non-profit think tank focused on HIV/AIDS in the Black community, an organization initially launched with an impossibly long name that was later edited down to the Black AIDS Institute.
On Feb. 5, Wilson announced his retirement and on Friday, Dec. 28, he sent out his final farewell to friends and supporters, giving his successor, Raniyah Copeland a very positive plug for the new year. Here's Wilson's farewell letter, with a few photos I've taken over the years (except for the Frontiers cover).
December 28, 2018

Dear Friends,

Ecclesiastes 3:1-4 says, "For everything there is a season, and a time for every purpose. A time to be born, and a time to die, a time to plant and a time to sow, a time to kill, and a time to heal; a time to mourn, and a time to dance."

Twenty years ago, I called a few friends to ask them to help me actualize a dream that my best Brister— "Brother and Sister"—, Reggie Williams and I had been working on for ten years. We wanted to start an organization to engage Black people in efforts to confront the AIDS epidemic in ways we had not previously been engaged.

We knew two things:

(1) Black People were dying, and

(2) Nobody could save us, but us.

Reggie and I knew when Black people understood the science of HIV—the epidemiology, the biomedical, and the behavioral—we would be better able to protect ourselves; more likely to get tested; more inclined to seek, adhere, and to stay on treatment; and less likely to engage in stigmatizing behavior.

With, as my grandmother used to say, "neither a pot to piss in, nor a window to throw it out of", the Black AIDS Institute (BAI) was born. Like Lynn Manuel'sHamilton, we were "young, scrappy, and hungry". Our mission then, as it is now, was to end the HIV/AIDS epidemic in our communities by engaging and mobilizing leaders, institutions, and individuals in efforts to confront HIV/AIDS in local communities with global impact.

Our small band has expanded to chapters and affiliates in twenty cities and 17 states. The Black AIDS Institute has been involved in every HIV/AIDS advancement over the last twenty years. As the only national HIV/AIDS think tank in the United States focused exclusively on Black people, we disseminate information, interpret and make recommendations on public and private sector HIV policies, conduct training, offer technical assistance and capacity building, and provide advocacy mobilization from a uniquely and unapologetically Black point of view. This year, in partnership with St. Johns Well Child and Family Center, we started providing direct clinical care by launching "A Clinic for Us, a network of comprehensive care clinics providing Black centric care, community-based health care.

Last week, I attended my last staff meeting, packed up my office and walked out of the Black AIDS Institute for the last time as the organization's President and CEO. To be completely honest, I'm pretty sure I haven't processed all my feelings about that yet.

But this I know, in order for BAI to endure, we needed to plan for the future. A movement that does not prepare, embrace, and insist on young leadership is destined to fail. An organization that does not prepare for succession is a hobby. A leader who assumes he or she is irreplaceable is a fraud.

That brings me to the point of this letter. I want to introduce you to BAI's next President and CEO, Ms. Raniyah Copeland. I can't imagine a better choice to lead the Institute into the future. Raniyah is Beautiful, Bold, Brave, and Brilliant. She brings a vigor and vision to the AIDS movement that, given the current political environment, is desperately needed. Raniyah began working at BAI in April of 2008 as the Training and Capacity Building Coordinator. She worked her way up to a senior coordinator, a manager, and currently serves as the Director of Programs. There is no aspect of the organization that she does not know and understand. She is the right person at the right time for this job.

When I announced my plan to retire, ten months ago, I said, "BAI is committed to doing everything in its power to end the HIV/AIDS epidemic". A commitment to new executive leadership is the most important part of any commitment to prepare for the next generation of HIV/AIDS response in Black communities. That commitment is more important now than ever before. The time is right for this change. The Institute has never been stronger. With a strong board of directors, a young, smart, capable and committed CEO and staff, a reinvigorated body of ambassadors, spokespeople, and supporters; BAI is poised to carry out this change and deliver on a bold new vision of advocacy, mobilization, capacity building and delivery of direct service.

I have had a season, and what a grand season it has been. I would add "there is a time to stand up, and there is a time to step down". This is my time to step down.

But before I go, I have one final request. Raniyah cannot do this alone. She will need your help. In this season of giving, won't you please consider making a year end, tax-deductible donation to the Black AIDS Institute. We have a special opportunity. Viiv Healthcare has pledge to match every dollar we raise in this year-end appeal, up to $75,000.00. We are grateful for your continued investment in our future. The Donation process is fast, simple and easy. Online: www.BlackAIDS.org/donate, or by sending a text to "91999" and enter "BlackAIDS" in the message box.

For the last 20 years, the Black AIDS Institute has provided me with an opportunity to try to make a difference. And, for that, I am eternally grateful. As I close this chapter of my life, and BAI starts the next chapter of its work, all I have to say is, "Thank you!" I am stepping down, but not giving up, or giving in. I believe in us. The day will come when this epidemic will be over. I am so proud to have been able to be a part of that process. There is a light at the end of the tunnel, we just have to find a way to get there. I look forward to watching, cheerleading, and helping in any way I can.

In the meantime, please take care of yourselves and your blessings.

Yours in the Struggle,

Phill Wilson

Founder

Black AIDS Institute
Phill Wilson, Director of Policy and Planning for AIDS Project Los Angeles with APLA Executive Director Stephen Bennett in 1989.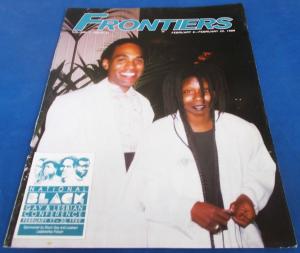 In 1987, Wilson co-founded the National Black Gay and Lesbian Leadership Forum with Ruth Waters. Their annual conferences became networking and training meccas for Black activists nationwide, with attendees and speakers such as Marlon Riggs, Essex Hemphill and Dr. Marjorie Hill (then Assistant Commissioner for New York City's Bureau of HIV/AIDS at the Health Department), as well as  Angela Davis, Cornel West, and Alice Walker.  This cover of Frontier Magazine may have been Wilson's first cover. (Photo via Abebooks.com)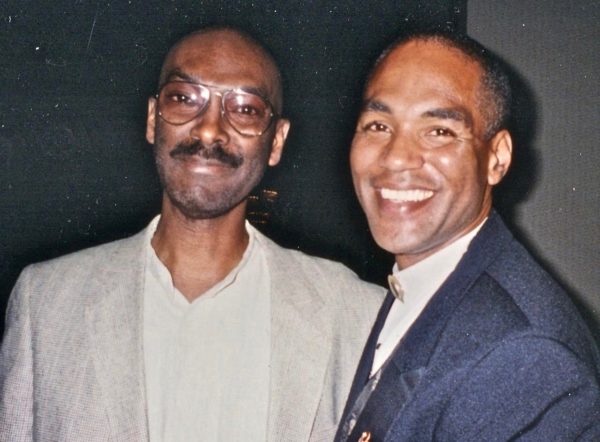 In 1990, Wilson was  featured on the cover of BLK Magazine, published by his friend Alan Bell, as the second AIDS Coordinator for the City of Los Angeles.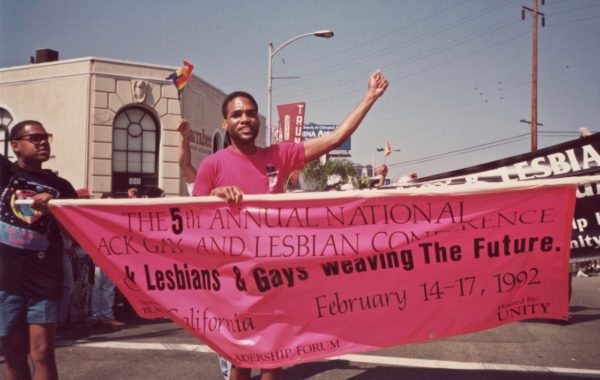 As LA City AIDS Coordinator, Wilson remained an activist marching for the National Black Gay and Lesbian Leadership Forum as the Second Wave of AIDS builds.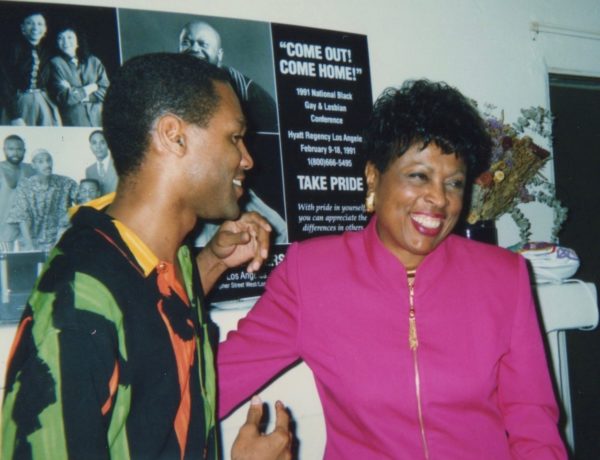 In 1991, as AIDS infections mounted through IV drug use and shared dirty needles, California Sen. Diane Watson introduced a Clean Syringe Exchange bill. It failed. But in 1992, Watson was joined by Assemblymember Willie Brown in introducing a clean needle bill that passed the Legislature but was vetoed by Gov. Pete Wilson.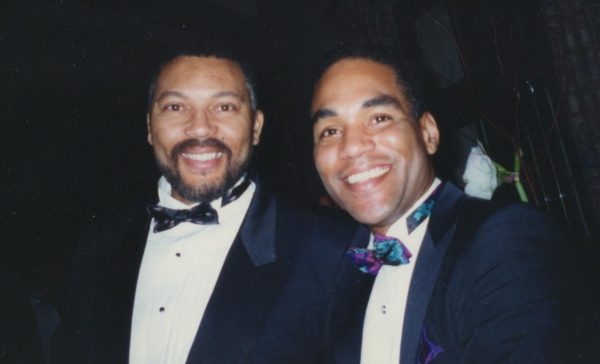 Phill Wilson with close friend Charles Stewart, who served for years as chief deputy to Sen. Watson.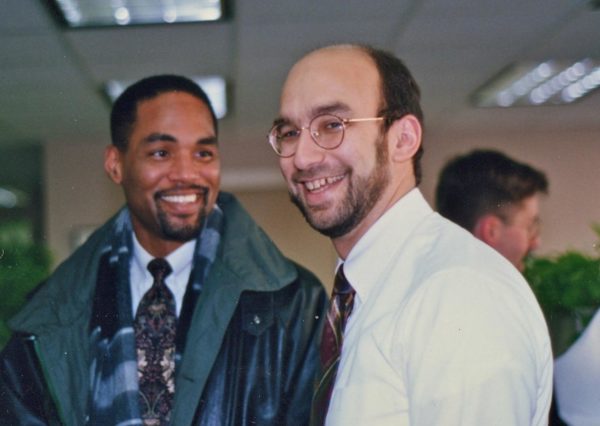 Phill Wilson with AIDS Action Council Executive Director Jeff Levy at a reception the day before Bill Clinton's Inauguration as President of the United States. Bill and Hillary Clinton made HIV/AIDS a priority during their campaign.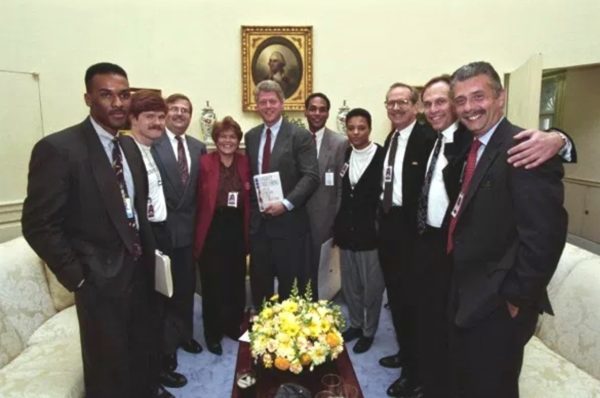 Phill Wilson joins other LGBT leaders in an historic Oval Office meeting with new President Bill Clinton in April 1993. Clinton aide Keith Boykin, first on the left, would become executive director of the National Black Gay and Lesbian Leadership Forum. (White House photo)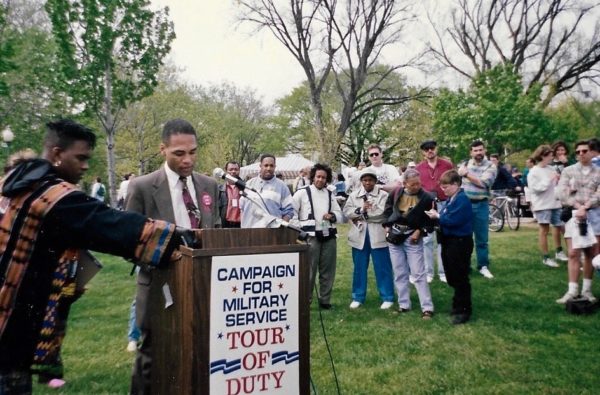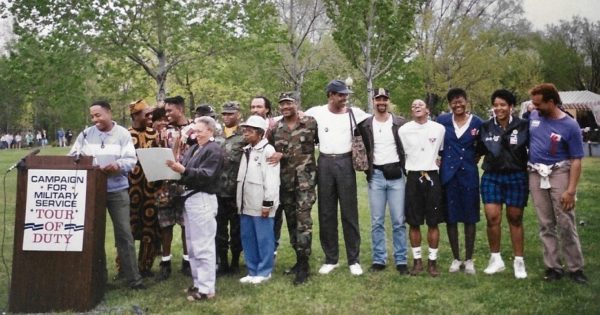 Phill Wilson preparing for a news conference with gay and lesbian servicemembers and veterans during the 1993 March on Washington "Lift the Ban" effort from the Campaign for Military Service.  National Black Gay and Lesbian Leadership Forum co-founder Ruth Waters (white pants, holding white paper) also participated in the news conference.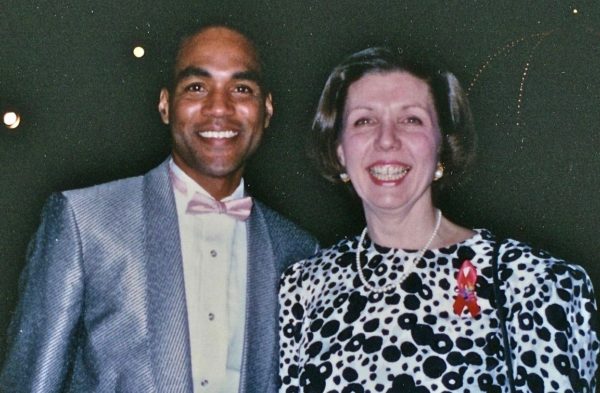 Phill Wilson with President Clinton's first AIDS Czar Kristine Gebbie.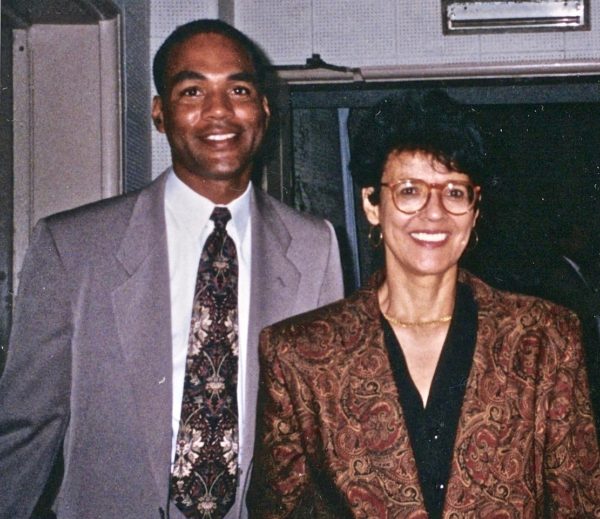 Phill Wilson with President Clinton's second AIDS Czar Patsy Fleming.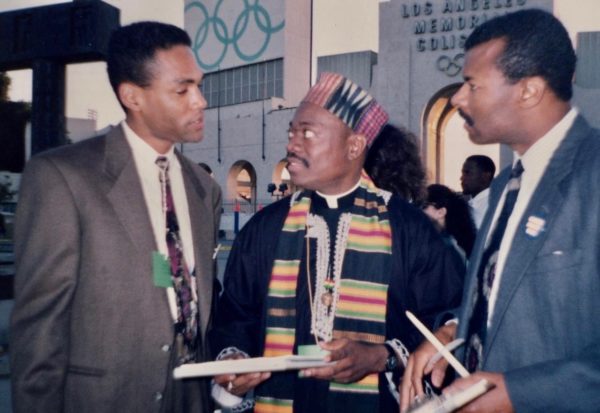 As a community leader, Phill Wilson was involved in issues that might seem tangential to HIV/AIDS, such as racial profiling and removing LAPD Chief Daryl Gates. But how police treated people with HIV/AIDS inside and outside the jails impacted others, as well, such as an inmate becoming infected while in custody, then infecting his wife or girlfriend upon release. LGBT people with HIV/AIDS were often mistreated or denied medication.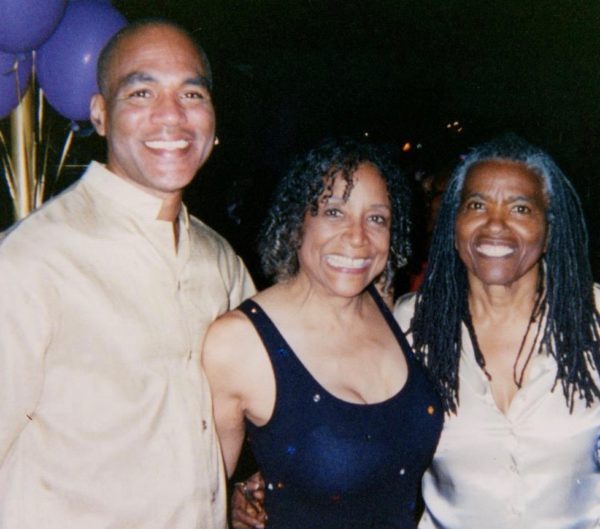 Phill Wilson is also close with other community leaders such as Jewel Thais-Williams, owner of Jewel's Catch One Disco, and her wife Rue.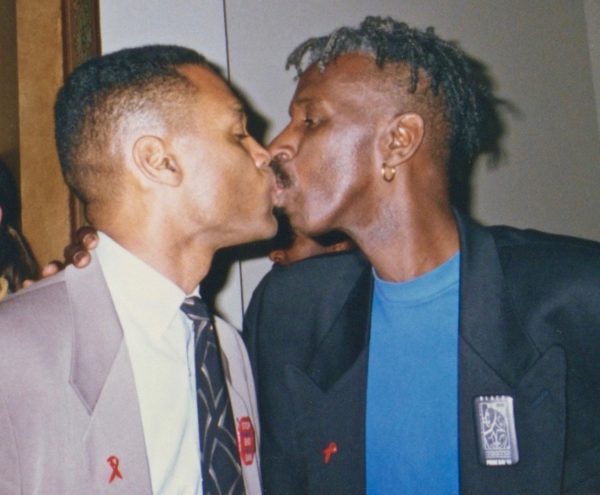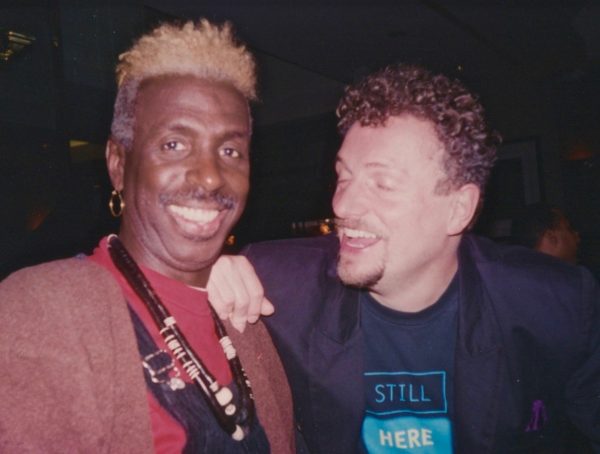 In 1999, after a near-death experience, Phill Wilson co-founded the African American AIDS Policy and Training Institute think tank with his best friend, Reggie Williams (pictured kissing Wilson). Both Wilson and Williams had AIDS, as did their partners, Chris Brownlie and Wolfgang Schreiber, respectively. The name of the organization was later shortened to the Black AIDS Institute.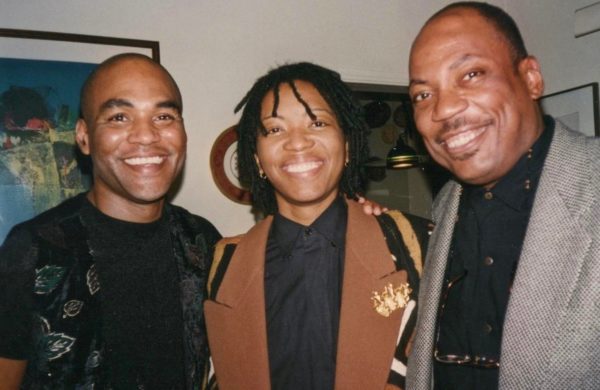 Phill Wilson with Vallerie Wagner, who served as COO of the Black AIDS Institute before joining APLA, and award-winning director Paris Barclay, Wilson's cousin who was honored in 2010 with a Heroes in the Struggle award for his decades of service to Project Angel Food.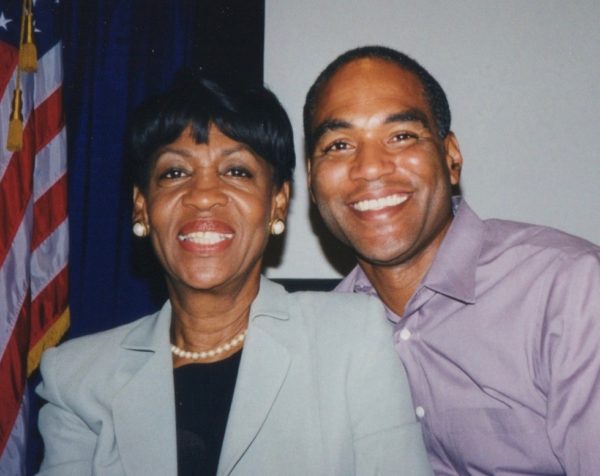 Phill Wilson has worked with Rep. Maxine Waters for decades on fighting HIV/AIDS in the Black community.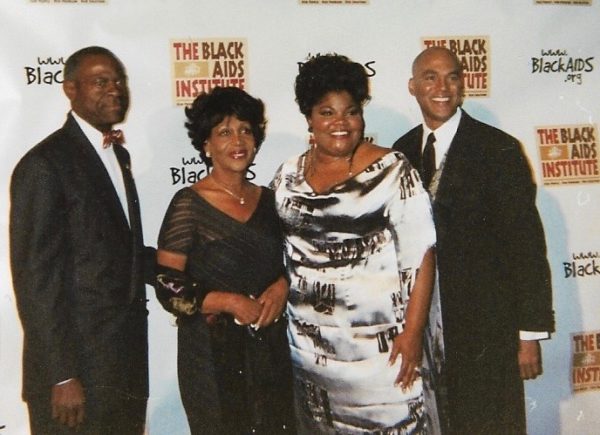 Rep. Maxine Waters and her spouse Sid Williams regularly attend the Black AIDS Institute's annual Heroes in the Struggle gala, including this 2010 event honoring Mo'Nique.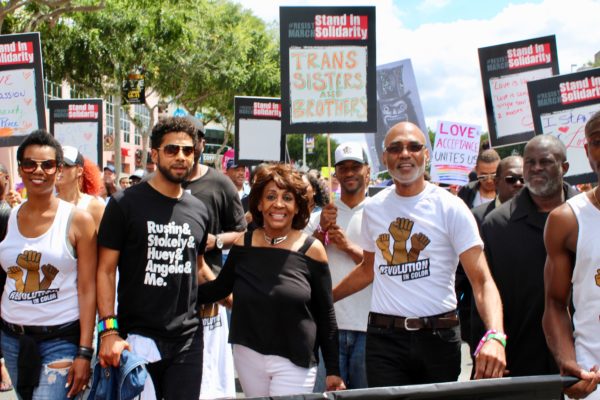 Rep. Maxine Waters joined Phill Wilson and Black AIDS Institute Board member, actor/musician Jussie Smollett at the Resist March in West Hollywood.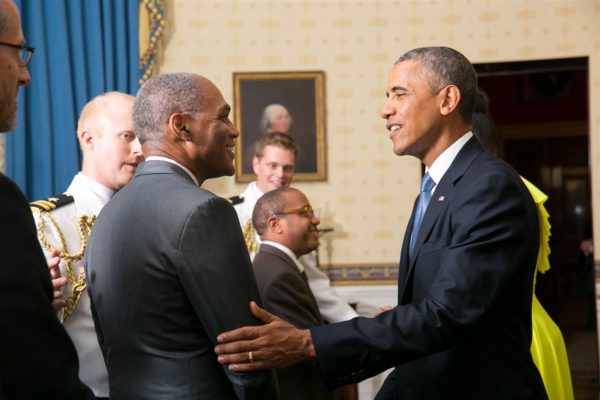 Phill Wilson was appointed to President Obama's Advisory Council on HIV/AIDS in 2010, becoming co-chair of the disparities subcommittee. (White House photo)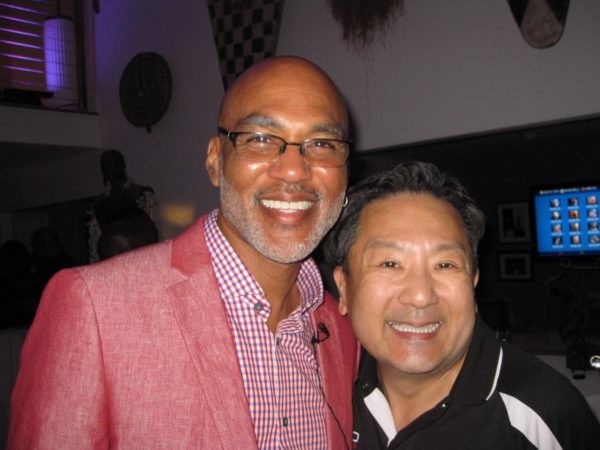 Phill Wilson has a knack for maintaining longstanding friendships and professional relationships, such as with Paul Kawata, executive director of National Minority AIDS Council (NMAC) since 1989.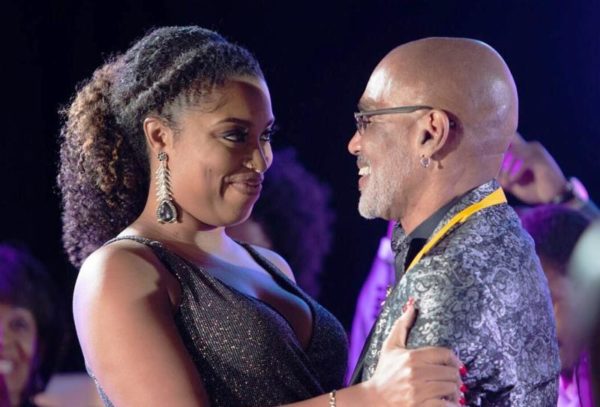 Founder Phill Wilson has passed the Black AIDS Institute mantle to Raniyah Copeland. (Photo from the Black AIDS Institute)
Jazz Jennings publicly opens up about her binge-eating disorder
"I have gained a substantial amount of weight. I suffer from binge-eating disorder, a disease in which I'm addicted to food"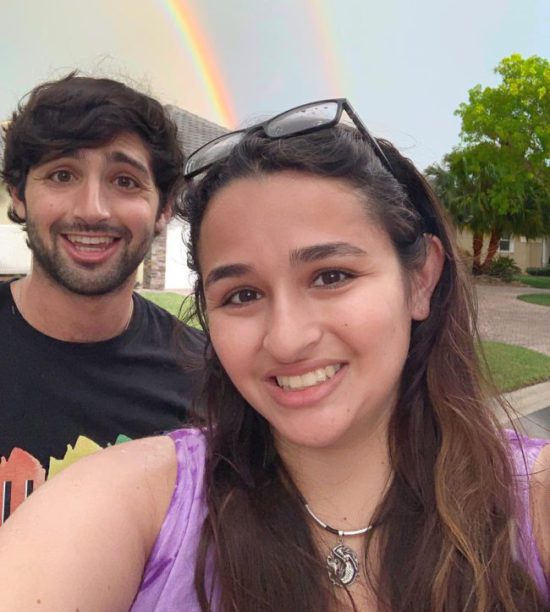 CORAL SPRINGS, Fl. – In an Instagram post Friday, prominent Trans youth activist, YouTuber and social media influencer Jazz Jennings revealed that she is battling an eating disorder. In a side by side photographic comparison Jennings showed her followers that she has in fact suffered a massive weight gain.
"I'm posting this photo because it's time for me to address my weight gain and hold myself accountable," she said, while sharing a picture of herself by the pool, wearing a sports bra and shorts.
Jennings wrote; "As many of you have noticed, over the past few years, I have gained a substantial amount of weight. I suffer from binge-eating disorder, a disease in which I'm not only addicted to food, but I eat it in large quantities.
My binging, along with an increased appetite I experience from some of the meds I'm on, has caused me to gain almost 100 pounds in a little less than 2 years.
I'm ready to change my ways; I've been saying I'm ready to turn over a new leaf, but I'm running out of trees now. I'm ready to take the initiative and create positive changes when it comes to my health."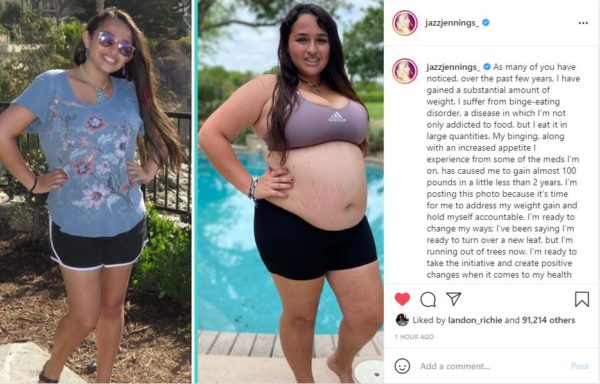 One of her twin older siblings, brother Sander, showed his unwavering support of his sister by commenting, "You are so resilient and can do anything you put your mind too. [sic] I believe in you and will be by your side every step of the way." She wrote back, "You're my teammate."
Heat Alert; High Temperatures forecast for parts of LA County & SoCal
It is important that we check on others, in particular those who are especially vulnerable to the harmful effects of high temperatures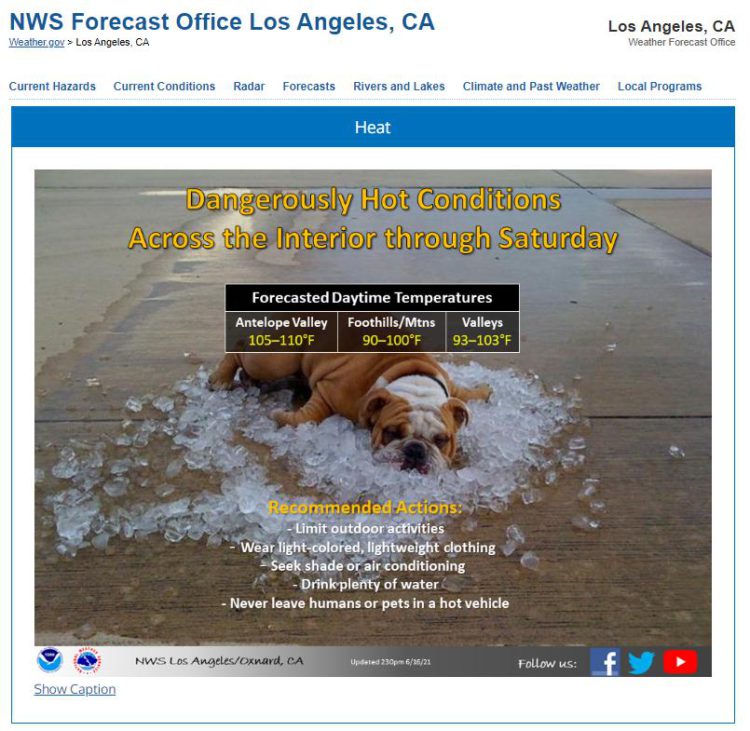 OXNARD – The National Weather Service has issued a heat watch and warning for interior segments of Sothern California including the Mojave Desert areas, Kern County, parts of Ventura and Los Angeles County, Palm Springs and the Inland Empire to the border, as well San Gabriel, San Bernardino, Riverside and the Coachella Valley.
The average daytime temperatures are expected to exceed 110 degrees Fahrenheit.
The Los Angeles County Health Officer has issued a Heat Alert as high temperatures have been forecast for the following areas:
East San Gabriel Valley – through Friday, June 18
Santa Clarita Valley – through Saturday, June 19
Antelope Valley – through Sunday, June 20
Public Health reminds everyone to take precautions to avoid heat-related illness, especially older adults, young children, outdoor workers, athletes, and people with a chronic medical condition who are especially sensitive to negative health impacts from extreme heat. Public Health offers the following recommendations during high temperature days:
Drink plenty of water and keep hydrated throughout the day.
If you must go out, plan your day to avoid going out during the hottest hours, and wear sunscreen. Wear lightweight, light-colored clothes, and wear a hat or use an umbrella.
Cars get very hot. Never leave children or pets in cars and call 911 if you see a child or pet in a car alone.
Beware of heat-related illness, like heat stroke and call 911 if you see these symptoms: high body temperature, vomiting, and pale and clammy skin.
Check on those at risk, like those who are sick, older adults, pregnant women, and children, and those who live alone.
If you are wearing a mask, avoid strenuous workouts wearing face coverings or masks not intended for athletic purposes.
Visit your power company's website or contact them by phone to determine if you are scheduled for a rolling power outage.
"While it is very important that everyone take special care of themselves, it is equally important that we reach out and check on others, in particular those who are especially vulnerable to the harmful effects of high temperatures, including children, the elderly, and their pets," said Muntu Davis, MD, Los Angeles County Health Officer. "High temperatures are not just an inconvenience, they can be dangerous and even deadly. But we can protect ourselves, our families, and our neighbors if we take steps to remain cool and hydrated. It is critically important to never leave children, elderly people, or pets unattended in homes with no air conditioning and particularly in vehicles, even if the windows are 'cracked' or open, as temperatures inside can quickly rise to life-threatening levels. If you have an elderly or infirm neighbor who is without air conditioning, check on them throughout the day."
County and City partners have planned ways to safely operate cooling centers during times of high heat. Residents who do not have access to air conditioning are encouraged to take advantage of these free cooling centers.
To find a location near you, visit https://ready.lacounty.gov/heat/ or call 211.
The health and safety of staff and visitors at cooling centers is priority. Public Health notes the following for cooling centers:
Staff and visitors are instructed to stay home if they do not feel well. Any person reporting or exhibiting signs of illness is advised to seek appropriate medical care.
Staff and visitors are required to wear a face covering at all times, regardless of COVID-19 vaccination status.
Stage and screen actress Lisa Banes has died after hit and run
The 65 year-old actress was admitted to the ICU at Mount Sinai Morningside hospital in New York with a traumatic brain injury.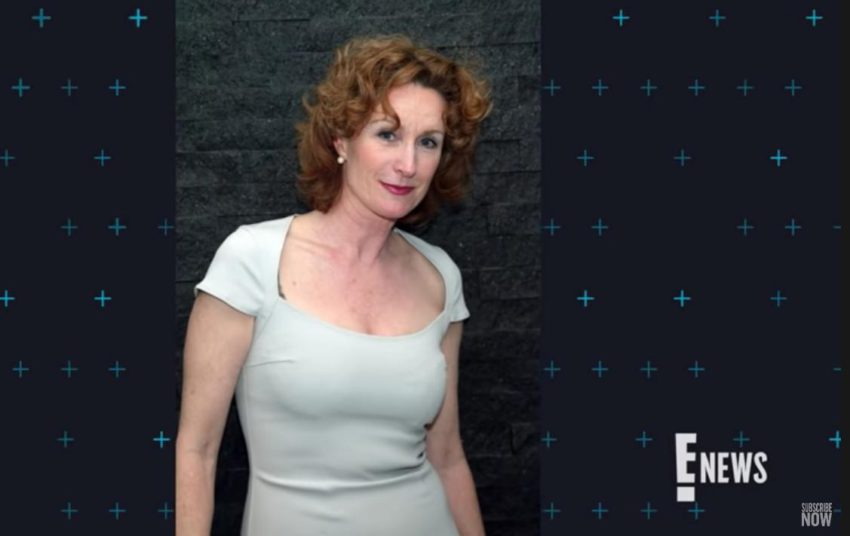 NEW YORK – Los Angeles resident and critically acclaimed actress Lis Banes died Monday at Mount Sinai Morningside hospital as a result of injuries she suffered stemming from a hit and run accident on June 4, after being struck by an electric scooter, a spokesperson for the NYPD confirmed.
The 65 year-old actress was admitted to the intensive care unit at Mount Sinai Morningside in New York with a traumatic brain injury. According to the NYPD, the actress was crossing Amsterdam Avenue at 64th Street, in a crosswalk near the Juilliard School, at Lincoln Center. The driver left the scene and no arrests have been made.
Banes's wife, Kathryn Kranhold, a contributing reporter for the Center for Public Integrity, had made a plea "to pray for Lisa" after the accident — and called for anyone with information about the accident to contact police.
"We are heartsick over Lisa's tragic and senseless passing. She was a woman of great spirit, kindness and generosity and dedicated to her work, whether on stage or in front of a camera and even more so to her wife, family and friends. We were blessed to have had her in our lives," her manager David Williams said in a statement released Tuesday.
Banes has appeared in numerous television shows and movies, including supporting roles in "Gone Girl" starring Ben Affleck in 2014 and "Cocktail" with Tom Cruise in 1988. On television, she's had roles on "Nashville," "Madam Secretary," "Masters of Sex" and "NCIS." NBC News Entertainment reported.
Anyone with information about Banes's death is asked to call the NYPD's Crime Stoppers hotline at 1-800-577-TIPS (8477), or for Spanish, 1-888-57-PISTA (74782). You can also submit a tip via the website or on Twitter, @NYPDTips. All calls are kept confidential.