Phill Wilson says goodbye to the Black AIDS Institute he founded (Photos)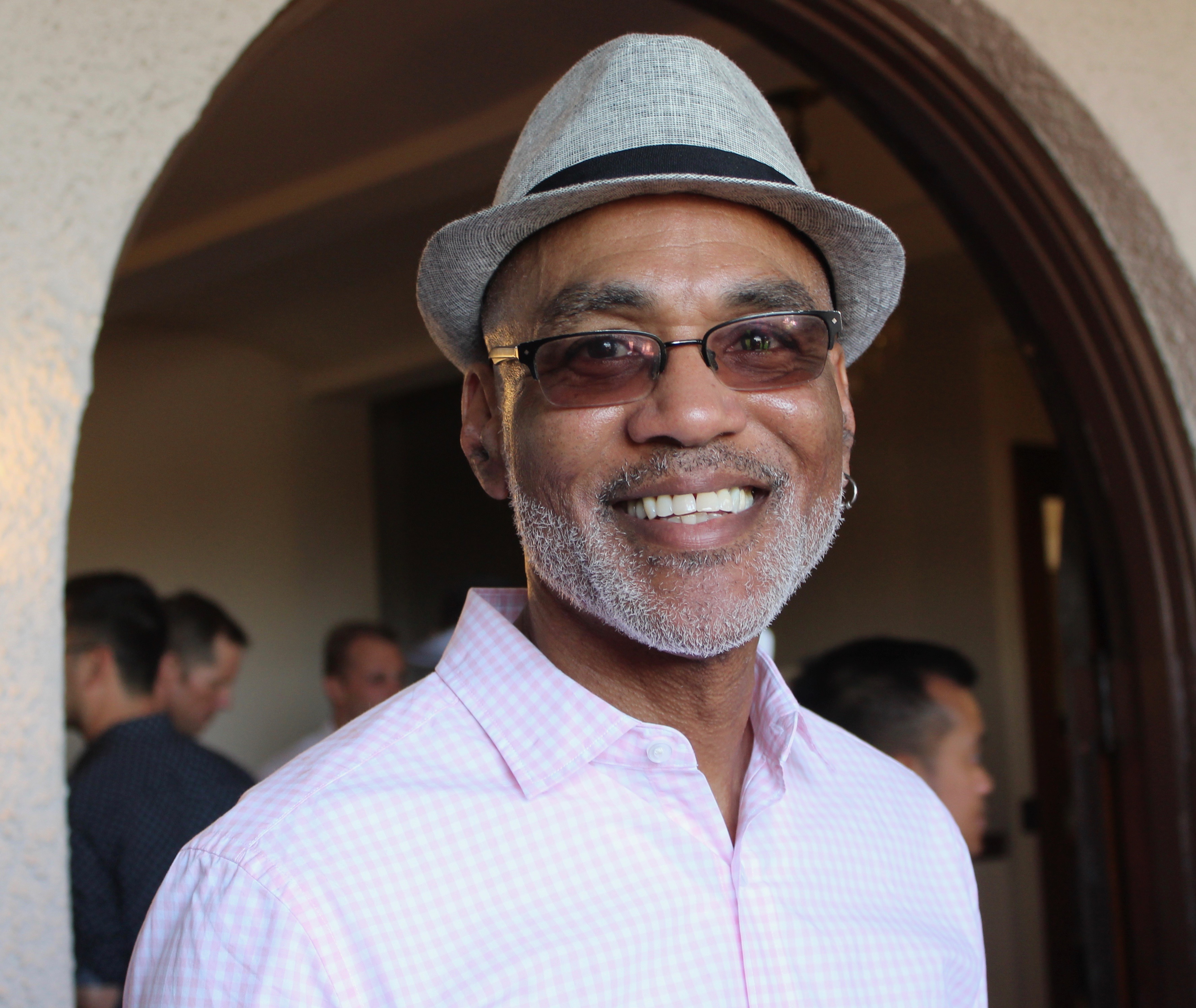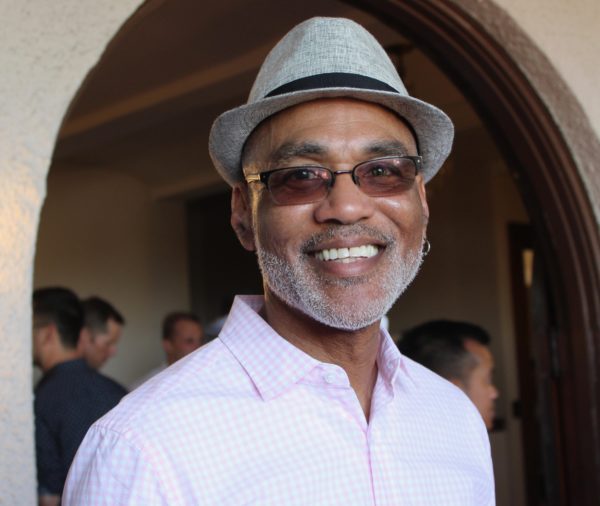 Long before Phill Wilson became internationally renown for his work on HIV/AIDS in the Black community, he was a leader in the fight in Los Angeles as the second LA City AIDS Coordinator, co-founder of AIDS Hospice Foundation and co-founder with Ruth Waters of the National Black Gay and Lesbian Leadership Forum. He also co-founded the National Task Force on AIDS Prevention with his best friend, the late Reggie Williams. In 1999, after a serious struggle with his disease, Wilson and Williams founded a non-profit think tank focused on HIV/AIDS in the Black community, an organization initially launched with an impossibly long name that was later edited down to the Black AIDS Institute.
On Feb. 5, Wilson announced his retirement and on Friday, Dec. 28, he sent out his final farewell to friends and supporters, giving his successor, Raniyah Copeland a very positive plug for the new year. Here's Wilson's farewell letter, with a few photos I've taken over the years (except for the Frontiers cover).
December 28, 2018

Dear Friends,

Ecclesiastes 3:1-4 says, "For everything there is a season, and a time for every purpose. A time to be born, and a time to die, a time to plant and a time to sow, a time to kill, and a time to heal; a time to mourn, and a time to dance."

Twenty years ago, I called a few friends to ask them to help me actualize a dream that my best Brister— "Brother and Sister"—, Reggie Williams and I had been working on for ten years. We wanted to start an organization to engage Black people in efforts to confront the AIDS epidemic in ways we had not previously been engaged.

We knew two things:

(1) Black People were dying, and

(2) Nobody could save us, but us.

Reggie and I knew when Black people understood the science of HIV—the epidemiology, the biomedical, and the behavioral—we would be better able to protect ourselves; more likely to get tested; more inclined to seek, adhere, and to stay on treatment; and less likely to engage in stigmatizing behavior.

With, as my grandmother used to say, "neither a pot to piss in, nor a window to throw it out of", the Black AIDS Institute (BAI) was born. Like Lynn Manuel'sHamilton, we were "young, scrappy, and hungry". Our mission then, as it is now, was to end the HIV/AIDS epidemic in our communities by engaging and mobilizing leaders, institutions, and individuals in efforts to confront HIV/AIDS in local communities with global impact.

Our small band has expanded to chapters and affiliates in twenty cities and 17 states. The Black AIDS Institute has been involved in every HIV/AIDS advancement over the last twenty years. As the only national HIV/AIDS think tank in the United States focused exclusively on Black people, we disseminate information, interpret and make recommendations on public and private sector HIV policies, conduct training, offer technical assistance and capacity building, and provide advocacy mobilization from a uniquely and unapologetically Black point of view. This year, in partnership with St. Johns Well Child and Family Center, we started providing direct clinical care by launching "A Clinic for Us, a network of comprehensive care clinics providing Black centric care, community-based health care.

Last week, I attended my last staff meeting, packed up my office and walked out of the Black AIDS Institute for the last time as the organization's President and CEO. To be completely honest, I'm pretty sure I haven't processed all my feelings about that yet.

But this I know, in order for BAI to endure, we needed to plan for the future. A movement that does not prepare, embrace, and insist on young leadership is destined to fail. An organization that does not prepare for succession is a hobby. A leader who assumes he or she is irreplaceable is a fraud.

That brings me to the point of this letter. I want to introduce you to BAI's next President and CEO, Ms. Raniyah Copeland. I can't imagine a better choice to lead the Institute into the future. Raniyah is Beautiful, Bold, Brave, and Brilliant. She brings a vigor and vision to the AIDS movement that, given the current political environment, is desperately needed. Raniyah began working at BAI in April of 2008 as the Training and Capacity Building Coordinator. She worked her way up to a senior coordinator, a manager, and currently serves as the Director of Programs. There is no aspect of the organization that she does not know and understand. She is the right person at the right time for this job.

When I announced my plan to retire, ten months ago, I said, "BAI is committed to doing everything in its power to end the HIV/AIDS epidemic". A commitment to new executive leadership is the most important part of any commitment to prepare for the next generation of HIV/AIDS response in Black communities. That commitment is more important now than ever before. The time is right for this change. The Institute has never been stronger. With a strong board of directors, a young, smart, capable and committed CEO and staff, a reinvigorated body of ambassadors, spokespeople, and supporters; BAI is poised to carry out this change and deliver on a bold new vision of advocacy, mobilization, capacity building and delivery of direct service.

I have had a season, and what a grand season it has been. I would add "there is a time to stand up, and there is a time to step down". This is my time to step down.

But before I go, I have one final request. Raniyah cannot do this alone. She will need your help. In this season of giving, won't you please consider making a year end, tax-deductible donation to the Black AIDS Institute. We have a special opportunity. Viiv Healthcare has pledge to match every dollar we raise in this year-end appeal, up to $75,000.00. We are grateful for your continued investment in our future. The Donation process is fast, simple and easy. Online: www.BlackAIDS.org/donate, or by sending a text to "91999" and enter "BlackAIDS" in the message box.

For the last 20 years, the Black AIDS Institute has provided me with an opportunity to try to make a difference. And, for that, I am eternally grateful. As I close this chapter of my life, and BAI starts the next chapter of its work, all I have to say is, "Thank you!" I am stepping down, but not giving up, or giving in. I believe in us. The day will come when this epidemic will be over. I am so proud to have been able to be a part of that process. There is a light at the end of the tunnel, we just have to find a way to get there. I look forward to watching, cheerleading, and helping in any way I can.

In the meantime, please take care of yourselves and your blessings.

Yours in the Struggle,

Phill Wilson

Founder

Black AIDS Institute
Phill Wilson, Director of Policy and Planning for AIDS Project Los Angeles with APLA Executive Director Stephen Bennett in 1989.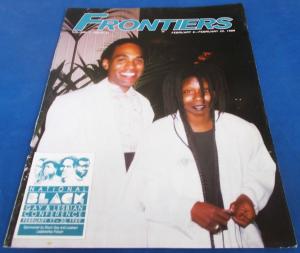 In 1987, Wilson co-founded the National Black Gay and Lesbian Leadership Forum with Ruth Waters. Their annual conferences became networking and training meccas for Black activists nationwide, with attendees and speakers such as Marlon Riggs, Essex Hemphill and Dr. Marjorie Hill (then Assistant Commissioner for New York City's Bureau of HIV/AIDS at the Health Department), as well as  Angela Davis, Cornel West, and Alice Walker.  This cover of Frontier Magazine may have been Wilson's first cover. (Photo via Abebooks.com)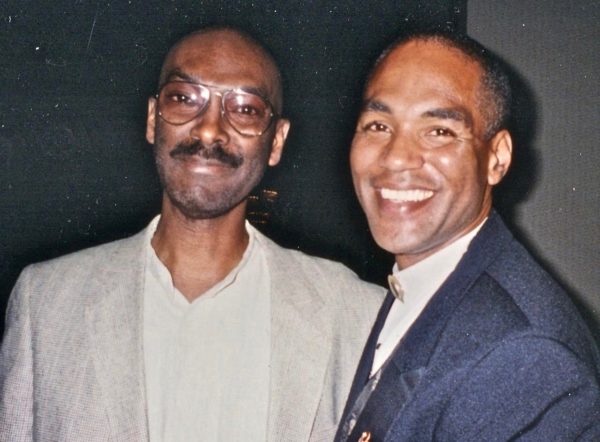 In 1990, Wilson was  featured on the cover of BLK Magazine, published by his friend Alan Bell, as the second AIDS Coordinator for the City of Los Angeles.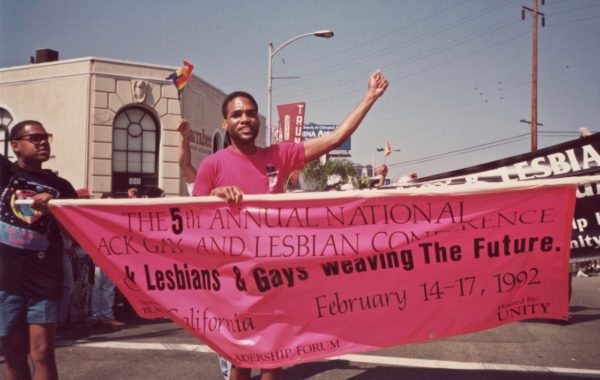 As LA City AIDS Coordinator, Wilson remained an activist marching for the National Black Gay and Lesbian Leadership Forum as the Second Wave of AIDS builds.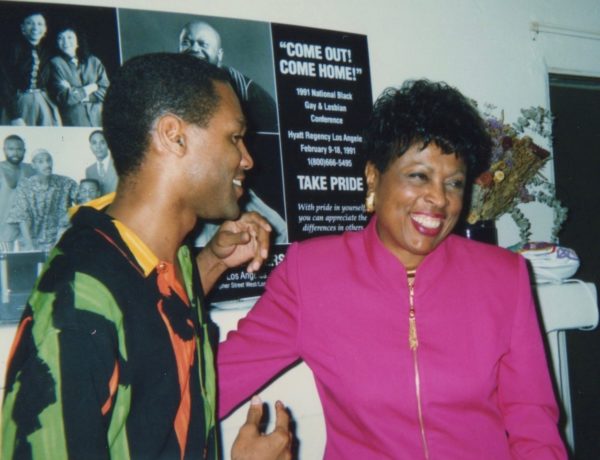 In 1991, as AIDS infections mounted through IV drug use and shared dirty needles, California Sen. Diane Watson introduced a Clean Syringe Exchange bill. It failed. But in 1992, Watson was joined by Assemblymember Willie Brown in introducing a clean needle bill that passed the Legislature but was vetoed by Gov. Pete Wilson.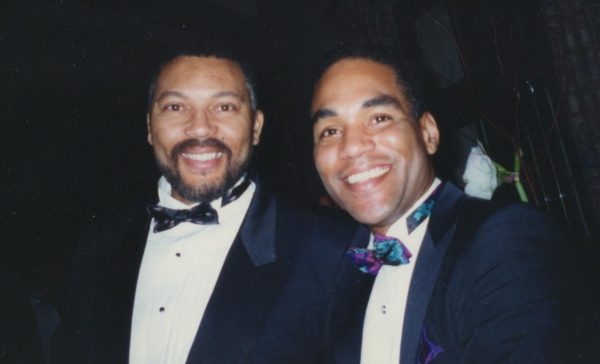 Phill Wilson with close friend Charles Stewart, who served for years as chief deputy to Sen. Watson.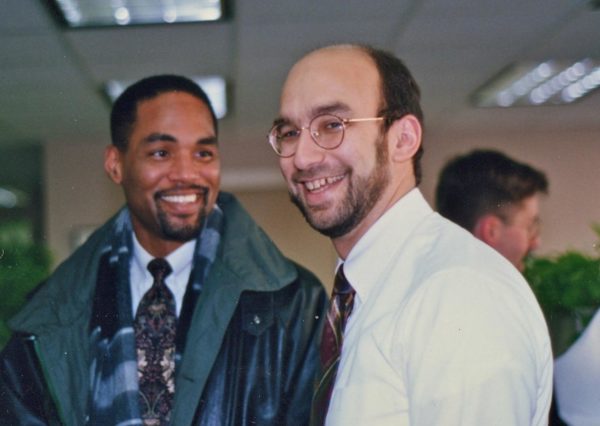 Phill Wilson with AIDS Action Council Executive Director Jeff Levy at a reception the day before Bill Clinton's Inauguration as President of the United States. Bill and Hillary Clinton made HIV/AIDS a priority during their campaign.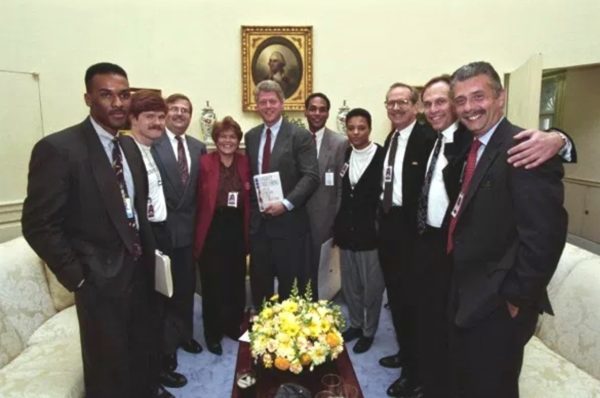 Phill Wilson joins other LGBT leaders in an historic Oval Office meeting with new President Bill Clinton in April 1993. Clinton aide Keith Boykin, first on the left, would become executive director of the National Black Gay and Lesbian Leadership Forum. (White House photo)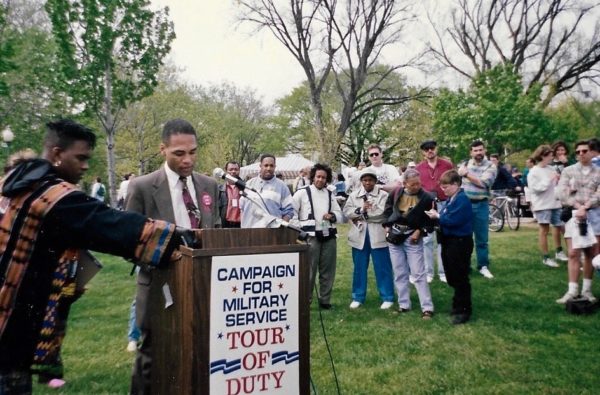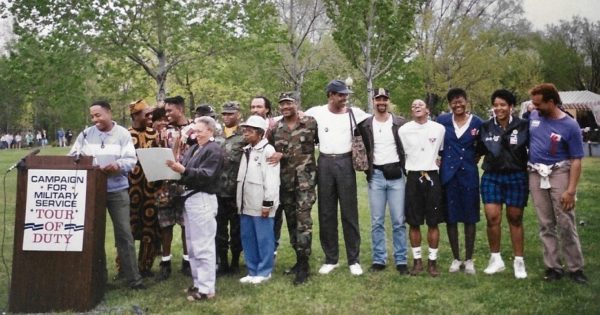 Phill Wilson preparing for a news conference with gay and lesbian servicemembers and veterans during the 1993 March on Washington "Lift the Ban" effort from the Campaign for Military Service.  National Black Gay and Lesbian Leadership Forum co-founder Ruth Waters (white pants, holding white paper) also participated in the news conference.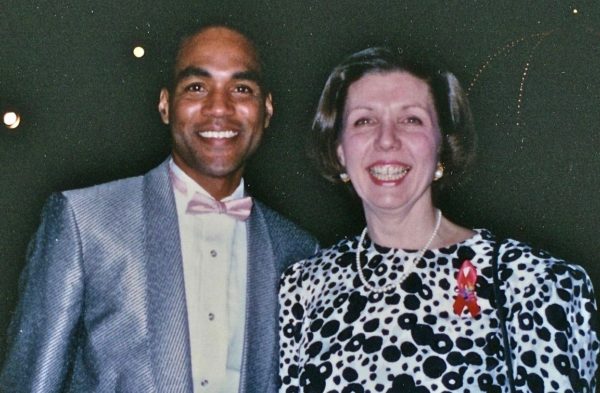 Phill Wilson with President Clinton's first AIDS Czar Kristine Gebbie.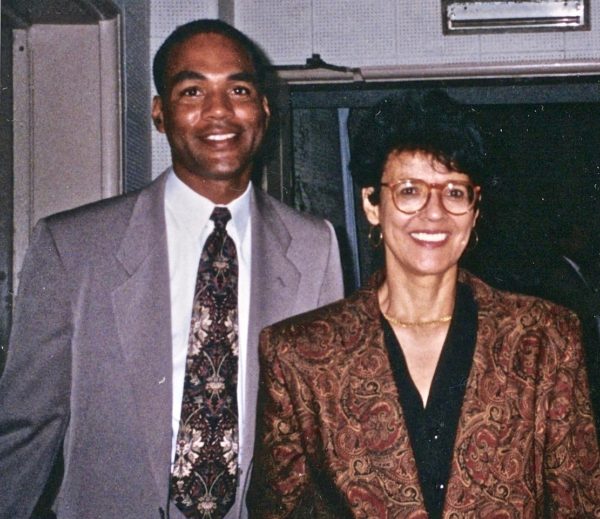 Phill Wilson with President Clinton's second AIDS Czar Patsy Fleming.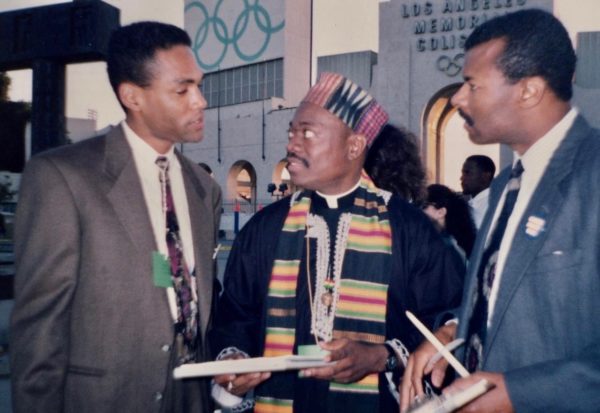 As a community leader, Phill Wilson was involved in issues that might seem tangential to HIV/AIDS, such as racial profiling and removing LAPD Chief Daryl Gates. But how police treated people with HIV/AIDS inside and outside the jails impacted others, as well, such as an inmate becoming infected while in custody, then infecting his wife or girlfriend upon release. LGBT people with HIV/AIDS were often mistreated or denied medication.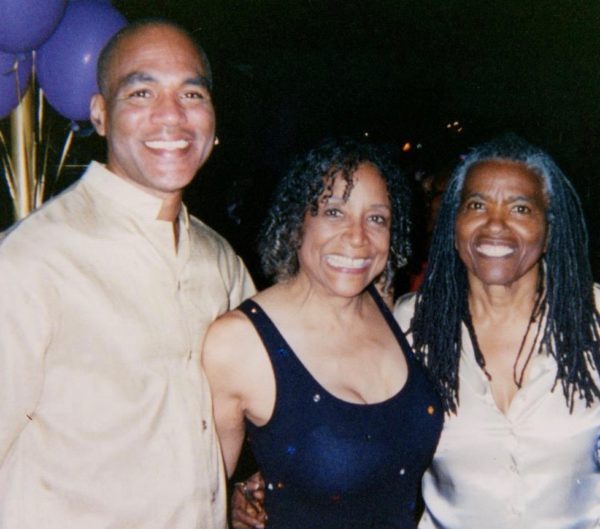 Phill Wilson is also close with other community leaders such as Jewel Thais-Williams, owner of Jewel's Catch One Disco, and her wife Rue.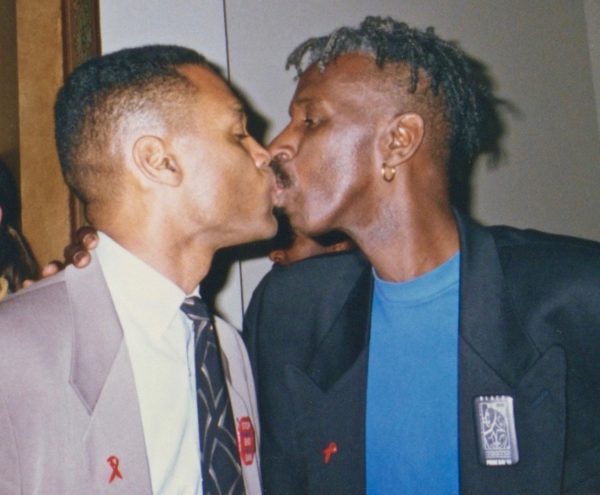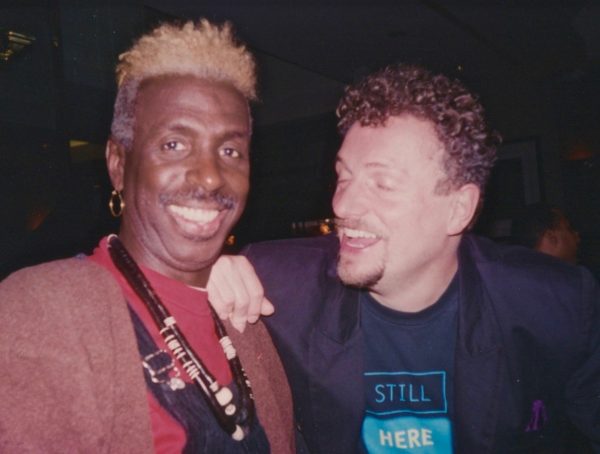 In 1999, after a near-death experience, Phill Wilson co-founded the African American AIDS Policy and Training Institute think tank with his best friend, Reggie Williams (pictured kissing Wilson). Both Wilson and Williams had AIDS, as did their partners, Chris Brownlie and Wolfgang Schreiber, respectively. The name of the organization was later shortened to the Black AIDS Institute.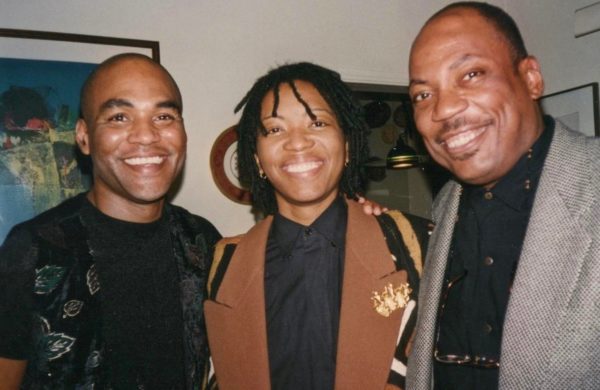 Phill Wilson with Vallerie Wagner, who served as COO of the Black AIDS Institute before joining APLA, and award-winning director Paris Barclay, Wilson's cousin who was honored in 2010 with a Heroes in the Struggle award for his decades of service to Project Angel Food.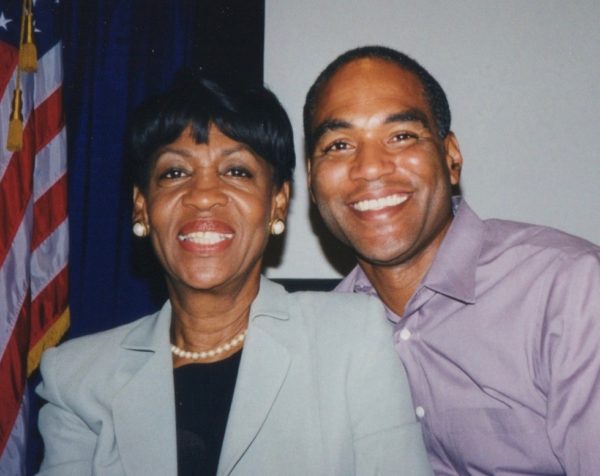 Phill Wilson has worked with Rep. Maxine Waters for decades on fighting HIV/AIDS in the Black community.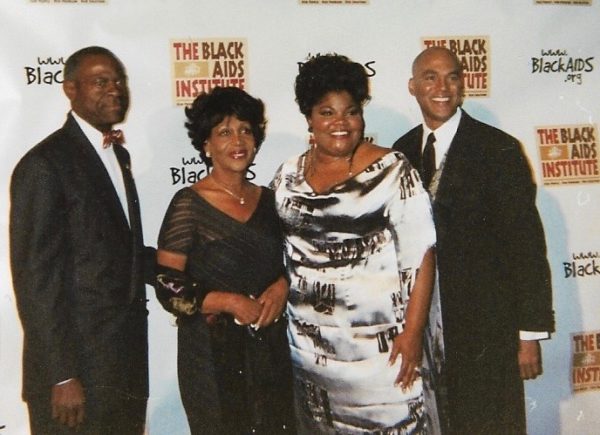 Rep. Maxine Waters and her spouse Sid Williams regularly attend the Black AIDS Institute's annual Heroes in the Struggle gala, including this 2010 event honoring Mo'Nique.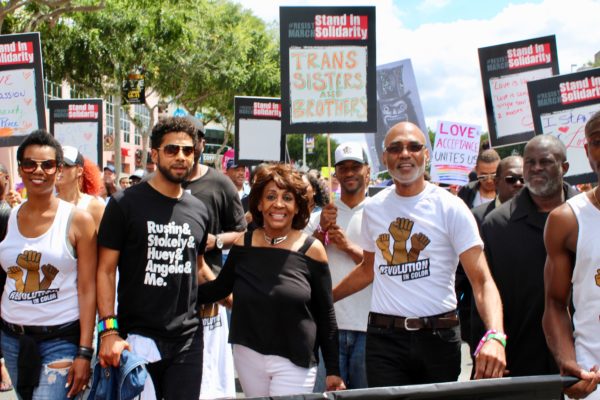 Rep. Maxine Waters joined Phill Wilson and Black AIDS Institute Board member, actor/musician Jussie Smollett at the Resist March in West Hollywood.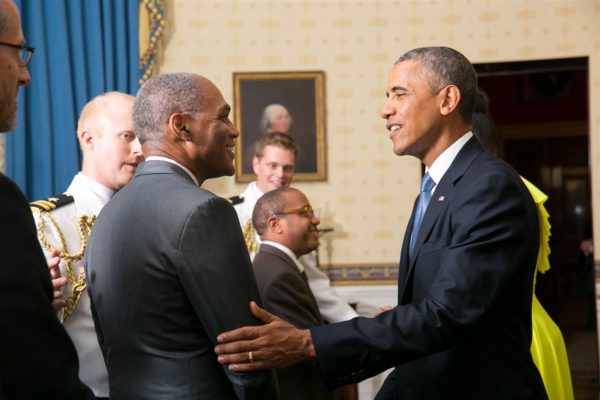 Phill Wilson was appointed to President Obama's Advisory Council on HIV/AIDS in 2010, becoming co-chair of the disparities subcommittee. (White House photo)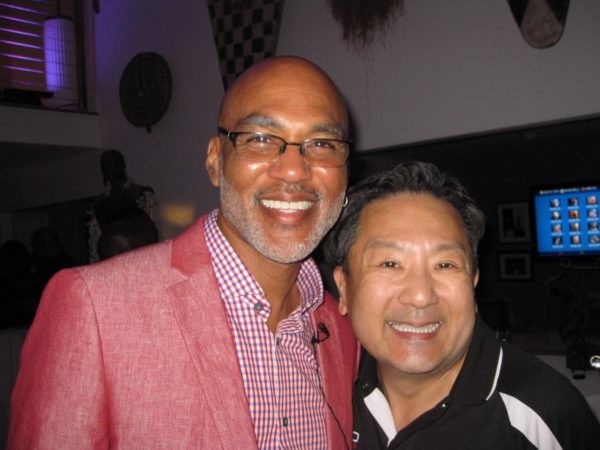 Phill Wilson has a knack for maintaining longstanding friendships and professional relationships, such as with Paul Kawata, executive director of National Minority AIDS Council (NMAC) since 1989.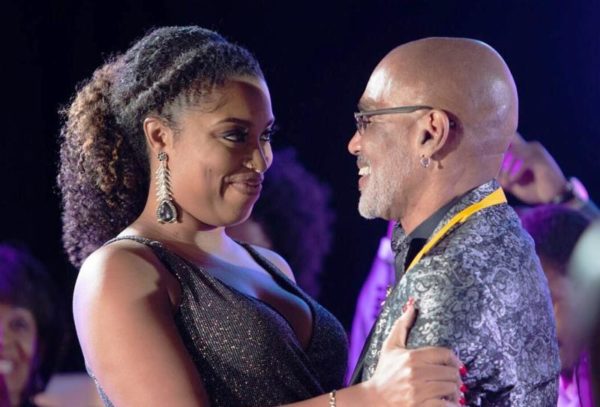 Founder Phill Wilson has passed the Black AIDS Institute mantle to Raniyah Copeland. (Photo from the Black AIDS Institute)
New on the LA County Channel
You can watch on Channel 92 or 94 on most cable systems, or anytime here. Catch up on LA County Close-Up here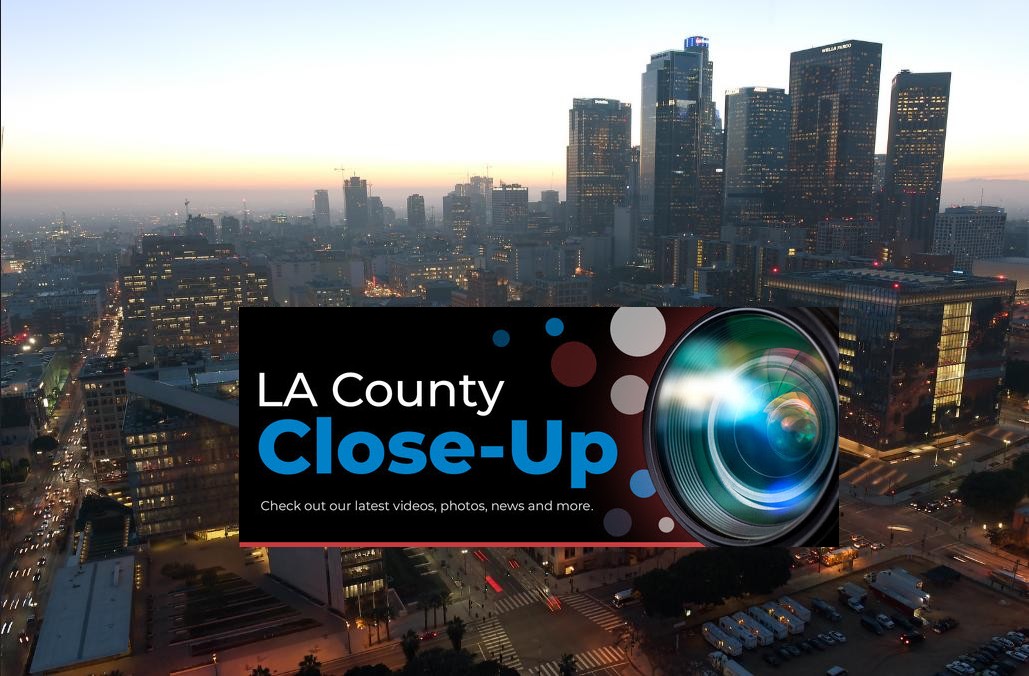 LOS ANGELES – New on the County Channel: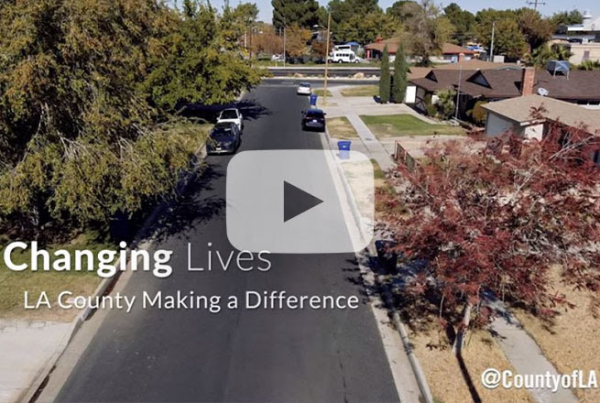 Thanksgiving has special meaning this year for seniors living alone or in congregate settings thanks to a food program run by the Aging and Disabilities Department that ensures elderly residents receive three nutritious meals a day. For the centenarians featured here, the meals may fill their stomach, but those who deliver them warm their hearts.
You can watch more stories like this on Channel 92 or 94 on most cable systems, or anytime here. Catch up on LA County Close-Up here.
---
In Case You Missed It
Having a Safe Thanksgiving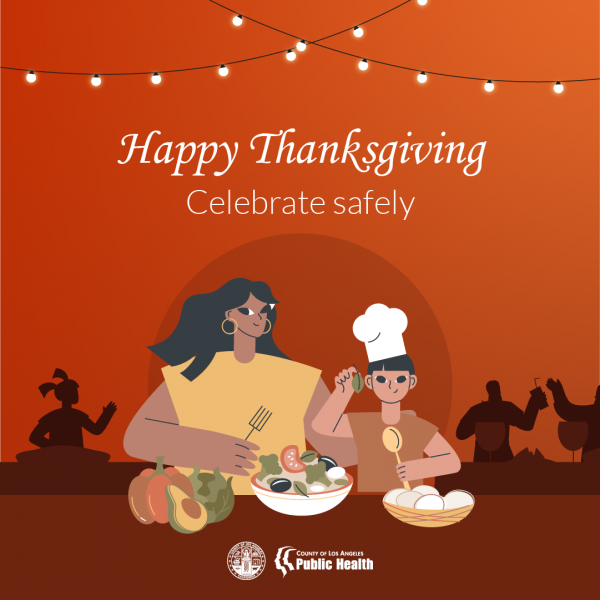 This week, many of us will be celebrating Thanksgiving and gathering with friends and family over the long weekend. We are grateful this year to have the tools that allow us to gather with a lot of safety. It will mean however that all of us are likely to need to take some common-sense precautions to avoid future disruptions and the spread of illness.
Get Vaccinated: First, we should all do our very best to be sure we are up to date on our vaccines. The flu shot and the COVID-19 updated bivalent booster are both widely available in LA County and you can receive both vaccines at the same time. Many people may be thinking that it is too late to get vaccinated before Thanksgiving because the vaccines need time to be effective. While protection does ramp up over the 1-2 weeks after you are vaccinated this does not mean that you will have zero protection until this point. You will still have some protection and you will be prepared for future events. Most pharmacies have these vaccines readily available without an appointment. You can also visit our website: ph.lacounty.gov/howtogetvaccinated.
Test Before Gathering: If you are hosting, consider asking guests to take a home COVID test before they come over. If you are going to a gathering and you know there will be an older person there or others who are at high risk for severe illness for COVID, test before you arrive just to be safe and ensure that you are not passing along anything that you do not want to be. COVID-19 home tests for all DPH employees are covered by your insurance.
Stay Home if Sick: If you are coughing, sneezing, have a runny nose, fever, or other concerning symptoms, you should stay home and not risk infecting others. Even a scratchy throat could result in passing along a respiratory virus. Please stay home, rest, and recover.
Maximize Ventilation: Look for ways that you can improve ventilation in your home. If it is not too cold, stay outdoors as much as possible. When inside, open windows or a screen door and use fans to move the air. If you have an HVAC system in your home, set the fan to 'on' and make sure your filters are installed properly. You can also use a portable, high-efficiency air cleaner, also known as HEPA air purifiers. Improving ventilation in your home, as well as gathering in larger rooms where people are spaced apart or going outside, if possible, can help reduce the transmission of airborne illnesses.
Adopt-A-Family Program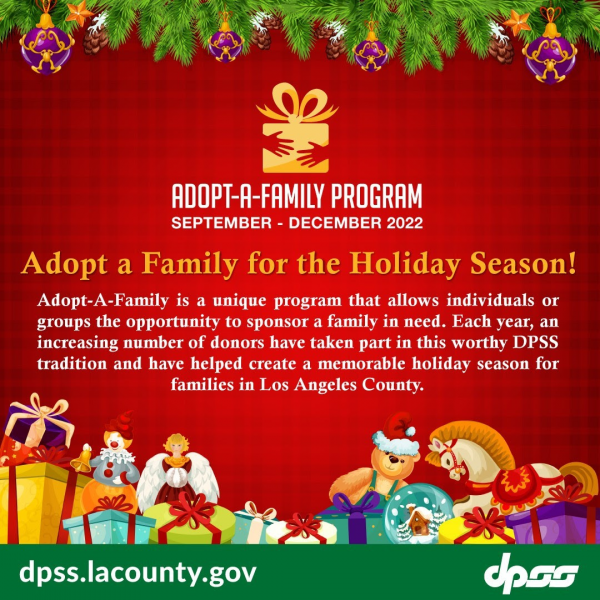 The Department of Public Social Services (DPSS) Toy Loan and Volunteer Services Program is gearing up to host the annual Adopt-A-Family Program, the much-anticipated holiday campaign to bring joy to over 1,000 low-income families receiving DPSS benefits and services.
The call is once again going out to encourage individuals and organizations to help make a difference in the community by supporting this worthwhile program. Sponsoring a family is a wonderful way to celebrate the true spirit of giving.
For over 30 years, the Adopt-A-Family Program has partnered with the community and generously sponsored families needing support during the holidays. Last year, the program provided gifts of clothing, toys, food, and other new items to approximately 1,800 families.
Sponsors may choose the size of the family, general location, and how many families they would like to sponsor. There is no limit to the number of families. Once matched with a family, the sponsor reviews the family's wish list and decides what and how much to give.
Individuals or organizations interested in adopting a family may fill out an online sponsor application at https://bit.ly/DPSSAAF. The deadline to submit applications is Friday, December 9, 2022.
For more information, contact DPSS Volunteer Coordinator Brenda Gonzalez Camacho at [email protected].
---
At Your Service
Emergency Rent Assistance Program for CALWorks Families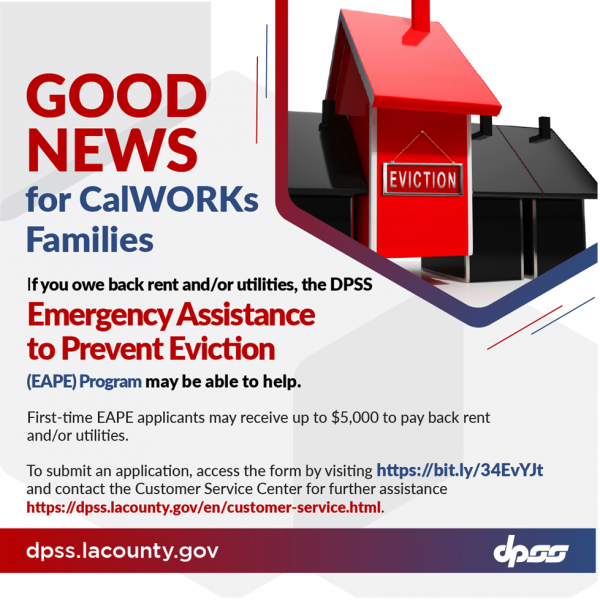 CalWORKs participants who are behind on rent can call the DPSS Customer Service Center at (866)-613-3777 to request Emergency Assistance to Prevent Eviction (EAPE). Download the EAPE fact sheet to learn more. Submit an application to you CalWORKs Eligibility Worker at your district office.
Laptop Giveaway Event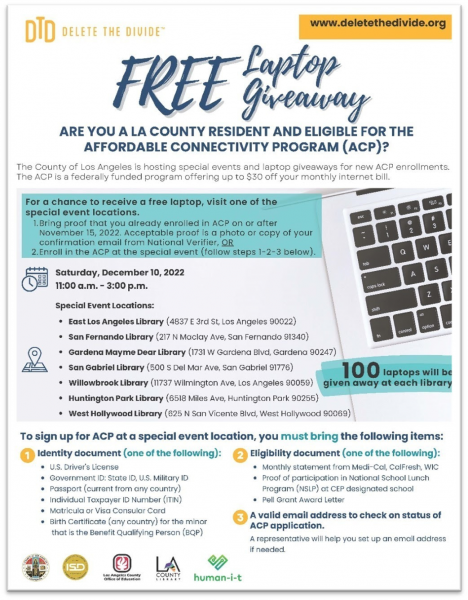 The County of L.A. is hosting special Affordable Connectivity Program (ACP) enrollment and FREE laptop giveaway events at seven library locations on Saturday, December 10, 2022. The ACP is a federally funded program offering up to $30 off your monthly internet bill. One hundred laptops will be given away at each location for new enrollments.
To learn more and see a list of locations, visit ACP Enrollment & FREE Laptop Giveaways – Delete The Divide.
---
Out and About
Tree Lighting Event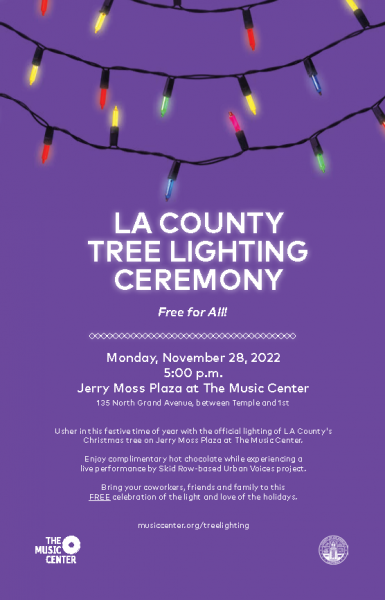 Usher in this festive time of year with the official lighting of LA County's Christmas tree at The Music Center. Enjoy complimentary hot chocolate while experiencing a live performance by Skid Row-based Urban Voices project.
Mon, Nov 28 | 5 pm
Jerry Moss Plaza at The Music Center
135 N Grand Ave, Los Angeles, 90012
This free event is open to all!
Winter Events with LA County Parks

It's Park Time L.A. County! Parks After Dark returns with an enchanting Winter Wonderland experience that will bring holiday cheer and 40 to 80 tons of snow to 34 L.A. County Parks in the month of December. This holiday action packed celebration is for the entire family and is bigger and better than ever before, with more snow, more toys, more craft activities and more fun! All for free!
For more information on Parks After Dark Winter Wonderland, visit parks.lacounty.gov/winterpad.
---
Photo Finish
Photo: Mayra Beltran Vasquez / Los Angeles County