Sheriff Captain tells WeHo City Council Moore case reopened
Dean case still under investigation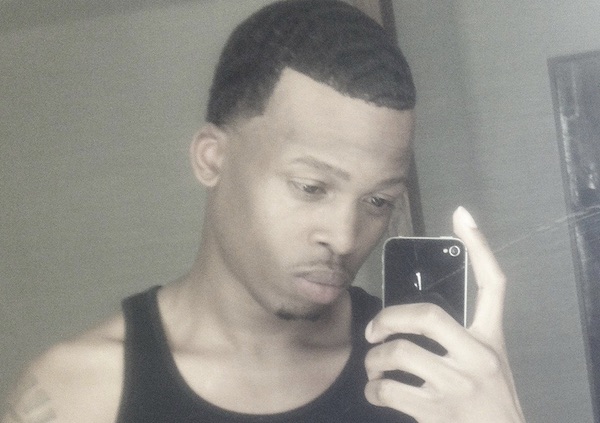 The acting captain of the Los Angeles County Sheriff's Department's West Hollywood Station told West Hollywood City Council members Monday March 4, at its last regular meeting prior to the city-wide election this Tuesday, March 5, that LASD Robbery-Homicide detectives were actively still seeking statements and witnesses in the separate death investigations of Gemmel Moore, 26 and Timothy Dean, 55.
Both men were found deceased at the Laurel Avenue apartment of Ed Buck, a white progressive political fundraiser. Moore and Dean are Black. Buck was present for both deaths according to a LASD spokesperson.
The Los Angeles County Coroner-Medical examiner had determined that Moore had died of an methamphetamine overdose in July of 2017. 55-year-old Timothy Dean, died in Buck's home this past January.
Speaking to the council, LASD Lt. William (Bill) Moulder said that Dean's cause of death has not been released, and LASD officials have put a security hold on Dean's autopsy pending toxicology results.
In answer to a further inquiry from Councilwoman Lindsey Horvath, Moulder said that there were no further details or updates.
However, West Hollywood City Attorney Mike Jenkins interrupted Lt. Moulder, telling the council that he and other city officials had met with Los Angeles County sheriff, Alex Villanueva the previous week and in conversations the Sheriff confirmed that Robbery-Homicide detectives in agreement with the LA DA's office had reopened the case of Moore and were seeking further witnesses.
Buck's attorney, Seymour Amster, told the Los Angeles Times that he and his client "categorically deny each and every allegation and look forward to litigating this matter in court." Amster had previously told The Times that critics have unfairly used race to blame Buck for the deaths, saying "some people who all of a sudden have media attention are trying to divide the races."
In a related story, a lawsuit was filed last Tuesday, February 27 by LaTisha Nixon, the mother of Gemmel Moore, which accuses LA County District Attorney Jackie Lacey and Deputy DA Craig Hum of failing to prosecute Buck in part because he is a white male of privilege.
The Los Angeles Blade reached out to the DA's spokesperson for a comment and has yet to receive a response.
LAPD: Body found on fire hanging in tree in Griffith Park likely a suicide
The person's age, identity and gender have not yet been determined, but they are believed to be a person who frequents the park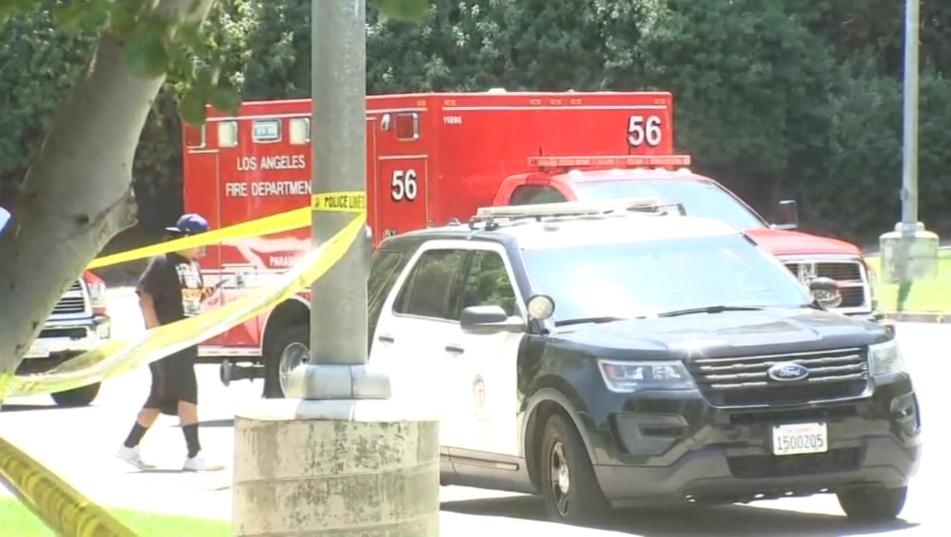 LOS ANGELES – The body of an unidentified person deceased found hanging from a tree near the Griffith Park's merry go round was likely a suicide a detective with the Los Angeles Police Department said Tuesday.
The body was discovered at around 12:30 p.m. on fire and hanging from a tree. Los Angeles City firefighters put the flames out and LAPD detectives investigated and found no signs of foul play, determining that most likely the cause of death was suicide.
"It appears to be self-immolation," said LAPD detective Michael Ventura. "This is going to be somebody who brought some gasoline, brought some lighters. We have had, they are rare, but we do have cases where people will self-immolate. Or they choose to set themselves on fire."
The person's age, identity and gender have not yet been determined, but they are believed to be a person who frequents the park on a regular basis Ventura said.
Independent freelance journalist Vishal P. Singh, who was on scene tweeted about the incident:
Firefighters from @LAFD are carefully removing things from the tree in Griffith Park. @LAPDHQ and the Park Rangers are here, too, investigating the body found hanging from a tree and on fire here. pic.twitter.com/5xBxviZRki

— Vishal P. Singh (they/he) 🏳️‍⚧️ (@VPS_Reports) August 9, 2022
KABC reported:
Editor's note: If you or someone you know is struggling with suicidal thoughts or mental health matters, please call the National Suicide Prevention Lifeline at 800-273-8255 or dial 988
LAPD respond after protestors disrupt LA City Council vote on homeless
All of City Council left except for Councilmembers Raman, Harris-Dawson, & Bonin who have previously voted against the expansion of 41.18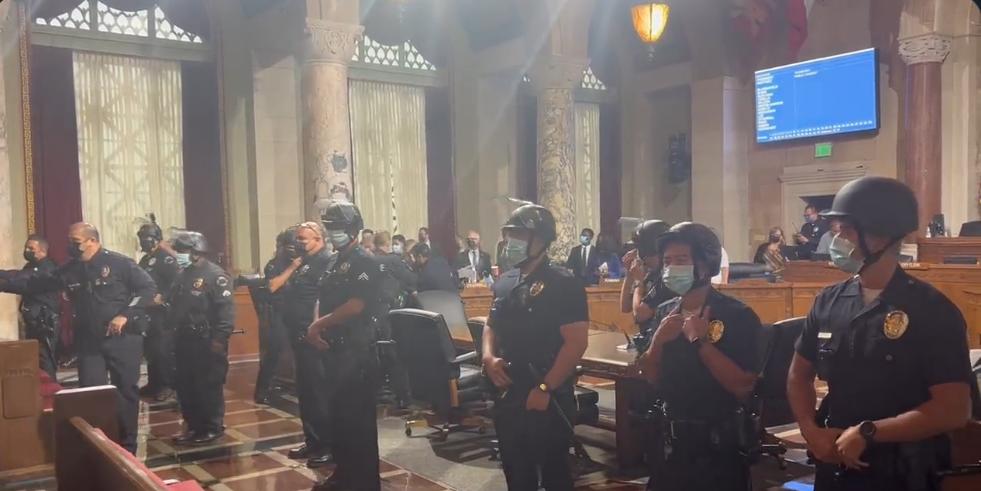 LOS ANGELES – After protestors angrily voiced opposition and one charged towards the council dais disrupting the LA City Council's impending vote Tuesday on a mass expansion of 41.18 zones, which will prohibit encampments of unhoused persons near schools and daycare centers, the Los Angeles Police Department's Riot Squad was called-in.
The meeting erupted into chaos after a member of the public who was speaking climbed over a bench and charged toward Council President Nury Martinez. Police quickly filled the council floor to apprehend the person and another member of the public. Activists screamed at police, and at least one audience member attempted to spray water on officers.
Martinez abruptly recessed the meeting as dozens of activists in the room chanted "Abolish 41.18!" – a reference to the city law prohibiting homeless encampments at libraries, freeway overpasses and other locations.
Jonny Peltz, a freelance reporter for Knock LA, a nonprofit community journalism project, live tweeted the proceedings.
Before meeting starts there are chants of "Shame on you!" pic.twitter.com/7HdnvdOQgD

— Jon peltz (@JonnyPeltz) August 9, 2022
Crowd holding up mostly 'abolish 41.18' signs. Council President told the crowd to "grow up" as they were jeering pic.twitter.com/28dVNpZF4j

— Jon peltz (@JonnyPeltz) August 9, 2022
BREAKING: Riot squad now out at City Hall. Two protesters have been arrested pic.twitter.com/gX9utGVHLj

— Jon peltz (@JonnyPeltz) August 9, 2022
Crowd is staying and chanting. All of City Council left except for Councilmembers Raman, Harris-Dawson, and Bonin (who have previously voted against the expansion of 41.18). LAPD also lining the side of City Council chambers pic.twitter.com/Whmvd9P2xf

— Jon peltz (@JonnyPeltz) August 9, 2022
KTLA reported the Council voted to ban homeless encampments within 500 feet of city schools and day care centers after protesters again rallied against the expanded motion.
The final vote on the motion 11-3 in favor of the widespread ban.
Before the updated motion passed, camps were banned within 500 feet of facilities deemed sensitive, such as schools, day care facilities, parks and libraries but only if those areas have been designated for enforcement.
Tuesday's vote means a blanket ban on encampments within 500 feet of every private school and day care centers in the city.
LAPD increases patrol force by 200 in Hollywood to combat rising crime
"If you come here to commit crime, you will be arrested, you will be prosecuted, you will be jailed or imprisoned," said O'Farrell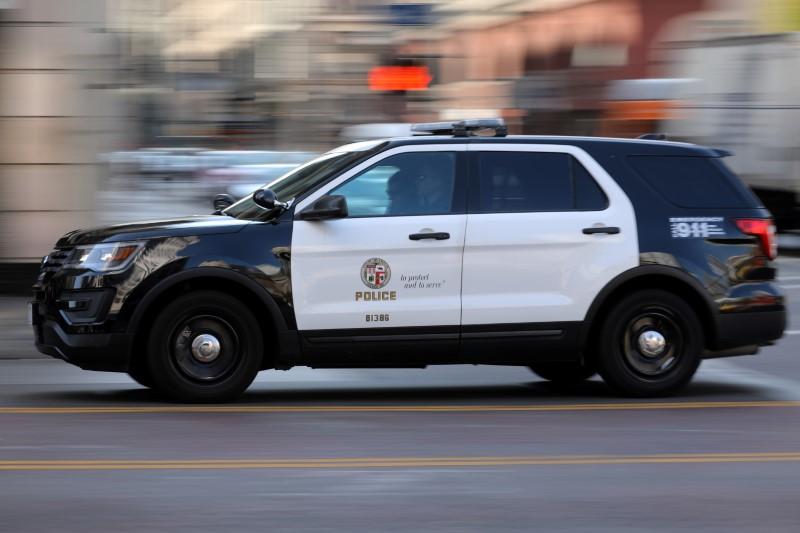 HOLLYWOOD – The Los Angeles Police Department has been deploying additional resources over the past seven months as the neighborhoods around Hollywood have experienced sharp increases in petty thefts, robberies, shootings and homicides.
On Wednesday, Out Los Angeles City Councilmember Mitch O'Farrell hosted an event to spotlight more aggressive actions being taken by the LAPD and other city officials to stem the uptick in crime in the heart of the City's entertainment district.
"If you plan to come to Hollywood to commit crime, you are not welcome," said Councilmember O'Farrell. "All Angelenos should feel safe where they live and work. By bringing additional LAPD shifts to Hollywood, we are strengthening the holistic approach my office is taking to public safety – one that brings unarmed services to people in distress, while ensuring our LAPD officers have the necessary tools to effectively prevent and address crime."
"If you come here to commit crime, you will be arrested, you will be prosecuted, you will be jailed or imprisoned," said O'Farrell adding; "There is no permissiveness in Hollywood. We're not going to permit or tolerate that."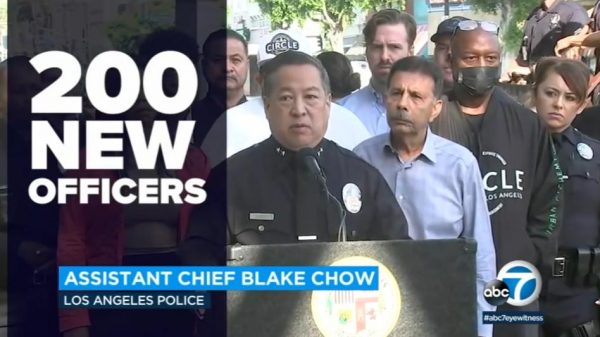 "That's really basically about 200 more officers out on the street here on Hollywood Boulevard. "They're going to be on foot, they're going to be in patrol cars, they're going to be on horseback, they're going to be on bikes," LAPD Deputy Chief Blake Chow told attendees and reporters attending the event.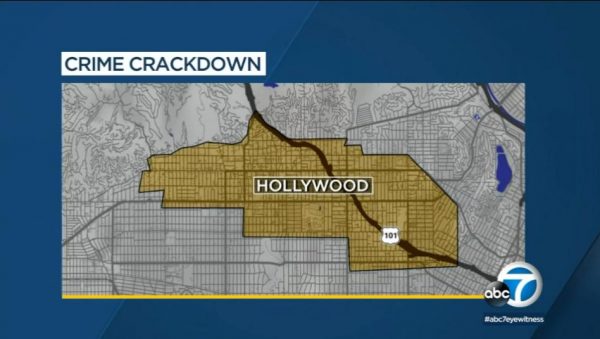 Year to date, Hollywood has seen a 75% increase in homicides and 35.6% increase in shots fired, while robbery and theft have risen by 19.4% and 24.7% respectively, compared to 2021. This latest effort to enhance public safety follows Councilmember O'Farrell's groundbreaking work to bring the CIRCLE program, the City's first unarmed model of crisis response, to Hollywood, in addition to supporting a City budget that accounts for attrition rates within LAPD's ranks.
"People need to feel safe when they're in Hollywood," said Deputy Chief Chow. "We're thankful to Councilmember O'Farrell for these additional resources and look forward to quickly putting them to use to prevent, deter and address crime."
"Public safety requires robust collaboration and an all-hands-on-deck approach," said James Hegler, Director of Operations for the CIRCLE Program. "We're proud of our successful working relationship with Councilmember O'Farrell and LAPD, which helps us bring unarmed services to Angelenos in need so that LAPD can focus their resources on actual crime."
"Public safety is an essential part of a thriving local economy," said Kathleen Rawson, President and Chief Executive Officer of the Hollywood Partnership. "As Hollywood emerges from the pandemic, having officers on the street and available to respond to calls is necessary for our businesses to safely keep their doors open and welcome visitors back to this iconic boulevard."
In addition to deployment of added LAPD resources, O'Farrell on Wednesday introduced a motion that, when approved by the City Council, would strengthen LAPD's presence in Hollywood with additional officer shifts.
The $216,000 effort would be funded directly by O'Farrell's office as part of his comprehensive approach to public safety in Hollywood a spokesperson said in a statement.