United Methodist Church Faces Bitter Battle Over LGBTQ Equality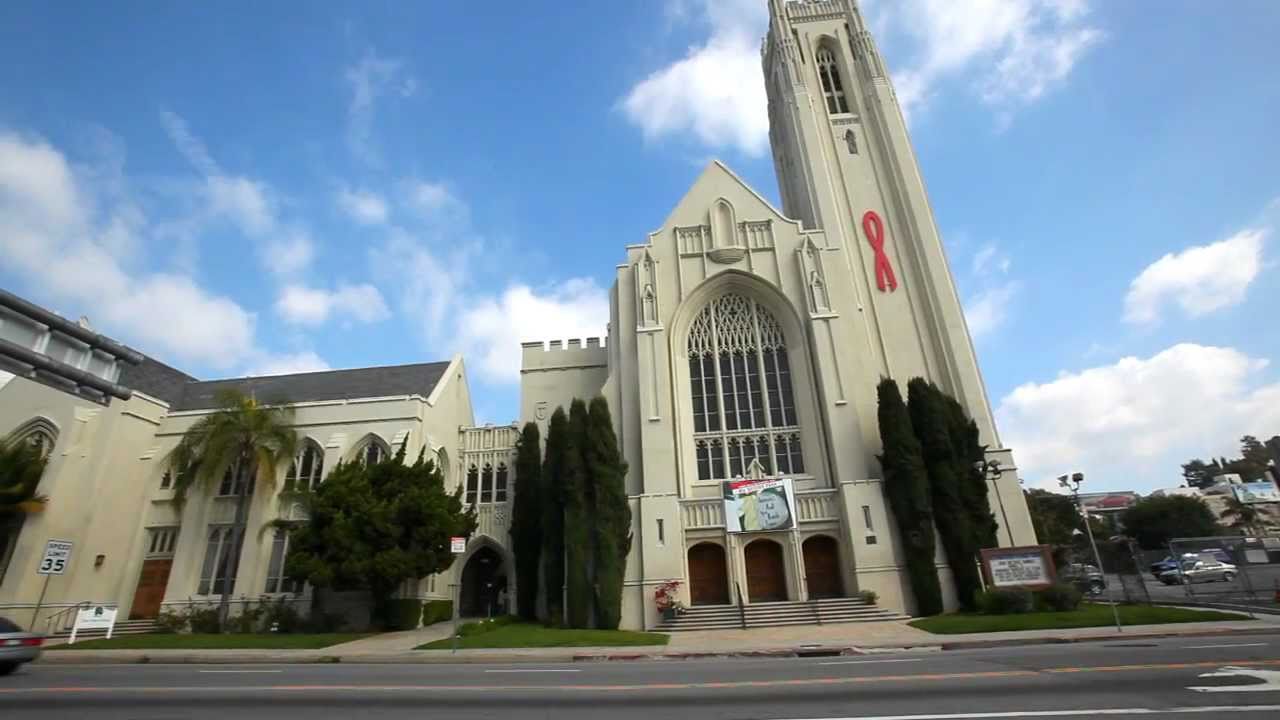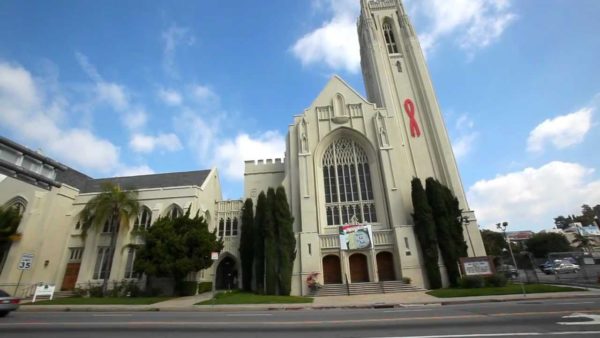 Photo Credit: Hollywood United Methodist Church via Google Earth
The top policy making body of the United Methodist Church, (UMC) the General Conference, (GC), voted 438 to 384 to uphold the ban on LGBTQ clergy first enacted in 1984. Meeting last month in St. Louis, Missouri from February 23-26, delegates also voted to have UMC clergy refuse to conduct the marital rites for same-sex couples, which was first implemented in 1996.
Delegates also voted to ask the Judicial Council, the highest court in the UMC denomination, to review the constitutionality of those approved actions.
The GC called for church leadership to impose severe punishment for violations of doctrine as defined by the church's Book of Discipline. The purpose was to act on a report from the church's Commission on a Way Forward, which had been tasked to examine paragraphs in the Book of Discipline concerning human sexuality specifically LGBTQ persons.
Following those sanctions the 'Traditionalist' factions voting to uphold what was referred to as The Traditional Plan, also added loyalty oaths that all UMC Conferences and bishops have to sign as well as provisos easing existing standards to prove someone is gay.
The One Church Plan, also advanced at the GC meeting and narrowly defeated, was "designed to almost create geographic- regional pockets of LGBTQ inclusiveness a source told the Los Angeles Blade, adding, "which would have made local Conferences and churches able to have say over their affairs on this subject."
The Los Angeles Blade spoke with a GC attendee from Tennessee, who asked not to be identified, who took aim at the push by supporters of the One Church Plan to be more LGBTQ inclusive.
"The powers who run things [UMC] wanted to bring the homosexual issue to critical mass—they're not hearing the truth that damn near every progressive member- same with traditional members— don't want unity, not really. In other words, it appears that those with a financial stake want unity. Most of the rest of us want a church that reflects our values without compromise," the source said.
"The schism among UMC members is deep and wide and growing. The Bible is clear on this—homosexuality is incompatible with Christian faith, teaching, and real belief."
Dorothee Benz attended as a delegate from the New York Annual Conference.
"It's true that nearly half of the UMC wanted LGBTQ people to be tossed out at the conference. Since 1972, there's been a continuing ramping up of regulations and prohibitions against the LGBTQ community in general by church," Benz told the Los Angeles Blade.
"Last month is the most extreme of those actions. But it is in keeping with the 51 year history of the UMC since 1968 and the Methodist Episcopal Church [19th/20th century predecessor] prior to that, with history regarding barley any opposition to slavery, its stance on women's rights, being against civil rights for Blacks—so this a norm for the history of the church versus the exception."
The conference was also wrought with controversy over allegations of improper voting, Benz noted, which "further marred the credibility of the outcome."
"There were proven incidents of votes from people who were ineligible to vote. There must be a full investigation & full accountability of that needs to happen," she said. "The integrity of the UMC is already under- scrutiny this shreds it further," Benz said.
Scott Spencer, a Senior Pastor with the Mosaic United Methodist Church in Oklahoma City, Oklahoma, told the Los Angeles Blade that the results of the GC were devastating to not only his parishioners, but others in the UMC's Western Jurisdiction, which includes most of the American West.
"There's the bottom-line: this is about prejudice, people against people acting against people who are different. And they use the Bible to justify this, same as in past human history—women, Chinese, Blacks. Now its queer people, gay people," he said.
Spencer added that, unlike groups or organizations fighting against LGBTQ equality rights that are transparent in their opposition, the UMC church has been deceptive.
"The only real difference between say the Westboro Baptist Church and the UMC is a casserole," Spencer said, citing one of the more highly publicized infamous anti-LGBTQ groups in the country. "The UMC folks come with a smile, a casserole, and are deceptive with their message of 'love.' Never give in to underestimation of these people."
A review of the UMC's recent history on the subject of LGBTQ equality and efforts for greater inclusion by the Los Angeles Blade found that since 2011, there's been a movement, a collective effort, to withdraw from discriminatory rules by nearly 1,000 plus UMC churches.
Spencer and Benz both pointed out that the 2016 GC held in Portland, Oregon, really became the flash point as many attendees, including queer clergy, organized to stand in defiance of the rules. Spencer noted that over 100 members of the clergy came out at that conference. At the end of Portland's GC though, the issue was deferred, ultimately creating the foundations to the ST. Louis vote three years later.
Benz was blunt in her assessment of the impact of the St. Louis outcome.
"The most important takeaway from the GC is that the UMC is continuing to signal to LGBTQ people—especially queer youth— that their lives are not in line with doctrine and as a result are not acceptable. They are clearly stating that in their view, LGBTQ people are incompatible with Christian teachings," Benz said. "This is no different than Westboro's 'I hate Fags' in capital letters, just more insidious and low key.
"As the whole globe is reeling from white supremacy and bias, the UMC looks like it is standing with the Trump administration. 'Empire over the Christ.' Whether the church can survive this, I have no idea," she added.
Ross Murray, a deacon of a Lutheran church whose calling, he says, is to do LGBTQ advocacy and is on staff at GLAAD, says that at least in the mainstream U.S. public's perception, most of anti-LGBTQ efforts are led by the evangelical or Catholic faiths so other denominations often slip under public's radar.
But he adds that there are also organizations like The Institute on Religion and Democracy, which has been active recruiting delegates in organizations like the UMC to oppose LGBTQ equality, and working for decades to impact anti- social justice. Ross noted also using language defining "homosexuality and gender identity as incompatible of Christian teachings."
IRD is a Washington D.C. based American Christian conservative think tank is led by Mark Tooley, a lifelong member of the United Methodist Church as a layman and writer. He has vehemently opposed LGBTQ equality rights.
Ross also noted that roughly half of United Methodists support legal same-sex marriage, a fact backed up by data from the Pew Research Institute.
In California, many congregations long have operated in open defiance of the Church's stance on homosexuality.
According to a recent article by the Los Angeles Times shortly after the General Conference vote, Bishop Grant Hagiya of the California-Pacific Annual Conference wrote in a statement that he was "deeply conflicted."
"The question is, 'Can I stay in a repressive and oppressive church with integrity?'" he wrote. "After a sleepless night, I came to a new resolve. I believe I must stay in the UMC and lead our people within the geographical context we find ourselves in the West."
"Perhaps no United Methodist Church in California has championed making LGBTQ rights central to its mission more than Hollywood United Methodist," writes in the LA Times.
In 1993, in the midst of the AIDS crisis, the church put an enormous red ribbon on its English Gothic-style bell tower to support the afflicted. The congregation became largely LGBTQ and church attendance in recent years has thrived.
On a recent Sunday, a rainbow flag was draped over the altar. Senior Pastor Kathy Cooper Ledesma told worshipers that "our denomination … is going to need to repent. It's going to need to address our complicity, our overly indulgent patience with the structural homophobia … that has been codified in the Book of Discipline."
The congregation cheered when she declared: "I will continue to marry church members of the same gender in this sanctuary. Amen?"
LAPD asking for public's help with murders of homeless persons
Anyone with information is urged to contact the Los Angeles Police Department's Robbery-Homicide Division, Homicide Special Section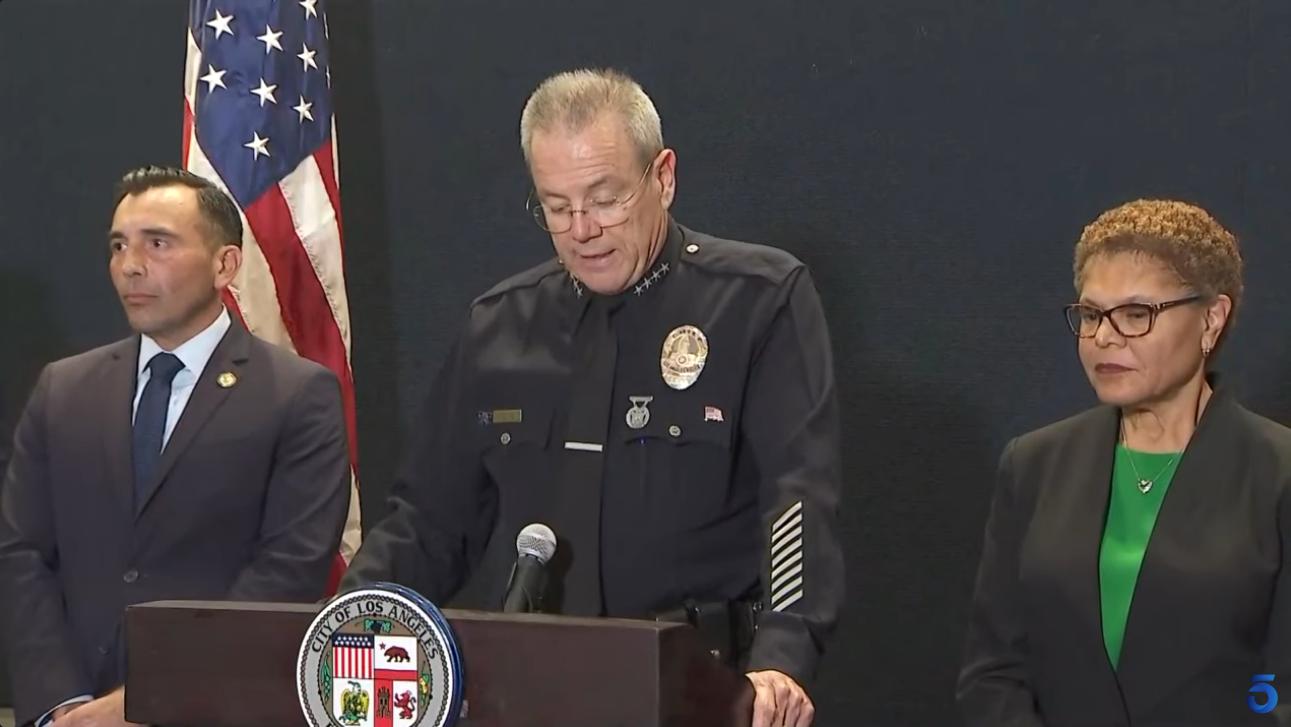 LOS ANGELES – Flanked by Los Angeles County District Attorney George Gascón, LA Mayor Mayor Karen Bass and Martin Estrada, the United States Attorney for the Central District of California, Los Angeles Chief of Police Michel Moore, held a news conference Friday where he announced that three homeless people had been fatally shot while they slept within the past week.
Moore added that authorities believe one suspect is responsible for all three murders.
Detectives from the LAPD's Robbery-Homicide Division are investigating three separate murders that occurred between November 26, 2023, and November 29, 2023. In each case, the victims were experiencing homelessness.
While some similarities have been identified, detectives are working to determine if these murders are related. A community alert bulletin has been issued to make the region's unhoused population and the community stakeholders aware of these recent murders.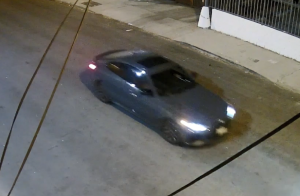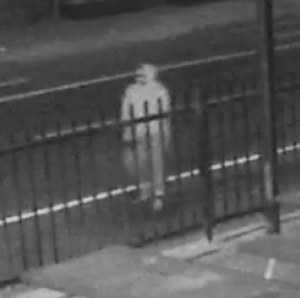 The suspect in these homicides is described only as male. The suspect was seen in a dark-colored sedan. It is unknown if he was alone or there were any additional suspects.
Police have spotted who they believe the shooter is on surveillance footage — Moore said they believe it's a man in a hoodie — and they also have images of the suspect's vehicle, though Moore would not describe it in an effort to avoid misinformation.
"People will see different types of cars, different types of models," he said. "I don't want someone to say 'You called this a Kia and it turns out to be a BMW or Mercedes," he said.
"A single individual approached each one and shot and killed each one as they slept," Moore said, though he avoided use of the term "serial killer."
"The Los Angeles Police Department is employing all available resources to bring justice to these murder victims. I am thankful for our City partners who are working with us closely to ensure the safety of this vulnerable population as we pursue the criminal investigation," said Moore.
"I want to be very clear about what we're facing today: This is a killer who is preying on the unhoused," Mayor Bass said, adding that homeless people should not sleep alone.
"As we always do in the face of a challenge or crisis, our region is mobilizing to respond to this issue. We will work tirelessly to find the individual responsible, arrest them, and hold them accountable. I have met with our partners at the Los Angeles Homeless Services Authority, Housing Authority of the City of Los Angeles, and the Los Angeles Housing Department and we are moving immediately to get the word out to our unhoused neighbors in housing networks. Our message to our unhoused community is clear – try not to be alone tonight. We will do all we can to make shelter and services available. To the many Angelenos who have friends or family who are unhoused, please let them know the danger that exists. We must stay safe. We will work diligently to bring those responsible to justice," the Mayor said.
"To the person responsible: We will find you, we will catch you and you will be held accountable," Bass said.
"I commend the LAPD for creating a dedicated task force to uncover the identity of a potential serial killer preying on the most vulnerable in our community. I've assigned our Major Crimes Division, Bureau of Victim Services and our Bureau of Investigation to assist with these efforts. Today, we demonstrate our collective resolve and stand united in our pursuit of justice, unwavering against the darkness that preys on the most defenseless among us," said LA District Attorney George Gascón.
Related:
Anyone with information is urged to contact the Los Angeles Police Department's Robbery-Homicide Division, Homicide Special Section, at (213) 486-6890. During non-business hours or on weekends, calls should be directed to 1-877-LAPD-24-7 (1-877-527-3247).
Anyone wishing to remain anonymous should call the LA Regional Crime Stoppers at 1-800-222-TIPS (800-222-8477) or go directly to www.lacrimestoppers.org.
Lastly, tipsters may also download the "P3 Tips" mobile application and select the LA Regional Crime Stoppers as their local program.