The subliminal beauty of LGBT unity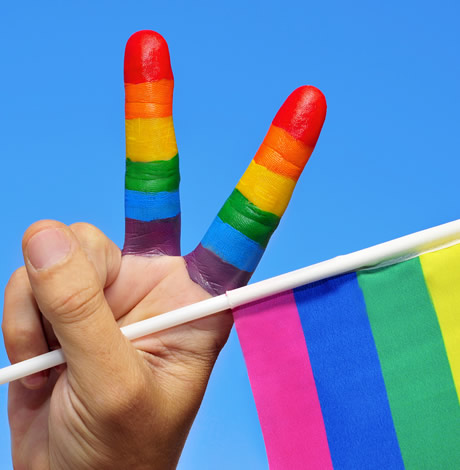 Each year since 1970, LGBT people and their allies pause to celebrate the spontaneous uprising at the Stonewall Inn the year before. Like the match struck at the beginning of Mission Impossible, the two nights of unbridled protests by society's most marginalized on June 28 and June 29, 1969 ignited a flashpoint for the launch of the modern day LGBT movement.  
But Stonewall did not happen in a political or cultural vacuum. And it was not the first gay rebellion against police raids— the 1959 Cooper Do-nuts Riot and the 1966 Compton's Cafeteria riot, the Feb. 11, 1967 demonstration at the Black Cat Tavern in Silver Lake protesting violent LAPD harassment on New Year's Eve, for instance, brought out 200 courageous gays and lesbians who knew what to expect from the armed anti-gay police just months before the hippy Flower Power love fest known as the Summer of Love kicked in. And in August 1968, Lee Glaze, owner and manager of The Patch on Pacific Coast Highway, took the protest to the police.
Consider the context of the times. Street and college protests against the ugly Vietnam War were growing, with terrified straight and gay 18 year olds sometimes pretending to be gay to escape military service—though often potentially dying in the jungles of Southeast Asia seemed preferable to the crushing and dangerous stigma of being labeled "homosexual" at home.
The world profoundly changed in 1968 and the anti-war protests and counter-culture movement became training grounds for resistance, empowering oppressed minorities, including gays and lesbians, to refuse to bow to the daily normalized violent harassment from police and the dominant white conformist society.  
These moments happened in 1968: Jan 30 – the North Vietnamese Tet Offensive exposes the lies told by President Johnson's administration that the U.S. is winning the war. For the first time, Americans grasp that they cannot automatically trust their president. Feb. 29 – the Kerner Commission studying America's race riots determines that the country is "moving toward two societies, one black, one white — separate and unequal." The first week in March in Los Angeles – an estimated 15,000 Latino high school students stage a walk out demanding better education. April 4 – Rev. Dr. Martin Luther King Jr. is assassinated in Memphis by white supremacist James Earl Ray, prompting riots in over 100 cities, leaving 39 people dead, 2,600 injured and an untold number emotionally and psychologically devastated. April 23 – students protesting their university's ties to the military industrial complex take over five buildings at prestigious Columbia University, prompting similar takeovers at colleges and universities around the country. May 6 – more than 5,000 students riot in Paris, resulting in sympathy strikes. June 4 – Democratic anti-war presidential candidate Robert F. Kennedy is assassinated at the Ambassador Hotel in Los Angeles after winning the California primary. Aug. 5-8 – Republican "law and order" presidential candidate Richard M. Nixon is nominated at the Republican National Convention.
It is against this backdrop that "The Blond Darling" Lee Glaze finally stood up to the noxious under-cover LAPD vice squad. After yet another raid and several arrests, Glaze got on his drag stage and promising to pay for legal bills, rallied his patrons into action. They marched up to a flower shop up the street, bought all the flowers (except pansies, apparently) and took their flower power to the Harbor Division Police Station, demanding bail and the release of those arrested during the raid. The Patch raid and successful protest had profound effects, including inspiring Rev. Troy Perry to found the Metropolitan Community Church—"a church for all of us who are outcasts"—after his boyfriend Tony Valdez was arrested.  
One year after The Patch raid, Los Angeles reeled from the Manson murders (Aug, 9-10, 1969), more than 500,000 peace and love-seeking, sexually liberated hippies showed up at Max Yasgur's farm in Bethal, New York for three days of the rock 'n roll Woodstock Festival (Aug. 15-18), and the Democratic National Convention in Chicago erupted in a police riot live on TV (Aug. 28) with bleeding antiwar protesters screaming: "The Whole World Is Watching!" But by the end of 1969, a Rolling Stones concert guarded by Hells Angels at Altamont Speedway in California where one man was murdered. Woodstock and the Age of Aquarius seemed over.
In the meantime, on July 20, Astronaut Neil Armstrong stepped on the Moon and declared, "That's one small step for man, one giant leap for mankind" in the Moon landing televised live around the world.
And on Nov. 15, the Vietnam Moratorium Committee, organized by then-closeted politico David Mixner and three friends, created the largest antiwar protest in U.S. history when roughly 250,000-500,00 people showed up for a non-violent civil disobedience protest in Washington, D.C. Just four months after Stonewall, a contingent of out and proud radical Gay Liberation demonstrators turned up, too, dancing in pink tutus and veils through the Key Bridge campsite's food line on Sunday, and transforming into fierce protesters when the action got underway, as witnessed by this reporter.
Stonewall took on legendary status in 1970 after demonstrators from New York contacted well-known antiwar gay activist Morris Kight in Los Angeles to commemorate the June 28 uprising with a parade. Radical activists created the Gay Liberation Front and the less-radical, more organized Gay Activists Alliance immediately after Stonewall, with Kight, Don Kilhefner and other members of the Gay Liberation Front of Los Angeles founding such lasting projects as the LA Gay Community Services Center, the precursor to the Los Angeles LGBT Center of today.
While passionate conflicts within and between organizations sometimes ruined efforts to provide much needed services to LGBT people—"oppression sickness," Kight called it—there is an undercurrent of connectivity, of conscious and unconscious awareness in which LGBT people are aware of each other—aware of the need for secrecy when called for, aware of the need for a hug when others declare LGBT person untouchable. LGBT people are still officially second-class citizens, an unrecognized minority that has created community across numerous boundaries, including internal roadblocks.  
"It took many years of vomiting up all the filth I'd been taught about myself, and half-believed, before I was able to walk in the earth as though I had a right to be here," gay author James Baldwin once wrote.
It is precisely that shared experience that LGBT people recognize within themselves and each other. That sense of community may be "a useful fiction," as AIDS activist Michael Callen once said, but it a community that also embraces all others. Racism, sexism, xenophobia exit—Jewel Thais-Williams created Catch One Disco in response to the racism at West Hollywood's Studio One and other discos.
But ironically, the LGBT community in many ways exemplifies the complex "peace and love" legacy of the Age of Aquarius better than other minorities. During the AIDS crisis, when government, society, and families disavowed their AIDS-infected and dying loved ones, LGBT people came out and took care of each other, often with help from soulful straight allies.
Empathy and inclusivity are at the core of LGBT unity. Mattachine Society founder Harry Hay celebrated his 80th birthday at West Hollywood's Plummer Park in October 1992 surrounded by his beloved young community from Queer Nation, ACT UP and the Radical Faeries. Non-assimilationists, especially effeminate men, led the way in gender expression.
While ideology may yank some LGBT politicos from their community mooring, the respect for those fighting for LGBT freedom and civil rights earns respect and connection regardless of electoral politics. Jim Mangia, now president & CEO of St. John's Well Child and Family Center, providing healthcare to predominately low-income Latinos, African Americans and transgender folk in South LA, was once the unanimously elected national Secretary of the Reform Party in 1997, with a proven record of working to establish a third party in California and the nation. In 2000, he publically fought anti-LGBT Patrick Buchanan for control of the party. Mangia is also an admirer of early gay Democratic Party icon Jose Sarria, founder of the Imperial Court System and the first openly gay candidate who sought public office when in 1961, he ran for the San Francisco Board of Supervisors.
Perhaps one of the best examples of LGBT unity and connectivity occurred after the LA Riots in 1992. As Los Angeles burned, much of the attention was on the perceived warfare between the Black and Asian communities. But Rev. Carl Bean called a community meeting at his Unity Fellowship Church in South LA and invited one of LGBT nation's best known Asian leaders, Paul Kawata, executive director of the National Minority AIDS Council, to demonstrate the unity within the LGBT community. After the meeting, the attendees helped clean up the charred streets of Los Angeles.
And prime example of LGBT connectivity and unity is the quieter, constant behind the scenes action of Transsexual Menace Shirley Bushnell who fiercely advocated for transgender rights before the Trans Lives Matter movement. Bushnell, with backing from ally lawyers and activists, badgered the LAPD and the LA Sheriff's Department for better treatment and respect. Her constant activism paved the way for trans activists such as Karina Samala and Mason Davis to secure actual policy changes in law enforcement.  
It's 2019 and America is under attack from within. That is our historical context today. LGBT people and other minorities are facing equality rollbacks and brazen injustices that feel as if the pursuit of freedom hasn't progressed much in the 50 years since Stonewall. But it has, including in the quiet and loud collective insistence on unity whenever the LGBT tribe is attacked. White supremacy will never tear asunder that shared bond of pain and the beautiful connection of an outsider's love for each other.
Monét X Change joins Kiva to Celebrate Pride
Kiva, the sought-after cannabis brand, is following through once again with their second annual partnership with world famous drag superstar Monét X Change.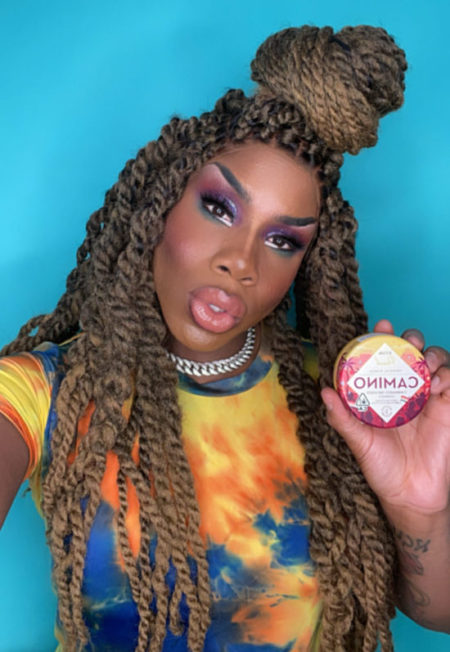 LOS ANGELES – 'Tis the season of rainbow sponsorships. Pride partnerships between companies of all sizes and queer celebrities of all caches abound. In the whirl of Pride collabs, it's important to know which companies are for real.
Kiva, the sought-after cannabis brand, is following through once again with their second annual partnership with world famous drag superstar Monét X Change. Monét went Live on Kiva's Instagram Thursday evening, hosting a candid conversation with viewers on Pride, cannabis and how the two are intertwined.
On her Instagram Live, Monét started off the bat by calling out other companies who "slap on a rainbow" and call it a day. Kiva is not one of those companies. This Pride month, Kiva has made donations to GLAAD and has pledged to continue their involvement and support of the LGBT+ community year-round, something with Monét cited on Live as especially noteworthy.
GLAAD is an internationally recognized LGBT+ organization that works ubiquitously in the worlds of entertainment, news, and digital media to accelerate acceptance and celebrate LGBTQ+ stories.
Monét X Change gained fame on the 10th season of RuPaul's Drag Race, where she won Miss Congeniality. She went on to win (in a tie) the fourth season of RuPaul's Drag Race All Stars. Working her way to the top of the industry, she is now regarded as one of the most popular and successful queens to come out of the show, frequently partnering with her pal from New York, Season 8 winner Bob the Drag Queen.
You can now find Monét everywhere in almost every facet of the entertainment world. Most recently, Monét released "Love Like This" – a beachy bop with a fresh queer Caribbean sound.
Joining Monét's Kiva live stream was a colorful bunch of up and coming New York queens, including the in-demand Jacklynn Hyde, her leggy New York sister Tina Twirler and the crown-snatching Sabbyiana.
Back by popular demand, Kiva is relaunching the much asked for Tropical Punch Camino Gummies. These fruity little edibles are a Pride spin-off of Kiva's popular line of Camino gummies. A light, refreshing edible with 5mg THC per dose perfect for Pride month.
LA Pride breaks silence announces 'Thrive with Pride'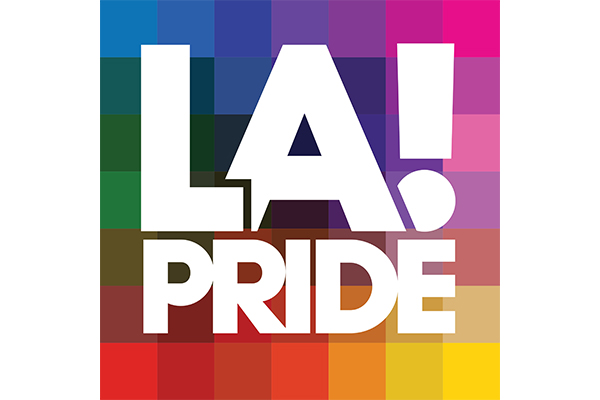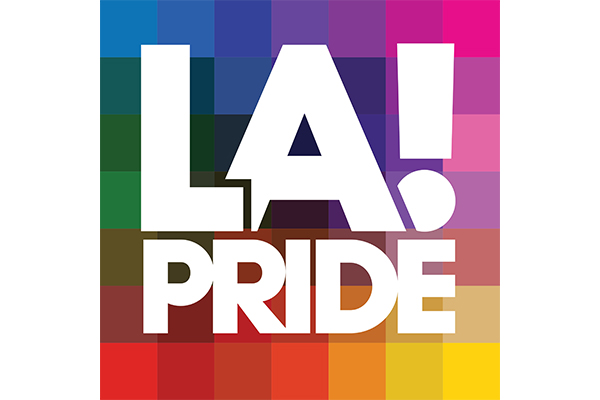 LOS ANGELES – After weeks of 'stay tuned' on its website and no real engagement with the media or the LGBTQ community, Christopher Street West Association Inc. the nonprofit organization that produces the annual LA Pride celebration announced its planned June programming for LA Pride 2021 on Thursday.
Pride 2021 activations are themed around the daily reminder to Thrive with Pride.
LA Pride weekend will kick-off on Thursday night, June 10th with a concert exclusively presented by and live streamed on TikTok featuring hyper-pop diva Charli XCX and a showcase of up and coming LGBTQ+ performers across genres. In-person concert opportunities are not available at this time. Fans and followers can follow @tiktokforgood and @lapride on TikTok for updates and advanced promotions.
Further, a televised special titled "Thrive with Pride Celebration" is set for Saturday, June 12th airing 9:00pm-10:00pm PDT on ABC 7 Los Angeles, the most-watched station in Southern California, will feature special guests, performances and LA Pride honorees.
"To thrive means to flourish and progress despite the circumstances. Pride this year is a moment for you to stop and breathe," said Sharon-Franklin Brown, CSW board president. "It's a moment to remember you're not just surviving one of the hardest years in recent memory, but growing into your truth. This is why we were so intentional in our planning. We want to bring a moment of celebration, a moment to highlight the community, and an opportunity to give back. If we as a community can come together, even for a moment, to realize we've broken down some barriers put on us, it'll strengthen our resolve to continue tearing more down for those to come after us."
"After an unprecedented year of challenge and struggle, I am so pleased that this year's pride festivities embrace the spirit of the first pride parade and our activist roots," said Los Angeles City Councilmember Mitch O'Farrell. "By bringing together LGBTQ+ communities from every corner of our City, we will uplift all voices and elevate the important work of the icons of the LGBTQ movement who sacrificed everything in their young lives at the time so we can all celebrate together in 2021. With a mix of virtual and potential in-person events, this year's festivities will keep our community safe and connected while providing every Angeleno an opportunity to embrace giving and volunteerism."
In recognition of the incredibly difficult work Los Angeles social justice and non-profit organizations have put into achieving equity, actionable change and stability, LA Pride will launch a 30-day give back campaign to support these efforts. Pride Makes a Difference will highlight opportunities for Angelenos to sign up to either volunteer, or donate goods and/or money to local organizations in Los Angeles County. Pride Makes a Difference is a new program in conjunction with Big Sunday. As part of these new efforts, drop off locations will be set up all throughout Los Angeles. A list of selected local organizations and drop off sites will be available soon to choose from, as well as the sign-up details and commitment.
"Our utmost priority in whatever we're doing to celebrate Pride this year ensures safety and follows CDC-approved pandemic guidelines," continued Brown. "That's why we're announcing this programming first. Any potential in-person celebratory activations will be announced at a later date in the coming weeks. The more we put safety first, the more likely we're able to plan big physical events in the future, including Pride 2022, where we can celebrate who we are, where we came from, and where we need to go."
LA Pride 2021 looks to be virtual with limited in-person events- maybe?
There have not been any announcements for plans for Pride month events in June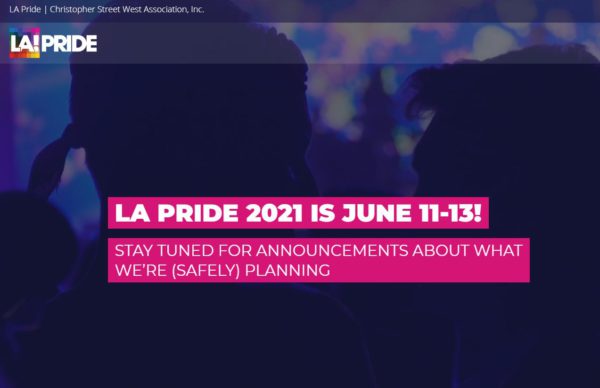 LOS ANGELES – The months April and May are usually crunch time in planning for Pride events in any year, however the impact of the coronavirus pandemic has shut down larger scale in-person gatherings as well as restricted smaller events in both outdoor and indoor venues.
This year, however, remains a question mark and so far there's been no concrete planning announcements.
Last week, California Governor Gavin Newsom announced that as the state has surpassed a major milestone in the fight against COVID- administering more than 20 million vaccine doses, including 4 million in the state's hardest-hit communities, officials intend to fully reopen on June 15.
However, common-sense health measures such as masking will remain across the state. Testing or vaccination verification requirements will remain in relevant settings.
All sectors listed in the current Blueprint for a Safer Economy grid may return to usual operations in compliance with Cal/OSHA requirements and with common-sense public health policies in place, such as required masking, testing and with vaccinations encouraged.
Large-scale indoor events, such as conventions, will be allowed to occur with testing or vaccination verification requirements.
Pride would fall into the latter category.
A spokesperson for The Los Angeles County Department of Public Health echoed the governor's announcement but stressed there were science and data driven caveats to modification of the Public Health Order allowing large-scale events and that systems would be required in place to protect the public's health.
A majority of Pride events in 2020 were either cancelled outright or moved online as California was under strict 'Stay-At-Home' orders.
This year, even with the governor's announcement there have not been any announcements for plans for Pride month events in June. The Blade reached out to the both the City of West Hollywood and Christopher Street West which runs LA Pride seeking information.
In an email, a spokesperson for the City of West Hollywood said that it is anticipated that the West Hollywood City Council will receive an update on programming for the celebration of LGBTQ Pride 2021 at its regular City Council meeting on April 19, 2021.
'At this time, the City of West Hollywood remains in a declared local emergency in order to respond to the COVID-19 pandemic. Despite extraordinary progress in vaccinations and in opening certain sectors of the economy, COVID-19 community transmission remains a top concern to the City and to local health officials; this year there will be no large in-person gatherings, including the events we typically see in West Hollywood during Pride festivities," Sheri A. Lunn, the Public Information Officer for City of West Hollywood told the Blade.
"Gov. Newsom's announcement to fully open its economy is conditioned on the state meeting two criteria: 1) sufficient vaccine supply for Californians 16 years and older who wish to be inoculated, and 2) stable and low hospitalization rates. In planning ahead, the City must anticipate shifts in the timing of these policy changes and plan accordingly to ensure the health and safety of residents, business community members, and visitors," she added.
For Pride 2021, the City of West Hollywood will host its annual One City One Pride LGBTQ Arts Festival, which will take place with a series of virtual events that will run from Harvey Milk Day (May 22) through the end of June Pride month (June 30). The City plans to work with the West Hollywood Chamber of Commerce to encourage and promote the efforts of West Hollywood's business community during Pride season this year to celebrate in accordance to regularly revised guidelines established by the Los Angeles County Department of Public Health.
So far there has been no comment nor statements from LA Pride/Christopher Street West nor has the organization returned phone calls from the Blade regarding plans for Pride.
On its website the organization simply says "Stay Tuned."
The Blade also reached out to several businesses and a couple of LGBTQ organizations, all of which said that there had been no news or announcements for Pride planning as of this week.