Gun scare in Dupont Circle halts 2019 Pride Parade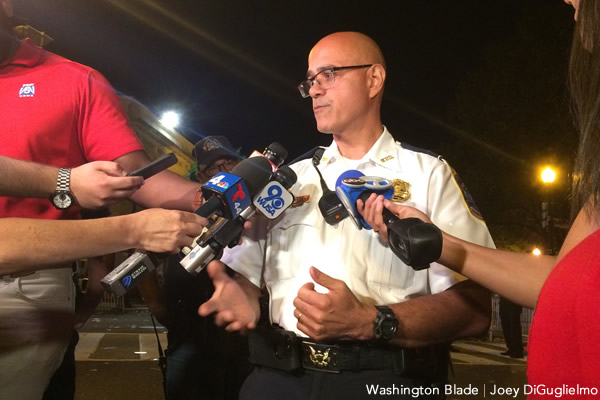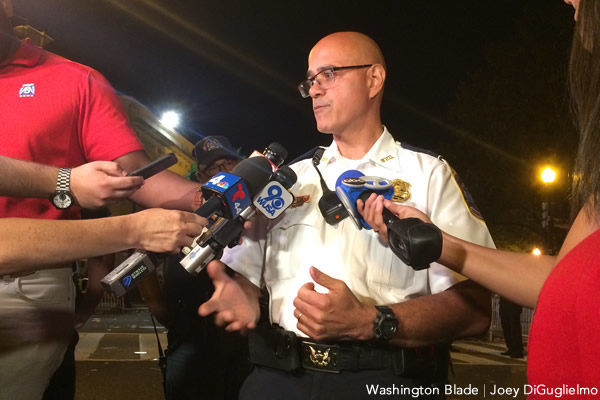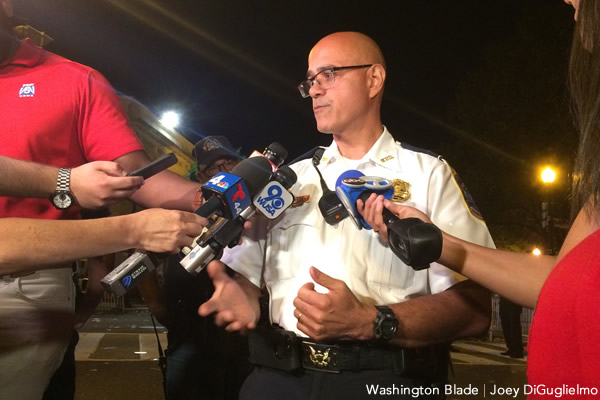 Cmdr. Guillermo Rivera speaks to reporters following the incident that caused the premature ending of the Capital Pride Parade. (Washington Blade photo by Joey DiGuglielmo)
A gun scare in Dupont Circle tonight (Sat., June 8) about 7:30 p.m. brought the annual Capital Pride Parade to a screeching halt and sent hundreds of observers fleeing the scene in panic, according to eyewitnesses and police.
"At about 7:20 p.m., officers responded to a report of a man with a gun," said Commander Guillermo Rivera of D.C. Metro Police during an impromptu press conference in Dupont Circle about 9:15 p.m. "As the officers were going to the scene, some of the people running away said there was a man with a gun and someone had fired shots. Officers arrived and stopped an individual and a gun was recovered close by. There is no evidence that any shots were fired, but that's under investigation."
The scene at the circle was still buzzing after 9 p.m. Dozens of police officers were on scene all around the circle along with fire and EMS personnel. Sgt. Brett Parson was on the scene with Rivera. Capital Pride organizers such as Ryan Bos (executive director, Capital Pride Alliance), Bernie Delia (former president), Ashley Smith (president of the Capital Pride Alliance board), Cathy Renna (whose PR firm Target Cue works with Capital Pride), et. al. huddled and eventually departed the scene.
"We're just waiting to find out exactly what happened," Smith said.
Rivera said one adult male was arrested for possession of "what appears to be a handgun." Additional charges may be filed, Rivera said. A woman was arrested as well for an altercation with a police officer, Rivera said. The officer was not injured. It doesn't appear, Rivera said, that the two incidents were related.
Shortly before the press conference, a young woman was taken away in a Metro PD van in handcuffs. She appeared to have difficulty walking but it wasn't clear if she was being uncooperative. Someone asked Rivera if she had been naked at one point. He said he didn't know but she was clothed at the time she was taken away. Both the man and woman are being arraigned at Second District headquarters.
"At this point, it's unclear if they were together," Rivera said.
People who were in the circle at the time of the hubbub said it appeared to have started over a fight.
"Apparently there were two people who got in a fight," said Cory Bittner, a gay Chevy Chase man who was at the parade with friends. "About 10 minutes later, he came back and was waving a gun in the air and that's when everybody started running."
Bittner and his friend Rob Nelson of Baltimore fled to Connecticut Ave. and waited there about 10 minutes.
"It was like a stampede," Nelson said.
Police consulted with Capital Pride organizers and decided to cancel the parade about 7:30 p.m. The parade was slated to continue until 8 p.m. According to witnesses, there were many contingents that didn't get to participate.
Dave Kolesar and husband Patrick Wojahn were standing at 23rd and P N.W. and were second in line to start the parade route with Dignity Washington, a gay Catholic group, when they heard the music stop.
"Things got a little quiet and then saw people stampeding down P street from the circle," Kolesar said. "We heard people say, 'Get back, take cover, there's an active shooter,' but it was like a big game of telephone. As people were coming down, I did hear a few loud bangs, which were obviously the cause of additional panic, but they were probably just the sound of the temporary barriers getting knocked down as people were trying to leave the scene."
Neither Kolesar nor Bittner said they saw anyone fall or get trampled but police said about seven people were transported to local hospitals with minor injuries. Others — they didn't say how many — were treated at the circle.
After about 15-20 minutes, Kolesar said a Pride organizer informed them that the parade was being canceled. Foot traffic was still flowing heavily out of the circle, so Kolesar and Wojhan headed toward Georgetown. They felt safe to come out of an area they were taking cover at after about 15 minutes. He guesses "at least several dozen" contingents didn't get to be in the parade. He said the scene was "a mixture of curiosity, fear and panic."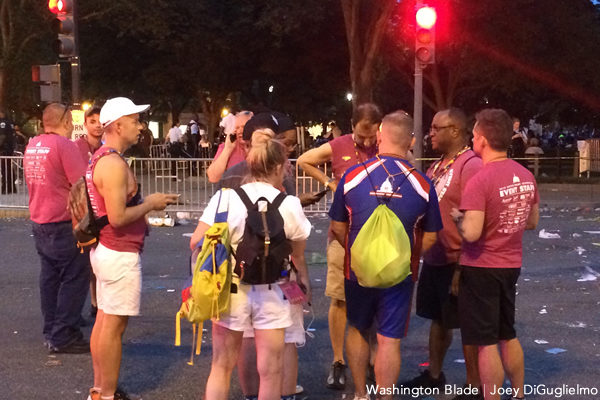 Capital Pride organizers confer at Dupont Circle Saturday night after reports of a shooting. Ashley Smith is second from right; Ryan Bos is far right. Robert York, board member, has his back to the camera with the neon backpack. He's facing Bernie Delia. (Washington Blade photo by Joey DiGuglielmo)
Kristina Kelly, a prominent local drag queen (aka Chris Smith) posted on Facebook about the incident about 8:15 p.m.
"Kids, we are here at Dupount (sic) and fine, however we heard shots and 3,000 people (were) running down Connecticut Ave. Trust (me), it wasn't false," she wrote.
"I wasn't at the circle, so I don't want to second guess police," Kolesar said. "But I know they consulted with the Pride folks when they made the decision out of an abundance of caution. Sadly, I think it's reflective of the times we live in."
About 10 minutes after the police briefing, the mood in the circle seemed to lighten. A group of a hundred or more young people gathered in a large pack and were break dancing to hip-hop music, seemingly intent on recovering some of the fun of the evening.
This is a breaking story. The Blade will have more on it as details emerge.
Pride in London celebrates 50, Heartstopper cast members troll protestors
"People in this community have been able to be open & successful, thriving – but also recognise that we can't be complacent" ~ London's Mayor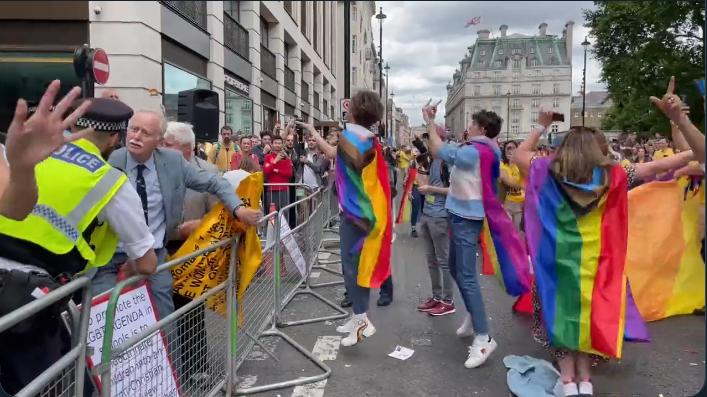 LONDON – Saturday marked the 50th anniversary of Pride in London, the first was led by the Gay Liberation Front in 1972. According to the BBC more than a million people thronged the streets of the UK's capital city ranking it as one of the largest LGBTQ+ events in Europe.
In a Sunday interview with BBC Radio, London's Pride director Chris Joell-Deshields said it was important as it provided a great level of visibility for LGBTQ+ rights.
"We're able to provide that form of visibility, unity, quality, that the world can see and it sends a message of solidarity to those persons who may be thinking 'I can't be open', 'I can't be visible or I'll be prosecuted in my country," he said.
"The battles have not all been won. Yes we've had some magnificent achievements, whether or not that's equal marriage, the repeal of section 28, the lifting of the ban of homosexuals and lesbians in the military, but we've still got a journey to go," he told BBC Radio.
"Every day we're continuing to have to fight for our trans people and making it a fair life for them. We're still having to fight for those around the world who live in countries where they can't be themselves," Joell-Deshields added.
Reflecting on the masses gathered at Traflagar Square Joell-Deshields noted:
"Yesterday when we were in Trafalgar Square, and we were chanting 'trans rights are human rights', we were pushing that so that volume of noise was heard at Downing Street and beyond, to the millions or people on the footprint and thousands on the parade.
"That sends a powerful message to politicians and others that we're here, we're proud and loud, and we're going to continue to fight.
"And there's the next generation coming along that we need to pass the mantel to. We want them to understand that the fight is not won, we have to continue and the pride platform is a great platform to do that."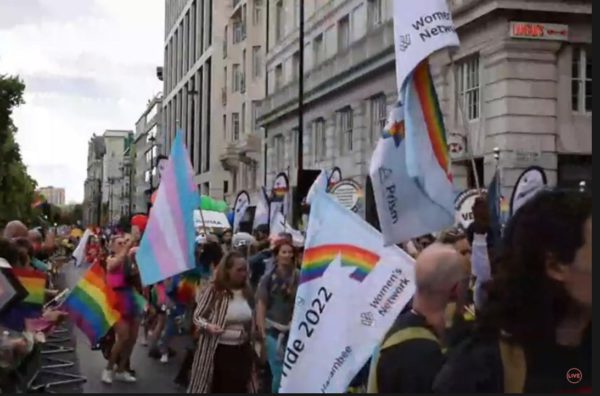 Echoing Joell-Deshields, the Mayor of London Sadiq Khan, who was in attendance Saturday told PinkNewsUK the LGBTQ+ community and allies "can't be complacent" in the fight for equality.
The Mayor stressed that it was important to celebrate the hard won rights that the UK's LGBTQ+ community has fought for over the last 50 years including the "end of Section 28", the introduction of same sex marriage and the approval of "laws to protect this community."
He then pivoted and warned there is still a "lot of campaigning" to be done in the wake of the deadly mass shooting at an LGBTQ+ venue in Oslo, Norway as well as attacks against the trans community in the UK.
"People in this community have been able to be open and successful, thriving – but also recognise that we can't be complacent," Khan said. "There is still a lot of campaigning to be done."
He continued: "This time last week we saw in Oslo members of this community being attacked – two being killed, many others being injured.
"We've seen trans people in this country being used as pawns by politicians and others in a culture war.
"So of course, we've got to continue protesting, continue campaigning, continue trying to make progress but also celebrate the progress we've made," the mayor said.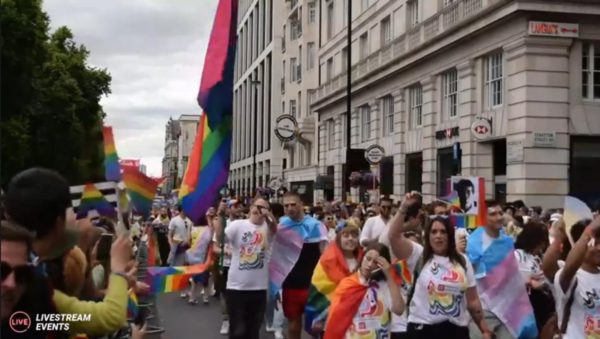 Joining in to march in parade were cast members of the Netflix hit LGBTQ+ drama series 'Heartstopper' including lead actors Kit Connor and Joe Locke, and castmates Jenny Walser, Sebastian Croft, Tobie Donovan, Corinna Brown and Kizzy Edgell.
Alice Oseman the author, illustrator, screenwriter, and executive producer of Heartstopper tweeted:
July 2, 2022
At one point in the parade the cast stopped and trolled some anti-LGBTQ+ street pastors spouting inflammatory hate speech. Actors Joe Locke, who plays Charlie Spring and Sebastian Croft who plays Ben, can be seen jumping up and down dancing as they displayed their non-verbal disapproval of the protestors bullhorn-delivered messaging. Kit Connor who plays Nick Nelson noted in a Twitter post:
uhhh I was videoing and screaming at them but please don't be mistaken, it wasn't 'Kit Connor and the rest of the cast', it was @joelocke03 and @SebastianCroft front and centre. Please give them the credit for doing something so powerful. https://t.co/SjvJFCHwKD

— Kit Connor (@kit_connor) July 2, 2022
A video, shared on Twitter by Sky News journalist Scott Beasley, showed the actors waving the middle finger and loudly singing along to Whitney Houston's hit "I Wanna Dance with Somebody (Who Loves Me)" in front of the street preachers.
The stars of Heartstopper absolutely loving it as anti-LGBT protesters are challenged by a young Pride supporter #Pride pic.twitter.com/7uUwaG9MXW

— Scott Beasley (@SkyScottBeasley) July 2, 2022
PinkNewsUK reported that elsewhere in the parade, Connor carried Locke on his back as they walked along the parade route behind a giant Pride flag. The scene was very reminiscent of a Heartstopper doodle that Alice Oseman created for Pride in 2019 that depicted Nick carrying Charlie, who was wearing a colourful flag, on his back.
happy pride month from me & the Heartstopper boys!! 🌈
(I have lots of time and energy to draw pride art this year and I am so excited!!!!!) pic.twitter.com/wqTValTBLl

— Alice Oseman Updates (@AliceOseman) June 4, 2019
Locke told the BBC that this was his first Pride ever and said it was "such an honour" to be celebrating "being queer when the world might not be so accepting". 
"It's very, very surreal for me," he said.
South LA Pride is back! Queer BIPOC artists to headline celebration
LA Councilmembers Marqueece Harris-Dawson & Herb Wesson set to host 4th annual celebration. Congresswoman Karen Bass scheduled to speak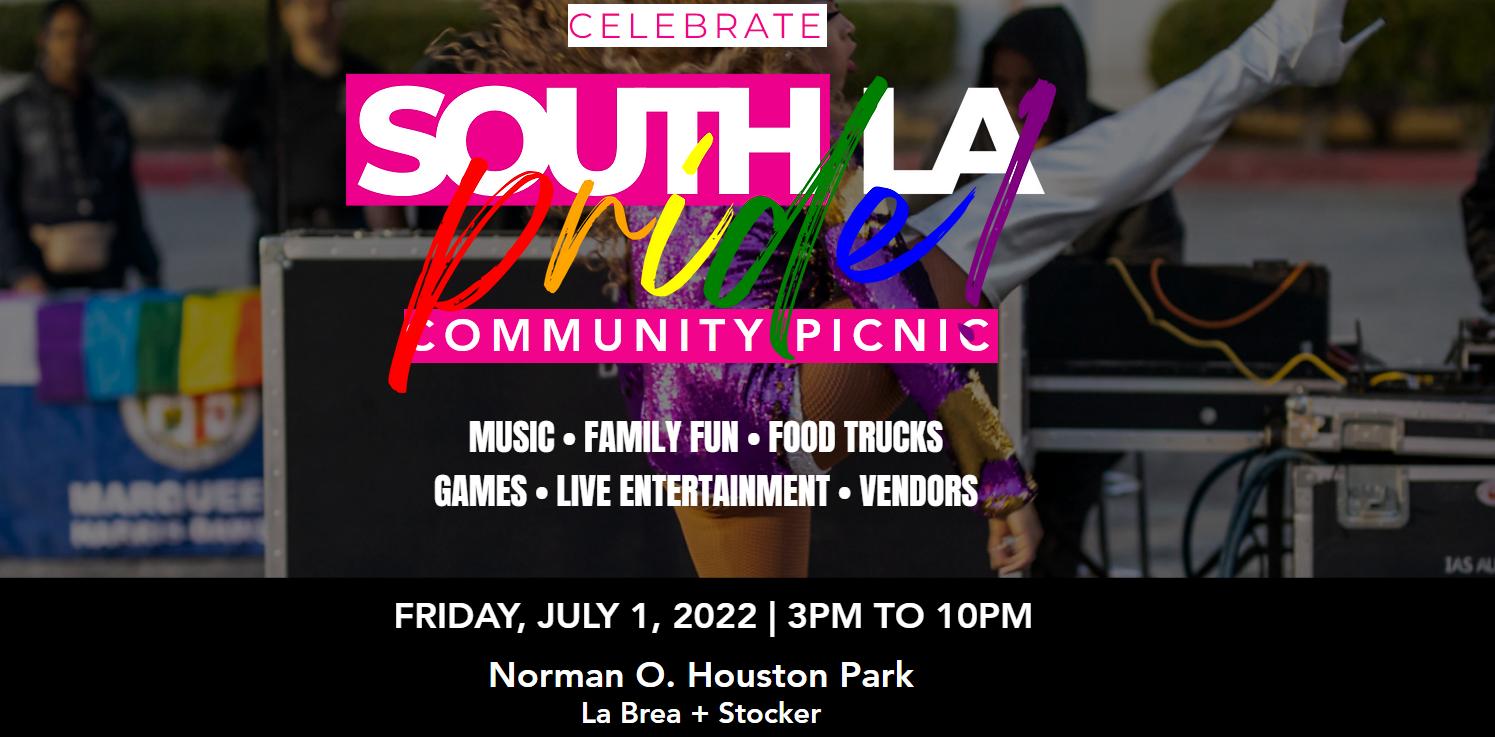 LOS ANGELES – South LA Pride is back after a two-year break due to the Coronavirus pandemic. For its 4th celebration, South LA Pride will host a free community picnic at Norman O. Houston Park (4800 La Brea Ave.) on Friday, July 1 from 3 p.m. to 10 p.m.
The event will be headlined by local queer Black, Indigenous, and People of Color (BIPOC) artists including the Angela Davis of hip hop MEDUSA, the TRANS CHORUS OF LOS ANGELES, and the winner of HBO Max's season one voguing reality competition television series "Legendary" JAMARI AMOUR JACOBS with the House of Marc Jacobs.
A full list of performers can be found at southlapride.com.
Free park & ride lots will be available for the public at The Stocker Building (3731-3761 Stocker Blvd.), Park Hills Community Church (5247 Overdale Dr.), and Windsor Elementary School (5215 Overdale Dr.). 
In addition to the live performances, special guests, including Congressmember KAREN BASS, will be in attendance.
Co-hosted by Los Angeles Councilmembers MARQUEECE HARRIS-DAWSON and HERB WESSON, South LA Pride will host a free outdoor community picnic featuring a live DJ, games, drag performances, food vendors, and live performances from popular LA-based BIPOC queer entertainers. A free family-friendly event, South LA Pride, is scheduled to kick off the Independence Day weekend on Friday, July 1, from 3 p.m. to 10 p.m. at Norman O. Houston Park, 4800 South La Brea. More information at
Journalist, political strategist, and advocate JASMYNE CANNICK has been announced as the 2022 Chair of South LA Pride.
South LA Pride 2022 HONOREES include: Bienestar, Black Lesbians United (BLU), Community Coalition, Compton Pride, Independent Development Programs, Invisible Men, LA Black LGBTQ Movement, Los Angeles Legends Football, Los Angeles LGBT Center, Minority AIDS Project, Pride and Promote, So Cal's Men's Club and the Unique Women's Coalition.
Attendees are welcome to bring their own food and drink or can opt to purchase food and drink from the onsite food truck vendors. A limited number of barbecue pits are available in the park and are available on a first-come, first-served basis.
Onsite parking is limited, so public transportation and ride-sharing are encouraged. Shuttles will be available between local parking lots and the event site. More information will be available online and on social media.
The 2022 South LA Pride Community Picnic is sponsored in part by Community Coalition, Providence, FOX, and AEG.
Additional details about South LA Pride will be made available on social media. Follow the hashtag #SouthLAPride on Facebook, Twitter, and on Instagram, or visit southlapride.com for the latest updates.
WHAT:
South LA Pride
A free, family-friendly community picnic hosted by Councilmembers Marqueece Harris-Dawson and Herb Wesson to celebrate LGBTQ+ pride in South LA.
WHEN:
Friday, July 1, 2022
3 p.m.–10 p.m.
WHERE:
Norman O. Houston Park
4800 S. La Brea Avenue
Los Angeles 90008
COST:
Free
Attendees are encouraged to pack their picnic baskets, blankets, and lawn chairs.
For more information visit:
Hashtag to follow #SouthLAPride
Boys & Girls Club of Malibu encourages youth embrace diversity for Pride
"Pride is an opportunity to encourage youth to celebrate differences in others & themselves, as our differences- make the world so beautiful"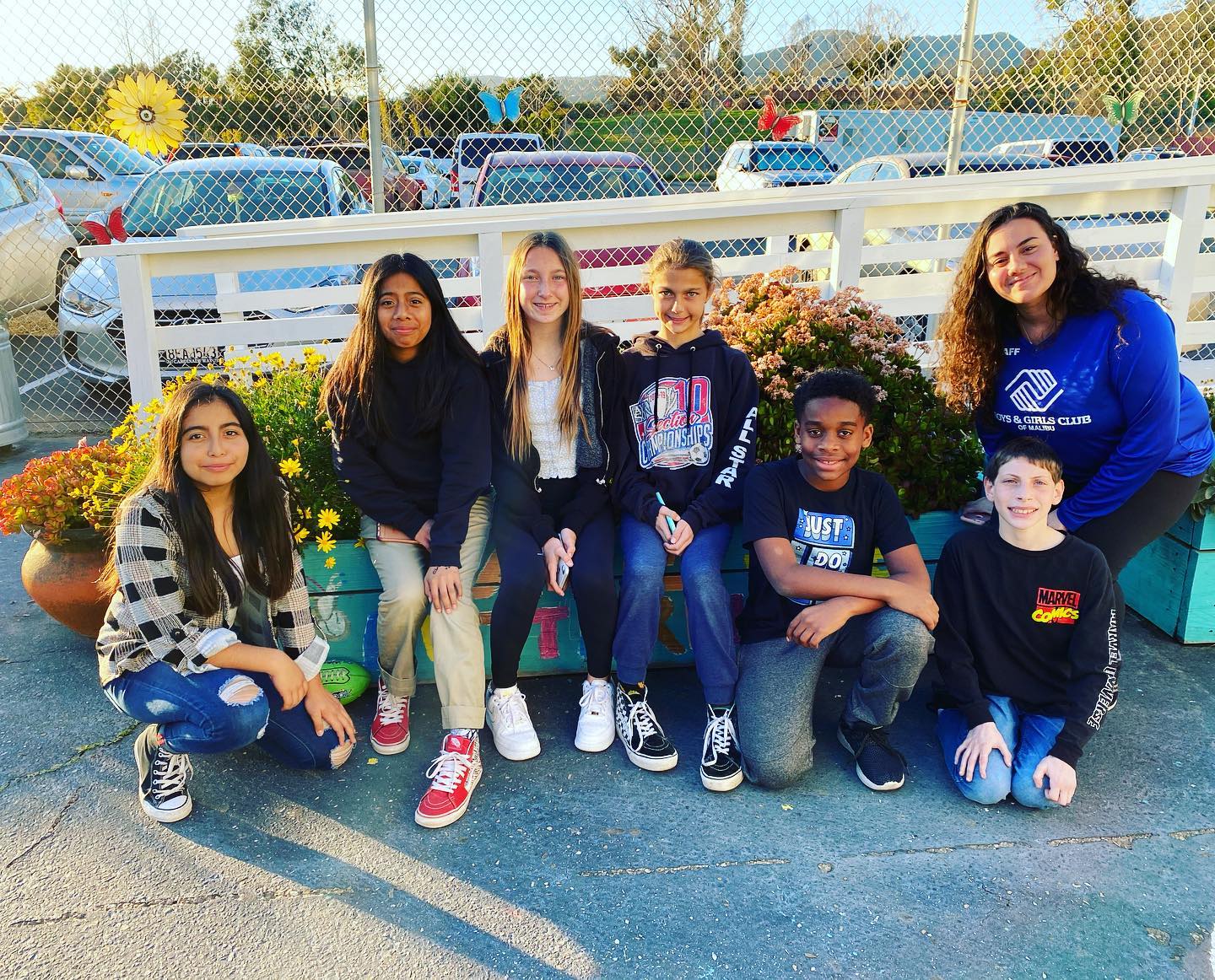 MALIBU, Ca. – Throughout the year, the Boys & Girls Club of Malibu (BGCM) is focused on programs that highlight the importance of inclusion of all people. But, during the month of June, BGCM Pride activities have encouraged Club youth to embrace diversity.
According to staff it is BGCM's objective to establish safe spaces and ensure that all are not just invited, but belong. Pride is both a joyful celebration and a serious reminder that all people deserve the same rights, regardless of how one identifies.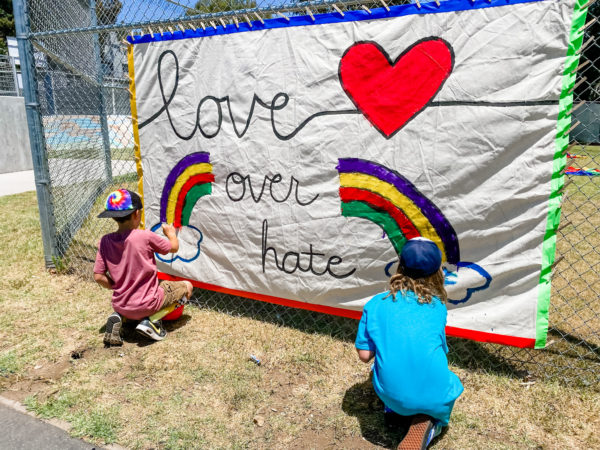 "Our youth have been participating in conversations around the importance of allyship. They are identifying and finding ways to rectify systematic disparities for those part of the LGBTQIA+ community, and encouraging others to have Pride in who they are and empowering themselves to be advocates for others," said Tyler Hawkins, Diversity, Equity and Inclusion Director of Boys & Girls Club of Malibu. "Pride is an opportunity to encourage youth to celebrate the differences in others and themselves, as our differences are what make the world so beautiful."
Pride Month Programming at Boys & Girls Club of Malibu includes:
"Fireside chats" talking about how to define and discuss what pride is and explain why we celebrate. Children are encouraged to think about who they are as a person and find pride in who they are. The goal is to teach the youth about acceptance and love for all people.
Club kids participated in art projects related to Pride, such as creating their own flags which could be in any color or design that resonated with them and they wrote at least one thing on each line that they are proud of themselves about.
Club youth also had the opportunity to participate in a reading of "Love Makes the Family" by Sophia Beer. The book talks about how families look different and how we all come from different backgrounds, and we should embrace what makes us unique.
Club teens also learned how to advocate for those in the LGBTQIA+ community and researched the different ways that can be done. The students were provided with information about how the LGTBQIA+ community are impacted negatively by limited access to resources, discrimination, stereotypes and more, and then students created posters to advocate for LGBTQIA+ rights and discussed how they can address issues for that community.
Pride Month at BGCM wrapped with a celebration for the kids to feel proud about who they are as individuals. They dressed up in whatever makes them feel good about themselves and listened to music, danced and enjoyed some colorful shaved ice.
The Boys & Girls Club of Malibu also has a clinician-staffed Wellness Center that has helped many Club youth and their families. Since 2017, the BGCM Wellness Center has served 5,000+ individuals and families, at no cost. The Center provides services such as mental health counseling, trauma-informed case management, social and emotional learning, healthcare assistance, parenting support groups, student workshops and much more. Any member of the Malibu community can access the Wellness Center – from students and teachers to senior citizens and commuters that work in Malibu, but don't have residency there. The Center's services are also offered in Spanish, which is crucial considering around 20% of its clients are Spanish speaking.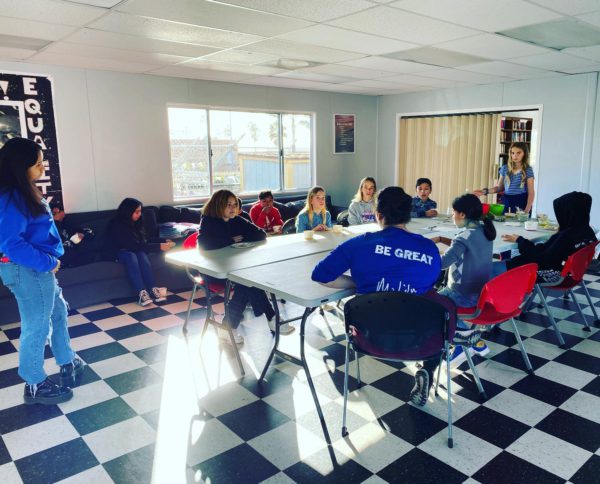 Four members of the Boys & Girls Club of Malibu expressed what this type of environment and learning programs meant.
"To me, Pride is celebrating who you are and feeling safe to come out," said Briana L., 7th grade. A fellow 7th grader, Delilah M. said, "It's important to uplift people with diverse identities to make them feel safe and included in their community."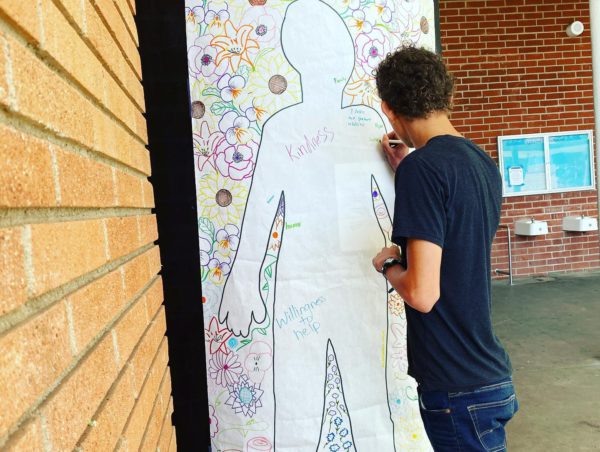 Older students such as Emily P., a high school junior and high school senior Aiza R. noted the impact on their lives and others. "To me, Pride means being happy that you can express who you are. It's important to uplift people with diverse identities because many have been oppressed for so long, so it's important to take time to celebrate uniqueness and recognize precious struggles," said Aiza.
Emily chimed in saying, "Pride means being proud of who you are. Uplifting people from diverse backgrounds is important because it breaks down barriers and creates opportunities for relationships that can help people grow and be who they are."