August 9, 2019 at 6:41 pm PDT | by Karen Ocamb
Breaking: FBI arrest Las Vegas man with white supremacy ties who scouted gay bar, synagogue
The FBI announced the arrest of a Las Vegas man on Thursday who has ties to two white supremacy groups and allegedly planned assaults inside and outside a downtown gay bar, a synagogue, and possibly other Las Vegas area sites.
During a search of 23-year old security guard Conor Climo's premises, FBI agents discovered plans and materials for possible domestic terrorist attacks. Climo "used encrypted messaging to disparage Jewish people and members of the LGTBQ community, authorities allege," the Las Vegas Sun reported.
The FBI said Climo had ties to the National Socialist Movement, a Neo-Nazi group that they say "encourages" attacks on federal government targets, minorities and the LGBTQ community. "Members believe in the superiority of the white race and have a common goal of challenging the established laws, social order, and government via terrorism and other violent acts," The Sun reports.
"As this complaint illustrates, the FBI will always be proactive to combat threats that cross a line from free speech to potential violence," said Special Agent in Charge Aaron Rouse of the FBI Las Vegas Division, in a news release.
"Threats of violence motivated by hate and intended to intimidate or coerce our faith-based and LGBTQ communities have no place in this Country," said U.S. Attorney Nicholas Trutanich for the District of Nevada.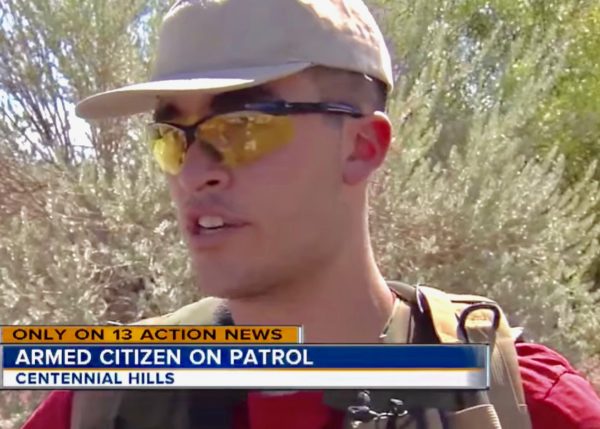 But Nevada is an open carry state and in 2016, Climo was interviewed by KTNV as a "local citizen on patrol" as a neighborhood watchman, armed with a machine gun, knife, lots of ammunition and body armor.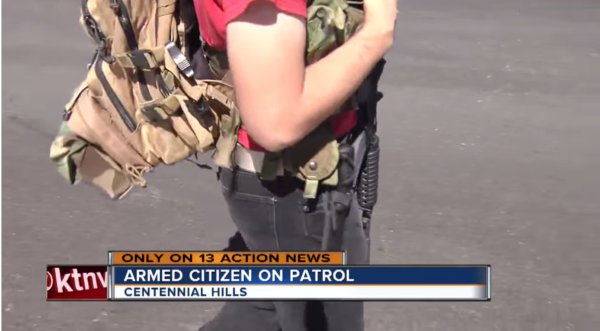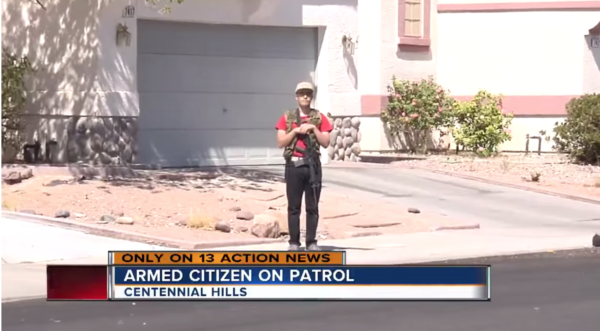 NBC News reports that after his arrest, Climo told FBI agents that "he had acquired electronic components to build a bomb and that he wanted to mobilize an eight-man sniper platoon to shoot Jewish people either at a Las Vegas synagogue or some other location." The FBI found bomb-making components, chemical compounds, hand-drawn schematics, an AR-15 style rifle and a bolt-action rifle in Climo's bedroom.
Climo also "tried to recruit a homeless person to engage in 'pre-attack surveillance' on a house of worship and wanted to target patrons of an LGBTQ bar on Fremont Street in downtown Las Vegas," NBC News reported. "Agents say Climo sketched images of such an attack in drawings that included two infantry squads attacking the bar with guns from the outside and one attacking it from the inside."
Climo allegedly told FBI agents, he's been thinking about how to attack Jews for the past two years.
In addition to communicating with the Neo-Nazi National Socialist Movement, the FBI says Climo was also communicating members of the white supremacist extremist group Atomwaffen Division, which has been known to train in Southern California. (The Los Angeles Blade recently wrote about the Atomwaffen group inspiring lone wolfs to seek soft targets such as the proposed "Straight Pride" rally.)
The FBI has charged him with possession of an unregistered firearm, specifically the component parts of a destructive device. If convicted, he faces up to 10 years in federal prison and a $250,000 fine, The Sun reports.
Climo is next due in court on Aug. 23.