August 12, 2019 at 5:42 pm PDT | by Karen Ocamb
Duncan Hunter, Charlottesville and ubiquitous white supremacy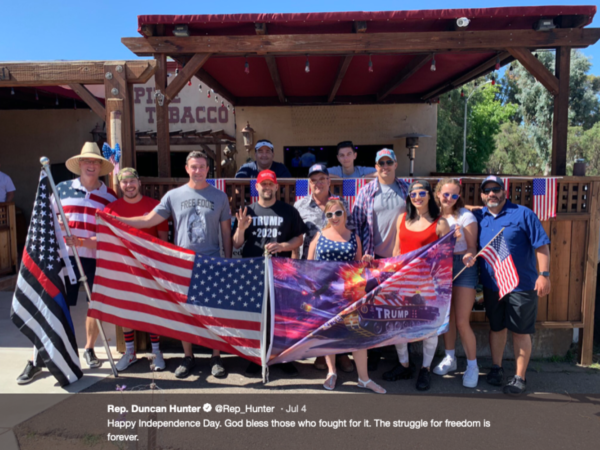 Rep. Duncan Hunter, third from left, stands next to Kris Wyrick flashing the "OK" sign at a Fourth of July event. (Screenshot from Hunter's Twitter feed, via CQ Roll Call)
White supremacy is becoming publicly more ubiquitous under the reign of Donald Trump, thanks in part to the permission he gave two years ago this week to consider violent white supremacists, Neo-Nazis and white nationalists the moral equivalent of civilized demonstrators advocating for peace, for equality and human rights at the Unite the Right rally in Charlottesville, Virginia. Now, like Trump, longtime LGBTQ-hater Republican Rep. Duncan Hunter also appears to be trying to appeal to both sides of the racist divide while leaning into xenophobia in California's 50th Congressional District.
Around 1:45 p.m. on Aug. 12, 2017, white supremacist James Alex Fields Jr. rammed his car into unaware counter-protesters on the second day of the infamous "Unite the Right" rally,  killing Heather Heyer and injuring 19 others. Fields was subsequently convicted of first degree murder and other crimes in a Virginia state court and pleaded guilty to 29 federal crimes in a deal to avoid the death penalty.
But while Fields may be gone, Trump's amoral comments linger on. Two hours after the murder, as much of America held their collective breath—aghast at the images of a car plowing full speed into a crowd, tossing bodies in the air before retreating, former Ku Klux Klan grand wizard David Duke saying the rally would help "take our country back," tiki torch-bearing white supremacists yelling "Jews will not replace us" and Neo-Nazis violently beating counter-demonstrators— Trump said "we condemn in the strongest possible terms this egregious display of hatred, bigotry and violence on many sides, on many sides."
After intense criticism of his anointing victimhood status on Neo Nazis, two days later, reportedly with reluctance, Trump called racism "evil' and slammed white supremacy. After still more criticism, on Aug. 15, Trump said: "you had some very bad people in that group, but you also had people that were very fine people, on both sides."
This was not the first time Trump incorrectly and unabashedly espoused moral equivalency on "both sides." Last June 18, April Ryan, White House correspondent for the American Urban Radio Networks, asked Trump if he would apologize to the Central Park Five, whom he had publicly blamed for the 1989 rape of a white jogger in a full-page pre-trial ad demanding the death penalty. Ryan's question was tied to director Ava DuVernay's acclaimed Netflix documentary "When They See Us" showing how police coerced confessions from one Latino and four black teenagers. Years later, a convicted rapist confessed to the crime, backed up by DNA evidence, resulting in the five being totally exonerated in 2002.
"Why do you bring that question up now? It's an interesting time to bring it up. You have people on both sides of that," Trump told Ryan on the White House lawn. "They admitted their guilt. If you look at [prosecutor] Linda Fairstein and you look at some of the prosecutors, they think that the city should never have settled that case, so we'll leave it at that."
Many have become numb to Trump's racist hutzpah. But others are trying to emulate him. Rep. Duncan Hunter, who helped launch the ban against transgender people serving in the military, has the audacity to run for reelection despite facing federal felony charges for campaign finance violations. Now he's been caught by CQ Roll Call changing answers on a white supremacist connection he first tried to dodge.
A Hunter staffer defended a photo of the Republican member of Congress posing with a man flashing the "OK" sign symbolizing white power at a Fourth of July event, identified by The Times of San Diego as Kristopher Wyrick.
"Congressman Hunter does not know this person, or what his views may be, but to ensure there is no confusion, we are in the process of taking that particular picture off his social media pages," district office director Michael Harrison told Roll Call in an email.
"Congressman Hunter has never supported or been accused of supporting white supremacy and if anyone were to espouse any such beliefs in a photo with Congressman Hunter they did so without his knowledge or consent, particularly a stranger in the a parade who wanted to be in a picture with Congressman Hunter," he added.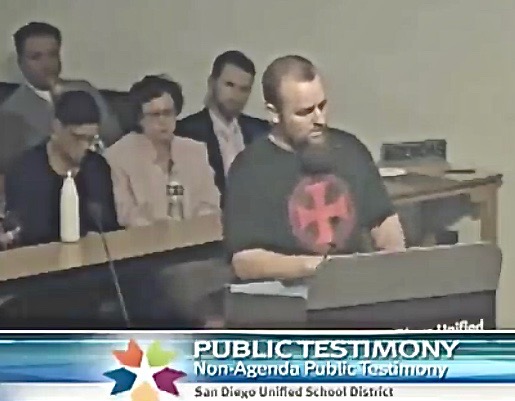 The photo was deleted from Hunter's official Facebook and Twitter pages. But Wyrick and his bigotry were not unknown to Hunter's community after Wyrick appeared before the San Diego Unified School District wearing a Nazi Iron Cross tee shirt arguing against an initiative to protect Muslim students. Specifically, according to a San Diego Union Tribune article, he was blasting the renowned Council on American-Islamic Relations, which right wing extremists such as Frank Gaffney Jr. defame as "national security threats" who want to introduce Sharia law into public schools.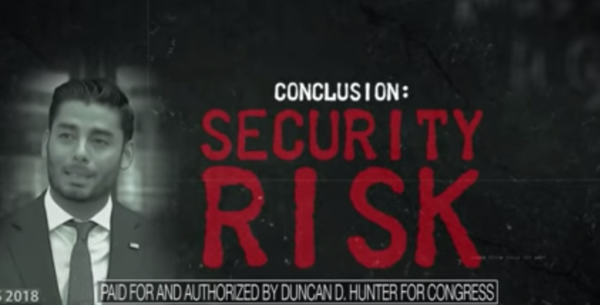 Like Wyrick's diatribe, Hunter's 2018 campaign ads against his Democratic opponent Ammar Campa-Najjar, who is a devout Christian of Palestinian-Mexican American heritage, feature similar bigotry.
"Given that Hunter has a history of Islamophobia, including the way he shared his deadly actions in Iraq that claimed civilian lives, I think it's clear this individual is making a white supremacist hand sign in the presence of a congressman, who shared it proudly," Ibrahim Hooper, CAIR's communications director,  says of the July Fourth photo.
But sharing an anti-Muslim ideology doesn't mean the two men posing together knew each other – until a 2017 video surfaced indicating that they do.
"I know him personally. And I know his family personally. And he's a great man," Wyrick says in the video.
Wyrick also expresses pride in his white identity. "People can call me a white supremacist all they want, I wear that label as soon as I wake up in the morning," he says in the video.
Roll Call confronted Harrison with the video and Hunter's deputy chief of staff backtracked, saying the Republican member of Congress had seen Wyrick at some local community events.
"Alpine is a small community. It's not unusual for the congressman to frequent different places around his district," Harrison said in July. "Congressman Hunter is not friends with this individual and does not socialize with him."
However, "Harrison conceded that Hunter's father and predecessor in Congress, former Rep. Duncan L. Hunter, 'has mentioned [Wyrick] a couple of times,'" Roll Call reported.
Before Campa Najjar, a young businessman and former Obama administration official, mounted a serious challenge in 2018, losing only by four points in the ruby red Orange County congressional district, Hunter expected an easy reelection in the seat he and his father have held the seat since 1981.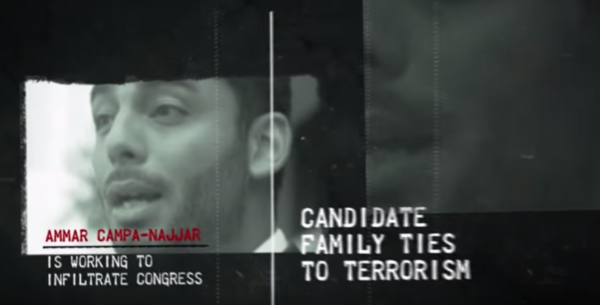 However, Hunter now faces several primary challengers, including gay Republican Carl DeMaio, and the indicted congressman may need supporters like Wyrick, as indicated by his resurrecting his ugly, inflammatory 2018 attacks on Campa-Najjar for the 2020 race.
"At this point, it's pretty clear that Congressman Hunter has lost all ability to tell the difference between right and wrong. It's one scandal after another, one embarrassing news story after another, one potential crime after another, one courtroom appearance after another," Campa-Najjar said about the July Fourth photo.
Carlos Algara, a political scientist at the University of California, Davis, thinks xenophobia and racism will play a "vital role" in the race for the 50th CD.
"Our research suggests that Hunter is laying the groundwork in a campaign filled with blatant appeals at mobilizing whites with high degrees of racial resentment to rescue his bid," Algara told Roll Call in an email.
In a July 8 interview with CBS 8 San Diego, Wyrick creates his own "both sides" argument—confirming he made the "OK" sign but calling it a "giant joke against the left."
"It is just the OK symbol," Wyrick says, denying he's a white supremacist. "It means nothing else."
But another photo posted to Facebook in 2018 shows Wyrick wearing the logo of the American Guard, which the Anti-Defamation League calls "hardcore white supremacists."
There are other photos suggesting Wyrick jokes around with that "OK" sign often. One photo provided by progressive activist William Johnson, shows Wyrick and several others posing with the "OK" salute in an undated photo on the United Patriot National Front Facebook page. Also in the photo is Antonio Foreman, who Johnson says participated in the 2017 "Unite the Right" rally in Charlottesville. Other photos show Wyrick "pummeling" protesters.
In an interview with freelance reporter Alexander Zaitchik for his 2016 book "The Gilded Rage: A Wild Ride Through Donald Trump's America,"  Wyrick describes Hunter as a friend and a customer at his Alpine ATV and motorcycle repair shop.
"It was clear it was more than just a handshake kind of thing," says Zaitchik.
Wyrick tells Zaitchik that his decision to move to Alpine was "because the majority of people out here are white people. … There wasn't many of us in the neighborhoods where we grew up, around Santa Ana or Anaheim."
Wyrick echoes another old racist sentiment Trump recently revived when he told three US-born and one naturalized congresswomen of color to "go back" to their countries.
"Why don't you go back to Mexico and make it great? Don't bring a s—hole over here," Zaitchik quotes Wyrick as saying, noting that the repairman also patrols the Mexican border as a civilian.
Though Facebook deleted the United Patriot National Front page, there is no indication that the group—or any of the other hate groups with which Wyrick has apparently been associated—has dissipated.
Between Hunter's renewed inflammatory attacks on Campa-Najjar and Trump's habit of stoking hatred, racism and lies—on August 12, the Washington Post calculated Trump has made 12,019 false or misleading claims over 928 days— the reelection races of these two white supremacist Republicans could get very, very ugly.