Duncan Hunter, Charlottesville and ubiquitous white supremacy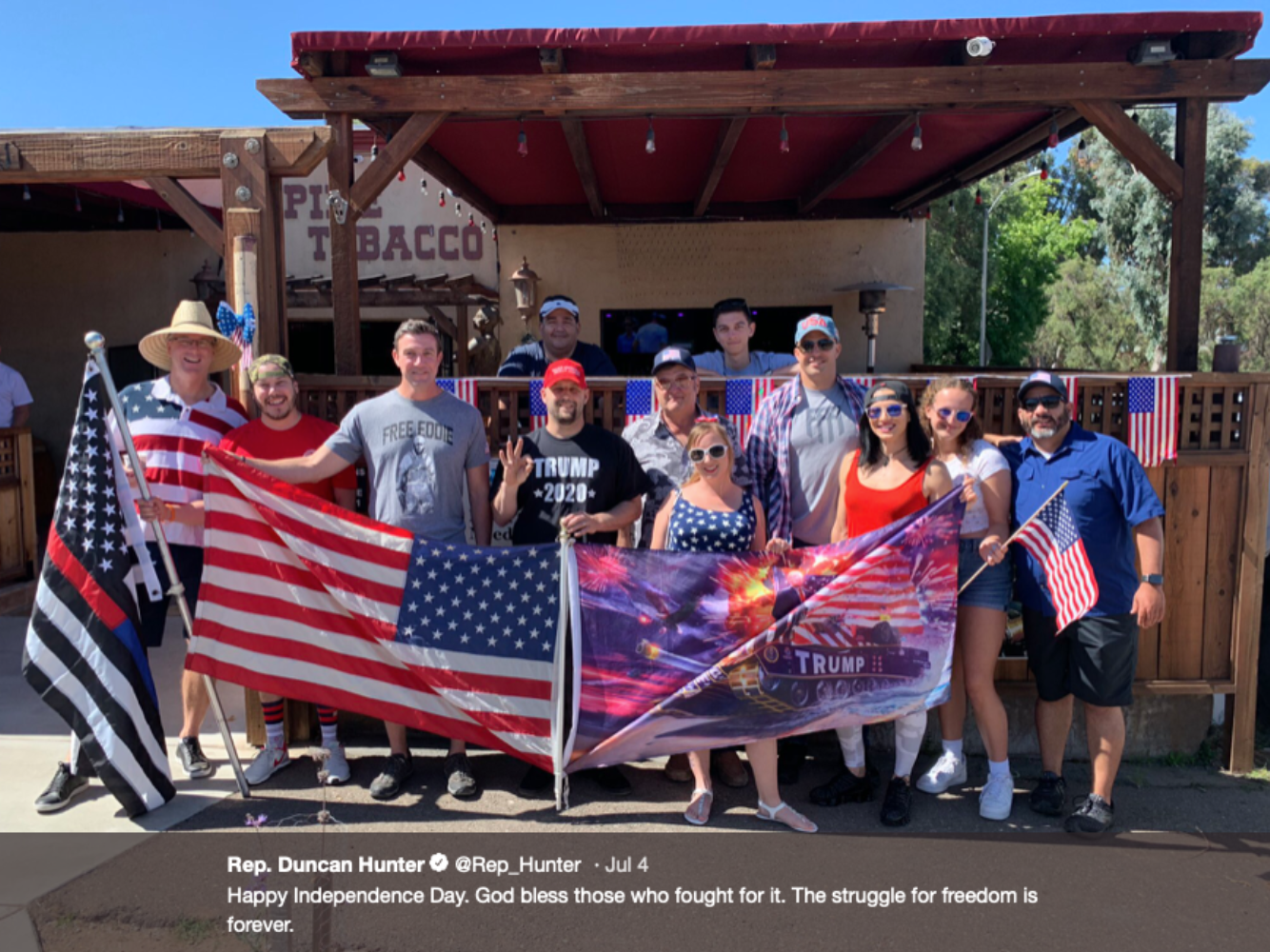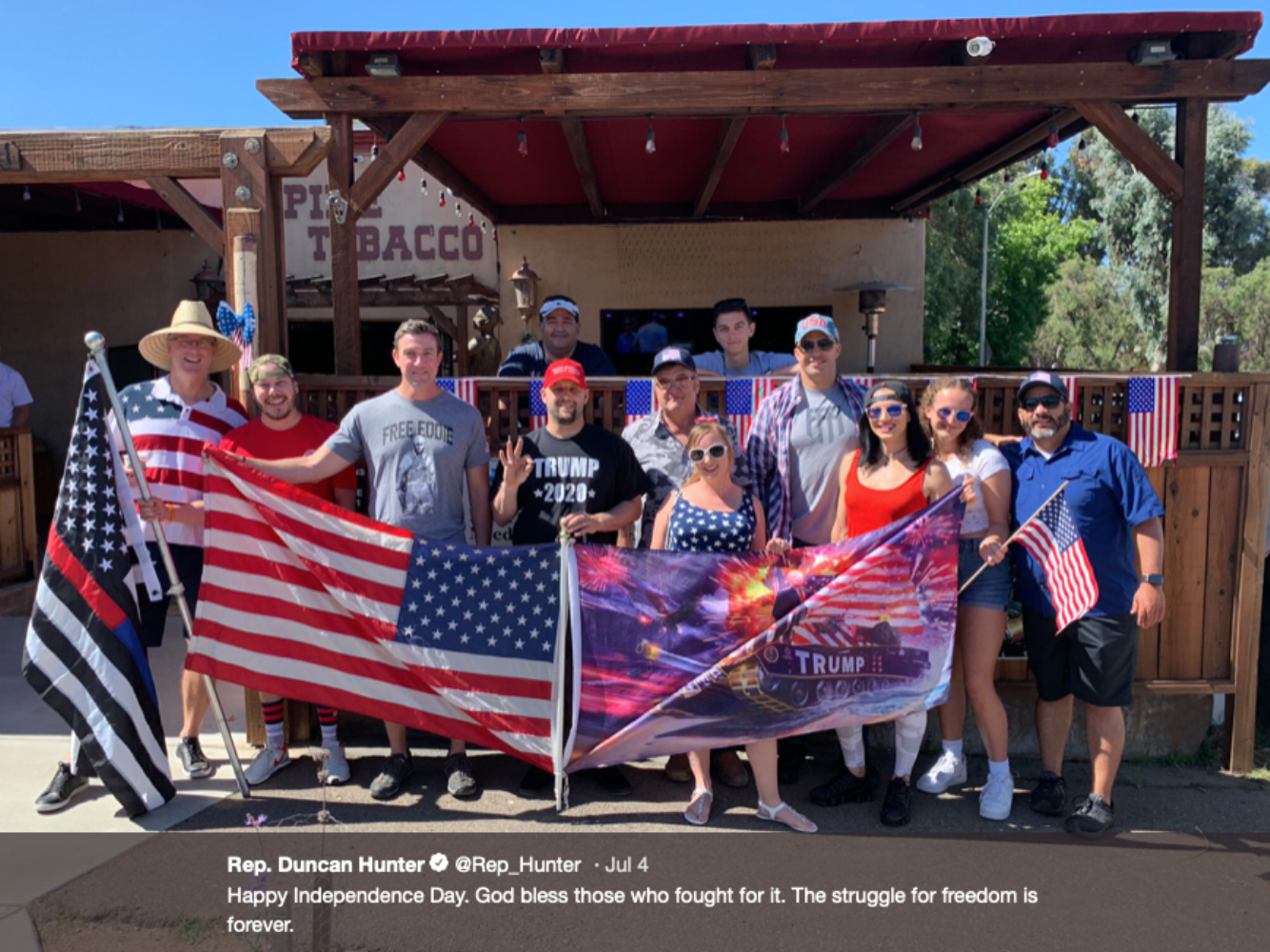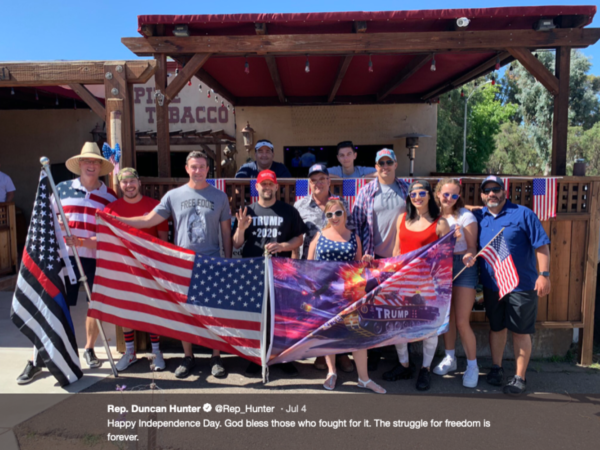 Rep. Duncan Hunter, third from left, stands next to Kris Wyrick flashing the "OK" sign at a Fourth of July event. (Screenshot from Hunter's Twitter feed, via CQ Roll Call)
White supremacy is becoming publicly more ubiquitous under the reign of Donald Trump, thanks in part to the permission he gave two years ago this week to consider violent white supremacists, Neo-Nazis and white nationalists the moral equivalent of civilized demonstrators advocating for peace, for equality and human rights at the Unite the Right rally in Charlottesville, Virginia. Now, like Trump, longtime LGBTQ-hater Republican Rep. Duncan Hunter also appears to be trying to appeal to both sides of the racist divide while leaning into xenophobia in California's 50th Congressional District.
Around 1:45 p.m. on Aug. 12, 2017, white supremacist James Alex Fields Jr. rammed his car into unaware counter-protesters on the second day of the infamous "Unite the Right" rally,  killing Heather Heyer and injuring 19 others. Fields was subsequently convicted of first degree murder and other crimes in a Virginia state court and pleaded guilty to 29 federal crimes in a deal to avoid the death penalty.
But while Fields may be gone, Trump's amoral comments linger on. Two hours after the murder, as much of America held their collective breath—aghast at the images of a car plowing full speed into a crowd, tossing bodies in the air before retreating, former Ku Klux Klan grand wizard David Duke saying the rally would help "take our country back," tiki torch-bearing white supremacists yelling "Jews will not replace us" and Neo-Nazis violently beating counter-demonstrators— Trump said "we condemn in the strongest possible terms this egregious display of hatred, bigotry and violence on many sides, on many sides."
After intense criticism of his anointing victimhood status on Neo Nazis, two days later, reportedly with reluctance, Trump called racism "evil' and slammed white supremacy. After still more criticism, on Aug. 15, Trump said: "you had some very bad people in that group, but you also had people that were very fine people, on both sides."
This was not the first time Trump incorrectly and unabashedly espoused moral equivalency on "both sides." Last June 18, April Ryan, White House correspondent for the American Urban Radio Networks, asked Trump if he would apologize to the Central Park Five, whom he had publicly blamed for the 1989 rape of a white jogger in a full-page pre-trial ad demanding the death penalty. Ryan's question was tied to director Ava DuVernay's acclaimed Netflix documentary "When They See Us" showing how police coerced confessions from one Latino and four black teenagers. Years later, a convicted rapist confessed to the crime, backed up by DNA evidence, resulting in the five being totally exonerated in 2002.
"Why do you bring that question up now? It's an interesting time to bring it up. You have people on both sides of that," Trump told Ryan on the White House lawn. "They admitted their guilt. If you look at [prosecutor] Linda Fairstein and you look at some of the prosecutors, they think that the city should never have settled that case, so we'll leave it at that."
Many have become numb to Trump's racist hutzpah. But others are trying to emulate him. Rep. Duncan Hunter, who helped launch the ban against transgender people serving in the military, has the audacity to run for reelection despite facing federal felony charges for campaign finance violations. Now he's been caught by CQ Roll Call changing answers on a white supremacist connection he first tried to dodge.
A Hunter staffer defended a photo of the Republican member of Congress posing with a man flashing the "OK" sign symbolizing white power at a Fourth of July event, identified by The Times of San Diego as Kristopher Wyrick.
"Congressman Hunter does not know this person, or what his views may be, but to ensure there is no confusion, we are in the process of taking that particular picture off his social media pages," district office director Michael Harrison told Roll Call in an email.
"Congressman Hunter has never supported or been accused of supporting white supremacy and if anyone were to espouse any such beliefs in a photo with Congressman Hunter they did so without his knowledge or consent, particularly a stranger in the a parade who wanted to be in a picture with Congressman Hunter," he added.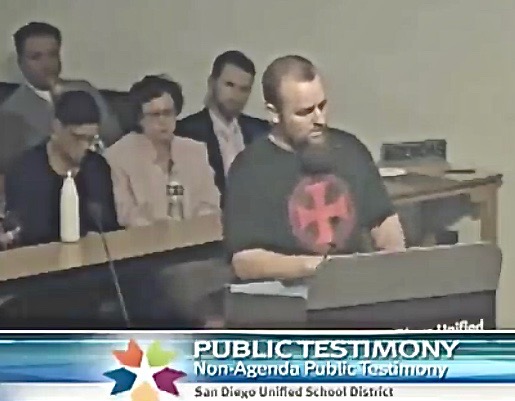 The photo was deleted from Hunter's official Facebook and Twitter pages. But Wyrick and his bigotry were not unknown to Hunter's community after Wyrick appeared before the San Diego Unified School District wearing a Nazi Iron Cross tee shirt arguing against an initiative to protect Muslim students. Specifically, according to a San Diego Union Tribune article, he was blasting the renowned Council on American-Islamic Relations, which right wing extremists such as Frank Gaffney Jr. defame as "national security threats" who want to introduce Sharia law into public schools.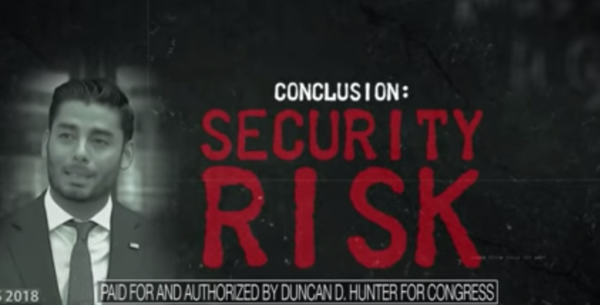 Like Wyrick's diatribe, Hunter's 2018 campaign ads against his Democratic opponent Ammar Campa-Najjar, who is a devout Christian of Palestinian-Mexican American heritage, feature similar bigotry.
"Given that Hunter has a history of Islamophobia, including the way he shared his deadly actions in Iraq that claimed civilian lives, I think it's clear this individual is making a white supremacist hand sign in the presence of a congressman, who shared it proudly," Ibrahim Hooper, CAIR's communications director,  says of the July Fourth photo.
But sharing an anti-Muslim ideology doesn't mean the two men posing together knew each other – until a 2017 video surfaced indicating that they do.
"I know him personally. And I know his family personally. And he's a great man," Wyrick says in the video.
Wyrick also expresses pride in his white identity. "People can call me a white supremacist all they want, I wear that label as soon as I wake up in the morning," he says in the video.
Roll Call confronted Harrison with the video and Hunter's deputy chief of staff backtracked, saying the Republican member of Congress had seen Wyrick at some local community events.
"Alpine is a small community. It's not unusual for the congressman to frequent different places around his district," Harrison said in July. "Congressman Hunter is not friends with this individual and does not socialize with him."
However, "Harrison conceded that Hunter's father and predecessor in Congress, former Rep. Duncan L. Hunter, 'has mentioned [Wyrick] a couple of times,'" Roll Call reported.
Before Campa Najjar, a young businessman and former Obama administration official, mounted a serious challenge in 2018, losing only by four points in the ruby red Orange County congressional district, Hunter expected an easy reelection in the seat he and his father have held the seat since 1981.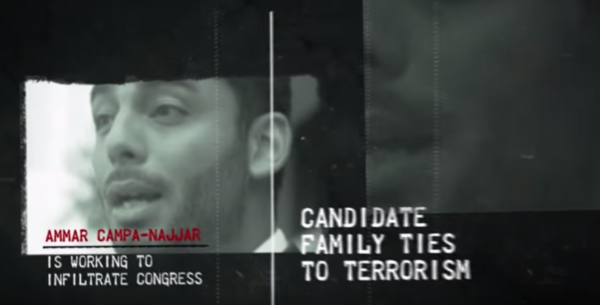 However, Hunter now faces several primary challengers, including gay Republican Carl DeMaio, and the indicted congressman may need supporters like Wyrick, as indicated by his resurrecting his ugly, inflammatory 2018 attacks on Campa-Najjar for the 2020 race.
"At this point, it's pretty clear that Congressman Hunter has lost all ability to tell the difference between right and wrong. It's one scandal after another, one embarrassing news story after another, one potential crime after another, one courtroom appearance after another," Campa-Najjar said about the July Fourth photo.
Carlos Algara, a political scientist at the University of California, Davis, thinks xenophobia and racism will play a "vital role" in the race for the 50th CD.
"Our research suggests that Hunter is laying the groundwork in a campaign filled with blatant appeals at mobilizing whites with high degrees of racial resentment to rescue his bid," Algara told Roll Call in an email.
In a July 8 interview with CBS 8 San Diego, Wyrick creates his own "both sides" argument—confirming he made the "OK" sign but calling it a "giant joke against the left."
"It is just the OK symbol," Wyrick says, denying he's a white supremacist. "It means nothing else."
But another photo posted to Facebook in 2018 shows Wyrick wearing the logo of the American Guard, which the Anti-Defamation League calls "hardcore white supremacists."
There are other photos suggesting Wyrick jokes around with that "OK" sign often. One photo provided by progressive activist William Johnson, shows Wyrick and several others posing with the "OK" salute in an undated photo on the United Patriot National Front Facebook page. Also in the photo is Antonio Foreman, who Johnson says participated in the 2017 "Unite the Right" rally in Charlottesville. Other photos show Wyrick "pummeling" protesters.
In an interview with freelance reporter Alexander Zaitchik for his 2016 book "The Gilded Rage: A Wild Ride Through Donald Trump's America,"  Wyrick describes Hunter as a friend and a customer at his Alpine ATV and motorcycle repair shop.
"It was clear it was more than just a handshake kind of thing," says Zaitchik.
Wyrick tells Zaitchik that his decision to move to Alpine was "because the majority of people out here are white people. … There wasn't many of us in the neighborhoods where we grew up, around Santa Ana or Anaheim."
Wyrick echoes another old racist sentiment Trump recently revived when he told three US-born and one naturalized congresswomen of color to "go back" to their countries.
"Why don't you go back to Mexico and make it great? Don't bring a s—hole over here," Zaitchik quotes Wyrick as saying, noting that the repairman also patrols the Mexican border as a civilian.
Though Facebook deleted the United Patriot National Front page, there is no indication that the group—or any of the other hate groups with which Wyrick has apparently been associated—has dissipated.
Between Hunter's renewed inflammatory attacks on Campa-Najjar and Trump's habit of stoking hatred, racism and lies—on August 12, the Washington Post calculated Trump has made 12,019 false or misleading claims over 928 days— the reelection races of these two white supremacist Republicans could get very, very ugly.
White House, Don't Say Gay law: "This is discrimination, plain and simple"
"State officials who claim to champion liberty are limiting the freedom of their fellow Americans simply to be themselves"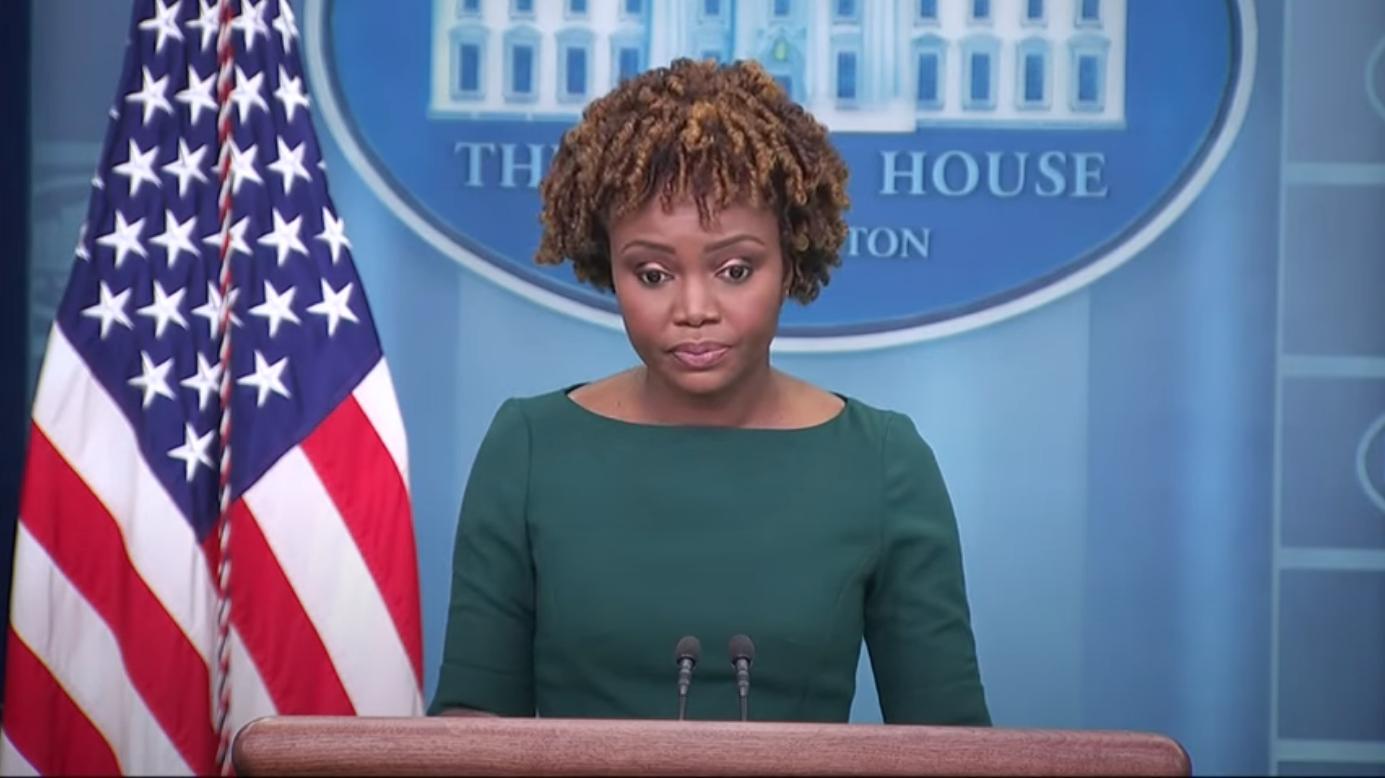 WASHINGTON – The White House Press Secretary Karine Jean-Pierre released a statement Friday as Florida's notorious 'Don't Say Gay' law took effect, saying "[…] state officials who claim to champion liberty are limiting the freedom of their fellow Americans simply to be themselves."
President Biden also tweeted about the law prior to leaving for Camp David to spend the July 4th holiday weekend, calling the law "the latest attempt by Republicans in state houses to target LGBTQI+ students, teachers, and families."
Florida's "Don't Say Gay" law takes effect today – the latest attempt by Republicans in state houses to target LGBTQI+ students, teachers, and families.

Legislators shouldn't be in the business of censoring educators, and @usedgov will do all in its power to protect students.

— President Biden (@POTUS) July 1, 2022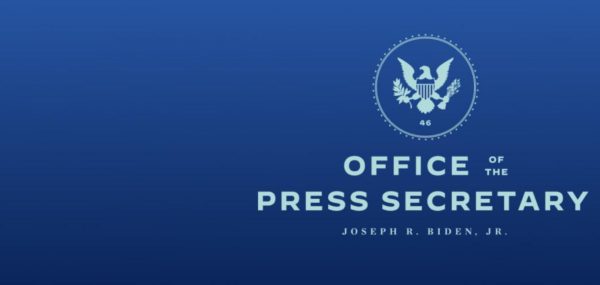 In her statement, Jean-Pierre said:
"Today, some of Florida's most vulnerable students and families are more fearful and less free. As the state's shameful "Don't Say Gay" law takes effect, state officials who claim to champion liberty are limiting the freedom of their fellow Americans simply to be themselves.
"Already, there have been reports that "Safe Space" stickers are being taken down from classrooms. Teachers are being instructed not to wear rainbow clothing. LGBTQI+ teachers are being told to take down family photos of their husbands and wives—cherished family photos like the ones on my own desk.
"This is not an issue of "parents' rights." This is discrimination, plain and simple. It's part of a disturbing and dangerous nationwide trend of right-wing politicians cynically targeting LGBTQI+ students, educators, and individuals to score political points.
"It encourages bullying and threatens students' mental health, physical safety, and well-being. It censors dedicated teachers and educators who want to do the right thing and support their students. And it must stop.
"President Biden has been very clear that every student deserves to feel safe and welcome in the classroom.
"The Department of Education will be monitoring this law, and any student or parent who believes they are experiencing discrimination is encouraged to file a complaint with the Department's Office for Civil Rights.
"Our Administration will continue to fight for dignity and opportunity for every student and family—in Florida and around the country."
Florida county's school policy critics say "essentially targets LGBTQ+ kids"
"Sending out a parent notification could be seen as placing a target on a student's back," said Lauren Kelly-Manders, a Tallahassee resident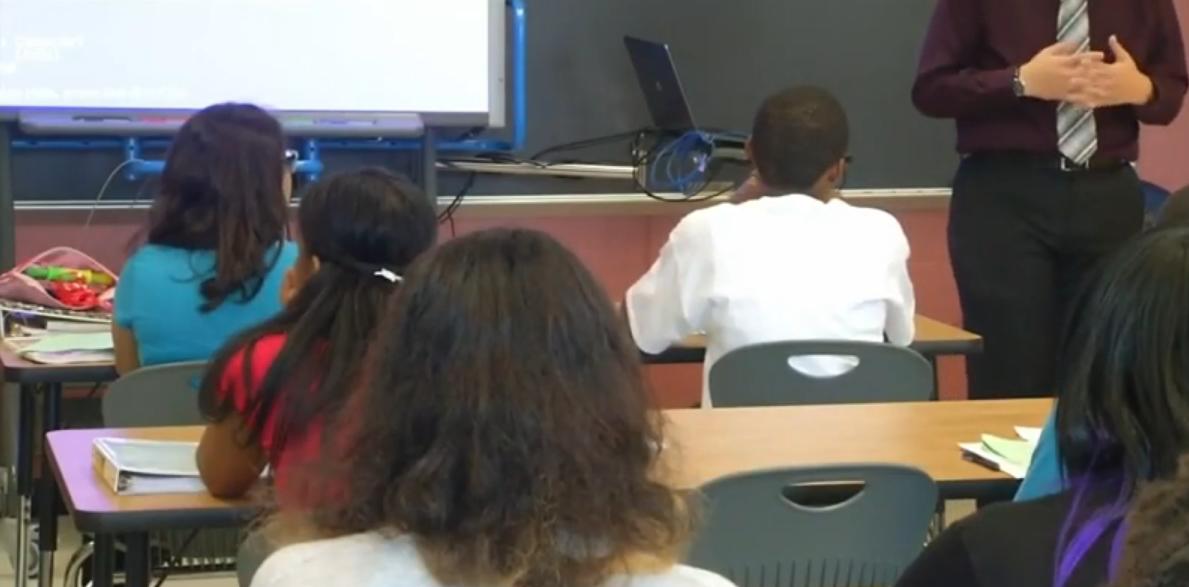 TALLAHASSEE – The Leon County School Board this week unanimously approved its "LGBTQ Inclusive School Guide" after a rancorous and at times heated debate Tuesday. At the heart of the new policy are guidelines that critics charge will harm LGBTQ+ youth in the school system.
The Tallahassee Democrat newspaper reported what drew the most debate was a provision that a school will notify parents — by form — if a student who is "open about their gender identity" is in a physical education class or on an overnight trip. 
Some teachers and students during the Tuesday night meeting said the policy will "out" LGBTQ+ students — revealing their sexual orientation or gender identity without their permission. 
While the policy language does explicitly say a student's sexual orientation, gender identity or expression "should not be shared with others without their input and permission,"  advocacy groups and activists claim that in "real world" application the policy's danger to Outing LGBTQ+ kids remains regardless.
Los Angeles-based writer and actor Benjamin Siemon took to Twitter angrily noting that the policy "essentially paints these children as sex offenders that require warnings."
This school board in FL voted that if an LGBTQ child is in a P.E. class or attending an overnight trip that ALL the parents in their class will receive a notification about it, which essentially paints these children as sex offenders that require warnings. https://t.co/g1bE4df2bS

— Benjamin Siemon (@BenjaminJS) June 30, 2022
Supporters of the school board's new policy included the Leon County chapter of Mom's for Liberty, a national far-right anti-LGBTQ+ activist group which has sought to ban LGBTQ+ books and curriculum nationwide. But the sticking point for the group is the provision doesn't go far enough.
According to the Tallahassee Democrat, Sharyn Kerwin, head of the Leon County chapter of Mom's for Liberty and who also served on the advisory committee to the School board as it crafted the new policy, told board members and the audience Tuesday: "Any attempt to withhold information from a parent or try to influence a child in a knowing way is against Florida law."
Kerwin and other parents argued that the Parental Rights in Education bill, HB 1557, colloquially referred to as the "Don't Say Gay" law requires school administrators to notify parents and many in the audience Tuesday citing biblical verses maintained discussions about sexual orientation have no place in schools.
Opponents charge that this policy will effectively weaponize bigotry and target LGBTQ+ kids, especially trans youth.
Critics of the notification policy say the district's language is equating "gender identity" with LGBTQ sexuality. They note that even someone who is "straight" expresses themselves via their clothing choices or appearance and can be "open about their gender identity," the Tallahassee Democrat noted.
"Sending out a parent notification could be seen as placing a target on a student's back," said Lauren Kelly-Manders, a Tallahassee resident. 
In the end, even with the policy approved, none were happy with the outcome as one side claiming not enough consideration was given to parental rights and opponents charging this will simply increase bullying of LGBTQ+ kids.
"Normally when we have something on the agenda, we have a group that's for, and a group that's against," school board Vice Chair Alva Striplin noted adding, "Well, tonight we had everyone against."
The school board voted to approve the guide unanimously 4-0.  According to the Tallahassee Democrat school board members will schedule another meeting to revisit the guide in six months to adjust the policy if needed. 
White House announces 17 Presidential Medal of Freedom recipients
The nation's highest civilian honor, the Presidential Medal of Freedom will be presented to those named at the White House on July 7, 2022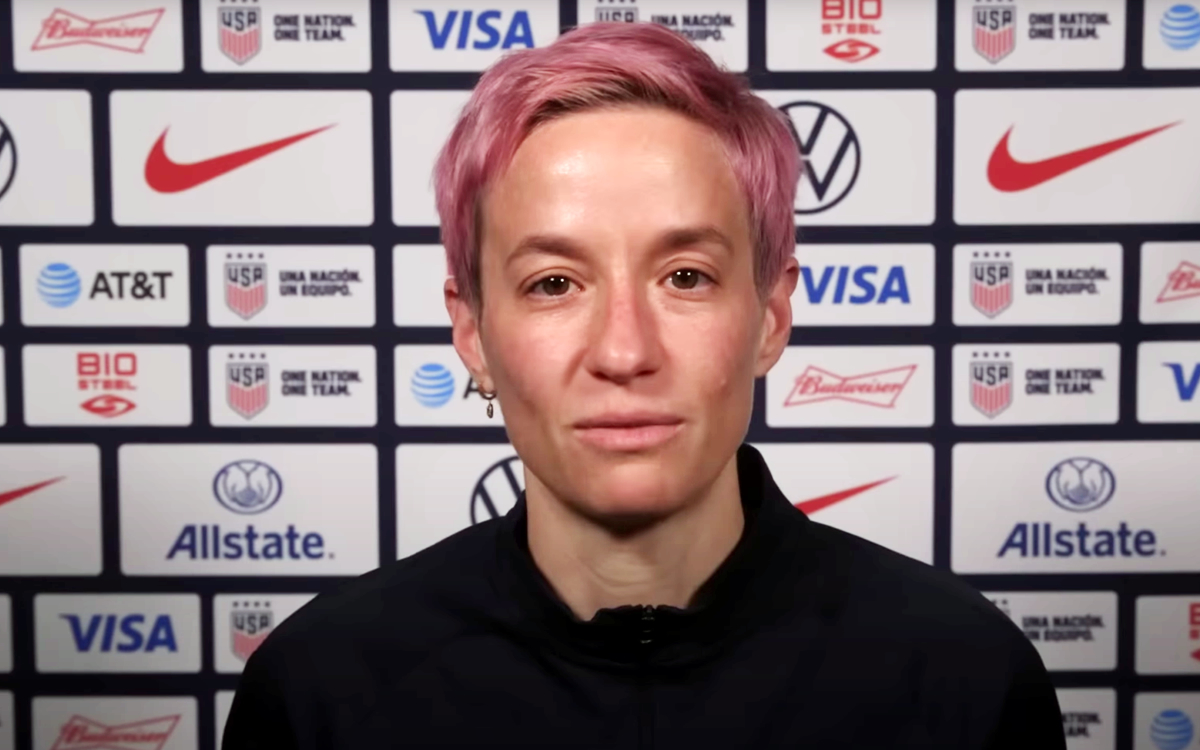 WASHINGTON – The White House today released President Joe Biden's selection of recipients for bestowing the nation's highest civilian honor, the Presidential Medal of Freedom. The awards will be presented at the White House on July 7, 2022.
Included among the seventeen honorees are Megan Rapinoe, the Out Olympic gold medalist and two-time Women's World Cup champion. She also captains OL Reign in the National Women's Soccer League. She is a prominent advocate for gender pay equality, racial justice, and LGBTQI+ rights.
Also selected by the president for a posthumous recognition was Richard Trumka, the powerful labor leader and longtime Democratic ally of the LGBTQ+ community who passed away last August. Trumka had led the AFL-CIO since 2009 and who throughout his career, was an outspoken advocate for LGBTQ+ Americans, social and economic justice.
The Presidential Medal of Freedom is the Nation's highest civilian honor, presented to individuals who have made exemplary contributions to the prosperity, values, or security of the United States, world peace, or other significant societal, public or private endeavors.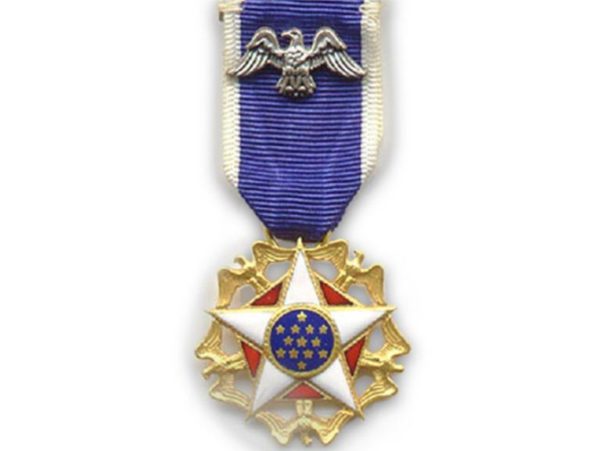 The following individuals will be awarded the Presidential Medal of Freedom:
Simone Biles
Simone Biles is the most decorated American gymnast in history, with a combined total of 32 Olympic and World Championship medals. Biles is also a prominent advocate for athletes' mental health and safety, children in the foster care system, and victims of sexual assault.

Sister Simone Campbell
Sister Simone Campbell is a member of the Sisters of Social Service and former Executive Director of NETWORK, a Catholic social justice organization. She is also a prominent advocate for economic justice, immigration reform, and healthcare policy.

Julieta García
Dr. Julieta García is the former president of The University of Texas at Brownsville, where she was named one of Time magazine's best college presidents. Dr. García was the first Hispanic woman to serve as a college president and dedicated her career to serving students from the Southwest Border region.

Gabrielle Giffords
Former Congresswoman Gabby Giffords was the youngest woman ever elected to the Arizona State Senate, serving first in the Arizona legislature and later in the U.S. Congress. A survivor of gun violence, she co-founded Giffords, a nonprofit organization dedicated to gun violence prevention.

Fred Gray
Fred Gray was one of the first black members of the Alabama State legislature since Reconstruction. As an attorney, he represented Rosa Parks, the NAACP, and Martin Luther King, who called him "the chief counsel for the protest movement."

Steve Jobs (posthumous)
Steve Jobs (d. 2011) was the co-founder, chief executive, and chair of Apple, Inc., CEO of Pixar and held a leading role at the Walt Disney Company. His vision, imagination and creativity led to inventions that have, and continue to, change the way the world communicates, as well as transforming the computer, music, film and wireless industries.

Father Alexander Karloutsos
Father Alexander Karloutsos is the former Vicar General of the Greek Orthodox Archdiocese of America. After over 50 years as a priest, providing counsel to several U.S. presidents, he was named by His All Holiness Ecumenical Patriarch Bartholomew as a Protopresbyter of the Ecumenical Patriarchate.

Khizr Khan
Khizr Khan is a Gold Star father and founder of the Constitution Literacy and National Unity Center. He is a prominent advocate for the rule of law and religious freedom and served on the United States Commission on International Religious Freedom under President Biden.

Sandra Lindsay
Sandra Lindsay is a New York critical care nurse who served on the front lines of the COVID-19 pandemic response. She was the first American to receive a COVID-19 vaccine outside of clinical trials and is a prominent advocate for vaccines and mental health for health care workers.

John McCain (posthumous)
John McCain (d. 2018) was a public servant who was awarded a Purple Heart with one gold star for his service in the U.S. Navy in Vietnam. He also served the people of Arizona for decades in the U.S. House of Representatives and U.S. Senate and was the Republican nominee for president in 2008.

Diane Nash
Diane Nash is a founding member of the Student Nonviolent Coordinating Committee who organized some of the most important civil rights campaigns of the 20th century. Nash worked closely with Martin Luther King, who described her as the "driving spirit in the nonviolent assault on segregation at lunch counters."
Megan Rapinoe
Megan Rapinoe is an Olympic gold medalist and two-time Women's World Cup champion. She also captains OL Reign in the National Women's Soccer League. She is a prominent advocate for gender pay equality, racial justice, and LGBTQI+ rights.

Alan Simpson
Alan Simpson served as a U.S. Senator from Wyoming for 18 years. During his public service, he has been a prominent advocate on issues including campaign finance reform, responsible governance, and marriage equality.
Richard Trumka (posthumous)
Richard Trumka (d. 2021) was president of the 12.5-million-member AFL-CIO for more than a decade, president of the United Mine Workers, and secretary-treasurer of the AFL-CIO. Throughout his career, he was an outspoken advocate for social and economic justice.

Wilma Vaught
Brigadier General Wilma Vaught is one of the most decorated women in the history of the U.S. military, repeatedly breaking gender barriers as she rose through the ranks. When she retired in 1985, she was one of only seven women generals in the Armed Forces.

Denzel Washington
Denzel Washington is an actor, director, and producer who has won two Academy Awards, a Tony Award, two Golden Globes, and the 2016 Cecil B. DeMille Lifetime Achievement Award. He has also served as National Spokesman for the Boys & Girls Clubs of America for over 25 years.

Raúl Yzaguirre
Raúl Yzaguirre is a civil rights advocate who served as CEO and president of National Council of La Raza for thirty years. He also served as U.S. Ambassador to the Dominican Republic under President Barack Obama.