Trump raises $13 million dollars at Equinox Fitness fundraiser in the Hamptons, fueling a boycott
About 100 protestors took to Sunset Boulevard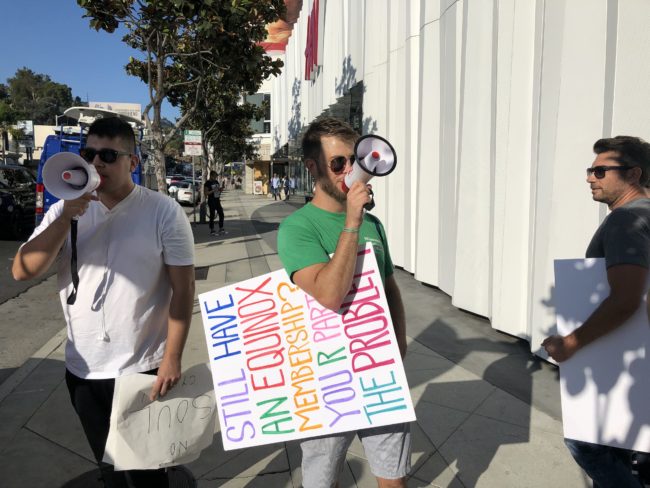 After Equinox members around the nation revolted over owner Stephen Ross' Hamptons fundraiser for Donald Trump, with many threatening to cancel memberships, Trump tonight stood on the stage at the fundraiser and joked with Ross about the controversy.
"Steve Ross got into a little bit of trouble this week, I said, 'Steve. Welcome to the world of politics.'"
Trump spoke for more than an hour to more than 500 people who gathered at the Bridgehampton mansion of Ross associate Joe Farrell, also a developer, raising more than $13 million dollars for his 2020 campaign.
While that was happening, protesters were gathering in front of Equinox and SoulCycle facilities around the nation, including Sunset Boulevard in West Hollywood.
According to Adam Bass and Gonzalo Garcia, organizers of the boycott call and protest, about 100 people gathered during the three hour event, including some West Hollywood officials.
"Hey hey, ho ho, Donald Trump has got to go. Hey Hey, Ho Ho, 45 has got to go," shouted the protesters to hundreds of well wishers who blew their horns as they drove along Sunset Boulevard. "Boycott Equinox, Boycott Equinox," they alternated, hoisting signs and playing to the cameras of every television station in Los Angeles.
One sign read "Still have an Equinox membership? You R part of the problem." Another read "Equinox made me do it," "Your Spin Class Powers White Supremacy," "Equi-Not."
As one man drove by in a stainless-steel and black Rolls Royce he shouted "Fuck Trump" and blew his horn in rapid succession to the rhythm of the crowds chant, bringing the crowd to a roar.
Garcia says he helped organized the event because "people have become complacent."
"When I saw the news I couldn't take it anymore," he said. "So we planned the protest. I didn't want to just sit behind my computer sharing the story, wondering if someone was going to do something. I think it's still good to protest and make your voices heard." 
Asked why Equinox's corporate support by Ross for Donald Trump matters more than major donations to Republicans made by other corporations (Facebook, PayPal, etc), Gonzalo said "Ross is a hypocrite. If he claims to support racial equality, women's rights and environment issues why is he giving to Trump; he has proven how opposed he is to all of those issues," he said.
 The situation is reminiscent of the boycott in Manhattan of the Out Hotel, a gay hotel that was located on West 42nd Street and owned by real-estate investor Ian Reisner and his business and former partner Mati Weiderpass. The pair hosted a dinner party at their duplex on Central Park South for then Republican presidential candidate Ted Cruz, and his wife. 
Within hours protesters organized and dozens of people marched from Time Square to the hotel, demanding a boycott.  Within a year the hotel was closed and Reisner and Weiderpass became social persona non-grata.
Other LGBT community boycotts have proven less than successful and prolonged (Coors comes to mind), but there seems to be agreement that Equinox and SoulCycle will be hobbled if membership numbers decline as a result of the boycott.
A lesbian Equinox member (who asked not to be identified) exited the gym during the demonstration and sat by watching a Latino Trump supporter named Harim Uzziel chant along with the crowd, changing the chants from anti-Trump to pro-Trump chants. "I just emptied my locker and now seeing this I'm glad I did," she said, laughing at the MAGA hat wearing man.
When asked if she had reluctantly quit she said, "At first I saw this as an impossible purity protest; why would I quit Equinox but not cancel my vacation at the Marriott?  Both hide their homophobia behind rainbow flags, just like nearly every corporation in America," she said. "I doubt there's a single company that hasn't donated to Republicans or Trump."
She added, "But we don't have to be blind anymore."
West Hollywood protest organizer Garcia echoed her sentiment. "We need people to know where their money is ending up," he said.
Organizer Bass says he is hopeful that people are starting to care.
"We started planning this two days ago, spent no money and had no organizational support, and still had over 100 people show up," he said. "Clearly there's a hunger in our community to actively oppose Trump and his enablers at every opportunity."
That may keep protesters very busy as Donald Trump is aggressively hitting up Fortune 500 corporate enablers like Ross. And they are responding, sometimes quietly.
"I love coming to the Hamptons," he gloated.
As if acknowledging his own toxicity, Trump added "I know the Hamptons well, everyone here votes for me but they won't admit it." 
LA vs Hate partners with anti-Defamation League on mural 
LA vs Hate's Summer of Solidarity will continue to create art and community-led events to bring people of all walks of life together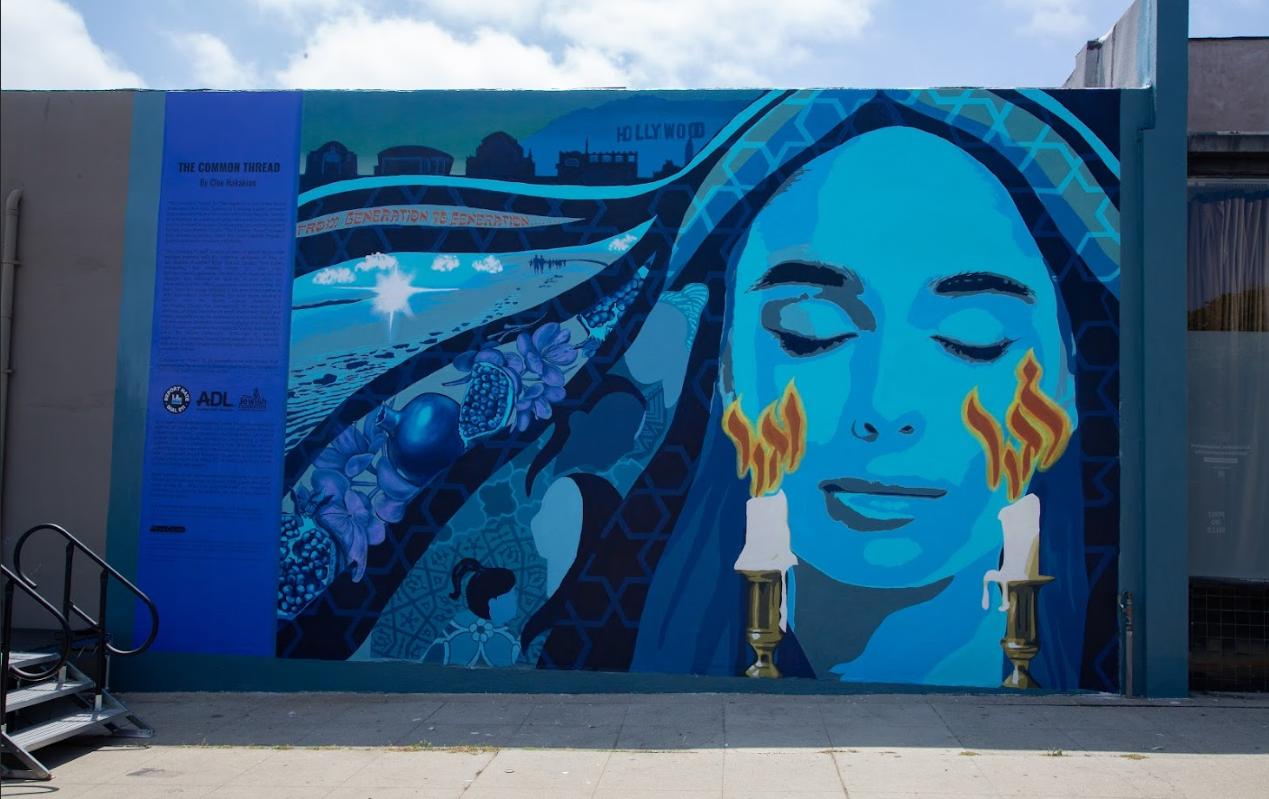 LOS ANGELES – A new mural was unveiled in Pico-Robertson honoring the Jewish community, presented by the Los Angeles County Commission on Human Relations' initiative LA vs Hate, in partnership with the Los Angeles chapter of the Anti-Defamation League (ADL) and The Jewish Federation of Greater Los Angeles.
The mural, titled "The Common Thread," was designed by Cloe Hakakian, an Iranian-Jewish muralist and native Angeleno, and weaves a vision of Jewish history and tradition together with the collective memories of Jews in Los Angeles.
In 2022 there were 3,697 antisemitic incidents throughout the United States according to a recent report by the ADL, indicating a 36% increase from 2021 and the highest number on record since ADL began tracking antisemitic incidents in 1979. Los Angeles saw notable antisemitic incidents occur in the last year, including the separate shootings of two Jewish men in Pico-Robertson, as well as banners over a highway overpass that read "Kanye is right about the jews [sic]," referencing Kanye West's widely-publicized antisemitic rants that created a ripple of hate acts towards the Jewish community across the country.
The mural unveiling was celebrated with an event at The Mark, with speakers such as LA County Third District Supervisor Lindsey P. Horvath, President of the LA County Commission on Human Relations Ilan Davidson, Executive Director of the LA County Commission on Human Relations Robin Toma, LA City District 5 Councilmember Katy Yaroslavsky, Regional Director of ADL Los Angeles Jeff Abrams, and President & CEO of The Jewish Federation of Greater Los Angeles Rabbi Noah Farkas. They shared remarks on the significance of the Jewish community in Los Angeles and celebrated art's unique power to unite communities and share experiences across diverse cultures. Following the unveiling and opening remarks, the community enjoyed live performances, food and more.
The mural is part of LA vs Hate: Summer of Solidarity, a summer-long celebration of the County's cultural and community diversity. The series of events includes monthly art-led and community-centered events in each of the County's five Supervisorial districts. Through partnerships with community-based organizations, the festivities will uplift and celebrate cultural moments and traditions – all to showcase that unity is stronger than hate. The Summer of Solidarity also seeks to remind residents of the County's hate reporting system, where anyone can report an act of hate and receive free and confidential support by calling 2-1-1, or by filing a report online at www.LAvsHate.org.
"The vibrant neighborhood of Pico-Robertson is known for being a beacon of light and connection to the Jewish community in Los Angeles that we are celebrating today," said Supervisor Horvath. "We're honored to have this talented artist create a piece that articulates a beautiful expression of love, family, and heritage."
"Public art like this beautiful Jewish community mural has the power to share experiences, create human connections and uplift solidarity within and between communities," said Robin Toma, Executive Director of the LA County Commission on Human Relations.
"LA vs Hate's Summer of Solidarity will continue to create art and community-led events to bring people of all walks of life together and to promote dialogue, understanding, and compassion needed to build unity against hate," added Ilan Davidson, LA County Commission on Human Relations President.
"At a time when we see antisemitism and hateful messaging on the rise, it's more important now than ever to highlight the experience and contributions of Jews and other marginalized communities in our city," said Jeffrey I. Abrams, Regional Director of ADL Los Angeles. "We know that exposure to other cultures and experiences can reduce bias and hate and that is exactly what we hope this mural will accomplish."
"We are proud to help lead this unifying collaboration, which heightens our sense of awareness of the uniqueness of communities across Los Angeles," said Joanna Mendelson, SVP Community Engagement, Jewish Federation of Greater Los Angeles. "The Summer of Solidarity initiative provides an opportunity to reflect the diversity of our Jewish community, and provides a moment to capture the cultural, historical, and spiritual influences that embody the Jewish Angeleno experience. We are prioritizing efforts to build bridges with our neighbors across Los Angeles, and recognize art, such as this mural, is a powerful vehicle to unite."
"The mural depicts a mother lighting Shabbat candles, with their flames illuminating the Hebrew script for L'dor V'dor, from generation to generation," explained muralist Cloe Hakakian. "The folds of her headscarf become vignettes that celebrate the diversity of Jews within our community and the cultural experiences shared across time and place. There is a young child held in the arms of her mother as older generations stand behind her, each figure wearing a pattern from the diverse cultural diasporas in Los Angeles county. Footprints move through the desert toward a bright horizon, a metaphor for migration, healing, and resilience within the Jewish community. Silhouettes of culturally significant Los Angeles county landmarks sit on the horizon, reminding the viewer of the greater community within which the Jewish community thrives."
Throughout the Summer of Solidarity, LA vs Hate will continue to commission and reveal new murals celebrating different communities and cultures across the County through partnering with community organizations. The next mural unveiling will take place in South LA in partnership with the Brotherhood Crusade and LA Commons to bring to life a mural that articulates the experience of the black community with its long history battling racism in Los Angeles. During Long Beach Pride, a mural that honors the LGBTQ+ community will be unveiled in Bixby Park, in partnership with the Long Beach LGBT Center, Long Beach Human Relations Commission and Long Beach Parks Department.
For more information, visit LAvsHate.org, and for the LA vs Hate: Summer of Solidarity calendar of events, visit lavshate.org/community-events-calendar.