Out NFL bisexual Ryan Russell just wants to play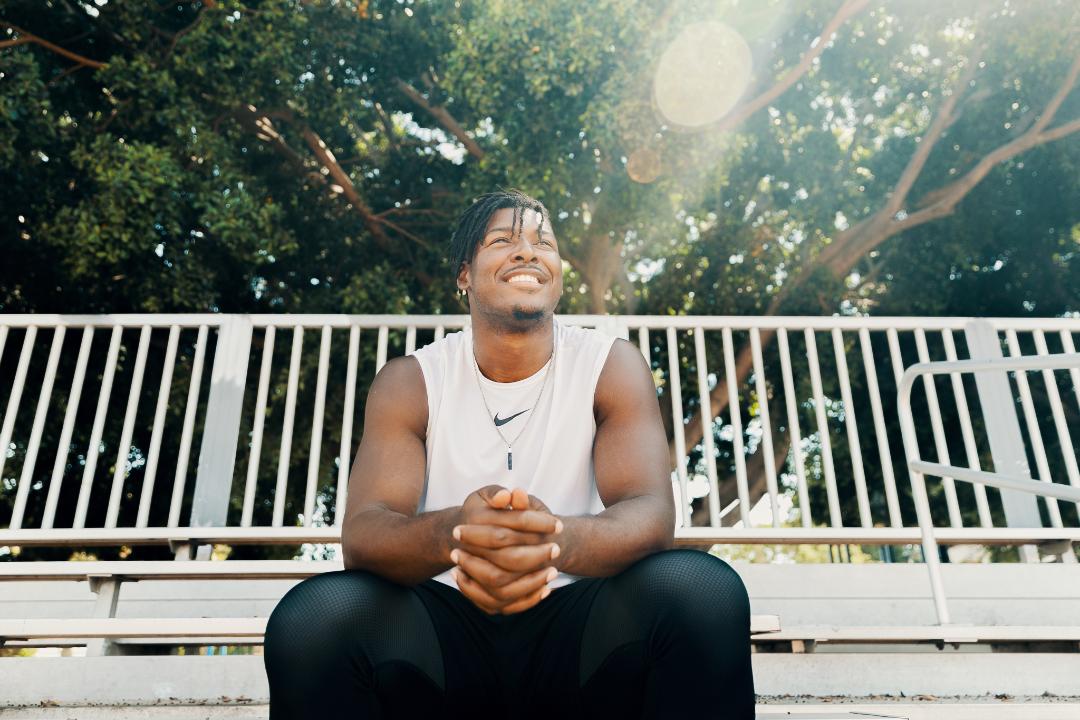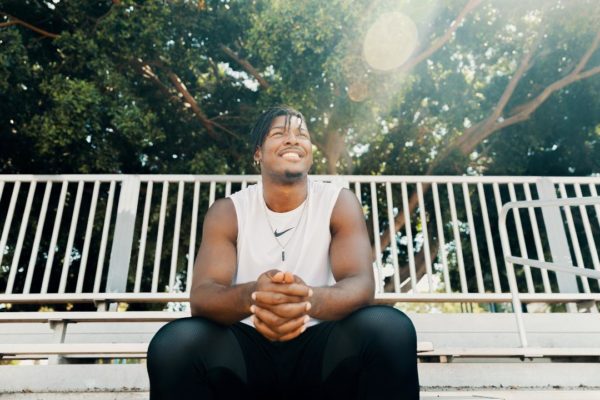 LOS ANGELES — It was a long two days. NFL free agent Ryan Russell came out twice in a personal column on ESPN on Aug. 29 and during the subsequent whirlwind of press—first as a bisexual and second as a defensive end who writes poetry and romance stories.
"My primary objective right now is football and getting back in the NFL and playing. And I think the biggest way that I could also kind of help be a more visible figure in professional football, for other LGBT players, is to be on the field," Russell who continues to train at the NFL's Exos sports program in Carson, tells the Blade. "I know that there's an opportunity for me, and I know that my best years of playing are ahead of me and I can't wait to show the world what I can do."
Russell is diligent about how he frames what others see as a blatant civil rights issue.    
"I want to live my dream of playing the game I've worked my whole life to play, and being open about the person I've always been," Russell wrote on ESPN. "Those two objectives shouldn't be in conflict. But judging from the fact that there isn't a single openly LGBTQ player in the NFL, NBA, Major League Baseball or the NHL, brings me pause. I want to change that — for me, for other athletes who share these common goals, and for the generations of LGBTQ athletes who will come next."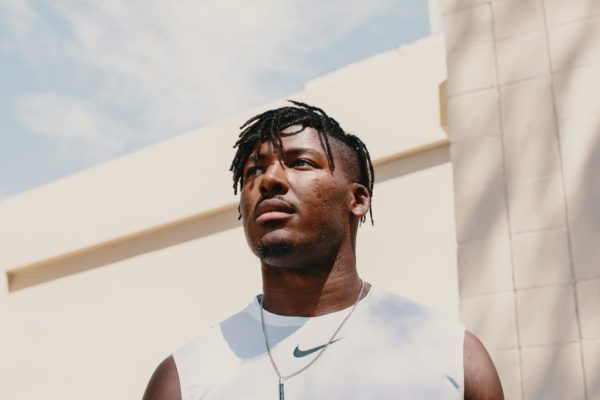 While football is a life-long dream, writing is a necessity of the soul. Russell, 27, started writing at age seven after his stepfather died. Writing helped keep him sane after his best friend Joe Gilliam, with whom he played football at Purdue, died of cancer on Sept. 11, 2018 at age 27.
"Joe's death definitely brought the aspect of life being short to the forefront," says Russell. "He was the best man that I knew. And he was a great athlete, a great brother, a great husband. He did everything right. He never drank, he had an amazing diet. He was, literally, everything that I aspire to be every day.
"He died at 27, so of course, it was a wakeup call for me," Russell continues. "I wanted to live my life openly and honestly and give people in my life the opportunity to know me and support me. It was definitely a moment in my life where a lot of changes happened and I don't want to take these days or these years for granted."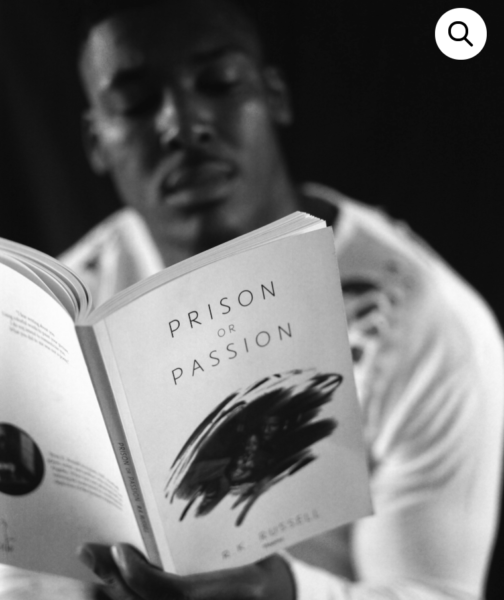 Russell has written about Joe and his own hopes and dreams in his "poetic memoir" entitled "Prison or Passion," available at his website, RKRelentless.com. He also posts snippets on Instagram.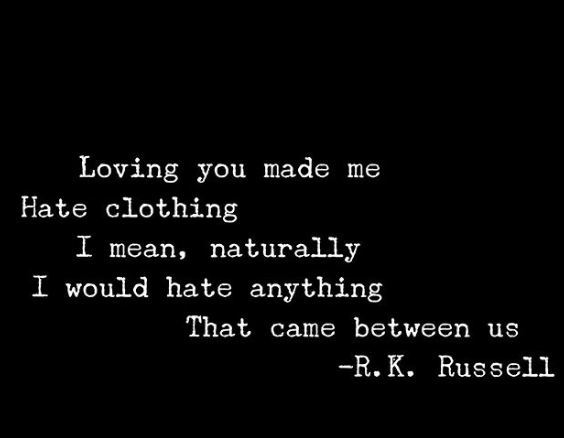 "I'll always write. That's a huge part of me," Russell says. "It's been a part of this process of coming out and I'll continue to write stories. But right now, the focus is football. It's plan A, B, and C."
Russell and his boyfriend Corey O'Brien, a professional dancer and fitness model, also created an 11-minute coming out video for YouTube. In the "more intimate setting," he and Corey lightly kiss and awkwardly address the camera. Finally, Russell starts sharing what had been a burden for so long, encouraging others to find and share their authentic truth, too.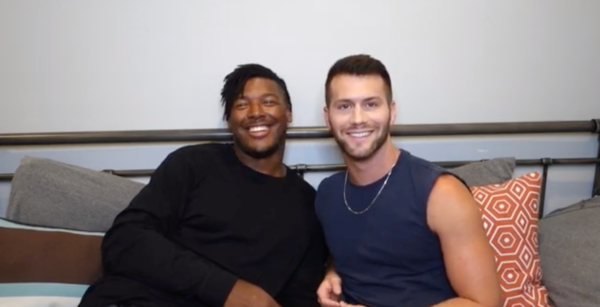 He talks about how he started to experiment with his sexuality while on a full football scholarship at Purdue University, from which he graduated with a double major in sociology and communications. He watched as Michael Sam, all-American at the University of Missouri in 2013 and Southeastern Conference co-defensive player of the year, came out in 2014, was drafted in the seventh round as the NFL's first openly gay player and was cut, never having played in the league.
That prompted Russell to virtually go back in the closet before being drafted by the Dallas Cowboys in the fifth round in 2015. He subsequently played for the Tampa Bay Buccaneers and briefly for the Buffalo Bills before being sidelined with a shoulder injury that required surgery. It was a recent meeting with the San Francisco 49ers that spurred him to come out as bisexual.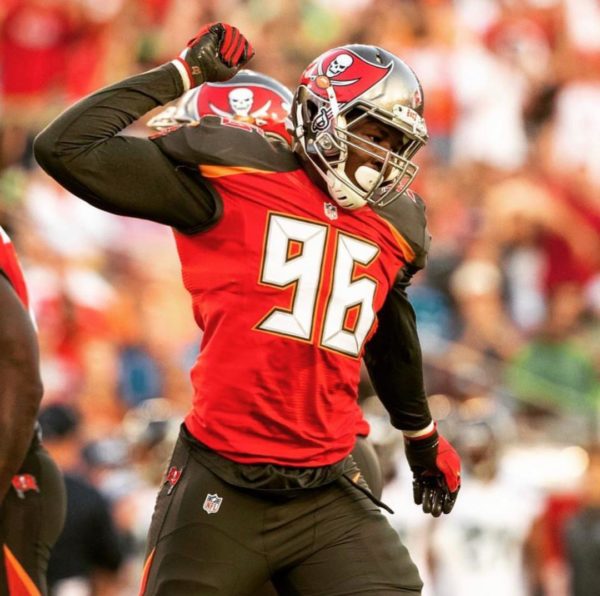 "When I interviewed with the 49ers and they talked about just my potential to play in this league again, that I deserved to play in this league again and I have the ability to, I also thought about maybe not being open and being honest and doing what I did these past three years in the NFL of just keeping these two worlds separate. And that thought, it just kind of seemed unbearable," Russell says.
After talking with manager/documentary producer David McFarland and others, "I realized that my story could reach a larger audience and hopefully impact LGBT athletes—or just even give the NFL a chance to know that there's an LGBT athlete who knows that they're ready to open up and to accept players of different sexualities. That's kind of when the vision got a little bigger," Russell tells the Blade.
"Now that I've been in LA and I've been living my truth and I've lost my best friend and I know how fragile life is—I didn't want to have to compromise. And I thought that the NFL was in a great place to support an LGBT athlete now and moving forward."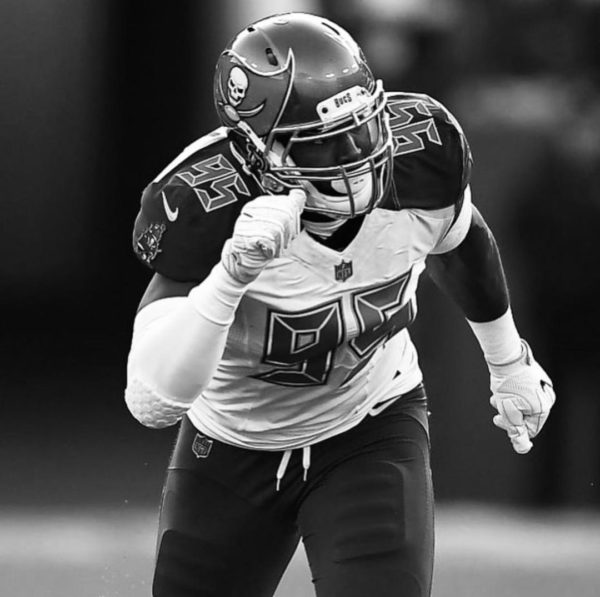 Russell thinks making big plays with ESPN calling out his name "would speak volumes to the NFL and to the organization that had signed me and to LGBT athletes and LGBT kids—and just the whole community," he says. "I have the drive to do that, I have the ability to do that. So that is at the forefront, the next step, the step thereafter, and the step after."
But Russell does not want to stand alone. "Athletes also have to take the steps to be visible and to let the NFL and to let sports organizations support us and embrace us and stand with us. If we don't make the step to first come out, then the NFL or any other professional sports organization doesn't have the opportunity to be there for us," Russell tells the Blade. "With that being said, coming out is just a journey all on its own and I understand everyone's journey is different."
But can the masculine-dominated, militaristic-like multibillion-dollar working world of NFL entertainment learn to accept out LGBTQ players, coaches and staff—as the U.S. armed forces did when Congress lifted the ban on open LGBT military service before Donald Trump?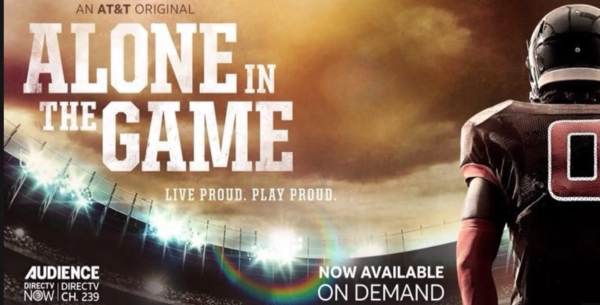 McFarland thinks so, as do some of those interviewed in his documentary "Alone in the Game" about homophobia and transphobia in sports.
"If we can end discrimination in the U.S. military, where lives are at stake, we can absolutely do it in the world of organized sport," says Nathaniel Frank, Researcher at Columbia Law School.
Gay former Secretary of the Army Eric Fanning also discusses the injury to athletes when they have to pretend to be someone else on the playing field—a detriment to mental health on the battlefield under "Don't Ask, Don't Tell," as well.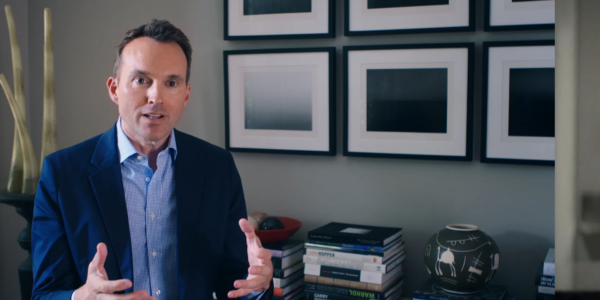 "There's a huge psychic cost to either denying that part of yourself or not being able to share it with those people around you, particularly if you are working in a really intense environment like people in sports are," says Fanning.
"I don't think it's any secret that leadership in sport, not just the leagues but at the collegiate level and at the Olympic elite level and the age group level have questions come up," says McFarland. "How do we identify and deal with an athlete that is struggling in the closet? Because until those athletes come forward to either ask for help or come out and take that brave, courageous move like Ryan did, we don't know. So, it's really important that athletes follow in Ryan's footsteps."
Additionally, it's incumbent on the LGBTQ community to "raise the profile and concern around these issues in sport," McFarland says. "If the environment and the leadership within sport in general made it more conducive where people felt like they belonged, maybe that's a starting point."
The Human Rights Campaign sees homophobia and transphobia in sports as an LGBTQ workplace civil rights issue.
"No workplace should be free of accountability, and no worker, regardless of their job, should be subject to vile hatred in any form," Charlotte Clymer, HRC Press Secretary, Rapid Response, tells the Blade. "This is why the Human Rights Campaign has long spoken out against instances of anti-LGBTQ conduct within the NFL while praising the moments the league has taken a stand for equality, as well as individual players who speak out against anti-LGBTQ bigotry.
"But that's not enough," Clymer continues. "The NFL must resolutely fight white supremacy in all forms, sexual and physical violence of any kind, particularly misogyny, and ensure that the safety, respect, and dignity of all people is a touchstone of their culture. No business is perfect, but imperfection does not absolve us from improvement."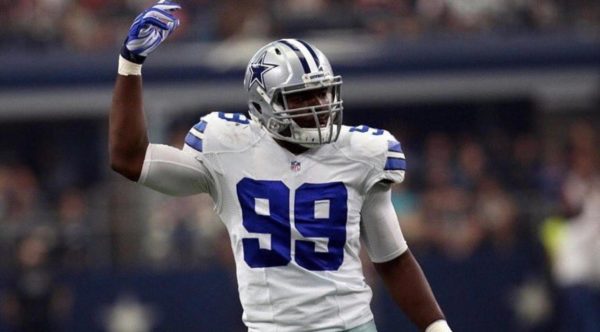 It's a personal issue for Clymer. "As a queer trans kid from Central Texas who grew up loving football, I'm proud of Ryan Russell's brave authenticity," she says. "But that will not be enough until everyone in the NFL has a shoulder-to-shoulder pride in the values of true inclusion. If the NFL wishes to maintain its positioning as inextricable from American culture and values, it needs to realize that the vast majority of Americans demand true inclusion in every workplace. Anything short of that is a failure of morality and patriotism."
"I don't have a big call to action for the NFL," Russell says. "I just want young athletes to know that it's okay to be exactly who they are. And if you come to terms with your truth at your own pace, that's fine, too. There is a place for you in this world of sports, and there are players, teams, and organizations who are waiting to support you and encourage you the same way as they have done for me these past couple days."
(Photos courtesy David McFarland and ESPN)
LA-DWP & Mayor Garcetti announce new outdoor watering restrictions
Sprinkler watering will be allowed Monday & Friday at odd-numbered addresses in the city, and even-numbered addresses on Thursday & Sunday

LOS ANGELES – In a press conference Tuesday Los Angeles Mayor Eric Garcetti and officials from the Los Angeles Department of Water and Power (LADWP) announced that outdoor watering in the city will be restricted to two days a week starting June 1.
The announcement comes as the Metropolitan Water District of Southern California declared an unprecedented water shortage emergency two weeks ago, imposing restrictions after MWD's board voted to adopt the emergency measures to "reduce non-essential water use" in certain areas. Cities and smaller water suppliers that get water from MWD are required to start restricting outdoor watering to one day a week, or to find other ways to cut usage to a new monthly allocation limit.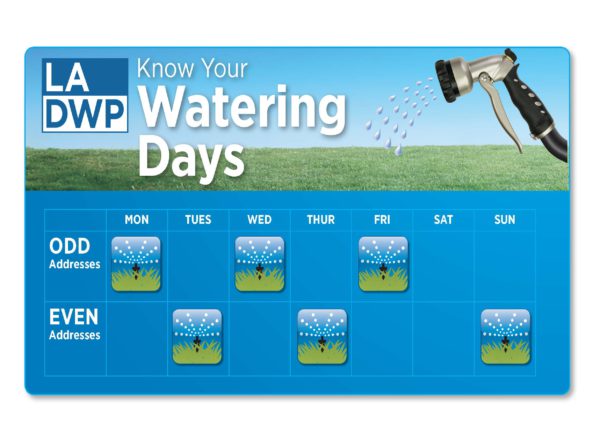 In Tuesday's press conference Mayor Garcetti said L.A.'s two-day limit was still more lenient than the one imposed by the Metropolitan Water District of Southern California, which has ordered many of its member agencies to restrict outdoor watering to once a week.
Sprinkler watering will be allowed on Monday and Friday at odd-numbered addresses in the city, and even-numbered addresses on Thursday and Sunday.
Hollywood residents angered over Sunset Blvd. homeless encampment
Many residents are frustrated over the increasing daily criminal activity that has plagued the area, including vehicle break-ins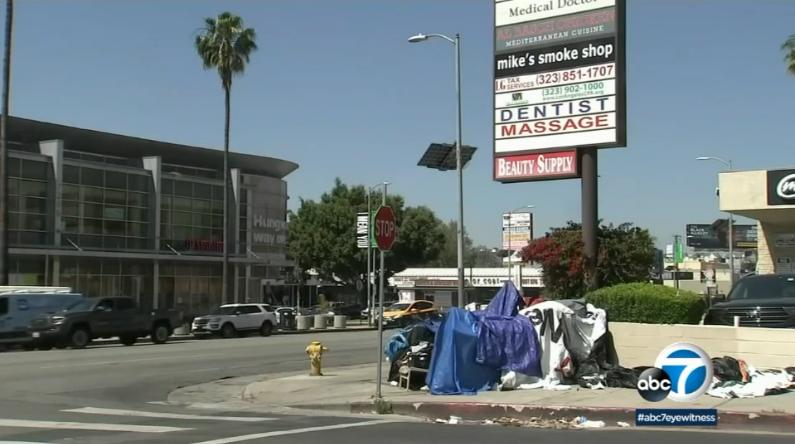 HOLLYWOOD – For those who live in the Hollywood neighborhood that surrounds the homeless encampment on Sunset Boulevard at Martel Avenue, the last seventeen months have been aggravating.
Many residents are frustrated over the increasing daily criminal activity that has plagued the area, including vehicle break-ins which at times has resulted in multiple break-ins on the same vehicles.
"We've had tons of break-ins. Our garage has been broken into five times. Cars are vandalized. Mail is stolen," local resident Lawrence S., who lives near the encampment, told KABC 7. "Our building, the building across the street, the building across the street that way — there's just rampant crime.
"I actually had my sister in-law come to visit for the first time and she parked across the street in broad daylight and within 30 seconds, someone from the homeless encampment was down swinging a club at her. The violence is escalating and we keep asking the City Council, what is it going to take? Do we need to wait till someone's murdered?"
The encampment is located at 7323 Sunset Blvd. and surrounds an AT&T building. It's located in L.A. City Councilwoman Nithya Raman's district who toured the encampment in 2021, joined by residents, including Terry S.
"She promised. She said that she would be adamantly enforcing ADA compliance. That she's looking into setting up a safe camping location for the campers. Never happened," Terry S. told KABC 7.
"In August, 41.18, an ordinance, passed and we were very hopeful because finally we thought that they would have some tools at their disposal," Lawrence S. said. "But the city councilwoman is only enforcing a part of that ordinance, which is the Care Plus Cleanup program. However, she's only doing it when she feels like enforcing it, which is three times in 17 months."
Residents say that the city's efforts to clean up and clear out the encampment only results in the homeless displaced for a couple of days sometimes less and then they return to reestablish the encampment. This past Thursday the city again clean and cleared the encampment.
While an KABC 7 camera and reporter Josh Haskell were working on the story homeless people were in the background reestablishing their presence across the street.
KABC 7 reached out to Councilwoman Nithya Raman whose office responded with a media statement:
"This encampment is a priority for our office, and our Homelessness Team has been consistently bringing services and working with the individuals living at this location. LAHSA outreach teams most recently identified seven people living here and together we worked to move three of them into shelter just yesterday as part of our Encampment-to-Home project, which has already moved 43 people in Hollywood indoors. Additionally, a cleanup took place at this location yesterday and we are working to move the remaining individuals into shelter as soon as beds become available. We are in continued communication with the residents in the neighborhood regarding the status of our progress as we move forward."
Residents upset with LA City Councilwoman Nithya Raman over Sunset Boulevard homeless encampment:
Lawsuit against USC in sexual abuse case of 80 male students settled
"The settlement is another step toward closure for our clients who finally feel a sense of recognition and validation for speaking up"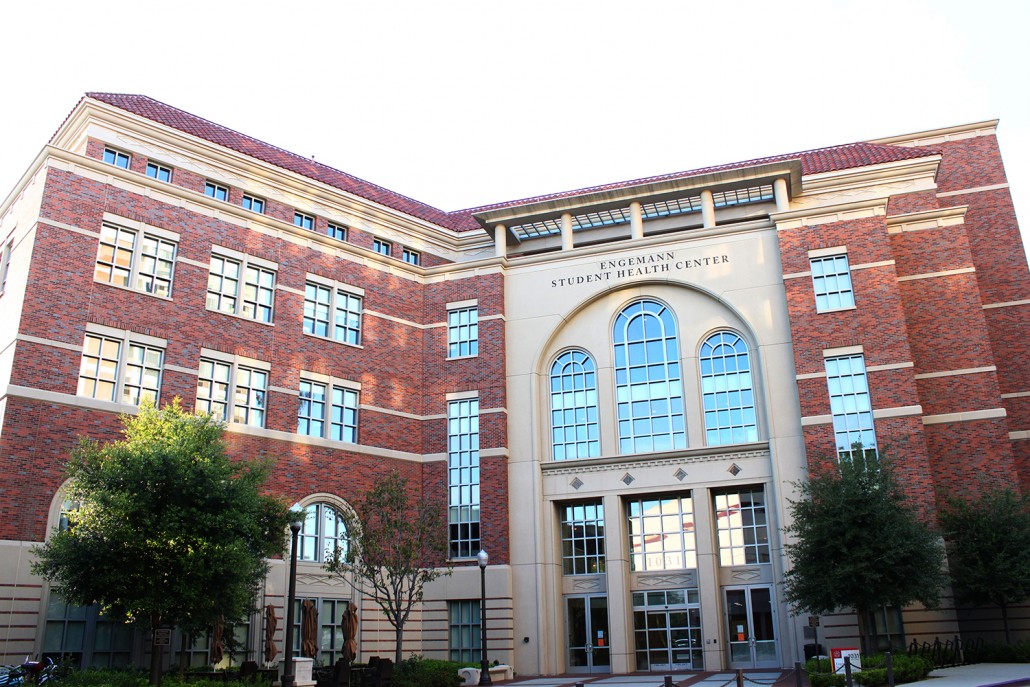 LOS ANGELES – Attorneys representing 80 individuals who filed lawsuits and made claims against the University of Southern California and former USC men's health physician Dennis Kelly for allegations of sexual misconduct and harassment have reached a global settlement according to the plaintiffs' attorney, Mikayla Kellogg.
"The settlement was achieved through the persistence and bravery of our clients who had the strength to come forward to share the harrowing details of their experiences at the USC Student Health Center and the determination to hold USC accountable for its failure to protect its students," said Kellogg, partner at Kellogg & Van Aken last week. "The settlement is another step toward closure for our clients who finally feel a sense of recognition and validation for speaking up."
The lawsuit was filed in February 2019 in Los Angeles Superior Court by six former University of Southern California student alumni, all gay or bisexual, alleges that Dr. Dennis A. Kelly discriminated against and battered them while he was serving as the only full-time men's sexual health doctor at the Engemann Student Health Center on the USC campus.
Since the original filing, 74 additional individuals have come forward, bringing the total number of claimants to 80.
Kelly Van Aken, partner at Kellogg & Van Aken said, "It has been a long three years for our courageous clients who have persevered through intense scrutiny to ensure their voices have been heard. It is our hope that by taking these allegations public and speaking out on behalf of dozens of current and former students of USC, institutions entrusted with the care of vulnerable young people are forced to confront and correct the toxic and problematic cultures that allow abuse and misconduct to continue."
Dennis Kelly was a physician at USC's Student Health Center from 1997 to 2018. The claimants allege that Dennis Kelly used his position of trust and authority as USC's men's health physician to engage in sexual misconduct under the guise of medical care and disproportionately targeted LGBTQ+ patients.  They further allege that USC received complaints about Dennis Kelly's misconduct but failed to adequately address them and continued to allow Dr. Kelly to see and treat vulnerable young students without limitation.
Kelly, 72, who resigned in August of 2018 after twenty years working at the student clinic as a primary care physician, denied any inappropriate behavior toward patients and called the lawsuit's allegations "terribly hurtful."
"I can't second-guess or question anything I've done," Kelly said in a phone interview February 12, 2019 with the Los Angeles Times. He added, "I know I did it all professionally and without any other motive."
Kelly, who described himself as an openly gay physician to the paper defended his actions telling The Times that he had devoted much of his career to counseling LGBTQ patients about ways to reduce the risks of their sexual behavior.
According to Kelly, he never used the graphic terms described in the lawsuit or performed unnecessary genital exams. He said he suspected his stern warnings about behavior that put patients at risk for sexually transmitted diseases were misinterpreted as condemnation or deviance.
The court documents stated that Kelley specifically targeted USC's gay and bisexual and male student population, "all of whom were young adults and many of whom were visiting the doctor without a parent for the first time," alleging he subjected to "intrusive and medically unnecessary rectal examinations."
"Dr. Kelly did not treat heterosexual men in a similar manner and did not perform rectal examinations on heterosexual men who had similar sexual practices," the suit claimed.