Democrats incur LGBTQ wrath over sex offender registry bill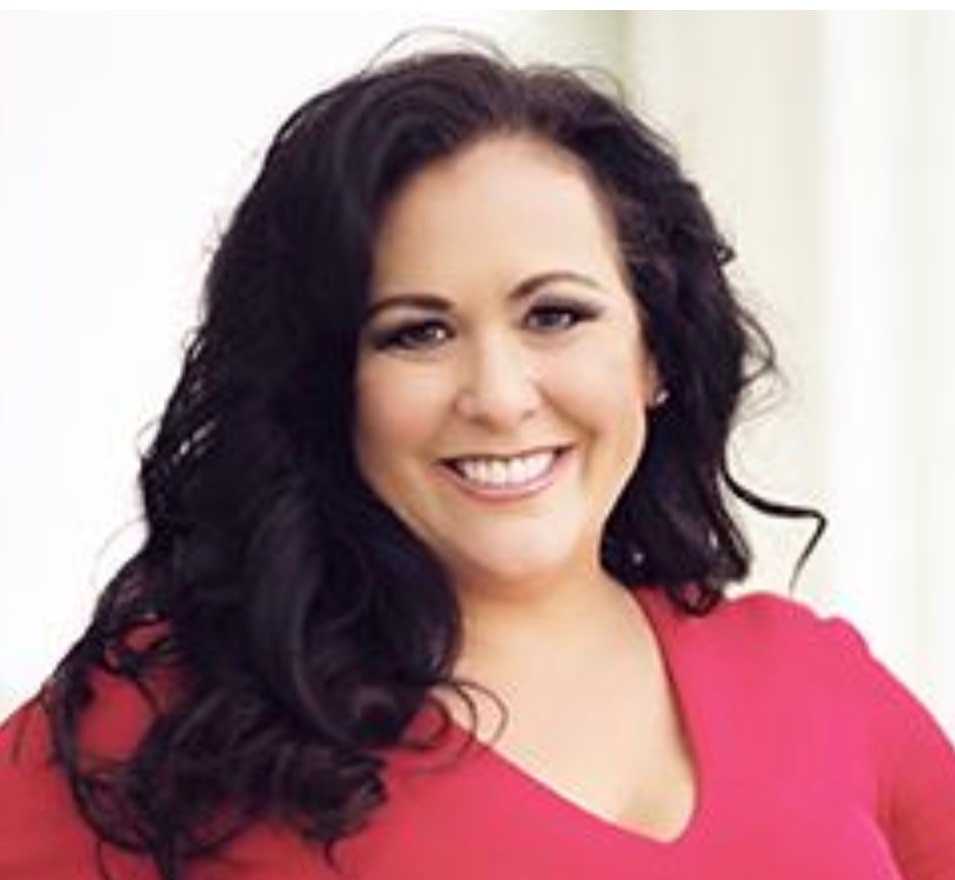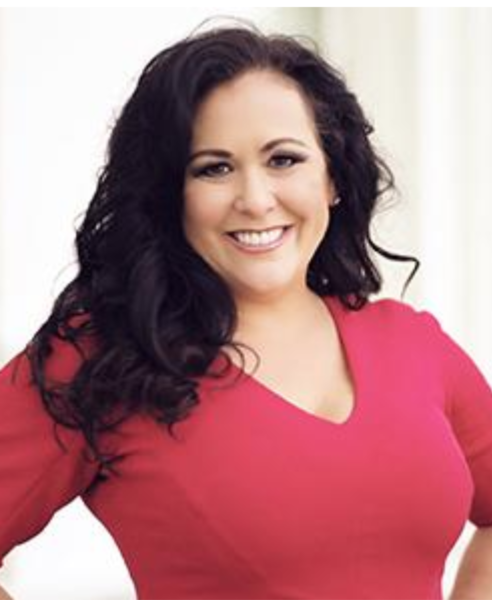 During a week of flurry before Labor Day, the California Assembly and Senate Appropriations Committees determined which final legislation to pass to the floor for votes and which to suspend for this session. At the end of the day on Friday, Aug. 30, one bill superseded the usual drama to create a pall over California Democratic unity as LGBTQ legislators and advocates expressed outrage that purported supporters used anti-LGBTQ messaging to woo electoral votes in 2020.
Two important Equality California bills did pass the Assembly Appropriations—Sen. Scott Wiener's SB 132, the Transgender Respect, Agency and Dignity Act to protect trans prisoners and Wiener and Assemblymember Todd Gloria's SB 159, the PrEP and PEP Access Expansion bipartisan bill to expand access to HIV prevention medication by allowing pharmacists to provide pre-exposure prophylaxis (PrEP) and post-exposure prophylaxis (PEP) to patients without a prescription, as is already done with birth control pills.
However, in a move that infuriated LGBTQ advocates and law enforcement allies, Assembly Appropriation Chair Lorena Gonzalez suspended Wiener's SB 145 that would fix the current discriminatory sex offender registry law written before homosexuality was decriminalized.
Under the law, if a straight 18-year-old male was charged and convicted of having consensual sex with his under-legal age 17-year-old girlfriend, the judge has the discretion to determine if the male teen's name should be added to the California sex offender registry. However, if an 18-year-old gay male is found guilty of consensual sex with his 17-year-old gay boyfriend, the judge has no discretion—the gay teen's name is legally required to be added to the public sex offender registry, thereby harming his opportunities in life.
Wiener, the out state senator from San Francisco, and SB 145 co-sponsor Equality California created a bipartisan coalition backing the bill to allow for judicial discretion. That coalition includes formidable law enforcement heavyweight co-sponsor LA County District Attorney Jackie Lacey and support from the ACLU of California, California District Attorney's Association, California Police Chief's Association, California Public Defenders Association and California Coalition Against Sexual Assault, among others.
SB 145 is no small matter. "Until recently, the California Supreme Court (People v. Hofsheier) and the Appellate Courts had held that mandatory lifetime registration for sodomy, oral copulation, and sexual penetration, but not vaginal sexual intercourse, violated the equal protection clause, and was unconstitutional. However, in a more recent case, Johnson v. Department of Justice, the California Supreme Court overturned the Hofsheier case, reasoning that since sexual intercourse can cause pregnancy and other sex acts cannot, it is not discriminatory to treat the offenses differently and for harsher penalties to be in place for non-vaginal intercourse," Wiener wrote in an April 9 press release after SB 145 passed the Senate Public Safety Committee. "SB 145 will overturn the Johnson decision and end this blatant discrimination."
Equality California was among the fairness and equality advocates angry that Gonzalez seemed to substitute her own judgement over that of law enforcement and LGBTQ and allied civil rights groups and placed SB 145 on suspension to now become a two-year bill, eligible for consideration in 2020.
The move was cheered by anti-LGBTQ Christians. "A California bill that could have prevented homosexuals from having to register as sex offenders for having sex with consenting minors has been blocked," Christian Action Network reported Sept. 3.
"We are extremely disappointed with Assembly Appropriations Committee Chair Lorena Gonzalez for allowing an outdated law that discriminates against LGBTQ people to remain on the books. Law enforcement, sexual assault survivors and civil rights groups alike support this bipartisan bill because it would make California's sex offender registry more effective and end blatant anti-LGBTQ discrimination," Equality California Executive Director Rick Zbur said in a statement.
"Regrettably, this is not the first time that this Committee, led by this Chair, has stood in the way of LGBTQ civil rights legislation and demonstrated a lack of understanding of LGBTQ civil rights issues. The impact of today's decision is neither hypothetical nor abstract. When this Committee and this Chair refuse to listen to law enforcement, sexual assault survivors and civil rights organizations, Californians suffer as a result," Zbur continued. "We will not stop fighting for this common-sense fix because California's LGBTQ young people deserve better. We all deserve better."
Zbur is referring to Chair Gonzalez and the Assembly Appropriations Committee blocking SB 421 in 2017, also bipartisan LGBTQ civil rights legislation authored by Wiener and co-sponsored by Equality California and LA DA Lacey. That established "a tiered registry for all sex offenders. Proposed tiers are based on seriousness of crime, risk of sexual reoffending, and criminal history. The bill would also establish procedures for termination from the sex offender registry for a registered sex offender who is a tier one or tier two offender who completes his or her mandated minimum registration period under specified conditions."
That bill was critical for LGBTQ people who had been required to register as sex offenders for life with no recourse to challenge or get off the registry—including gay men who had been unfairly targeted and entrapped by homophobic police from before Stonewall until the present day. Fortuitously, the legislation was later revived as SB 384, and with help from Speaker Rendon, passed on the Assembly floor and was signed into law by Gov. Jerry Brown.
The Assembly Appropriations Committee also blocked two other significant LGBTQ bills in 2017—AB 800 by Assemblymember David Chiu and AB 1161 by Assemblymember Phil Ting designed to address rising rates of hate crimes in California after Donald Trump's inauguration by establishing a statewide hotline for people to safely report hate crimes. The bills were also thought to provide local law enforcement access to information to investigate and prevent hate crimes. Those bills and two other hate crime-related bills did not survive Gonzalez's Assembly Appropriations Committee.
Interestingly, Gonzalez is not averse to controversy nor fame. A glowing 2015 profile in The Atlantic touted her as "The California Democrat Setting the National Agenda."
"The breadth and scope of her legislative efforts have helped catapult her ahead of California's two powerful U.S. senators, its up-and-coming attorney general, and its first gay woman to serve as speaker of the Assembly to become arguably the state's most influential female politician," The Atlantic author wrote. "Because she represents a solidly Democratic district—she ran unopposed in her first re-election effort in 2014—Gonzalez has had the luxury of being able to pursue her agenda without fear of voter backlash. But her tendency to gravitate toward controversial topics has cost her some opportunities to shore up support from those who'd otherwise be natural allies."
Some of those "natural allies" in the LGBTQ community are now wondering if Gonzalez—who intends to run for Secretary of State in 2020—is really a progressive Democrat in name only after her anti-LGBTQ actions as Appropriations Committee Chair and after she endorsed Modesto City Councilmember Mani Grewal in his race for California Senate District 5.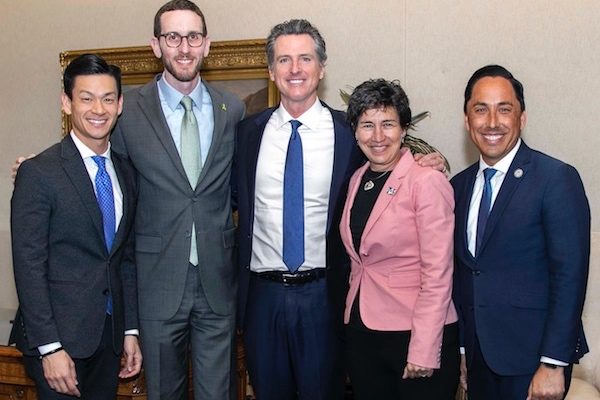 Gov. Gavin Newsom with LGBT Legislative Caucus members Assemblymember Evan Low, Sen. Scott Wiener, Assemblymember Susan Eggman, and Assemblymember Todd Gloria (Photo courtesy Newsom's office)
Grewal has been using SB 145—Wiener's sex offender registry bill that Gonzalez placed in the Suspense File—as an attack against his primary opponent, out Assemblymember Susan Eggman, in an ugly ad that is consistent with Republican talking points.
"SB 145 would open the door for adults to victimize minors by luring them with the intent to have sex and then shielding the predator from being automatically registered as a sex offender," states a Feb. 19 press release on the California Senate Republican Caucus website. "In plainer words, certain sexual predators will be able to live among us without our being aware and teens, often the most vulnerable victims of sexual predators, will be even more vulnerable."
The offensive ad paid for by the Grewal campaign features Stanislaus County Sheriff Jeff Dirkse looking directly into camera saying: "Adults who molest our children are criminals, and they must register as sex offenders. Mani Grewal helped keep that law on the books. That's why I'm supporting Mani Grewal for Senate. He will continue to protect our children."
Outraged ensued. Equality California and Wiener—who is also Chair of the California LGBTQ—could barely contain their disgust while California Democratic Party LGBT Caucus Co-Chairs Tiffany Woods and Lester Aponte called the ad "shameful" and "a divisive smear campaign to mislead voters and score cheap political points."
On Aug. 15, The Stockton Record published an article noting that Grewal was citing "regurgitated" falsehoods, apparently "referring to misinformation published in February by a website, thewashingtonpundit.com, that has since taken down its debunked online story."
Additionally, the newspaper reported, "Grewal's characterization of SB145 was debunked in February by Snopes.com, a website that fact-checks rumors and clears up misinformation."
An exchange of letters followed, with the last one from Equality California's Rick Zbur demanding that Grewal "formally retract the contents of [his] offensive ad and false statements about the bill; apologize to Senator Wiener, Assemblymember Eggman and the LGBTQ community; and endorse SB 145."
"Unfortunately, your purported commitment 'to stand up for the LGBTQ community' rings hollow as long as you continue to engage in these homophobic campaign tactics," wrote Zbur. "Knowingly spreading misinformation about an LGBTQ civil rights bill supported by law enforcement, sexual assault survivors and LGBTQ Californians is not how you 'stand up for the LGBTQ community.'"
Might the same be said of Grewal supporter, Assemblymember Lorena Gonzalez?
Photo of Assemblymember Lorena Gonzalez from her Assembly website
Trans remembrance vigil held at LA LGBT Center
"We refuse to let violence rob us of the possibility to gather, to love each other, and to dream together in solidarity"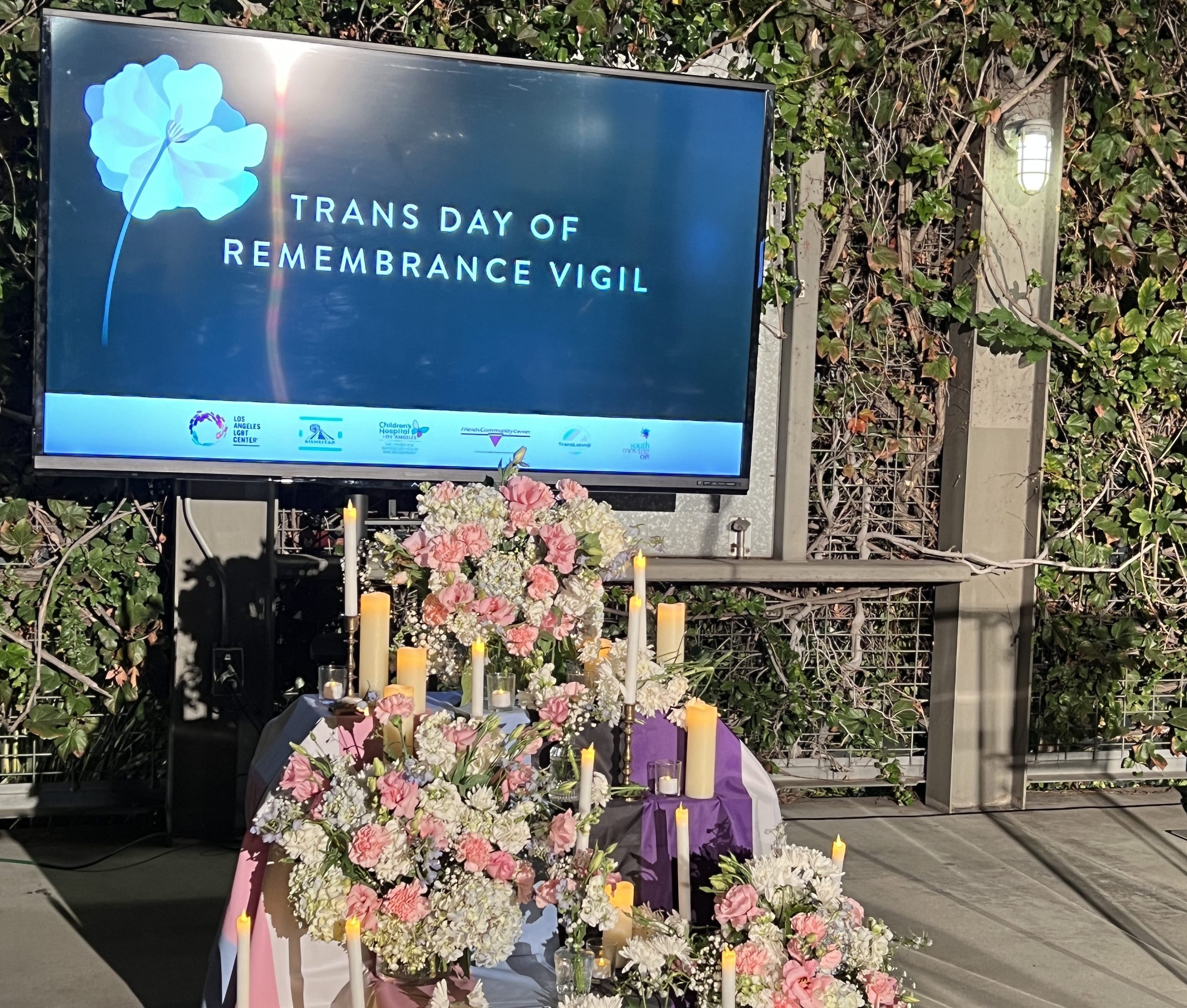 HOLLYWOOD – A Trans Remembrance Vigil was held at the Los Angeles LGBT Center on Monday, November 21st.
Candles and white, pink, and lavender flowers mounted on tiers draped by a trans flag adorned the center stage. A large monitor served as the focal point of the evening above the memorial display.
The Trans Chorus of Los Angeles started the ceremony with an acapella performance. Following the song of hope and redemption, opening remarks were given at the pulpit by the Anti-violence project manager for the LGBT center, Mariana Morroquin, and representatives from the Trans Wellness Center, Bienstar Human Services, Children's Hospital of Los Angeles, Friends Community Center, APAIT, and [email protected]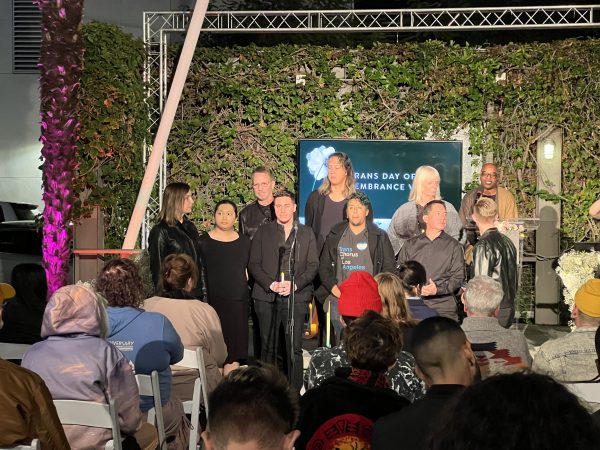 "I think it is very important to acknowledge our partners," said Morroquin, somberly addressing the seated audience of about one hundred and fifty. "We know that hate is real. A lot of us have seen hate pretty close. We are very grateful to have you. We open our arms to receive your love and your support. The way we support each other is by providing jobs, providing spaces for us, and providing opportunities. Because hate is out there. We need this space. We need to welcome everyone. I want you to keep that in your heart. And tomorrow, when we get back to work, let us open our hearts and our minds. Don't make decisions for us. Invite us to those tables. We know what we need. We've been doing this forever. We are going to keep fighting because this is what we do." 
She then added, "We refuse to let violence rob us of the possibility to gather, to love each other, and to dream together in solidarity. We gather because we must remember what is worth fighting for. For now, we commemorate. We tell the stories of the ones we lost. For tonight, that will be enough." 
One by one, members of the audience approached the pulpit to read the names and stories of a multitude of trans people whose deaths were the tragic result of hate crimes. The photos, names, and ages of the victims were displayed on the center-stage monitor.
"My name is Nikai David," said one speaker, the photo of a pale, curly-haired young lady displayed behind them. "I am a model and social media influencer who aspired one day to own my own clothing boutique. I had just celebrated my birthday a week before I was shot in Oakland California, on December 4th, 202. I was thirty-three years old."
Stories of these deaths included shootings by assailants, police, and family members, brutal beatings, and stabbings. The bodies of these victims were found in their homes, in garbage cans, and on streets where they were left, still dying, among other locations.
The final name read was Daniel David Aston, who died in the recent Club Q mass shooting.  This year, TDOR came on the heels of the senseless massacre in Colorado Springs that left five members of the LGBTQ+ community dead and 25 injured. 
Reverend Valerie Spencer gave an impassioned closing speech, first inviting the audience to take several deep breaths in unison.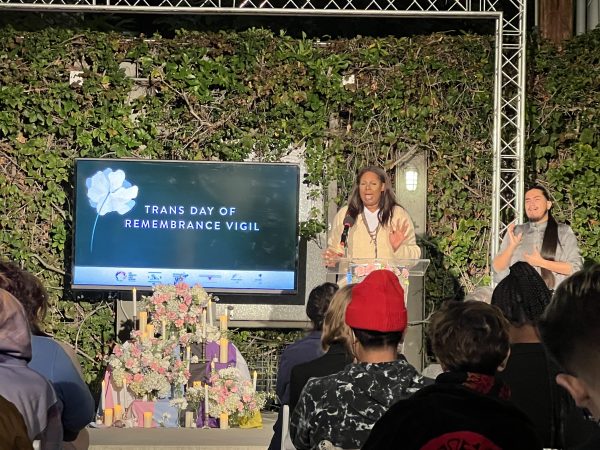 "We will mourn our family, our siblings," said Reverend Spencer, "but we are not having our primary focus on the violent conclusion of their life. We are choosing to see them and know them and celebrate them in the full context of their living. For they were fierce and powerful people."