October 7, 2019 at 9:56 am PDT | by Karen Ocamb
Jewel Thais-Williams Squared (Photos/Video)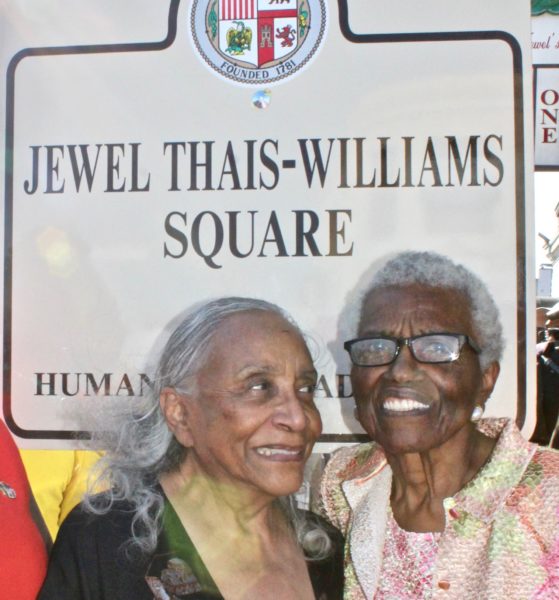 "Oh, wow," exclaims Jewel Thais-Williams asked what being honored with a Los Angeles street corner square in her name meant to her.
Silence. The seconds tick by. "I'm still speechless. I'm still overwhelmed by the whole thing," she says finally, laughing over the phone Sunday. "It's more than I could ever have imagined."
It was overwhelming. It was simultaneously an official political recognition of the Black LGBT pioneer who gave Black LGBT people a safe place to be themselves and party and a family reunion of many of those once-young brave souls for whom Jewel's Catch One Disco on Pico Boulevard in the mid-Wilshire District was a haven from racism and a space for Ball culture creativity to thrive. The Catch was LA's real life version of Pose and Paris is Burning.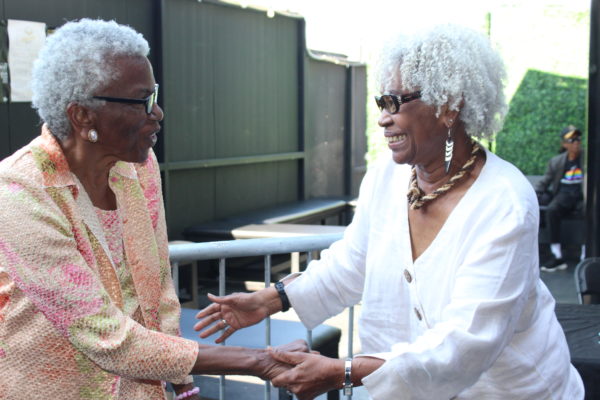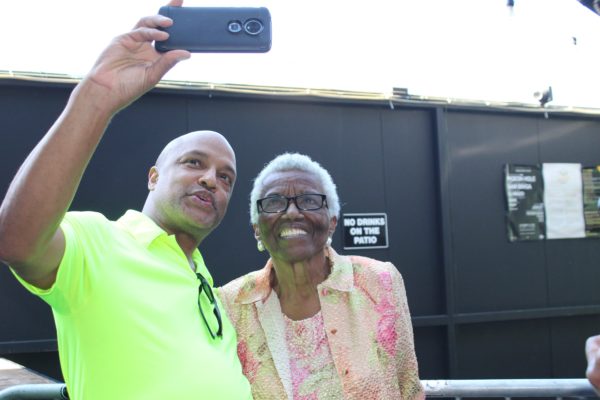 "It was great seeing people I haven't seen in a long, long time with some of my new friends in the same spot," says Thais-Williams. "Someone said the energy in the room was like yesteryear. There was a great mix of people. We would open every day for Happy Hour and have a food buffet so lawyers and doctors and teachers would come by after work and mix with everyday people. For some of them it was risky to come in or be seen leaving because they could be outted and lose their jobs. But all these different people bonded at the Catch because it was where they could have fun and really be happy and gay. And don't forget the 'catching one' part."
The enthusiasm in Jewel's Room on Oct. 5 was infectious. LA City Council President Herb Wesson, whose office organized the designation of the intersection of Pico Boulevard and Norton Avenue at the Catch in Thais-Williams' honor, seemed overjoyed to share her story. He recounted her history—without notes or a teleprompter—how women were not allowed to tend bar in 1973 but here was Jewel, opening a nightclub that became the oldest Black-owned disco in the country until she sold it in 2015.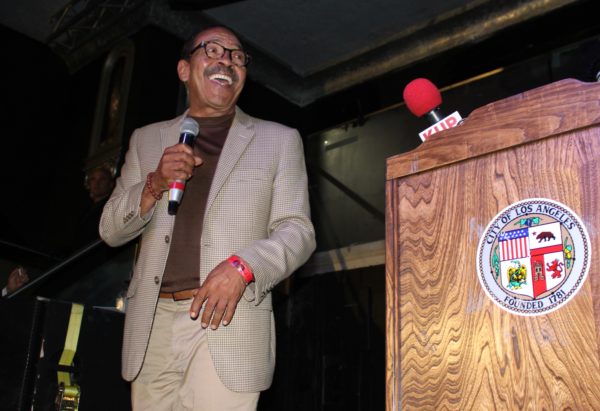 "Jewel has helped change the course of this country," Wesson said, adding that she gave young Black LGBT people a shoulder to cry on when they were rejected by their families. "Everybody deserves to be able to enjoy a night out where they can feel safe and welcomed, but before Jewel Thais-Williams, that was not the reality for Los Angeles' black LGBTQ+ community."
If the walls of Jewel's Room at Catch One could talk, they would talk about Etta James, Madonna, Whitney Houston, a young Chaka Khan, Sylvester, and Rick James, among many other celebrities. It was the "unofficial Studio 54 of the West Coast," Wesson said.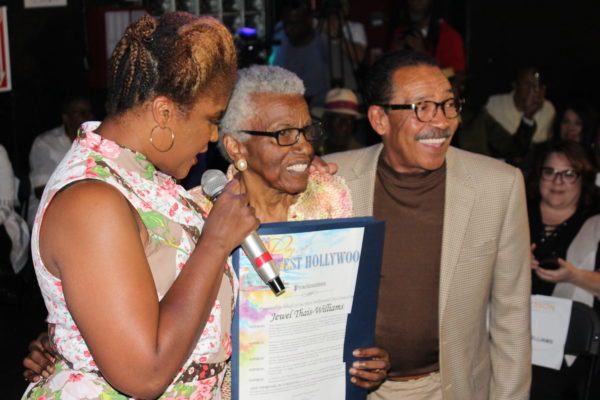 Actually, it was the counter to Scott Forbes' Studio One in West Hollywood that required three forms of identification for people of color and no open-toe shoes for women. No one particularly picked up on the irony when Marquita Thomas, executive director of the Los Angeles Lesbian & Gay Chamber of Commerce, presented Jewel with a proclamation on behalf of West Hollywood Mayor Pro-Tem Lindsey Horvath. It felt full-circle.
Wesson also noted how much Jewel contributed to the community beyond the Catch, especially during the AIDS crisis—co-founding the Minority AIDS Project and with her wife Rue, co-founding Rue's House, the first house for women with AIDS and their children. He also noted how Jewel got her degree in Asian medicine and opened the Village Health Foundation next door.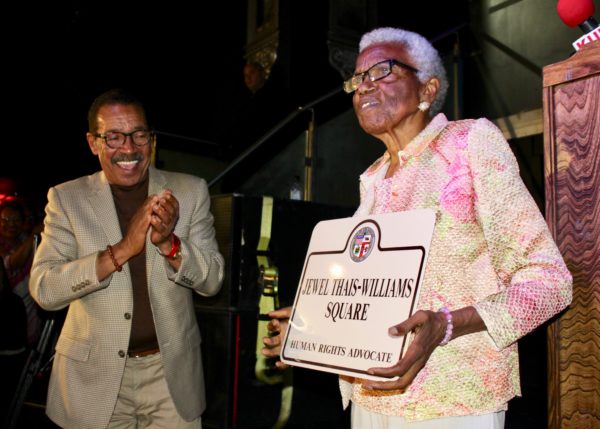 "Not a lot of people stood up. Jewel did," Wesson said. "Jewel is more than deserving to be the first black lesbian woman with a dedicated square in the city of Los Angeles for this and so many other reasons." He presented her with a mockup of the sign before the official unveiling outside.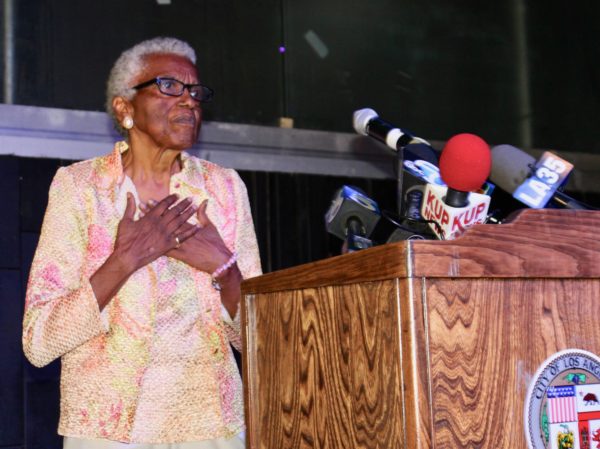 Jewel expressed her gratitude to the multitude, thanking only Rue, her wife of 30 years, and her sister Carol by name because there were so many to thank. "I couldn't have done it without all of you," she said. "Now it's even more important that we love one another and look out for each other."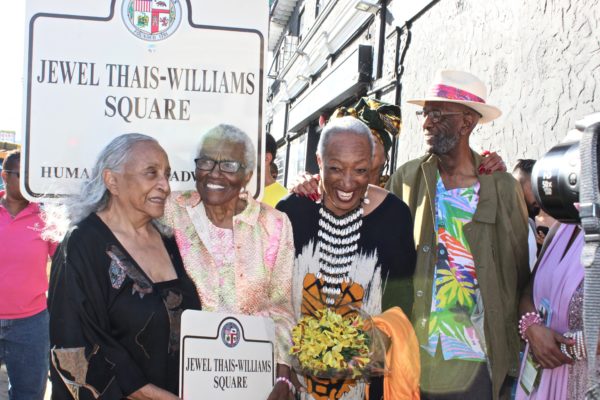 "I'm so grateful," Jewel tells the Los Angeles Blade.
Read Jewel's op-ed expressing her gratitude in the Los Angeles Blade and visit the Los Angeles Blade Facebook page for a slew of photos from the event.
All photos featured here are courtesy Jasmyne Cannick and the Office of Los Angeles City Council President Herb Wesson: