High stakes for LGBT Americans at Supreme Court today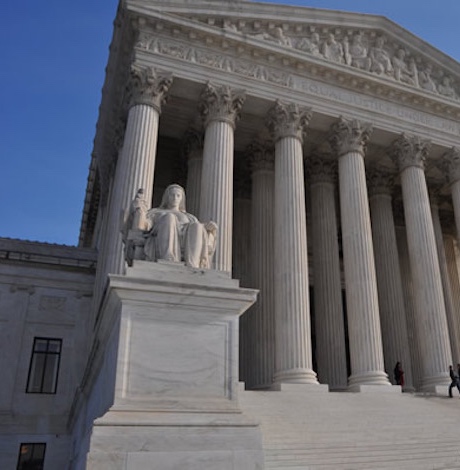 The U.S. Supreme Court is set Tuesday to hear a trio of cases that will determine not just whether firing workers for being LGBT is legal under federal law, but will also have ramifications for LGBT people in education, health care and housing.
At issue is whether anti-LGBT discrimination is a form of sex discrimination and therefore prohibited under Title VII of the Civil Rights Act of 1964, which bars discrimination on the basis of sex, but says nothing explicitly about sexual orientation or gender identity.
At a time when only 20 states have complete laws banning anti-LGBT discrimination, a Supreme Court ruling affirming Title VII prohibits anti-LGBT discrimination would guarantee federal protections across the board — even for LGBT people who live in states with no protections.
But if the decision goes the other way, the ruling would leave LGBT people in those states with nothing.
Ria Tabacco Mar, a senior staff attorney with the American Civil Liberties Union's LGBT & HIV Project, said in a briefing with reporters the outcome of the decision will "in many ways" have greater impact than the marriage cases.
"We're talking about the ability to earn a living, the ability to support our families [and] the ability to secure a safe place to live," Mar said. "I mean, this goes to the very heart of what it is to live and work in this country."
The Supreme Court agreed to take up the cases alleging anti-LGBT discrimination in April after they ended up with varied outcomes in the Second, Sixth and Eleventh circuits.
Whichever way the Supreme Court rules, the decision will have a profound impact on civil rights law protections for LGBT people, particularly in employment.
For starters, a decision against the LGBT workers would uproot the practices of the U.S. Equal Employment Opportunity Commission, which accepts LGBT charges in its enforcement of Title VII as a result of changes made in the Obama administration.
LGBT workers have made good use of these changes. According to data from the EEOC, LGBT workers have filed about 1,800 charges alleging anti-LGBT discrimination each year in recent fiscal years.
Those charges, the latest data show, have resulted at least 1,300 merit resolutions in favor of the workers and at least $22.2 million in monetary benefits awarded since fiscal year 2013.
That opportunity to obtain relief for workplace discrimination would be in jeopardy, if not outright eliminated, if the Supreme Court were to rule Title VII doesn't cover LGBT people.
(Check out the related chart on the breakdown of LGBT-related charges at EEOC for each fiscal year.)
But because other federal rights laws besides Title VII bar discrimination on the basis of sex without explicitly banning anti-LGBT discrimination, the Supreme Court's ruling will have an impact on areas besides employment.
Among the federal laws that prohibit sex discrimination are the Fair Housing Act, the Affordable Care Act and Title IX of the Education Amendments of 1972. That means non-discrimination protections for LGBT people in housing, health care and education are at stake in the resolution of these cases.
The ACLU's Mar said, "civil rights laws often run in tandem with Title VII," noting the Supreme Court decision will impact not just employment.
"If the court says it's perfectly lawful to fire someone for being LGBT, that is going to have trickle down consequences as to how lower courts interpret similar federal statutes and prohibit sex discrimination in housing, and education and in health care," Mar said.
The high stakes for the Title VII cases are making many LGBT legal observers nervous amid a perception the Supreme Court has tilted to the right under the Trump administration.
During oral arguments, all eyes will be on three justices — Chief Justice John Roberts, Brett Kavanaugh and Neil Gorsuch — to determine which way they're leaning.
Roberts is a justice of interest because he's considered the new moderate and swing vote in the aftermath of former U.S. Associate Justice Anthony Kennedy stepping down from the bench.
Moreover, during the Obergefell arguments on same-sex marriage in 2015, Roberts included in his questioning a line suggesting he has at least considered the idea of sexual orientation discrimination being a form of sex discrimination.
"I mean, if Sue loves Joe and Tom loves Joe, Sue can marry him and Tom can't," Roberts said. "And the difference is based upon their different sex. Why isn't that a straightforward question of sexual discrimination?"
(Roberts ended up ruling in the minority of the court, concluding that bans on same-sex marriage are constitutional.)
Observers will be watching Kavanaugh because he's new to the court and doesn't have a developed LGBT record. (The exception is joining with the majority in April to allow the Trump administration to proceed with the transgender military ban.)
Kavanaugh will be under scrutiny because many progressives are angry he won confirmation last year despite Christine Blasey Ford testifying he sexually assaulted her as a teenager. Kavanaugh continues to face calls for impeachment over this allegation and other reports of sexual misconduct.
Finally, Kavanaugh suggested during his confirmation hearing he'd oppose anti-gay discrimination at the Supreme Court when he read a statement from the Masterpiece Cakeshop decision under questioning from Sen. Kamala Harris (D-Calif.).
"In Masterpiece Cakeshop, and this is, I think, relevant to your question, Justice Kennedy wrote in the majority opinion joined by Chief Justice Roberts and Justice [Samuel] Alito and Justice Gorsuch and Justice [Stephen] Breyer, the days of discriminating against gay and lesbian Americans as inferior in dignity and worth are over," Kavanaugh said.
When Harris asked Kavanaugh whether he agreed with that statement, Kavanaugh declined to answer on the basis that he couldn't comment on court rulings during his confirmation process.
For Gorsuch, expectations may be low given his previous support for religious freedom in the Masterpiece Cakeshop case at the expense of LGBT rights, but he has built a legal career on being a textualist.
"Judges should instead strive (if humanly and so imperfectly) to apply the law as it is, focusing backward, not forward, and looking to text, structure, and history to decide what a reasonable reader at the time of the events in question would have understood the law to be — not to decide cases based on their own moral convictions or the policy consequences they believe might serve society best," Gorsuch wrote in 2016.
LGBT rights advocates have argued their belief Title VII covers anti-LGBT discrimination is a textualist argument, so will be looking to see if Gorsuch holds true to his convictions in the Title VII cases.
Mar insisted the LGBT side in the cases "really have the more conservative side in the argument because we're the textualists here."
"We're the ones who are pointing to the words of the statute and saying discrimination because of sex necessarily covers discrimination based on sexual orientation," Mar said. "It's the concrete concept of sexual orientation turns on one's own sex in relation to the sex of the people to whom one is attracted."
Sharon McGowan, legal director for Lambda Legal, made a similar case.
"Part of what will see here is this moment of accountability, right?" McGowan said. "Will they actually follow that doctrine and where it leads in these cases or will they be engaged in the calisthenics to take sex out of sexual orientation?"
The litigation before the court consists of two consolidated cases — Zarda v. Altitude Express and Bostock v. Clayton County — seeking clarification on whether Title VII cover sexual orientation discrimination and one case — EEOC v. Harris Funeral Homes — that will determine whether Title VII bans anti-transgender discrimination.
Representing gay workers in the sexual orientation cases is Pamela Karlan, who's director of the Supreme Court Litigation Clinic at Stanford Law School. During the Obama administration, Karlan served as deputy assistant attorney general in the Civil Rights Division of the Justice Department and helped worked to implement the Supreme Court's landmark ruling in Windsor v. United States.
On the opposite side, the lawyer for the employers is Jeffrey Harris, an attorney with Consovoy McCarthy Park PLLC.
Set to represent Aimee Stephens, a transgender worker in Michigan who was terminated from her job as a funeral director after she announced she'd transition, is David Cole, national legal director for the American Civil Liberties Union.
The attorney for Harris Funeral Homes is John Bursch, who's vice president of appellate advocacy and senior counsel with Alliance Defending Freedom.
Bursch previewed his arguments before the Supreme Court at a forum hosted by Alliance Defending Freedom earlier this month.
"The basic bottom line is that applying a sex specific dress code based on biological sex is not sex discrimination, unless the notion of sex itself is discrimination," Bursch said. "And if that's the case, then you lose any ability to have sex-segregated dress codes, restrooms, locker rooms, overnight facilities and a whole variety of things."
The Trump administration, which has already filed briefs before the Supreme Court arguing neither gay, lesbian and bisexual people or transgender people are entitled to protections under Title VII, will be represented by U.S. Solicitor General Noel Francisco.
Although the U.S. Equal Employment Opportunity Commission is named a plaintiff in the Harris Funeral Homes case, defense of the U.S. government positions before the Supreme Court is exclusively the job of the solicitor general. Instead of arguing the EEOC's position LGBT people are covered under Title VII, Francisco will likely articulate the government's position, consistent with his legal briefs, they are not.
Given the Trump administration's participation in the arguments, Mar said the litigation presents the court with "a test" to determine if it will "become sort of a partisan foil for the Trump administration, or whether it will maintain its own legitimacy."
"I say that because in the sexual orientation cases, the United States was not a party," Mar said. "But the Justice Department has sort of stepped in gratuitously on the side of the employers to say that it should be perfectly lawful to fire someone because of their sexual orientation."
LGBT-based sex discrimination Charges at EEOC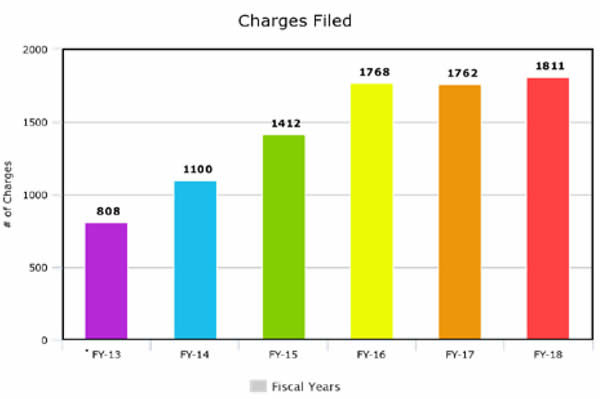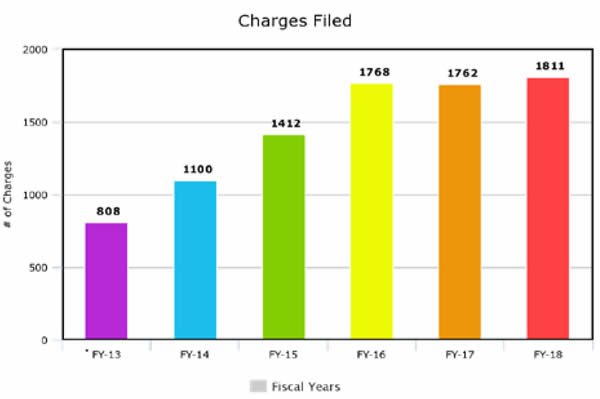 We're Hiring! Become a LA County Pool Lifeguard!
Candidates will get paid for a 64-hour training which includes becoming certified though the American Red Cross in Emergency Medical Response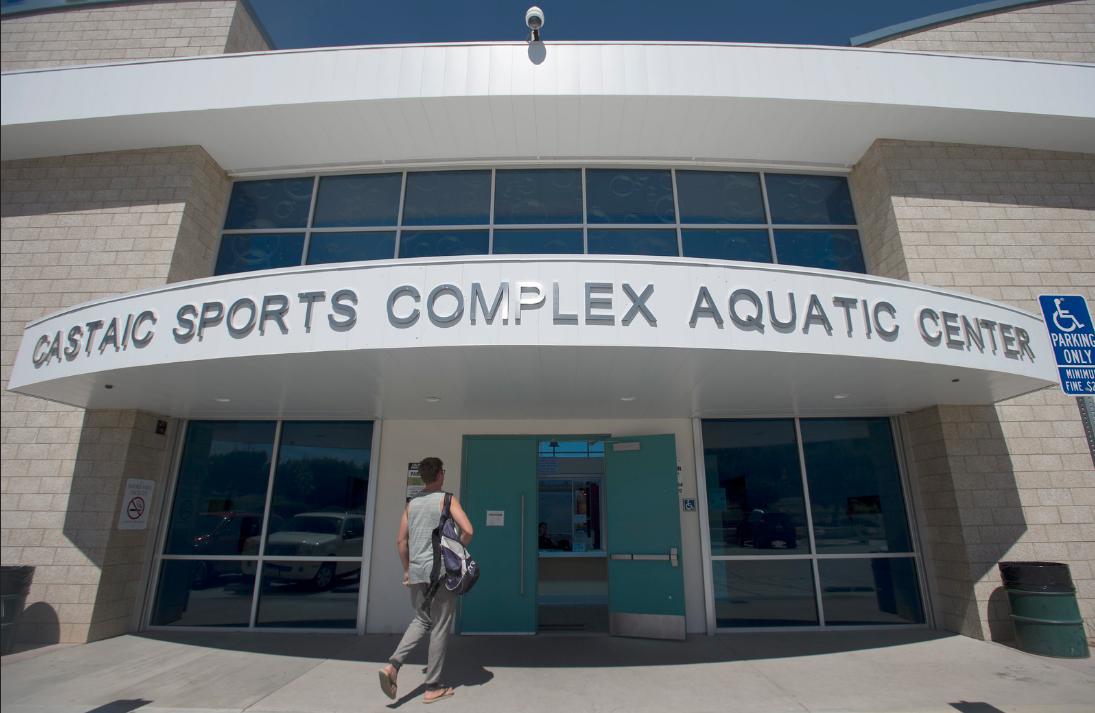 LOS ANGELES – LA County Department of Parks and Recreation is hiring! This summer, the Department aims to hire over 250 new lifeguards to work at our 30 aquatic facilities, all across LA County. Not only is lifeguarding a fantastic way to kickstart your career, but it's a great opportunity for young adults looking for part time employment while in school or looking for a career as a first responder.
Pool Lifeguards will receive a starting pay of $18.27, well above the minimum wage with opportunities to work year round. Applicants must be 17 years of age by time of appointment.
Those who meet the initial requirements will then be required to sign up and pass the Los Angeles County Swim Test. The Los Angeles County Swim Test consists of a 500-yard swim test that must be completed under 10 minutes. Upon completion of the test they will be invited to Pool Lifeguard Academy.
Candidates will get paid for a 64-hour training which includes becoming certified though the American Red Cross in Emergency Medical Response, CPR, AED, Lifeguarding, and First Aid.
Our Aquatics team is eager to help as many prospective candidates and interested students start a career path that can provide them with so many opportunities beyond lifeguarding!
Those who are interested in becoming a Pool Lifeguard are encouraged to attend an online "Open House" session to learn more about the position and answer questions.
VIRTUAL OPEN HOUSE SESSIONS: 
Session 1: January 19, 6pm tinyurl.com/mr36m9mn
or call in:+13237766996,,17084440#
Session 2: January 25,  5pm tinyurl.com/2p9a27ty
or call in: +13237766996,,573214358#
Session 3: January 26,  4pm tinyurl.com/5n8ks28c
or call in: +13237766996,,602797897#
Missing woman in WeHo, public's help sought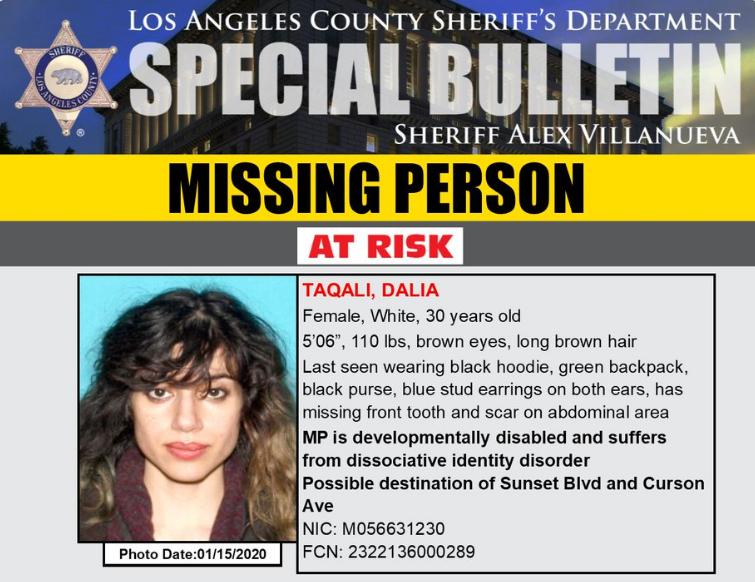 WEST HOLLYWOOD – The Los Angeles County Sheriff's Department is asking for resident's assistance in locating thirty-year-old Dalia Taqali who disappeared from West Hollywood Sunday night.
Taqali was last seen around 5 p.m. in the 1100 block of North Genesee Avenue, according to a news release from the Los Angeles County Sheriff's Department. Taqali is developmentally disabled and suffers from dissociative identity disorder, the Sheriff's Department stated.
Taqali's family is concerned for her well-being and is asking for help finding her.
Investigators said she may be headed near the area of Sunset Boulevard and North Curson Avenue in Hollywood.
Taqali stands 5 feet, 6 inches tall and weighs about 110 pounds with long brown hair and brown eyes.
She was last seen wearing a black hoodie, green backpack, black purse and blue stud earrings on both ears.
Authorities also said Taqali has a scar on her abdominal area and is missing a front tooth.
Anyone with information on her whereabouts is asked to call the Sheriff's Department at 323-890-5500. Those who prefer to remain anonymous can contact Crime Stoppers at 800-222-8477.
#LASD is Asking for the Public's Help Locating Missing Person Dalia Taqali, Los Angeles. Anyone with information is encouraged to contact the Los Angeles County Sheriff's Department's Missing Persons Unit at (323) 890-5500. pic.twitter.com/Uqw9yuG9Ro

— LA County Sheriffs (@LASDHQ) December 27, 2021
California Highway Patrol highlights new 2022 traffic safety laws
The laws take effect January 1, 2022, unless otherwise noted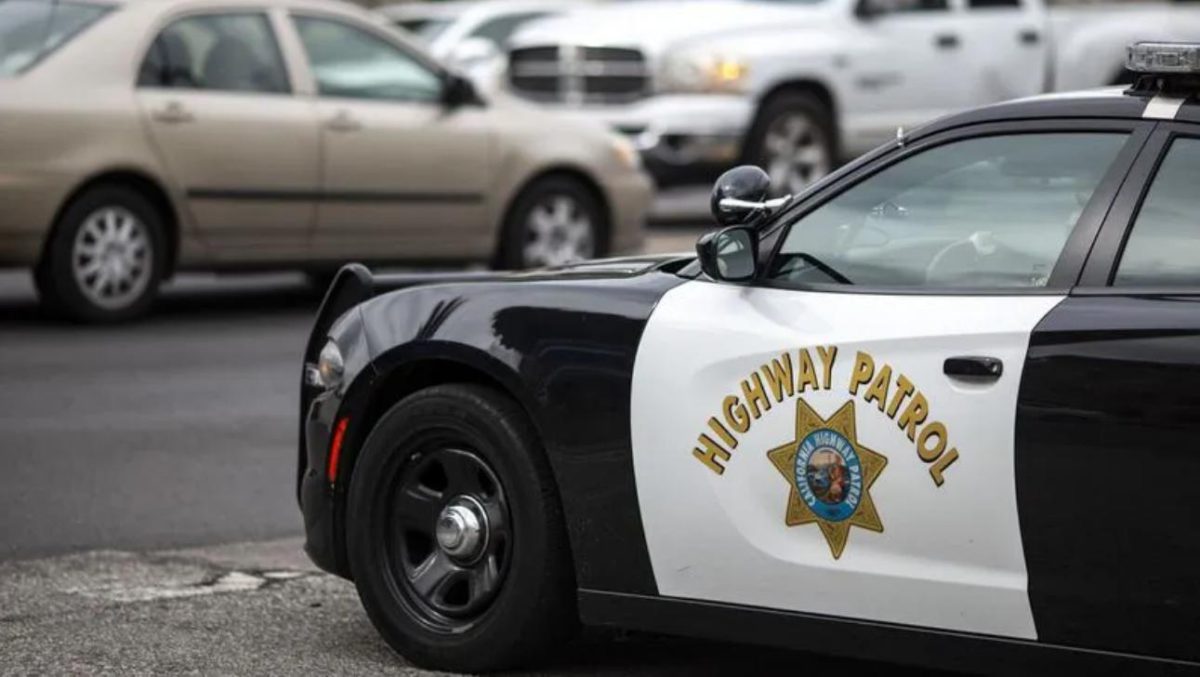 ​SACRAMENTO – As we head into the new year, the California Highway Patrol (CHP) is educating the public on traffic safety laws that were passed during this year's legislative season and signed by Governor Gavin Newsom.  The laws take effect January 1, 2022, unless otherwise noted.

Sideshow Definition and Penalties (Assembly Bill (AB) 3, Fong):  This new law strengthens penalties for those convicted of exhibition of speed if the violation occurred as part of a sideshow.

Beginning July 1, 2025, a court will be permitted to suspend a person's driver's license between 90 days and six months if the person is convicted of exhibition of speed and if the violation occurred as part of a "sideshow."  Section 23109(c) of the California Vehicle Code (CVC) (exhibition of speed) will define sideshow as an event in which two or more persons block or impede traffic on a highway for the purpose of performing motor vehicle stunts, motor vehicle speed contests, motor vehicle exhibitions of speed, or reckless driving for spectators.

The courts will be required to consider a defendant's medical, personal, or family hardship that requires a person to have a driver's license before determining whether to suspend a person's driver's license.  

Equestrian Safety Gear (AB 974, L. Rivas):  Requires a person under the age of 18 to wear a properly fitted and fastened helmet when riding an equestrian animal, such as a horse, mule, or donkey on a paved highway.  This bill also requires all riders or their equines to wear reflective gear or a lamp when riding after sundown.  

A person riding an equestrian animal in a parade or festival, or crossing a paved highway from an unpaved highway, is exempt from all helmet, lighting, or reflective gear requirements.

Tribal Emergency Vehicles (AB 798, Ramos):  This bill provides that any vehicle owned or operated by a federally recognized Indian tribe is considered an authorized emergency vehicle as defined by Section 165 CVC when responding to an emergency, fire, ambulance, or lifesaving calls.
Class C Drivers Allowed to Tow Trailer (Senate Bill 287, Grove): Effective January 1, 2027, drivers with a class C driver's license may operate a vehicle towing a trailer between 10,001 pounds and 15,000 pounds gross vehicle weight rating, or gross vehicle weight with a fifth-wheel and kingpin or bed mounted gooseneck connection, provided that the trailer is used exclusively for recreational purposes for the transportation of property, living space, or both.

The driver will be required to pass a specialized written examination demonstrating the knowledge of the CVC and other safety aspects relating to the towing of recreational vehicles on the highway and possess an endorsement on their class C driver's license.

Currently, this exemption is in place for drivers towing a fifth-wheel travel trailer provided the driver passes a specialized written exam and obtains a recreational trailer endorsement.


As a reminder, the following law took effect on July 1, 2021:

License Points for Distracted Driving (AB 47, Daly; 2019): Using a handheld cell phone while driving is currently punishable by a fine. As of July 1, 2021, violating the hands-free law for a second time within 36 months of a prior conviction for the same offense will result in a point being added to a driver's record. This applies to the violations of talking or texting while driving (except for hands-free use) and to any use of these devices while driving by a person under 18 years of age.

The mission of the CHP is to provide the highest level of Safety, Service, and Security.