Will Duncan Hunter finally lose his legacy congressional seat?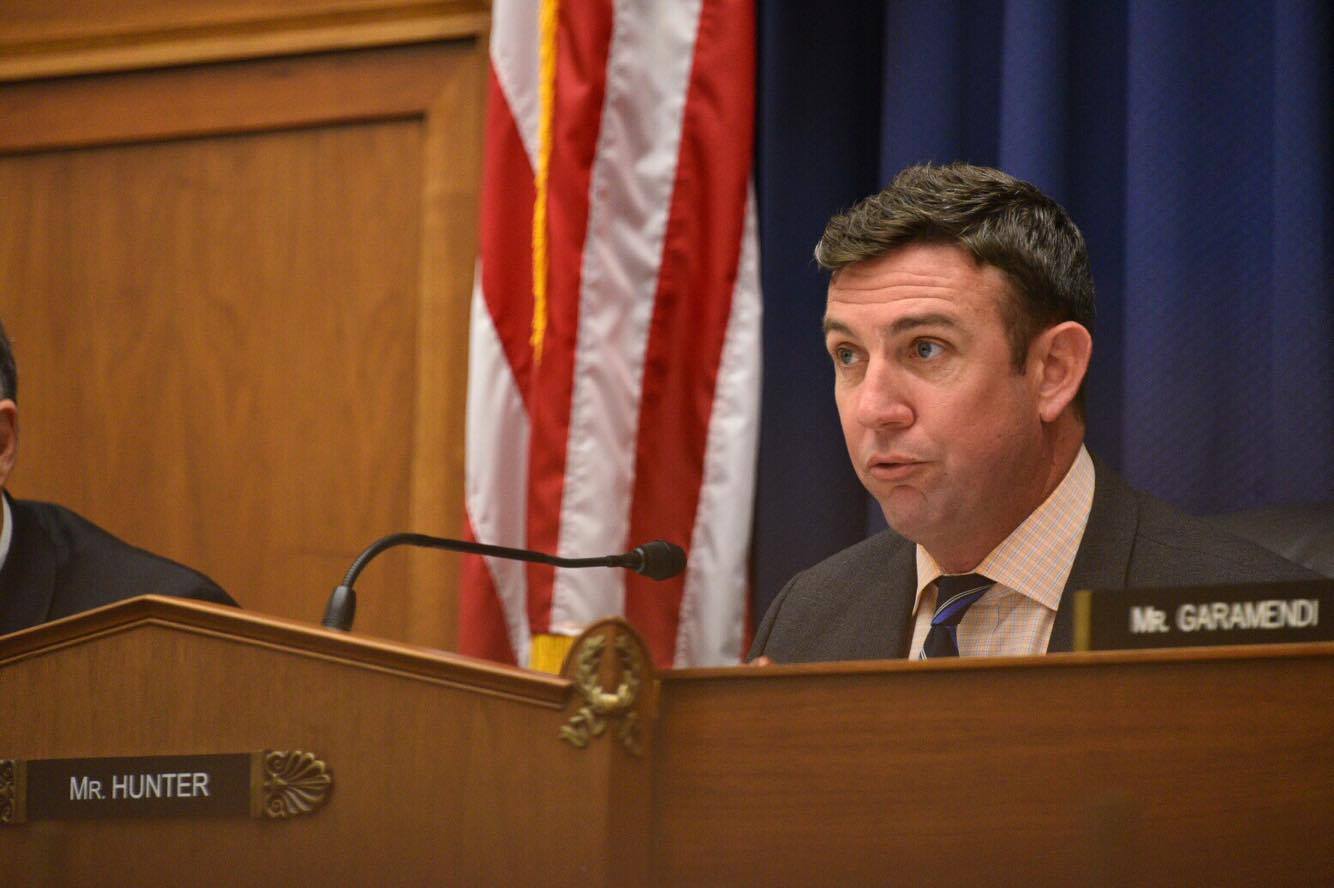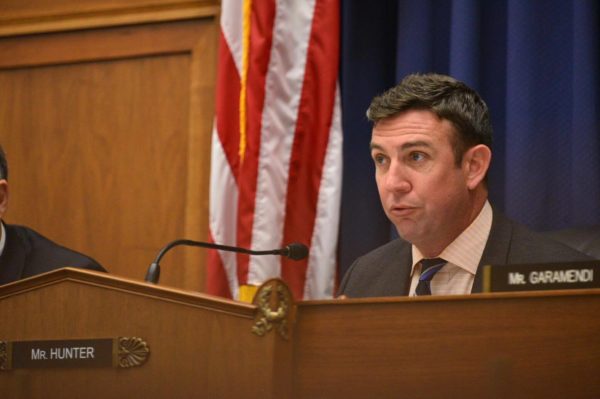 The eyes of the political nation are fixated on Washington, D.C., and the fireworks surrounding the possible impeachment of President Donald J. Trump. But voters in California's 50th Congressional District are witnessing a spectacle of their own – an improbable Republican reality TV cat fight as indicted anti-LGBTQ Rep. Duncan D. Hunter struggles to keep his seat in the once reliably deeply red spot in purple/blue Southern California.
Ironically, Hunter, who has served for 10 years in the House seat once held for 28 years by his hardline anti-LGBTQ father, could be dethroned in 2020 by either a gay Republican talk show host or a Democratic Christian Latino Arab-American who worked in the Obama administration.
Hunter, 41, a Marine vet and avid Trump supporter, eked out a 3.4% victory in 2018 using widely condemned racist ads against his then-29-year-old opponent Ammar Campa-Najjar, all while engulfed in a campaign finance corruption scandal, which he blamed on his wife. Both have been indicted on multiple counts of wire fraud, conspiracy, falsification of records, and using campaign fund credit cards for improper personal purposes, including Hunter seeking reimbursement for Uber rides for dalliances with five women with whom he had "intimate relationships." Hunter maintains his innocence and says the charges are politically motivated.
But last June, Hunter's wife, Margaret Hunter pleaded guilty to one conspiracy charge and agreed to cooperate with prosecutors for leniency in the case where she could get up to five years in federal prison and have to pay a fine of up to $250,000. She is expected to testify against her husband at trial.
Democrat Campa-Najjar is now leading in a field of four Republican and two independent contenders in the most recent poll—and a judge moved Hunter's criminal trial to February, one month before California's open primary on Super Tuesday in the district that includes east San Diego County and parts of western Riverside County.
Coming in second behind Campa-Najjar, who holds 31% of likely voters in a Sept. 27- Oct. 2 SurveyUSA poll for the San Diego Union-Tribune and 10News, is openly gay married conservative talk show host and former San Diego Council member Carl DeMaio at 20%. One-time congressional heavyweight Darrell Issa comes in at 16%, polling just higher than Hunter at 11% and undecided at 15%.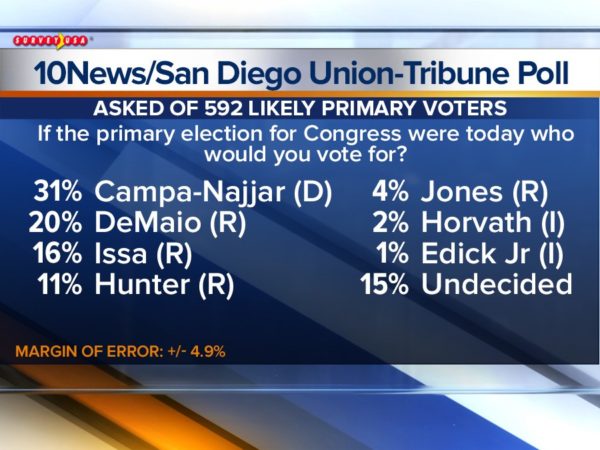 Of voters asked who they would vote for "right now," Campa-Najjar's poll total jumps to 34% among a subset of voters who are "certain" to vote, vying with DeMaio at 22% and Hunter dropping to 9%. Now almost 60% of likely voters in CD50th believe the evidence against Hunter in the corruption case suggests that "he may have broken the law," while only 13% in the once reliable deep red district Hunter/legacy district think the charges are "a partisan witch hunt."
Campa-Najjar also scored high on the "character of the candidate" question, which ranked the same as border security and holding President Donald Trump "accountable for his actions." In fact, the Democrat came in 31 points ahead of DeMaio. But there's also a major caveat: 32% of likely voters polled said they were "unfamiliar" with Campa-Najjar to 21% for DeMaio.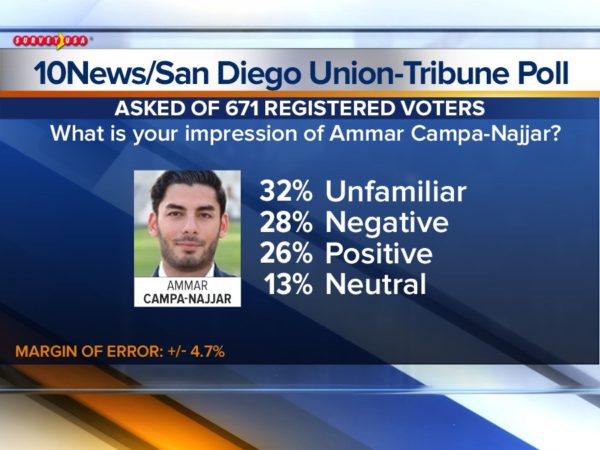 That almost a quarter of those polled don't know DeMaio is actually somewhat surprising since the Reform California activist was THE Republican star who led the successful recall of a local Democratic state legislator who voted in favor of a gas tax and was lauded by GOP candidates seeking election in 2018. Though his Prop 6 Gas Tax Repeal campaign did not succeed, the publicity surrounding the initiative makes him a seriously viable candidate.
DeMaio also has a talk radio host penchant for trolling, as he did former Rep. Darrel Issa who decided not to seek re-election in his own 49th CD against Democrat Rep. Mike Levin and is carpet-bagging over to the 50th CD.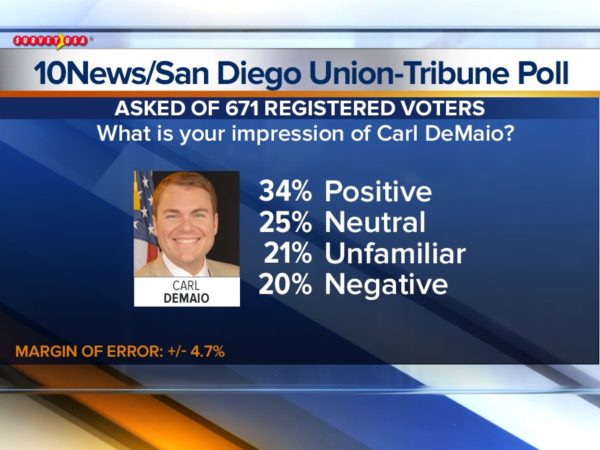 "I don't understand why someone who would quit his congressional district and cut out and run would turn around and say 'Well, now I want to run for Congress,'" DeMaio told the Palm Springs Desert Sun at a recent GOP confab at the Morongo Casino, Resort and Spa in Cabazon. "It seems like he's bored or seeking a title and I don't think that's going to resonate with voters."
DeMaio is confident in his frontrunner status, based on his "track record of being a fighter for Californians who are sick of socialism."
Hunter, too, seems to be taking his re-election outlook in stride.
"It's too bad for the Republican Party, I think it reflects poorly upon it," Hunter told the Desert Sun through clouds of vaping smoke. "Here you have two guys who don't live in the district that could really challenge a Democrat in districts where they live. Instead, they're choosing to go after me. And I think that's one of the problems with the party and why it's lost so many seats lately in California."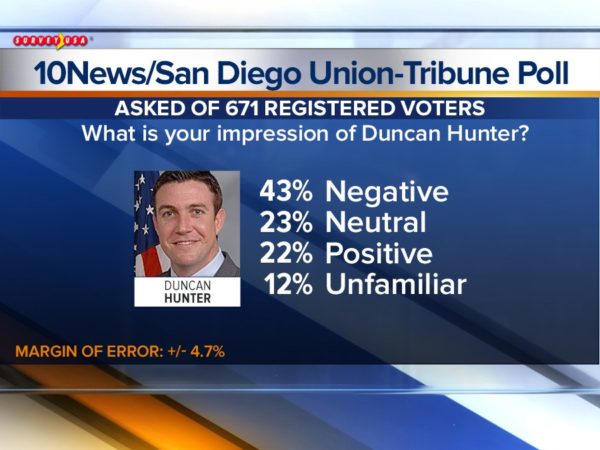 While the SurveyUSA poll doesn't look good for Hunter, he faces another stark re-election concern: voting by mail in California starts on Feb. 3, the same day as Iowa caucus-goers start determining the viability of presidential candidates. That's 12 days after Hunter's criminal trial begins on Jan 22. Meanwhile, on Dec. 12, the 9th Circuit US Court of Appeals in Seattle is scheduled to hear oral arguments in Hunter's attempt to have the case dismissed based on political bias—an argument akin to the arguments Trump is using to escape impeachment.
Could the machinations in the 50th CD be a local microcosm of the GOP's national political showdown?
Out LA City Councilman Bonin says he won't seek re-election
Wednesday's announcement came one week after an effort to recall him failed to gather the requisite number of signatures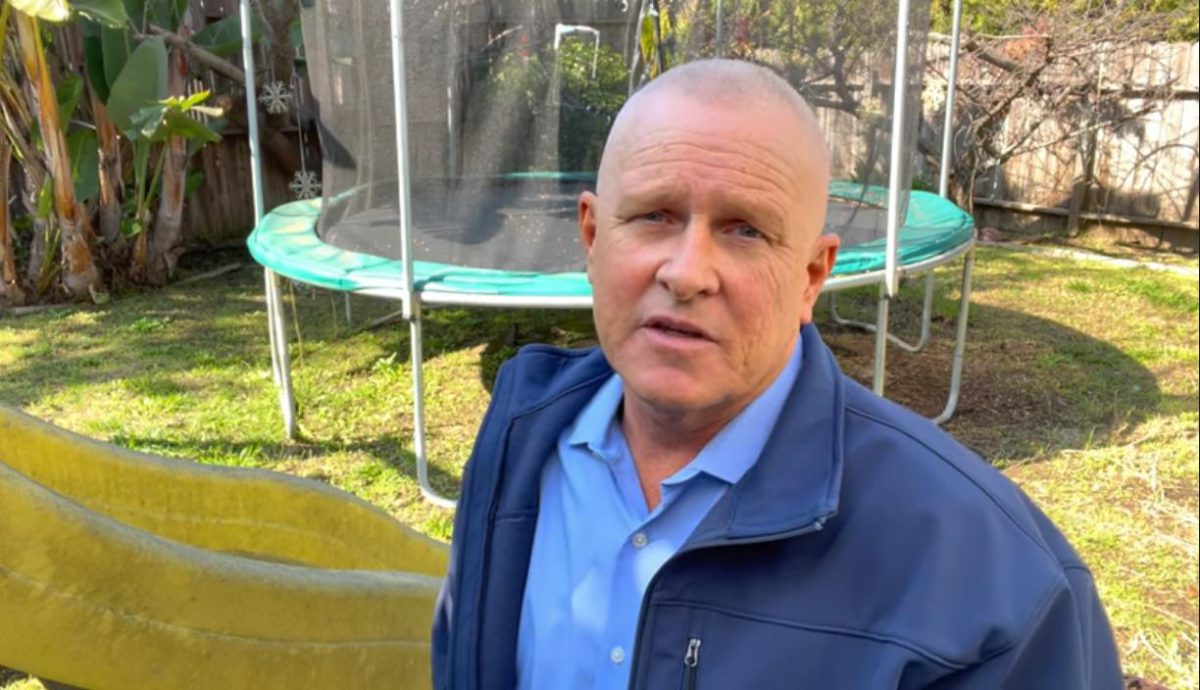 MAR VISTA – In an announcement via YouTube and in a series of tweets Wednesday, Out Los Angeles City Councilman Mike Bonin told supporters that he would not be seeking reelection to his seat representing the 11th city council district.
Wednesday's announcement came one week after an effort to recall him failed to gather the requisite number of signatures.
"Today I announced I've decided not to seek reelection to the LA City Council. This is a difficult, deeply personal decision, and I've wrestled with it for several days, but I'm confident it is the right choice for the right reasons," he wrote on Twitter.
"I've struggled for years with depression. It's a constant companion, and often a heavy one. There are times when this job has made that easier, and times when it has made it more challenging. Instead of seeking another term, it's time for me to focus on health and wellness." he continued.
"It is hard for me to speak publicly about mental health, but I've always been forthcoming about my addiction and recovery, and about my struggles with housing insecurity. I want to be honest here, too. I believe that sharing about our fragility is how we build common strength," he said.
"To those who are disappointed by my decision, I am sorry. It is very difficult to walk away from a third term, and the work we have been doing together, but I need to listen to my heart. This is the best decision for me and my family."
THANK YOU to each of you who has voted for me, endorsed me, donated, volunteered or supported me. I am grateful to you.

Thank you to everyone who has partnered with me, and everyone who has pushed me to do better. I have learned and grown from you.

— Mike Bonin (@mikebonin) January 27, 2022
Anger and public dissatisfaction over L.A.'s homelessness crisis had fueled the petitioner's efforts to oust Bonin who represents Council District 11, the Westside neighborhoods of Brentwood, Mar Vista, Venice, Westchester and Playa del Rey and the area around LAX.
"This recall campaign is an extravagant waste of taxpayer money, a thinly disguised attempt to derail my efforts to provide real solutions to our homelessness crisis, and the latest in a series of recall attempts to silence strong progressive voices," Bonin said in a press release after he was served the recall notice last June.
"Under Mike Bonin's watch, the humanitarian crisis of the homeless population is growing exponentially. Taxpayer money is squandered. Fires. Struggling local businesses. Crime is rampant and rising. Neighborhoods and schools are unsafe. We feel afraid to visit public beaches and community parks," the Recall Bonin campaign's website read.
Bonin said in his statement that the campaign is backed by right-wing forces and constituents who have fought to stop housing, shelter and services in the coastal neighborhoods, "leaving people to die on the streets."
Bonin was first elected in 2013, after serving as a top aide to former Councilman Bill Rosendahl. He had been facing a major re-election fight — one that would have been dominated by the issues of homelessness and public safety.
[email protected] Coalition receives bomb threat, LAPD investigating
Officers, specialists and detectives from the Rampart Division of the Los Angeles Police Department responded and swept the building
LOS ANGELES – A bomb threat was phoned in Wednesday afternoon to the Wilshire Blvd. Koreatown offices of the [email protected] Coalition, Bamby Salcedo, the president and CEO of the non-profit organization told the Blade.
According to Salcedo, an unidentified male caller told the staff person who answered at approximately 3 pm, while delivering the threat said; "you're all going to die." The staff immediately evacuated everyone from their offices and then contacted the LAPD for assistance.
Officers, specialists and detectives from the Rampart Division of the Los Angeles Police Department responded and swept the building. A spokesperson for the LAPD confirmed that the incident is under active investigation but would make no further comment.
On a Facebook post immediately after the incident the non-profit wrote; "To ensure the safety of our clients and staff members, we ask that you please NOT come to our office."
In a follow-up post, Salcedo notified the organization and its clientele that the LAPD had given the all-clear and that their offices would resume normal operations Thursday at 9:00 AM. "Thank you for your messages and concern for our staff and community," Salcedo said.
"No amount of threats can stop us from our commitment to the TGI community," she added.
The [email protected] Coalition (TLC) was founded in 2009 by a group of Transgender and Gender nonconforming and Intersex (TGI) immigrant women in Los Angeles, California, as a grassroots response to address the specific needs of TGI [email protected] immigrants who live in the United States.
Since then, the agency has become a nationally recognized organization with representation in 10 different states across the U.S. and provides direct services to TGI individuals in Los Angeles.
In 2015, The [email protected] Coalition identified the urgent need to provide direct services to empower TGI people in response to structural, institutional, and interpersonal violence, and the Center for Violence Prevention and Transgender Wellness was born.
Since then, the organization has secured funding from the state and local government sources as well as several private foundations and organizations to provide direct services to all TGI individuals in Los Angeles County (LAC).
TLC's primary focus is to change the landscape of access to services for TGI people and provide access to comprehensive resource and services that will improve the quality of life of TGI people.
Mayor Garcetti selects Kristin Crowley to become city's next fire chief
Kristin Crowley already made history within the LAFD when she became the city's first female fire marshal in 2016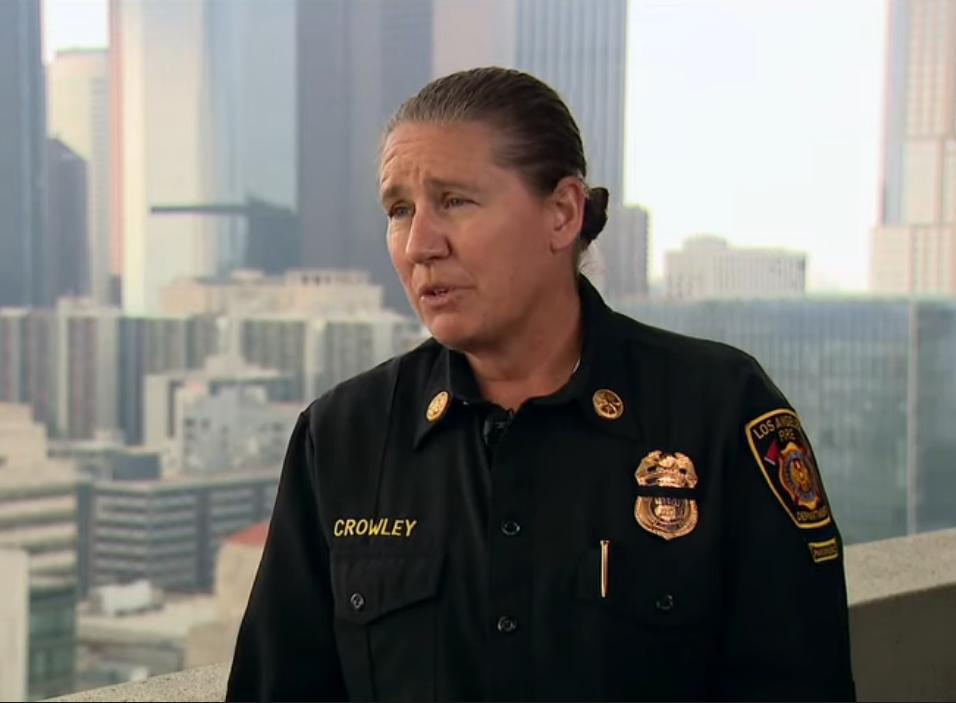 LOS ANGELES – Los Angeles Mayor Eric Garcetti nominated Deputy Chief Kristin Crowley to be the first woman to lead the Los Angeles Fire Department Tuesday. She would replace Chief Ralph Terrazas, who retires in March.
"I am honored and humbled by the opportunity to be the next fire chief of the Los Angeles City Fire Department and to lead the department into the future," Crowley said during the press conference event. "We will focus our efforts on increasing our operational effectiveness, enhancing firefighter safety and well-being, and fully commit to fostering a diverse, equitable, and inclusive culture within the LAFD."
The Los Angeles City Council will be required next in the process to confirm the appointment.
"Throughout her distinguished career, Kristin Crowley has proven her brilliance, determination and bravery on the job again and again," the mayor said. "There is no one better equipped to lead the LAFD at this moment than Kristin."
City News Service reported that Crowley took the firefighters' exam in 1998 and placed among the top 50 scores out of 16,000 applicants, according to the department. During her 22 years at the department, she rose through the ranks as firefighter, firefighter paramedic, engineer, fire inspector, captain I, captain II, battalion chief, assistant chief, fire marshal and deputy chief.
Crowley already made history within the LAFD when she became the city's first female fire marshal in 2016.
Mayor Garcetti names 1st female LAFD fire chief: