Do LGBTQ voters really know Jackie Lacey?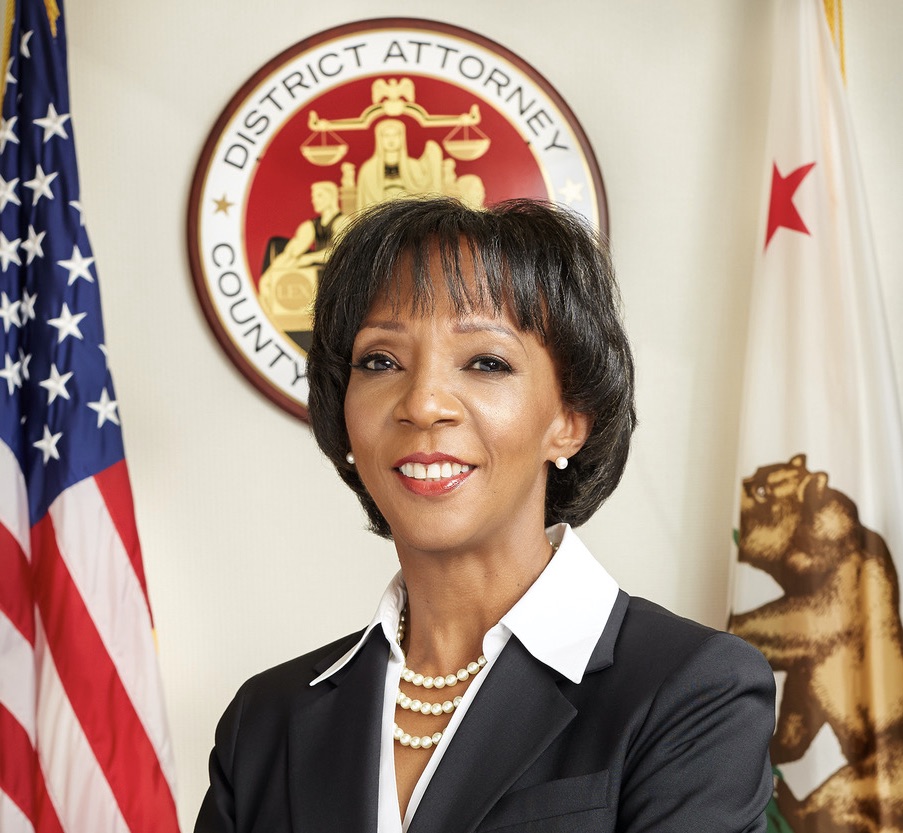 As the country becomes more obsessed with the likely impeachment of President Donald Trump and Democrats fixate on who can defeat him in 2020, other issues seem to fade into the fog of political war. But as quietly terrifying as is this existential constitutional crisis for democracy, for some the chaos is offering the opportunity to challenge leaders, old ideas and unidentified inculcated biases as a parallel cultural war spins out on a deeper level.
That's why a recent New York Times headline was so attention grabbing, identifying the race for Los Angeles County District Attorney the "Most Important D.A. Race" in America.
"Los Angeles has the biggest jail system in America and sends people to state prison at almost four times the rate of San Francisco, even though violent crime has fallen in both cities. And there has not been a death penalty case in San Francisco in decades, while prosecutors in Los Angeles are still seeking new capital cases after Gov. Gavin Newsom issued a moratorium on executions," wrote Tim Arango last June, noting that both cities are known for their liberal politics.
There are two other LA DA candidates—prosecutors Richard Ceballos and Joseph Iniguez, who are both gay and Latino. But the heat spiked after progressive San Francisco DA George Gascón decided to quit that job and return home to LA (he'd been in the LAPD for 27 years) to challenge establishment-backed DA Jackie Lacey.
"They are polar opposites," Patrisse Cullors, the lesbian co-founder of Black Lives Matter, told the New York Times. Cullors, who is also the California director of the Real Justice political action committee focused on criminal justice reform, said that in their meetings, Gascón has "been very clear that he wants to hold law enforcement accountable."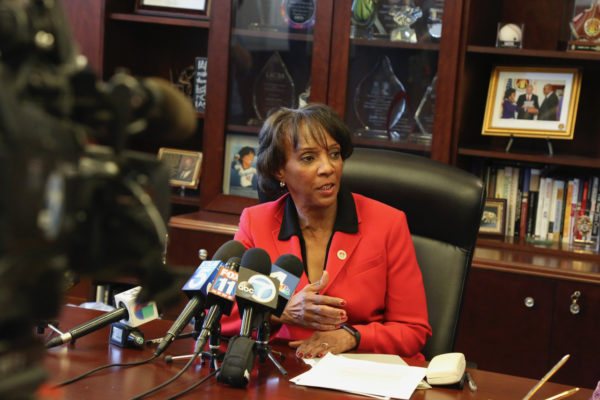 Lacey, meanwhile, has been repeatedly criticized for failing to charge and prosecute officers in numerous questionable fatalities, according to Black Lives Matter/LA and the families of Black men fatally shot by police.
After explaining why her office failed to initially charge former West Hollywood resident Ed Buck for allegedly giving Gemmel Moore and Timothy Dean a quantity of crystal meth that killed them, Lacey withstood a barrage of angry questions at a meeting of the Stonewall Democratic Club. Buck is now in federal custody and won't face trial until next year.
But the Buck debacle raised Lacey's profile in an unexpected way. LGBTQ voters joined liberals in supporting her 2012 race to become the first woman and the first African American to serve as the most powerful law enforcement officer in LA County. Her story of growing up in tough South Central, graduating from Dorsey High School, going to the University of California/Irvine, from which she graduated in 1979 with a degree in psychology, and then graduating from USC Law School in 1982 resonated with heroic achievement.
Lacey joined the DA's office in 1986, prosecuting hundreds of cases, including the first race-based hate crime murder while serving in the Hate Crimes Unit under out Deputy DA Carla Arranaga. When Democratic DA Gil Garcetti was defeated by Republican Steve Cooley, the new DA picked Lacey as his second-in-command as they proceeded to kill or downgrade many of Garcetti's programs and allegedly retaliated against Garcetti supporters. But Garcetti was there when Cooley swore Lacey in that December 2012 after her historic victory in becoming the new DA.
Lacey spent 33 years rising to the top in the DA's office. Not an enthusiastically social person, Lacey's primary public attention came at news conferences or in media reports when she repeatedly refused to charge and prosecute law enforcement officers who many thought had murdered their unarmed loved ones and gotten away with it.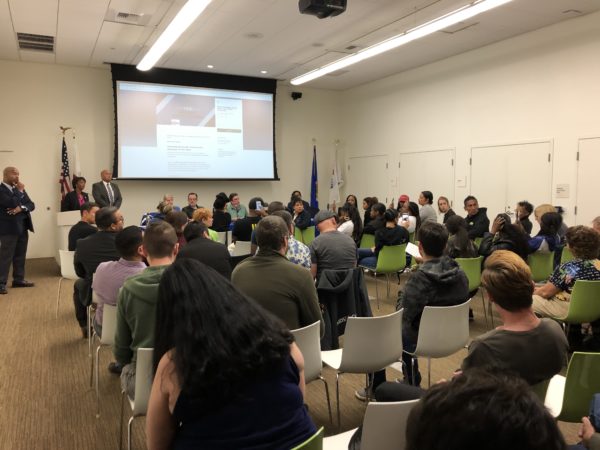 It was a key issue at Stonewall. During a follow up phone interview with the Los Angeles Blade on Nov. 5, Lacey was asked about the fatal shooting of unarmed homeless man Brendon Glenn for which LAPD Officer Clifford Proctor paid no consequences last year.
The ACLU issued a statement saying, "if the evidence is clear enough for Chief Beck to take the extraordinary step of calling for prosecution of one of his officers, what more does Lacey need? Her decision suggests that no matter how egregious an officer's conduct is, no matter the evidence she has before her, she does not intend to hold any officer accountable for unnecessarily and inexplicably shooting a member of the public."
Lacey's critics believe she won't prosecute police because she wants the financial and electoral support of law enforcement for her re-election bid.
"As I addressed at the Stonewall, if that were true then we would never file any case on an officer. In fact, if you look at our records, since I've been here, we have filed criminal cases on 80-plus officers for both on duty and off duty conduct, including one officer-involved shooting. With regard to the Venice case, it was not Chief Beck's job to be the prosecutor in the case. He's the police. He's not the prosecutor," Lacey told the Los Angeles Blade.
"We examined the evidence and we put out a pretty detailed report with videotape indicating that we thought differently," she said. "There was a struggle…and he had to defend himself and that Brendan Mullen was reaching for his gun. So, we stand behind what we said and what we've written and invite the public" to review their "extraordinarily detailed" 81-page report.
"So I disagree and I think that facts are on my side and victory will be on my side again," Lacey said.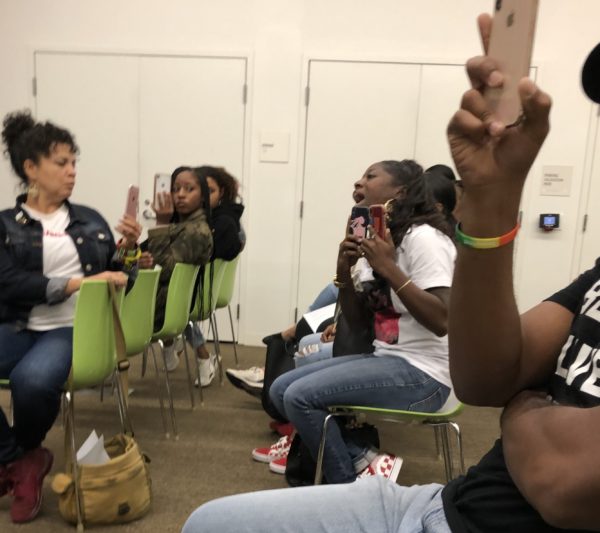 Nonetheless, the grieving families felt there was a real disconnect between their pain and the way the justice department operates, as if Lacey will not prosecute a case unless she is convinced she can win.
It's not that simple, Lacey said. "Our ethical duty under the law is to file cases that we believe 12 ordinary citizens from the community would find that they could convict the officer on that evidence. And it's tough. And I do care."
That was one of the most wrenching moments at the Stonewall meeting, when Lacey tried to tell the families that she did care—but she was not believed. Most of her public appearances have been via statements or newsletters or news conferences. The families and Black Lives Matter activists beseeched her for a human connection. Lacey, they said, was disconnected, out of touch, cold.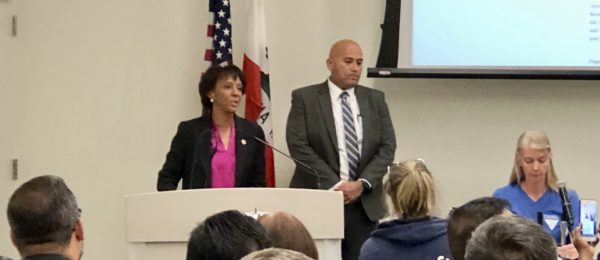 "Well I disagree, obviously, with that conclusion," Lacey told the Los Angeles Blade. "I did actually meet with Jasmyne Cannick at one point. She came to my office. We did sit down and talk. So, I did speak with her about this case. She indicated that she had witnesses that would talk to us" or give information in the Gemmel Moore case.
"And we've done it with regard to the community," Lacey said. "Several years ago, I did go out and do a town hall and this was before the Buck case. What happened the other night happened during the town hall. I couldn't talk. I was yelled at, criticized and after a while it seemed like no one really wanted a dialogue. No one really wanted to hear what I had to say."
The important thing to remember, Lacey said, "is that in the LA County district attorney's office, we are progressive—look at the things that we've done with regard to training officers on how to deescalate situations with someone who has a mental illness. But we are bound to follow the law and no one, no matter who you put in this position, is going to break the law in order to please folks who are angry because then they would be abandoning their duties as constitutional officers."
Intellectually, voters might be able to grasp Lacey's explanation about her positions, the efficacy of her programs and the legal imperative to exercise due process, test evidence and prove criminality in every case. But that perception of cold, calculated aloofness is a shiver Lacey will have to shake off for voters to warm up to her.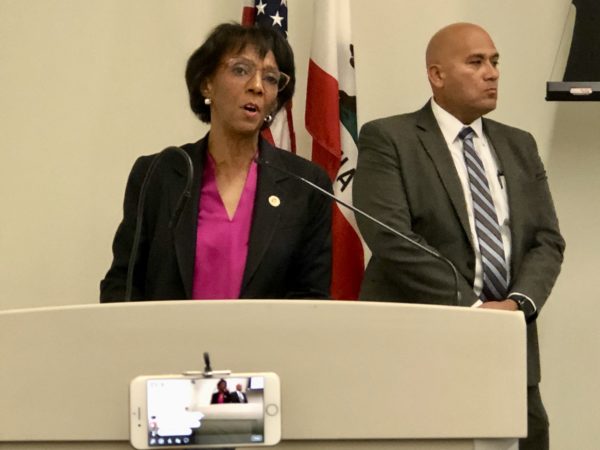 And there are many LGBTQ-related questions yet to answer: she attended USC/Irvine during the anti-gay Briggs Initiative. What was her position? She joined the DA's office in 1980s when the AIDS quarantine initiative was on the ballot. What's her position on the criminalization of HIV/AIDS, then and now? Did any gay friend die of AIDS and did that give her a sense of compassion for the sometimes fatal institutionalized and systematic discrimination LGBTQ people must endure? Did she stand with the Black Church or with San Francisco DA Kamala Harris when then-Mayor Gavin Newsom shucked the law and started marrying same-sex couples in 2004?
Where is Lacey's heart, her belief system when it comes to LGBTQ people, not just when it's politically expedient but in the quiet of her drive home?
The Los Angeles Blade tried to find out by asking Lacey her opinion of Sen. Kamala Harris calling South Carolina Rep. Jim Clyburn's comment about older Black voters having an issue with gay presidential candidate Pete Buttigieg "a trope"—it's "nonsense" to suggest that African Americans are more homophobic and transphobic than anybody else or any other group, Harris said.
Lacey seemed unmindful that she was speaking with an LGBTQ publication seeking to know her better.
"I would never presume that I speak for all African Americans, but rather I speak as an African-American woman and as far as I'm concerned, that is a non-issue in terms of elected office — that no one should be judged on their sexuality. And that's my statement on that," Lacey said.
Pushed a bit, Lacey offered a little more. "I speak for myself and I would hope that we, as a country, would have come so much further along. My opinion, and I only give you my opinion, is that Mayor Pete is a qualified great candidate. And I would hope no one would use his sexuality against him. It shouldn't be used because he has ideas that are worthy of support. And so, I just will not speak on behalf of the African-American community, but just speak up for myself that as far as I'm concerned, it's about his ideas and qualifications."
Lacey's words sounded like she agreed with Harris, but her tone suggested she agreed with Clyburn.
There are four more months before the March primary—plenty of time to ask questions and get to know the candidates, if they let us. The question LGBTQ voters must ask of themselves is: Does it matter if candidates are not forthcoming? If it does, why?
LAPD asking for public's help with murders of homeless persons
Anyone with information is urged to contact the Los Angeles Police Department's Robbery-Homicide Division, Homicide Special Section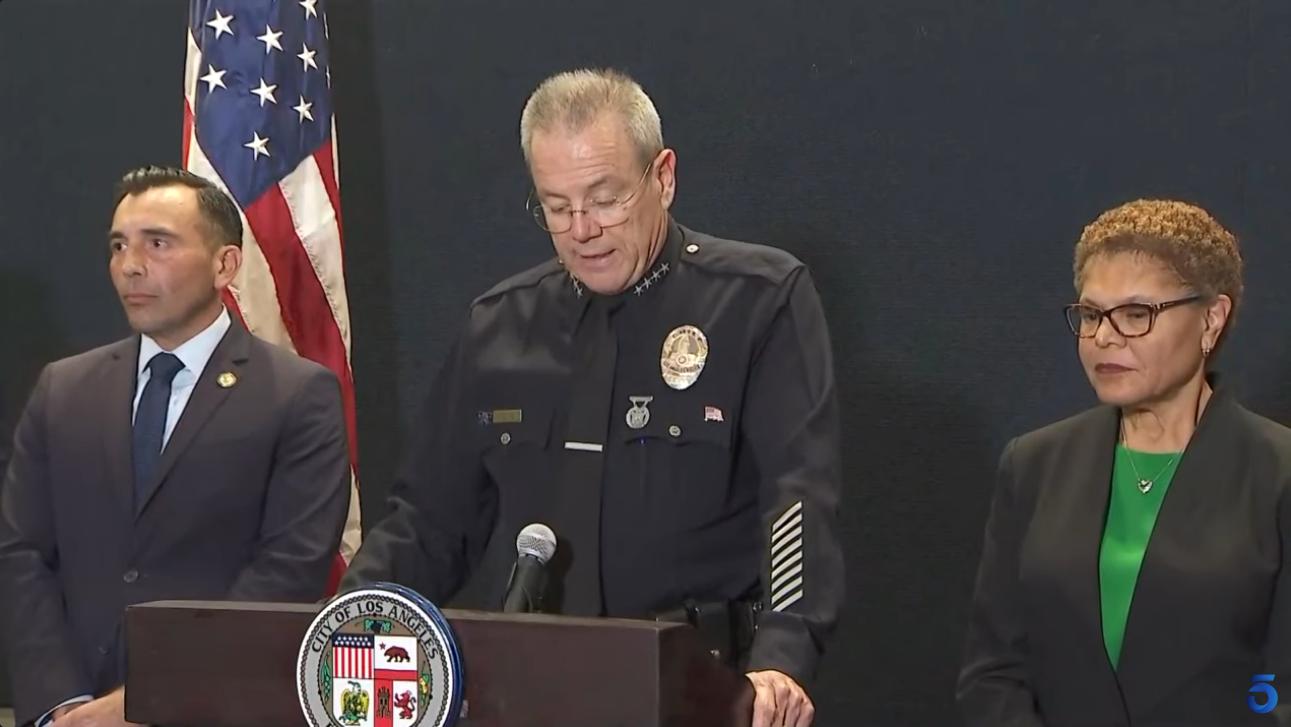 LOS ANGELES – Flanked by Los Angeles County District Attorney George Gascón, LA Mayor Mayor Karen Bass and Martin Estrada, the United States Attorney for the Central District of California, Los Angeles Chief of Police Michel Moore, held a news conference Friday where he announced that three homeless people had been fatally shot while they slept within the past week.
Moore added that authorities believe one suspect is responsible for all three murders.
Detectives from the LAPD's Robbery-Homicide Division are investigating three separate murders that occurred between November 26, 2023, and November 29, 2023. In each case, the victims were experiencing homelessness.
While some similarities have been identified, detectives are working to determine if these murders are related. A community alert bulletin has been issued to make the region's unhoused population and the community stakeholders aware of these recent murders.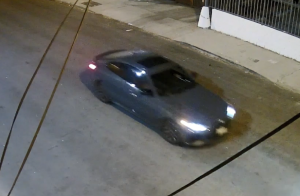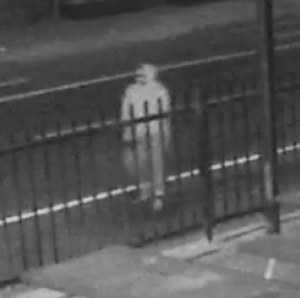 The suspect in these homicides is described only as male. The suspect was seen in a dark-colored sedan. It is unknown if he was alone or there were any additional suspects.
Police have spotted who they believe the shooter is on surveillance footage — Moore said they believe it's a man in a hoodie — and they also have images of the suspect's vehicle, though Moore would not describe it in an effort to avoid misinformation.
"People will see different types of cars, different types of models," he said. "I don't want someone to say 'You called this a Kia and it turns out to be a BMW or Mercedes," he said.
"A single individual approached each one and shot and killed each one as they slept," Moore said, though he avoided use of the term "serial killer."
"The Los Angeles Police Department is employing all available resources to bring justice to these murder victims. I am thankful for our City partners who are working with us closely to ensure the safety of this vulnerable population as we pursue the criminal investigation," said Moore.
"I want to be very clear about what we're facing today: This is a killer who is preying on the unhoused," Mayor Bass said, adding that homeless people should not sleep alone.
"As we always do in the face of a challenge or crisis, our region is mobilizing to respond to this issue. We will work tirelessly to find the individual responsible, arrest them, and hold them accountable. I have met with our partners at the Los Angeles Homeless Services Authority, Housing Authority of the City of Los Angeles, and the Los Angeles Housing Department and we are moving immediately to get the word out to our unhoused neighbors in housing networks. Our message to our unhoused community is clear – try not to be alone tonight. We will do all we can to make shelter and services available. To the many Angelenos who have friends or family who are unhoused, please let them know the danger that exists. We must stay safe. We will work diligently to bring those responsible to justice," the Mayor said.
"To the person responsible: We will find you, we will catch you and you will be held accountable," Bass said.
"I commend the LAPD for creating a dedicated task force to uncover the identity of a potential serial killer preying on the most vulnerable in our community. I've assigned our Major Crimes Division, Bureau of Victim Services and our Bureau of Investigation to assist with these efforts. Today, we demonstrate our collective resolve and stand united in our pursuit of justice, unwavering against the darkness that preys on the most defenseless among us," said LA District Attorney George Gascón.
Related:
Anyone with information is urged to contact the Los Angeles Police Department's Robbery-Homicide Division, Homicide Special Section, at (213) 486-6890. During non-business hours or on weekends, calls should be directed to 1-877-LAPD-24-7 (1-877-527-3247).
Anyone wishing to remain anonymous should call the LA Regional Crime Stoppers at 1-800-222-TIPS (800-222-8477) or go directly to www.lacrimestoppers.org.
Lastly, tipsters may also download the "P3 Tips" mobile application and select the LA Regional Crime Stoppers as their local program.