Los Angeles LGBT Center opens new huge Center South in Leimert Park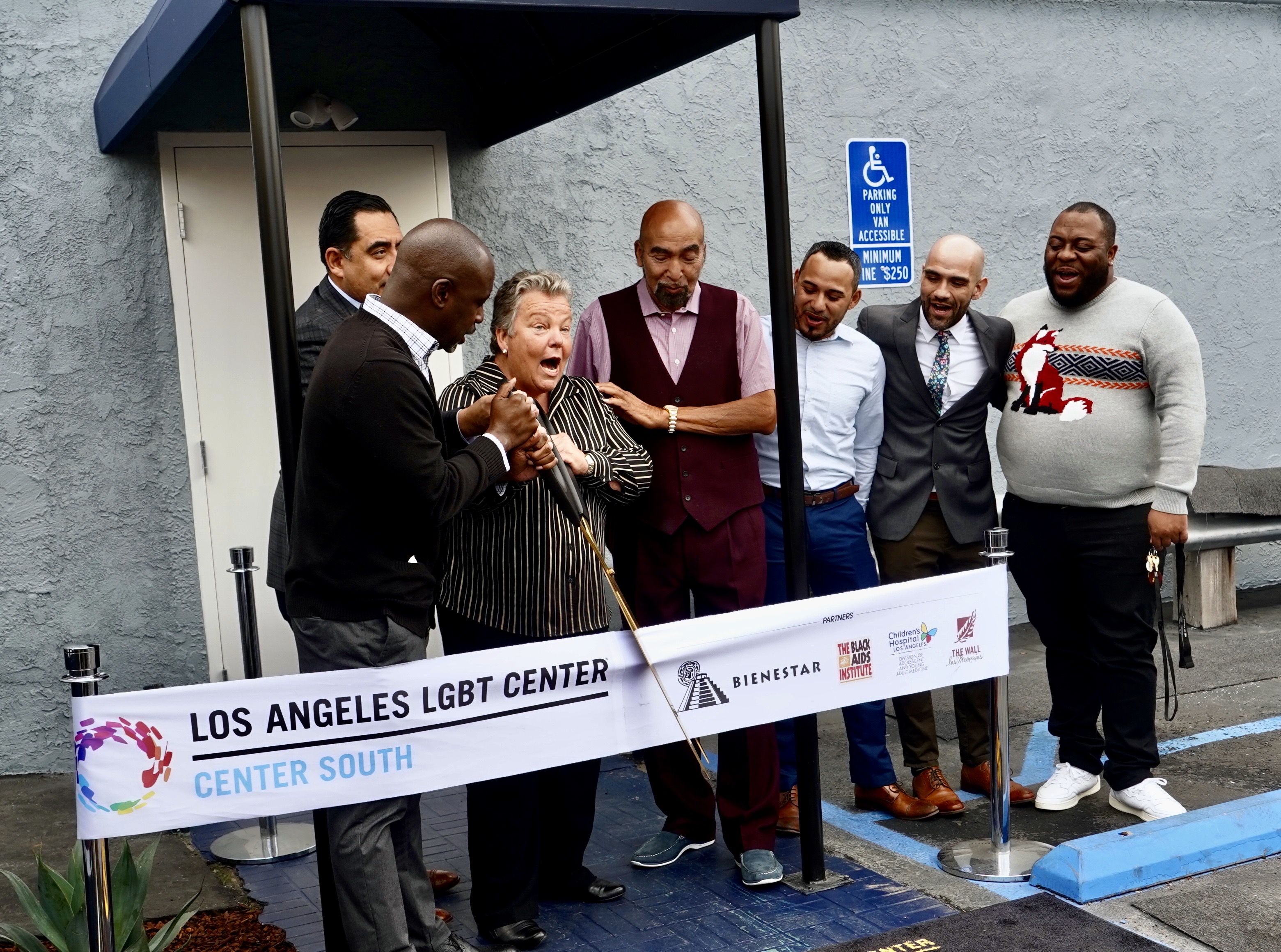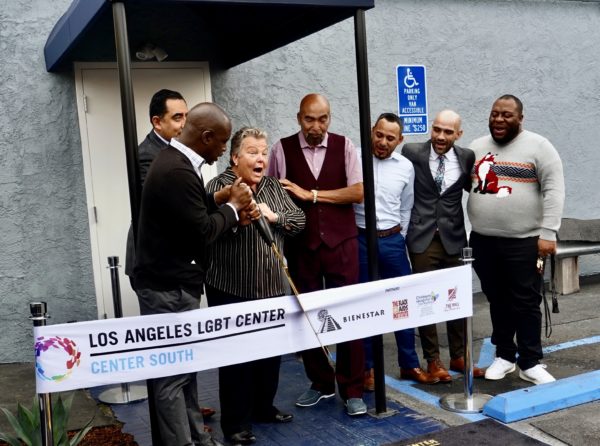 Balloons, soul food, a giant game of Jenga and a cut ribbon signaled a celebration near the corner of Martin Luther King, Jr. Blvd and Arlington Ave. in Leimert Park on Jan. 11. The opening of the Los Angeles LGBT Center's new 5,500-square-foot Center South facility in South LA is a huge stride for LGBTQ people of color who have often found themselves steps behind the queer Center milestones in Hollywood and West Hollywood.
"Human progress is neither automatic nor inevitable," Martin Luther King, Jr. once said. "Every step toward the goal of justice requires sacrifice, suffering and struggle, and the tireless excursions and passionate concerns of dedicated individuals."
So said Mario J. Perez, Director of the LA County division of STD and HIV programs, commemorating Center South, funded in part by the Department of Public Health. "It is our hope and commitment that the Center's new programming will further advance efforts to stem the tide of HIV and STDs and help eliminate stubbornly persistent health inequalities."
The department's 2017 Annual HIV Surveillance Report shows that South LA had the second highest rate of HIV diagnoses in LA County. Center South's services are provided for free or at low cost, with a special focus on at risk gay and bisexual men of color ages 12 to 29.
"I'm half black, and I'm half Mexican," said Ryan Wooten, who lives in South LA and also identifies as young and queer. He was diagnosed HIV-positive in 2013. In order to get basic medical services, Wooten had to take two buses and a train to get to the LA LGBT Center's health headquarters in Hollywood. "[I spent] hours on trains, being embarrassed, wondering, why isn't there something in this neighborhood?"
Despite the arduous travel, Wooten appreciated the facility. "To be able to go to a center and to be able to always see a rainbow flag when I walk into a building and to see smiling faces and know that not everybody there is getting paid to be there — it resonated with me and it made me feel a sense of family and community," he told the Los Angeles Blade.
Dr. Wilbert Jordan, founder of the Oasis Clinic, also celebrated the opening. He has been on the frontlines of HIV/AIDS in South LA since before the epidemic was identified by the Center for Disease Control in 1981. "I saw my first patient in 1979," said Jordan. "I didn't know what he had."
Jordan has seen the fight against the disease progress from the time when patients had to take dozens of pills a day to now, when a single dose of PrEP can help prevent infection.
"It think the hardest thing was seeing a young man in the 80s and 90s," he said, "because in my mind I would wonder — what is he going to look like a year from now? And will he still be alive two years from now? So we have come a long way."
Lorri L. Jean, CEO of the Los Angeles LGBT Center, spoke of the journey to Center South. In 2008, a new long-term strategic plan was approved by the Center's board of directors focused on how the non-profit could best meet the coming needs of the LGBTQ community.
"One message that came through loud and clear," said Jean, "was that while we did need more services in the Hollywood area, we also needed to expand our services to a much wider geographical area," she said.
These efforts led to the Mi Centro center in Boyle Heights, which came through a partnership with Latino Equality Alliance. The Trans Wellness Center in Koreatown followed. Center South is the next step in the initiative. It comes in partnership with the Black AIDS Institute, Beinastar Human Services, the Wall Las Memorias Project and the Children's Hospital Los Angeles. These organizations will help provide linkage to care and auxiliary programs, as well as training and creative opportunities.
"Together we are going to be able to serve a wider array of people and do it better than we would on our own," said Jean.
In addition HIV/STD health care, Center South will have mental health services, a CyberCenter computer lab and printer, funded by the David Bohnett Foundation, as well as hosting social networking groups and providing a safe drop-in space.
"Leimert Park has a thriving community of LGBTQ people of color, and I would like to welcome the Los Angeles LGBT Center to South Los Angeles as they continue their 50-year-plus history of life-changing and life-saving work," said LA Council Member Marqueece Harris-Dawson.
Harris-Dawson also paid tribute to the history of the building in which Center South is housed. The Jeffersons actress Marla Gibbs once used the site for her restaurant, Marla's Memory Lane.
"[This was a] place where [Gibbs] trained African American actors, writers and directors to go on," said Dawson. "It is the spirit of activism that is in the very bones and the cement and all the wood and all the materials — activism and resistance is in the very essence of where you are today."
Center South is located at 2313 W. Martin Luther King, Blvd. For more information, go to www. lalgbtcenter.org.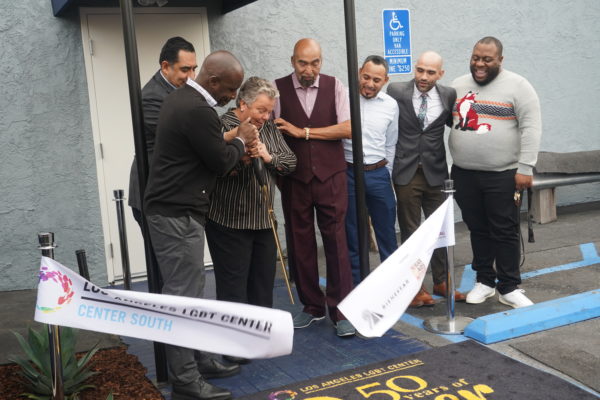 Photos by Betsy Martinez, courtesy the Los Angeles LGBT Center from left to right: Los Angeles City Councilmember Marqueece Harris-Dawson; Los Angeles County Department of Public Health – Division of HIV and STD Programs Director Mario J. Pérez; Center CEO Lorri L. Jean; Oasis Clinic's Dr. Wilbert C. Jordan who received an award from the Center and the City for his longtime work on HIV and AIDS; Center client Ryan Wooten; Center South's Senior Program Manager David Flores; and Center South's Program Supervisor Percival Pandy.
Here's a transcript of Lorri Jean's remarks, minus introduction of speakers:
There are so many people who have played a role in making today a reality.  I thank each and every one of you.  But I especially want to mention Percy, David, Bryan Toynes, Dustin Kerrone and the Health Services team as well as Stephen Burn and Jessica Stoneham and the facilities team.  Would all of you who were actively involved in turning this dream into a reality please raise your hands.  THANK YOU.  These folks have worked incredibly hard for a very long time and had to contend with tons of red tape to get this location open.  I also want to acknowledge the members of the Center's board who are with us today, including our co-chairs Dr. Marki Knox and David Bailey.  If you're on the board, please raise your hands.  Our board has been supportive of this expansion every step of the way.  In fact, David Bailey actually negotiated the lease on this space.

I'll have a few more thanks in a moment.  But, first I wanted to share with you a little bit of the history that has led to this very exciting grand opening.  In early 2008, 12 years ago, our board of directors approved an ambitious new Long Term Strategic Plan that was focused on the future and how the Los Angeles LGBT Center would best meet the needs of our community.  And we didn't just gaze at our navels to find the answers. Of course we surveyed the landscape of need and what was already being provided or not being provided.  But even more important than that, we talked to our community.  We surveyed thousands of people.  The answers to that survey were critical in helping us to set our future direction.  In addition to our already-existing programs, that plan included initiatives like becoming a Federally Qualified Health Center.  Providing housing for LGBT seniors.  Dramatically increasing our housing for LGBTQ youth experiencing homelessness.  Enhancing our policy efforts.  And one message that came through loud and clear was that while we needed more services in Hollywood, we also needed to expand our services to a wider geographical area.

People come to the Los Angeles LGBT Center from all corners of the county.  Tens of thousands of people every month.  Many even come from outside the county.  More than 60% of our clients are people of color and most are of low or moderate income.  That folks come to our largest Hollywood locations from all over Los Angeles is an indication of how desperate LGBTQ people are for high quality, culturally competent services which are available in precious few locations.  But not everyone can travel a long way to come to us.  In fact, in our community survey, many asked us to consider expanding our reach.  So, our first effort in that regard was a little over 4 years ago when we opened Mi Centro in Boyle Heights with the Latino Equality Alliance.  Our second was slightly under 2 years ago when we opened our Trans Wellness Center in Koreatown with a handful of partners.

Today we're thrilled to be opening Center South.  And we're proud to once again be doing so with wonderful partners: the Black AIDS Institute, Bienestar, the Wall Las Memorias and Children's Hospital.  Together, here, we will serve a wider array of folks than we're now doing separately.  Most important, among our areas of focus will be the people who are most vulnerable for new HIV infections:  young gay and bi black and latino men and trans women of color.  We intend for this location to be an especially welcoming place for them.

And, of course, we wouldn't be here if it weren't for the support of Los Angeles County and Mario Perez.  Often our County officials don't get the credit they deserve for persuading the powers that be about critical initiatives.  Mario has worked very hard to focus county resources on services in this area and, specifically, this project.  Thank you, Mario!

The County agreed to fund a new location in South Los Angeles where we could focus on HIV prevention, testing and treatment among gay and bisexual men of color.  But we knew we wanted to do much more than that.  We wanted to do more than HIV work here; we wanted this to be a mini-service center, a gathering place, for all LGBTQ people in the area.  So, we've been raising money to help us do even more in this wonderful, historic new location.  We hope to deliver a wide array of Center services here.  The first example is that the David Bohnett Foundation is sponsoring a new Cyber Center here.  Paul Moore from the Bohnett Foundation is with us here today and when I called him about whether they might be willing to  support a Cyber Center here, I got the fastest "YES!" I think I've ever received.  Thank you, Paul!

 

Today is the realization of a dream of many years, but today is just the beginning.  By working with our partner organizations and local community leaders, I have no doubt that, together, we'll ensure that Center South becomes a vibrant, vital and beloved part of our South Los Angeles community.

Of course, we owe a tremendous debt of gratitude to Los Angeles County and to our next speaker who, for many years, has been an invaluable supporter in the fight against HIV and AIDS.  Please join me in thanking and welcoming Mario Perez, Director of the County Division of HIV and STD Programs.
Jean introduces various speakers, then returns with special recognitions:
Percy and David and their team hasn't just been working on getting ready to open in the last few weeks.  They have been spending months and years getting ready, including connecting with local community members and leaders.  We have been very aware of the fact that while the Center has been serving people from South Los Angeles for 50 years, we haven't been doing it HERE.  We have great respect for those who have been doing it here for decades, including some of our partners.  We know that we're following in the footsteps of too many from our community to mention.  Including giants like Jewel Thais Williams, Phill Wilson, Oscar de la O, Archbishop Carl Bean, and so many more.  Our next guest is a giant in his own right—a man who has been making a difference in the fight against HIV/AIDS for decades, in L.A. and in South L.A..  We felt that this grand opening would be a perfect opportunity to acknowledge and honor him.

Of course, I'm talking about Dr. Wilbert Jordan.  Anyone who has spent any time working in HIV/AIDS in Los Angeles knows of Dr. Jordan.  And his renown extends across the country.  That's because Dr. Jordan is a pioneer.  Back in 1979, before the term AIDS had even been coined, he founded the Oasis Clinic.  That's when he treated his first AIDS patient, without knowing the symptoms were related to the disease.  It wasn't long before he was treating people with HIV by the dozens and the hundreds and eventually by the 1000's.  In 1984 he founded the AIDS clinic at King-Drew Medical Center, now called the Oasis Clinic.  He has worked tirelessly for more than 40 years to care for people with HIV/AIDS—often people that few others wanted to care for:  addicts, gay and bisexual men, transgender women.  Dr. Jordan was always there for them, for us, caring for us, advocating for us, treating us with dignity and respect.  He spent many years on the L.A. County HIV Planning Council, including years as chair.  He has too many honors to count, including receiving the Surgeon General's Award in 2000 for his pioneering work.

Today we recognize Dr. Wilbert Jordan as a home town hero.  To properly inaugurate this new Center, we could think of no more deserving person in whose spirit we could begin than Dr. Jordan.  We have a proclamation for him
Black AIDS Institute appoints Toni Newman as interim CEO
As Toni Newman steps into her new role at BAI, she will be one of only a few Black Trans women to head a non-profit in the nation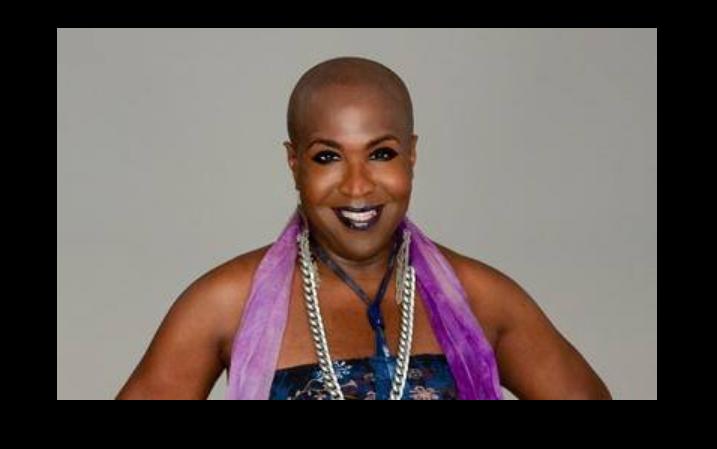 LOS ANGELES – The Board of Directors of the Black AIDS Institute (BAI) announced the appointment of Toni Newman as its Interim Chief Executive Officer and Dr. Kemal M. Atkins as Managing Director this past week.
Newman is currently the Interim Executive Director at LYRIC – a non-profit in San Francisco, California that focuses on advancing the community and creating social change for lesbian, gay, bisexual, transgender, queer and questioning (LGBTQQ) youth through education, career training and health advocacy. 
Dr. Atkins has been engaged to help further build infrastructure and management processes at BAI. Dr. Atkins, who will serve as a consultant on a temporary basis, has an extensive background in higher education and non-profit leadership where his expertise in crisis management, such as leading institutional responses to the COVID-19 pandemic, and expertise in building national wellness health models will provide much-needed program direction for BAI.
Founded in 1999, the mission of BAI is to stop the AIDS epidemic in Black communities by engaging and mobilizing Black institutions and individuals to confront HIV. In its mission statement, the organization states that "BAI envisions a world where all Black people are free and flourishing without HIV and AIDS, free of stigma and shame, where Black health and well-being are paramount. With a foundation in advocacy and policy work, BAI works towards improving the health and wellness of Black people through research, community efforts, and clinical work."
As she steps into her new role at BAI, she will be one of only a few Black Trans women to head a non-profit in the nation.
Ms. Newman is a distinguished Faculty Member at the Transgender Strategy Center in Los Angeles, where she advises non-profit organizations on engagement with transgender and nonconforming communities. In addition, she is the Chair of the Board of Directors for TransCanWork based in Los Angeles.
"Ms. Newman has a wealth of knowledge in non-profit management, budget and finance, and human resources and operations," BAI stated in its statement. "We're excited that she has agreed to serve as our Interim CEO as we continue implementing our transition plan to find a permanent, innovative executive staff leader."
LGBTQ+ ally City Councilman Kevin de León announces run for mayor
De León currently represents Council District 14 that takes in the predominantly Latino neighborhoods of Boyle Heights and El Sereno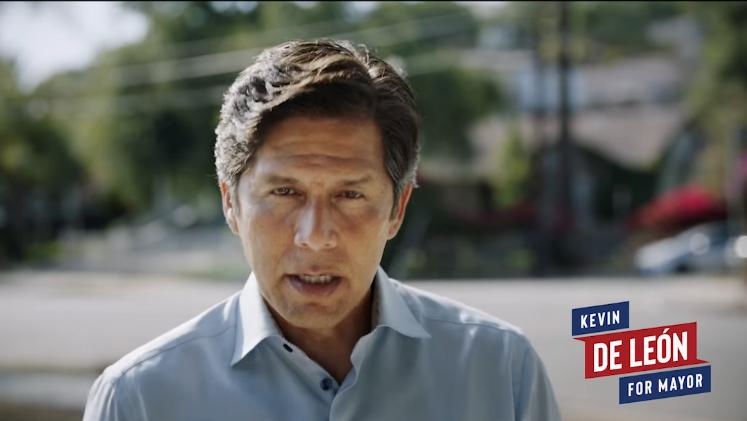 LOS ANGELES – Standing in front of a group of enthusiastic supporters Tuesday at the El Pueblo de Los Angeles Historical Monument, Los Angeles City Councilman Kevin de León announced that he was joining the mayor's race for next year's city elections.
Councilman de León, a Democrat, is the third city elected official to announce his intention to seek the mayor's chair after current Mayor Eric Garcetti, who was elected for a four-year term in 2013 and again in 2017- who's limited to serving no more than two terms, was picked by President Joe Biden to serve as the U.S. ambassador to India on July 9, 2021.
Born in Los Angeles of Guatemalan and Mexican descent, raised by a loving, hard-working single mother, de León, 51, got an education and spent 12 years in Sacramento, rising to become the President Pro Tem of the California Senate, authoring and passing legislation and making history. It was his bill that then Governor jerry Brown signed into law making California a "sanctuary state"—a law that was upheld by a federal appeals court.
In an August 2018 interview with former Los Angeles Blade Editor Karen Ocamb, he reflected on his relationship with the LGBTQ+ community.
"I've always been very close to the LGBTQIA (lesbian, gay, bisexual, transgender, queer, intersex, asexual) community even before I even knew all the initials that keep growing," de León says with a laugh during an extensive phone interview with the Los Angeles Blade. "It's always been my core set of values that every human being deserves a real opportunity to succeed, regardless of who they love and regardless of the hue of their skin and regardless of their legal status. That is embedded in my DNA."
De León learned to care about LGBT people as a child from his mother and aunt around the kitchen table.
"My mother got a third grade education and my aunt even less," he says. "I was very young and they were talking about a gay friend, a colleague of theirs. I didn't understand. Obviously, they didn't understand themselves. But they spoke with such affection, such tenderness. And here were two immigrant women with limited formal education and the way they spoke so lovingly, tenderly, beautifully about their gay friend. I could deduce the person they were talking about was gay—they kind of spoke in code around me when I was just sitting there listening to them at the kitchen table. And it transcended ethnicity and legal status and poverty—that we're all human beings and we deserve dignity and respect. That had an 'Ah Ha' impact."
De León's LGBT education continued as he picked his mother up from her work as a housekeeper at convalescent homes. "She had quite a few gay colleagues with her and I just remember they were just so beautifully nice with my mother and my mother with them and that had a huge impression on me of the universal values of treating everybody with dignity and with respect. So when there is a discriminatory blow against anyone in the LGBTQIA community, I feel that blow equally."
De León, 54, is by far the most prominent Latino running. Fluent in Spanish, he represents a district that takes in the predominantly Latino neighborhoods of Boyle Heights and El Sereno, as well as much of downtown, where a development boom has fueled huge growth over the past decade, KTLA reported.
Two other candidates — Councilman Joe Buscaino and City Atty. Mike Feuer — have been campaigning for several months. The race also features two business leaders: Jessica Lall, who heads the downtown-based Central City Assn., and real estate broker Mel Wilson, who has been involved with several San Fernando Valley business groups.
Hermosa Beach Pride Lifeguard Tower is here to stay
"The rainbow tower is beautiful and has become a symbol of this community's love and support for LGBTQ rights," said Supervisor Hahn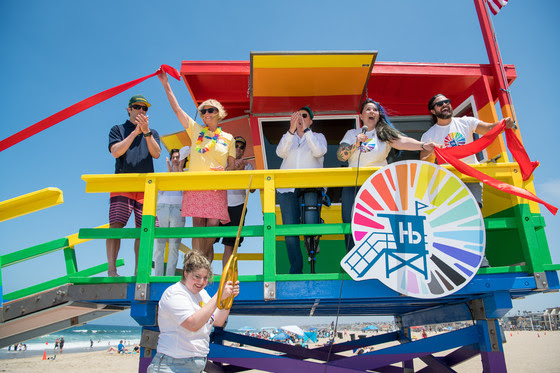 Hermosa Beach — Los Angeles County Supervisor Janice Hahn is announcing that the Pride Tower in Hermosa Beach is here to stay.  The 13th street Los Angeles County Lifeguard Tower, which was painted rainbow in June, was originally meant to be repainted its original blue color at the end of summer.  The rainbow paintjob will now be permanent. 
"The rainbow tower is beautiful and has become a symbol of this community's love and support for LGBTQ rights," said Supervisor Hahn, whose support paved the way for the project. "None of us wanted to see it painted over and I am proud to announce that the Pride Tower is here to stay."
The idea to paint the tower originally came from lzzy Bacallao, a local non-binary teen. Izzy, who uses the pronouns they and them, was responding to the burning of rainbow-painted Pride lifeguard tower in Long Beach in March. The rainbow-painted tower was unveiled at the Hermosa Beach Pride event June 26, 2021.
The new Pride Tower's rainbow paintjob will be maintained by the Los Angeles County Department of Beaches and Harbors which maintains all LA County Lifeguard Towers.   The Department of Beaches and Harbors also maintains another permanent Pride tower in Venice.