Phill Wilson calls Pete Buttigieg 'impressive' after black gay fundraiser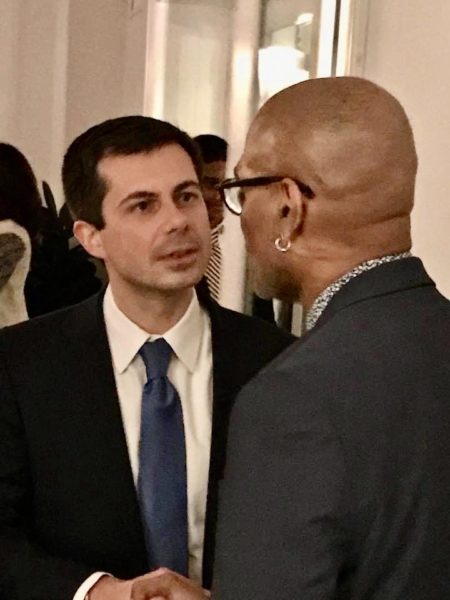 The heat is on. The Iowa Caucuses, the first Democratic presidential contest in the nation, is Feb. 3 — which is also the first day early voting begins in California before the March Super Tuesday blow out. The latest CNN/Des Moines Register poll on Jan. 10 places Vermont Sen. Bernie Sanders, former Vice President Joe Biden, Massachusetts Sen. Elizabeth Warren and former South Bend, Indiana Mayor Pete Buttigieg in a dead heat, all within points of each other as they battle over the Democratic presidential nomination and who can best beat Republican President Donald J. Trump.
Buttigieg and Biden are frequent visitors to Los Angeles, with Biden securing the endorsement of Mayor Eric Garcetti on Jan. 9. But the primary focus of the LA Times story about Buttigieg's visit to the new A Bridge Home project homeless shelter in Watts with LA City Councilmember Joe Buscaino where he was "greeted warmly" by many black residents was the appearance of about a dozen protesters, three of whom were from South Bend, "loudly heckled Buttigieg as 'anti-black and anti-poor' over his record in South Bend."
Asked by The Times and others who paid for their trip and all the expenses associated with following Buttigieg around, Katheryn Redding, who had been identified in previous news coverage as a Sanders supporter, initially said . After initially told The Times, "I was told not to release that information." She subsequently  said the ongoing protest was paid for by Black Lives Matter South Bend. "It wasn't presidentially paid for at all, or anyone that's running."
The protesters noted the December death of Anthony Young, 44, who died of hypothermia on the streets while Buttigieg was still mayor and should have made Young's death "his priority." Buttigieg told reporters that Young had died "after declining to come into a shelter," The Times reported. His campaign cited federal statistics indicating a decline in homelessness in the greater South Bend region during the mayor's tenure.
BLM/SB protested Buttigieg's first fundraiser outside the Sherman Oaks home of Lisa Gregorian, Chief Marking Officer for Warner Brothers TV Group, according to the pool reporter, who did not actually see the protesters and noted the night was a chilly 54 degrees. Buttigieg said that if Trump declined to debate his Democratic opponent, it would be a "show of weakness." 
The pool reporter noted that one of the questions came from a gay high school senior who asked Buttigieg about his LGBT policies. Buttigieg said he'd ban "conversion therapy," sign the Equality Act, and end the war on transgender Americans. He then segued into the "crisis of belonging."
Buttigieg then attended what was a diverse but basically gay black fundraiser co-hosted by "Empire" director/writer Lee Daniels and Jordan Fudge, managing partner of venture capital firm Sinai Ventures, at Fudge's home. There was no pool reporter at this event.
BLACK AIDS Institute founder Phill Wilson was among the approximately 90 attendees.
"I'm very interested in all of the Democratic nominees," Wilson told the Los Angeles Blade, noting that all the questions for Buttigieg came from black attendees. "I've not made a decision on which candidate that I will eventually support. First and foremost, I'm committed to whoever the ultimate nominee is. I'm committed to trying to figure out, quite frankly, which nominee has the best plan for not just winning the nomination but winning the general election."
Winning tops Wilson's list of criteria so he asked Buttigieg directly about his plan to win.
"The mayor had a very thoughtful, interesting answer based in some history," Wilson says. "Number one, that all of the victorious Democratic nominees over the last 50 years have been generational change candidates; that they've all been outside candidates; a candidate that has sparked imagination; and they have spoken about a new vision for America. He believes, and I actually do concur, that he fits that bill…. I think that he is a candidate that is worthy of serious, serious consideration."
Some of the reasons for that consideration: he represents the Midwest – "an important constituency that is critically important. How is the next Democratic candidate going to win Indiana, Ohio, Pennsylvania, Michigan, and Wisconsin? Having someone who is from the Midwest and has that lived experience may be very helpful, if not critical. I think that's important. I think that in addition to that, having someone who can speak to populations outside of the large urban centers may be important and may be helpful."
Can he mobilize young voters? While his age "has not given him an upper hand in that regard," it may in the general election. And he has demonstrated that he can organize and raise money.
"I think that in this next election, having the ability to juxtapose a thoughtful candidate against a bombastic demagogue may be important, as well," says Wilson. "I think that the current resident in the White House demonstrates weakness every single day in ways that have been demonstrative, damaging to our democracy. Being able to call that out is important and essential."
But there are still people who think Buttigieg may be brilliant but can't win because he's gay.
"I don't have a crystal ball. I think being nervous and concerned is an extremely understandable position. I don't think that we should decide or mobilize from a position of weakness," says Wilson.
But Wilson notes that, "under no circumstances" did many people  believe "that a black man from Illinois named Barack Hussein Obama had an ice ball chance in hell of being elected President of the United States — and it happened. It happened because we decided to move from a position of our aspiration and not from a position of our fears. We understood that many of our fears were fermented by folks who want and wanted to continue to oppress us.
"I think it's legitimate to worry about that, but I think that it's time for all of us, LGBTQI folks included and maybe especially, to embrace our own power," says Wilson. "It's our job to decide who we want to be President of the United States and work our asses off to make that happen because the opposition is going to sow doubt among us about whoever the candidate is."
Wilson did not hear about the BLM protest until after the event.
"All of the candidates should be challenged on whether or not their policies have been responsive enough to the needs of black and brown and poor people," Wilson says. "Clearly, Mayor Pete has to be held accountable for how he responded to the needs of the black citizens in South Bend, without a doubt. I think that if we also have been tracking, there have been people that have been calling out Joe Biden on his race position, Kamala Harris on her race position. I think that we should be holding all the candidates accountable."
But Wilson also wondering if focusing on one tragedy without context should be construed as evidence of a belief or policy, as is the case with BLM/SB and the death of Anthony Young.
"Having actively been a part of the cold wet weather program here in Los Angeles under Mayor Bradley, I know that in this city and I know in New York — I don't know but I suspect as well there — if someone refuses to come in, they can't be compelled to do so," Wilson says. "In fact, here in Los Angeles, we have actually looked at the civil liberties of homeless people and one of them is that they can't be forced in if they don't want to. These are legitimate issues to raise, but we should not have knee-jerk reactions. We should explore actually what really happened."
While other issues were discussed, the issue of race explicitly took center stage. Buttigieg talked about his Douglass Plan and how it came to be — listening and taking counsel and guidance from those impacted communities.
Buttigieg made it clear, says Wilson, "that the racism and the racial oppression has not been accidental, that it's not been benign, that there's a degree of it that has been malicious and on purpose. That's why the remedy cannot be race-neutral, that the remedy has to be progressive because race-neutral does not address the ongoing impact of past transgressions."
Wilson says he was impressed by Buttigieg's ability to listen, a quality he has experienced and observed in face-to-face meetings with Democratic candidates prior to them becoming president, including Arkansas Gov. Bill Clinton, Illinois Sen. Barack Obama and meetings with President Jimmy Carter and President George W. Bush.
"Mayor Pete definitely, definitely demonstrated the characteristic that I first observed the first time I met Bill Clinton, the first time I met Barack Obama in that I felt like he was, without a doubt, very actively listening to me," says Wilson. "I think one attribute that I will look for is a president who is committed to being a listener.
"I was impressed with him. I think that he deserves a fair shot," Wilson says.
The longtime black gay and AIDS activist also hopes LGBTQ voters think beyond their inculcated oppression.
"It does not surprise me that some LGBTQI folks admire Pete Buttigieg and maybe even think he is the best candidate, but don't support him because they don't think a gay man can be elected president," says Wilson, his voice building with the passion of experience.  "There are forces who don't want us to believe a gay man can be elected president and they are constantly sending us those messages.  They are the same forces who don't want us to believe we deserve equal rights. They are the same forces who didn't want us to believe that marriage equality could become the law of the land.  but, here's the thing, amazing things happen when we don't believe those forces."
Photo of former Mayor Pete Buttigieg with Black AIDS Institute founder Phill Wilson courtesy John Gile.
Here's Pete Buttigieg talking about his black empowerment Douglas Plan:
Trans remembrance vigil held at LA LGBT Center
"We refuse to let violence rob us of the possibility to gather, to love each other, and to dream together in solidarity"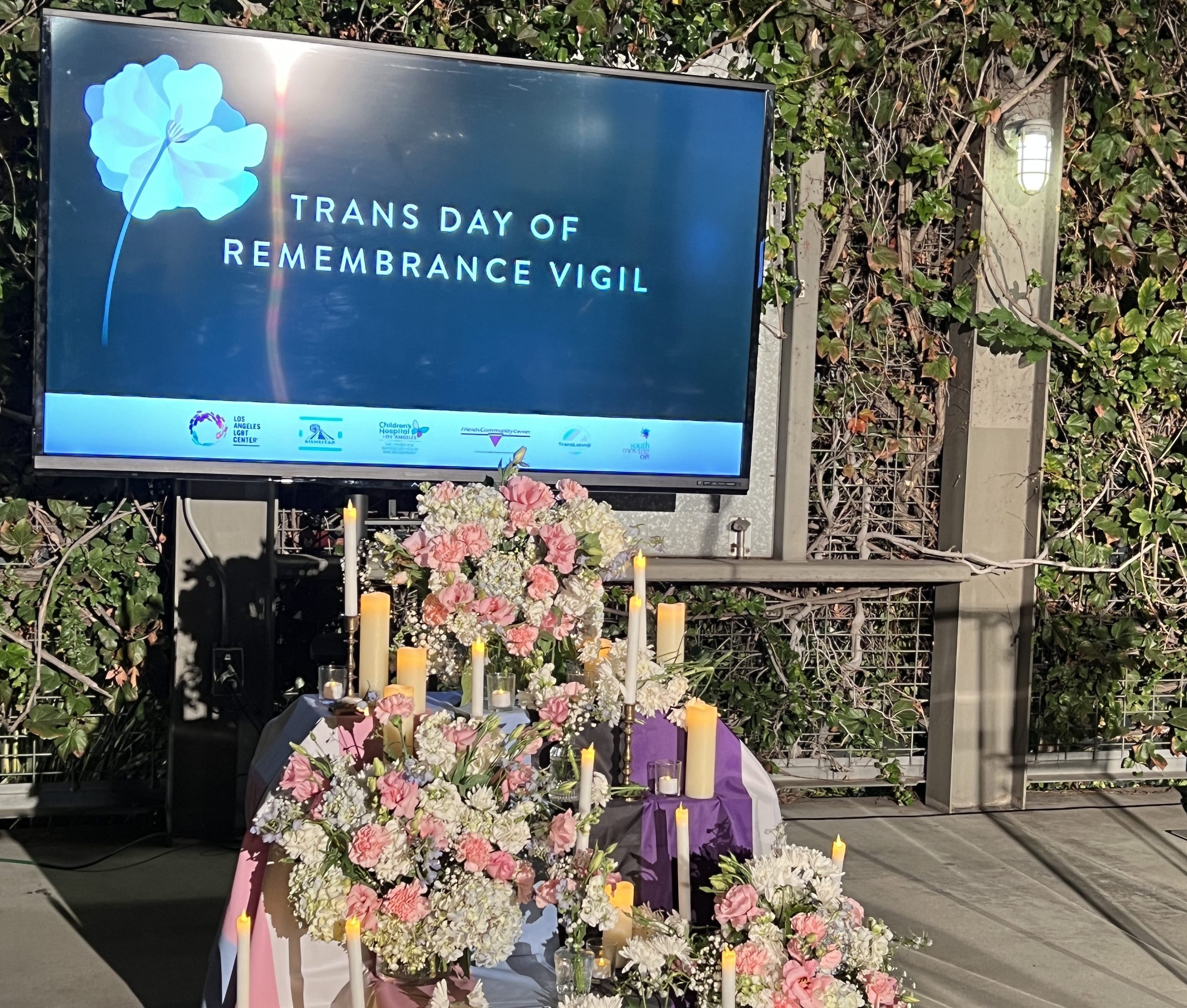 HOLLYWOOD – A Trans Remembrance Vigil was held at the Los Angeles LGBT Center on Monday, November 21st.
Candles and white, pink, and lavender flowers mounted on tiers draped by a trans flag adorned the center stage. A large monitor served as the focal point of the evening above the memorial display.
The Trans Chorus of Los Angeles started the ceremony with an acapella performance. Following the song of hope and redemption, opening remarks were given at the pulpit by the Anti-violence project manager for the LGBT center, Mariana Morroquin, and representatives from the Trans Wellness Center, Bienstar Human Services, Children's Hospital of Los Angeles, Friends Community Center, APAIT, and [email protected]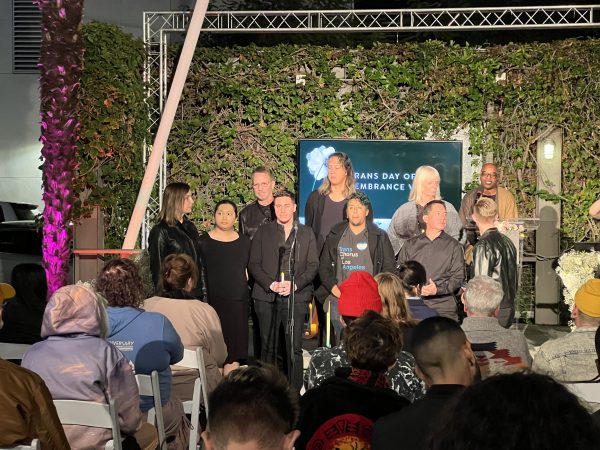 "I think it is very important to acknowledge our partners," said Morroquin, somberly addressing the seated audience of about one hundred and fifty. "We know that hate is real. A lot of us have seen hate pretty close. We are very grateful to have you. We open our arms to receive your love and your support. The way we support each other is by providing jobs, providing spaces for us, and providing opportunities. Because hate is out there. We need this space. We need to welcome everyone. I want you to keep that in your heart. And tomorrow, when we get back to work, let us open our hearts and our minds. Don't make decisions for us. Invite us to those tables. We know what we need. We've been doing this forever. We are going to keep fighting because this is what we do." 
She then added, "We refuse to let violence rob us of the possibility to gather, to love each other, and to dream together in solidarity. We gather because we must remember what is worth fighting for. For now, we commemorate. We tell the stories of the ones we lost. For tonight, that will be enough." 
One by one, members of the audience approached the pulpit to read the names and stories of a multitude of trans people whose deaths were the tragic result of hate crimes. The photos, names, and ages of the victims were displayed on the center-stage monitor.
"My name is Nikai David," said one speaker, the photo of a pale, curly-haired young lady displayed behind them. "I am a model and social media influencer who aspired one day to own my own clothing boutique. I had just celebrated my birthday a week before I was shot in Oakland California, on December 4th, 202. I was thirty-three years old."
Stories of these deaths included shootings by assailants, police, and family members, brutal beatings, and stabbings. The bodies of these victims were found in their homes, in garbage cans, and on streets where they were left, still dying, among other locations.
The final name read was Daniel David Aston, who died in the recent Club Q mass shooting.  This year, TDOR came on the heels of the senseless massacre in Colorado Springs that left five members of the LGBTQ+ community dead and 25 injured. 
Reverend Valerie Spencer gave an impassioned closing speech, first inviting the audience to take several deep breaths in unison.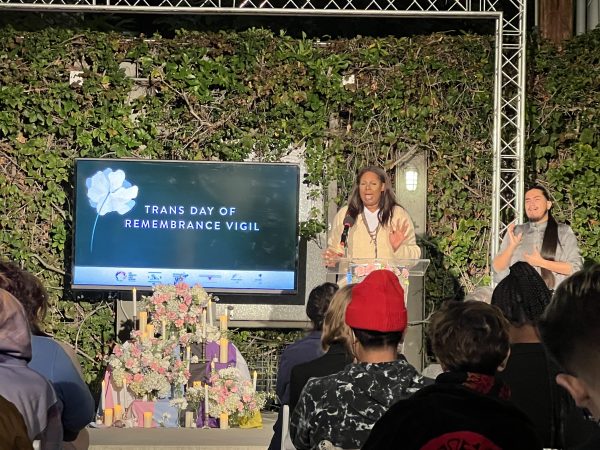 "We will mourn our family, our siblings," said Reverend Spencer, "but we are not having our primary focus on the violent conclusion of their life. We are choosing to see them and know them and celebrate them in the full context of their living. For they were fierce and powerful people."