January 14, 2020 at 11:23 am PST | by Karen Ocamb
LA County Sheriff's Det. Amber Leist killed in car accident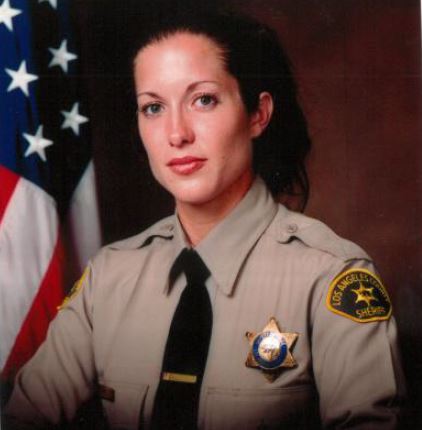 Some first responders, such as Los Angeles Sheriff's Department Detective Amber Leist, take their pledge to "serve and protect" not just as a job but as a foundational principle of their lives. Being off-duty does not mean they decline to render assistance when needed.
But on Jan. 12, Leist's call to be of service inadvertently led to her death. She was at a red light at the intersection of Whitsett Avenue and Riverside Drive in Valley Village when an elderly woman fell in the crosswalk. Leist, 41, got out to help the woman cross safely. But as she returned to her car, she was fatally struck by a car heading east on Riverside Drive. The driver tried to help but Leist died at the hospital of her injuries. The LAPD is investigating the tragedy as an accident.
Sheriff Alex Villanueva made the announcement on Twitter: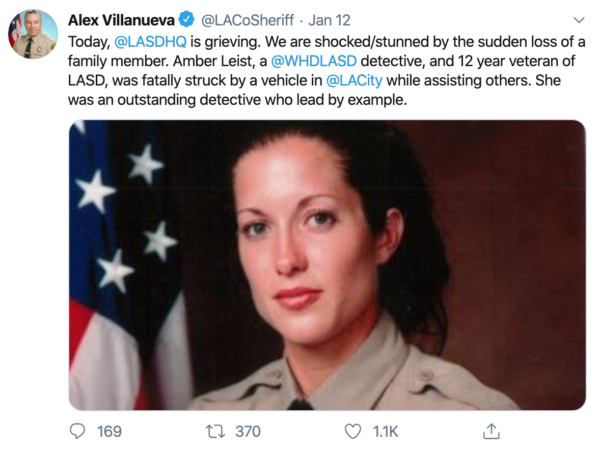 Leist "was an outstanding detective who would lead by example, and she definitely led by example through her act of kindness, and we consider this an on-duty death," Villanueva said at a news conference, the LA Times reported.
For five years, Leist worked as a patrol officer at the West Hollywood station, empathetically taking most of the domestic violence cases, Capt. Edward Ramirez told KTLA. She also served as a school resource officer and would buy food for the homeless.
WeHo City Councilmember John Duran announced on his Facebook page that flags are being flown at half-staff in her memory. "She was a treasured member of our Weho family and we are in mourning," Duran said. "Deep condolences to all her family and friends.".
Leist is survived by her parents and two sons, ages 17 and 20, who is on active duty with the U.S. Navy.
"What she did, it was heroic for her to go out that way," son Daniel Laney told KTLA-TV Channel 5. "I love her for that. She's always had a kind heart."