Equality California endorses Buttigieg – why it matters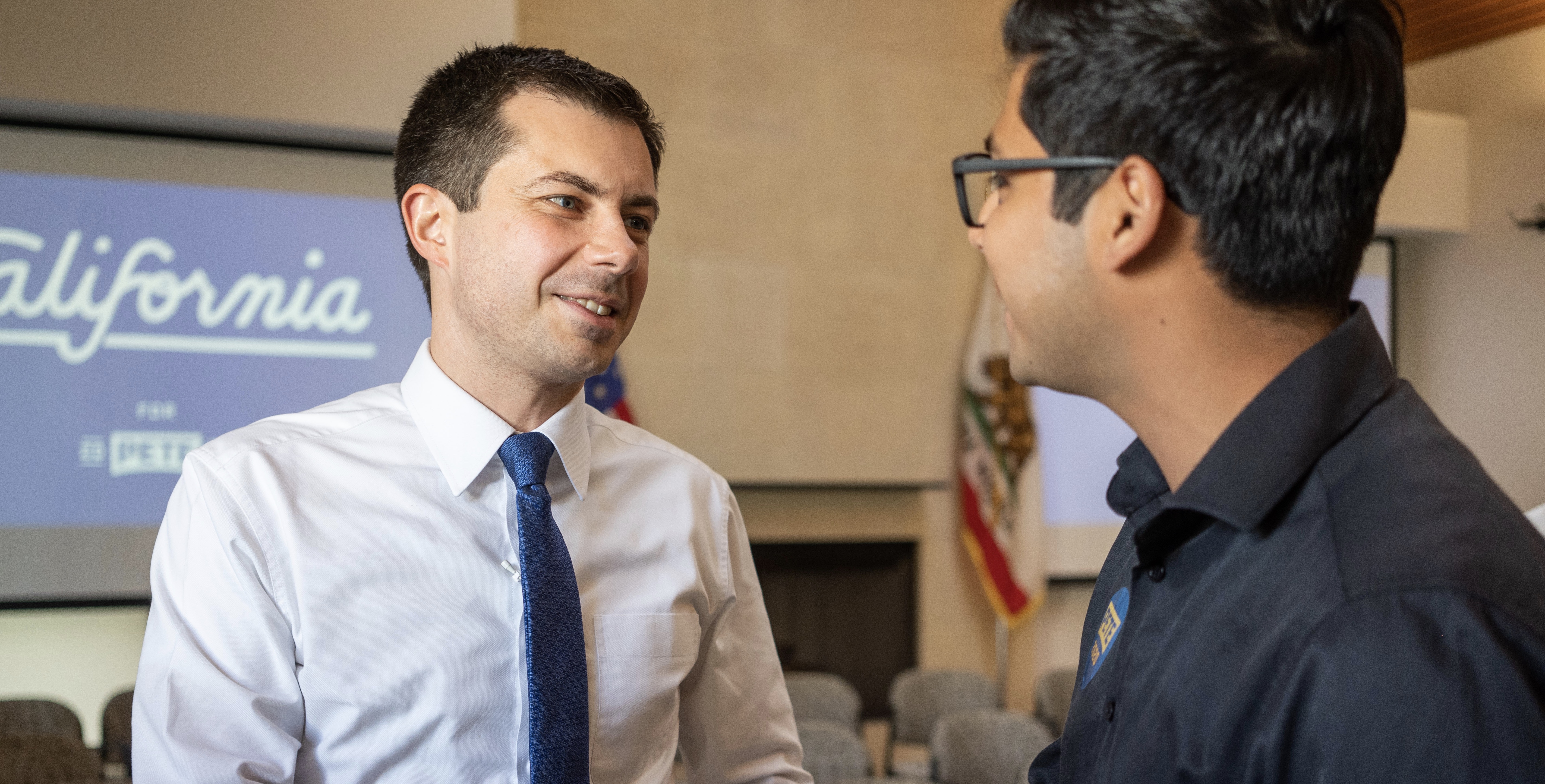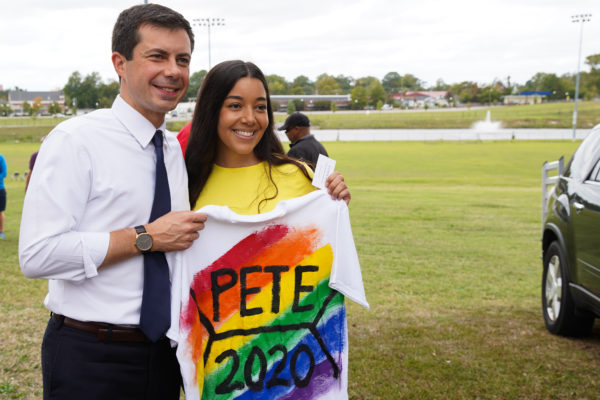 It's crunch time. Monday, Feb. 3 is going to be split screen TV as the world watches the impeachment trial of Donald J. Trump and the first electoral contest between the Democrats who want to replace him as president. And despite growing complaints that the Iowa Caucuses are way too white to represent a changing America – they are still a very big deal.
Heading into Iowa, the latest Monmouth University poll shows former Vice President Joe Biden virtually tied with Vermont Sen. Bernie Sanders, with former South Bend, Indiana Mayor Pete Buttigieg and Massachusetts Sen. Elizabeth Warren virtually tied with Sen. Amy Klobuchar within striking distance  behind them.  But as FiveThirtyEight notes,Iowa Democrats do things differently, using a viability check "that asks voters to switch candidates if their first choice doesn't clear a certain threshold, usually 15 percent of the vote at that caucus site. That makes second choices important, and even opens up the possibility of strategic alliances between the candidates."
Buttigieg has poured a lot of money into his campaign ground game in Iowa and in previous polls, he's come in second as caucus-goers' first choice and first as their second choice. But, as the Washington Blade's Chris Johnson points out, Iowa may now be "do or die" for the out gay candidate. And with so much media attention on his problems winning over African American voter, Politico reports that no matter how he does in Iowa and New Hampshire, he's "on life support" going into South Carolina.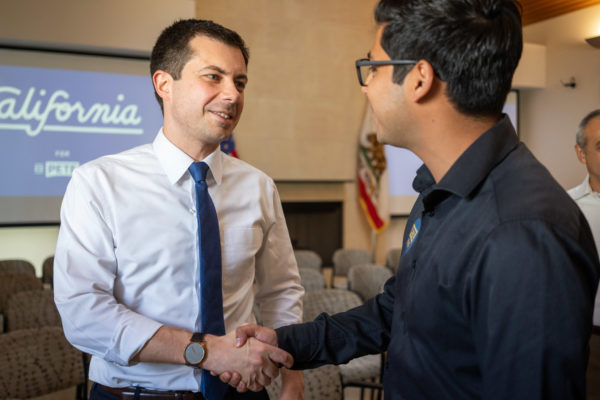 But Buttigieg got a big boost Thursday with the endorsement of Equality California, the nation's largest statewide LGBTQ civil rights organization. Mainstream outlets chocking it up to yet another endorsement in the cascade of hopeful persuaders before Iowa – assuming the endorsement may eventually matter a month from now when Californians hit Super Tuesday — are missing the point. Equality California has an affiliate, Silver State Equality, in Nevada, the early state after South Carolina which holds their caucus on Saturday, Feb. 22 — and Californians start their early vote-by-mail this Monday, the same day as the Iowa Caucuses.
Equality California Executive Director Rick Zbur explains why they chose Pete Buttigieg:
"In our twenty-one-year history, we have endorsed hundreds of openly LGBTQ candidates, but never for president of the United States. That changes today.

"From his comprehensive plan to end the HIV epidemic by 2030 to his commitment to make our schools safe and supportive for LGBTQ students to his specific funding and policy priorities to protect and empower the transgender community — especially transgender women of color, who face an epidemic of violence and persecution — Mayor Pete Buttigieg has the boldest, most comprehensive agenda to achieve full, lived equality for all LGBTQ people of any presidential candidate in the nation's history.

"This will be the most important election in our lifetimes — and the stakes couldn't be higher. Donald Trump and Mike Pence have spent every day of the last three years attacking LGBTQ people and the diverse communities to which we belong: immigrant communities, communities of color, the transgender community, women and religious minorities. Mayor Pete is the best candidate to take on Donald Trump, win back the White House and help lead the fight to create a world that is healthy, just and fully equal for all LGBTQ people.

"While we did not endorse Mayor Pete simply because he's gay, the historic nature of his candidacy has already had a transformational impact on the LGBTQ community. Electing the first openly LGBTQ president will send a message to millions of LGBTQ youth across the country that no dreams are too big and no leadership position is too high.

"The challenges we face are great. But with the power of hope and a bold, progressive vision for the future, there is nothing we cannot achieve. We're ready to roll up our sleeves and get to work."
California Sen. Kamala Harris might have been a tough challenge for Buttigieg with Equality California's endorsement committee if she hadn't dropped out. And the committee was very impressed by Warren and longtime Democratic supporter billionaire Tom Steyer. But in the end, EQCA couldn't resist Mayor Pete who "presented the boldest, most comprehensive plan for full, lived LGBTQ equality and is the best candidate to take on Donald Trump and win."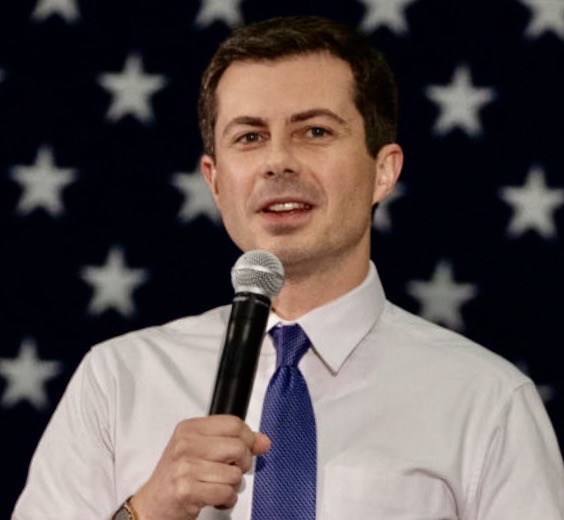 Buttigieg said thank you:
"I'm honored to receive the endorsements of Equality California and Silver State Equality, two organizations that have been unrelenting in their fight for LGBTQ+ people and our push for full equality. My campaign is based around a shared future of belonging for all Americans, no matter their sexual orientation or gender identity. President Trump's attacks on the LGBTQ+ community, especially our trans members, have shown us that the fight for equal rights did not end with marriage equality. I will be the President to continue that fight for equality for all Americans."
LGBTQ Californians are keenly aware that the Trump-Pence Administration is an existential threat to the LGBTQ community and other minorities as Trump continues to try to wreak havoc on this state, in particular. Equality California and Silver State Equality's endorsement brings with it the fierce fight of a California mama bear protecting her children – and Mayor Pete Buttigieg is now the beneficiary of that ferocity.
Photos via Equality California. 
Mayor Pete on MSMBC's Morning Joe on why he's the best candidate to defeat Trump:
LAPD: Body found on fire hanging in tree in Griffith Park likely a suicide
The person's age, identity and gender have not yet been determined, but they are believed to be a person who frequents the park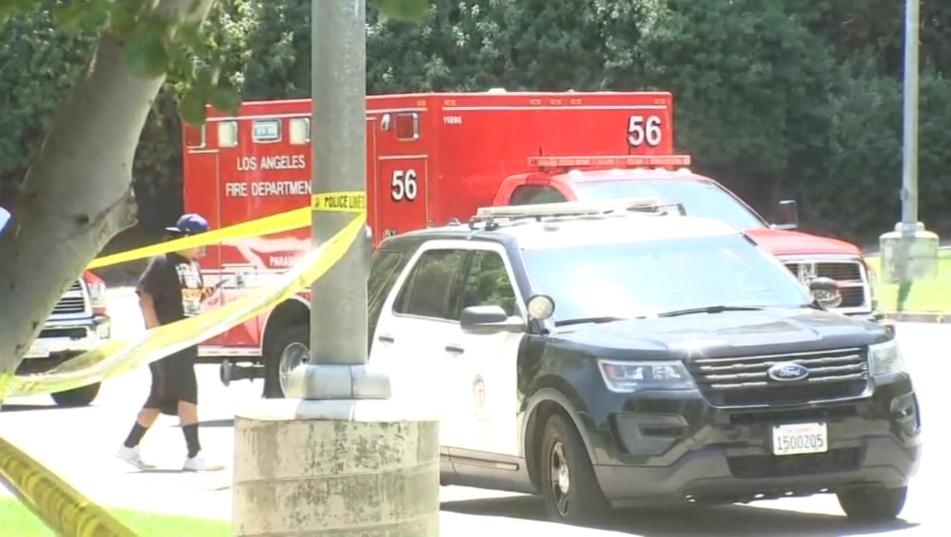 LOS ANGELES – The body of an unidentified person deceased found hanging from a tree near the Griffith Park's merry go round was likely a suicide a detective with the Los Angeles Police Department said Tuesday.
The body was discovered at around 12:30 p.m. on fire and hanging from a tree. Los Angeles City firefighters put the flames out and LAPD detectives investigated and found no signs of foul play, determining that most likely the cause of death was suicide.
"It appears to be self-immolation," said LAPD detective Michael Ventura. "This is going to be somebody who brought some gasoline, brought some lighters. We have had, they are rare, but we do have cases where people will self-immolate. Or they choose to set themselves on fire."
The person's age, identity and gender have not yet been determined, but they are believed to be a person who frequents the park on a regular basis Ventura said.
Independent freelance journalist Vishal P. Singh, who was on scene tweeted about the incident:
Firefighters from @LAFD are carefully removing things from the tree in Griffith Park. @LAPDHQ and the Park Rangers are here, too, investigating the body found hanging from a tree and on fire here. pic.twitter.com/5xBxviZRki

— Vishal P. Singh (they/he) 🏳️‍⚧️ (@VPS_Reports) August 9, 2022
KABC reported:
Editor's note: If you or someone you know is struggling with suicidal thoughts or mental health matters, please call the National Suicide Prevention Lifeline at 800-273-8255 or dial 988
LAPD respond after protestors disrupt LA City Council vote on homeless
All of City Council left except for Councilmembers Raman, Harris-Dawson, & Bonin who have previously voted against the expansion of 41.18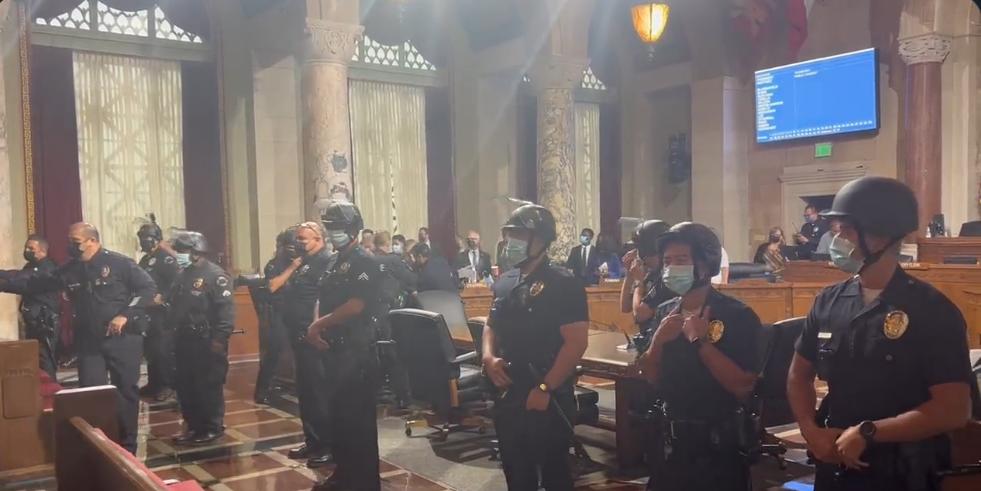 LOS ANGELES – After protestors angrily voiced opposition and one charged towards the council dais disrupting the LA City Council's impending vote Tuesday on a mass expansion of 41.18 zones, which will prohibit encampments of unhoused persons near schools and daycare centers, the Los Angeles Police Department's Riot Squad was called-in.
The meeting erupted into chaos after a member of the public who was speaking climbed over a bench and charged toward Council President Nury Martinez. Police quickly filled the council floor to apprehend the person and another member of the public. Activists screamed at police, and at least one audience member attempted to spray water on officers.
Martinez abruptly recessed the meeting as dozens of activists in the room chanted "Abolish 41.18!" – a reference to the city law prohibiting homeless encampments at libraries, freeway overpasses and other locations.
Jonny Peltz, a freelance reporter for Knock LA, a nonprofit community journalism project, live tweeted the proceedings.
Before meeting starts there are chants of "Shame on you!" pic.twitter.com/7HdnvdOQgD

— Jon peltz (@JonnyPeltz) August 9, 2022
Crowd holding up mostly 'abolish 41.18' signs. Council President told the crowd to "grow up" as they were jeering pic.twitter.com/28dVNpZF4j

— Jon peltz (@JonnyPeltz) August 9, 2022
BREAKING: Riot squad now out at City Hall. Two protesters have been arrested pic.twitter.com/gX9utGVHLj

— Jon peltz (@JonnyPeltz) August 9, 2022
Crowd is staying and chanting. All of City Council left except for Councilmembers Raman, Harris-Dawson, and Bonin (who have previously voted against the expansion of 41.18). LAPD also lining the side of City Council chambers pic.twitter.com/Whmvd9P2xf

— Jon peltz (@JonnyPeltz) August 9, 2022
KTLA reported the Council voted to ban homeless encampments within 500 feet of city schools and day care centers after protesters again rallied against the expanded motion.
The final vote on the motion 11-3 in favor of the widespread ban.
Before the updated motion passed, camps were banned within 500 feet of facilities deemed sensitive, such as schools, day care facilities, parks and libraries but only if those areas have been designated for enforcement.
Tuesday's vote means a blanket ban on encampments within 500 feet of every private school and day care centers in the city.
LAPD increases patrol force by 200 in Hollywood to combat rising crime
"If you come here to commit crime, you will be arrested, you will be prosecuted, you will be jailed or imprisoned," said O'Farrell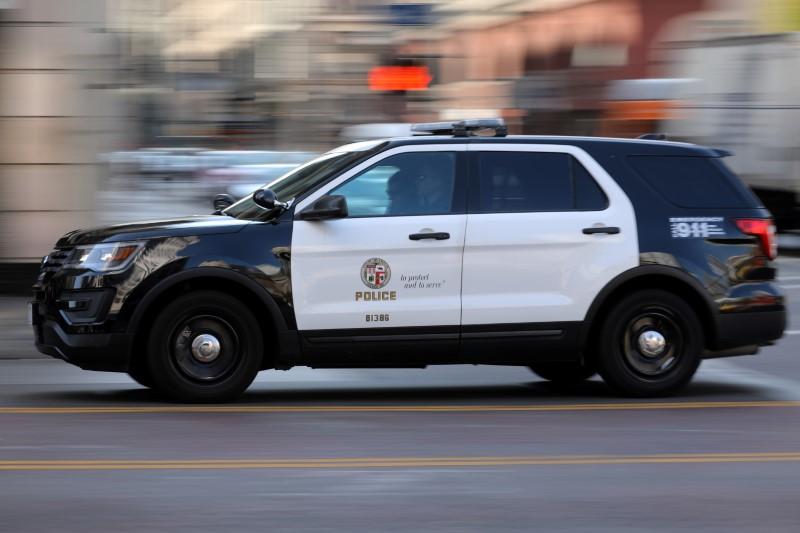 HOLLYWOOD – The Los Angeles Police Department has been deploying additional resources over the past seven months as the neighborhoods around Hollywood have experienced sharp increases in petty thefts, robberies, shootings and homicides.
On Wednesday, Out Los Angeles City Councilmember Mitch O'Farrell hosted an event to spotlight more aggressive actions being taken by the LAPD and other city officials to stem the uptick in crime in the heart of the City's entertainment district.
"If you plan to come to Hollywood to commit crime, you are not welcome," said Councilmember O'Farrell. "All Angelenos should feel safe where they live and work. By bringing additional LAPD shifts to Hollywood, we are strengthening the holistic approach my office is taking to public safety – one that brings unarmed services to people in distress, while ensuring our LAPD officers have the necessary tools to effectively prevent and address crime."
"If you come here to commit crime, you will be arrested, you will be prosecuted, you will be jailed or imprisoned," said O'Farrell adding; "There is no permissiveness in Hollywood. We're not going to permit or tolerate that."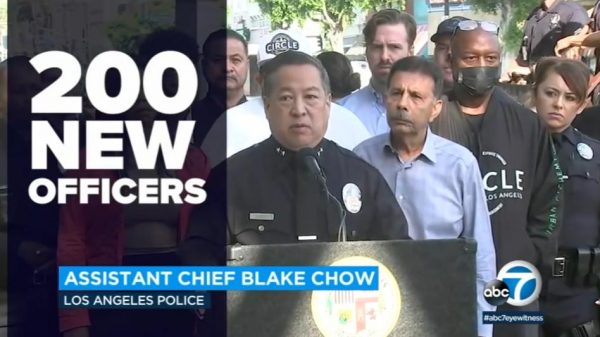 "That's really basically about 200 more officers out on the street here on Hollywood Boulevard. "They're going to be on foot, they're going to be in patrol cars, they're going to be on horseback, they're going to be on bikes," LAPD Deputy Chief Blake Chow told attendees and reporters attending the event.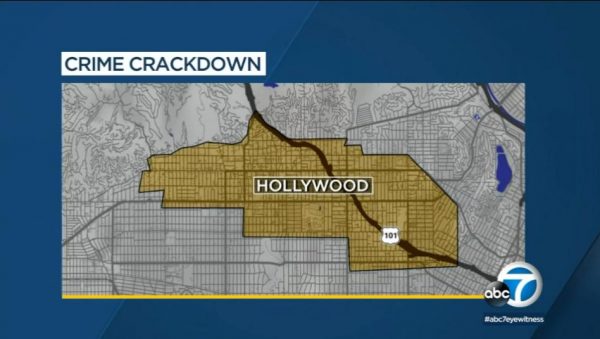 Year to date, Hollywood has seen a 75% increase in homicides and 35.6% increase in shots fired, while robbery and theft have risen by 19.4% and 24.7% respectively, compared to 2021. This latest effort to enhance public safety follows Councilmember O'Farrell's groundbreaking work to bring the CIRCLE program, the City's first unarmed model of crisis response, to Hollywood, in addition to supporting a City budget that accounts for attrition rates within LAPD's ranks.
"People need to feel safe when they're in Hollywood," said Deputy Chief Chow. "We're thankful to Councilmember O'Farrell for these additional resources and look forward to quickly putting them to use to prevent, deter and address crime."
"Public safety requires robust collaboration and an all-hands-on-deck approach," said James Hegler, Director of Operations for the CIRCLE Program. "We're proud of our successful working relationship with Councilmember O'Farrell and LAPD, which helps us bring unarmed services to Angelenos in need so that LAPD can focus their resources on actual crime."
"Public safety is an essential part of a thriving local economy," said Kathleen Rawson, President and Chief Executive Officer of the Hollywood Partnership. "As Hollywood emerges from the pandemic, having officers on the street and available to respond to calls is necessary for our businesses to safely keep their doors open and welcome visitors back to this iconic boulevard."
In addition to deployment of added LAPD resources, O'Farrell on Wednesday introduced a motion that, when approved by the City Council, would strengthen LAPD's presence in Hollywood with additional officer shifts.
The $216,000 effort would be funded directly by O'Farrell's office as part of his comprehensive approach to public safety in Hollywood a spokesperson said in a statement.