Torie Osborn's grassroots activists helping Mark Kelly in Arizona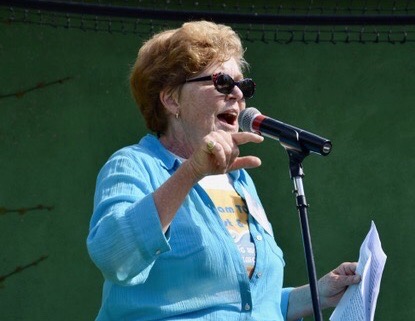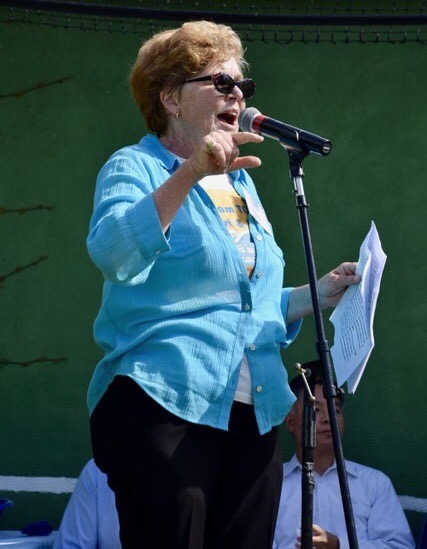 High tech tricks and apps may delight digital campaign groupies but longtime lesbian organizer Torie Osborn is just as certain that the tried-and-true tools of fundraising and personal voter contact through door-knocking are the key to a grassroots campaign strategy. As founder and leader of the Los Angeles-based Team T.O. Resist and Rise!, her campaign tactics are being put to use in the existential 2020 elections.
Concern is growing now, for instance, about how the Democratic nominee for president will impact down-ballot races. Some vulnerable Republicans have already started to link presumptive frontrunner Vermont Sen. Bernie Sanders, a staunch democratic socialist, to their Democratic opponent.
Arizona Republican Martha McSally – who received President Trump's endorsement in her August primary – recently put out an ad featuring Sanders and her Democratic challenger, Mark Kelly.
"Kelly and Sanders, too liberal for Arizona," says the narrator in an ad entitled "Bernie Bro." McSally campaign manager Dylan Lefler underscored the point: "[A] vote for Kelly is a vote for the Bernie Sanders socialist policies of government takeover of healthcare, open borders, and massive tax hikes on the middle class."
Kelly – a retired NASA astronaut and husband of former Arizona Rep. Gabrielle Giffords, a victim of gun violence – has so far only said he would vote for the inevitable Democratic nominee.
"Mark is an engineer, combat pilot, and astronaut running to be an independent voice in the Senate, and he will stand up to anyone in either party when it's right for Arizona," Kelly spokesperson Jacob Peters said in a statement making Kelly sound like the late Arizona Republican maverick Sen. John McCain, whose seat McSally was appointed to fill.
Right now, the Cook Political Report scores the McSally vs Kelly race as a "toss-up" with Kelly ahead in money and the polls. It's a key race for Osborn's resistance group.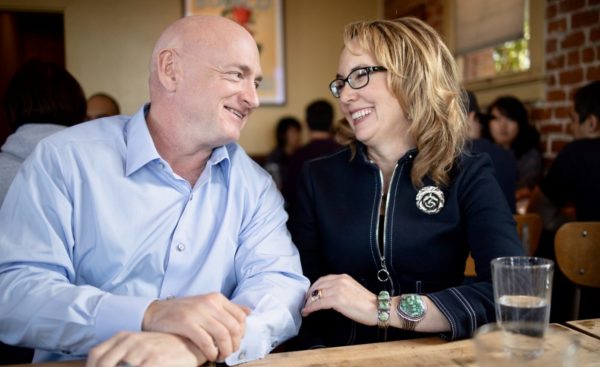 Mark Kelly and Gabby Giffords (Photo from Kelly's website)
"[Republican Senate Majority Leader] Mitch McConnell is the death trap for any good legislation. We must flip the Senate, even if we lose the White House. If we flip the Senate, we can block the orange fascist," Osborn tells the Los Angeles Blade.
Osborn is a progressive organizer, a lesbian-feminist, idealistic-pragmatist who has a long history of serving the LGBTQ and AIDS communities through the LA Gay & Lesbian Community Services Center, the National Gay & Lesbian Task Force, and Liberty Hill. Her paying gig now is as senior advisor/strategist to longtime friend, LA County Supervisor Sheila Kuehl.
"There's a lot of firepower in our fundraising, but the truth is we're a small group," says Osborn, and they're focused on Kelly's race in Arizona as their part in flipping the Senate.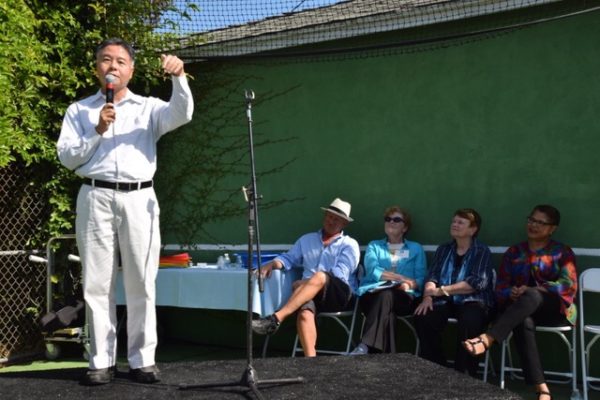 Their fifth "Making Waves for Democracy" fundraiser in conjunction with Westside Democratic HQ, is scheduled for Sunday, March 22nd from 3-5pm at the William Turner Gallery at Bergamot,2525 Michigan Ave., Santa Monica. Former Rep. Gabby Giffords, Rep. Ted Lieu, Rep. Katie Porter and LA County Supervisor Sheila Kuehl will be there. (Find tickets through ActBlue.)
"We're a well-oiled machine on the fundraising at this point," says Osborn. "We've already raised $150,000, which is phenomenal because this is a $50 fundraiser. I think we're going to raise a quarter of a million dollars — and at a $50 event."
Their biggest fundraiser so far was for Blue Wave victors Katie Hill and Harley Rouda in 2018, with a haul of $220,000. In addition to Kelly, Osborn's team is now also raising money and door-knocking for Rouda's reelection in the 48th CD and for Assemblymember Christy Smith, who is running to fill the 5th CD seat vacated by Rep. Katie Hill.
"Here's the thing: I'm more interested in keeping people whole and teaching them skills for the long-term," says Osborn. "At least half our people have never been active in anything before. They are newly woke, largely college-educated, largely women, many lesbians," the unrecognized backbone of the 2018 resistance movement. "That's our people. Half of them have never done anything before. The other half are veterans of the women's movement and maybe HIV/AIDS."
The monthly TTRR (Team T.O. Resist and Rise!) Sunday meetings in Mar Vista are a Trump-free zone.
"We do not talk about Donald Trump. We talk about how to sustain. It's sort of what I've learned from AIDS and over 50 years of activism. We don't focus on the negative. We focus on the positive," Osborn says.
"It's like a political community and we sincerely value selfcare. That's really what I learned from AIDS: When you're fighting for your lives, when you're fighting to build a movement, you must sort of lead from love, even if you have political differences," she says. "And I learned this from fighting AIDS, the only antidote to despair and rage is action."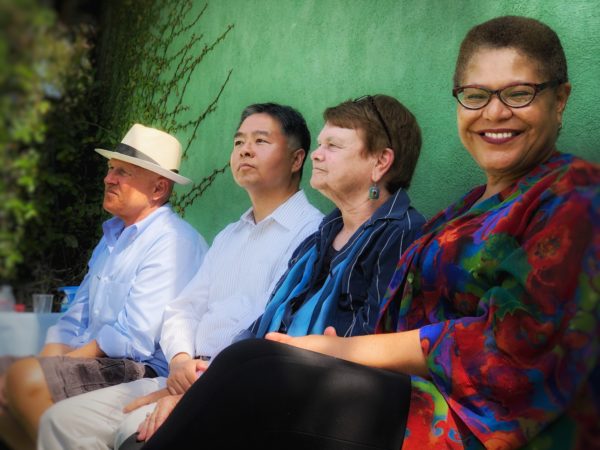 TTRR speakers: out LA City Council member Mike Bonin, Rep. Ted Lieu, out LA County Supervisor Sheila Kuehl, and Rep. Karen Bass (Photo courtesy Osborn)
A lot of TTRR's work "is teaching people that it's the grunt work of politics that wins."
But there's also the parable of the choir. "A chorus can sustain a note for a really long time because people stop and take a breath when they need to. Well, that's what we do," Osborn says. "You do not have to watch Rachel every night. You do not have to know what's going on. You get to take a break."
TTRR members support different Democratic candidates for president – Osborn, for instance, supports Sen. Elizabeth Warren. Some have been angered by the online attacks of the "Bernie Bros" such as the mass snake attack against Warren.
But Osborn is willing to keep an open mind. "I'm not saying there aren't angry young men who are participating, but for the most part that's the Russians," she says. "So, number one, you have to educate people about how they're been manipulated. But number two, we have to keep in mind what's happening. Our country has been stolen by the radical right and this minority of ultra-right, racist, misogynist, homophobic, transphobic people.
"I mean, this is evil. We are up against fascism," Osborn says. "So do you want Donald Trump or do you want whoever the Democrats end up putting forward?"
Osborn has been "on the receiving end of the ugliness of some of the Bernie Bros and it's really scary and it's really awful and it's really misogynist," she says. "But I think there's something going on that we haven't yet identified or articulated or clarified, including myself. So I don't really have words for it. But it is an undercurrent of rage at this system that Bernie [speaks to]. It's kind of similar to what Trump tapped into on the right, but it's getting people.
"Remember 63 million people voted for Trump; 66 million people voted for Hillary and something like 100 million people didn't vote at all," Osborn says. "And it's the nonvoters we'll have to go after. It is the nonvoters that the people who maybe they voted for Obama. It's young people; it's immigrants; it's people of color; it's poor people; it's people who are disaffected," noting that 50% of Latinos who voted for Sanders in Nevada identified as moderate-to-conservative.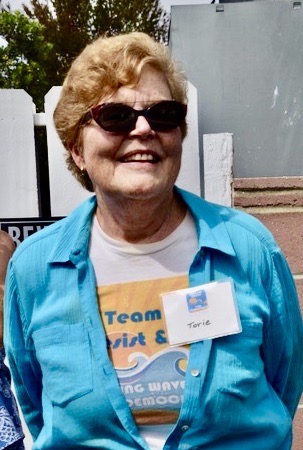 "This is something way beyond the Democratic Party and what the Democratic Party has been able to tap into. This is really an undercurrent of disengagement and disaffection with politics as usual."
So picking a candidate should be less like falling in love and more like riding public transportation.
"If the best bus doesn't take you right to your destination, you take the second best bus. That's the way politics should work," Osborn says. "And right now the thing is to stop Trump and to take the Senate. And there are people who don't think that a Bernie candidacy can flip the Senate. And I just disagree with that. I think it's all about the non-voter."
That's how bisexual Katie Hill won her conservative district by nine points. "How did she do it? She got nonvoters to vote. She had the passion of young people and queer people and women. And she put together a coalition of excited people, many of whom were new to politics and she got them door knocking."
Osborn says TTRR's 6th and final Making Waves for Democracy $50 event will held in the summer after the Democratic nominating convention and TTRR will support the Presidential ticket.
LGBTQ voters need to remember what it was like being a nonvoter. "Think about what excited you," Osborn says, "and then figure out how to get people out to vote. Because the future of our Republic is at stake. This is the most important election of our lifetime."
All photos by Linda Garnets courtesy Osborn. 
PLEASE NOTE: This article has been corrected to clarify that TTRR has not specifically discussed presidential candidates and that unity is a key principle. My apologies for any misunderstanding.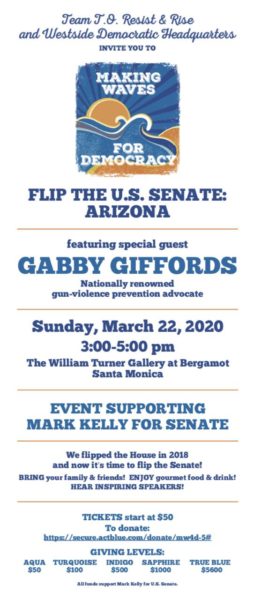 Los Angeles Mayor: Supreme Court decision "fundamentally un-American"
Mayor Eric Garcetti spoke to the Los Angeles Blade reflecting on Friday's U.S. Supreme Court reversal of Roe v. Wade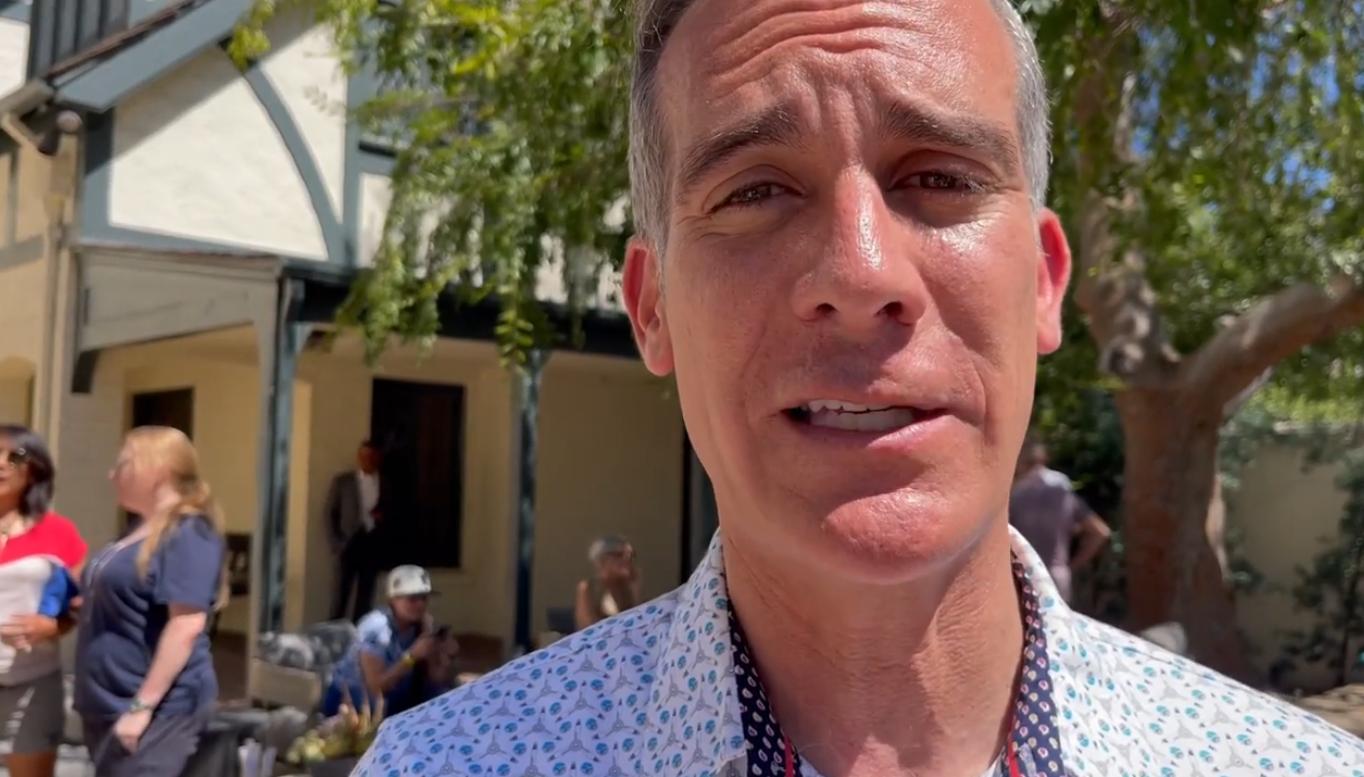 LOS ANGELES – During the Los Angeles Mayor's Pride Garden Party held at The Getty House, the official residence of the mayor Saturday afternoon, Mayor Eric Garcetti spoke to the Los Angeles Blade reflecting on Friday's U.S. Supreme Court reversal of Roe v. Wade.
Garcetti noted that "here in LA we defend those rights" after taking aim at the actions of the high court Friday in the ruling on the Mississippi case of Dobbs v. Jackson Women's Health clinic. "Make no mistake, we have to be active," Garcetti added.
WATCH:
Reminder: 101 closed through DTLA until 10pm Sunday
The closure began at 10 p.m. Saturday and will be completed by 10 p.m. Sunday, the Los Angeles Bureau of Engineering announced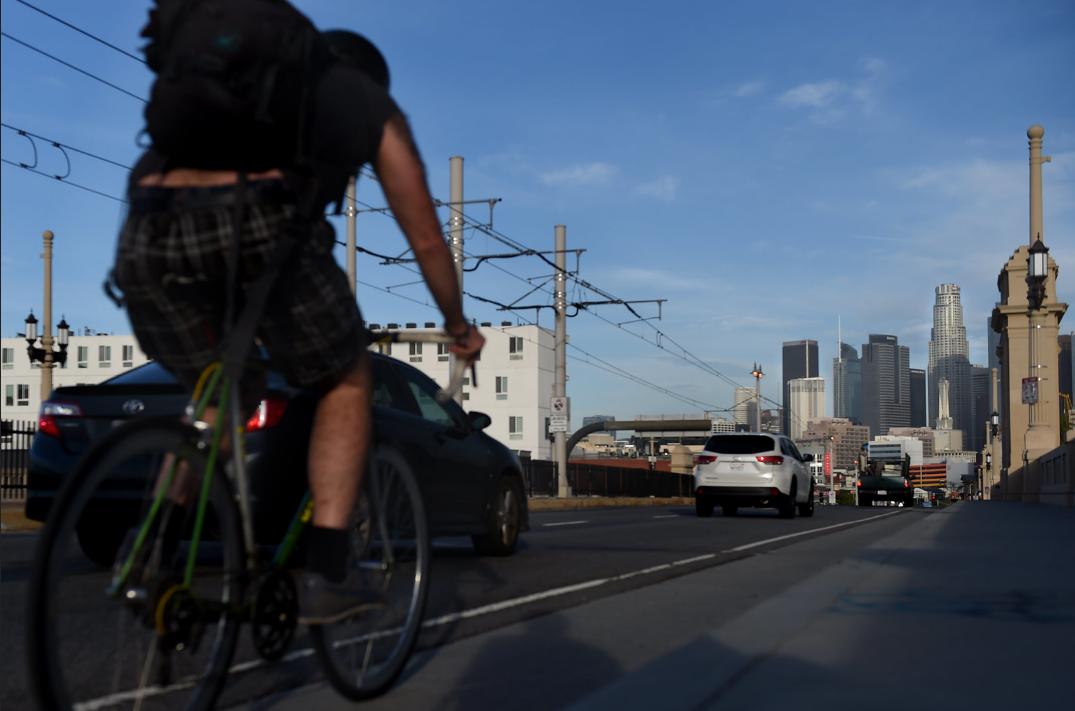 LOS ANGELES – (KTLA) Motorists are being reminded that the stretch of 101 through the downtown area of Los Angeles is shut down for road restoration and reconstruction work.
KTLA reported the closure began at 10 p.m. Saturday and will be completed by 10 p.m. Sunday, the Los Angeles Bureau of Engineering announced.
The 24-hour closure between State Route 60 and the 10 Freeway interchange is needed for the Sixth Street Viaduct Replacement Project, which aims to replace the original, seismically-deficient structure built in 1932, authorities said.
During the closure, the California Department of Transportation will also be doing slab replacement work along the same stretch of the 101 Freeway.
The closure will center around the east side of the viaduct construction site in Boyle Heights. While the stretch is closed, drivers headed west on State Route 60 from the Pomona area will not be able to access the 101, officials said.
Off-ramps and on-ramps in the area will also be closed during as road work gets underway.
Drivers who reach the closure will see signs directing them to a detour.
The new $588 million viaduct is expected to be completed in Summer of 2022, stretching between Boyle Heights and the Arts District.
Officials say it is the largest bridge project in the history of Los Angeles.
LA-DWP & Mayor Garcetti announce new outdoor watering restrictions
Sprinkler watering will be allowed Monday & Friday at odd-numbered addresses in the city, and even-numbered addresses on Thursday & Sunday

LOS ANGELES – In a press conference Tuesday Los Angeles Mayor Eric Garcetti and officials from the Los Angeles Department of Water and Power (LADWP) announced that outdoor watering in the city will be restricted to two days a week starting June 1.
The announcement comes as the Metropolitan Water District of Southern California declared an unprecedented water shortage emergency two weeks ago, imposing restrictions after MWD's board voted to adopt the emergency measures to "reduce non-essential water use" in certain areas. Cities and smaller water suppliers that get water from MWD are required to start restricting outdoor watering to one day a week, or to find other ways to cut usage to a new monthly allocation limit.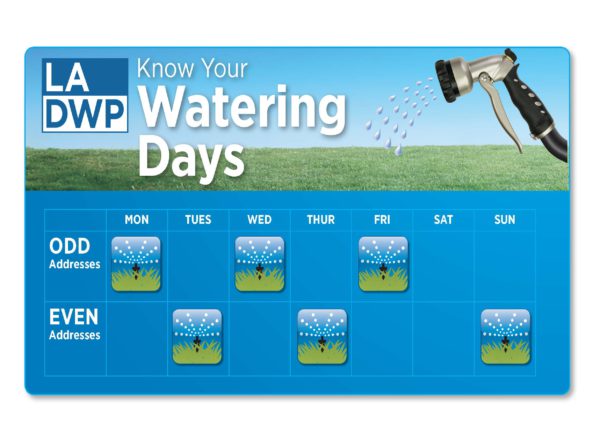 In Tuesday's press conference Mayor Garcetti said L.A.'s two-day limit was still more lenient than the one imposed by the Metropolitan Water District of Southern California, which has ordered many of its member agencies to restrict outdoor watering to once a week.
Sprinkler watering will be allowed on Monday and Friday at odd-numbered addresses in the city, and even-numbered addresses on Thursday and Sunday.