April 10, 2020 at 8:07 pm PDT | by Gloria Nieto
Lessons Phyllis Lyon and Del Martin taught Gloria Nieto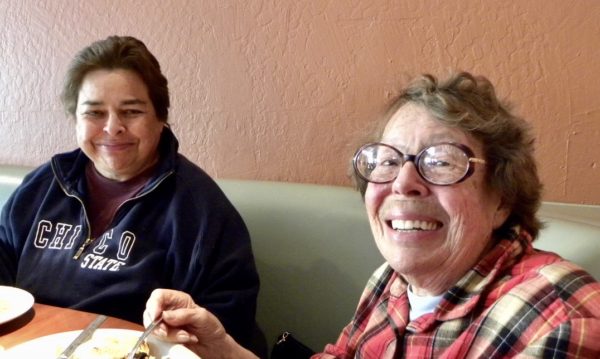 The world was so different then and yet it was the same.
My life was being uprooted by choice, returning to California after living in Santa Fe for 10 years. My mother was getting older, nieces and nephews were growing up and going away. The changes of life.
But yet this job would be really different. I was coming to work at the storied Lyon-Martin Clinic in San Francisco.
Since coming out as a baby dyke while going to Chico State, I had heard the names of Phyllis Lyon and Del Martin. Heroes, pioneers, revolutionary feminists and soon to be marriage equality activists.
Driving in from Santa Fe, I got a phone call from the Board chair, Joan, asking if I could keep going from San Jose to San Francisco for a giant party with stars from the then new TV hit, 'The L Word.' Stories of our lives with actresses, actors who looked like us, dressed like us (ok maybe some of us). The place was packed to the rafters. My life had really changed.
My new bosses took me around introducing me to the guests, VIP types amidst the raging estrogen. No hot flashes for anyone that night!
In the midst of the party, sitting placidly as if this was just another party in the City, were Phyllis and Del. Well, I guess if you have taken on the National Organization of Women, started the first Lesbian group in the country, becoming the first couple married in California, have Nancy Pelosi come to your birthday party, this was just another little get-together to raise money for the clinic I was about to lead.
The first chance that I got to say 'hello' I was swept off my feet by their kindness and grace.  Of course, I invited myself over to their house my first week in the job.  From there, I had a window to their humor, passion, history and passages of life and death.
Once, when I took Del to an appointment at UCSF, we were there for the obligatory three hours. Phyllis was there, of course, and she chatted with the nurses who came through. When one of the nurses recognized them, he got things rolling quickly and throughout thanked them for their lifetime of activism.  A couple more members of our tribe came by to see if they needed anything and of course, to thank them.
During this visit I figured I had a chance to ask them questions. Both were open about their opinions, likes and dislikes and of course, some history.
What was your relationship with Harvey [Milk, the assassinated gay Supervisor]?
My memory of their answer: "We got along fine, but it's not like gay men and lesbians were socializing very much together at that time. We didn't have many common political goals, except liberation. Everyone wanted to socialize with other gay men or lesbians. Eventually that changed, especially with the AIDS pandemic."
What about Congresswoman (and current Speaker of the House) Nancy Pelosi?
My memory of their answer: "We worked on different projects together, starting with mailing parties. She was just getting started in politics and was at the Democratic Party mailing parties, licking envelopes and putting stamps on campaign mailers."
What were your memories of starting the Daughters of Bilitis?
My memory: "WE had a lot of fun! It was usually at our house and a lot of times it became a dance party.  Back then we couldn't be out in public, so we closed the drapes and danced!"
They remembered there was a transgender woman who came to the meetings a few times. "She couldn't figure out what we were doing. I guess she thought we were going to talk about knitting or recipes and all we wanted to talk about was sex. So, the visitor didn't come back after a couple of meetings."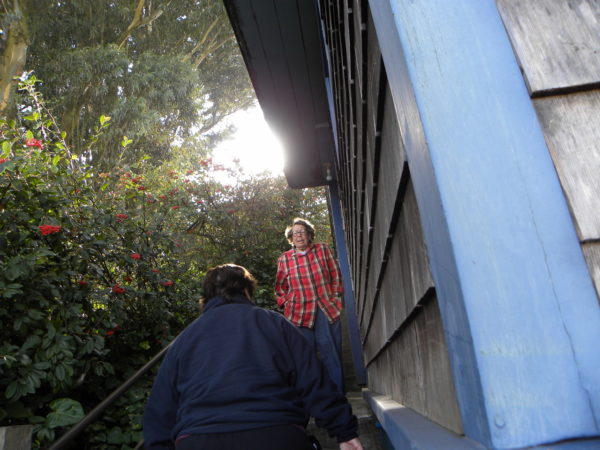 There were a couple of times I would go get Phyllis and bring her to San Jose or Santa Cruz to give a talk. I only needed to ask a question and she was off and running. Lots of laughs, loads of history and Phyllis being Phyllis.
At a San Jose event a young man who had just come out to his employer at Marriott and been fired, got up and told his story. Phyllis could not have been more supportive, encouraging him to stand up for himself. That he wasn't alone, and we were there to support him. The light shone in his eyes, he was moving towards his own liberation with Phyllis Lyon, like hundreds of others before him and many more coming still.
There were a couple of interactions with Phyllis and Del that taught me some important lessons. In my experience, I was always aware of their core values: equality for all, protecting hard won rights for women, and later in life, the need for the LGBTQ communities to have access to the same rights and rites as the rest of the country, specifically marriage.
First lesson: When I first moved back to California, I had been on the Democratic National Committee (DNC). I am the first Latina Lesbian to address a Presidential convention. I was part of a small group of gays and lesbians to meet then- President Clinton in the White House. Now I was the Director of Lyon-Martin Clinic. I thought I was hot stuff.
Then Howard Dean informed me I was not going to be appointed back onto the DNC. I was devastated. The next time I went to visit them I was really upset about this turn of events.
Know what their response was? Nothing.  A shrug of the shoulders. The lights went on in my muddled brain. It didn't matter. My life would go on, there would be other things to deal with (like Prop 8) and it was all smoke and mirrors anyway. What was real were these two women who had continued to live life in a profoundly loving and truthful way.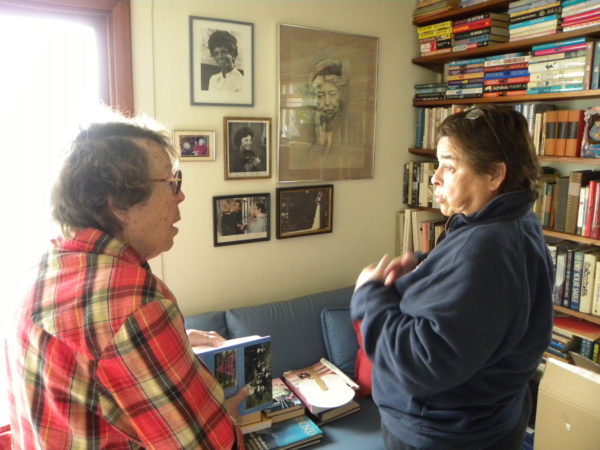 One of my later visits, after Del had passed, I was trying to get comfortable on a chair in the living room. Phyllis noticed and said, "Go sit over there," pointing to Del's chair. I was horrified! "But that's Del's chair!!! Her response? "Well she's not here anymore."
Now Phyllis is not here anymore. I will never see San Francisco from their living room again. No sitting at their feet like a Buddhist acolyte. No going to lunch or bringing her lunch.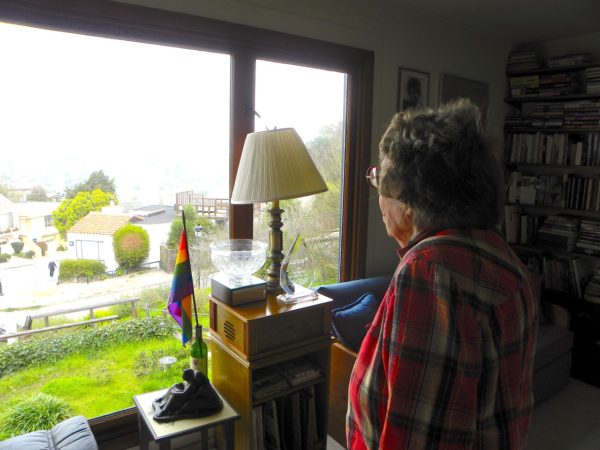 I had not communicated with her in a long time. I was diagnosed with Stage 4 colon cancer in Sept. 2018. I had a long road in front of me with chemo, then surgery, then recovery.  Knowing she was sliding down the well of dementia, I didn't want to burden her with my news.
Upon hearing that she wasn't doing well, I called this week. She was asleep and had been all day. I figured she was done. I asked the caregiver to tell her I loved her.
Now that she has departed, I will always have a special spot in my heart for two of our first warriors. We are all lucky that we have lived in the time of Phyllis and Del.
Dance together forever, Mothers of our movement.
You will always be remembered.
Gloria Nieto is a long time Latina LGBT activist.