Christy Smith faces Trump super fan in May 12 special election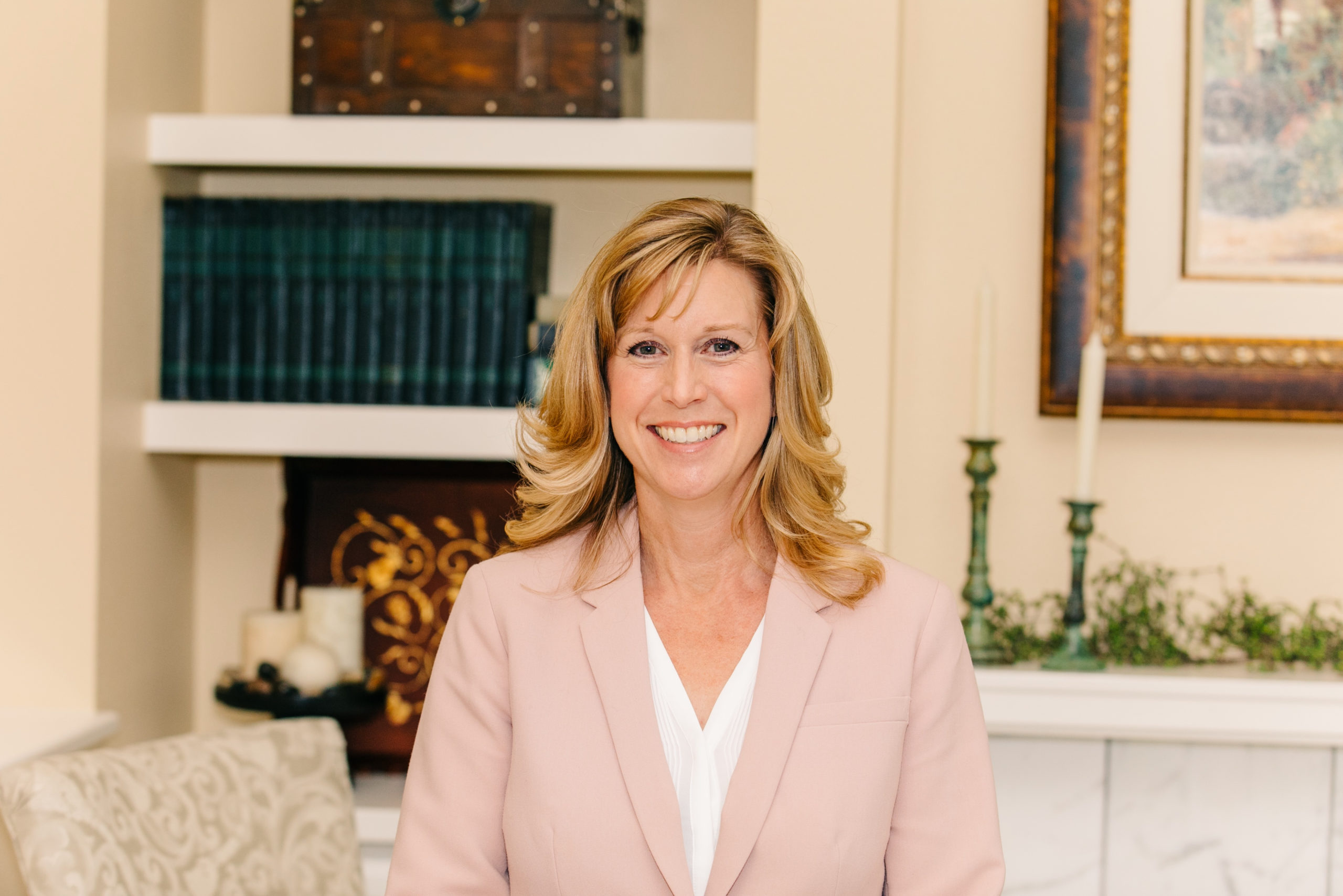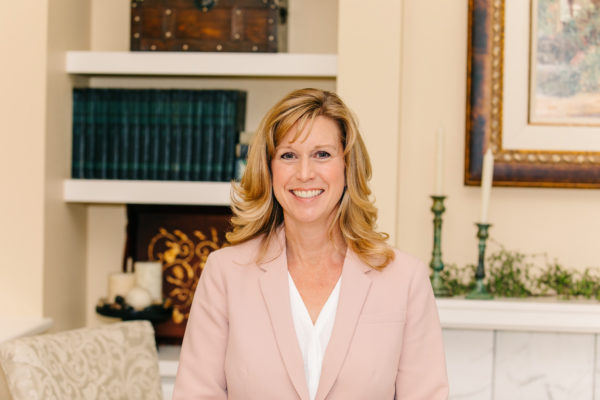 The contrast couldn't be more stark. Assemblymember Christy Smith is bright, effusive and clearly enjoys engaging with her community in campaign ads shot before the stay at home order. Mike Garcia loves fighter jets and his family. Voters with mail-in ballots must decide by May 12 which candidate will better represent the 25th congressional district in filling out former Rep. Katie Hill's term.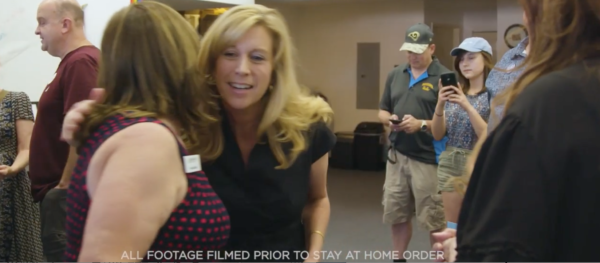 The Los Angeles Times April 17 endorsement is straightforward.
"There's no question which candidate is better prepared to step into the debate and help shape smart policy. That's state Assemblywoman Christy Smith, a quietly accomplished and centrist Democrat whose background includes stints as a U.S. Department of Education policy analyst and as a longtime member of the Newhall School District board. Her experience guiding a school district through the last economic downturn and now the state through its pandemic response makes her uniquely qualified for precisely this job at precisely this moment," said The Times.
"Smith's opponent, by comparison, is simply not a good fit for Congress at any moment," with the editorial noting that Republican Mike Garcia's "nice backstory…doesn't translate into legislative competence."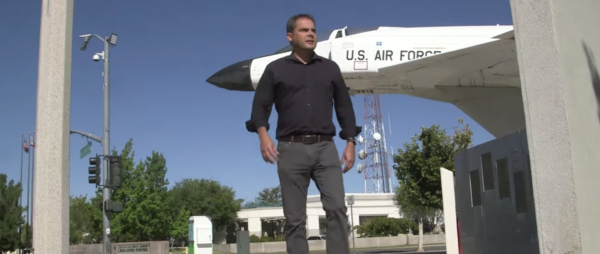 Perhaps unsurprisingly, after several Garcia supporters chimed in on Twitter about proving the LA Times wrong, on April 20, President Trump pecked out two tweets endorsing Garcia, the second of which hyped the Second Amendment: "[Garcia] is Strong on Crime, the Border, and the Second Amendment. Mike has my Complete and Total Endorsement!"
"Thank you @realDonaldTrump for your support. I am running to keep this nation safe, lower taxes, grow jobs and to ensure we protect the Constitution through all times!" Garcia tweeted. He later added: "It is crucial to know the difference between the candidates, especially during times of crisis. I'm a former fighter pilot who believes CA taxes are out of control."
"Like most voters in our community, I trust and prefer the endorsement of our doctors, nurses and firefighters," Smith said in response. "Donald Trump is failing to provide testing to millions of Californians and encouraging citizens to go against the advice of public health professionals, putting their lives at risk, and delaying the re-opening of our economy."
She, meanwhile, is completely focused" on getting "protective equipment to medical personnel, financial assistance for workers who have lost their jobs, and funding our health care system to lower costs."
Smith's campaign posted an online video with Trump on the coronavirus side by side with Garcia. "I think Trump is a good President," says Garcia. "No, I don't take responsibility at all," says Trump. "Everyone should have to figure out how to fend for themselves," says Garcia.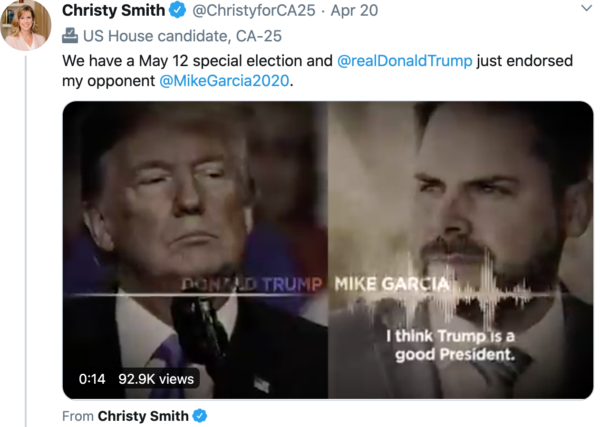 Smith criticized Trump for encouraging supporters to protest, to "LIBERATE" three states. "While millions of Californians are staying home to protect their families, emergency responders & frontline workers, @realDonaldTrump's remarks spurred reckless protests that could jeopardize public health for all," she tweeted. "I saw this firsthand in Sacramento today."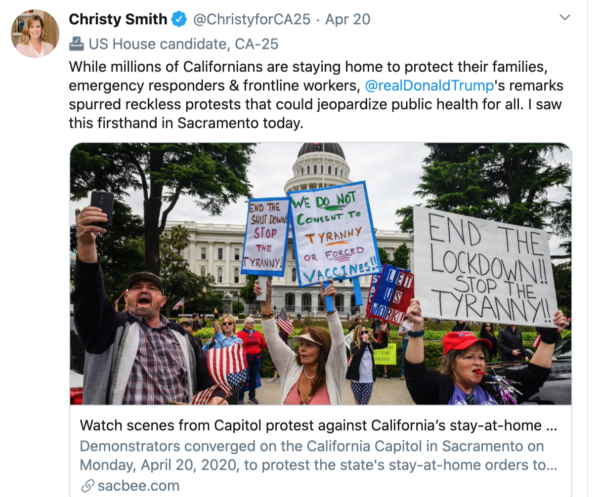 Smith was at the Capitol for the Legislative Budget SubCommittee Hearing on COVID-19.  As the daughter of a nurse, she applauded the nurse "patriots" who tried to block the unmasked, ungloved protesters.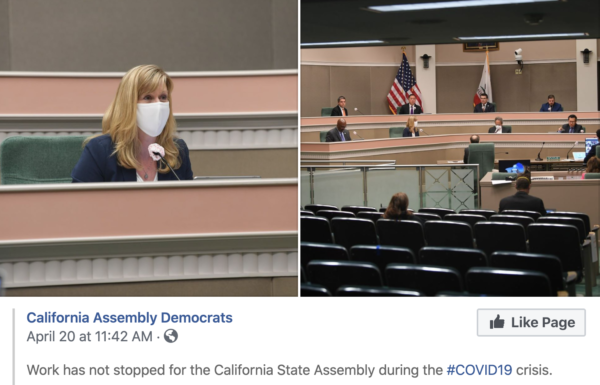 That day, April 20, Los Angeles County reported preliminary results from a new scientific study suggesting that coronavirus infections "are far more widespread – and the fatality rate much lower – in L.A. County than previously thought," according to a county press release. "The research team estimates that approximately 4.1% of the county's adult population has antibody to the virus," says the release, "which translates to approximately 221,000 to 442,000 adults in the county who have had the infection."
On April 21, Yahoo News reported that the protests were organized around the country by Trump Republican groups, including a longtime political advisor to the wealthy family of Secretary of Education Betsy DeVos, the leader of an organization called Minnesota Gun Rights, and InfoWars screamer Alex Jones.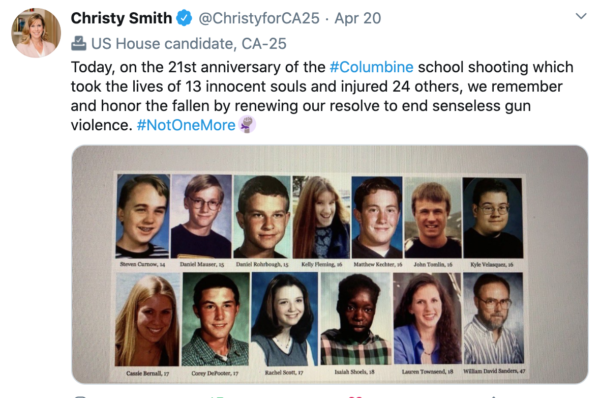 But April 20 was important to Smith for another reason: it was the 21st anniversary of the Columbine school shooting, "which took the lives of 13 innocent souls and injured 24 others, we remember and honor the fallen by renewing our resolve to end senseless gun violence. #NotOneMore."
Garcia offered no similar sympathy post.
In an April 22 phone interview, the Los Angeles Blade asked Smith if she was concerned that Trump's promotion of the Second Amendment might be dangerous. She noted that her 25th CD has "a decidedly strong common-sense advocacy around gun control" with local high schools creating chapters of the March For Our Lives movement, as well as a strong and sizable Moms Demand Action group.
"While a number of us respect responsible gun owners' rights, there is also a much, much greater proportion of the community who believes the time is now to take greater action, especially because one of the most recent school shootings that occurred prior to the COVID crisis and more people staying at home was at Saugus High School," in Santa Clarita.
So, says Smith, Garcia's "not going to get a lot of traction fighting about that issue in this district." Additionally, "Donald Trump lost this district in 2016 by six points, and he was rebuked here again in 2018 when Democrats won this congressional seat. So, there is no love lost here for the president and his positions on a number of issues."
In fact, says Smith, "the bulk of his platform is that he is a Trump loyalist. He's not really putting forward any policy solutions on anything related to housing, or health care, environmental concerns, LGBTQ rights, women's equity rights. So, I think for lack of an ability to formulate what it is he believes in and what he's going to be fighting for, he just says he'll stand with the president. In particularly in this moment, that's not enough."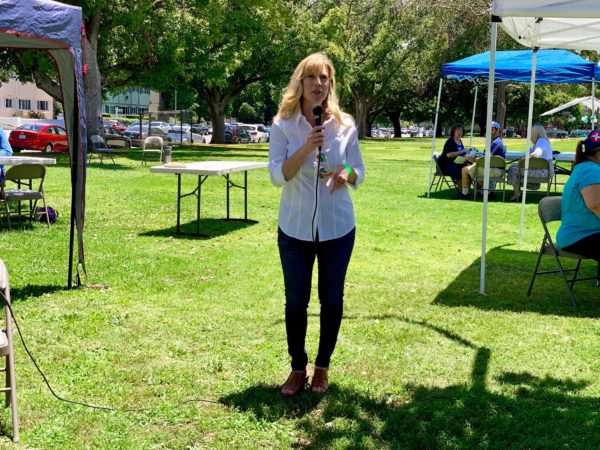 Photo of Christy Smith by gay political activist Michael Colorge (via Facebook)
Meanwhile, work continues in the State Legislature, including work-arounds the unintended consequences of AB5 that was supposed to help gig workers, freelancers and independent contractors but has instead hurt by disallowing access to unemployment and other safety net funding.
"So, the good news on AB5 is a couple of things. At this time where a lot of those businesses, restaurants, performing arts spaces are closed anyway as a function of the Cares Act, independent contractors, 1099 employees are afforded through something called the PUA (Pandemic Unemployment Assistance),inability to qualify for unemployment insurance. That includes in California, the $600 a week add on. It was also part of the Cares Act," says Smith.
"On April 28, that link will be available to people across California to go on to EDD and apply for that financial support now, regardless of their current employment status, if at any point recently they have been an independent contractor or 1099 employee, they'll be able to qualify. We're being told that those qualifications, once everyone has their data in the system, will be given within 24 to 48 hours. So, help is on the way there."
Smith says "progress has been made on negotiating on changes to AB5, particularly with freelance and for people in the different areas of the entertainment industry. Those fixes, according to the bill's author, Lorena Gonzalez, will be added to a bill with urgency for when the legislature returns on May 4th, and so those will be added and moved on pretty quickly. We will continue to monitor that."
Gov. Gavin Newsom must make the decision about whether to suspend or set AB5 aside during the crisis. "But I think there's never been a more critical moment and more critical time that proves that — regardless of what happens with that bill going forward — we know that workers need these job protections. Because in crisis moments like this, people need to be able to access unemployment benefits, they need to have healthcare protections, they need to have return to work rights."
"When workers are misclassified or they are out of the employment systems because employers aren't adhering to those regulations, a lot of people end up getting hurt," says Smith. "I heard somebody brilliantly say it a few weeks ago that crises like this, a pandemic fractures society along known fault lines. We definitely now know that one of those big fault lines in our employment system was those with rights and benefits and those without. Both sets of workers working equally hard, but some left out of the greater benefit of having some of those protections. So, I think it's a conversation that will continue, but I am excited that we've made some progress, especially on the industries that are most impacted in Southern California, and we will continue to work on that."
Smith says that she "completely agrees" and is "very, very happy" about the letter sent by California LGBT Legislative Caucus leaders Sen. Scott Wiener, and Assemblymember Todd Gloria asking Newsom to start LGBT healthcare data collection during the novel coronavirus crisis and will ask to have her name added to the roster. "That was one that didn't end up in front of me, but I was glad that it happened," she says.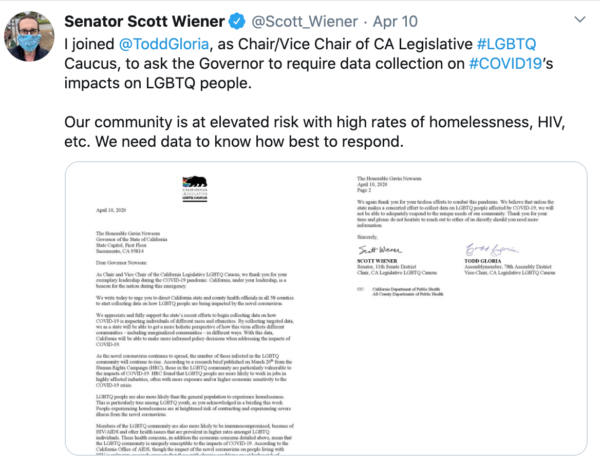 Smith is also concerned about how the COVID-19 crisis is impacting non-profits.
"The work for the nonprofit community is important for two vital reasons, one of which is that they are a significant part of our social safety net in everything from provision of healthcare services to food support and housing support services. These are essential aspects of support in the time of crisis that are really urgently need it," says Smith.
"But secondarily, they are one of California's, in particular, largest employers," she says. "About 15% of California is employed in the nonprofit sector. So, to not support nonprofits in this moment would be shortsighted from the perspective, not only losing the services, but also losing the really important employment that comes along with it."
Smith "completely supports" Rep. Adam Schiff's effort to get large non-profits such as the Los Angeles LGBT Center included in the Federal Reserve loan program.
"I completely support that. Large nonprofits and small. The LGBTQ Center, in particular, you know the number of folks that that helps day in, day out — to lose those vital and critical services would be a huge loss. To lose those 800 employees and the economic benefit that comes from that would be a huge loss," Smith says.
"But here in the 25th CD, we have a cancer support organization and it does just enough every year to support those people on the healthcare margins. They are almost entirely out of money, yet they're helping patients who now find themselves jobless and without their healthcare coverage," she says. "Just last week they sent down almost the rest of their remaining funds paying for a year's worth of chemotherapy treatment to a patient who had just become unemployed, but couldn't get that treatment from the hospital unless she paid up front. So, there are very real life impacts that are happening from our nonprofits struggling right now."
Smith, who has a strong background in education, is also concerned about how to help marginalized students in minority neighborhoods during coronavirus pandemic.
"I've been part of conversations with legislative colleagues around how we continue to make sure that families in need — and that children in need, in particular — still have avenues to check in with the caring adults in their lives who usually are there through that physical school setting, but that they're still having that opportunity. It's been a very high priority for our state's teachers to check with their kids, even the ones that don't have that wifi connectivity or the technology. There are teachers all over the state making calls to homes to check in with kids, but in particular, with respect to those kids who struggle because they do find that homebase at school, I'd say it's incumbent on all of us who care to continue to push out that resource publicly in places where we can so that they know where those support centers are. They know those phone numbers they can call just to check in with someone if they are struggling."
Not just students, but teachers, too, need help.
"We recognize the significance of our schools as part of that vital social safety network. Kids on the margins are checking in with adults. They're being seen by people who will know something is a little bit off and can help direct that child to get the help and support that they need. Having that opportunity be lost in this moment is really hard. I know I've talked to a number of teachers and it's incredibly hard on our teachers right now," she says. "They are really feeling it in profound ways; they're struggling with it because they do the job because they care. It's been hard."
Smith says the legislature is moving in the direction of supporting more tele-health services – something Smith has incorporated in her own congressional campaigning.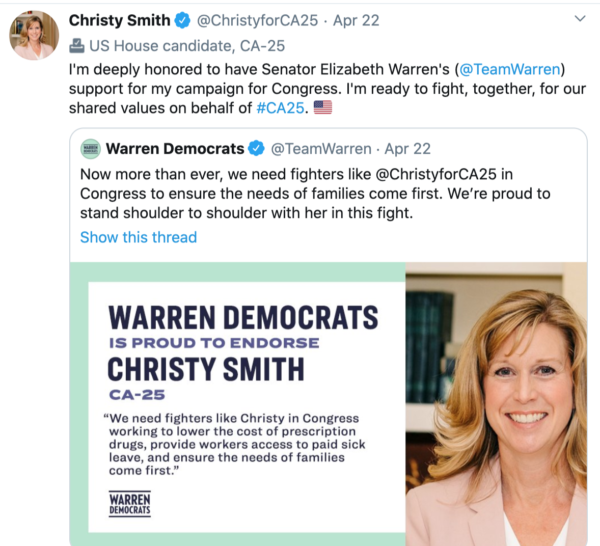 "This is just a part of our team ethos now that we're campaigning in an environment where we are calling people who have been at home and suffering through the challenges of this unusual isolation," Smith says. "I've equipped anybody who's volunteer phone banking for me with resource hotlines and information. We start every call to voters with, 'Hi! First of all, we want to know how you're doing.' If the conversation moves in a direction where that person needs additional help, needs those resources, we point them in that direction. I am grateful that I have such an amazing and wonderful field team — there have been a couple of these calls now where we needed to call someone back a little bit later and say, 'Just checking in on you. Wanted to make sure everything's moving along okay.' So, we take that role very, very seriously.
"This is about more than winning an election. This is about a very unique opportunity for us to be there as a support for our community," Smith says. "But having grown up in a family where there was both mental health issues and domestic violence, it is an issue that is very near and dear to my heart and ever front of mind for me and something I'm going to continue to look at from both the policy perspective and then the work and advocacy that I do directly in the community."
Despite her clear connection to the community, Smith says the race is still close because Democrats traditionally skip voting in special elections. She wants to reverse that trend.
"I just appreciate people to stay tuned to this May 12 election," she says. "Please engage, if you can. If you have friends, family members who live in the district, urge them to vote because the thing that will make the difference in this election is if our voters get those ballots in. That's it. That's the single most important thing."
If you want help with remote phone banking, go to: https://www.mobilize.us/mobilize/event/263189/
Meet the director of Johns Hopkins Center for Transgender Health
Dr. Fan Liang, is the medical director of the Johns Hopkins Center for Transgender and Gender Expansive Health in Baltimore, Maryland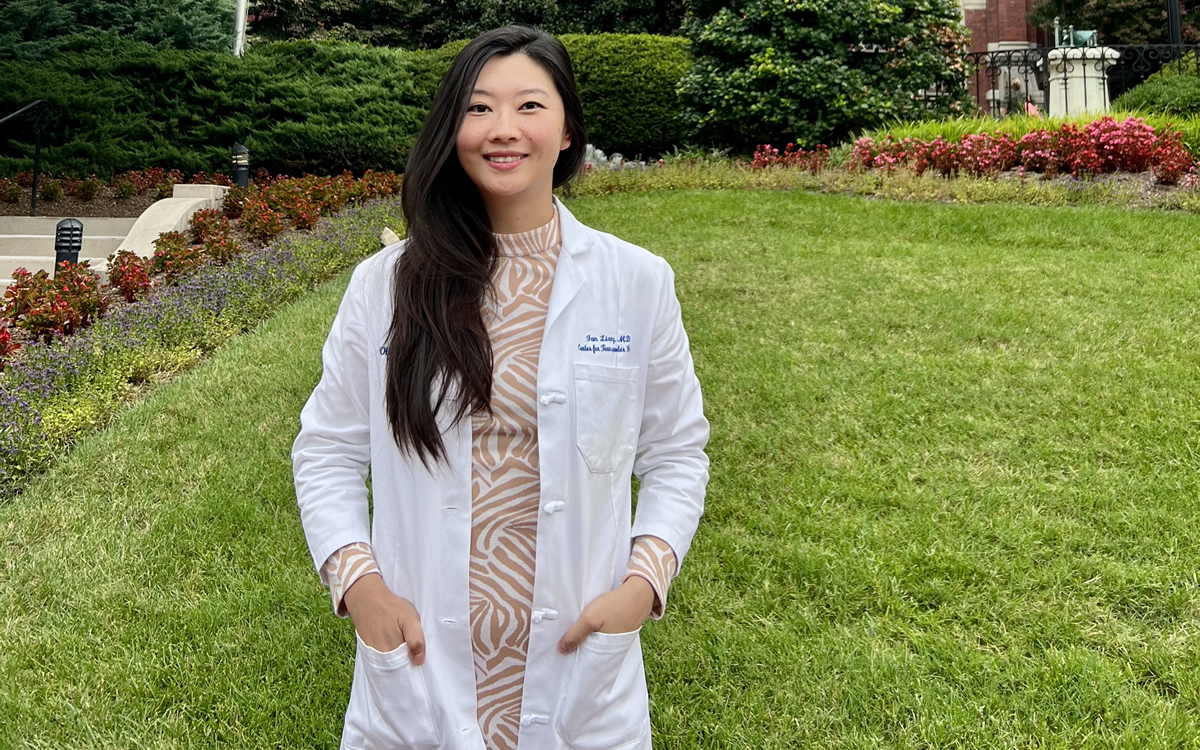 BALTIMORE – The topic of gender affirming healthcare has never attracted more attention or scrutiny, presenting challenges for both patients and providers, including Dr. Fan Liang, medical director of the Johns Hopkins Center for Transgender and Gender Expansive Health and assistant professor of plastic and reconstructive surgery.
Speaking with the Washington Blade by phone last week, Liang shared her perspective on a variety of topics, including her concerns about the ways in which media organizations and others have shaped the discourse about gender affirming care.
Too often, she said, the public is provided incomplete or inaccurate information, framed with politically charged and polarizing language rather than balanced and nuanced reporting for the benefit of audiences who might have little to no familiarity with the topics at hand.
"This is an evolving field that requires input from many different types of specialists," Liang noted, so one issue comes when providers "start to comment outside of their scope of practice, or extrapolate into everybody's experience."
A more intractable and difficult problem, Liang said, is presented by the fact that, "issues with transgender health have really taken center stage with regard to national politics, and as a result of that, the narrative has really been reduced to an unsophisticated representation of what's going on."
"I think that is dangerous for patients and for the community that these patients live in and have to work in and survive in because it paints a picture that is really inaccurate," she said.
Conservative state legislatures across the country have introduced a record number of anti-LGBTQ bills this year, passing dozens, including a slew of anti-trans healthcare restrictions. The Human Rights Campaign reports 35.1 percent of transgender youth now live in states that have passed bans on gender affirming care, many of which carry criminal penalties for providers.
A big part of the Center's work, Liang told the Blade, involves working closely with trans patients and organizations like Trans Maryland and the Trans Rights Advocacy Coalition "to make sure that the community's voices are being heard, so that we're able to represent those interests here."
She described "a generalized sense of anxiety and fear," concerns that she said are "pervasive throughout the community," over "access to surgery and to overall gender healthcare."
"I get a lot of questions about that," she said.
While Liang has not yet worked with any patients who traveled to the Center because gender affirming care was banned in the states where they reside, she said, "I do anticipate that will happen in the relatively near future."
Challenges for clinicians
The political climate "really interferes in physician autonomy and basically using our training and discretion to provide the best therapies that we can," based on research and evidence-based guidelines from medical organizations on best practices standards of care, Liang said.
"I earnestly believe that people who go into medicine try to do right by their patients and try to provide exceptional care whenever they can," she said. "When I speak to other providers who are engaged in trans care, the reason they entered the field was because they saw patients that were suffering and had no other providers to go to and they were filling a need that desperately needed to be filled."
"It is unfortunate that their motives are being misinterpreted, because it is causing significant emotional harm to these providers who are being targeted," Liang said, noting "there is so much vitriol from the anti-trans side of things," including "this narrative out there that physicians are providing trans care because of financial reasons or because of some sort of politically motivated, I don't know, conspiracy."
The political climate, along with the realities of practicing in this speciality, may threaten to stem the pipeline of new providers whose practice would otherwise include gender affirming care, said Liang, who serves on the interview board for incoming residents who are looking to specialize in plastic surgery.
Many, perhaps even most, she said, are eager to explore transgender care, often because, particularly among young trainees, they are friends with trans and non-binary people. "I don't know how much of that interest persists as they move through the training pipeline, because — especially if they are at an institution that does provide trans care — they do see a lot of the struggles that physicians encounter in being able to offer these services."
Liang noted the "significant hurdles from an insurance standpoint" and the "significant prerequisites in order to access surgery," which require "a tremendous amount of back-end coordination and optimization of the logistics for surgical readiness."
"And then," she said, "they see a lot of the backlash in the media against trans providers, and I think that that does discourage residents who otherwise would be interested in the field because physicians, by and large, are a pretty conservative bunch. And having them start their practice where they're sort of stepping into a political minefield is not ideal."
Speaking up can be beneficial but risky
"Some physicians feel like they can make the most amount of impact by being advocates for the patient population on a national stage or being more vocal about how anti-trans legislation has been impacting their patients," Liang said.
"My goal, as the director for the Center for Transgender Health here at Hopkins is really to normalize this care to allow for the open conversation and discussion amongst providers to create a safe space for people to feel comfortable providing this care," she said.
Destigmatizing gender affirming care and connecting clinicians who practice in this space will help these providers understand they are not "functioning in isolation" and instead are part of "a national effort and a nationally concerted effort toward delivering state-of-the-art health care," Liang said.
"It's important," she said, to "bring the generalized healthcare community to the table in offering these services and have a frank discussion when it comes to education, research and teaching."
Other providers, however, "do not feel comfortable putting themselves into that place of vulnerability," Liang said, "and I don't fault them for it because I personally know people who've received death threats and who have been targeted because of what they say to the media," in many cases because their comments were reported incorrectly or out of context.
In July, Liang participated in an emergency trans rights roundtable on Capitol Hill with representatives from advocacy groups like the Southern Poverty Law Center and the Transgender Law Center, as well as members of Congress including U.S. Reps. Mark Takano (D-Calif.), Barbara Lee (D-Calif.), and Sara Jacobs (D-Calif.).
She told the Blade it was "a really wonderful experience" to "hear the heartfelt stories" of the panelists advocating on behalf of themselves, their friends, and their families, earning the attention of members of Congress.
"I do think advocacy is important," Liang told the Blade. "I try to make time for it when I can," she said, "but I have to balance that with all of my other clinical obligations."
Finding compassion and lowering the temperature
On Aug. 1, The Baltimore Banner reported that the director of the Mayor's Office of LGBTQ Affairs in Baltimore filed a discrimination complaint with the city's Office of Equity and Civil Rights against the Hopkins Center for Transgender and Gender Expansive Health.
Asked for comment, Liang said "it was an upsetting article to read," adding, "I was upset that there wasn't more due diligence done to investigate a little bit further" because instead the article presents "just this one person's account of things."
She noted there is "not much I can say from a physician standpoint because everything is contained within HIPAA," the federal Health Insurance Portability and Accountability Act, which prohibits providers from even acknowledging which patients they may or may not have worked with.
The Banner article underscores the importance of journalists' obligations to "make sure there is due diligence to confirm sources and make sure things are accurate," Liang said, including, of course, when covering complicated and politically fraught subjects like gender affirming care.
"On the one hand, it's really wonderful that there's a fair amount of press being dedicated to trans issues around the country," Liang said, but what is "frustrating for me is these conversations always seem to be so loaded and politically charged, and there doesn't seem to be much space for people to ask earnest and honest questions" without taking heat from either side.
There is "compassion to be offered for patients who are struggling to receive basic health care" as well as for "people who are struggling to understand how this issue is evolving," those for whom the matter is "uncharted territory" and therefore likely to "cause consternation and fear," she said.
"Most of the time, the way to overcome" this is to cultivate "relationships with people who do identify as transgender or non-binary" on the grassroots level, she said, while leaving room "for people to ask earnest and honest questions."
Removing the artificial "us-versus-them" paradigm provides "opportunity for more compassionate interactions," Liang said.
At the same time, she conceded, amid the heightened polarization and escalation of an anti-trans backlash over the last few years, efforts to fight sensationalization with compassion and understanding have often fallen short, presenting hurdles that have long plagued other areas of science and medicine like abortions and vaccines.