April 17, 2020 at 3:33 pm PDT | by Karen Ocamb
Schiff petitions Federal Reserve to help large non-profits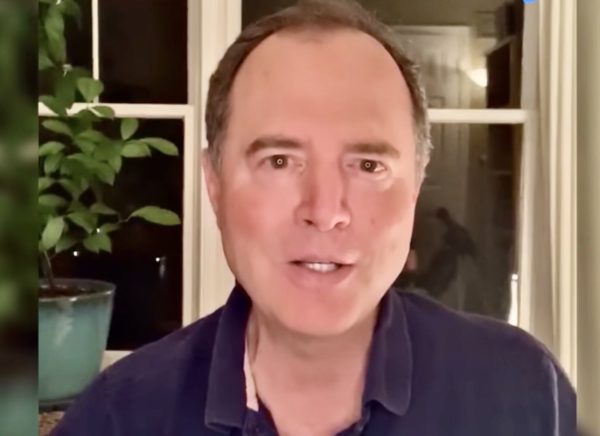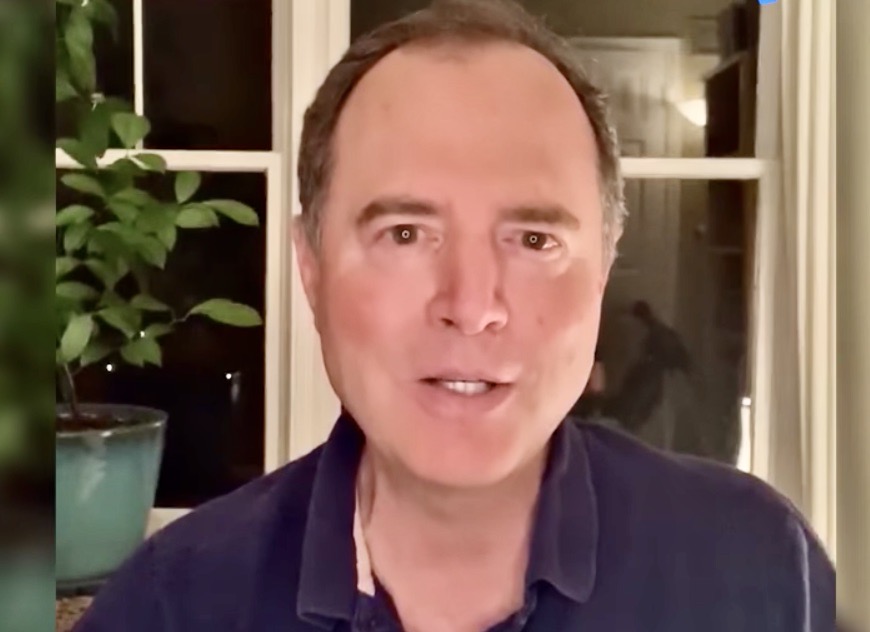 Rep. Adam Schiff working from home (screen grab from Facebook)
If there is ever a time when a federal elected official needs to fulfilled their sworn duty to represent their local constituents, it's during a global pandemic. Some are better than others, especially in communicating with the public and making decisions remotely under the COVID-19 stay-at-home mandates that could extend until the end of summer.
People are afraid, especially out of work gig, contract and independent workers who do not generally qualify for regular unemployment insurance. Rep. Adan Schiff, whose congressional district ranges from Burbank to West Hollywood, has been especially concerned about helping constituents in the hospitality, food and beverage, tourism and entertainment industries. Under pressure from Schiff, the Labor Dept. made changes to comply with the CARES Act to create a new federally-funded Pandemic Unemployment Assistance (PUA) program to provide unemployment benefits for those left jobless by the COVID-19 crisis but, for a myriad of reasons, do not have access to unemployment benefits, as he explains on his Facebook page.
But apart from being a hero to many as the Ranking member, then the Chair of the House Intelligence Committee and leader of the House impeachment hearings, Schiff is also well known as an elected official who knows, cares about and truly represents his constituents, especially those in the LGBTQ community.
On April 17, Schiff sent a letter to the chair of the Federal Reserve, which operates independent of the White House, asking for help for large non-profits with more than 500 employees that are not covered by or cannot access other emergency relief plans such as the Payroll Protection Program.
Schiff's letter to Federal Reserve Chair Jerome H. Powell urges the Fed to ensure large nonprofits, as well as small and medium businesses,  are eligible to receive loans from the Main Street Lending Program.
"Like businesses, many larger nonprofits have seen existing revenue streams severely cut at a time when the need for charitable services is growing, and are faced with difficult choices about cutting services or laying off employees," Schiff writes.
"I am concerned that nonprofit entities, that millions of Americans rely on, will therefore be left out of the relief Congress intended in the CARES Act," he writes. "Therefore, I strongly urge the Federal Reserve to include nonprofits institutions as eligible for the Main Street Lending Program, and to ensure that they can fully access the assistance it provides."
Such an action directly impacts such large LGBTQ non-profits as the Los Angeles LGBT Center.
"The Congressman called me on my cell at the very start of this when there were only a few diagnosed cases in LA to see how we were doing and if there was anything he could do to help," LA LGBT Center Chief of Staff Darrel Cummings tells the Los Angeles Blade. "Shortly after the Cares Act, we let him know that the 500 staff cap meant that we would not qualify for the PPP," Cummings says. "He began working on this issue right away and became (again) our champion.  This letter is but one example of the leadership he is showing."
Here's Schiff's entire letter:
The Honorable Jerome H. Powell
Chair
Board of Governors
Federal Reserve
2001 Constitution Ave NW

Dear Chair Powell:

As you work to finalize and implement the Main Street Lending Program, I write to request that you include nonprofits as eligible to receive loans under this lending facility. Like businesses, many larger nonprofits have seen existing revenue streams severely cut at a time when the need for charitable services is growing, and are faced with difficult choices about cutting services or laying off employees. The Coronavirus Aid, Relief, and Economic Security Act was passed to provide relief to entities impacted by the pandemic, and assisting large nonprofits is well within Congress's intent.

Nonprofits with fewer than 500 employees may be eligible for assistance under Small Business Administration administered programs, but larger entities likely cannot access programs like the Payroll Protection Program. I am concerned that nonprofit entities, that millions of Americans rely on, will therefore be left out of the relief Congress intended in the CARES Act.

Therefore, I strongly urge the Federal Reserve to include nonprofits institutions as eligible for the Main Street Lending Program, and to ensure that they can fully access the assistance it provides.

Thank you in advance for your consideration of this urgent matter.

Adam B. Schiff

Member of Congress