April 28, 2020 at 2:26 pm PDT | by Karen Ocamb
Alleged homophobe Sandra Spagnoli is out as Beverly Hills Police Chief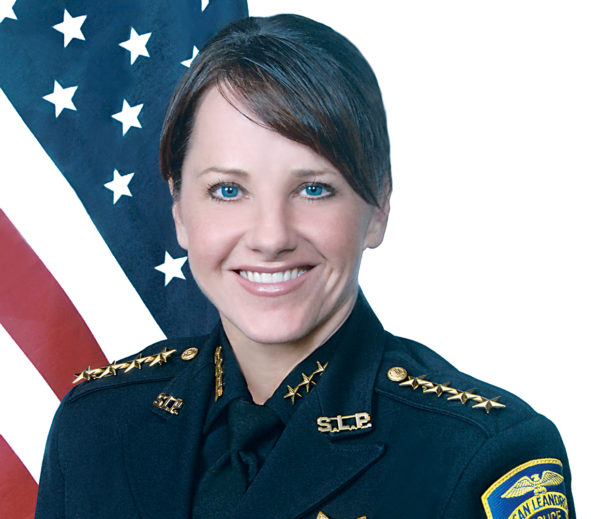 It took four years and millions of dollars but finally the City of Beverly Hills is parting ways with Police Chief Sandra Spagnoli. The alleged homophobe is officially retiring on May 15, but the Los Angeles Times reports that she's taking vacation time between now and then.
Spagnoli's arrival on March 4, 2016 from her previous post as police chief in the City of San Leandro was greeted with much fanfare, including a gushy feature in Vogue, as the first female police chief for Beverly Hills and a welcome self-described "change agent" after BHPD Chief Dominick Rivetti.
But the brassy glow began to tarnish two years later as the 35-year law enforcement veteran – who held a master's degree in Public Administration and a BA in Human Services Management – became the subject, with the city, of multiple lawsuits filed by 21 current and former BHPD civilian and uniformed employees.
The Los Angeles Blade first reported on Spagnoli in Jan. 2019 after the LA Times reported that the city and the chief settled a lawsuit alleging racism and anti-Semitism for $2.3 million in Dec. 2018. Former BHPD Capt. Mark Rosen, the highest-ranking Jewish person in the department, accused Spagnoli of denying him promotions and making anti-Semitic remarks, such as calling yarmulkes "funny little hats."
"I submit to you an insurance company isn't going to pay $2.3 million unless it believes we have demonstrated a very strong case," Rosen's attorney Bradley Gage told The Times.
But the city's mayor and city council gave Spagnoli good reviews for what they perceived was an improved restructuring of the BHPD. An internal assessment also found that "the majority of its employees were satisfied with the way the agency was being run," The Times reported.
At least 21 current and former BHPD department employees, however, were unsatisfied and filed civil lawsuits or internal complaints accusing Spagnoli of a range of harassment, racism, and sexual misconduct.
Spagnoli flatly denied the sexual misconduct allegations and said she was "not racist" but didn't deny she'd made racist comments. "When you implement change," she told The Times, "you create some waves within an organization, which is what has happened here."
The Blade focused on lawsuits alleging anti-gay/lesbian discrimination and retaliation filed by two out lesbian civilian employees and the police supervisors who supported them.
"What we see is a pretty consistent pattern of pretty awful behavior," attorney Eric Gruzen told the LA Blade. Gruzen represented lesbian Lisa Weller, a civilian traffic control officer since Sept. 2001 who was promoted to Supervisor in March 2015.
"Spagnoli regularly made disparaging remarks about lesbians in the workplace," Weller's lawsuit alleged. "On one occasion while referencing lesbian women, Spagnoli stated: 'the thought of what they do together makes me sick.'" A LA County Superior Court judge later dismissed her lawsuit.
Gage represented lesbian Dona Norris, the department's civilian public safety communications and evidence manager. As part of Rosen's lawsuit alleging retaliation, Gage presented "undisputed facts" filed Aug. 31, 2018 in Superior Court included a declaration from  Lt. Shan Davis: "Lt. Davis refused to lower the evaluation of a lesbian employee over 40 years old when Spagnoli asked him to do so. In response, Spagnoli called him disloyal." Davis said he "believed Spagnoli's order was based on Norris' sexual orientation.
Davis also declared and testified in court last June, that Spagnoli said "eww" and "gross" upon learning Norris is a lesbian; said "Don't let her touch me;" and said "Don't let her get next to me in the [department] photo," among other harassing and bullying behavior.
In Feb. 2019, Spagnoli called Los Angeles LGBT Center CEO Lorri Jean to say she wasn't a homophobe.
"Essentially she was defending herself against the allegations," Jean told the LA Blade. "I felt that it was critical that an independent investigation be conducted into the allegations," and that Spagnoli "make a statement at the very least about what was acceptable and not in the operation of the Beverly Hills Police Department. She needed to make it crystal clear that discrimination of any kind—including against lesbian, gay, bisexual and transgender people—would not be tolerated," considering LGBTQ residents and the many LGBTQ events held in Beverly Hills.
That didn't happen. The city stuck by Spagnoli as lawsuits went forward. Then, on July 9, after almost three days of deliberation, a jury awarded Gage's clients Norris, Davis and BHPD Lts. Renato Moreno and Michael Foxen, who also alleged retaliation, collectively $1.1 million for workplace harassment but not for discrimination.
Beverly Hills, Gage said, "needs to realize that there is a problem in the 90210 that needs to be corrected, and the fact that so many other people are coming forward — with a jury finding four different employees are victims of harassment or retaliation — that's significant."
In Oct. 2019, a Superior Court judge overturned the jury's award of damages to Davis, saying there was no evidence to support the verdict.
"It's "mind-boggling to me" why the City of Beverly Hills continues to employ the police chief who has been accused of using derogatory terms for people…all kinds of offensive statements and behavior," including "forcing male employees to have sex with her or they get no promotion," Gage, who worked with attorney Dan Stormer on Sgt. Mitch Grobeson's groundbreaking lawsuit against the LAPD, told the LA Blade.
The latest lawsuit against Spagnoli and the City was filed in the LA Superior Court on March 30 in which Sgt. Scott Dibble alleges harassment and retaliation.
Spagnoli "has been accused of sex with various different subordinates. Employees who engaged in sexual relations with the Chief were promoted. Those, like plaintiff who refused the quid pro quo were retaliated against, discriminated against and harassed. The City of Beverly Hills has recently paid over $7,300,000.00 in lawsuits for discrimination, harassment and/or retaliation. The number is expected to raise," Gage wrote in the Dibble lawsuit. "In a recent police chief's meeting, Spagnoli was referred to as a Sexual predator, for good reason."
"To me, any employer who retains someone as long as they did in the face of so many different lawsuits from so many different long-term employees who had never brought claims of discrimination, retaliation or harassment ever in their long careers is very telling. Why did it take so long to get rid of the chief?" Gage asked.
While the LGBTQ community may not hold glitzy galas in Beverly Hills for months to come, hopefully the City of Beverly Hills will select a more culturally competent chief next time.