Pelosi: 25th election 'historic opportunity' to send Trump a message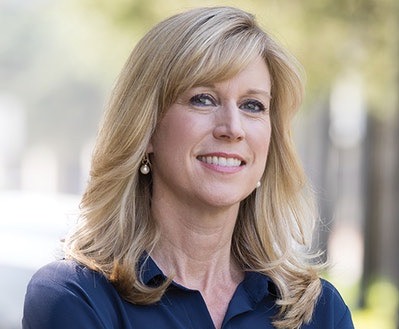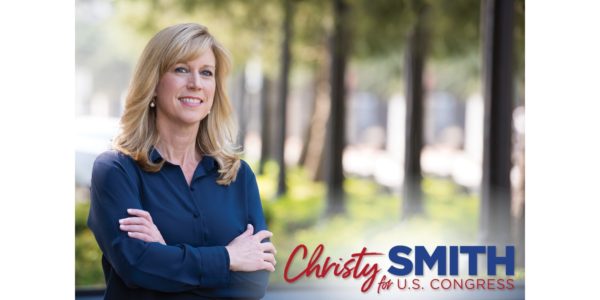 "Today is the day. Right now, voters in California's 25th District are choosing their next member of Congress," House Speaker Nancy Pelosi said in an early May 12 fundraising email. "I know today is a historic opportunity to send a message President Trump and his Republicans can't ignore: Democrats aren't letting up, not one bit."
On the day when the US Supreme Court is hearing oral arguments over the release of President Trump's taxes and Dr. Anthony Fauci is telling a Senate subcommittee about the "serious" consequences of opening up the country too soon and the likelihood of a second wave of COVID-19 this fall, politicos are watching for telltale signs of voter turnout in the 25th congressional district's special election between Democratic Assemblymember Christy Smith and Republican candidate Mike Garcia to fill the seat vacated by former Rep. Katie Hill.
As a result of the easy spread of COVID-19, California Gov. Gavin Newsom ordered all elections be Vote By Mail (with prepaid postage), though specific voting centers would be open, adhering to strict safety measures, to accommodate same day voter registration, ballot drop-off and in-person voting. After Los Angeles County Registrar-Recorder/County Clerk Dean C. Logan worked with the LA County Democratic Party and the Republican mayor of Lancaster to open an in-person Voting Center to accommodate the city's black and Latino voters, Trump and the National Republican Congressional Committee went ballistic, claiming the Democrats were trying to "steal" the election from Garcia. Logan has since announced seven safe and accessible Vote Centers are open in the Santa Clarita, Palmdale, Lancaster area.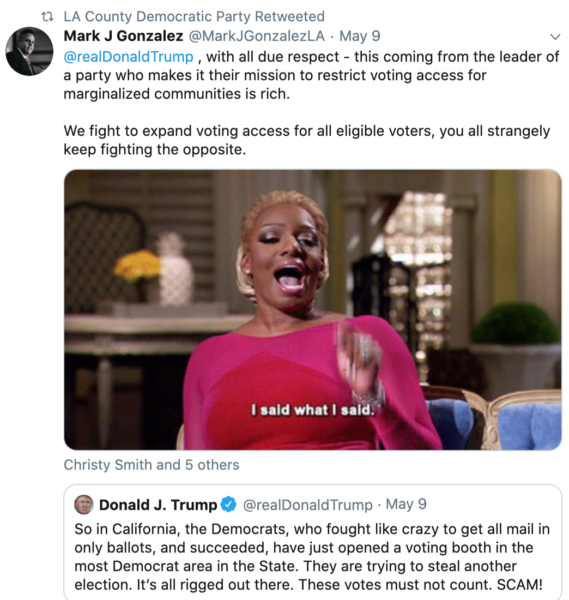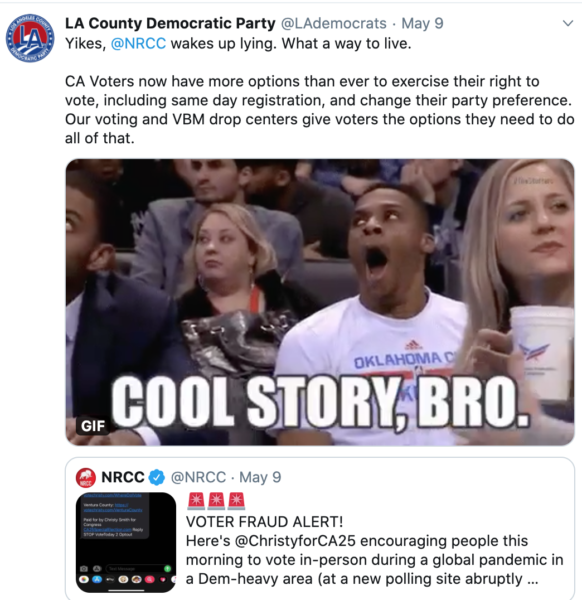 The election is critical for California. Garcia, a former fighter pilot with no legislative experience, is an avid, unquestioning Trump supporter at a time when Trump is narcissistically temperamental and quixotic and governors are begging the federal government for financial help.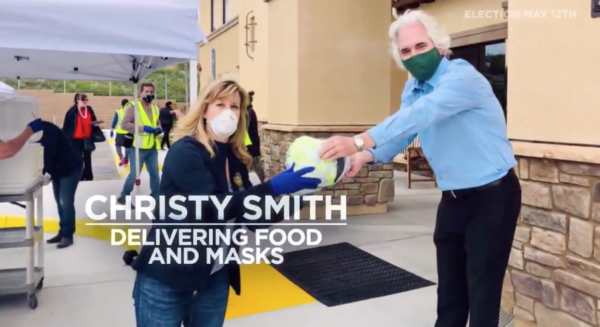 Assemblymember Smith, on the other hand, is not only running a congressional campaign and serving her community but is also working on the California state budget during this time of fiscal crisis.
The LA Times underscored how crucial this moment is with a re-stating of their endorsement for Smith. "Special elections traditionally get lower turnout than regular elections. But there's too much riding on the outcome of the special election race for 25th Congressional District, which stretches through Simi, Santa Clarita and Antelope valleys, for voters to sit this one out. The winning candidate will be dispatched to Washington, D.C., immediately and will be thrust into what may be the most consequential debate of his or her career: how to recover from the COVID-19 pandemic," says The Times, noting that "the editorial board has enthusiastically endorsed" Smith while Garcia "is woefully unprepared" and relies "on flogging the usual conservative tropes of protecting freedom, reducing taxes and fighting the 'Democrats' dangerous socialist agenda.'"
What Garcia has is major GOP support during a special election "with the propensity of Republican voters to turn out more reliably than Democratic ones," says The Times.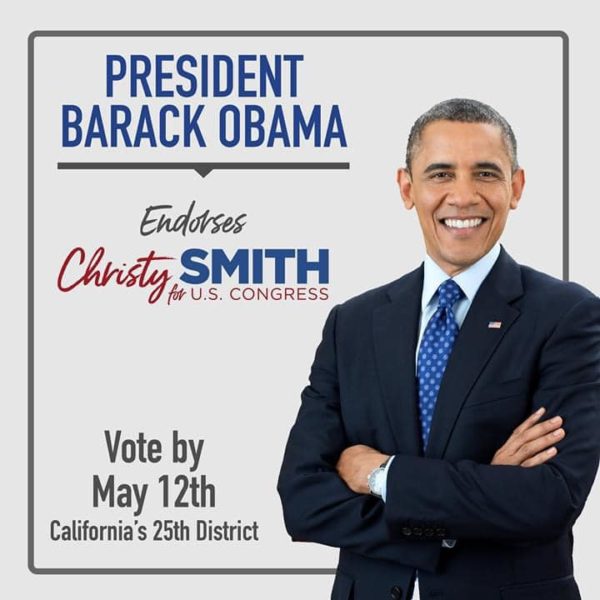 And while Smith has the backing of former President Obama, current presidential candidate Joe Biden and former presidential candidate and Sec. of State Hillary Clinton, Garcia has Trump, who, The Times points out, "tweeted over the weekend and again Monday morning the specious accusation that Democrats are trying to steal this election. And how are they attempting this heist? In the usual way: by making it easier for people to vote….We encourage voters to ignore the partisan noise and simply vote for the objectively superior candidate, Smith. And do it now."
But the May 12 special election is an historic opportunity to send another important message to Trump and his bullies: women aren't going away, no matter how nasty the sexism may get.
Smith posted a sample of what she's had to endure, representing the hopeful return to civilized behavior: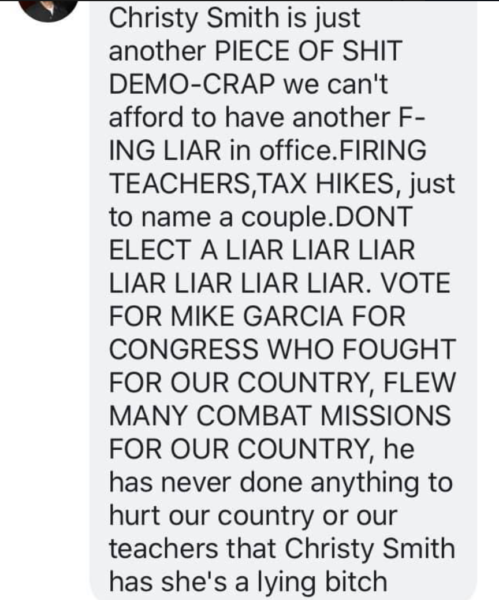 Today is an historic opportunity to make voting count.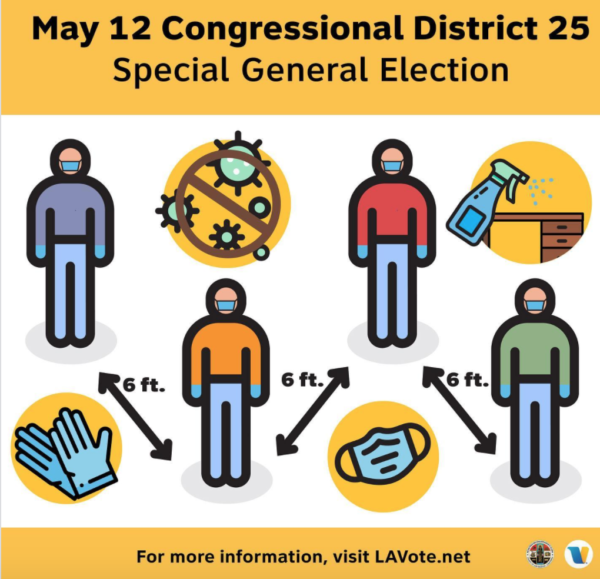 Los Angeles Mayor: Supreme Court decision "fundamentally un-American"
Mayor Eric Garcetti spoke to the Los Angeles Blade reflecting on Friday's U.S. Supreme Court reversal of Roe v. Wade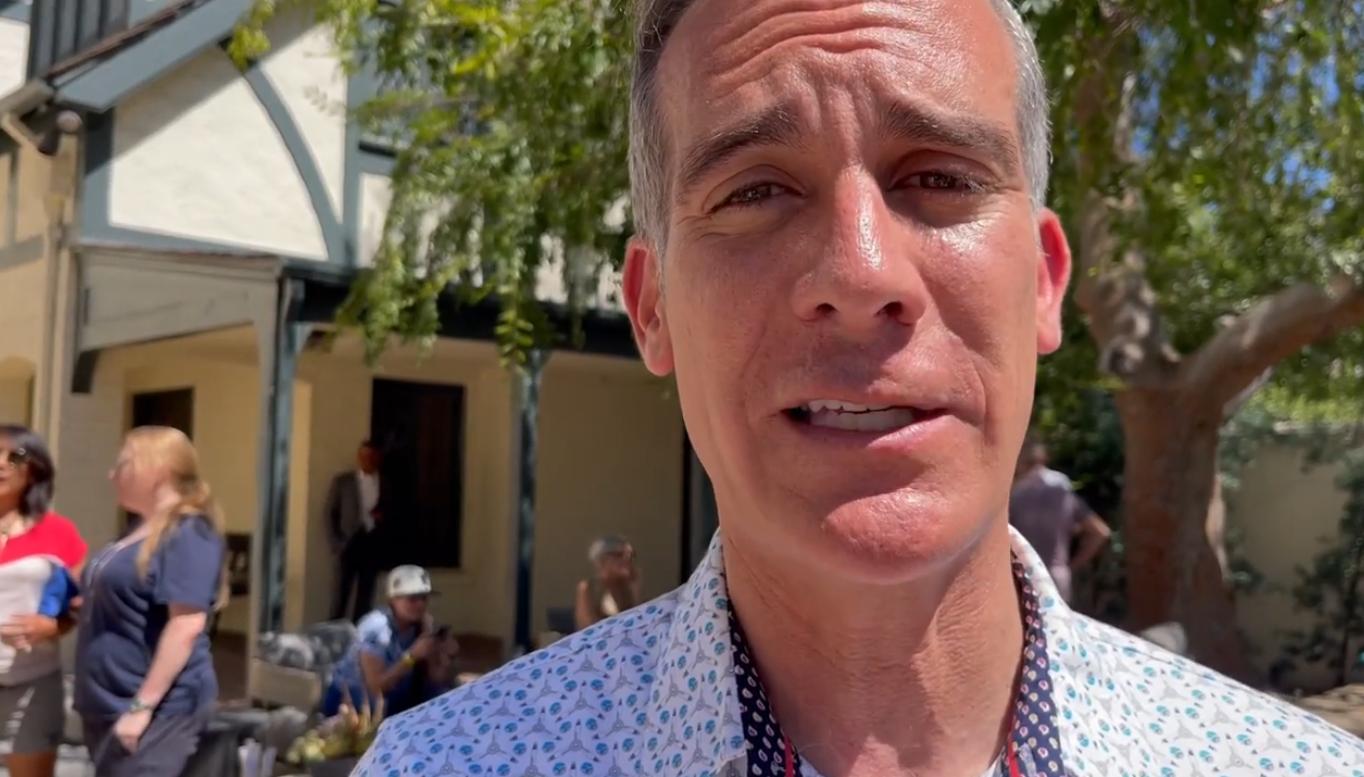 LOS ANGELES – During the Los Angeles Mayor's Pride Garden Party held at The Getty House, the official residence of the mayor Saturday afternoon, Mayor Eric Garcetti spoke to the Los Angeles Blade reflecting on Friday's U.S. Supreme Court reversal of Roe v. Wade.
Garcetti noted that "here in LA we defend those rights" after taking aim at the actions of the high court Friday in the ruling on the Mississippi case of Dobbs v. Jackson Women's Health clinic. "Make no mistake, we have to be active," Garcetti added.
WATCH:
Reminder: 101 closed through DTLA until 10pm Sunday
The closure began at 10 p.m. Saturday and will be completed by 10 p.m. Sunday, the Los Angeles Bureau of Engineering announced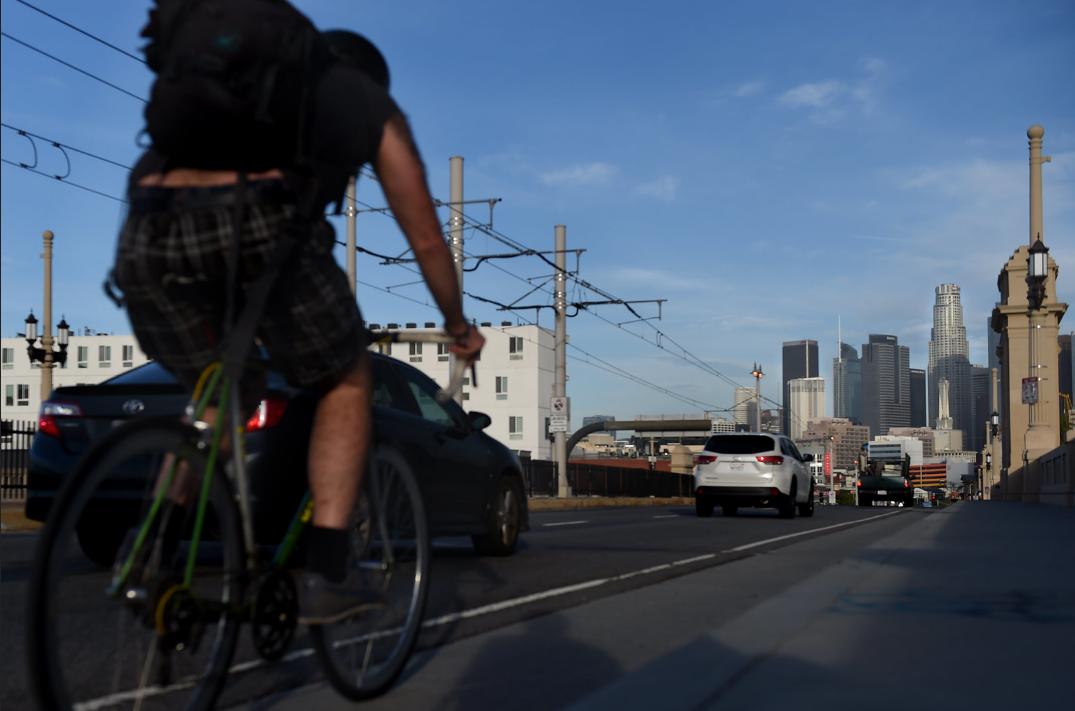 LOS ANGELES – (KTLA) Motorists are being reminded that the stretch of 101 through the downtown area of Los Angeles is shut down for road restoration and reconstruction work.
KTLA reported the closure began at 10 p.m. Saturday and will be completed by 10 p.m. Sunday, the Los Angeles Bureau of Engineering announced.
The 24-hour closure between State Route 60 and the 10 Freeway interchange is needed for the Sixth Street Viaduct Replacement Project, which aims to replace the original, seismically-deficient structure built in 1932, authorities said.
During the closure, the California Department of Transportation will also be doing slab replacement work along the same stretch of the 101 Freeway.
The closure will center around the east side of the viaduct construction site in Boyle Heights. While the stretch is closed, drivers headed west on State Route 60 from the Pomona area will not be able to access the 101, officials said.
Off-ramps and on-ramps in the area will also be closed during as road work gets underway.
Drivers who reach the closure will see signs directing them to a detour.
The new $588 million viaduct is expected to be completed in Summer of 2022, stretching between Boyle Heights and the Arts District.
Officials say it is the largest bridge project in the history of Los Angeles.
LA-DWP & Mayor Garcetti announce new outdoor watering restrictions
Sprinkler watering will be allowed Monday & Friday at odd-numbered addresses in the city, and even-numbered addresses on Thursday & Sunday

LOS ANGELES – In a press conference Tuesday Los Angeles Mayor Eric Garcetti and officials from the Los Angeles Department of Water and Power (LADWP) announced that outdoor watering in the city will be restricted to two days a week starting June 1.
The announcement comes as the Metropolitan Water District of Southern California declared an unprecedented water shortage emergency two weeks ago, imposing restrictions after MWD's board voted to adopt the emergency measures to "reduce non-essential water use" in certain areas. Cities and smaller water suppliers that get water from MWD are required to start restricting outdoor watering to one day a week, or to find other ways to cut usage to a new monthly allocation limit.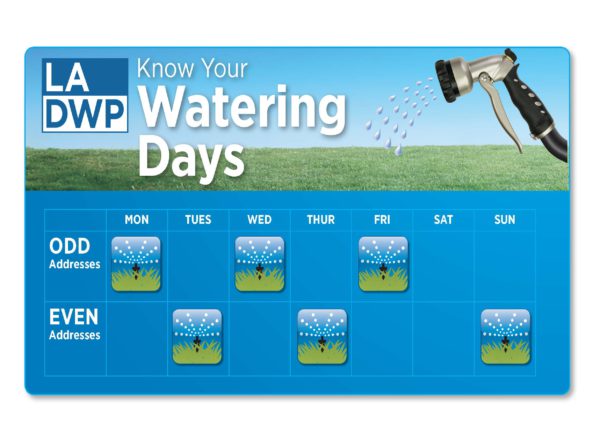 In Tuesday's press conference Mayor Garcetti said L.A.'s two-day limit was still more lenient than the one imposed by the Metropolitan Water District of Southern California, which has ordered many of its member agencies to restrict outdoor watering to once a week.
Sprinkler watering will be allowed on Monday and Friday at odd-numbered addresses in the city, and even-numbered addresses on Thursday and Sunday.