Pelosi: 25th election 'historic opportunity' to send Trump a message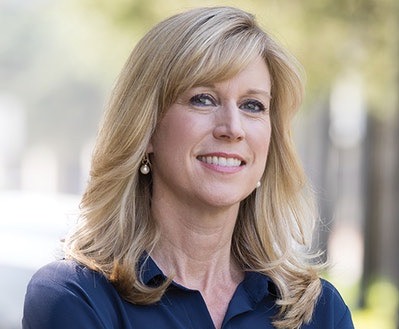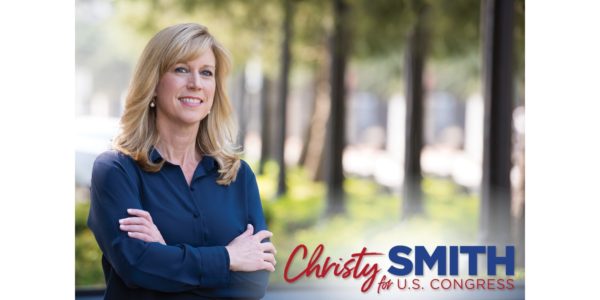 "Today is the day. Right now, voters in California's 25th District are choosing their next member of Congress," House Speaker Nancy Pelosi said in an early May 12 fundraising email. "I know today is a historic opportunity to send a message President Trump and his Republicans can't ignore: Democrats aren't letting up, not one bit."
On the day when the US Supreme Court is hearing oral arguments over the release of President Trump's taxes and Dr. Anthony Fauci is telling a Senate subcommittee about the "serious" consequences of opening up the country too soon and the likelihood of a second wave of COVID-19 this fall, politicos are watching for telltale signs of voter turnout in the 25th congressional district's special election between Democratic Assemblymember Christy Smith and Republican candidate Mike Garcia to fill the seat vacated by former Rep. Katie Hill.
As a result of the easy spread of COVID-19, California Gov. Gavin Newsom ordered all elections be Vote By Mail (with prepaid postage), though specific voting centers would be open, adhering to strict safety measures, to accommodate same day voter registration, ballot drop-off and in-person voting. After Los Angeles County Registrar-Recorder/County Clerk Dean C. Logan worked with the LA County Democratic Party and the Republican mayor of Lancaster to open an in-person Voting Center to accommodate the city's black and Latino voters, Trump and the National Republican Congressional Committee went ballistic, claiming the Democrats were trying to "steal" the election from Garcia. Logan has since announced seven safe and accessible Vote Centers are open in the Santa Clarita, Palmdale, Lancaster area.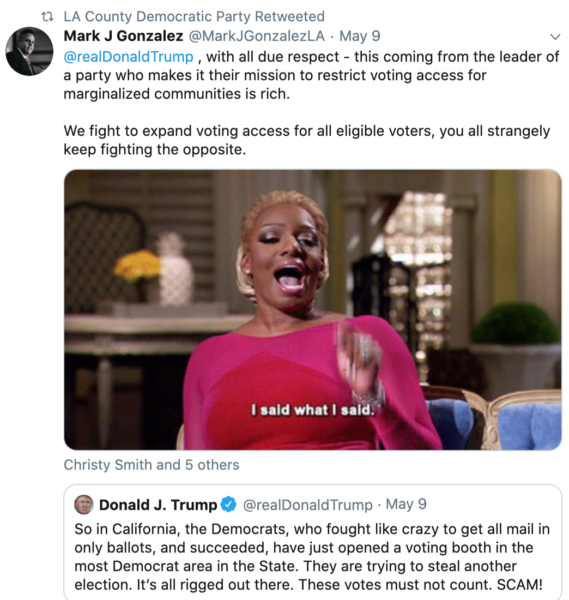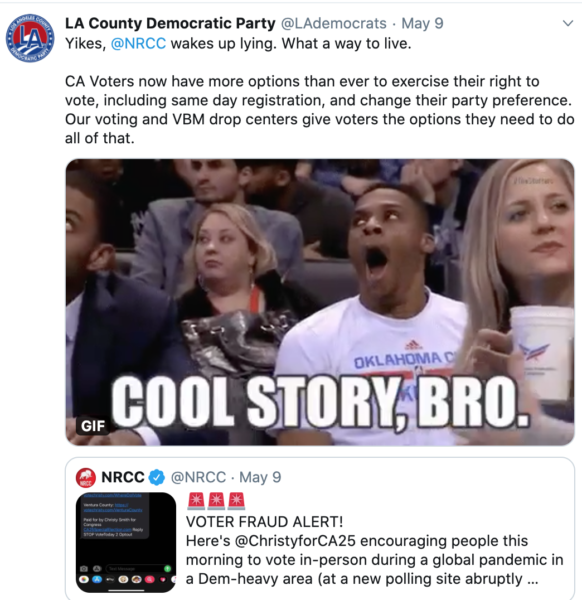 The election is critical for California. Garcia, a former fighter pilot with no legislative experience, is an avid, unquestioning Trump supporter at a time when Trump is narcissistically temperamental and quixotic and governors are begging the federal government for financial help.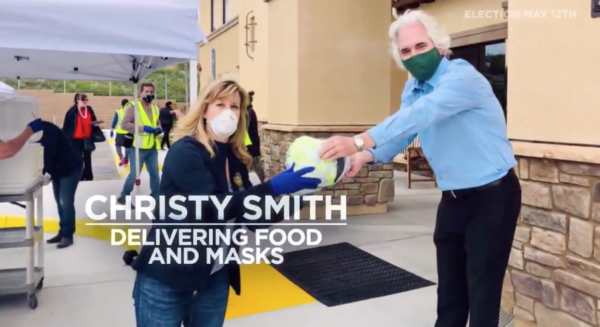 Assemblymember Smith, on the other hand, is not only running a congressional campaign and serving her community but is also working on the California state budget during this time of fiscal crisis.
The LA Times underscored how crucial this moment is with a re-stating of their endorsement for Smith. "Special elections traditionally get lower turnout than regular elections. But there's too much riding on the outcome of the special election race for 25th Congressional District, which stretches through Simi, Santa Clarita and Antelope valleys, for voters to sit this one out. The winning candidate will be dispatched to Washington, D.C., immediately and will be thrust into what may be the most consequential debate of his or her career: how to recover from the COVID-19 pandemic," says The Times, noting that "the editorial board has enthusiastically endorsed" Smith while Garcia "is woefully unprepared" and relies "on flogging the usual conservative tropes of protecting freedom, reducing taxes and fighting the 'Democrats' dangerous socialist agenda.'"
What Garcia has is major GOP support during a special election "with the propensity of Republican voters to turn out more reliably than Democratic ones," says The Times.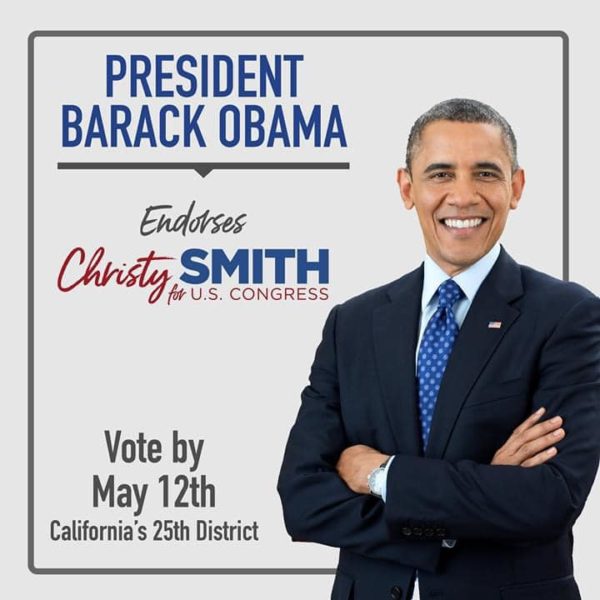 And while Smith has the backing of former President Obama, current presidential candidate Joe Biden and former presidential candidate and Sec. of State Hillary Clinton, Garcia has Trump, who, The Times points out, "tweeted over the weekend and again Monday morning the specious accusation that Democrats are trying to steal this election. And how are they attempting this heist? In the usual way: by making it easier for people to vote….We encourage voters to ignore the partisan noise and simply vote for the objectively superior candidate, Smith. And do it now."
But the May 12 special election is an historic opportunity to send another important message to Trump and his bullies: women aren't going away, no matter how nasty the sexism may get.
Smith posted a sample of what she's had to endure, representing the hopeful return to civilized behavior: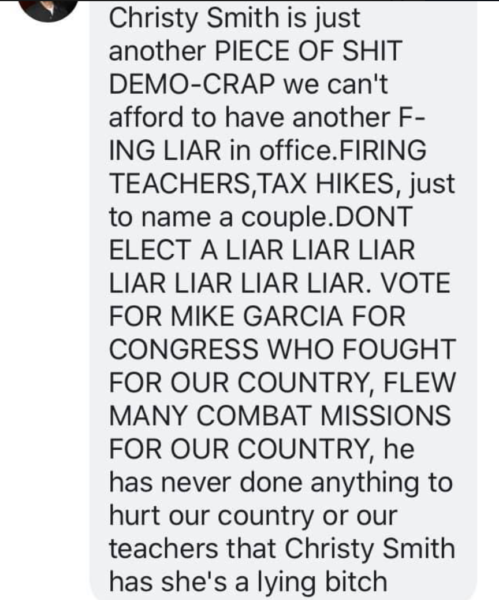 Today is an historic opportunity to make voting count.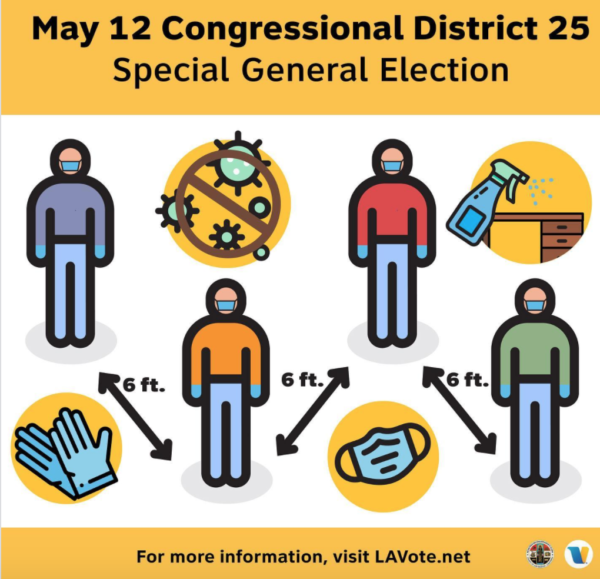 BNT: Buck case highlights intersection of race & sexual orientation
Journalist Jasmyne Cannick, said that the case "intersected race." She joins "Black News Tonight" to discuss the case and its impact.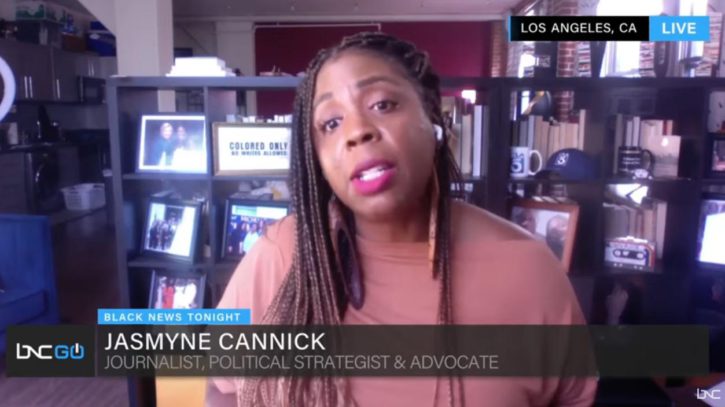 PHILADELPHIA – Appearing on BNC's Black News Tonight anchored by journalist Marc Lamont Hill Wednesday, Los Angeles based political strategist and journalist Jasmyne Cannick, who has covered the Ed Buck case, told Hill that the case intersected race and sexual orientation.
"As much as this case is about Ed Buck, it's also about our housing crisis, and what it makes people feel they have to do — play Russian roulette with their lives just to have a roof over their heads," Cannick stressed.
LA City Council votes to prevent sidewalk camping, Garcetti says he'll sign
The homeless crisis in California and in the greater Los Angeles region in particular has been exacerbated by the coronavirus pandemic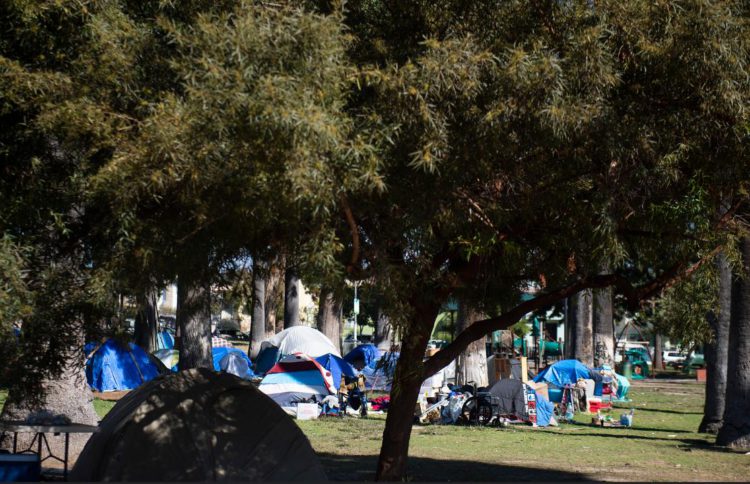 LOS ANGELES – In a 13-2 vote Wednesday, the Los Angeles City Council voted to stop people from camping in public spaces including the areas around parks, schools, homeless shelters, bridges and overpasses, and other similar structures, as well as any encampment that would block sidewalks in violation of the Americans with Disabilities Act.
A spokesperson for Los Angeles Mayor Eric Garcetti said that he will sign the ordinance.  Once signed, the measure will go into effect 30 days later. The ordinance bans encampments on sidewalks and driveways, freeway overpasses and on-ramps, and near libraries, parks, schools and homeless shelters.
It specifically bans homeless encampments from within 500 feet of schools, day care facilities, parks and libraries. Under the ordinance people who don't move would be fined, not arrested, and only after they are given two-weeks notice and offered shelter.
The homeless crisis in California and in the greater Los Angeles region in particular has been exacerbated by the coronavirus pandemic which saw thousands losing their jobs and some being evicted although moratoriums implemented by state and local officials have greatly reduced the evictions numbers.
Opponents of this ordinance are decrying it as another effort to criminalise the homeless population. Councilman Paul Krekorian who represents Council District 2, North Hollywood, Studio City, Sun Valley, Valley Glen, Valley Village, and Van Nuys, takes issue with that characterization saying;
"This ordinance, first of all, does not make homelessness illegal. It does not criminalize homelessness. It does not make any conduct that is fundamental to being human illegal. What it does do is it guarantees that we will reestablish passable sidewalks. It protects the users of our public infrastructure and the unhoused residents of our city from being put into positions of interaction with automobiles, around loading docks, driveways and so forth. It guarantees access to our fire hydrants, entrances to buildings."
Homeless and civil rights activist Eddie Cruz told KTLA, "this ordinance is targeting a specific group of people in the unhoused community. We believe that this is an irresponsible attack from the City Council and an irresponsible way to deal with the homelessness crisis that is occurring in Los Angeles," Cruz said.
Councilman Mitch O'Farrell, whose Council District encompasses Echo Park, scene of a series of confrontations over the homeless encampment that ultimately was cleared in part with the Los Angeles Police Department assisting, said in a statement that the ordinance "helps regulate shared public spaces while acting with compassion and purpose to help put people experiencing homelessness on a path to wellness."
"This ordinance establishes fair and clearly defined rules for how sidewalks in Los Angeles are regulated — while linking those rules to a comprehensive, compassionate strategy for street engagement that will establish reasonable pathways to positive outcomes and, ultimately, permanent homes," O'Farrell said.
L.A. City Council approves measure to bar homeless encampments:
Testimony in first week of Buck trial paints a portrait of pure evil
Buck can be heard in the background; "Go one more time," encouraging Moore to smoke more meth while Buck films him.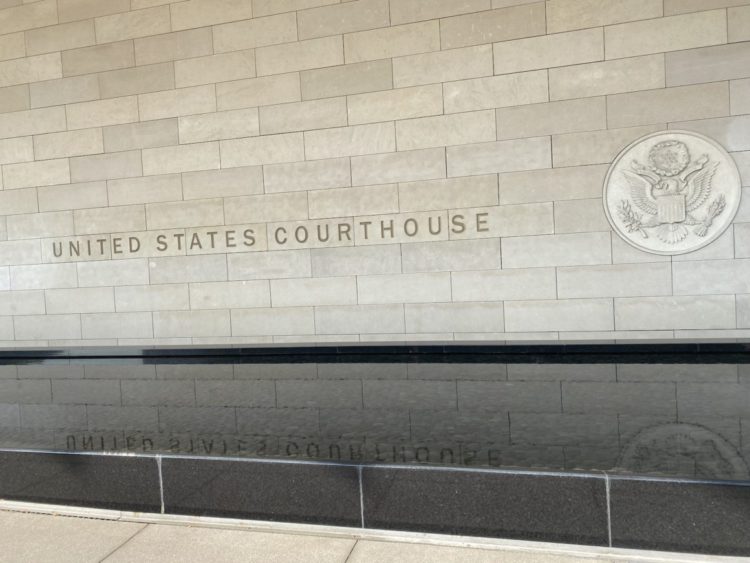 LOS ANGELES – Disturbed by the graphic nature of the video evidence that was presented in court last week as the trial of Ed Buck got underway, U. S. District Court Judge Christina A. Snyder cautioned Assistant United States Attorney Lindsay Bailey and the prosecution team to be careful "how aggressively they present evidence that could traumatize jurors," the Los Angeles Times reported.
"It may well be that we offer counseling to them at the end of the case," Snyder said.
Buck, who has been charged on multiple Federal counts of distribution of controlled substances resulting in death, had solicited dozens of young Black men over the years to engage in deviant sexual acts as he forcibly injected them with methamphetamine.
In USA v. Edward Buck, Buck is charged in a nine-count first superseding indictment with distribution of methamphetamine resulting in death, in violation of 21 U.S.C. §§ 841(a)(1), (b)(1)(C) (Counts 1 and 2); distribution of methamphetamine, in violation of 21 U.S.C. §§ 841(a)(1), (b)(1)(C) (Counts 2 through 6); maintaining a drug premises, in violation of 21 U.S.C. § 856(a)(1) (Count 7); and enticement to travel for purposes of prostitution, in violation of 18 U.S.C. § 2422(a) (Counts 8 and 9).
Buck was also charged with one count of using his West Hollywood residence, described in court by prosecutors as the "gates of hell" for the purpose of distributing narcotics such as methamphetamine, and the sedatives gamma hydroxybutyric acid (GHB) and clonazepam.
Testimony by a former Los Angeles resident Carlos, a homeless man who was living on the streets and paid by Buck to do errands and clean Buck's apartment painted a graphic picture of the overwhelming amount of depravity Buck engaged in.
Buck would solicit his victims on social media platforms, including Grinder, and on Adam4Adam, a gay hook-up site. Buck's profile solicited men who shared his underwear fetish and wanted to "party and play." His profile also contained a 'Rose' emoji which symbolized that he was generous or in plain terms, willing to pay cash for his "party and play."
PnP or party and play — also called "chemsex"— is a subculture of drug use that occurs while having sex. PnP has been widely associated with gay men and with men who have sex with other men, although it spans sexual preferences.
Jurors heard testimony from Carlos the Times noted and others that Buck's preference was to personally inject victims, and he pressured or incentivized victims to let him do so, sometimes offering large cash bonuses to coerce a victim to agree to an injection or additional injections. At other times, Buck simply injected victims while they were unconscious.
While the testimony of Buck's accusers and victims was shocking, prosecutor's use of the videos offered jurors a disturbingly graphic look at the chilling indifference displayed by Buck as he victimized those unfortunate to enter his flat.
Los Angeles County Sheriff's Department veteran homicide detective, Sergeant Paul Cardella, testified that the LASD seized approximately eight of Buck's digital devices and Buck's iCloud account, which upon execution of a search warrant the investigators discovered messages, photographs, and about 2,400 videos with roughly 1,500 documenting his party-and-play sessions.
The LASD investigation was aided by investigators from the U.S. Drug Enforcement Administration (DEA) and the Federal Bureau of Investigation (FBI).
The videos included sessions with Gemmel Moore, the 26 year old declared dead after a drug overdose in Buck's Laurel Avenue flat in July of 2017. Moore was the first death to occur prosecutors said.
Veteran Black community activist and writer Jasmyne Cannick summarized the details:
"Gemmel was nearly naked except for the white underwear he is wearing.  Ed Buck is filming him.
Gemmel tells Ed Buck that he doesn't want his face in the video. Buck clearly ignores Gemmel's request because we can see Gemmel's face.
He tells Gemmel not to worry because he's going to erase the video and that he's only recording to let Gemmel see what he looks like.
In the video, you can see Ed Buck smoking crystal meth and blowing the smoke into a rubber tube of which the end is inside of the white underwear. Ed Buck is being sexually aroused watching the smoke from the meth come out of the underwear Gemmel has on.
In another video, Gemmel is shown smoking meth from a pipe and Ed Buck has the camera focused on Gemmel's erect penis in white underwear with a rubber tube and smoke coming out of it.
Buck can be heard in the background saying, "Go one more time," encouraging Moore to smoke more meth.
We were shown a screenshot from a video taken July 31, 2016, of naked Gemmel Moore with Ed Buck being seen through a mirror in the background filming.
There were multiple videos shown to the jury of Gemmel Moore smoking meth in white underwear with Ed Buck.
In one video Gemmel tells Ed Buck that he doesn't know if he can handle another slam and that he's high.
Ed Buck responds that he's there to make Gemmel "offers and indecent proposals."
Slamming' is the term used to describe the action of injecting meth, typically in relation to gay and bisexual men.
Gemmel tells Ed Buck in the video that he doesn't like tweaking.
Tweaking is a slang term that means to be under the influence of methamphetamine. Tweaking is also defined as "to malfunction or to react with extreme emotion." The odd actions and behaviors that can take place after meth use are known as tweaking, while the user is called a tweaker.
Ed Buck is injecting Gemmel Moore with meth in his arm and tells him that he'll get over it.
One particularly disturbing video–and they were all disturbing–Gemmel Moore is unconscious and Ed Buck is playing with his penis. Buck is seen grabbing, twisting, and posing Gemmel's penis for the camera.
A video from September 6, 2016, shows Gemmel Moore telling Ed Buck that's he's high AF and him asking Buck to remove the dozens of socks tied tight around his penis. In this video, Gemmel is almost completely buried under a pile of mostly white-colored underwear.
GEMMEL MOORE: I need to take this thing off my dick and stroke it.
ED BUCK: No, you don't. Only I get to touch your dick.
GEMMEL MOORE: I am so vulnerable.
ED BUCK: Yes, you are. Yes, you are."
For Carlos, who has moved to Las Vegas to be near his toddler and ex-wife, it was a painful ordeal to take the witness stand he tells the Los Angeles Times. "I fight every day not to commit suicide," he testified. "It's really hard."
Carlos started to cry. "I thought I put Ed Buck behind me."
Christopher Darden, a lawyer for Buck, told the jury his client was on trial "for conduct that millions of people engage in." He dismissed the witnesses against Buck as manipulative escorts and drug abusers who used Buck for his money, the Los Angeles Times reported.
"The evidence is going to show that these grown men made a conscious decision to go to Ed Buck's apartment for whatever reason," Darden said in his opening statement.