May 19, 2020 at 12:30 pm PDT | by Michael K. Lavers
Hungary lawmakers approve bill to ban transgender people from legally changing gender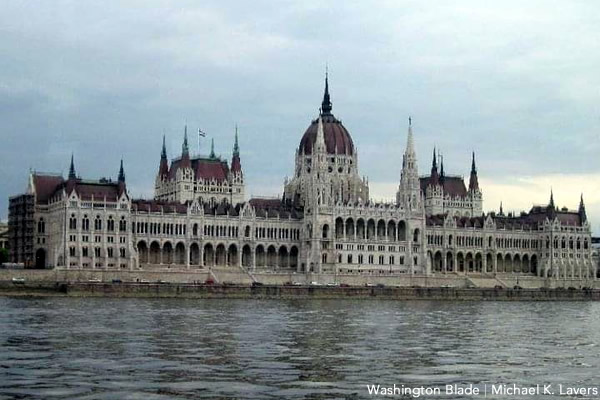 Lawmakers in Hungary on Tuesday approved a bill that would prevent transgender and intersex people in the country from legally changing their gender.
The Associated Press reported the proposal passed in the Hungarian Parliament by a 133-57 vote margin with the support of members of Prime Minister Viktor Orbán's Fidesz party.
The proposal is part of an omnibus bill that Deputy Prime Minister Zsolt Semjén introduced on March 31. The Hungarian Parliament the day before approved a controversial measure that gave Orbán even more power under the guise of combating the coronavirus pandemic in the country.
Transvanilla Transgender Association, a Hungarian trans advocacy group, in a statement said the bill "is contradictory to international and national human rights standards and violates the right to self determination." The Háttér Society, an LGBTQ rights organization in the country, previously said the proposal would not only violate previous Hungarian Constitutional Court rulings that affirmed "the legal gender and name change for transgender people are a fundamental right." but legal standards the European Court of Human Rights has established.
Transvanilla Transgender Association said it will challenge the proposal in the Hungarian Constitutional Court as soon as it becomes law.
"The Hungarian Constitutional Court made it clear in it's decisions that changing name and gender is a fundamental right for transgender persons," said the group in its statement. "Without name and gender recognition stigmatization is engrained in every aspect of life, often resulting in the trans person's exclusion from meaningful participation in social and economic life."
Transgender Europe, ILGA-Europe, Organization Intersex International and Amnesty International are among the groups that also criticized the bill's passage.
"We are dismayed by this decision to roll back established rights," said interim Transgender Europe Executive Director Masen Davis in a statement. "Trans and intersex Hungarians, as all people in Hungary, should have their human rights equally protected and without discrimination."
TGEU, ILGA-Europe, IGLYO, and OII Europe condemn decision of Hungarian Parliament to follow the government and restrict access to fundamental rights for trans and intersex people ? https://t.co/ReuTp30HDV pic.twitter.com/vFCViF0LFe

— ILGA-Europe (@ILGAEurope) May 19, 2020