Will California Democrats be forgiven for AB5?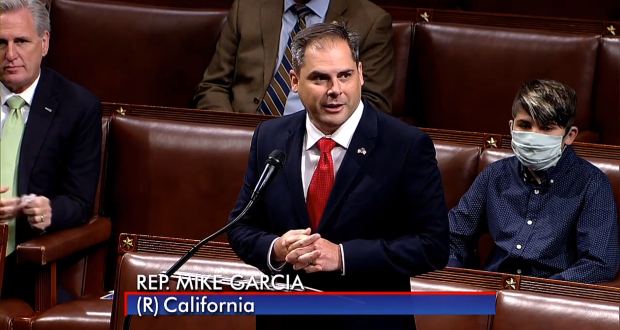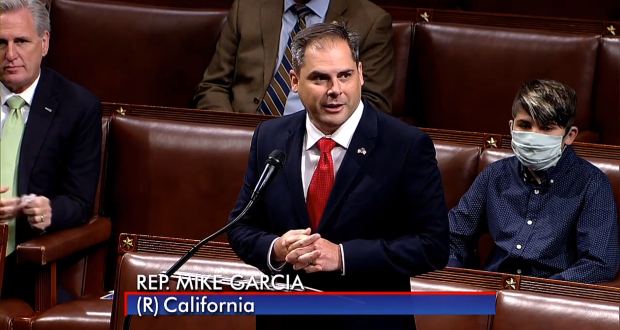 Rep. Mike Garcia on the House floor (via C-SPAN)
Did the law of unintended consequences cost Assemblymember Christy Smith the 25th Congressional District special election on May 12?
Republican political novice and Trump loyalist Mike Garcia was sworn into office May 20 to serve the remainder of former Rep. Katie Hill's congressional term. Garcia was leading by double-digits when Smith conceded May 13, even though the final results of the race are weeks away. The district north of Los Angeles — Palmdale, Porter Ranch, Santa Clarita, Simi Valley and part of Lancaster — had been a Republican stronghold for 28 years until Hill's victory in 2018. Garcia's win is the first time since 1998 that a Republican has flipped Democratic seat in California.
Despite an almost 30,000 Democratic registration advantage, the race was expected to be tight. But a 10-point blowout was a shock in a race widely considered a referendum on President Trump.
"The same week, we have a president who endorsed both my opponent and potentially using household disinfectants to treat a deadly pandemic," Smith told the New York Times for a May 5 story. "I think that pretty well encapsulates the moment."
So what happened? Several analysts pointed to traditional Democratic low voter turnout in special elections, made worse by the coronavirus "stay at home" orders. But of the roughly 425,000 registered voters who each received a pre-postage paid mail-in ballot, 173,789 votes were counted by May 20, with June 12 the date for certification.
Another analysis noted that Republicans doused Garcia in money while the Democratic Congressional Campaign Committee spent $3 million early for research and ads but other funders like Emily's List and the House Majority PAC are waiting for the November rematch.  However, according to their most recent campaign finance reports, Smith and Garcia each raised over $2.2 million and had about $300,000 cash on hand, The Times reported.
Volunteer apathy is also blamed for Smith's loss, with grassroots energy dissipated by COVID-19. The American Prospect scotched that, citing an email sent to volunteers, where "one office in Southern California alone made 20,000 phone calls, sent 23,000 postcards, and sent 100,000 texts on Smith's behalf since the March 3 primary."
Or Garcia's victory could be attributed to the rage over AB5, a labor bill authored by Assemblymember Lorena Gonzalez of San Diego intended to stop large employers such as Uber and Lyft from denying worker rights and benefits to their gig employees. It also grossly limited work for freelancers and independent contractors.
A serious revolt ensued with the range of workers in the service, entertainment and hospitality industries coalescing with freelancer writers and photographers to agitate to repeal AB5.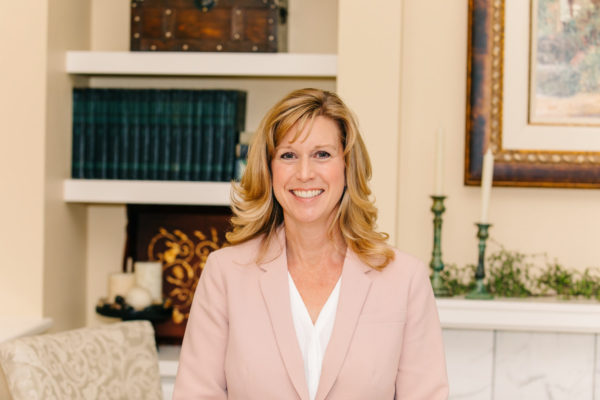 Smith told the Los Angeles Blade that fixes were in the works. But Republicans and Garcia seized the issue and tirelessly demanded a repeal. In response, as California Globe editor Katy Grimes reported, Democrats were smug, fixes and carve outs were denied, and independent workers demeaned during the Senate Labor Committee hearing for Senate Bill 806 authored by Senate Republican Leader Shannon Grove (R-Bakersfield).
"Perhaps the most egregious and condescending comments of the hearing came from Senator Hannah Beth Jackson (D-Santa Barbara), who claimed that when people (independent contractors) say they've lost their jobs, they don't really mean it – that's it's businesses which just don't want to hire them properly," Grimes wrote. "Jackson, burnishing her credentials as a tone-deaf political elitist, said freelancers, gig workers and independent contractors are only angry about the job losses because the law is 'taking away the lollipop they had to work when they want.'"
Upset Democrats targeted Smith to send a message.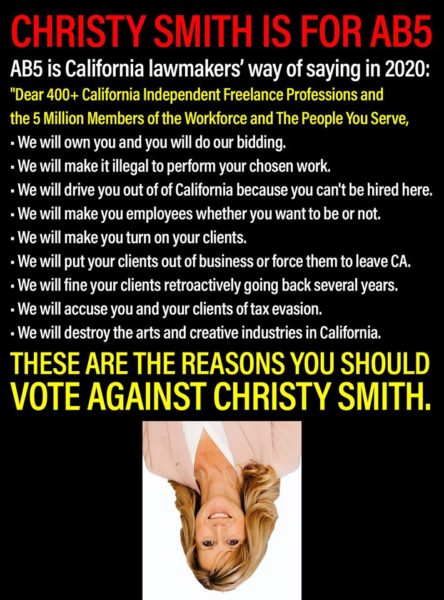 "I and many of my fellow freelancers are lifelong liberal Democrats who feel betrayed by your party and astonished that the only people who seem to be defending our rights are Republicans who are pointing to AB5 as a classic example of government overreach into the 'free market' that only ends up hurting people. Unfortunately in this case they are right," cinematographer Leonard Levy wrote in a letter to his congressional representatives. "Wake up and look around. Don't lose our support. We do vote. Stop AB5 until a carefully crafted alternative can straighten out employment in California."
"Voted democrat since 1976. Republicans were bad before and are far, far worse today. Because of AB5, and the absolute deafness of California democrats, I voted republican in the local elections last round and will do it again in November. Watching online as my artist friends, long time liberals are doing the same, all of us with a bad taste in our mouths. But if you're going to take away our profession, then we will take away yours," Grimes reported one of many local voters as saying.
On May 12, the New York Times wrote early that "nearly 20 percent of voters in the district have cast their ballots, with 31 percent of registered Republicans and 19 percent of Democrats doing so, according to tracking data."
Assemblymember Lorena Gonzalez felt the heat and on May 20, moved bills to fix AB5.


"They were right. I was wrong," Fred Topel of California Freelance Writers United tweeted Gonzalez as saying as she introduced AB2257, a carve out for writers, musicians and others. AB2257 and AB1850, a bill with exemptions for other professions, both passed the Labor Committee and are headed to Appropriations where obstacles await.
Asked about the political drama over AB5, out LA County Democratic Party Chair Mark Gonazlez said: "Like everyone, we're monitoring the progress of AB2257 and support anything that's going to have a positive effect on independent contractors."
But AB5 is not fixed and Newsom earmarked $20 million for AB5 enforcement in the budget. Democrats may need to do some repair work before November.
President Biden addresses Americans on Texas shooting
"I will just say to the people of Uvalde: Please know that we grieve with you. And we are praying for you, and we stand with you"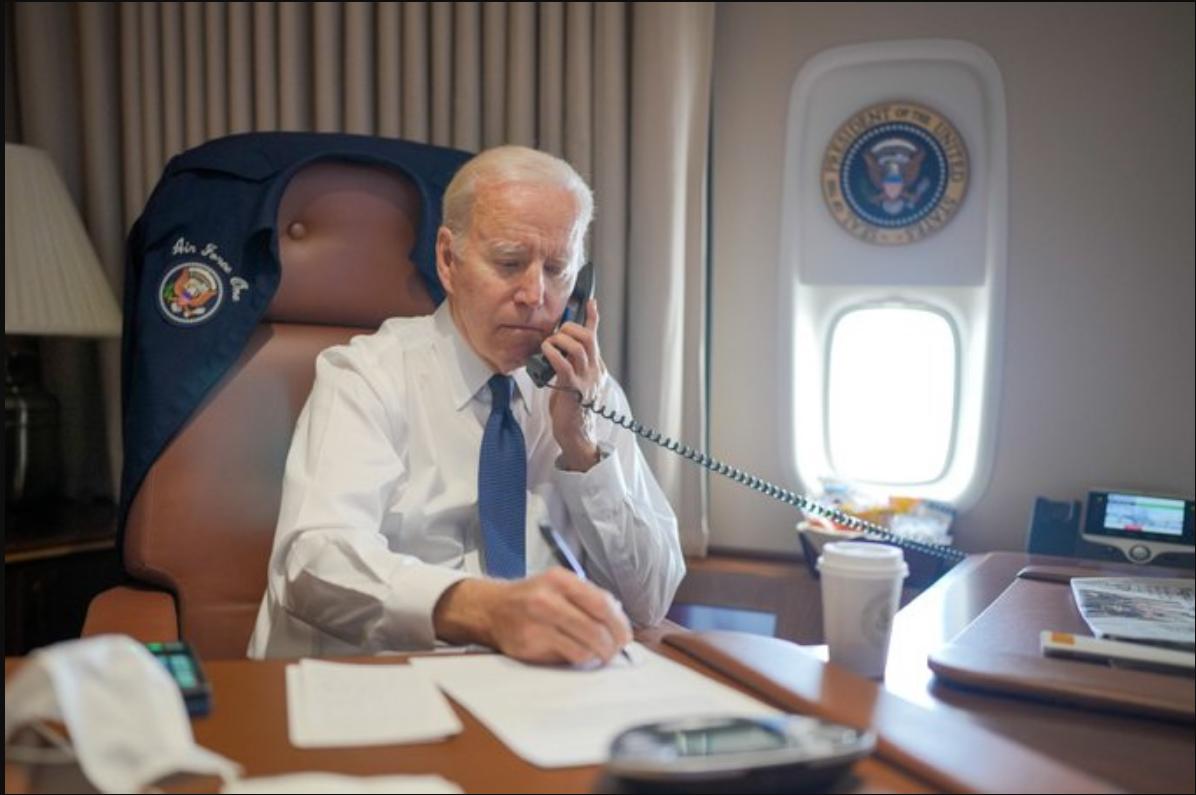 WASHINGTON – A somber President Joe Biden, accompanied by First Lady Dr. Jill Biden spoke to the American people Tuesday night addressing the horrific mass shooting of 18 elementary children and their teacher at the Robb Elementary School in Uvalde, Texas.
Biden learned about the shooting while traveling aboard Air Force One returning to Washington after his recent trip to Asia. The president's anger and palpable disgust over yet another mass shooting, occurring less than a week after the Buffalo New York mass shooting incident at the Tops supermarket in a predominately Black neighborhood that killed 10 people at the hands of an avowed white supremacist suspect- also 18-years-old, was visible.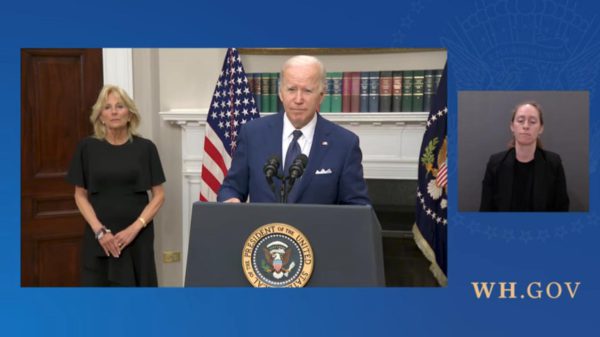 "I'd hoped, when I became president, I would not have to do this again. Another massacre at a Texas elementary school. Beautiful, innocent second, third, fourth graders," the President, clearly emotional and choked up, said. "As a nation, we have to ask: When in God's name are we going to stand up to the gun lobby? When, in God's name, will we do what we all know in our gut needs to be done?"
"I am sick and tired of it. We have to act. And don't tell me we can't have an impact on this carnage," he said. "For God's sake, we have to have the courage to stand up to the industry."
He added, "if an 18-year-old can walk into a gun store and buy two assault weapons, it's just wrong. What in God's name do you need an assault weapon for except to kill someone? Deer aren't running through the forests with Kevlar vests on, for God's sake. It's just sick."
"Why are we willing to live with this carnage?"
Earlier, Vice-President Kamala Harris, speaking at the Asian Pacific American Institute for Congressional Studies 28th Annual Awards at Washington's Renaissance Hotel spoke to the attendees about the shooting.
"Tonight is a rough night. We planned for a great celebration, but I'm sure most of you have heard the tragic news about what has happened in Texas. So I had prepared comments about tonight, which I will speak, but I just first want to begin by saying a few words about the tragedy that occurred today in Uvalde, Texas.

As many of you now, the reports are that there was a mass shooting at an elementary school, and the preliminary reports are that 14 children have been killed. And the details are still coming in, and of course the President and I are monitoring the situation closely.
So while we don't know all the details yet, we do know that there are parents who have lost children, families that have lost children and their loves ones, of course, and many others who may have been injured.

So, I would normally say in a moment like this — we would all say naturally — that our hearts break, but our hearts keep getting broken.

You know, I think so many — there's so many elected leaders in this room. You know what I'm talking about. Every time a tragedy like this happens, our hearts break, and our broken hearts are nothing compared to the broken hearts of those families. And yet, it keeps happening.
So, I think we all know and have said many times with each other: Enough is enough. Enough is enough.

As a nation, we have to have the courage to take action and understand the nexus between what make for reasonable and sensible public policy to ensure something like this never happens again.
So, the President will speak more about this later. But for now, I will just say to the people of Uvalde: Please know that this is a room full of leaders who grieve with you. And we are praying for you, and we stand with you.

And it is difficult at a time like this to think about much else, but I do look around this room and I know who is here, and I know this is a room full of American leaders who know and have the courage to take a stand. And so let us, tonight, as we do every time we all get together, recommit ourselves to having the courage to take action."
President Biden Delivers Remarks on the Horrific Elementary School Shooting in Uvalde, Texas:
BREAKING: 19 killed in Texas Elementary School shooting
The victims were students at the Robb Elementary School in Uvalde, Texas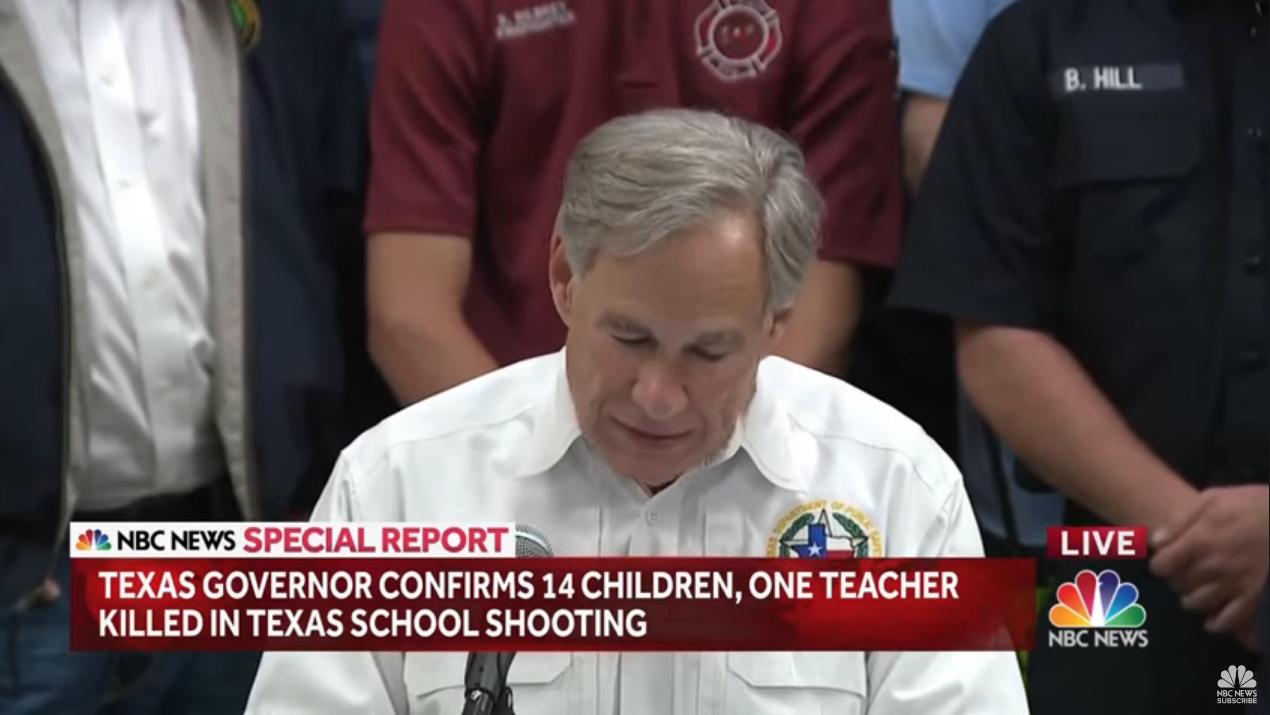 UVALE, Texas – Eighteen students and one teacher were killed in a shooting Tuesday morning at a Texas elementary school, Gov. Greg Abbott said. The suspect, an 18-year-old man, who might have had a handgun and rifle, was fatally wounded by responding law enforcement.
The victims were students at the Robb Elementary School in Uvalde, Texas.
UPDATE: A State senator briefed by Texas Rangers and speaking on CNN says the death toll is now at 18 children.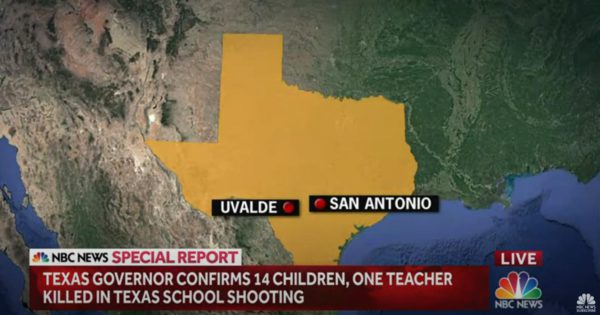 California state Senator Scott Wiener released the following statement regarding the mass shooting in Uvalde, Texas:
"14 more children (and their teacher) have been murdered — their families and communities devastated — because of our nation's refusal to stop the tidal wave of easy-to-get mass killing machines.
These mass murders aren't inevitable. It doesn't have to be this way. We need fewer guns. Congress must act."
In Sacramento California Governor Gavin Newsom tweeted out his outrage and White House Press Secretary Karine Jean-Pierre acknowledged that President Biden was being briefed and updated on the events in Texas:
14 children and a teacher dead.

Another shooting. And the GOP won't do a damn thing about it.

Who the hell are we if we cannot keep our kids safe.

This is preventable. Our inaction is a choice.

We need nationwide, comprehensive, commonsense gun safety NOW.

— Gavin Newsom (@GavinNewsom) May 24, 2022
President Biden has been briefed on the horrific news of the elementary school shooting in Texas and will continue to be briefed regularly as information becomes available.

— Karine Jean-Pierre (@PressSec) May 24, 2022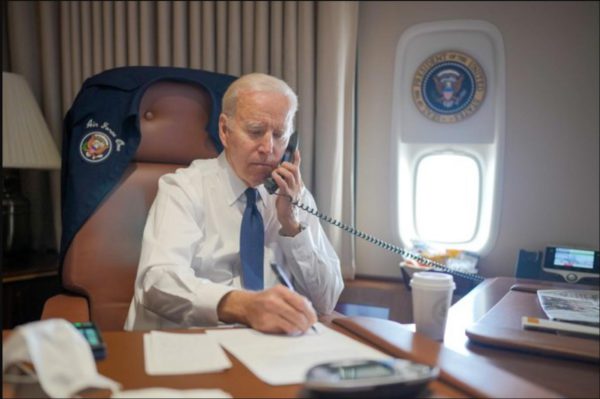 In response to a question from an anchor on Fox News regarding the mass shooting at Robb Elementary School in Uvalde, Texas Attorney General Ken Paxton replied; "We can't stop people from doing bad things .. they're not gonna follow gun laws."
Nightly News Full Broadcast – May 24
Uvalde shooter wore body armor, fired at police on scene:
Trans Inclusive Health Care Act passes California State Senate
This first-in-the-nation legislation will help create a more inclusive and culturally competent healthcare system for TGI people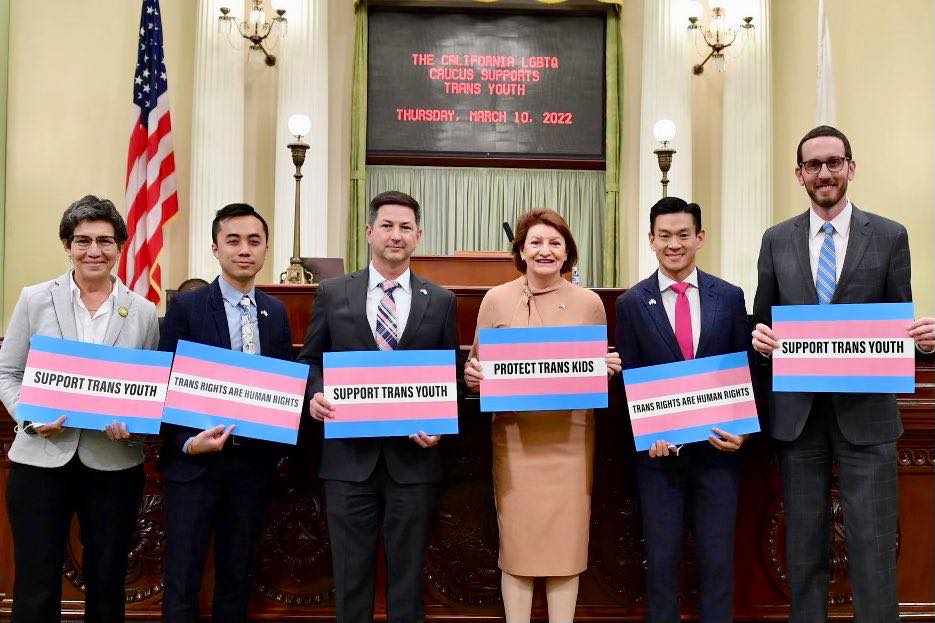 SACRAMENTO – Senator Scott Wiener's (D-San Francisco) Senate Bill 923, the TGI Inclusive Care Act passed the Senate by a vote of 28-6. It now heads to the Assembly for policy committee hearings.
This first-in-the-nation legislation will help create a more inclusive and culturally competent healthcare system for TGI (transgender, gender non-conforming, and intersex) people in California by requiring:
● That physician Continuing Medical Education (CME) include evidence-based cultural competent studies to help physicians provide inclusive care for TGI people
● That the Health and Human Services Agency issue enforceable quality standards for treating TGI patients
● That health insurance companies provide TGI cultural competency training for their employees
● That health insurance companies, in their network directories, include a list of providers who offer gender-affirming services, so that TGI people know where to go for specialized care
● That the relevant oversight agencies track and monitor complaints relating to TGI-inclusive care and publicly post findings in their annual reports or website
SB 923 comes at a time when LGBTQ people — and particularly transgender children — are under attack across the country by right-wing state leaders. Many of those attacks seek to criminalize gender-affirming care.
In February, Texas Governor Greg Abbott issued an executive order making it illegal for parents to allow their trans kids to receive gender-affirming care. These parents could have their children taken away and be sent to prison simply for allowing their children to be who they are and receive this necessary care.
Abbott called gender-affirming care "child abuse."
Alabama just enacted a law imposing ten-year state prison sentences on parents and physicians who allow or provide gender-affirming care to their children.
In Florida, Governor Ron DeSantis signed the "Don't Say Gay" law, banning discussions about gender identity and sexual orientation from public school classrooms.
"As more and more red states ban gender-affirming care and try to erase LGBTQ people, California must step up to ensure strong access to health care," said Wiener. "That includes ensuring that trans people are treated with respect and dignity by health care providers. While many health care professionals provide excellent care to trans people, more work remains. Improved training, clear standards, and improved network directories will result in better care for TGI people."
While LGBTQ kids are under attack in Texas, Alabama, Florida, and other states, SB 923 shows a different path forward — one in which quality gender-affirming care is provided for anyone who needs it, with providers going above and beyond to treat TGI patients with the respect and care they deserve.
Healthcare discrimination and a lack of access to culturally competent care is a major problem that many TGI people regularly face. The National Center for Transgender Equality reports that one-third of all transgender individuals who saw a healthcare professional in 2014 had at least one negative experience related to being transgender, with even higher rates for people of color and people with disabilities. These negative experiences include being refused treatment, verbally harassed, physically or sexually assaulted, or having to teach the provider about transgender people in order to receive appropriate care.[1]
This is especially problematic given that TGI people, compared with the general population, suffer from more chronic health conditions. TGI people experience higher rates of health problems related to HIV/AIDS, substance use, mental illness, and sexual and physical violence, as well as a higher prevalence and earlier onset of disabilities that can also lead to longterm health issues. Sadly, 23% of transgender individuals reported that fear of discrimination caused them to postpone or not receive necessary medical care.[2]
Moreover, while all health plans are required to cover gender-affirming care, it can be difficult for TGI patients to actually find providers who routinely offer this care. This is a major impediment to TGI people accessing the care they need.
Every person deserves to receive quality, compassionate health care from understanding, informed, and respectful providers – providers who don't make assumptions about their gender or sexuality, and who honor their bodily autonomy. TGI people already face so many obstacles outside of the healthcare system, including higher rates of violence, workplace discrimination, ostracization from families and religious communities, and housing discrimination. Going to the doctor should not mean facing additional discrimination or unecessary hardship.
TGI people should have access to positive healthcare experiences. This includes seeing providers who are able to give them the care they need in a non-judgmental and supportive environment, and being able to search for providers who provide gender-affirming services (gender-affirming services include but are not limited to: chest reconstruction, mastectomy, facial feminization surgery, hysterectomy, voice masculinization or feminization, hormone therapy related to gender dysphoria or intersex conditions, gender-affirming gynecological care, or voice therapy related to gender dysphoria or intersex conditions). Gender-affirming care is critically important health care, and anyone who needs it should be able to find and access it.
The TGI-Inclusive Care Act will help create a healthcare system that meets the needs of TGI people, and provide a more positive patient experience.
SB 923 is sponsored by the California LGBTQ Health and Human Services Network, Equality California, National Health Law Program Trans Community Project, TransFamily Support Services, and Western Center on Law & Poverty. It is co-authored by Assemblymembers Sabrina Cervantes (D-Corona), Evan Low (D-San Jose), Alex Lee (D-Fremont), and Cristina Garcia (D-Bell Gardens).