Gerald Garth humbled by All Black Lives Matter march
But there's more work to do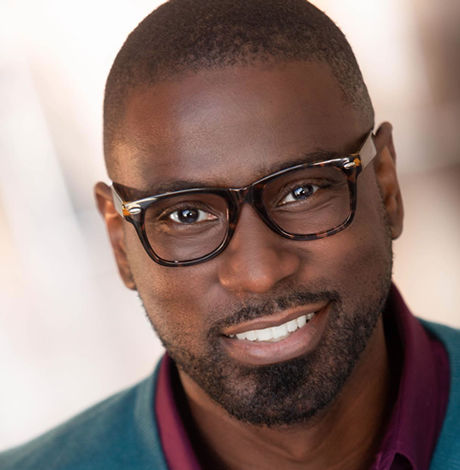 Gerald Garth was "a little exhausted" but "feeling very good" after the unexpectedly massive, hugely successful All Black Lives Matter march on June 14.
Garth, director of operations at The AMAAD Institute, and Urban Pride founder Brandon Anthony, created the Black LGBTQ+ Action Coalition that essentially saved the soul of LA Pride after criticism of past racism stymied Christopher Street West and plans for this year's Pride parade and festival.
The controversy seemed to dissipate after the marchers took over Hollywood Boulevard, where the first CSW Pride parade first occurred 50 years ago, swarmed Sunset Boulevard and gushed onto Santa Monica for an event that simultaneously exalted LGBTQ people and reconfigured Black trans people from outsiders into Black and LGBTQ history.
50 years after the first celebration of the Stonewall Rebellion, All Black Lives Matter underscored the oppression against trans people of color, including the epidemic of murders. At the end of this march was an unexpected trans flag painted at the intersection of Santa Monica Blvd and San Vicente in West Hollywood and while the flag subsequently caused something of a controversy, when marchers arrived it seemed like the exclamation point at the end of an emphatic sentence!
Garth says he feels humbled by the experience.
"The first word that comes to mind is it's so humbling, sort of moving, with this work," Garth tells the Los Angeles Blade. A number of great individuals and collaborators intentionally created an event "to really amplify and highlight individuals who have helped to make this work possible…to really create and carve out a moment in history. It's just been really, really humbling. I'm very grateful."
At the same time, Garth, 37, feels the weight of accountability and responsibility. "I live by the phrase, 'To whom much is given, much is required.' And even though this March was a beautiful monument on a momentous occasion, this is not the end. There's a great deal to be done going forward."
"One of the points that's really important to me, and the group at large, was to really look at how Black people and people of color, and more particularly, Black trans people and other trans people – such as Marsha P. Johnson and Sylvia Rivera — really were the catalyst for what we recognize today as the start of the Gay Liberation movement," Garth told the Los Angeles Blade after the march. "I consider it a responsibility to ensure that those individuals aren't forgotten. Of course, we're still fighting for a number of liberties. But we're still taking time to honor and celebrate them."
There is an opportunity for more. "So, we talk about violence and lack of resources and the need for policy change, as it relates to Black people. But for folks who live in those spaces in the middle being Black and LGBT, they are definitely disproportionately represented in those spaces."
Garth was a leader in the Black and LGBTQ communities before he arrived in Los Angeles seven years ago. "Most of my work has really been centered around inequity and allocating resources," often work that has gone unrecognized.
But Garth is committed to the cause and to working in solidarity with others to tackle structural inequities.
"We're definitely moving forward with a number of round tables and town halls designed to look at some of the unique concerns that had been voiced as we were moving into the March," Garth says. "So particularly, addressing some of the issues around historical racism within LGBT and LGBT-serving organizations, looking at how we're building an effective strategy to engage new leadership and also looking at how are we creating opportunities for these new leaders, as well."
Garth says they are committed to looking at what effective collaboration would look like and intend to work with local leadership and other leadership at "how we're surviving and develop strategies to really look at structural and institutional change."
Garth says he and members of the Black LGBTQ+ Action Coalition (BLAC), including Black trans artist Luckie Alexander, intend to work with LA City Councilmember Mitch O'Farrell's office on how to preserve the All Black Lives Matter art installation on Hollywood Boulevard.
"I'm so honored to have collaborated with Rick and Trailer Park Group and Councilmember O'Farrell's office to install my design on Hollywood Blvd," said Alexander, who collaborated on the design of the art installation. "The art piece spoke to the intersections of being Black, sexual orientation, and gender identity that are included in this racial movement. It speaks volumes to the commitment our city has regarding inclusion and equity for the Black community, especially our queer and trans community of color.  As a Black transman, our specific community has been continually overlooked and this gives me hope that we will continue to be heard here in Los Angeles. Hopefully we will also take the lead, as we always do, in creating that similar change across the country."
"BLAC is centered on effective partnerships designed to bring visibility and action to the unique needs of Black LGBTQ+ communities. Efforts like this, designed by BLAC member, Luckie Alexander, and in collaboration with Councilmember O'Farrell's office, Trailer Park Group, and all other partners and individuals that came together to make this happen is true proof of collaboration. And for a new installation of some kind to live permanently becomes a symbol not just to the city, but to the world," said Gerald Garth and Brandon Anthony, co-founders of BLAC & lead organizers of the All Black Lives Matter march.
Los Angeles Mayor: Supreme Court decision "fundamentally un-American"
Mayor Eric Garcetti spoke to the Los Angeles Blade reflecting on Friday's U.S. Supreme Court reversal of Roe v. Wade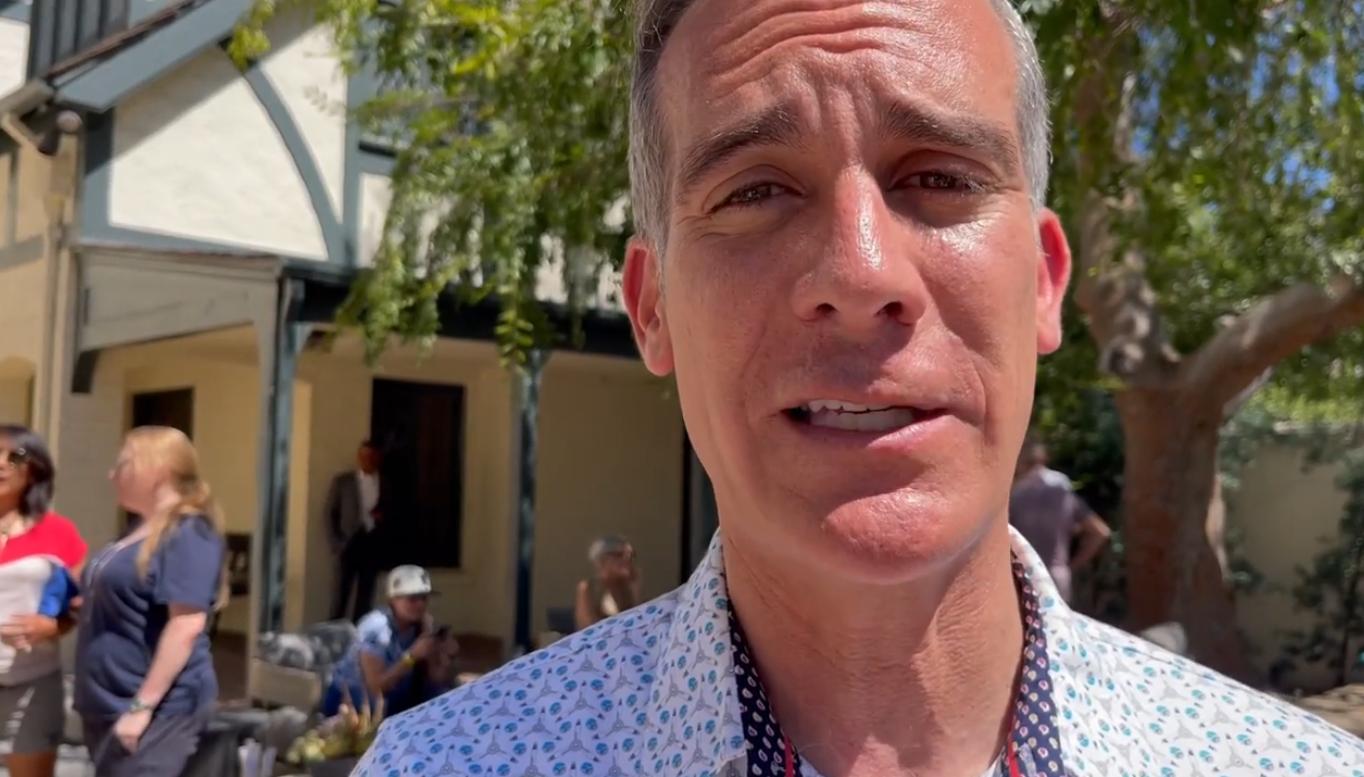 LOS ANGELES – During the Los Angeles Mayor's Pride Garden Party held at The Getty House, the official residence of the mayor Saturday afternoon, Mayor Eric Garcetti spoke to the Los Angeles Blade reflecting on Friday's U.S. Supreme Court reversal of Roe v. Wade.
Garcetti noted that "here in LA we defend those rights" after taking aim at the actions of the high court Friday in the ruling on the Mississippi case of Dobbs v. Jackson Women's Health clinic. "Make no mistake, we have to be active," Garcetti added.
WATCH:
Reminder: 101 closed through DTLA until 10pm Sunday
The closure began at 10 p.m. Saturday and will be completed by 10 p.m. Sunday, the Los Angeles Bureau of Engineering announced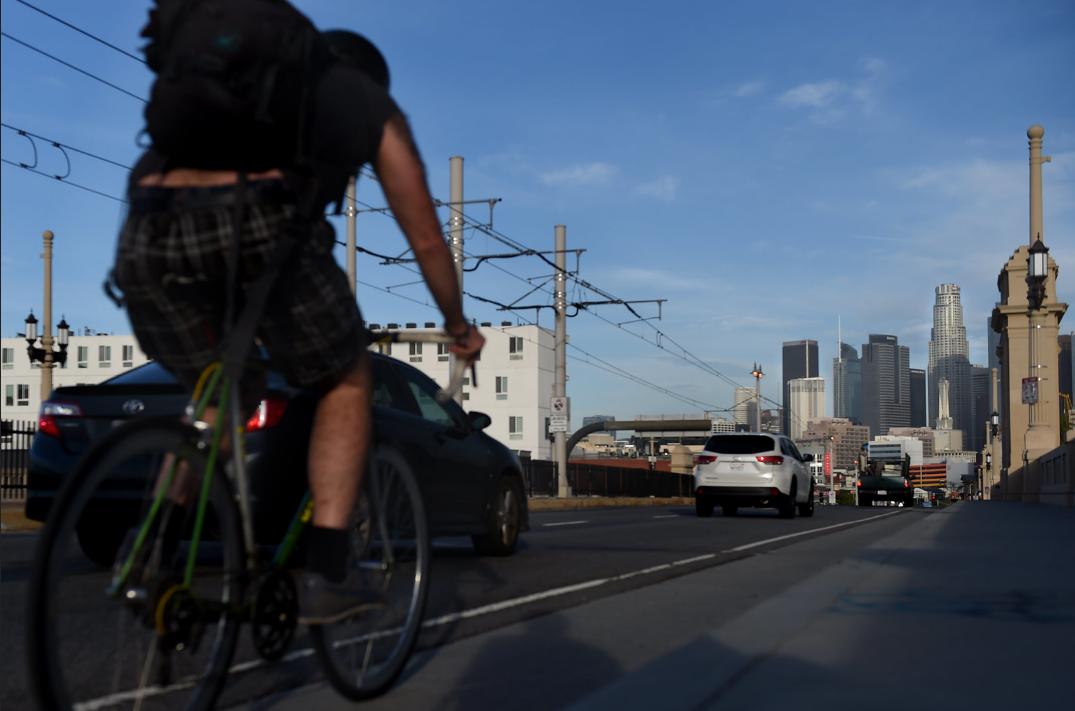 LOS ANGELES – (KTLA) Motorists are being reminded that the stretch of 101 through the downtown area of Los Angeles is shut down for road restoration and reconstruction work.
KTLA reported the closure began at 10 p.m. Saturday and will be completed by 10 p.m. Sunday, the Los Angeles Bureau of Engineering announced.
The 24-hour closure between State Route 60 and the 10 Freeway interchange is needed for the Sixth Street Viaduct Replacement Project, which aims to replace the original, seismically-deficient structure built in 1932, authorities said.
During the closure, the California Department of Transportation will also be doing slab replacement work along the same stretch of the 101 Freeway.
The closure will center around the east side of the viaduct construction site in Boyle Heights. While the stretch is closed, drivers headed west on State Route 60 from the Pomona area will not be able to access the 101, officials said.
Off-ramps and on-ramps in the area will also be closed during as road work gets underway.
Drivers who reach the closure will see signs directing them to a detour.
The new $588 million viaduct is expected to be completed in Summer of 2022, stretching between Boyle Heights and the Arts District.
Officials say it is the largest bridge project in the history of Los Angeles.
LA-DWP & Mayor Garcetti announce new outdoor watering restrictions
Sprinkler watering will be allowed Monday & Friday at odd-numbered addresses in the city, and even-numbered addresses on Thursday & Sunday

LOS ANGELES – In a press conference Tuesday Los Angeles Mayor Eric Garcetti and officials from the Los Angeles Department of Water and Power (LADWP) announced that outdoor watering in the city will be restricted to two days a week starting June 1.
The announcement comes as the Metropolitan Water District of Southern California declared an unprecedented water shortage emergency two weeks ago, imposing restrictions after MWD's board voted to adopt the emergency measures to "reduce non-essential water use" in certain areas. Cities and smaller water suppliers that get water from MWD are required to start restricting outdoor watering to one day a week, or to find other ways to cut usage to a new monthly allocation limit.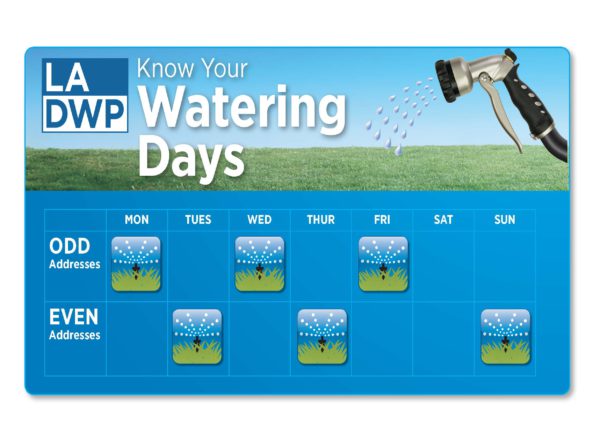 In Tuesday's press conference Mayor Garcetti said L.A.'s two-day limit was still more lenient than the one imposed by the Metropolitan Water District of Southern California, which has ordered many of its member agencies to restrict outdoor watering to once a week.
Sprinkler watering will be allowed on Monday and Friday at odd-numbered addresses in the city, and even-numbered addresses on Thursday and Sunday.