'All About Eve' at 70
Hollywood classic mirrors our age of political paranoia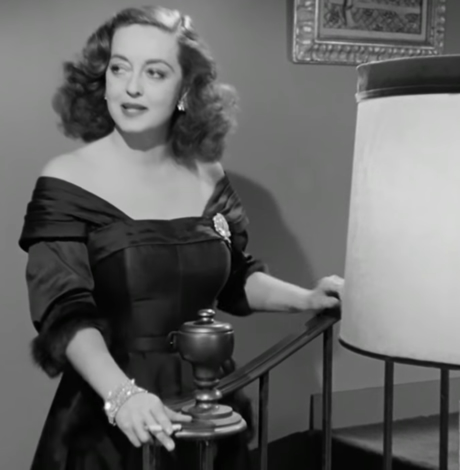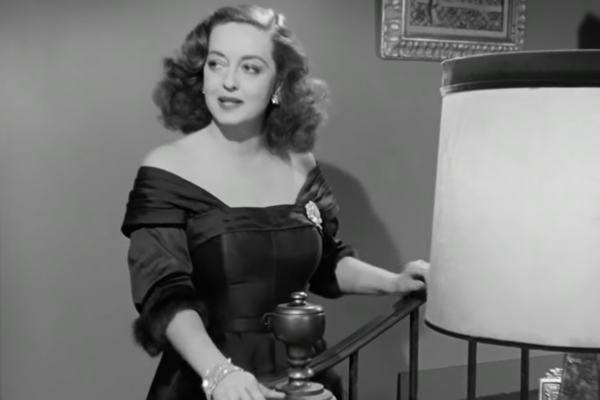 "All About Eve" was a triumph forged in a crucible of rancor and suspicion. Bette Davis bludgeoned the actress who played her onscreen confidant, Celeste Holm, as the "one bitch in the cast," before adding cattily that George Sanders was also a "bitch" (she'd learned he was bisexual through Henry Fonda), then circling back for a swipe at Marilyn Monroe: "That blonde little slut couldn't act her way out of a paper bag." Monroe, who sobbed and vomited after shooting both her scenes with Davis, shot back: "That woman hates every female who can walk. She's a mean old broad."
The cast's distrust mirrored the dynamics of the screenplay. "All About Eve" was built on a simple premise: There's a viper in the nest. Bereaved widow Eve Harrington emerges from the shadowy alley in a rain-soaked trench coat, worms her way into stage actress Margo Channing's inner-circle, then schemes and backstabs her way to the apex of the theater world.
But the story of the ambitious ingénue kneecapping the aging diva also captured the political zeitgeist during the Cold War. The Red Scare injected paranoia into American culture, inducing a paralyzing dread at the prospect of Communist infiltration. When Bill Sampson pleads with Margo to contain her "paranoic outbursts" and "paranoic tantrums," he's channeling the sense that the American psyche is at risk of being torn apart by anxiety over covert invasion. But the scale of the Cold War was unmanageable. The solution was to convert the domestic security of the nation into the domestic security of the nuclear family. The infiltrator went from Communist pinko to lavender menace.
The blackmailing, the rampant paranoia, the botched sexual seductions, the grasping after respectability—all these pieces fall into place only with a single realization: Eve is incidentally an aspiring actress but essentially a ruthless lesbian. The film falls squarely in that stretch of years when Hollywood had fallen under the heel of the Production Code, which, starting in 1934 forbade, among other obscenities, "any inference of sex perversion." Perversely enough, the prohibition on explicit references to homosexuality made it the perfect menace. The unspeakability of the looming danger ratchets up the sense of dread.
The idyllic home under siege was an old Hollywood trope. In the white supremacist era of Jim Crow, "Gone with the Wind" managed fears over African-American reprisal by displacing white guilt onto a host of enemies—northern aggressors, carpetbaggers, General Sherman's army of invaders—who reduce genteel plantations to rubble. Scarlett's triumphant restoration of Tara metaphorically restores the integrity of the southern home. In fact, the last century is littered with examples of movies that peddled a pernicious myth of purity under siege, from D.W. Griffith's "Birth of a Nation" here at home or Leni Riefenstahl's "Triumph of the Will" abroad.
I grew up in the late 1980s and 90s, when the trope of the diabolical home invader was in full force. The mother who hires a nanny, cautioned "The Hand That Rocks the Cradle," is liable to have her infant purloined, her husband seduced, and her careerist feminist friend fatally mangled by falling glass. "Fatal Attraction" warned of a high-heeled vamp breaching the home to boil the beloved pet rabbit. The invasive homewrecker drifted as a go-to Hollywood trope across the decades as a backlash against progressive social change.
But "All About Eve" undercuts its own pretensions to decency. Eve Harrington's origins story is a humble tale of hardscrabble survival, anchored by vignettes of farm life in Wisconsin, a grueling stint as a secretary in a brewery, and an ill-starred marriage to a now-perished war-hero. But Birdie cuts in to quip, "What a story! Everything but the bloodhounds snappin' at her rear end." The vaudeville veteran sees right through this charade of benighted widowhood, peeling back the veneer to reveal the specimen of ruthless ambition beneath. On this level, Mankiewicz's film is a masterwork of subversion, a precursor to films that savaged the American love affair with normalcy—"The Graduate," "Blue Velvet," "American Beauty," and "Fight Club" among them.
That's why "All About Eve" is essential viewing for our time. It reminds us that the call to "Make America Great Again," buttressed by accusations of infiltration—trans people in bathrooms, nasty women in journalism, Jews replacing "us"—is built on an ugly illusion of purity in the heartland. Joseph L. Mankiewicz's film guillotined the puerile myth of American innocence. It should stay dead.
Tom Joudrey writes about queer entertainment and politics. His work has appeared in Slate and The Guardian, among others.
Why I'm running: Ron Galperin
My agenda as State Controller is to scrutinize spending and to hold our state accountable for producing results
By Ron Galperin | LOS ANGELES – We are in a pivotal moment in our State and our nation. Trust in government is at an all-time low. Many have lost faith in the ability of government to perform. Our political discourse has devolved and facts are too often substituted with spin.
And so the kind of work that a Controller does – helping to keep government working, honest, and effective – is now more important than ever. That's why I'm running for CA State Controller – and why I'm asking for your vote.
As the elected Controller of the City of Los Angeles, it's my job to be the truth-teller, the adult in the room, the visionary, and the watchdog. I have reimagined what a Controller's office could be – and I want to do the same for our state. And, as L.A.'s first and only openly LGBTQ+ citywide elected official – and the first in my family born in the U.S. – I know how much representation matters, and I feel a special responsibility to be a voice and a leader for inclusion and for equity.
When I first took office in 2013, I brought to the job of Controller my experiences as a journalist, an attorney and a businessperson – along with an understanding of government, having led two city commissions. My office has brought radical transparency to L.A., including our open checkbook, putting every account online, trackers for every dollar spent and dashboards measuring performance.
It isn't just about money – but about how we're impacting people's lives. During COVID, we mapped thousands of free food distribution centers and have continued to update this resource. I have also used my office to be an advocate for increasing equity through our city's first Equity Index, and reports on Pay Equity and Diversity with Equity. I've been a strong proponent of contracting equity – seeking to have more government contracts with small, minority and LGBTQ+ owned businesses. My office has also highlighted and worked to address the impacts of COVID on our LGBTQ+ households and we launched a comprehensive map of resources for homeless LGBTQ+ youth. My intent is to continue this crucial work as State Controller.
The State Controller is the Chief Fiscal Officer of the fifth largest economy in the world. Although this position yields a great deal of power and impacts the day-to-day lives of every Californian — many people still don't know too much about what a Controller does – or can do. In addition to serving as the state's finance watchdog, the Controller is responsible for responsibly disbursing the state's financial resources, independently auditing government agencies that spend state funds, issuing financial reports, and administering the payroll system of state employees.
The CA Controller also serves on more than six dozen boards and commissions, including the California Health Facilities Financing Authority, State Lands Commission, California State Teachers' Retirement System, California Public Employees' Retirement System, Board of Equalization, Franchise Tax Board, California Pollution Control Financing Authority, the California Debt Limit Allocation Commission, California Alternative Energy Source Financing Authority, the California Education Facilities Authority, and the California Victim Compensation Board. In short, it is a job that is charged with keeping our government honest, accountable and effective.
My agenda as State Controller is to scrutinize spending and to hold our state accountable for producing results. I want the Controller's office to be THE place for people to see information that they trust, for ideas and for solutions to our greatest challenges.
I will continue to be a relentless and independent force when addressing the dual crises of homelessness and lack of affordable housing – as I have in L.A., holding politicians accountable through groundbreaking reports on homelessness spending – and how we can and must make more progress with the monies we're spending. And, I have an actual action plan to create transparency and accountability on homelessness and affordable housing across California. We can and must use the resources at our disposal to house people now. For example, using vacant, publicly-owned properties would bring thousands of people off the streets, and help them get access to health, mental health and other critical services they so badly need.
California needs a Controller not only with the experience and credibility to safeguard the people's dollars – but the commitment to making sure California is using its resources to do the most good for our diverse communities. And, as the father of twins with my husband, I want to see a better future for all Californians.

As State Controller, I will use the power of this office to break down injustice and systemic discrimination that exists throughout California and to build a more equitable future for all our residents. You can learn more at www.RonforCalifornia.com. Please join me!
Texas Trans girl assaulted over GOP lies about Uvalde shooting
Why was this teen girl assaulted by a grown man she'd never met, harassed by four strangers who could tell she was trans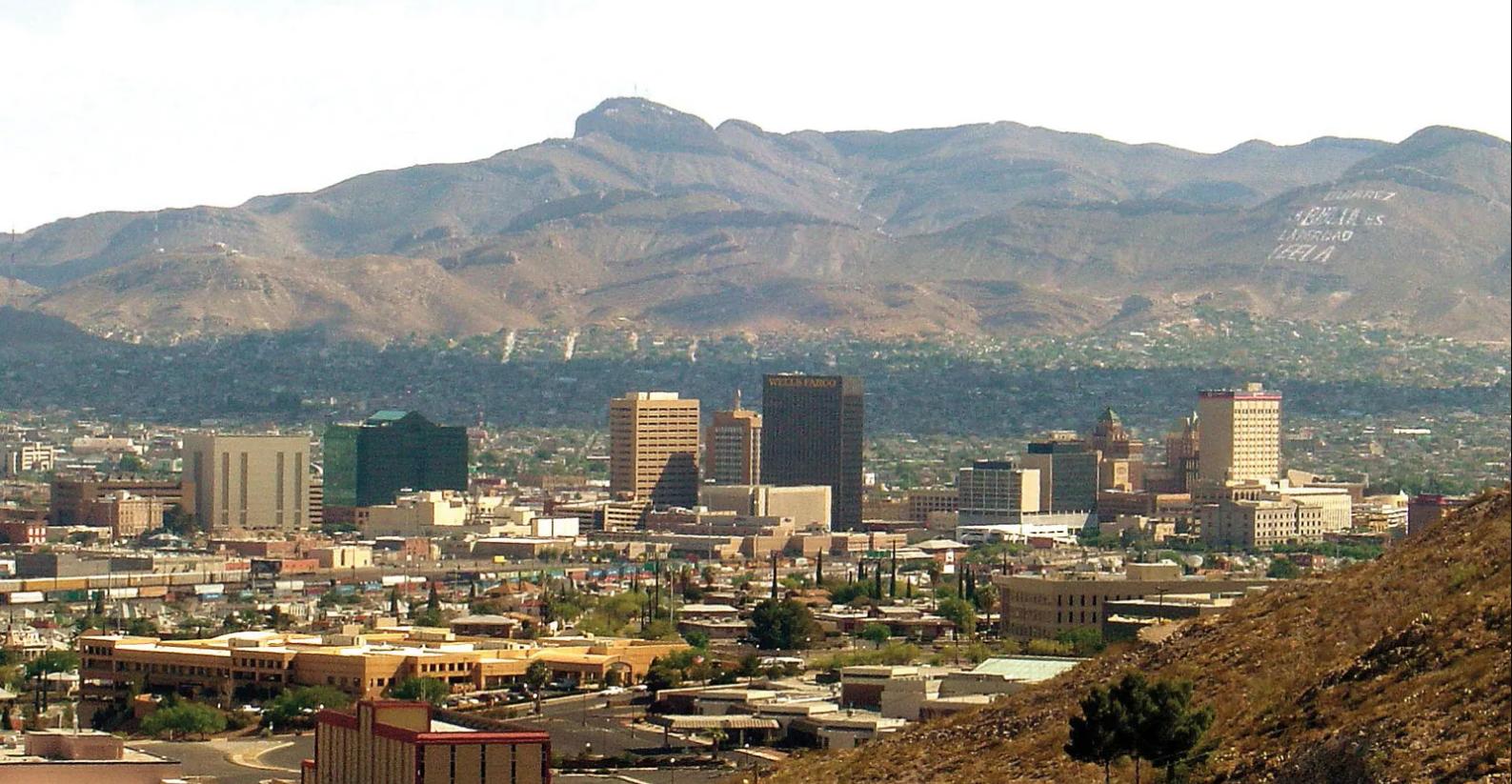 By James Finn | DETROIT – "Oh look, it has a dick," snarled one of four men last night outside an El Paso library where Tracey had just finished her high school homework before heading to the halfway house where she lives because her parents kicked her out for being transgender.
In a phone interview today, Tracey told me the man grabbed her arm and forced her body around to make her look at him, saying "Yeah, you know they're perverting kids instead of killing them."
She had no idea what he meant, but she was scared, like she says she usually is on the streets of El Paso these days. "I'm only 17!" she told the man who grabbed her.
Another man said, "Yeah, you know it was one of your sisters who killed those kids. You're a mental health freak!"
She twisted away and rushed off on her bicycle, stopping to phone the El Paso Police, who refused to take an assault report. Hours later, during a phone session with a Rainbow Youth Project counselor, Tracey heard about false rumors flying around the Internet — that the horrific mass shooting at Robb Elementary School in Uvalde, Texas had been committed by a "transsexual leftist illegal alien." The rumor was amplified in a big way by Paul Gosar, a dentist and Arizona Republican Congressmember who styles himself a doctor on Twitter.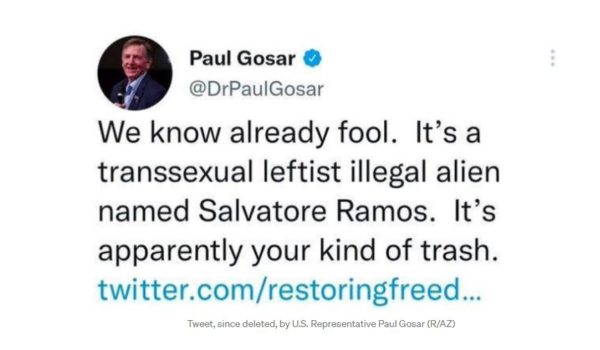 Nobody is quite sure where that false claim got started, but it spread rapidly, based on photos of a person unrelated to the attack. The 18-year-old man who killed 19 children and 2 adults yesterday is neither transgender nor an illegal immigrant.
Gosar amplifying this scapegoating rumor is not unusual. According to Brody Levesque, writing about the Uvalde shooting in the LA Blade, "Gosar is an anti-immigration, anti-vaxxer, radical right hardliner who routinely cozies up to white nationalists." He's typical of the Trump-supporting hard-right faction that now dominates the GOP.
Let's talk about the school shooting, then come back to Tracey, Gosar, and scapegoating
I've felt sick to my stomach since late yesterday when I learned about the horrific mass shooting about 80 miles outside San Antonio. I couldn't stop crying for the parents of those 19 little children who are never coming home again. I despaired at a staunch, reflexive Republican reaction against even minimal gun regulation. I sat glued to President Biden addressing the nation, and I thrilled to Golden State Warriors coach Steve Kerr's impassioned plea for action on gun control.
I had no idea as I was mourning for those children and their devastated parents that a GOP talking point about mental health would soon dominate Fox News and conservative social media. I never could have conceived that the narrative was already twisting itself up with that other GOP mantra, that trans teens are mentally ill and that people who support them are committing child abuse.
But they did come together, in El Paso, with Tracey. So, let's talk about Tracey.
Tracey is not mentally ill. She's not dangerous. She's not hurting anybody. But she spent two months this spring living on the streets because fellow students threatened to out her as trans to her parents. When she tried to get ahead of that by coming out to her parents on her own terms, they told her to get out.
She goes to high school every day watching her back, because students, teachers and other staff are hostile to her. She used to confide in a kind guidance counselor, but she doesn't anymore because the counselor got in trouble after people falsely claimed she'd encouraged Tracey to "become" trans.
Tracey told me that isn't true. She started socially transitioning in 9th grade before she met the counselor. She just liked sitting down for a few minutes with a kind adult.
She can't anymore.
Tracey can't talk to her counselor at a community clinic anymore either. They shut their doors to trans teens a few weeks ago when the Texas government began investigations based on Texas AG Ken Paxton's legal finding that supporting transition is child abuse. It doesn't matter that Tracey just wants to talk and get support. The clinic isn't taking any chances.
The only people Tracey could turn to for support last night were at the Rainbow Youth Project hundreds of miles away in Indiana. They calmed her down after her assault, listened to her fears, and provided as much emotional support as possible over the phone. Then they called the El Paso Police Department for her, who once again refused to take a report. (The EPPD did not immediately respond my request for comment.)
A Rainbow Youth volunteer flew to El Paso from out of state two months ago to advocate for Tracey. They got her off the streets and into a room in a halfway house Tracey calls "nice and comfortable." She says she calls them when she's feeling down, and they often check in on her. She sounds a little weepy when she tells me the only kind people she can to talk to now don't live in Texas. She hopes that changes when she turns 18.
Let's talk about scapegoating
Tracey doesn't want to hang up when I'm ready to start writing this article, but I need to focus, to ask myself why this teen girl with a soft Texas accent got assaulted last night by a grown man she'd never met, harrassed by four strangers in their early 20s to late 30s who could tell she was trans and wanted to blame child killings on that.
Look, the U.S. has an epidemic of mass shootings going on. We must confront that together as a nation. So, how about we stop the scapegoating? I don't know what's happened to Republican leadership, why they won't face up to gun violence, but I can see something clearly. They keep demonizing LGBTQ people. Because that's apparently easier than tackling tough problems.
And last night? That scapegoating terrified a teen girl just trying to ride home on her bike.
How about we knock it off? How about we leave people like Tracey alone? How about we tell Paul Gosar to do his real job instead of stirring up hate? How about we stand up for people who aren't hurting anyone?
I don't know about you, but I'm sick over the Uvalde shooting, and I sure would have liked to focus on that today. What's going on, America? Can we stop bashing trans people, please?
************************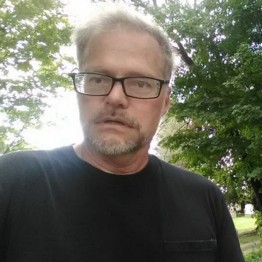 James Finn is a columnist for the LA Blade, a former Air Force intelligence analyst, an alumnus of Queer Nation and Act Up NY, and an "agented" but unpublished novelist. Send questions, comments, and story ideas to [email protected]
********************
The preceding article was previously published by Prism & Pen– Amplifying LGBTQ voices through the art of storytelling and is republished by permission.
Why I'm running: Rick Chavez Zbur
Let me tell you a little more about myself and why I'm running for an Assembly seat to represent Los Angeles AD-51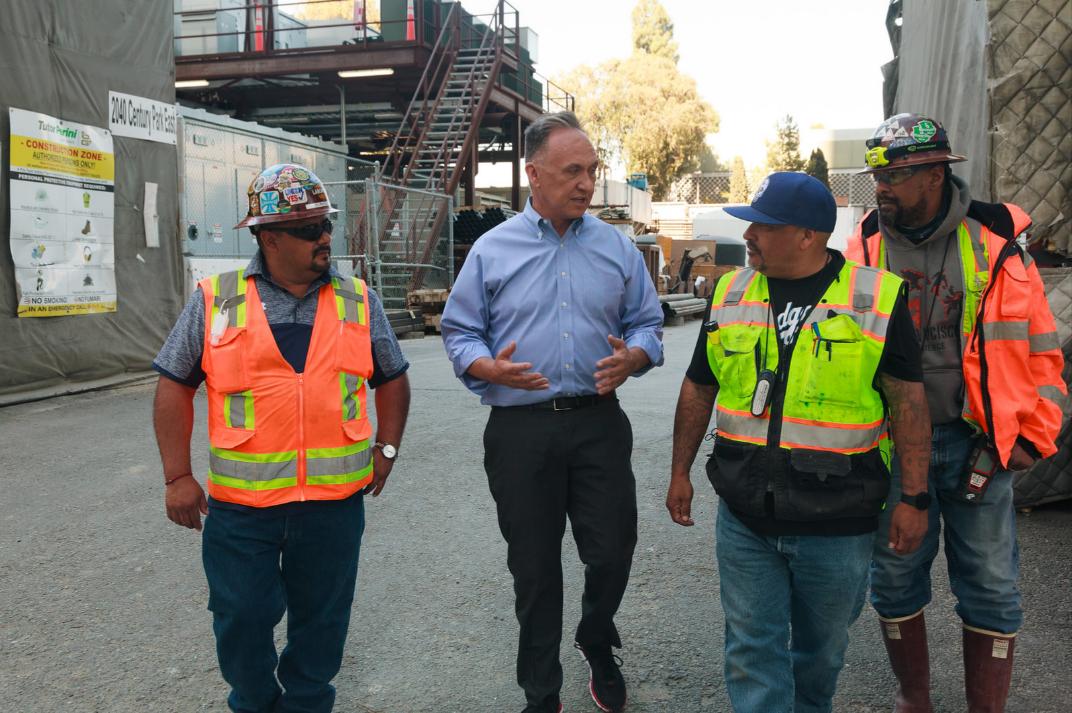 By Rick Chavez Zbur | LOS ANGELES – My name is Rick Chavez Zbur.  You may know me from my time as Executive Director of Equality California, California's statewide LGBTQ+ civil rights organization, but let me tell you a little more about myself and why I'm running for AD-51.
I grew up in a small farming community in rural New Mexico, the same community where my mother, Linda Chavez Zbur, and her family lived for generations. The community was socially conservative and I didn't know a single LGBTQ+ person. Any kid who was suspected of being LGBTQ was relentlessly bullied and taunted, and I could not even let myself think about the fact that I might be gay.
My dad dropped out of high school to help support his family but later used the G.I. bill to go back to high school and college to become a college professor. He taught me the importance of community service. He was a dedicated Democratic activist, and I remember him saying that we needed to support Democrats because that is the party dedicated to improving the lives of working people. My dad and I used campaign candidates together door to door and at the polls. Given my dad's influence, I always thought I might have a career in public service.
But when I began coming to terms with my sexual orientation while at Harvard Law School in the 1980's, I decided that a career in government was not possible for me as a gay man. It was a very different time and there were virtually no "out" gay elected officials. So I moved to Los Angeles and became an environmental lawyer, in large part because I had seen how contaminated groundwater had caused so many people in the farm community I grew up in to become ill, including several uncles and cousins.
Ironically, my lived experience as a gay man that caused me to stay away from government is exactly what brought me back into politics. During the early years of the AIDS crisis, I saw scores of my friends become ill and die, while our elected officials did virtually nothing. The AIDS crisis motivated me to get off the sidelines. So, I came out at work and became the first "out" lawyer at Latham & Watkins. I began supporting, organizing and fundraising for candidates who were willing to fight AIDS and for the LGBTQ+ community. I also joined the boards of Lambda Legal and Children Affected by AIDS Foundation and supported the work of Equality California. More recently, I joined the board of Planned Parenthood—Los Angeles because abortion rights and LGBTQ+ civil rights are inextricably joined.
I also became deeply engaged in the environmental movement. I have served on the Board of the California Environmental Voters (formerly California League of Conservation Voters) for over 20 years — and as President for six of those years. As board president, I led the organization to prioritize environmental justice and the vulnerable communities that are hardest hit by pollution, as well as sustainable housing and green job programs to address climate change.
In 2014, I left my law firm to become the Executive Director of Equality California, the nation's largest statewide LGBTQ+ civil rights organization. At Equality California, I led the organization through a period of significant growth and an expansion of its mission to include advancing civil rights and social justice for the diverse communities to which LGBTQ+ people belong — communities of color, communities of faith, immigrants, women and people living with HIV. I'm very proud of the significant accomplishments during my leadership. With our partners, we passed almost 100 new laws, including a model law to reform our discriminatory HIV criminal laws. We passed laws to protect LGBTQ+ seniors in long term care facilities, transgender and non-binary people who are incarcerated and LGBTQ+ people facing homelessness. We fought for immigration rights, universal healthcare, the $15 minimum wage, gun safety legislation, and criminal justice and anti-racism reform. We banned the use of the gay/trans panic defense in California Courts, and passed laws that allow people to obtain HIV prevention medications (PrEP and PEP) at pharmacies without a prescription. We launched new programs to assure that our schools are safe and supportive for LGBTQ+ and all kids.
I was urged and inspired to run for the Assembly by my sister, Jackie, who lost her three-year battle with ALS. Watching her fight this truly horrendous disease — both physically and financially, spending her entire life's savings on her care — broke my heart and devastated my entire family. I saw first-hand that not only is our healthcare system broken, but so is our social safety net — especially for seniors and people with disabilities.
I know too many families in our community, throughout California and around the world have endured similar pain over the past couple years— and that's why I decided to run for the California Assembly to fight for real solutions on the critical issues facing us today. For decades, I have worked from the outside and I know how to build consensus to pass cutting edge bills in the Legislature. I have the background, commitment and policy-experience to make real change on our communities' toughest challenges—housing/homelessness, hate crimes, climate action, LGBTQ civil rights and more. I am proud to be the only candidate endorsed by the California Democratic Party, Planned Parenthood, Equality California, Stonewall Democratic Club, California Environmental Voters, as well as Governor Gavin Newsom, Supervisor Sheila Kuehl and Congressman Adam Schiff. I would be honored to have your support too!