September 29, 2020 at 11:51 am PDT | by Staff reports
Madonna Cacciatore, Executive Director of LA Pride, exits role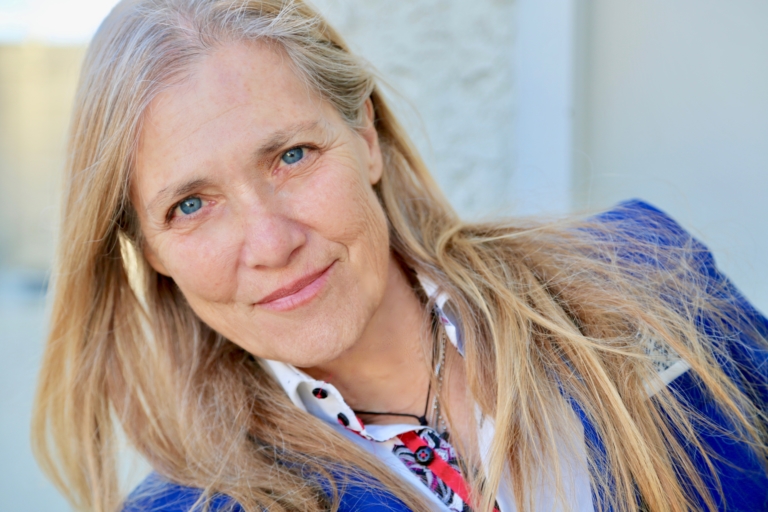 Photograph courtesy of Madonna Cacciatore
LOS ANGELES – Madonna Cacciatore, the executive director of Christopher Street West/LA Pride, (CSW/LAPride) has has stepped down it was announced Tuesday via a press statement.
Cacciatore was hired during the tenure of LA Pride's then board president Chris Classen in early May 2018 and started on July 1, 2018 after Estevan Montemayor became board president.
Cacciatore had previously worked for Los Angeles area LGBTQ nonprofits starting out at at AIDS Project Los Angeles (APLA) in 2006 and then as the Director of Special Events for the Los Angeles LGBT Center, 2012 until joining CSW/LA Pride.
On September 1, of this year, Estevan Montemayor stepped down as the group's President.
While serving as board president Montemayor hired Cacciatore as LA Pride's first full-time executive director. Together they were able to add experienced staffing for fundraising and operations, attract record breaking corporate donations in 2019, and expand the board with a mind toward all aspects of diversity.
Highlights of her tenure included an expansion of the Pride festival and parade and a free component called "Pride on the Boulevard." Cacciatore helped launch the bid to bring the World Pride celebration to Los Angeles in 2025; LA Pride was broadcast for the first time on a major local TV station, KABC 7, a program, which was so successful that it led to a multiyear TV contract deal for CSW/LA Pride. In 2020 it was broadcast as a televised 'Virtual Pride Special.'
Newly appointed president of the Board of Directors, Sharon-Franklin Brown said, "Madonna, thank you for your boundless contributions to CSW/LA Pride and the LGBTQ+ community and allies It's with enormous gratitude I wish you well on the next stages of your journey, my friend."
Cacciatore wrote:
I am deeply humbled to have been at the helm of Christopher Street West |LA Pride as the executive director for more than two years. It is with deep gratitude, a rich heart, and mad respect that I make the bittersweet announcement that my last day is September 30. Beginning October 1, the organization will be under the executive leadership of members of the board of directors.
It is important for me to convey this to you with honesty and integrity. It's simple: COVID-19 has made it tough for Pride organizations across the globe to sustain themselves. CSW is financially sound and must remain that way in order to provide brave, safe spaces for the next 50 years. As a fierce advocate of the LGBTQ+ community, I look forward to the day when we can march and celebrate safely together again.
In my time as ED, I got to meet with many of you in coffee shops, parks, at conferences, and we cried, laughed, held hands, vented, and brainstormed. It is through the eyes and passion of every person I met that I felt brave enough to carry this responsibility. I never took that lightly. I have always strived to stand with the most marginalized. Those of you who know me personally know this fight is very real for me, too, and know that I shed many tears for our community. I am committed to that advocacy from wherever I am. I also got to meet with and learn from Pride leaders around the world.
LA Pride 2019 seems like a million years ago but lives vividly in my heart today. After months of listening to your voices, we were able to produce new, free events like Pride on the Boulevard, Oil Can Harry's, Opening Ceremony, a blessing by tribal elders of the Tongva land, and the first live parade broadcast on ABC7, where families far and wide got to see their children, parents and siblings celebrate. We produced the first annual Fem(me): Fueling the Female Force Within event, where we jointly honored five diverse leaders with the Alexis Arquette Family Foundation. We brought the Dyke March back to LA Pride.
The greatest thing a leader can do is listen. My wish in passing the Pride baton to future generations is that no matter who you are or what your journey, you listen and take action. Dig deeply into your activist souls. Don't let up until we are all free and open to be who we are and walk without fear.
It has been my honor to serve you. You challenged me and touched me to my core. You are the reason the role was important to me.
Vote. March. Volunteer. Unite. Take care of one another. That's our duty.
My deepest love and thanks for trusting me with LA Pride. Hope to see you all very soon in person.