November 24, 2020 at 7:35 pm PST | by Brody Levesque
Challenges to outdoor dining ban defeated- LA County 51 COVID19 deaths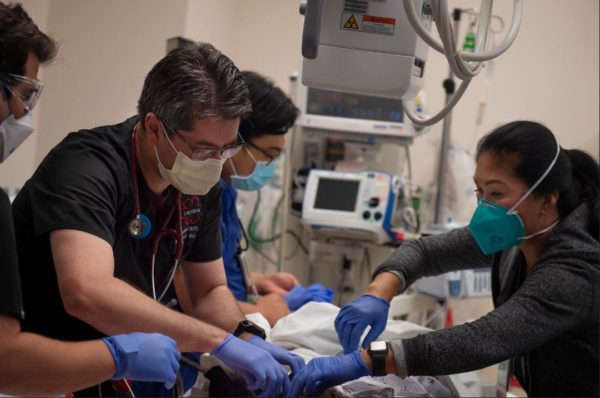 LOS ANGELES – A legal challenge brought by the California Restaurant Association to block the Los Angeles County Health Department's order to shut down outdoor dining Wednesday was rejected by a LA County Superior Court Judge Tuesday.
The restaurant association were asking that the court delay to prevent the closure of outdoor dining until public health officials provide medical or scientific evidence that outdoor restaurant dining poses an unreasonable risk to public health.
The ban on outdoor dining takes effect on Wednesday at 10 p. m. and is slated to remain in place for at least three weeks. In issuing the order this past weekend, the Los Angeles County Health Department stated;
"The persistent high number of cases requires additional safety measures that limit mixing in settings where people are not wearing masks.  We hope individuals continue to support restaurants, breweries and wineries by ordering for take-out or delivery.  We also fervently hope every L.A. County resident supports all our businesses by following the Public Health directives that we know work to slow spread. Unfortunately, if our cases and hospitalizations continue to increase, we will need to issue further restrictions to protect our healthcare system and prevent more deaths."
In a scheduled Tuesday session, the LA County Board of Supervisors debated then voted on a motion from Board Chair Supervisor Kathryn Barger to keep allowing outdoor dining. But it failed to pass by a 3-2 vote, with only Supervisor Janice Hahn supporting Barger's motion.
Barger pointed out that county health officials, including health officer Dr. Muntu Davis, did not present evidence that showed a link between outdoor dining at restaurants and the recent sharp spike of coronavirus cases, KTLA reported.
Dr. Barbara Ferrer, the director of the L.A. County Department of Public Health, admitted that their recommendation was based off a national Centers for Disease Control and Prevention report. Data from the department's website shows that 3.1% of COVID-19 outbreaks in the county are occurring at restaurants.
Reflecting on the Thanksgiving holiday this Thursday, and travelers coming to and from Los Angeles, there is still concern that cases will only continue to accelerate Ferrer pointed out to the Supervisors.
"We had, I think, at LAX, 1 million travelers go through LAX yesterday. If you're a public health person, you know you can — you just — you just start crying when you hear those numbers," Ferrer said. "If we don't have a big enough problem now, we're likely to have a big problem because of all the in-traffics."
In an emailed statement, Supervisor Mark Ridley-Thomas, who voted against the motion noted;
"These are not decisions that we have made lightly. We are acutely aware of the compromises all Angelenos have been forced to make in order to protect the health and safety of themselves and their loved ones.
"Despite what some naysayers may say, it has not been for naught. Compared to many other cities and regions of our size and density, we've avoided overwhelming our healthcare systems and prevented many deaths.
"If this is our objective, we must be consistent. If we are asking that everyone stay home and limit physical interactions with people outside of their homes, our policies align with this message. The public is being bombarded with confusing and incomplete information, much of which is contradictory. Allowing outdoor dining, where people of mixed households gather to dine and mingle without face masks is inconsistent to our request for people to stay home."
Following surging COVID-19 cases and hospitalizations in recent weeks, the Los Angeles County Department of Public Health confirmed 51 new deaths Tuesday and 3,692 new cases of COVID-19. This is the highest number of deaths reported since September 9.
COVID-19 hospitalizations continue to accelerate at alarming speed. There are 1,575 people with COVID-19 currently hospitalized and 26% of these people are in the ICU. Just two weeks ago, there were 888 people with COVID-19 hospitalized.
Dr. Ferrer cautioned Angelenos saying, "People mixing with others not in their household has driven the COVID-19 pandemic in L.A. County to dangerous levels. Because L.A. County reached a five-day average case rate over 4,500 new cases, Public Health is working with the Board of Supervisors on additional safety measures to reduce transmission of the virus. Public Health is recommending that gatherings only occur with members of your own household and occupancy at all sites be reduced to avoid crowding."
During his weekly press conference in Sacramento Tuesday, California Health and Human Services Secretary, Dr. Mark Ghaly, noted that as of November 24, California has 1,125,699 confirmed cases of COVID-19, resulting in 18,769 deaths. The number of COVID-related deaths increased by 0.2 percent from the prior day total of 18,726.
As of Tuesday, 88,080 people are currently hospitalized with Covid-19 in the United States. This is the highest number of Covid-19 hospitalizations the nation has ever experienced according to experts at Johns Hopkins University's COVID tracking project.