January 4, 2021 at 9:55 pm PST | by Brody Levesque
Someone is contracting COVID every 6 seconds in L.A. – Ambulances to leave those who won't make it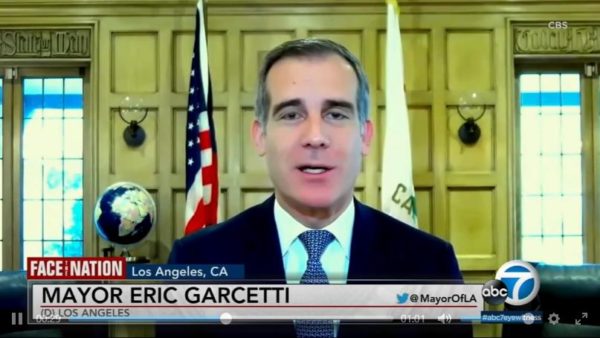 LOS ANGELES – Speaking on the CBS News program Face the Nation Sunday, Los Angeles Mayor Eric Garcetti said that "someone is contracting the virus every six seconds in L.A. County."
"My message to everybody is, this is not only going to come after somebody that you love, this is going to possibly come for you. So everything we do is either life-saving or life-taking at this point," he added.
Adding to the misery, Los Angeles County ambulance crews have been instructed to not transport coronavirus victims who have no chance of survival.
The Los Angeles County Emergency Medical Services Agency issued a directive Monday that all ambulance crews should administer supplemental oxygen only to patients whose oxygen saturation levels fall below 90%.
In a separate memo LACFD paramedic crews have been told not to transfer patients in cardiac arrest unless spontaneous circulation can be reestablished on scene.
Additionally according to LA county's health services director, Dr. Christina Ghaly, "Ambulances are being forced to wait in bays as long as eight hours before having the ability to transfer patients inside hospitals — and in some cases, doctors were treating patients inside ambulances. We're running out of ambulances, and our response to 911 calls is getting longer and longer."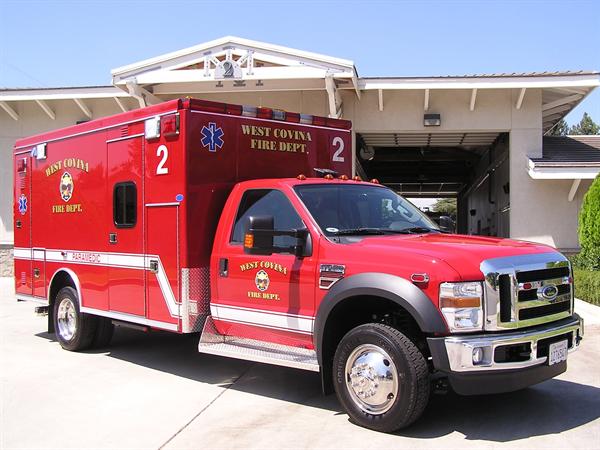 The Los Angeles County Public Health Department reported Monday that there are 7,697 people with COVID-19 currently hospitalized and 21% of these people are in the ICU. When this surge began in early-November, there was an average of 791 people hospitalized daily with COVID-19. On January 2, just two days ago, the three-day average number of people hospitalized with COVID-19 was at a staggering 7,623 patients.
"The high number of COVID-19 patients in our hospitals is distressing not only for those who have COVID-19, but for all others in the County who need acute care during this time. People who have a stroke or heart attack or who experience a traumatic injury from a car crash are finding it more difficult to access care compared to usual times," a spokesperson said in a statement.
Since the last week of November, the number of coronavirus cases in the County has roughly doubled, from about 400,000 to 800,000 on January 2. Since November 1, cases have increased by 905%.
The Public Health department has confirmed 77 new deaths and 9,142 new cases of COVID-19. The number of new cases and deaths reported Monday reflects reporting delays over the New Year's holiday weekend.
To date, Public Health identified 827,498 positive cases of COVID-19 across all areas of L.A. County and a total of 10,850 deaths.
In December, Los Angeles city officials introduced a map that tracks the virus in each city neighborhood. Data currently shows the test positivity rate in predominantly Black and Latino neighborhoods at 20% to 33%, higher than all other parts of L.A., according to Mayor Garcetti's office.
Last week the County amended its health order to implement a mandatory 10-day quarantine on anyone who travels into the area from outside the Southern California region. The order impacts coming to L.A. County from outside Southern California — whether it's by air, auto, train or other form of transportation — and applies to both residents and non-residents.
Under the public health directive, those who travel for non-essential purposes must quarantine for 10 days upon entering L.A. County. It applies to both residents and non-residents.
The order defines the quarantine as "staying at home or another place of temporary shelter and away from contact with others, including those in one's household," according to the Los Angeles County Department of Public Health.
During the 10-day period, officials advise those under quarantine to stay away from others and have items such as food and groceries delivered to them.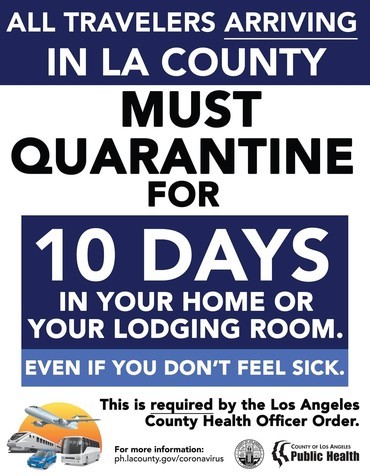 KTLA reported that there are some exceptions regarding who has to quarantine, including licensed health care professionals, those working for essential government or infrastructure, members of professional or college sports teams, and film or media production personnel operating in the county.
Anyone who travels through L.A. County but is not staying overnight also does not need to observe the quarantine.