January 19, 2021 at 11:08 pm PST | by Brody Levesque
A nation grieves for 400,000 deaths- California cases rise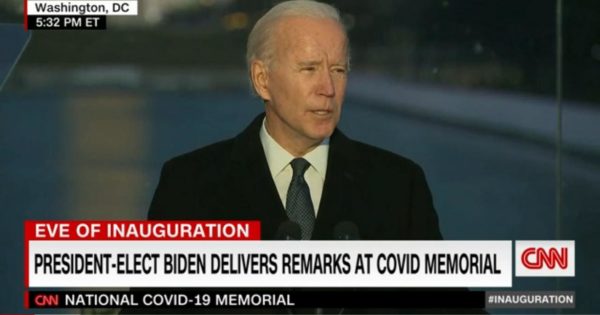 WASHINGTON- On the final day of the Trump administration the United States crossed the grim threshold of over 400,000 Americans who have died as a result of the coronavirus pandemic. In a moment punctuated by solemn ceremony tinged with grief, a nation for the first time was brought together to mourn its losses.
In brief remarks just prior to the illumination of 400 lamps, each symbolizing 1,000 American lives lost, President-elect Joe Biden told those gathered and those watching virtually online, "It's hard sometimes to remember, but that's how we heal. It's important to do that as a nation," he said. 
Delivering her own reflections, Vice president-elect Kamala Harris pointed out that
 "[…] for many months, we have grieved by ourselves. Tonight, we grieve and begin healing together. Though we may be physically separated, we, the American people, are united in spirit and my abiding hope, my abiding prayer, is that we emerge from this ordeal with a new wisdom: to cherish simple moments, to imagine new possibilities and to open our hearts just a little bit more to one another," she said.
Bide, his wife Dr. Jill Biden, Harris and her spouse Doug Emhoff,  then quietly watched as the lamps were illuminated around the Lincoln Memorial Reflecting Pool while American gospel singer Yolanda Adams sang "Hallelujah."
In California Tuesday the pandemic death toll reached 34,196 as the state grapples with an exploding surge which tallies at nearly 3.06 million confirmed cases. The grim milestone demonstrates how widely the coronavirus has spread throughout California, which also means that roughly 1 out of 13 residents have been infected.
The Los Angeles County Department of Public Health confirmed 186 new deaths and 7,902 new cases of confirmed COVID-19. To date, Public Health has identified 1,031,874 positive cases of COVID-19 across all areas of L.A. County and a total of 14,122 deaths.
There are currently 7,322 people currently hospitalized with COVID-19, and 24% of these people are in the ICU. Public Health reported.
As case numbers surge the vaccine rollout continues as more than 348,000 vaccinations have been administered. More than 271,000 first doses and more than 77,000 second doses have been administered. For the amount of vaccine currently in hand in Los Angeles County, Public Health has used 58 percent of the first doses and about 35 percent of the doses designated for 2nd doses. According to public health officials this is better than the national average.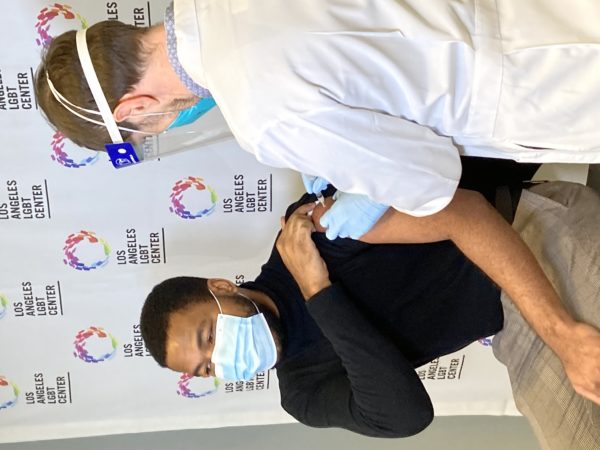 Dr. Ward Carpenter, Health Services Co-Director for the Los Angeles LGBT Center told the Blade Tuesday that the Center is registered to receive vaccines and ready to start vaccinating its existing clients as soon as we receive a supply that's permitted to be distributed under LA County DPH's priority guidelines.
A spokesperson for the Center in an email noted that; "Right now, we don't yet have a date when we'll receive our next supply. People who are not Center clients should look to their own PCPs or to an LA County "mega pod" distribution site such as Dodger Stadium."
"We applaud the intention to administer all doses of existing vaccines to as many people as possible in order to finally turn the tide against this virus which has caused so much loss in our community," Dr. Carpenter said.
More of the County's large-scale vaccination sites opened up Tuesday as vaccine eligibility expands to include Angelenos aged 65 Years and older. In a statement Public Health noted that the vaccine supply is still extremely limited, and officials urge patience as "we work urgently with our federal and state partners to expand capacity and supply in the weeks ahead."
The five sites, which were chosen for their regional accessibility and their ability to handle large capacities of people, are:
Pomona Fairplex, 1101 W McKinley Ave, Pomona, CA 91768
The Forum, 3900 W Manchester Blvd, Inglewood, CA 90305
California State University, Northridge, 18111 Nordhoff St, Northridge, CA 91330
A. County Office of Education, 12830 Columbia Way, Downey, CA 90242
Six Flags Magic Mountain, 26101 Magic Mountain Pkwy, Valencia, CA 91355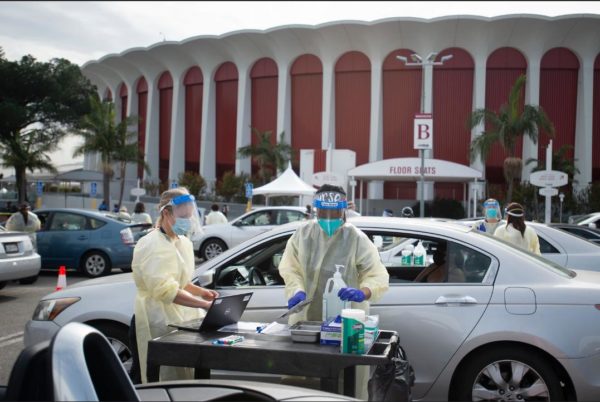 These large-scale vaccination sites will be able to vaccinate approximately 4,000 people per day at each site, significantly increasing the number of frontline healthcare workers vaccinated.
Vaccinations are free, and available to all who are currently eligible, regardless of immigration status or insurance coverage. For those who have insurance, coverage information may be requested as part of the appointment scheduling process.
 
Additionally, Los Angeles County residents who are 65 years old and older are now eligible for COVID-19 vaccination. Residents in this high-priority age group may receive a communication from their health care provider with information about COVID-19 vaccinations and how to receive one.
They can also visit VaccinateLACounty.com to schedule an appointment for vaccination. For those without access to a computer or the internet, a call center will be open to help schedule appointments at 833-540-0473, daily from 8:00 a.m. to 8:30 p.m. Individuals are encouraged to use the website whenever possible to sign up for an appointment to avoid long wait times on the phone.
"The loss and devastation from COVID-19 is being felt by many of L.A. County residents; we mourn with you and wish you peace during this extremely difficult time," said Dr. Barbara Ferrer, Director of Public Health. "After an exhausting, year-long battle with this highly contagious and deadly virus, we now have a vaccine that is safe, effective and will save lives. The vaccines also do more than protect the person getting vaccinated; the more people in a community who are vaccinated and protected from COVID-19, the harder it is for this virus to spread. However, this process will take several months and so we ask for your understanding and patience."