The Daily Wire's Matt Walsh makes extreme attacks on trans kids
Seemingly violating hate speech policies on YouTube, Facebook, and Twitter, Walsh says medical care for trans kids is "molestation and rape"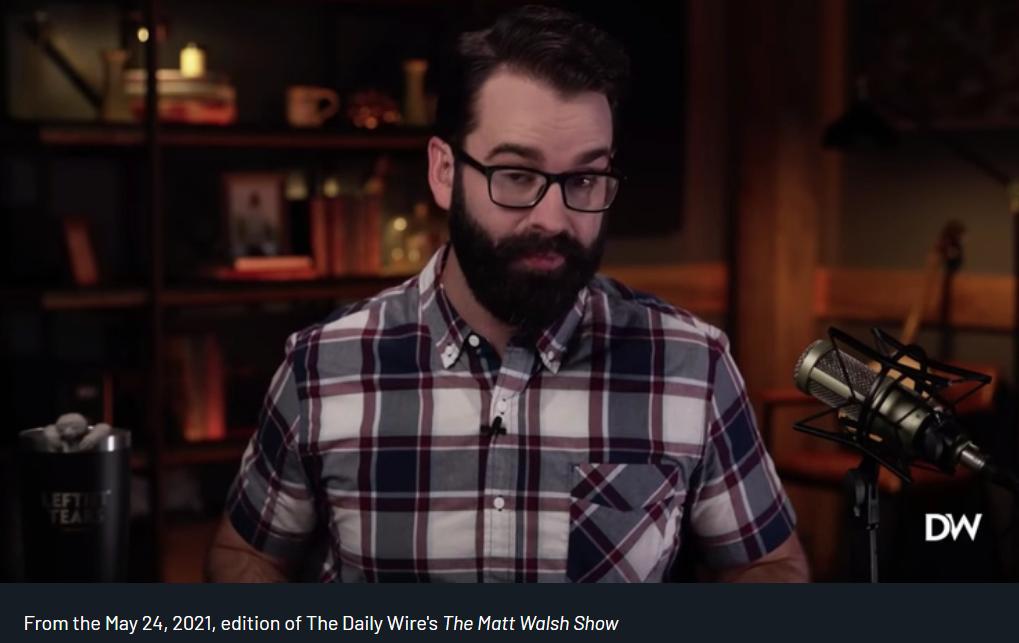 By Brianna January | WASHINGTON – During the May 24 edition of The Daily Wire podcast The Matt Walsh Show, host Matt Walsh compared best practice medical care for trans youth to "molestation and rape" and repeatedly slandered the doctors who provide such necessary care. Walsh shared the episode to YouTube, Facebook, and Twitter, despite those platforms' hate speech policies that claim to prohibit such content.
In reality, best practice health care for trans youth is widely supported by medical professionals and yields long-term mental health benefits. Furthermore, young trans and gender-diverse children are not undergoing treatments or surgery until they are older — rather, as social work professor Katherine Kuvalanka told The Washington Post, "the only interventions for young children is affirmation and acceptance for who they are."
Moreover, research shows that affirming families and communities can be lifesaving for young trans people. According to Reuters, a 2016 study in the journal LGBT Health found: "For transgender or gender non-conforming individuals, as rejection from family members increases, so does their likelihood of suicide attempts or substance abuse."
During a nearly 20-minute monologue on his podcast, Walsh called such necessary care "mutilation," said that advocates of best practice care for trans kids are trying to "undermine the legal, scientific, and philosophical case against pedophilia," and claimed that a "child who is put on hormones and who has their body being mutilated is being sexually violated in a way that is just as depraved or damaging as molestation or rape." He also repeatedly cited anti-trans author Abigail Shrier's flawed theories on "social contagion" of transgender identity in adolescents (she has also compared being trans to having anorexia and joining a cult).
Walsh also attacked doctors who serve trans youth, calling them "evil — we're talking about Nazi scientist-evil" and "pedophiles," and he said performing affirming procedures has "plastic surgeons basically acting like Leatherface from The Texas Chainsaw Massacre." The podcast's episode is even titled "The Evil Quacks Mutilating Our Children."
Instead of supporting best practice medical care, Walsh seemingly advocated for the discredited and harmful practice of conversion therapy for trans kids, saying that "the goal of therapy should be quite literally the exact opposite" of affirming a child's gender identity. 
Walsh's podcast was shared on Facebook, YouTube, and Twitter, seemingly in violation of their hate speech policies
Facebook's community standards define hate speech "as a direct attack against people on the basis of what we call protected characteristics," including gender identity and expression. The platform prohibits "dehumanizing speech or imagery in the form of comparisons, generalizations, or unqualified behavioral statements," including baselessly describing people as a "sexual predator" or as "violent and sexual criminals." Additionally, Facebook banned posts that "advertise or promote" conversion therapy in 2020.
Similarly, YouTube's hate speech policy states that the platform will "remove content promoting violence or hatred against individuals or groups" based on attributes including sexual orientation, gender identity and expression, and sex or gender. It also bans "conspiracy theories saying individuals or groups are evil, corrupt, or malicious based on any of the attributes noted above." YouTube cites examples of content that violates the policy, including videos that "allege the superiority of a group over those with any of the attributes noted above to justify violence, discrimination, segregation, or exclusion." Notably, the platform has removed videos in the past for comparing being trans to having mental illness.
Likewise, Twitter's hateful conduct policy states that users "may not promote violence against or directly attack or threaten other people on the basis of … sexual orientation, gender, [or] gender identity." The company also claims to be "committed to combating abuse motivated by hatred, prejudice or intolerance, particularly abuse that seeks to silence the voices of those who have been historically marginalized," including "women, people of color, lesbian, gay, bisexual, transgender, queer, intersex, asexual individuals, marginalized and historically underrepresented communities."
Despite these policies against hate speech targeting trans people, Walsh shared the May 24 episode of his podcast on all three platforms. He shared and pinned it to his Facebook page, part of the Daily Wire's network of several anti-LGBTQ pundits with large Facebook platforms which is often used to misinform about trans people; uploaded it to YouTube, where it has earned almost 52,000 views in under 24 hours; and shared and pinned it on his Twitter account.
If Facebook, YouTube, and Twitter are serious about their claims to care about their LGTBQ users, they should not tolerate Matt Walsh and the Daily Wire network's continued use of their platforms to attack trans people and lie about them.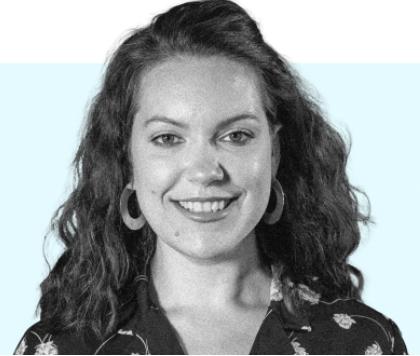 Brianna January is a researcher for the LGBTQ program at Media Matters. Brianna holds a Masters in Public Policy from the University of Maryland School of Public Policy and has a background in LGBTQ human rights and advocacy.
The preceding piece was originally published by Media Matters for America and is republished with permission.
Appreciating lesbian thinker & activist Urvashi Vaid
"I remember her as a whip-smart lesbian of color who stood up and fought but also offered peace and hope when possible"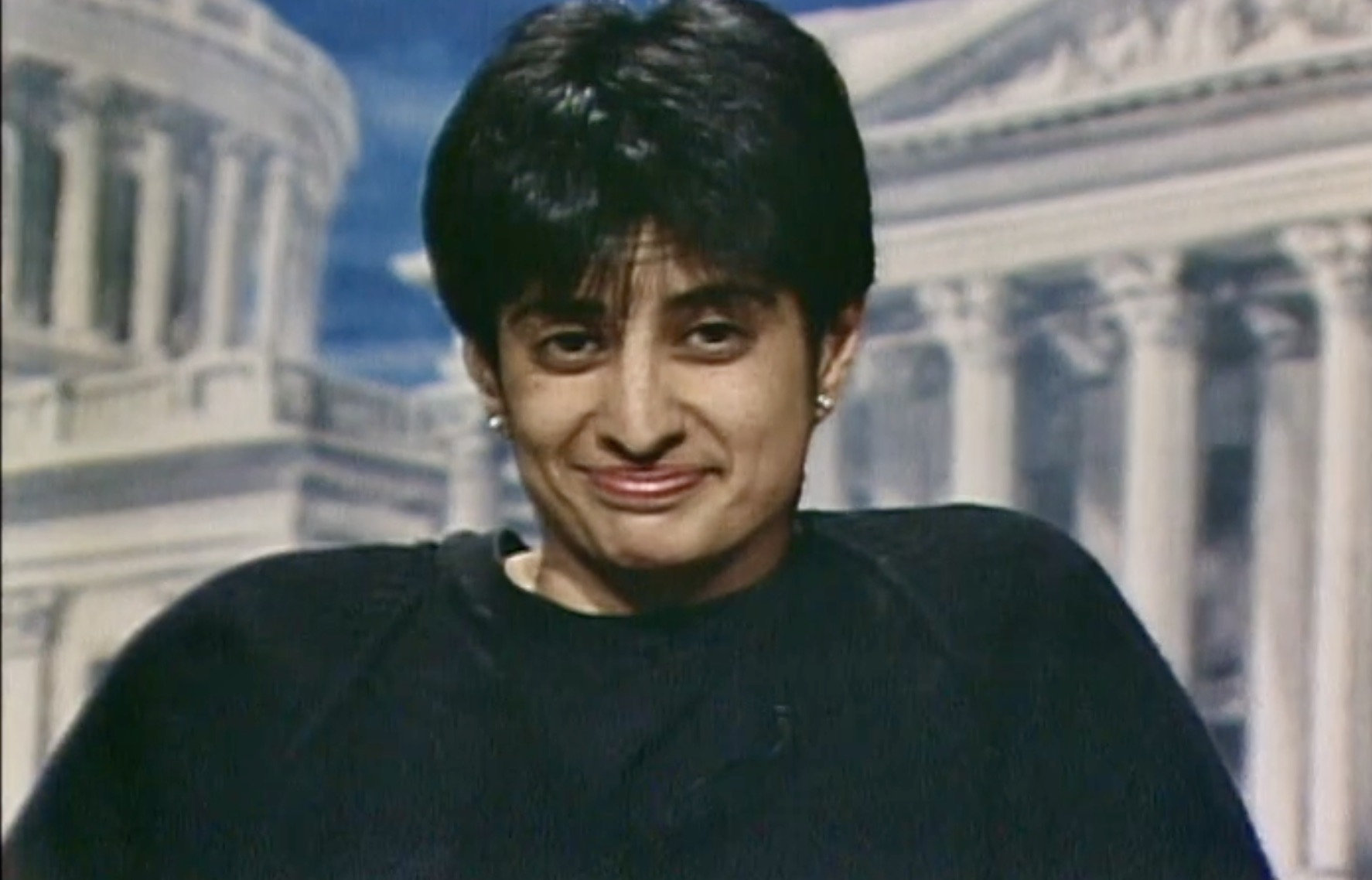 By Karen Ocamb | WEST HOLLYWOOD – Urvashi Vaid was whip smart. She could look at you with some analysis spinning behind her eyes and then smile a deep broad smile and you could exhale as a shared vision started coursing through your veins — a warrior sisterhood striving and fighting for liberation.
And you didn't even know liberation was on your wish-list.
It's hard to register that Urvashi Vaid is gone. 
Urvashi could seduce your brain with elevated and clear-spoken common sense. And damn if she couldn't rile you up and spur you to action as she did in Sacramento in 1991 after Republican Gov. Pete Wilson vetoed AB 101, the gay rights bill he promised to sign, and with her 1993 speech at the March on Washington.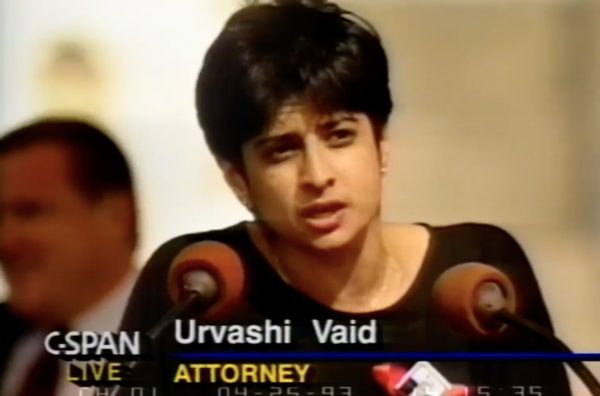 And we needed that. After years of excruciating pain losing lovers, family and friends while Ronald Reagan's spokesperson laughed about the scourge of AIDS in the White House press room, a serious LGBTQ political movement was emerging in the late 1980s. And igniting those righteous flames of fury was this short, thin, proud lesbian of South Indian heritage who exuded the perfume of power. She knew her stuff. And she was at ease with powerbrokers, including Hollywood A+ types who made history attending an August 1991 benefit for the National Gay & Lesbian Task Force, thrown by gay Hollywood manager Barry Krost, entertainment attorney Alan Hergott and Hergott's lover, NGLTF Board co-chair Curt Shepard. Hollywood was finally showing up for AIDS benefits — but gay rights was still just too controversial. It was a very big deal.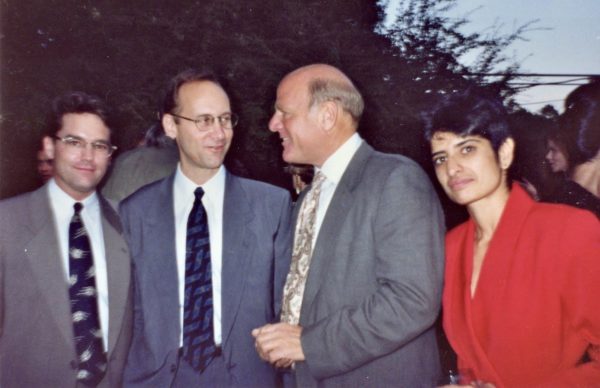 Among our own, Urvashi would let fools yammer on with puffed-up opinions. But eventually she would halt us with a glance, a quick quip or a concise Marxist-ish dissertation on any situation and its connection to poverty, rendering you dumbstruck, agog – pick a synonym.
Urvashi was a teacher, a mentor — though I don't think she thought of herself that way. She was merely trying to help a brother or sister — especially younger folks — learn to think differently, think for themselves, and think of themselves as part of the larger movement for civil rights.
One moment perfectly captures that for me. I was a freelancer covering the monumental 1992 Creating Change conference in Los Angeles. That was the year when esteemed gay author Paul Monette (Borrowed Time) ripped up a picture of the Pope, freaking out a lot of Catholic Latinos. I kept an eye on Urvashi and her pal Torie Osborn, head of the LA Gay & Lesbian Community Services Center, as they talked art with closeted LA City Councilmember Joel Wachs, as well as the usual leadership discussions, debates and skirmishes among activists in a heightened political year.
I also covered breakout sessions and one proved to be particularly daunting. It was a discussion about race in the gay movement. A young fierce gay Asian artist named Joel B. Tan took over the discussion and challenged my press credentials, my commitment to the movement, and my ability to report ANYTHING accurately or fairly about that meeting because I'm white. He called for a vote on whether I should be allowed to stay or get kicked out.
Some folks in the room, familiar with my reporting since the late 1980s, defended me. I was prepared to get shamefully kicked out when Joel went just a tad too far and started claiming the Task Force itself was a cauldron of white racism. In fact, the whole damn gay movement was basically a rich white gay conspiracy to get power and use everyone else as pawns.
When Joel finally took a breath, a muffled sound came from just outside the room. We looked and there was Urvashi, casually leaning on the door jamb with Phill Wilson, then co-founder of the National Black Gay & Lesbian Leadership Forum and of the LA chapter of Black and White Men Together. "What about us?" Urv asked very simply. The tension evaporated, I was allowed to stay and racism within the gay community was discussed with passion but without grandstanding. (I called Joel later and he said my report was acceptable.)
The tension eased so quickly because Urvashi had been fighting systemic racism at every level for a very long time, including within the gay community. Her power was smarts, compassion, humor — and credibility.
Not to say Urvashi was perfect. In fact, I had a serious disagreement with her over an incident that happened in Los Angeles. There was a ballot initiative that called for a new statewide Insurance Commissioner to be appointed by the governor. APLA Board Chair Dr. Scott Hitt and political consultant David Mixner opposed the initiative, which drove some AIDS activists crazy. We were in the middle of the second wave of AIDS and we needed government help. Hitt and Mixner explained that they didn't oppose the idea, just the method: the Insurance Commissioner should be elected, not appointed. Imagine if we had a governor more horrific than Pete Wilson?
I reported that and activist writer Stuart Timmons freaked out. He wrote a 7,000 word thesis in a treading-water alternative weekly bashing Hitt and Mixner. He also showed up at my apartment screaming about how I was afraid of these prominent politicos. I was pissed — so I did my own deep dive into his tome and found people who complained that he quoted them out of context or actually changed their quotes to fit his activist premise. Eventually, we all moved on, including me since Stuart was friends with my friend Harry Hay.
But then Urvashi quoted extensively from Stuart's disinformation piece in her book Virtual Equality: The Mainstreaming of Gay and Lesbian Liberation. I tried to reach her but failed. I later heard her cite Stuart's story as an example of bad gays. I fumed for a moment, then let that go, too.
Besides, Urvashi was doing so much good. And her relationship with Kate Clinton was so cool and extraordinary. I learned what a "soft butch" was — but that's another story.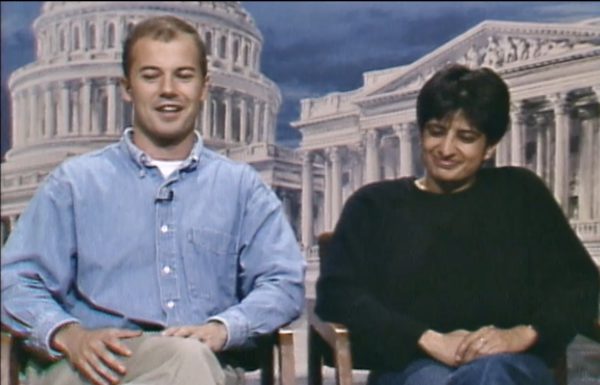 Urvashi Vaid is appropriately being lauded as an exemplary warrior for justice and civil rights. I remember her as a whip-smart lesbian of color who stood up and fought but also offered peace and hope when possible — as she did appearing with conservative gay writer/editor Andrew Sullivan on the Charlie Rose show before the 1993 march.
Last July, Urvashi was the guest on Gay USA, anchored by her friends Ann Northrop and Andy Humm. She talked about the National LGBTQ+ Women's Survey, an American LGBTQ+ Museum — and about fighting breast cancer. Urv seemed upbeat but a burdened aura of mortality cloaked her Zoom appearance. She seemed determined to approach death as she had lived — educating people about our ongoing fight for liberation and, with a deep, broad smile and thoughtful eyes, telling the truth about her own humanity.
Thank you, Urvashi Vaid.
********************
Gay USA 7/7/2021- Free Speech TV:
********************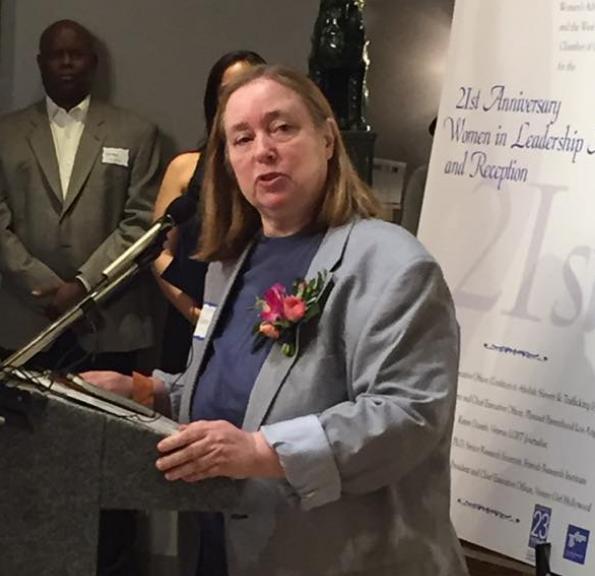 Karen Ocamb an award winning veteran journalist and former editor of the Los Angeles Blade has chronicled the lives of LGBTQ+ people in Southern California for over 30 plus years.
She lives in West Hollywood with her two beloved furry 'kids' and writes occasional commentary on issues of concern for the greater LGBTQ+ community.
Christian middle school forces kids to "Say Gay." To condemn gay friends!
The Don't Say Gay movement across the USA stresses talking to kids about sexual orientation/gender identity is "inappropriate" & sexualizing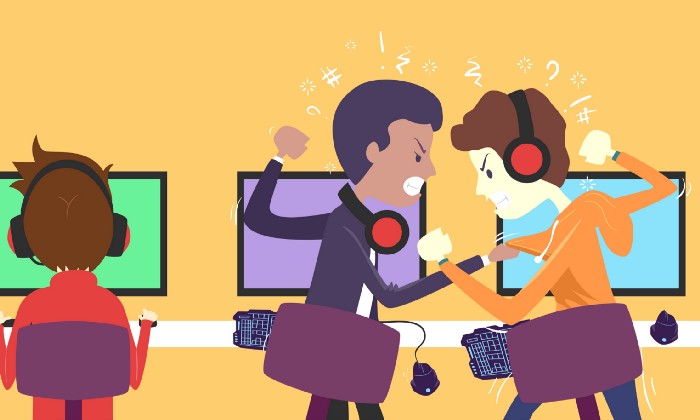 By James Finn | DETROIT – As a child, did you ever get a homework assignment requiring you to convince a close personal friend to stop being gay? To persuade them God doesn't approve of them? To "prove" it to them from the Bible? Would it ever occur to you that such homework could be handed out to 11, 12, and 13-year-olds?
In a move that reeks of Orwellian word twisting, a large Christian school system in Kentucky just taught kids they should morally condemn their friends.
And they're forcing them to practice!
Besides being odious to Jesus followers who reject far-right extremism, this heinous homework pulls the mask off the Don't Say Gay movement. It demonstrates that when conservative Christians say "love," they mean something completely different from what most people mean.
Pulls the mask off? Sure.
The Don't Say Gay movement steamrolling across red states stresses that talking to kids about sexual orientation and gender identity is "inappropriate" and sexualizing. Conservative Christian parents say they don't want their children "exposed to sex" in school. They say just hearing gay people exist forces kids to think about sex. (They don't explain why hearing about straight couples doesn't have the same effect.)
Kentucky is one of many Republican-dominated states about to pass a law prohibiting discussion of gender and sexual minorities in public schools. Lawmakers introduced it as an "emergency measure," saying Christian parents insist that kids learning about transgender and gay people is a genuine crisis.
Um … really, Jan?
Check out what this Kentucky Christian middle school is handing out as required homework.
Modern day education assignment at Christian Academy of Louisville. Middle school. Write a letter to your homosexual friend explaining why it's wrong. Shameful. #stopthehate pic.twitter.com/UdgXv3FEBA

— JP Davis (@kyjpdavis) May 13, 2022
Kentucky business owner and Christian JP Davis tweeted screenshots yesterday of a homework assignment given to a family friend's young children. The kids, students at Christian Academy of Louisville, had to write a letter to a hypothetical friend "struggling with homosexuality" to persuade the friend to "reject homosexuality," to tell them "homosexuality will not bring them satisfaction" and to tell them "you love them even though you don't approve of their lifestyle."
The kids are also to tell their friend they "don't approve of any sin."
This homework was given to children who are 11, 12, and 13 years old. I don't know what they've been learning in class, but given the assignment, they had to have been learning about sex, specifically that sex between same-gender partners is immoral. They're expected to be able to quote the Christian Bible to back that up.
I don't know the details of what they learned, but can we all agree, please, that these 11, 12, and 13 year-old children have learned about sex in EXACTLY the way Don't Say Gay supporters argue is harmful and wrong?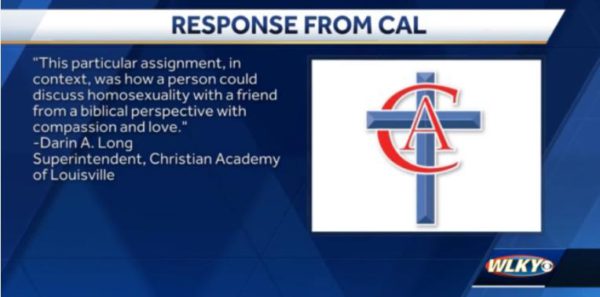 Here's what else those children learned
Christianity and the Bible condemn homosexuality. This is not true. Theologians and biblical scholars do not agree the Bible does any such thing. In fact, theologians are increasingly pointing out the weaknesses in traditional Christian teaching about the immorality of transgender and gay people. Major Christian denominations are increasingly moving to fully affirm transgender and gay people instead of morally condemning us. Based on the kids' homework assignment, they didn't learn any of that.
Gay people don't lead happy or satisfied lives. This is absurd. Nuff said. If you doubt me, google LGBT mental health and dive in. Study after study demonstrate that trans and gay people who are accepted by family and friends feel just as fulfilled and happy as anyone else.
Christians should morally judge gay people and brand them as sinners. The premise of the assignment is that gay people are sinful and that Christian children should confront them with their sin. Notice there's not a word about individual consciences or living and letting live. These children are not just being taught they should morally judge their peers, they're being made to practice doing it.
Morally judging gay people is a form of love. I'm going to try to tone down my reaction here, but my fingers are hitting the keyboard very hard as a few choice expletives escape my lips. Let me say this much: I've been in the crosshairs of Christian moral judgment far too often, and the rejection it leads to bears no resemblance to love. Love is about accepting people for who they are, not about trying to persuade them they are immoral and must change.
Gay people can choose not to be gay. No, we can't. The way we experience sexual and romantic attraction is not something we can decide to experience differently. Conversion therapy does not work. The only thing that happens when gay people try not to be gay is that we suffer — from loneliness, lack of love, and despair. Gay people who try not to be gay often end up deeply depressed and suicidal. Which, please see point 4 again.
JP Davis is a gay Christian from Kentucky, and he is appalled.
Davis told the Louisville Courier-Journal that this homework assignment is personal to him. He says he took to Twitter to expose it because he spent the first 23 years of his life hiding his true self from friends and family, fearing their judgement and rejection. He says he doesn't want the next generation to face the same pain he lived with:
Davis told the Louisville Courier-Journal that this homework assignment is personal to him. He says he took to Twitter to expose it because he spent the first 23 years of his life hiding his true self from friends and family, fearing their judgement and rejection. He says he doesn't want the next generation to face the same pain he lived with:
The statistics speak for themselves on suicide among LGBTQ+ people, and these are seventh-graders that are being subjected to hate and division, and it's not necessary. I know it's a Christian school, but that's not my Christianity. That's not my values. And that's not what Jesus, if they want to make that argument, represented. Jesus didn't go around asking people to judge and tell other people how they're wrong and shame.
See the photo I headed this article with? Two boys of middle-school age are fighting in school. That's exactly the kind of thing that happens when children are taught to morally judge their friends. That's EXACTLY what Christianity is supposed to oppose.
I know plenty of Christians who don't presume to judge, who either fully affirm LGBTQ people or who leave our moral worth up to God and our own consciences.
So why is the Christian Academy of Louisville, part of a school system with over 3,000 kids, teaching judgment? Why are they trying to redefine hate as love? I don't know, but I wish they'd stop.
Are you a Christian? Could you consider reaching out to the school and asking them to please stop teaching young children to attack LGBTQ people? Could you ask them, please, to emulate Jesus instead? I thank you for that, if you do, from the bottom of my heart. I'm JP Davis would to.
As for everyone else, can we please learn from this? When conservative Christians say it's not OK to "say gay" in school, tell them about Christian Academy of Louisville teaching 11, 12, and 13-year-olds that it's perfectly OK to say gay — as long as you're condemning your gay friends.
Then ask them to get their story straight.
************************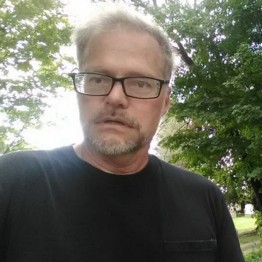 James Finn is a columnist for the LA Blade, a former Air Force intelligence analyst, an alumnus of Queer Nation and Act Up NY, and an "agented" but unpublished novelist. Send questions, comments, and story ideas to [email protected]
********************
The preceding article was previously published by Prism & Pen– Amplifying LGBTQ voices through the art of storytelling and is republished by permission.
Don't Say Gay 2.0 is Here Already, and It's All About Hate
Think Florida's law is bad? You ain't seen nuthin' yet! Republicans are waging war on PEOPLE -They don't care who gets hurt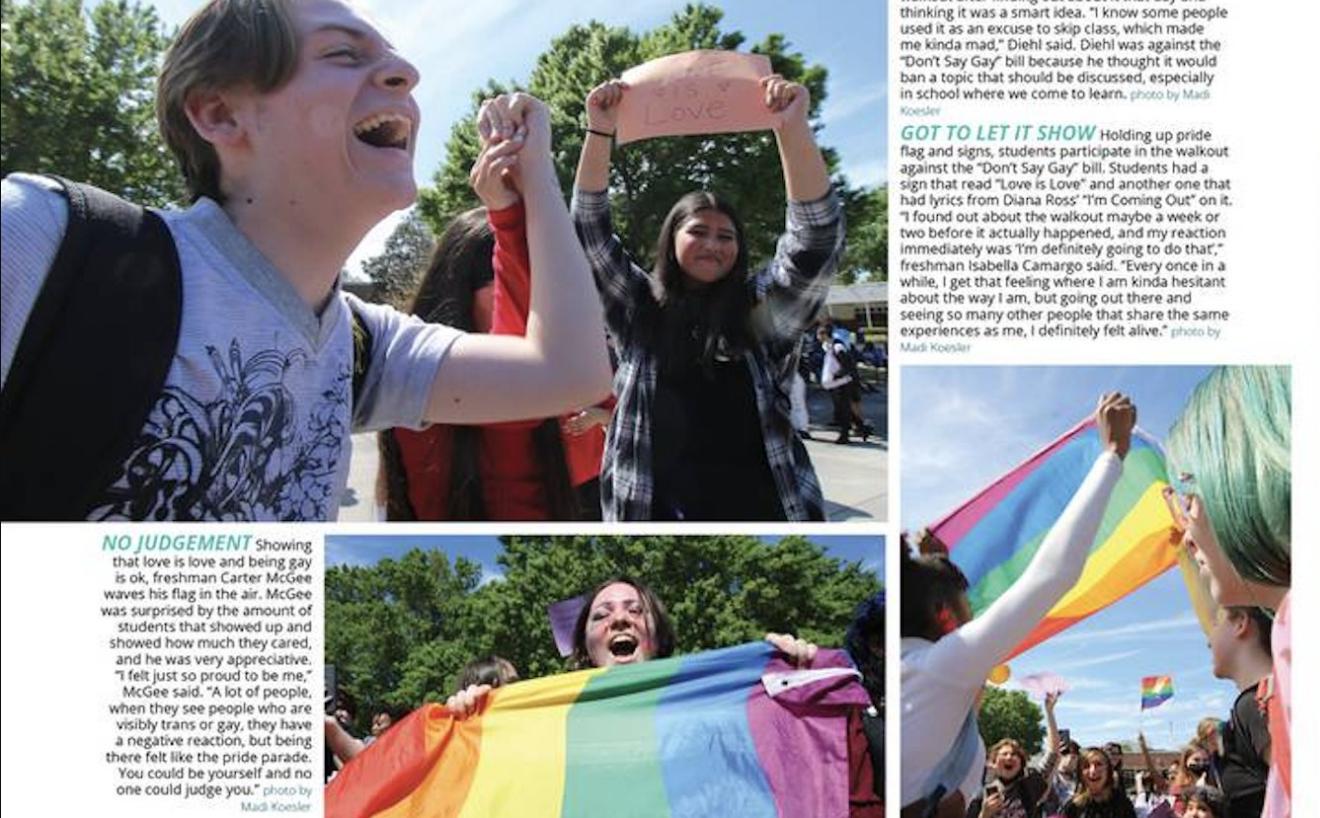 By James Finn | DETROIT – What's Don't Say Gay 2.0? In one stunning example, New Hampshire is about to pass a law that not only prohibits teaching about transgender and gay people in public schools, but requires teachers to report effeminate boys and insufficiently feminine girls to parents.
Find details below about how Don't Say Gay 2.0 is about to unleash genuine hatred in schools in Republican states. But first, let's talk about the censoring, silencing, and shaming Don't Say Gay 1.0 is already enabling.
Don't Say Gay in Florida ushers in waves of shaming
Florida's new Don't Say Gay law prohibits teaching about gay/trans people/ ideas in kindergarten through third grade and makes doing so difficult or impossible in older grades. It plants seeds of shame in queer kids and teaches other kids that queer people are shameful.
The law doesn't take effect for another 49 days, but jack-booted Florida bigots like Serita Beamon and Stephen Covert are already erasing, censoring, and silencing LGBTQ teachers, students, and allies.
The New Hampshire Senate is REQUIRING teachers to police gender expression. I can't believe I just wrote that. But it's real. It's happening.
As reported in The LA Blade, Beamon, superintendent of the Seminole County Public Schools district, ordered yearbook photos of Lyman High School students protesting Don't Say Gay to be blacked out by stickers.
The Seminole County Board of Education slapped Beamon down, voting unanimously to overrule her, but that's a cautionary tale more than good news. Students at the diverse, progressive high school near Orlando beat Beamon back by engaging their progressive parents, Democratic politicians, the press, and their local community — who showed up en masse at a board meeting to to tell the superintendent to go to hell.
She lost, but authoritarian bigots like her all over Florida are winning more than they are losing.
Zander Moricz, the openly gay senior class president at Pine View School in Sarasota County, says Principal Stephen Covert called him into his office and told him if he doesn't toe the Don't Say Gay line during his graduation speech, his microphone will be cut off and he'll be forced off the stage. (Principal Covert sorta/kinda/maybe/but-not-really denies this. You can read the details in a Sarasota News Channel 8 report, but if you can unravel clear meaning from Covert's bureaucrat-ese, you're doing better than me.)
I am the youngest public plaintiff in the "Don't Say Gay" lawsuit. I am my Florida high school's first openly-gay Class President. I am being silenced, and I need your help. 🧵

— zander moricz (@zandermoricz) May 9, 2022
Staffers at pro-LGBTQ Equality Florida say they're logging"daily" reports from queer students and teachers all over the Sunshine State — saying they're being shamed, censored, and silenced. Bigots like Beamon and Covert are, for the moment, winning — even before Don't Say Gay becomes official. Queer students and teachers outside progressive bubbles have nowhere to turn for help.
Louisiana's Don't Say Gay 2.0 bill makes Florida's law look like a genteel garden party
As bad as Florida's law is, copycat bills springing up all over the nation, as in Alabama, are far stricter and more explicit. Dominating queer-press headlines today are bills in Louisiana and New Hampshire, both of which stand excellent chances of passing, and both of which can be fairly described as heinous.
The Louisiana bill had died in committee, but as Brody Levesque reported yesterday in The LA Blade, house Republicans just revived it with a parliamentary end-run. Analysts expect it will now pass the House and likely pass the Republican-controlled Senate. Democratic Louisiana Governor John Bel Edwards has released a statement opposing the bill, but if he vetoes it, a Republican override would be likely.
Think the Florida law is bad? Louisiana Republicans rip off their masks and leer:
No teacher, school employee, or other presenter shall cover the topics of sexual orientation or gender identity in any classroom discussion or instruction in kindergarten through grade eight.
No teacher, school employee, or other presenter shall discuss his own sexual orientation or gender identity with students in kindergarten through grade twelve.
Gay/trans teachers and counselors would be required BY LAW to be closeted at work. Legally married to a same-sex spouse? Don't tell your students, or you're fired. Think that will apply to straight teachers? After all, straight is as much a sexual orientation as gay. If you think straight teachers in Louisiana will be barred from telling their students that they're married or engaged, please note that the Pelican State overflows with investment-grade swamp land. Get it while it's hot.
LGBTQ teenagers with questions? Teachers would be required BY LAW not to answer them. It doesn't get any uglier than this. Cis/straight is fine, normal, ordinary. Gay/trans is too shameful to talk about. You don't teach anti-LGBTQ hatred to children more effectively than this. Except …
Except in New Hampshire. In a bill that requires reporting sissies and tomboys to their parents.
New Hampshire's Don't Say Gay 2.0, HB1431, widely expected to pass given the state's Republican "trifecta," requires teachers to report gender-presentation deviance to parents.
Yes, I really just wrote that, and I'm not exaggerating even slightly.
Note, I didn't write that the bill requires teachers to out transgender students to non-supportive parents. It certainly DOES that, but it goes even further, signaling a return to 1950s America, to an era when people were ruthlessly punished for not conforming to rigid gender standards.
Just look at the text of this proposed law. It's naked hatred:
NH HB 1431 passed the Senate in New Hampshire. This bill will force teachers to notify parents over changes in their children's "gender expression or identity." This puts teachers in the position of policing gender expression and outs kids before they are ready. pic.twitter.com/tyawePzrlX

— Erin Reed (@ErinInTheMorn) May 6, 2022
Is Jonny dressing or acting more feminine than usual? HB 1431 says school staff MUST call Jonny's parents. Does Suzy seem a little too butch? Report her! Would the kids' conservative parents flip out? Tough shit. Pick up the phone.
The New Hampshire Senate is REQUIRING teachers to police gender expression. I can't believe I just wrote that. But it's real. It's happening. New Hampshire is going to force education professionals and counselors to out trans kids to non-supportive parents and even to out kids who aren't masculine or feminine "enough."
Florida's Don't Say Gay bill once contained a clause requiring schools to out LGBTQ students to parents even if educators feared such outing "could lead to abuse, neglect or abandonment." The bill's sponsor pulled the language, saying it was "distracting," but he told reporters he was still in favor of it. Apparently, New Hampshire Republicans are less constrained by decency and respect, less worried about kids getting hurt.
This is naked hatred. This is Don't Say Gay 2.0.
It's coming to a school near you, and it's coming soon. The United States is not having a culture war. That's a euphemism that lets us avoid calling real things by real names. Republicans are waging war on PEOPLE. On Black people, women, immigrants, and queer people.
They don't care who gets hurt.
It's all about the hate, even when queer teenagers are in the crosshairs, even as they overwhelm suicide-crisis hotlines at The Trevor Project, even as Republican politicians and thought leaders call out Trevor volunteers as pedophiles and groomers.
Don't Say Gay is ugly and getting uglier. This November, vote like your life depends on it. Be sure of this: somebody's life really does.
************************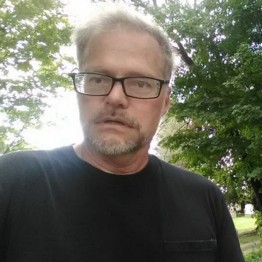 James Finn is a columnist for the LA Blade, a former Air Force intelligence analyst, an alumnus of Queer Nation and Act Up NY, and an "agented" but unpublished novelist. Send questions, comments, and story ideas to [email protected]
********************
The preceding article was previously published by Prism & Pen– Amplifying LGBTQ voices through the art of storytelling and is republished by permission.