White Party Palm Springs canceled, memorial for founder planned
White Party Palm Springs is scheduled to return in 2022. Anyone who's purchased tickets for 2021 event will be carried over to the 2022 event.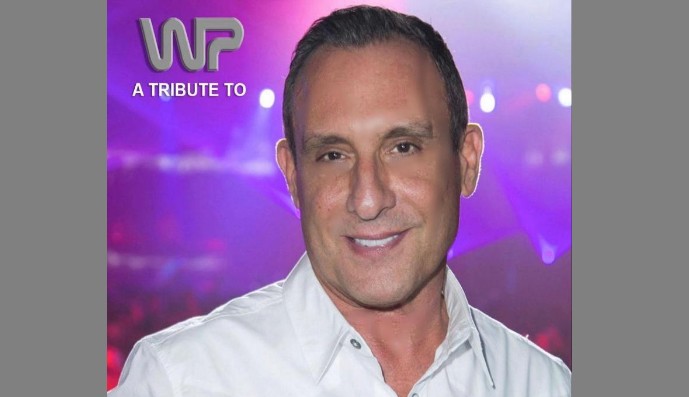 PALM SPRINGS – The entertainment company founded by gay circuit party impresario Jeffrey Sanker announced that the Fall White Party Palm Springs event scheduled for Halloween weekend this year has been cancelled following the death of its founder.
Sanker, 65, had died at Cedars-Sinai Hospital in Los Angeles on May 28 with family members in attendance after a long battle with liver cancer.
In an statement released on the company's social media platforms, Chris Diamond, of Jeffrey Sanker Productions wrote: "It is with heavy hearts that we inform you of the passing of beloved White Party founder Jeffrey Sanker. For more than four decades, Jeffrey's zest for life and love of celebration drove him to create a safe haven for the LGBTQ+ community to come together and celebrate our unique individuality and collective magic."
Diamond told KESQ-TV News Channel 3 that White Party Palm Springs event is scheduled to return in 2022, with proposed dates of April 28 to May 1. Anyone who has purchased tickets for the October event will be carried over to the 2022 event. Anyone with any questions about their tickets should email the company at [email protected]
Diamond added that there will be a small family funeral service for Sanker but the organization is planning a larger celebration of life for him. A date has not been established at this time.
In lieu of flowers, the organization is asking people to make a donation to:
LGBT Center of the Desert
1301 N Palm Canyon Dr. #301
Palm Springs CA 92262
Attention: Debra Pollock
You can also make a donation at: https://thecenterps.org/index.php/donate
"You're nothing more than a plague rat," social media users take on gay NYE parties
COVID isn't causing businesses to suffer, it's the actions of people. We are tired of it.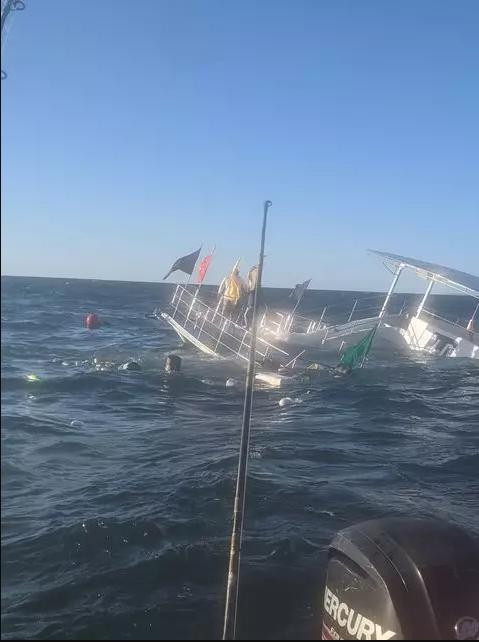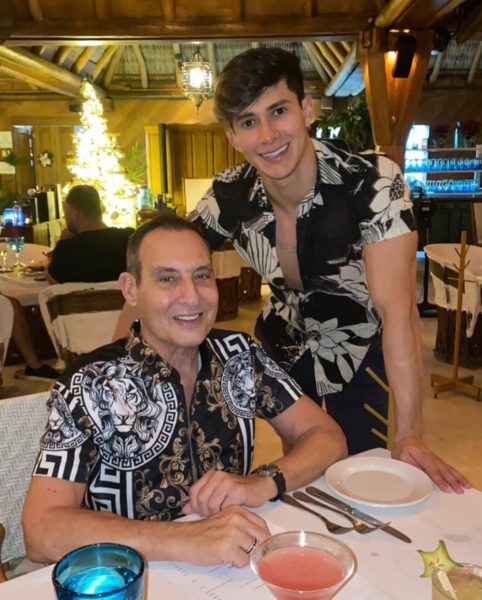 PUERTO VALLARTA – The disgust, anger, and recriminations over gay New Year's Eve parties in this seaside resort area of the Mexican state of Jalisco and neighboring Riviera Nayarit, continues to spread in gay online social media- particularly in numerous Twitter threads and on Instagram. One Instagram account, @gaysovercovid has repeatedly called out party goers and party organizers.
Local media outlets in Jalisco and many Mexican social media users are also outraged.
The @gaysovercovid Instagram account has faced a wave after wave of backlash from gay influencers many of who are now embroiled in the controversy after having their Instagram posts publicly disclosed and then shamed by the anonymous account holder. There have been financial rewards offered to anyone who can unmask the account owner's identity.
The account used the built-in abilities for tracking the influencers' Facebook locations and Venmo transactions in an effort to uncover where they were attending parties. That brought about severe condemnation from those exposed while many other people celebrated that the account exposed the bad behavior of gay men.
In one example, in response to a social media post that depicted a West Hollywood area ICU registered nurse as a participant, social media users tracked the pictures to an Instagram account (@legstrong) listed for 25 year old Armstrong Nworka. The Blade determined from online searches Tuesday, including Facebook using the handle '@legstrong' and his surname, Nworka had profiled himself as gay, an RN, and employed at Cedars-Sinai in Beverly Hills.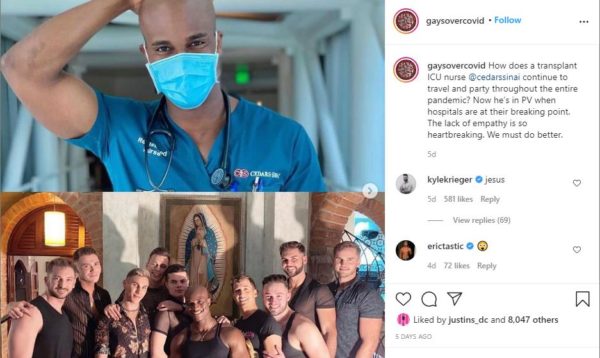 One of the comments [left on his page] read; "Disgusting, you give us gay people a bad name. You're truly nothing more than a plague rat." Nworka has since taken his Instagram account private. Nworka did not respond to a Blade request for comment.
The Blade also reached out to Cedars-Sinai and was told that there would be no comment on personnel matters.
The 'plague rat' comment was mild in comparison to the thousands of other vitriolic responses to other party attendees and especially organizers- labeled by critics as 'super-spreaders,' who openly defied both U.S. and Mexican Public Health authorities mandates and restrictions to help stem the spread of the COVID-19 coronavirus.
Palm Springs resident and gay circuit party impresario Jeffrey Sanker held the largest New Year's Eve weekend bash, which included several events. Originally set to take place in Puerto Vallarta, apparently ignoring the pleas from local health authorities, elected officials as well as residents, Sanker's White Parity Entertainment company was forced to move the event to neighboring Riviera Nayarit after the Jalisco state government banned mass gatherings and implemented more restrictive coronavirus measures.
In a text to ticket holders, Sanker's company told attendees to not reveal the location of the party. Nor could they take any photos or videos of the event. The text said the steps were necessary because they "do not want this getting out and causing any issues with the public."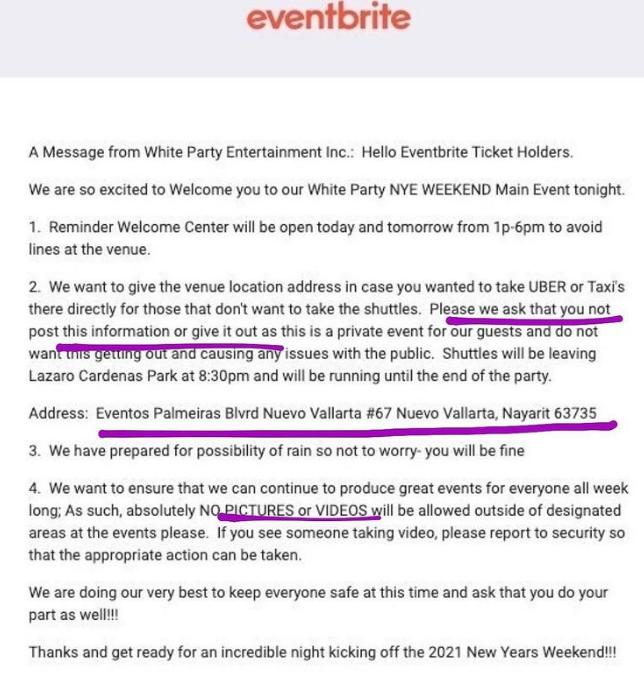 That text was screenshot and then posted by @gaysovercovid as well as other accounts which prompted one local news outlet in Puerto Vallarta, the Puerto Vallarta News, to editorialize on its social media accounts prior to the events;
"If you are interested in still visiting the COVID Superspreader New Years Eve Celebration where foreigners come to our community and throw big parties and leave COVID while causing our businesses to close and people lose their jobs- […] COVID isn't causing businesses to suffer, it's the actions of people. We are tired of it. We have supported this event in past years and given it positive coverage, but this year it's irresponsible and should be canceled.​"​
In a phone call with an editor at PVN on Tuesday, the Blade was told that the area's main healthcare facility, Puerto Vallarta Hospital was at 100% occupancy with COVID-19 patients – and that the state of Jalisco had reached 65% positivity rate.
Officials in Jalisco uniformly condemned the fact that so many had traveled from the United States just to party without seeming to care about the consequences to the local residents, many of who are employed as staff in the restaurants, bars, hotels and transportation systems.
"They came to have sex- to dance it seems and to make party without regard to spread of COVID," one government source told the Blade. "They have no sense of responsibility- don't care about peoples here," he added.
As part of the weekend long event​ the PV Delice, a catamaran boat that featured a live band and open bar, began taking on water and sank off the coast of Puerto Vallarta on December 31, 2020 around 5 p.m. while crew frantically called for help to rescue passengers. Video posted on Instagram, Tik-Tok and Facebook documented at least 10 other boats rushing to aid the sinking vessel and plucking 60 victims out of the choppy water.
Witnesses to the sinking told local news outlets that the boat was filled with White Party celebrants and was overcrowded. The boat sank to the bottom of the bay and there were no reports of injuries.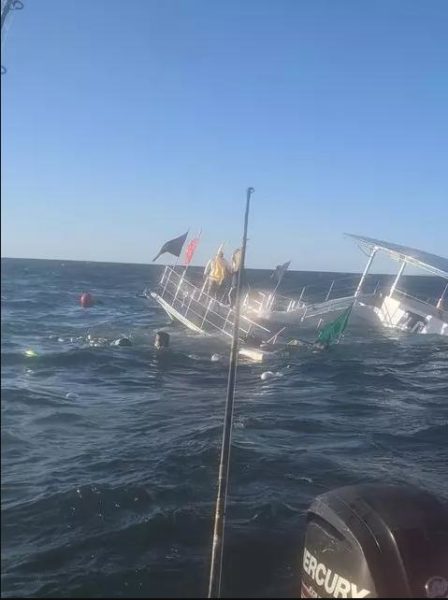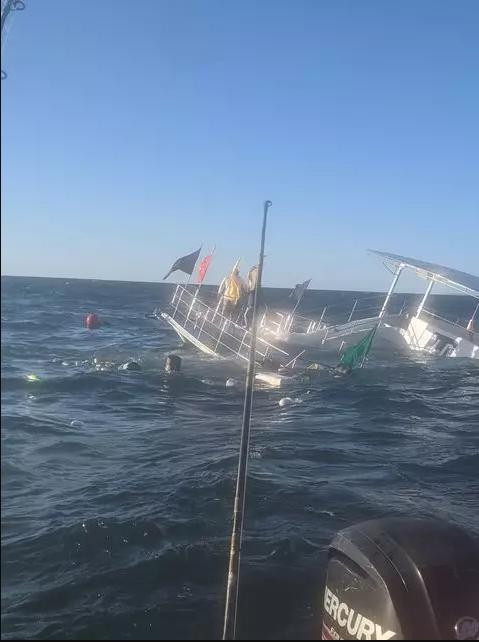 One passenger, a gay man from Chicago, Illinois, Emilio Blanco told the local LGBTQ news outlet, Out and About PV, "It was like the Titanic, it went all down slowly. I think the crew just didn't know how to maneuver the catamaran very well, the sea was not very rough nor was it too windy. We were about to sail back to Puerto Vallarta, but the catamaran barely moved. I saw at least 10 small boats coming to help, I jumped in a private boat whose owners were graceful enough to send their captain help out. It was quite a scary situation."
A spokesperson for Adrián Bobadilla García, head of the municipal agency, of Puerto Vallarta told the Blade Tuesday that the municipal government had made numerous notifications to the public regarding mandatory use of masks and maintaining social distance in public. He said that the boardwalk during the holiday however, wasn't closed nor were the beaches. He conceded that enforcement was not as stringent as it should have been.
A majority of gay parties attendees reportedly stayed in Puerto Vallarta. As a result, beaches were jammed wall to wall mostly with maskless celebrants. One local resident who provided pictures and video to NBC Palm Springs said it was a "superspreader nightmare."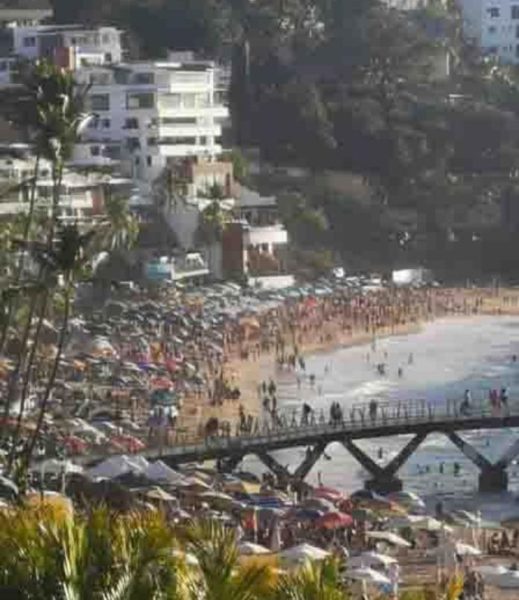 "It is with sadness and anger that we have Americans at the height of a pandemic surge travel to Mexico to participate in New Year's Eve parties knowing that people of color are disproportionately impacted by the COVID-19," said City of Huntington Park, California Councilman Eddie Martinez who also heads the Latino Equality Alliance.
"The action of these travelers has now put hotel workers, servers, janitors, and drivers at risk for the disease as well as to possibly put an additional strain on the hospital system in both Mexico and the United States. Party promoters and sponsors need to be held accountable if their actions result in more deaths for families, especially within the LGBTQ community," Martinez added.
Washington D. C. based journalist Zack Ford documented a majority of Twitter responses to the controversy in a thread he published Sunday. (Link)
Gay circuit party impresario hosts NYE super-spreader in Mexico
Jeffrey Sanker's event has drawn massive mostly negative reaction and condemnation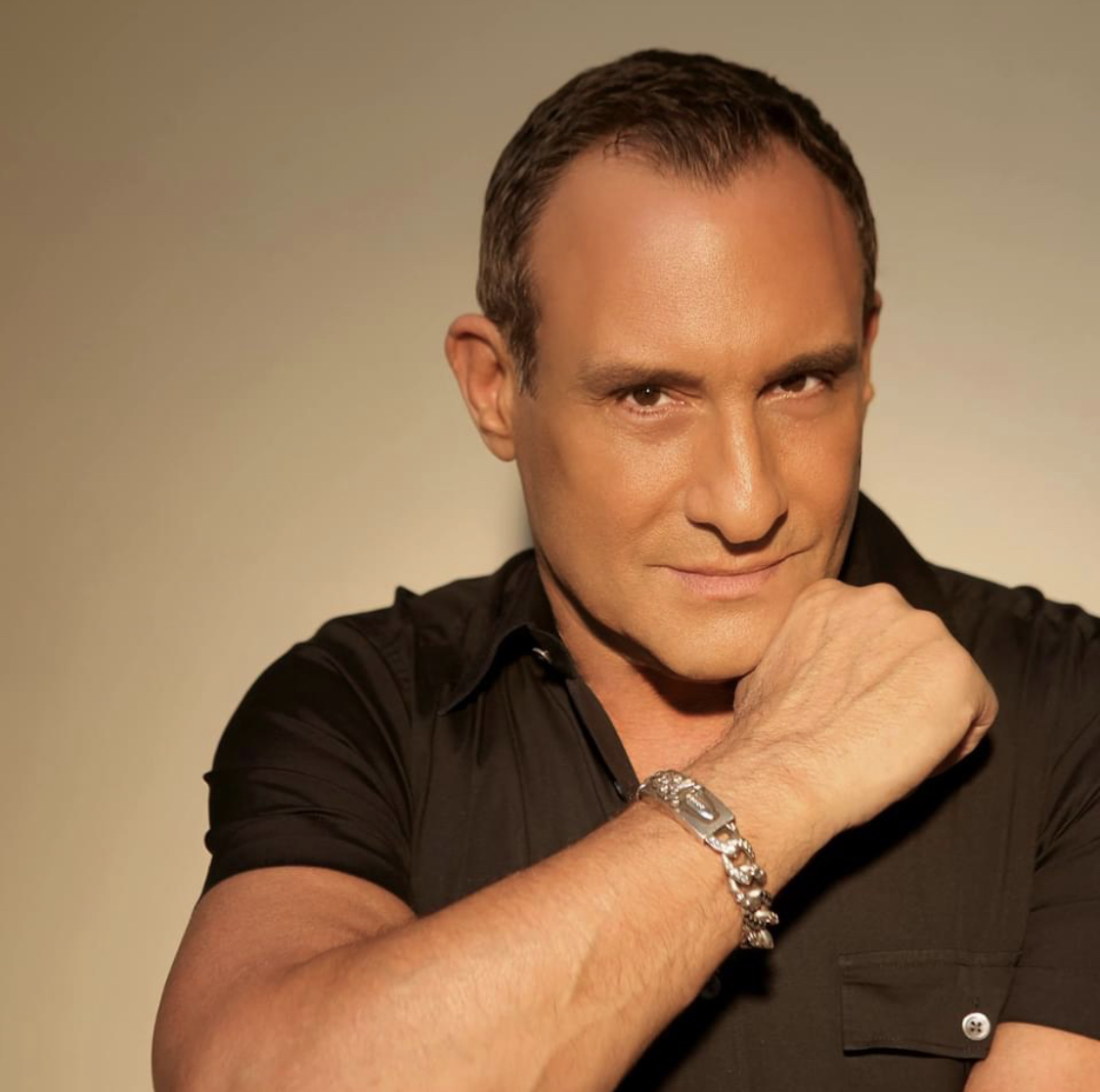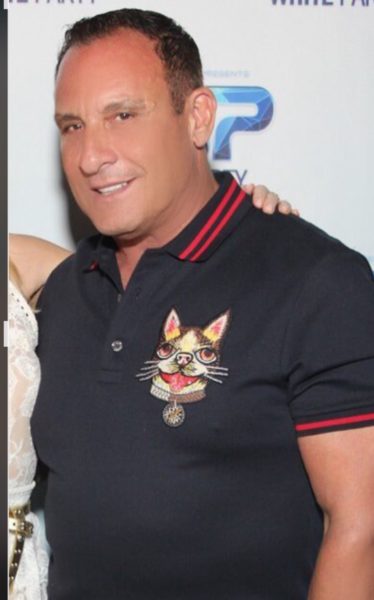 NUEVO VALLARTA – Ending one of the deadliest months in the nearly year long coronavirus pandemic, as well as the year 2020 itself, gay circuit party impresario Jeffrey Sanker's Palm Springs based White Party Entertainment is throwing a New Years Eve weekend bash- in Mexico, despite recommended Mexican public health guidelines and COVID-19 mandates.
The event has drawn massive mostly negative reaction and condemnation in social media posts, and online as well prompting authorities in Puerto Vallarta in the Mexican state of Jalisco, where the White Party was originally advertised as being held, to strongly remind partygoers and organisers that the city and the surrounding region were observing COVID-19 restrictions that would prohibit any type of mass gathering.
"Per the current state government mandate related to COVID-19, all private and public events of more than 8 people are strictly forbidden. All public festivities in the state of Jalisco have been cancelled, including the previously promoted White Party Weekend at Mantamar Beach Club & Sushi," an official wrote on behalf of the Puerto Vallarta Tourism Board in an emailed statement to the Blade.

"Local authorities are aware of all previously planned events and are prepared to respond in a timely manner should any activity take place that is in opposition to local mandates."
The Vallarta Daily News reported last week on Christmas Day that the Puerto Vallarta Regional Hospital had reached 100% total bed capacity, overwhelmed with COVID-19 patients, as the state of Jalisco's health officials reported a 65% positivity rate in coronavirus testing.
Mexico has experienced more than 126,000 deaths from COVID-19 and is also currently experiencing a new rapid surge. Nearly 13,000 new cases were reported Wednesday with 990 deaths. The state of Jalisco which has a population of 8 million reported 456 new cases and 52 additional deaths.
Seemingly undeterred, Sanker's company has shifted the event to the town of Nuevo Vallarta in the neighboring state of Nayarit after Jalisco authorities forbade the event.
As of Wednesday the state of Nayarit is under the orange status of Mexico's "Traffic Light" monitoring system. All businesses, and organizations continue to operate at 50% capacity with social distancing, which includes the hotel industry, beaches and tours. The state of Nayarit which has a population of 1.8 million, on Wednesday reported 19 new cases and 7 new deaths.
The Blade spoke with authorities in Nayarit Wednesday evening who indicated that while technically not running afoul of the health orders, they were aware of the event and would be "closely monitoring" it.
The New Years Eve weekend long bash, which was originally advertised on Sanker's company's Eventbrite listing of events, as well as its Instagram, Facebook and Jefferysanker.com pages, asked that attendees not to share photos or video of the event on social media.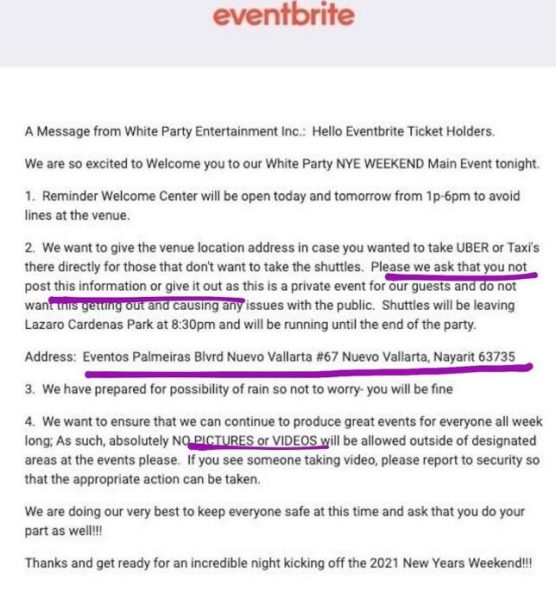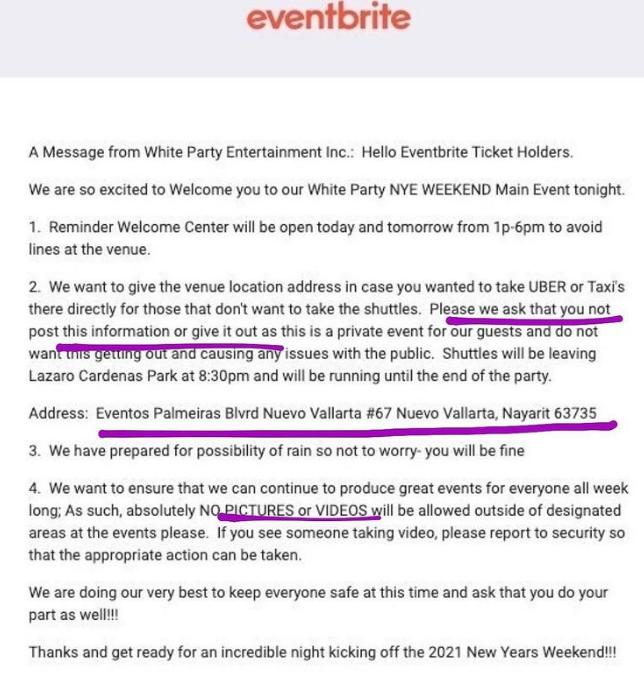 The Blade spoke with a staff member of Evento Palmerias in Nuevo Vallarta, which is located approximately 45 minutes from the original venue at the Mantamar Beach Club, Bar & Sushi. The source, who spoke on the condition of remaining anonymous, confirmed that the event will proceed in that location.
"The event is sold out and we will be reminding everyone that it's polite to wear a mask and stay 6 feet away during the party. If they have a temperature we intend to suggest they go home, but we can not force them to stay at home. Nayarit allows gatherings and there are no restrictions here," the staffer told the Blade.
One reveler, also spoke to the Blade on the condition of anonymity claimed that the venue did not change and had always been privately advertised as Nuevo Vallarta, however there are numerous parties throughout the weekend and many others are planned.
"The best party with the hottest sex will be held at an estate in Puerto Vallarta and I'm going. I don't have Covid. Like, I can't infect someone with something I don't have," he said. "If I get it I'll let you know, but who cares. I'm 23 years old and a girls gotta live," he said.
Since many of those traveling to the event are from California, a spokesperson for the Los Angeles County Department of Public Health told the Blade that especially with the looming threat of a Christmas holiday-fueled surge, public health officials had amended health orders now requiring that travelers returning to the Southland must quarantine.
"Because of the likelihood of exposure to COVID-19 while traveling outside of L.A County, for everyone that traveled or are planning to travel back into L.A. County, you must quarantine for 10 days. If you start to experience any symptoms or have a positive test, isolate for 10 days and until you are fever-free for 24 hours."
The Blade scanned the "Nearby Friends" app feature on Facebook and counted more than two dozen West Hollywood and Los Angeles area residents whose locations revealed they are currently in Puerto Vallarta.
In a Wednesday evening phone call, law enforcement officials in the state of Jalisco told the Blade that there will be random checkpoints set up targeting rideshare and private vehicles especially to ensure that COVID-19 restrictions are being kept for any vehicle returning from the state of Riviera Nayarit.
Newsom orders limited stay at home order as COVID surges
The virus is spreading at a pace we haven't seen since the start of this pandemic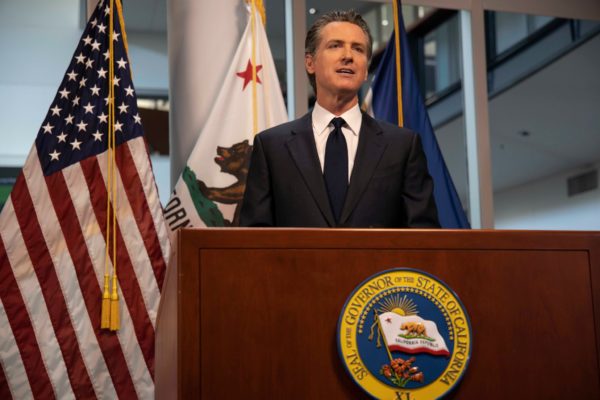 SACRAMENTO – In light of an unprecedented, rapid rise in COVID-19 cases across California, Governor Gavin Newsom and the California Department of Public Health (CDPH) announced Thursday afternoon that a limited Stay at Home Order generally requiring that non-essential work, movement and gatherings stop between 10 PM and 5 AM in counties in the purple tier.
This includes Los Angeles, Orange, Ventura, Riverside and San Bernardino counties.
The order will take effect at 10 PM Saturday, November 21 and remain in effect until 5 AM December 21. This is the same as the March Stay at Home Order, but applied only between 10 PM and 5 AM and only in purple tier counties that are seeing the highest rates of positive cases and hospitalizations.
"The virus is spreading at a pace we haven't seen since the start of this pandemic and the next several days and weeks will be critical to stop the surge. We are sounding the alarm," the Governor said. "It is crucial that we act to decrease transmission and slow hospitalizations before the death count surges. We've done it before and we must do it again."
Non-essential businesses and personal gatherings are prohibited between 10 PM and 5 AM beginning Saturday, November 21 at 10 PM
This limited Stay at Home Order is designed to reduce opportunities for disease transmission. Activities conducted during 10 PM to 5 AM are often non-essential and more likely related to social activities and gatherings that have a higher likelihood of leading to reduced inhibition and reduced likelihood for adherence to safety measures like wearing a face covering and maintaining physical distance.
"We know from our stay at home order this spring, which flattened the curve in California, that reducing the movement and mixing of individuals dramatically decreases COVID-19 spread, hospitalizations, and deaths," said California Health and Human Services Secretary Dr. Mark Ghaly. "We may need to take more stringent actions if we are unable to flatten the curve quickly. Taking these hard, temporary actions now could help prevent future shutdowns."
"We are asking Californians to change their personal behaviors to stop the surge. We must be strong together and make tough decisions to stay socially connected but physically distanced during this critical time. Letting our guard down could put thousands of lives in danger and cripple our health care system," said Dr. Erica Pan, the state's acting Public Health Officer.
"It is especially important that we band together to protect those most vulnerable around us as well as essential workers who are continuing their critical work amidst this next wave of widespread community transmission across the state. Together we prevented a public health crisis in the spring and together we can do it again."
COVID-19 case rates increased by approximately 50 percent in California during the first week of November. As a result, Governor Newsom and California's public health officials have announced a list of measures to protect Californians and the state's health care system, which could experience an unprecedented surge if cases continue their steep climb.
During his regularly scheduled press briefing Monday, California Governor Gavin Newsom announced that effective Tuesday, November 17, he would be pulling the "emergency brake" on the state's efforts to reopen its economy and lifting societal restrictions imposed by the coronavirus pandemic.
"We are sounding the alarm," Newsom told reporters. "California is experiencing the fastest increase in cases we have seen yet –faster than what we experienced at the outset of the pandemic or even this summer."
"The spread of COVID-19, if left unchecked, could quickly overwhelm our health care system and lead to catastrophic outcomes," he added.
Late last week, Newsom issued a travel advisory for California joining Oregon Governor Kate Brown and Washington State Governor Jay Inslee, urging people entering their states or returning home from travel outside of the state(s) to self-quarantine to slow the spread of the virus. The travel advisory urges against non-essential out-of-state travel, asks people to self-quarantine for 14 days after arriving from another state or country, and encourages residents to stay local.