AIDS @40: Gay men terrified, stigmatized by mysterious new fatal disease
"If this article doesn't rouse you to anger, fury, rage, and action, gay men may have no future on this earth…"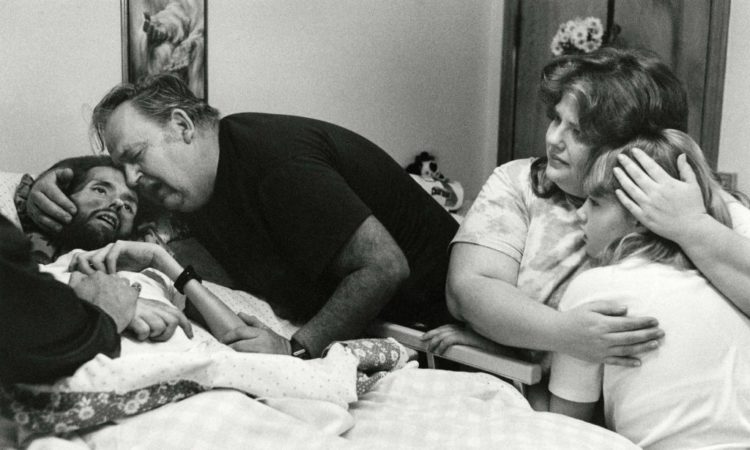 By Karen Ocamb | LOS ANGELES – Before the CDC's first report on AIDS, there was news from the New York Native, a biweekly gay newspaper published in New York City from December 1980 until January 13, 1997. It was the only gay paper in the City during the early part of the AIDS epidemic and it pioneered reporting on AIDS.
On May 18, 1981, the newspaper's medical writer Lawrence D. Mass wrote an article entitled "Disease Rumors Largely Unfounded," based on information from the Centers for Disease Control and Prevention scotching rumors of a "gay cancer."
"Last week there were rumors that an exotic new disease had hit the gay community in New York. Here are the facts. From the New York City Department of Health, Dr. Steve Phillips explained that the rumors are for the most part unfounded. Each year, approximately 12 to 24 cases of infection with a protozoa-like organism, Pneumocystis carinii, are reported in New York City area. The organism is not exotic; in fact, it's ubiquitous. But most of us have a natural or easily acquired immunity," Mass wrote. He added: "Regarding the inference that a slew of recent victims have been gay men. . . . Of the 11 cases . . . only five or six have been gay."
Eighteen days later, on June 5, 1981, the world turned when the CDC published an article by Dr. Michael Gottlieb in Morbidity and Mortality Weekly Report (MMWR) on AIDS symptoms, including cytomegalovirus (CMV) infection and candidal mucosal infection, found in five gay men in Los Angeles. By then, 250,000 Americans were already infected, according to later reports.
Gottlieb's CDC report was picked up that same day by the Los Angeles Times, which published a story entitled "Outbreaks of Pneumonia Among Gay Males Studied." A slew of similar reports followed and on June 8 the CDC set up the Task Force on Kaposi's Sarcoma and Opportunistic Infections to figure out how to identify and define cases for national surveillance. On July 3, the CDC published another MMWR on pneumocystis carinii pneumonia (PCP) and Kaposi's Sarcoma (KS) among 26 identified gay men in California and New York. The New York Times' story that day — "Rare Cancer Seen in 41 Homosexuals" – stamped the disease as the "gay cancer." GRID (Gay-Related Immune Deficiency) came next. In the new Reagan/Bush Administration, dominated by homophobic evangelical advisors such as Gary Bauer, funding to investigate the new disease was scarce.
Two years later, the New York Times finally put AIDS on the front page, below the fold, with a May 25,1983 headline that read: "HEALTH CHIEF CALLS AIDS BATTLE 'NO. 1 PRIORITY.'" By then 1,450 cases of AIDS had been reported, with 558 AIDS deaths in the United States; 71 percent of the cases were among gay and bisexual men; 17 percent were injection drug users; 5 percent were Haitian immigrants; 1 percent accounted for people with hemophilia; and 6 percent were unidentified.
But Health and Human Services Assistant Secretary Dr. Edward N. Brandt Jr. told reporters that no supplemental budget request had been made to Congress. "We have seen no evidence that [AIDS] is breaking out from the originally defined high-risk groups. I personally do not think there is any reason for panic among the general population," he said.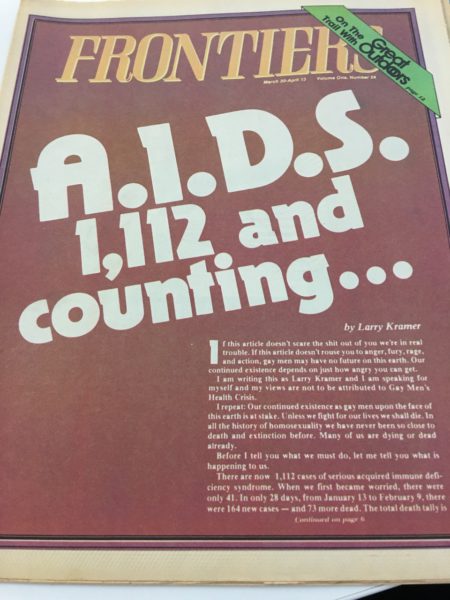 Gays in denial seemed to accept feigned governmental concern. Others were deathly afraid. The HHS news conference was just 10 weeks – and 338 more cases – after the March 14 publication of playwright Larry Kramer's infamous screed on the cover of the New York Native: "1,112 and Counting…"
"If this article doesn't scare the shit out of you, we're in real trouble. If this article doesn't rouse you to anger, fury, rage, and action, gay men may have no future on this earth. Our continued existence depends on just how angry you can get," Kramer wrote. "I repeat: Our continued existence as gay men upon the face of this earth is at stake. Unless we fight for our lives, we shall die. In all the history of homosexuality we have never before been so close to death and extinction. Many of us are dying or already dead."
Too many gay men were not scared shitless. When LA gay Frontiers News Magazine re-published Kramer's article as their March 30 cover story, bar owners threw the publication out, lest it unnerve patrons. Meanwhile, gay men wasted away and died, often alone, sometimes stranded on a gurney in a hospital hallway; sometimes – if lucky – with family or friends crying at their bedside as in the intimate photo taken by Therese Frare as her friend AIDS activist David Kirby died.  
None of this was new or startling to Gottlieb or fellow AIDS researcher and co-author, Dr. Joel Weisman.
Gay San Francisco Chronicle reporter Randy Shilts dubbed Weisman "the dean of Southern California gay doctors" in his AIDS opus, "And the Band Played On." In 1978, as a general practitioner in a North Hollywood medical group, Weisman treated a number of patients with strange diseases, including a gay man in his 30s who presented with an old Mediterranean man's cancer, Kaposi's sarcoma.
In 1980, Weisman opened his own Sherman Oaks practice with Dr. Eugene Rogolsky and identified three seriously ill gay patients with strange fevers, dramatic weight loss from persistent diarrhea, odd rashes, and swollen lymph nodes, all seemingly related to their immune systems. He sent two of those patients to Gottlieb, a young UCLA Medical Center immunologist studying a gay male patient with pneumocystis pneumonia and other similar mysterious symptoms, including fungal infections and low white blood cell counts.
"On top of these two cases," Shilts wrote, "'another 20 men had appeared at Weisman's office that year with strange abnormalities of their lymph nodes,' the very condition that had triggered the spiral of ailments besetting Weisman and Rogolsky's other two, very sick patients."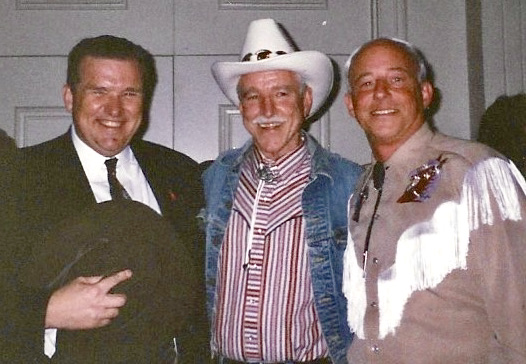 Weisman later recalled to the Washington Post that "what this represented was the tip of the iceberg. My sense was that these people were sick and we had a lot of people that were potentially right behind them."
There were other missed signs, such as the CDC getting increasing requests for pentamidine, used to treat pneumocystis pneumonia. Gottlieb says that after his first report, the CDC's Sandra Ford confirmed that she was sending increasing shipments of Pentamidine around the country. "But I'm not sure any infectious disease doctor there knew or investigated why they were seeing a run on pentamidine or asked what that meant," Gottlieb told the Los Angeles Blade. Later pentamidine became "the second line therapy for pneumocystis," after Bactrim. 
Pentamidine "caused kidney problems, so we didn't like it. Eventually, aerosolized Pentamidine became one of the preventatives. We didn't realize at first that pneumocystis would happen in multiple episodes. Like a patient would have pneumocystis, we treated, it would clear and they'd go home for a month and then they'd get it again. We didn't learn until later that we had to do something to prevent recurrences. And that's where aerosolized Pentamidine came in doing a monthly breathing treatment."
Though being gay was highlighted as a high-risk factor, race was largely left out of reports until 1983, despite the fact that Gottlieb's fifth patient in his June 5, 1981 CDC article was Black. Gottlieb remembers him as a previously healthy 36-year-old gay Black balding man named Randy, referred to him in April by a West Side internist.
But Randy's race was not included in that first report, nor was the omission caught by the MMWR editors, probably, Gottlieb speculates, because they were focused on collecting disease data while they struggled to save their dying patients. Gottlieb views the absence of race "as an omission and as an error" because demographic data is "good form as a doctor because it is important." If race was not included in the MMWR, it was an unconscious omission."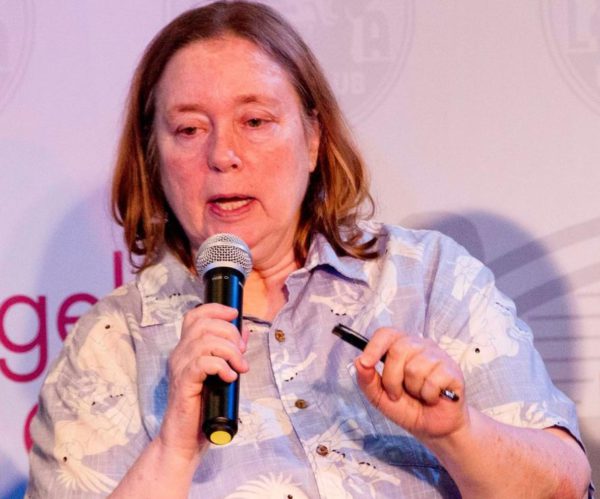 Karen Ocamb is the Director of Media Relations for Public Justice, a national nonprofit legal organization that advocates and litigates in the public interest.
The former News Editor of the Los Angeles Blade, Ocamb is a longtime chronicler of the lives of the LGBTQ community in Southern California.
Editor's note; The photo of a dying David Kirby in Ohio in 1990 by photographer Therese Fare was labeled by LIFE Magazine as the photo that changed the face of AIDS. To read the story and to see a gallery of addition photos visit here; (LINK)
This is Part 2 of a series on AIDS @40. Part 3 looks at Rep. Henry Waxman's congressional hearing in LA and the creation of AIDS Project Los Angeles.
AIDS @40: The White House laughs as gays try to save themselves
Over a third of them have died. It's known as "gay plague." (Laughter.) No, it is. I mean it's a pretty serious thing […]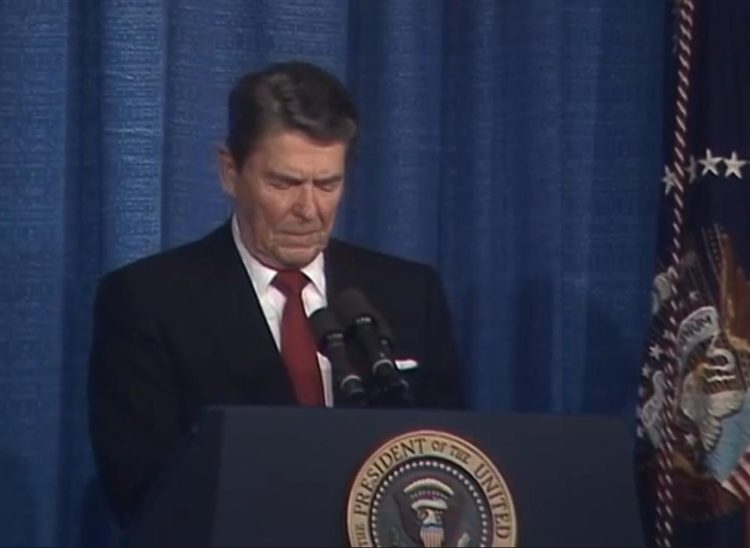 By Karen Ocamb | LOS ANGELES – Like so many others in California, lesbian feminist Ivy Bottini had high expectations for the federal government to finally intervene in the growing AIDS crisis after the first congressional committee hearing on the mysterious new disease, chaired by Rep. Henry Waxman, (D-CA) on April 13, 1982.
There was very little press coverage of the hearing — held at the Los Angeles Gay Community Services Center on Highland Avenue in Hollywood. But years later, Dr. Anthony Fauci of the National Institutes of Health recalled a quote reported by the Washington Blade:
"I want to be especially blunt about the political aspects of Kaposi's sarcoma (KS)," Waxman said. "This horrible disease afflicts members of one of the nation's most stigmatized and discriminated-against minorities….There is no doubt in my mind that if the same disease had appeared among Americans of Norwegian descent, or among tennis players, rather than among gay males, the responses of the government and the medical community would have been different."
The gay San Francisco newspaper The Sentinel published a very short brief on April 16 entitled "House Holds Cancer Hearings" about "the gay cancer." The paper quoted an unnamed subcommittee staffer saying the CDC, "which is coordinating research on the baffling outbreak, 'should not have to nickel and dime' for funds." The brief appeared next to a column written by gay nurse Bobbi Campbell, who wrote about going to The Shanti Project to get emotional support for his KS.
Bottini's take-away from the Waxman hearing was that no one really knew how AIDS was transmitted. She was upset. Her friend Ken Schnorr had died just before the hearing and Bottini had to explain to Ken's distraught mother that he had not been abused at the hospital — the purple bruises on his body were KS lesions.
After weeks of governmental inaction, Bottini called Dr. Joel Weisman, Schnorr's gay doctor, to update the community at a town hall in Fiesta Hall in West Hollywood's Plummer Park. Weisman had sent gay patients to Dr. Michael Gottlieb and was one of the co-authors on the first CDC public report about AIDS on June 5, 1981.
Bottini later recalled how gay men often thanked her for saving their lives at that packed town hall. Bottini subsequently founded AIDS Network LA, to serve as a clearing house for collecting and disseminating information. But not everyone bought the science-based premise that AIDS was transmitted through bodily fluids — including Bottini's friend Morris Kight, prompting a deep three-year rift.
Nonetheless, groups offering gay men advice on how to have safe sex started emerging, as did peer groups forming for emotional, spiritual and healthcare support. The Bay Area Physicians for Human Rights, Houston's Citizens for Human Equality and the new Gay Men's Health Crisis in New York City published pamphlets and newsletters.
Panic and denial were wafting in tandem through gay Los Angeles, too. In Oct. 1982, friends Nancy Cole Sawaya (an ally), Matt Redman, Ervin Munro, and Max Drew convened an emergency informational meeting at the Los Angeles Gay Community Services Center on Gay Related Immunodeficiency Disease (GRID, soon to be called AIDS) delivered by a representative from San Francisco's Kaposi's Sarcoma Foundation.
"My friends and I were in New York in 1981, hearing stories among friends coming down with this mysterious disease. We realized that back home in L.A. there was no hotline, no medical care, and no one to turn to for emotional support," Redman told The Advocate's Chris Bull on July 17, 2001 for a story on the 20th anniversary of AIDS. "For some reason I wasn't really scared. It was so early on that no one could predict what would happen."
That quickly changed when the friends realized there was no level of governmental help forthcoming. They set up a hotline in a closet space at the Center, found 12 volunteers and asked Weisman to train them on how to answer questions, reading off a one-page fact sheet. The idea was to "reduce fear" and eventually give out referrals to doctors and others willing to help.
The four also reached out to friends to raise money, netting $7,000 at a tony Christmas benefit to fund a new organization called AIDS Project Los Angeles. They set up a Board of Directors with Weisman and longtime checkbook activist attorney Diane Abbitt as Board co-chairs. They gaveled their first Board meeting to order on January 14, 1983 with five clients. The following month, APLA produced and distributed a brochure about AIDS in both English and Spanish.
Four months later, in May, APLA and other activists organized the first candlelight march in Los Angeles at the Federal Building in Westwood and in four other cities. The LA event was attended by more than 5,000 people demanding federal action. The KS/AIDS Foundation in San Francisco was led by people with AIDS carrying a banner that read "Fighting For Our Lives." When the banner was unfurled at the National Lesbian and Gay Health Conference that June by activists presenting The Denver Principles, the crowd cried, with a 10-minute ovation.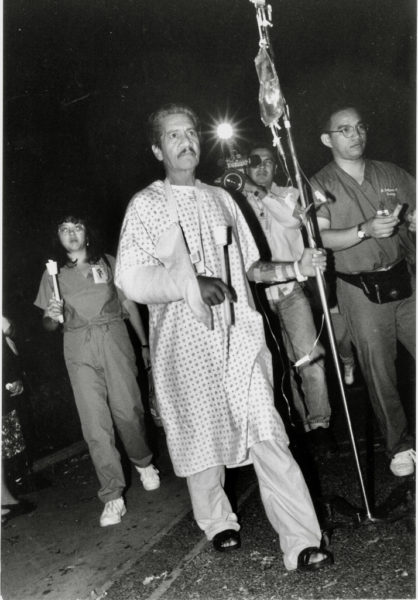 "If the word 'empowerment' hadn't yet been a part of the health care lexicon, it was about to be," HIV/AIDS activist Mark S. King wrote in POZ. The group took turns reading a document to the conference they had just created themselves, during hours sitting in a hospitality suite of the hotel. It was their Bill of Rights and Declaration of Independence rolled into one. It would be known as The Denver Principles, and it began like this:
'We condemn attempts to label us as 'victims,' which implies defeat, and we are only occasionally 'patients,' which implies passivity, helplessness, and dependence upon the care of others. We are 'people with AIDS.'"
While The Denver Principles were injecting self-empowerment into the growing movement of people with AIDS, the Reagan administration was infecting America through mass media association of homosexuality, AIDS and old myths of sexual perversion. Ronald Reagan was keenly aware of his anti-gay evangelical base, appointing Gary Bauer as a domestic policy advisor. Bauer was a close associate of James Dobson, president of the powerful Religious Right group Focus on the Family.
Reagan also picked anti-abortion crusader C. Everett Koop as Surgeon General — which turned into a mini-scandal when Koop agreed that sexually explicit AIDS education and gay-positive materials should be federally funded for schools. "You cannot be an efficient health officer with integrity if you let other things get in the way of health messages," Koop told the Village Voice. Koop was slammed by the Moral Majority's Rev. Jerry Falwell and other anti-gay evangelicals.
But perhaps one most egregious examples of the Reagan administration's homophobic callousness towards people with AIDS came from the persistent laughter emanating from the podium of White House Deputy Press Secretary Larry Speakes.
On Oct. 15, 1982, less than four weeks after Reps. Henry Waxman and Phillip Burton introduced a bill to allocate funds to the CDC for surveillance and the NIH for AIDS research, reporter Lester Kinsolving asked Speakes about the new disease called A.I.D.S..
Kinsolving: Larry, does the President have any reaction to the announcement — the Center for Disease Control in Atlanta, that AIDS is now an epidemic and have over 600 cases?
SPEAKES: What's AIDS?
Kinsolving: Over a third of them have died. It's known as "gay plague." (Laughter.) No, it is. I mean it's a pretty serious thing that one in every three people that get this have died. And I wondered if the President is aware of it?
SPEAKES: I don't have it. Do you? (Laughter.)
Kinsolving: You don't have it. Well, I'm relieved to hear that, Larry. (Laughter.) I'm delighted.
SPEAKES: Do you?
Kinsolving: No, I don't….In other words, the White House looks on this as a great joke?
SPEAKES: No, I don't know anything about it, Lester. What –
Kinsolving: Does the President, does anybody in the White House know about this epidemic, Larry?
SPEAKES: I don't think so. I don't think there's been any –
Kinsolving: Nobody knows?
SPEAKES: There has been no personal experience here, Lester.
The exchange goes on like that. For another two years. On World AIDS Day, Dec. 1, 2015, Vanity Fair debuted a 7:43 documentary directed and produced by Scott Calonico about that 1982 exchange between Kinsolving and Speakes. But Calonico also found audio of similar exchanges in 1983 and 1984 for his film, "When AIDS Was Funny."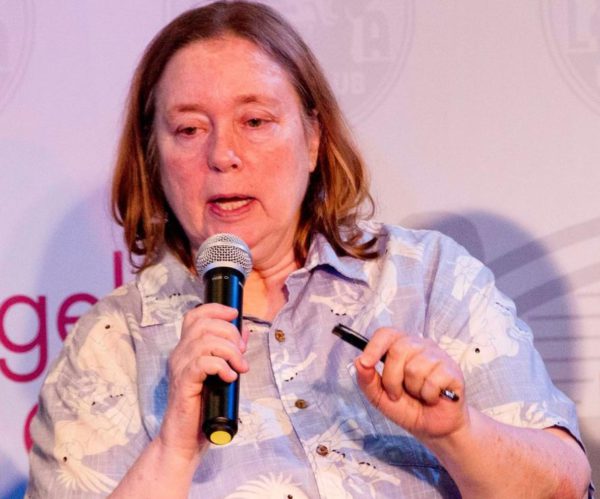 Karen Ocamb is the Director of Media Relations for Public Justice, a national nonprofit legal organization that advocates and litigates in the public interest. The former News Editor of the Los Angeles Blade, Ocamb is a longtime chronicler of the lives of the LGBTQ community in Southern California.
This is Part 4 of a series of 5 articles on AIDS @40.
Oregon House passes over-the-counter HIV prevention drugs bill
HIV-related stigma, homophobia and transphobia, and lack of access create equity gaps in HIV prevention, testing, and treatment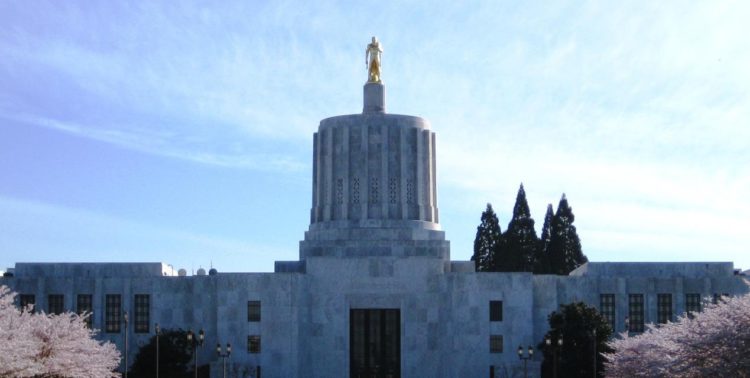 SALEM, OR. – The Oregon House of Representatives re-passed House Bill 2958B, a measure that would allow Oregon's pharmacists to prescribe, dispense, and administer both pre-exposure, (PrEP) and post-exposure prophylaxis, (PEP) the two drugs designed to prevent HIV infection.
The bill also sets the legal authority to conduct HIV tests in the state. The measure had passed in April on a 44-11 vote, was sent to the Senate, and then the measure was sent back after a compromise and conference bill was voted out of the Senate returning it to the House.
The Oregon House on Monday re-passed House Bill 2958 B, which allows pharmacists to prescribe, dispense, and administer both pre-exposure and post-exposure prophylaxis. Known as PrEP and PEP, the two drugs prevent HIV infection. The bill also clarifies that pharmacists have the legal authority to conduct HIV tests. The bill, which previously passed out of the House in April, passed today 44-11.
In an interview with Oregon Public Broadcasting, Rep. Rob Nosse, (D-SE Portland) who is openly gay and a lead sponsor of the bill noted; "Throughout this bill's journey through the legislative process, we heard repeatedly that pharmacists have the training necessary to administer these life-saving drugs."
"By making PrEP and PEP more widely available, we can get these medicines into communities that have been disproportionately impacted by HIV," he added.
Approximately 1.2 million people in the U.S. have HIV. About 13 percent of them don't know it and need testing. HIV continues to have a disproportionate impact on certain populations, particularly racial and ethnic minorities and gay, bisexual, and other men who have sex with men.
CDC estimates of annual HIV infections in the United States show hopeful signs of progress in recent years. CDC estimates show new HIV infections declined 8% from 37,800 in 2015 to 34,800 in 2019, after a period of general stability.
While new HIV diagnoses have declined significantly from their peak, the CDC and other Public Health officials across the U.S. have expressed concern of HIV resurgence due to several factors, including trends in injection and other drug use.
"When this disease first came into national focus, it was often referred to as 'gay related immune deficiency,' or GRID. Today, HIV is recognized as a disease that can be contracted by anyone, and those who are diagnosed as HIV positive can be given resources and medical support to live a long and healthy life," said Nosse. "This bill is potentially a lifesaving solution that will prevent deaths from HIV by making PrEP more accessible to all who need it."
Lawmakers in support of the bill say HIV-related stigma, homophobia and transphobia, and lack of access create equity gaps in HIV prevention, testing, and treatment, OPB reported.
"This is about reducing barriers to access for life-saving medications," said Rep. Dacia Grayber, D-Tigard, who also co-sponsored the bill. "PrEP and PEP are both vital parts of the toolkit for ending the HIV epidemic. By empowering pharmacists to test for HIV and prescribe these medications, we make it easier for Oregonians to get the health care services they need."
"Preventative treatments for HIV have saved countless lives, but not all communities have equal access to these drugs, and we can see the disparities in outcomes for low-income and BIPOC communities," said co-sponsor Rep. Karin Power, D-Milwaukie. "HB 2958 will help to distribute these life-saving drugs more broadly, so that we can begin to close these gaps in our health care system and ensure that more people are protected."
HB 2958 B now heads to Governor Kate Brown for her signature.
AIDS @40: AIDS disaster overwhelms the gays
"This horrible disease afflicts members of one of the nation's most stigmatized and discriminated-against minorities."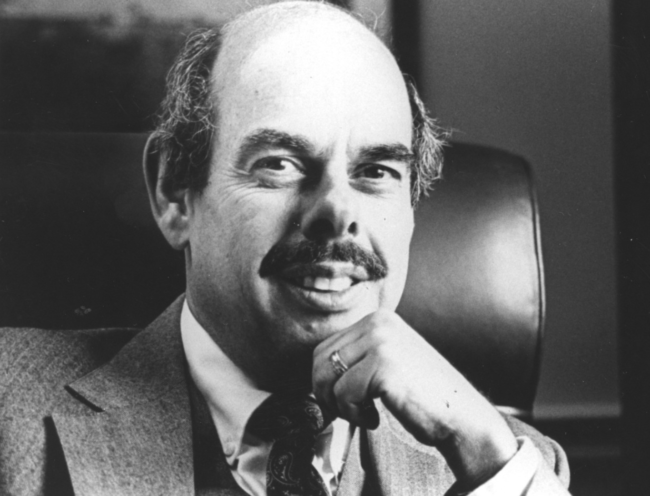 By Karen Ocamb | LOS ANGELES – After the Centers for Disease Control published his June 5, 1981 article on the mysterious new infectious disease sickening and killing gay men, Dr. Michael Gottlieb, an immunologist at UCLA School of Medicine, expected the government to show up and save the day. But it was Ronald Reagan, America's new and the conservative president who decided to dance with the right-wing anti-LGBTQ evangelicals who brought him to the White House.
"Government is not the solution to our problem, government is the problem," Reagan said at his Inauguration, before drastically cutting the federal budget, including the CDC and National Institutes of Health budgets and healthcare programs such as Medicare and Medicaid impacting more than a fifth of the US population, according to a Washington Post story at the time.
"I thought there'd be an aggressive response by the federal government, by the National Institutes of Health and CDC with the funding for research, but that never happened," Gottlieb told the Los Angeles Blade. "We were very frustrated — very frustrated. We piggybacked the research on funding that we already had for other things. But we continued to do the work."
In early 1982, the CDC launched a national case–control study that found that more case-patients were sexually active and more likely to have had sexually transmitted infections than their control gay patients. Meanwhile, in Los Angeles, Dr. David Auerbach, who replaced Dr. Wayne Shandera, the CDC Epidemic Intelligence Service (EIS) officer assigned to the Los Angeles County Department of Health Services, was asked by a gay community member if there was a possible sexual link between "the still rare cases" in Southern California. Auerbach collaborated with Dr. William Darrow of the Task Force on Kaposi's Sarcoma and Opportunistic Infections to investigate 13 of the first 19 cases reported in LA and Orange counties. They found that "nine had reported sexual contact with another person reported with AIDS within 5 years before their onset of symptoms," the CDC reported. They extended their epidemiologic investigation nationwide and, together with the case–control study, found evidence that "strongly suggested that the new syndrome was caused by a sexually transmissible infectious agent. Nonetheless, whether because of competing hypotheses or merely denial, many scientists and the public were skeptical of the infectious agent causation theory."
By the end of 1982, new cases of AIDS were reported in hemophiliacs, needle-sharing drug users, infants, women, people who received blood transfusions and heterosexual Haitian migrants.
The "gay plague" impacted heterosexuals, too. "[I]t was clear that others were at risk for the disease, and what had been complacency turned into serious concern, even panic. Many persons caring for AIDS patients were concerned about their own safety and, in some cases, health-care workers refused to provide needed care. To provide guidance for protection of clinicians and laboratory workers managing patients with AIDS and their biologic specimens, CDC issued guidelines in November 1982 that were based on those previously recommended to protect against hepatitis B virus infection," wrote James W. Curran, MD, and Harold W. Jaffe, MD in AIDS: the Early Years and CDC's Response, a CDC special report in 2011.
Proud and thriving gay liberationists and suave disco and ballroom dancers started wasting away uncontrollably. KS lesions blotched faces and bodies. Muscles atrophied. Beauty was betrayed by shrunken cheeks. Bowels wouldn't behave. Sweat fell like pouring rain onto bed sheets. Spirituality clashed with the most practical questions about quantity versus the quality of life. Gay men turning 20, rejected by their families after being outed by AIDS, died forlornly in the arms of lesbian friends, knowing they would never fall in love. AIDS was a cruel thief. Support groups started popping up: Gay Men's Health Crisis in New York; Shanti and The Kaposi's Sarcoma (KS) Research and Education Foundation and AIDS Project Los Angeles in 1983. Flirtations singer Michael Callen and Richard Berkowitz, two gay patients of Dr. Joseph Sonnabend, published How to Have Sex in an Epidemic, which essentially created the idea of safe sex with use of a condom.
On April 13, 1982, Rep. Henry Waxman, then the Chair of the House Energy and Commerce Subcommittee on Health and the Environment convened the first congressional hearing on AIDS (Acquired Immune Deficiency Syndrome). Waxman's district included the still unincorporated gay haven of West Hollywood and he went to where the gays were — the Los Angeles Gay and Lesbian Community Services Center on Highland Ave. in Hollywood, California. Years later, in presenting Waxman with an award, NIH's Dr. Anthony Fauci recalled that event.
According to an account in the Washington Blade, DC's gay newspaper of record at that time, Rep. Waxman did not mince words. "'I want to be especially blunt about the political aspects of Kaposi's sarcoma,' Rep. Waxman said. 'This horrible disease afflicts members of one of the nation's most stigmatized and discriminated-against minorities.' He continued, 'There is no doubt in my mind that if the same disease had appeared among Americans of Norwegian descent, or among tennis players, rather than among gay males, the responses of the government and the medical community would have been different.' He noted that the outbreak of Legionnaire's disease a few years earlier appeared to have received greater attention and funding for research and treatment than did the latest outbreaks of Kaposi's sarcoma and pneumocystis pneumonia among gay men."
Five months later, on Sept. 24, 1982, Waxman and Rep. Phillip Burton introduced legislation to allocate funds to the CDC for surveillance and to the NIH for AIDS research.
Dr. James Curran, head of the CDC's Task Force on Kaposi's Sarcoma and Opportunistic Infections, estimates that tens of thousands of people may be affected by the disease. Bobbi Campbell, a San Francisco nurse who came out Dec. 10, 1981 in the San Francisco Sentinel as the first KS patient to go public, also testified. The self-proclaimed "KS Poster Boy," was asked to translate "cold data into flesh and blood and tears," and to speak "of the men, my brothers, who have Kaposi's sarcoma and other illnesses."
Gottlieb was there but he doesn't remember much — just that his friend Steve Schulte was there and he met Tim Westmoreland, the gay man who staffed and organized the hearing for Waxman. And he remembers the Center as a broken-down old motel with the meeting held outside. It didn't get much press coverage.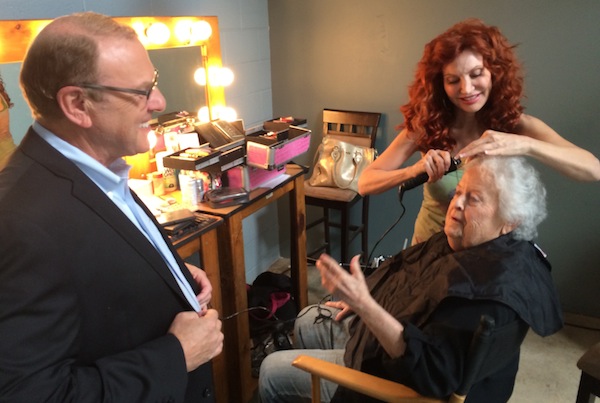 Gottlieb does remember his friendship with Ivy Bottini, an artist turned AIDS activist. Bottini's old friend from Long Island, Ken Schnorr, had collapsed and died in 1982. "After Ken died, something said to me there is more to this than we see," Bottini told the LA Blade. "So, for some reason, I just picked up the phone and called the CDC. I had never done that before. 'Look, this just happened to my friend. Do you have any answers? The hesitancy at the other end of the line, the hemming and the hawing before they would say anything — I just knew it was bad."
The CDC official explained that the bruises on Ken's body were Kaposi sarcoma, usually found in elderly Jewish men. "And that was the explanation," she said. "I got off and thought, 'no, this doesn't make sense because Ken was one of three first guys diagnosed with Kaposi in town, in West Hollywood, in L.A., and that started me on working to find out what the hell was going on. It was just horrible."
Waxman's hearing was held shortly after Schnorr's death. Bottini was there. "We all met in the lobby and under the stairs on the first floor," she said. "Waxman's basic message was spread the word: nobody really knows how it's passed."
"Thousands of deaths and no one cares! No one cares – except us," an emotional Bottini told Andy Sacher of the Lavender Effect about that time. "That was inhuman what was really happening to gay men. It was inhuman how they were demonized."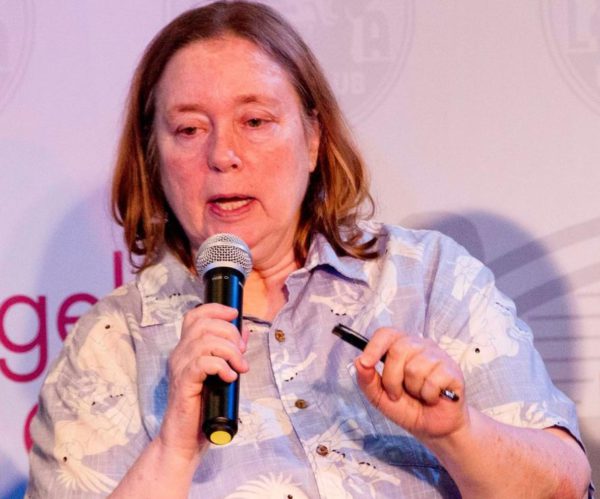 Karen Ocamb is the Director of Media Relations for Public Justice, a national nonprofit legal organization that advocates and litigates in the public interest.
The former News Editor of the Los Angeles Blade, Ocamb is a longtime chronicler of the lives of the LGBTQ community in Southern California.
This is Part 3 of a series of 5 articles on AIDS @40.