Actor & activist Brandon Kyle Goodman speaks; Hollywood listens
"I'd say to any queer kid – any Black or Brown or Asian kid in art school – keep talking & keep fighting for what you believe in."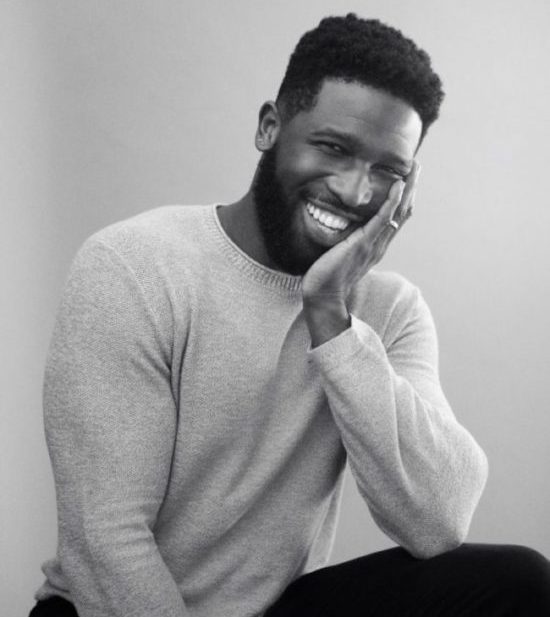 By Alejandro Cervantes | HOLLYWOOD – Brandon Kyle Goodman (they/them) is the voice modern Hollywood needs. In the past three years, they've broadcasted a clear and much needed message about the success of diversity and the power of authenticity.
Known to audiences through their memorable performances in Amazon's poignant anthology series "Modern Love" and the Netflix dance drama "Feel the Beat", Goodman also writes for the hit Netflix animated series "Big Mouth" and the upcoming spin-off "Human Resources" – where they voice a new (secret) character.
Their solo show, The Latrell show, is written and performed by Goodman and co-directed by Stefanie Black and Devere Rogers in a stunning virtual production for the Iama Theatre. The show and centers around Latrell, a fearless and charismatic talk show host who explores what it means to be Black and queer in America today.
Goodman hopped on a call with The Los Angeles Blade to discuss queer representation in Hollywood, how Oprah can help new artists and of course, "the LATRELL show" – now extended through June 27th.
Describe the character of Latrell, who is he?
Latrell to me has always been this over the top, fabulous, femme, queer Black person who does what he wants, says what he wants, wears what he wants, but also is loving. He can drag you, he shade you, but it's always out of love.
For "the LATRELL show", in its iteration today, I wanted to shake that need to take care of the audience. I wanted to actually allow Latrell and myself to have the space to make people uncomfortable and have real conversations, and shake off 'the magical negro'. If you take away the makeup, take away the jewelry, take away everything that makes Latrell palatable – is he still 'safe'? The answer is no.
Was there a moment in your career where you realized you not only have a voice in the industry, but people are listening?
I think that I was always speaking. But I think that I realized that people were actually listening last year. The unfortunate thing is that we only take people seriously when they have a certain number of followers, or a certain cache, or fame, or visibility.
I would say to anybody in the arts, or any queer kid – any Black or Brown or Asian kid in art school – keep talking and keep honing your voice and keep fighting for what you believe in. It's Oprah who says it, "luck is when opportunity meets preparation." All you can do is keep working, keep preparing and when the opportunity comes – it'll hit.
It sounds like this philosophy applies to "the LATRELL show" – I understand this was a character that you had been using for a while.
I probably have been playing the character for about 10 years. It started in a sketch comedy show, and the character became pretty popular in the shows, so I tried my hand at doing full-on Latrell Shows, which we would say were "part scripted, part improv, all fabulous."
I think I was reckoning with my sexuality and my gender and trying to find a space where I could exist. So much of what I heard growing up and in the industry was "you're great, you're talented, we don't know what to do with you." When you hear that enough then you think: I'm going to show you what to do with me.
And now, 10 years later, having a career for myself, I put a new lens on him and really unpack where he came from and why I needed him. It's kind of meta, but I think that's what Latrell was for me as Brandon – a way to see myself with value.
You're an impressive multi-hyphenate: you've got multiple podcasts, you've got the solo show, you're an actor, voice actor and writer – in those Hollywood meetings do you find yourself code switching? Do you find yourself still using the word queer?
Yes. I made a choice to definitely use queer in all those spaces. I have tried, especially in the last year, to use less code switching. I've had that privilege because of visibility, more people know what they'e going to get. There is a privilege in the visibility, cause people are like, "we know who Brandon is". I don't feel like I have to shape shift as much.
But, I will say prior to any visibility, I was shape shifting and code switching quite a bit for safety and for mobility. The reason that I'm so adamant about not doing that now is because I want to make sure I can create a space where other people, who don't have the same visibility, don't have to shape shift.
Speaking of representation, what are your thoughts on queer characters being played by straight actors?
I'm vocal about it. I see people debate about how, "everyone should be allowed to play whatever they want." But that would only work if queer actors and performers and artists are getting the same opportunities as our straight counterparts. It doesn't work if that's not happening.
If everything was equitable and everything was equal then yes we could argue that, but that is not the case. So instead, what's happening is that straight people get to play queer, but queer people aren't working.
Let's talk about 'Big Mouth', Is there a specific moment on the show that you can point to and say, that's mine and I'm really proud of it?
It's really, really fucking small but I'm very proud of it, I think it's the small things that are all that are usually the biggest anyways. In the episode I co-wrote with Mitra Jouhari there's one scene where Matthew (a gay character voiced by Andrew Rannells) and Aiden (an openly gay character voiced by Zachary Quinto) are having a conversation about straight people and gay things with two friends. And I specified in the script that one of those friends would be Black and one of those friends would be Middle Eastern.
It was important to me that when we got to this scene, even though these characters only have like three lines, that they were there in the space with Matthew and Aiden. It was really important to me for us to see a Black queer character and a brown queer character that are teenagers, middle schoolers, talking shit and laughing. It's in Aiden's living room, so even though we don't meet Aiden's mother, you can gather that there's a safety in his home.
So what, if anything, can you tell us about "Human Resources"?
In "Big Mouth" we have our Hormone Monsters and we've got the Shame Wizard and the Anxiety Mosquito, "Human Resources" is our way to follow the lives of those creatures, and tell stories that impact adults. "Human Resources" is our way to explore beyond puberty.
So you're writing on it and you're also voicing a character?
It's fucking bananas. I can't tell you much about character, but I can tell you that he's fucking awesome.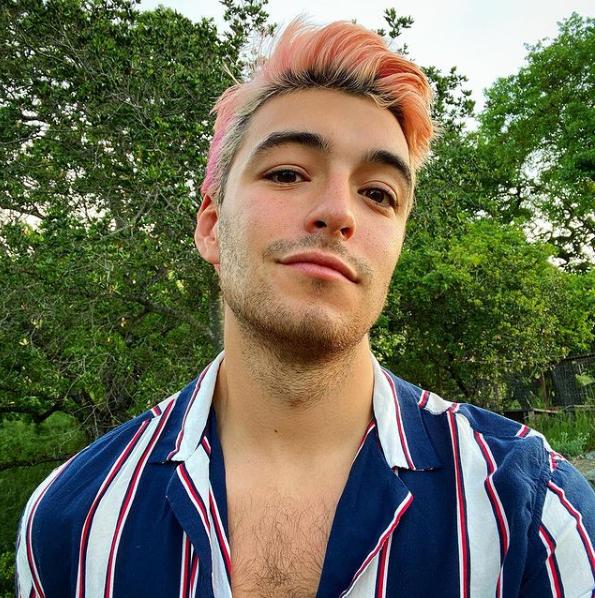 Alejandro Cervantes is a freelance writer living in Los Angeles.
The Los Angeles Blade celebrates Next Generation Pride
"Diversity is really important to our district… Our district is a leader when it comes to helping and supporting students."
WEST HOLLYWOOD – On June 27, the Los Angeles Blade honored and recognized the achievements of LGBTQ+ students, faculty, staff and the administrators of the Los Angeles Community College District, (LACCD) as about 75 invited guests gathered at West Hollywood's Le Parc Suite Hotel's Skydeck rooftop lounge and pool area to celebrate the LGBTQ+ students, and celebrate the creation of a scholarship program between the Los Angeles Blade and LACCD.
"The reason LAACD is able to be progressive, forward looking— the reason we are able to do an LGBTQIA Bill of Rights and ensure that everyone of our students is safe —is because we have a tremendous Board of Trustees who believe in a vision that every student deserves to be educated and safe," said LACCD's Chancellor Dr. Francisco C. Rodriguez.
Those are strong words from an LGBTQI Ally who heads one of the world's largest community college systems spread out over a nine campus system with a 250,000 strong student body.
The late afternoon event was sponsored by the Los Angeles Blade, The Ariadne Getty Foundation, the AIDS Healthcare Foundation, GT's Living Foods, and the Le Parc Suite Hotel.
Also in attendance bestowing proclamations honoring the achievements of the administrators, trustees and the LGBTQ+ student body of the LACCD, was the City of West Hollywood's Mayor Lindsey Horvath and City Councilmember John Erickson.
Rhea Litré, voted by the readers of the Blade as Best Drag Queen and one of West Hollywood's brightest stars of drag — most recently famous for her Instagram Live show "Quarantine Queen" — kicked off the night with a warm welcome and introduced the Blade's publisher Troy Masters.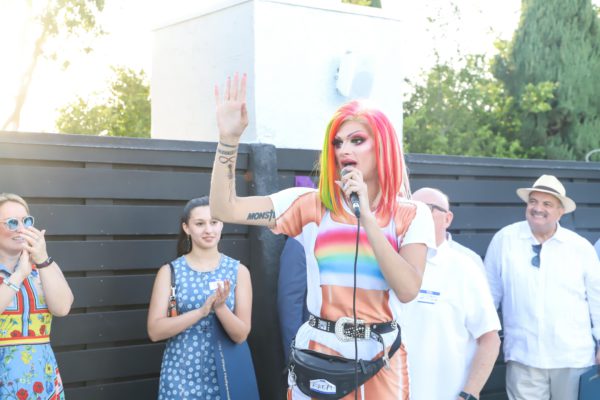 In his speech, Masters explained that LACCD's LGBTQ+ program had touched him deeply; "The cover of the Los Angeles Blade Pride issue is an example of something they are doing really touched me a lot. The school uses a Monarch Butterfly emblem which they wear to denote that a person is a safe person to interact with openly and that an area or room is a safe space for them.
"That really touched me, because it made me aware that their situation is different than what we may be used to. They have a deep need for safe, supportive people and spaces. They have a very deep need to be who they are and be with people and places that are safe, accepting and good for them," he said.
"We are here tonight just to celebrate that, celebrate the colleges and celebrate the people who are profiled in the current issue of the Los Angeles Blade, he added."
In addition to politicos in attendance, some of the LACCD's top leadership were on hand; Dr. Francisco C. Rodriguez, the Chancellor of the LACCD, Deputy Chancellor. ​Dr. Ryan M. Cornner, Dean for Student Success Deborah Harrington, LACCD Board of Trustees member Mike Fong, David Vela, the only openly LGBTQ+ LACCD Trustee, Felipe Agredano-Lozano, the LGBTQ+ Faculty Liaison for the LACCD, Dr. Marcel Morales,​ Department Chair and Professor of Sociology at ELAC, James Limbaugh, the President of West LA College and Michael P. Fuller, LACCD's Director of Institutional Advancement.
The mixer was filled with many familiar faces from greater the Los Angeles community including August Getty who represented the Ariadne Getty Foundation as well as his LA-based fashion house, August Getty Atelier; Marna Deitch, Southern California Motorcycle Contingent for Equality leader and interpreter for the deaf at community colleges; Michael Weinstein, Executive Director of the world's largest AIDS healthcare organization, the AIDS Healthcare Foundation; lesbian activist and comedian Robin Tyler accompanied by her pug Oscar Wilde; composer and lyricist Todd Pawelek and Stephen Rutgers representing the Washington Blade and Blade Foundation.
Masters thanked all the events sponsors and several individuals who helped make the event possible and expressed gratitude for everyone who attended.
"I want to acknowledge some people who are extremely dear to me," Masters paused, "Ariadne Getty is our most generous benefactor and her son August is here tonight." And while the crowd broke out into cheers for August, Masters' voice broke when he said, "I want to thank them for an immense amount of love and a lot of compassion — thank you for making us part of your family." Getty stood and was clearly moved.
Masters also thanked Michael Weinstein of the AIDS Healthcare Foundation for his role in executing a successful LGBTQ focused Covid-19 vaccination program. "Michael is one of our largest supporters as well. And we appreciate Michael and appreciate the work of the AIDS Healthcare Foundation," Masters said.
"We can thank Michael in part," said Masters, "for the working to ensure that West Hollywood and the LGBTQ community are near fully vaccinated." He added, "As a community we are well on our way."
AHF says it has fully vaccinated tens of thousands of Angelenos. The agency also famously worked hard during Covid crisis to make sure its patients were able to keep up with HIV medications and healthcare requirements. According to LA County Department of Public Health, in fact, the City of West Hollywood is more than 72 percent fully vaccinated.
Masters said his observation about the community being "nearly 100 percent vaccinated" is anecdotal. "Actual LGBTQ statistics have not been maintained during the Covid-19 crisis, something the Los Angeles Blade has exposed in many articles," he said.
Michael P Fuller called out the LACCD luminaries and the student honoree Sofia Zaragoza, Chancellor Rodriguez, Trustees Fong and Vela who all gave short speeches.
West Hollywood Mayor Lindsey Horvath took the mic greeted and proclaimed "Happy Pride Month!" The Mayor, joined by City Councilmember Erickson then handed out proclamations to the LACCD leadership from the City of West Hollywood:
The Proclamations read:
The City of West Hollywood honors the Los Angeles Community College District for
EXEMPLARY SERVICE TO LGBTQ YOUTH on the occasion of Los Angeles Blade's NEXT GENERATION PRIDE EVENT
Whereas, the Los Angeles Community College District (LACCD) supports the rights, freedoms, and equality of persons who are lesbian, gay, bisexual, transgender, queer, intersex, and/or asexual (LGBTQIA+) and serves more than 20,000 LGBTQIA+ students through safe and inspiring learning environments;
Whereas, LACCD adopted a groundbreaking LGBTQIA+ Bill of Rights to create welcoming college communities that affirm the lives of LGBTQIA+ students, faculty, and staff;
Whereas, LACCD provides academic opportunities for LGBTQIA+ students to accomplish their educational goals, including courses and programs recognizing the contributions of LGTBQIA+ communities;
Let it be known, the City of West Hollywood commends LACCD's inclusionary vision and leadership in supporting and advancing the LGBTQIA+ members of our community.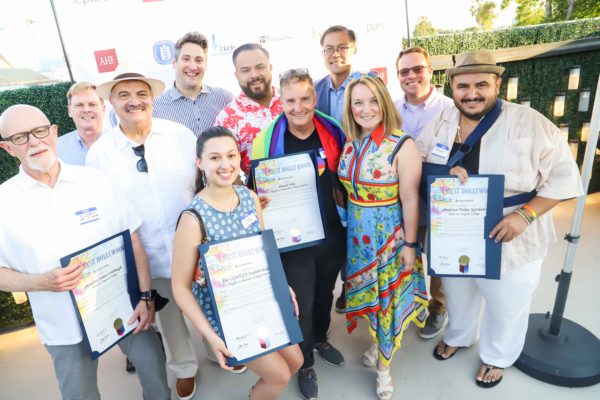 The Blade interviewed several of the attendees.
Litré said, "We have raised amazing money for kids that want to go to college." One of the individual's who received a scholarship, Jamey Sinardi who was also profiled in the three-part series in a special issue of the Blade this past week was also briefly interviewed at the event.
Dropping out of high school due to severe scoliosis and battling cancer twice is an uphill battle, but Sinardi won and was able to achieve her goals in education, in part, due to the LA Promise scholarship program. The LAACD promise program is a program that gives two years of tuition free education to community college students. "If it wasn't for Promise," she said, "I don't know where I'd be honestly."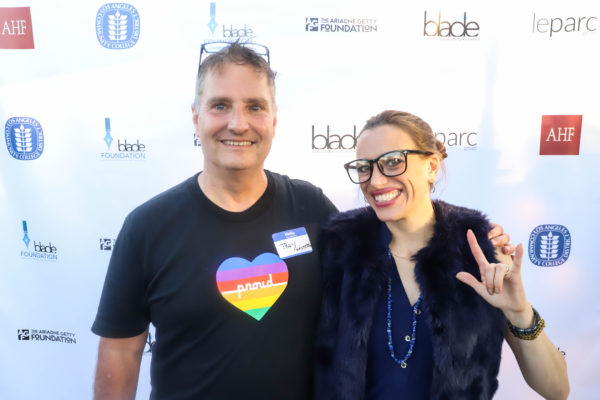 There were many individuals from the LACCD who helped make this moment possible such as Dr. Francisco Rodriguez, Chancellor for the LACCD. When talking about the event he said, "There's only one reason we're here – and that's for students."
Sofia Zaragoza, a queer student who was just recently accepted to University of California Berkeley described why she believes she was chosen by the Blade to be in the Next Generation of Pride article. "I think it's because of my diverse background in the academic sense. I have a real passion for education." For Zaragoza being an LGBTQ student can be challenging, but it "not only diversifies" but "enriches" her perspective in life.
The President of West LA College, James Limbaugh, told the Blade that he looks at students like Dee and Zaragoza and finds their stories to be inspirational. "I think it's important that every student has the right and access to college… Every student has potential, so my responsibility is to make sure that all students have an opportunity." Dr. Morales from the LACCD's East LA College campus weighed in saying; "Diversity is really important to our district… Our district is a leader when it comes to helping and supporting students."
Deitch, the Southern California Motorcycle Contingent for Equality leader told the Blade; "I don't even have words to say how wonderful I think this is. Knowing that the community colleges have been very open to the LGTBQ community is nice, but stepping it up to this level is fantastic."
August Getty, called as the last speaker by Masters reflected; "At the end of the day, we are one entire family… Thanks to the LA Blade for giving us an outspoken voice for when we don't have one."
WATCH: The Los Angeles Blade celebrates the Next Generation of Pride
GLBT Historical Society Museum reopens for Pride month
In compliance with city and state regulations limiting attendance to 50 percent of total capacity, tickets will be timed at hourly intervals
SAN FRANCISCO – The GLBT Historical Society Museum, located in San Francisco's Castro district, is reopening to the public in time for Pride Month on Friday, June 4 at 2:00 p.m., after more than six months of closure due to the COVID-19 pandemic. The first stand-alone museum of LGBTQ history in the United States, the GLBT Historical Society Museum opened its doors to the public in 2011 and welcomes over 20,000 visitors annually.
 
The museum will be open on Tuesdays through Sundays from 11:00 a.m. to 5:00 p.m. San Francisco currently remains in the Yellow COVID-19 tier. In compliance with city and state regulations limiting attendance to 50 percent of total capacity, tickets will be timed at hourly intervals, and the number of visitors will be capped at 10 per hour. This will expand to 15 per hour as demand increases. Ticket reservations are available online at www.glbthistory.org/museum. Walk-ins are welcome when the museum is below capacity.
 
Ticket prices for the museum remain unchanged. General admission is $10; discounted admission for youth (ages 13 to 17), seniors (age 65 and over), students, teachers, active-duty military service members and people with disabilities is $6; and admission is free for children (age 12 and under), GLBT Historical Society members, Supplemental Nutrition Assistance Program (SNAP) cardholders and North American Reciprocal Museum (NARM) members. Admission is free to all on Saturdays, thanks to a grant from the Bob Ross Foundation.
 
The GLBT Historical Society Museum has maintained the cleaning procedures developed last year. Hand-sanitizing stations are available for visitors, who are required to wear face coverings or masks at all times during their visit.
 
Visitors can experience two exhibitions currently on display at the museum. The Community Gallery hosts "Performance, Protest and Politics: The Art of Gilbert Baker." This exhibition uses textiles, costumes, photographs and ephemera to paint a complex portrait of artist Gilbert Baker (1951–2017), who designed the iconic rainbow flag. The exhibition will be enhanced by a significant new addition this month. The Main Gallery hosts our long-term exhibition, "Queer Past Becomes Present," showcasing photos, documents and artifacts telling the stories of over a century of everyday queer life among the diverse populations of San Francisco.
 
For more information, visit the website at www.glbthistory.org/museum.
Cabin Fever? Out in West Hollywood Memorial Day offerings
Last minute staycation plans? Make this long weekend more memorable,at these four chic West Hollywood hotels.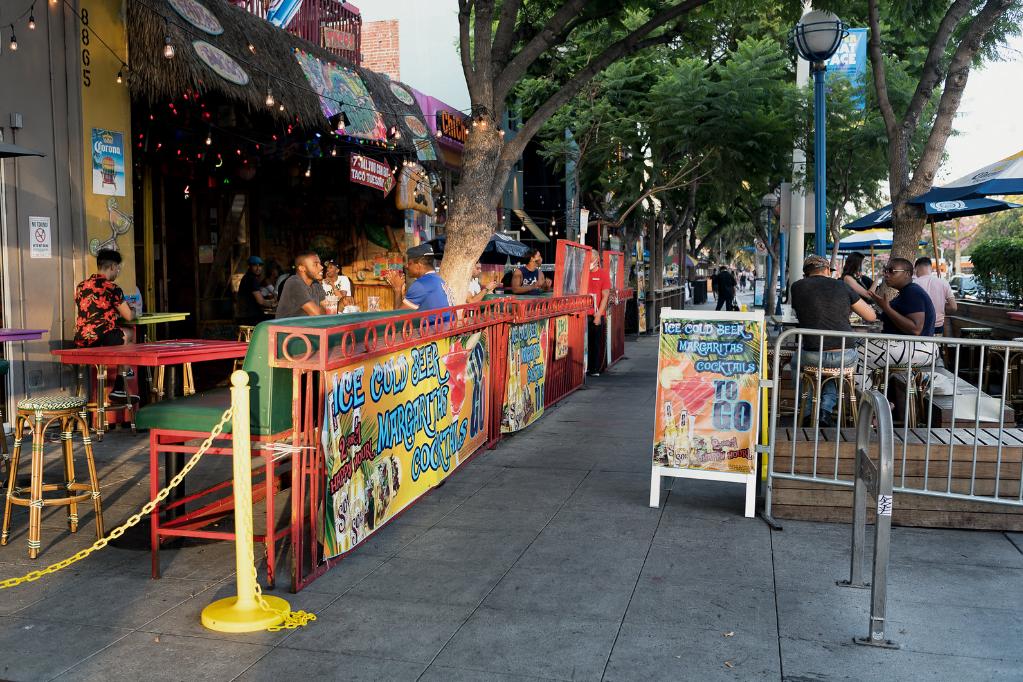 For those in need of last minute staycation plans, or simply looking to make this long weekend more memorable, these four chic West Hollywood hotels have got you covered. Offering some of the best luxury accommodations in the neighborhood, these four Memorial Day Weekend specials will satisfy all cravings, from poolside massages at the Chamberlain to a $100 beverage credit at The Grafton on Sunset. 
Bite the Urge, Feel the Flame at the Montrose West Hollywood
Too much of anything is bad – unless we're talking about indulging at Montrose West Hollywood! This Memorial Day Weekend, let loose and "bite the urge" with the help of a welcome bottle of bubbly in your suite upon arrival and a complimentary rooftop appetizer. Keep things hot while you cool off poolside with specials on spicy margaritas all weekend long!
Suite rates start at $299. The package is available to book from Thursday, May 27 to Tuesday, June 1. To book: Visit www.montrosewesthollywood.com or call 888-226-9771
Haute Girl Summer Package at the Chamberlain West Hollywood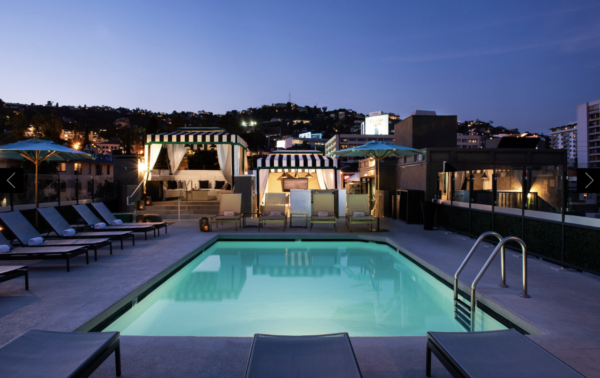 Bring your couture up to Chamberlain's rooftop pool for a Champagne and Bellini Bar, offered Saturday, Sunday and Monday this Memorial Day Weekend! What better way to spend the long weekend celebrating than reveling on the rooftop with a glass of bubbly in tow? Best of all, hotel guests will enjoy complimentary mini massages from Soothe, a luxury wellness service providing poolside massage professionals..
The Haute Girl Summer Package includes overnight accommodations in a fashionable suite, a complimentary glass of ChampagneSuite rates start at $299 and the package is available from May 27 to June 1. To book: Visit www.chamberlainwesethollywood.com or call 888-377-7181
Get Wasted at The Grafton on Sunset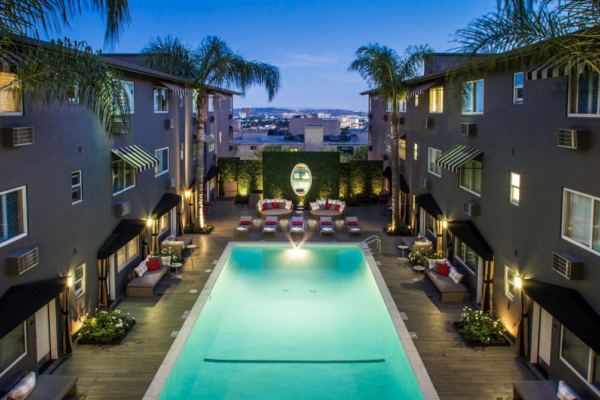 The time you enjoy wasted in not wasted time at The Grafton on Sunset! This Memorial Day Weekend, let loose with the help of a $100 beverage credit per stay. Get buzzed poolside on the famous Sunset Boulevard before crashing in your pool view room. Stay in a Hollywood inspired guest room on the iconic Sunset Strip; then, kick that hangover with the help of complimentary breakfast!
Room rates start at $239. The package is available to book from Thursday, May 27 to Tuesday, June 1. To book: Visit www.graftononsunset.com or call 888-612-9434
Detox Then Retox at Le Parc Suite Hotel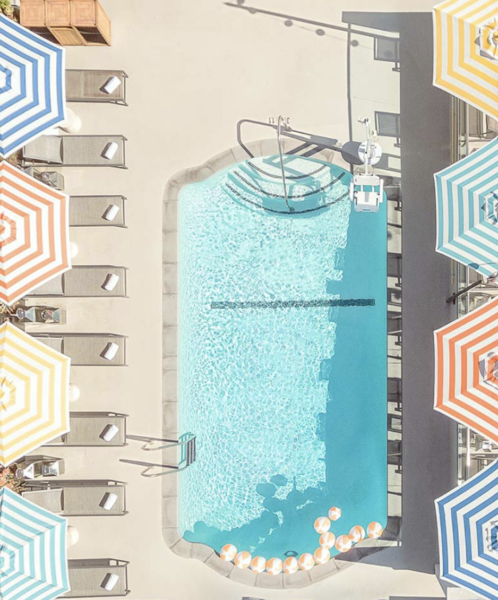 Life is all about balance! This Memorial Day Weekend, join the newly renovated Le Parc Suite Hotel by booking our exclusive Detox Then Retox package, which includes a detox with complimentary wellness juice shot at check-in, then a free yoga flow at 11 a.m. and again at 6 p.m. with R&B Yoga on Saturday. Then, get ready to get wild on Sunday with the help of two complimentary drinks at our Bloody Mary Bar with the panoramic views of West Hollywood – retoxing never looked so good!
The Detox Then Retox package includes accommodations in a newly renovated suite, two yoga classes on Saturday, a Bloody Mary Bar on Sunday and a wellness juice shot at check-in. Suite rates start at $309. The package is available to book from Thursday, May 27 to Tuesday, May 25. To book: Visit www.leparcsuites.com or call 888-324-0353.