The Los Angeles Blade celebrates Next Generation Pride
"Diversity is really important to our district… Our district is a leader when it comes to helping and supporting students."
WEST HOLLYWOOD – On June 27, the Los Angeles Blade honored and recognized the achievements of LGBTQ+ students, faculty, staff and the administrators of the Los Angeles Community College District, (LACCD) as about 75 invited guests gathered at West Hollywood's Le Parc Suite Hotel's Skydeck rooftop lounge and pool area to celebrate the LGBTQ+ students, and celebrate the creation of a scholarship program between the Los Angeles Blade and LACCD.
"The reason LAACD is able to be progressive, forward looking— the reason we are able to do an LGBTQIA Bill of Rights and ensure that everyone of our students is safe —is because we have a tremendous Board of Trustees who believe in a vision that every student deserves to be educated and safe," said LACCD's Chancellor Dr. Francisco C. Rodriguez.
Those are strong words from an LGBTQI Ally who heads one of the world's largest community college systems spread out over a nine campus system with a 250,000 strong student body.
The late afternoon event was sponsored by the Los Angeles Blade, The Ariadne Getty Foundation, the AIDS Healthcare Foundation, GT's Living Foods, and the Le Parc Suite Hotel.
Also in attendance bestowing proclamations honoring the achievements of the administrators, trustees and the LGBTQ+ student body of the LACCD, was the City of West Hollywood's Mayor Lindsey Horvath and City Councilmember John Erickson.
Rhea Litré, voted by the readers of the Blade as Best Drag Queen and one of West Hollywood's brightest stars of drag — most recently famous for her Instagram Live show "Quarantine Queen" — kicked off the night with a warm welcome and introduced the Blade's publisher Troy Masters.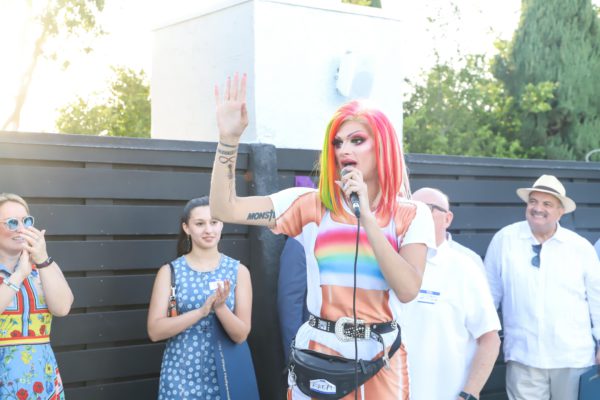 In his speech, Masters explained that LACCD's LGBTQ+ program had touched him deeply; "The cover of the Los Angeles Blade Pride issue is an example of something they are doing really touched me a lot. The school uses a Monarch Butterfly emblem which they wear to denote that a person is a safe person to interact with openly and that an area or room is a safe space for them.
"That really touched me, because it made me aware that their situation is different than what we may be used to. They have a deep need for safe, supportive people and spaces. They have a very deep need to be who they are and be with people and places that are safe, accepting and good for them," he said.
"We are here tonight just to celebrate that, celebrate the colleges and celebrate the people who are profiled in the current issue of the Los Angeles Blade, he added."
In addition to politicos in attendance, some of the LACCD's top leadership were on hand; Dr. Francisco C. Rodriguez, the Chancellor of the LACCD, Deputy Chancellor. ​Dr. Ryan M. Cornner, Dean for Student Success Deborah Harrington, LACCD Board of Trustees member Mike Fong, David Vela, the only openly LGBTQ+ LACCD Trustee, Felipe Agredano-Lozano, the LGBTQ+ Faculty Liaison for the LACCD, Dr. Marcel Morales,​ Department Chair and Professor of Sociology at ELAC, James Limbaugh, the President of West LA College and Michael P. Fuller, LACCD's Director of Institutional Advancement.
The mixer was filled with many familiar faces from greater the Los Angeles community including August Getty who represented the Ariadne Getty Foundation as well as his LA-based fashion house, August Getty Atelier; Marna Deitch, Southern California Motorcycle Contingent for Equality leader and interpreter for the deaf at community colleges; Michael Weinstein, Executive Director of the world's largest AIDS healthcare organization, the AIDS Healthcare Foundation; lesbian activist and comedian Robin Tyler accompanied by her pug Oscar Wilde; composer and lyricist Todd Pawelek and Stephen Rutgers representing the Washington Blade and Blade Foundation.
Masters thanked all the events sponsors and several individuals who helped make the event possible and expressed gratitude for everyone who attended.
"I want to acknowledge some people who are extremely dear to me," Masters paused, "Ariadne Getty is our most generous benefactor and her son August is here tonight." And while the crowd broke out into cheers for August, Masters' voice broke when he said, "I want to thank them for an immense amount of love and a lot of compassion — thank you for making us part of your family." Getty stood and was clearly moved.
Masters also thanked Michael Weinstein of the AIDS Healthcare Foundation for his role in executing a successful LGBTQ focused Covid-19 vaccination program. "Michael is one of our largest supporters as well. And we appreciate Michael and appreciate the work of the AIDS Healthcare Foundation," Masters said.
"We can thank Michael in part," said Masters, "for the working to ensure that West Hollywood and the LGBTQ community are near fully vaccinated." He added, "As a community we are well on our way."
AHF says it has fully vaccinated tens of thousands of Angelenos. The agency also famously worked hard during Covid crisis to make sure its patients were able to keep up with HIV medications and healthcare requirements. According to LA County Department of Public Health, in fact, the City of West Hollywood is more than 72 percent fully vaccinated.
Masters said his observation about the community being "nearly 100 percent vaccinated" is anecdotal. "Actual LGBTQ statistics have not been maintained during the Covid-19 crisis, something the Los Angeles Blade has exposed in many articles," he said.
Michael P Fuller called out the LACCD luminaries and the student honoree Sofia Zaragoza, Chancellor Rodriguez, Trustees Fong and Vela who all gave short speeches.
West Hollywood Mayor Lindsey Horvath took the mic greeted and proclaimed "Happy Pride Month!" The Mayor, joined by City Councilmember Erickson then handed out proclamations to the LACCD leadership from the City of West Hollywood:
The Proclamations read:
The City of West Hollywood honors the Los Angeles Community College District for
EXEMPLARY SERVICE TO LGBTQ YOUTH on the occasion of Los Angeles Blade's NEXT GENERATION PRIDE EVENT
Whereas, the Los Angeles Community College District (LACCD) supports the rights, freedoms, and equality of persons who are lesbian, gay, bisexual, transgender, queer, intersex, and/or asexual (LGBTQIA+) and serves more than 20,000 LGBTQIA+ students through safe and inspiring learning environments;
Whereas, LACCD adopted a groundbreaking LGBTQIA+ Bill of Rights to create welcoming college communities that affirm the lives of LGBTQIA+ students, faculty, and staff;
Whereas, LACCD provides academic opportunities for LGBTQIA+ students to accomplish their educational goals, including courses and programs recognizing the contributions of LGTBQIA+ communities;
Let it be known, the City of West Hollywood commends LACCD's inclusionary vision and leadership in supporting and advancing the LGBTQIA+ members of our community.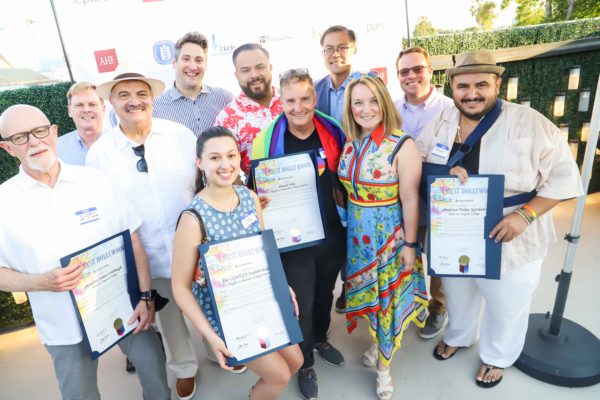 The Blade interviewed several of the attendees.
Litré said, "We have raised amazing money for kids that want to go to college." One of the individual's who received a scholarship, Jamey Sinardi who was also profiled in the three-part series in a special issue of the Blade this past week was also briefly interviewed at the event.
Dropping out of high school due to severe scoliosis and battling cancer twice is an uphill battle, but Sinardi won and was able to achieve her goals in education, in part, due to the LA Promise scholarship program. The LAACD promise program is a program that gives two years of tuition free education to community college students. "If it wasn't for Promise," she said, "I don't know where I'd be honestly."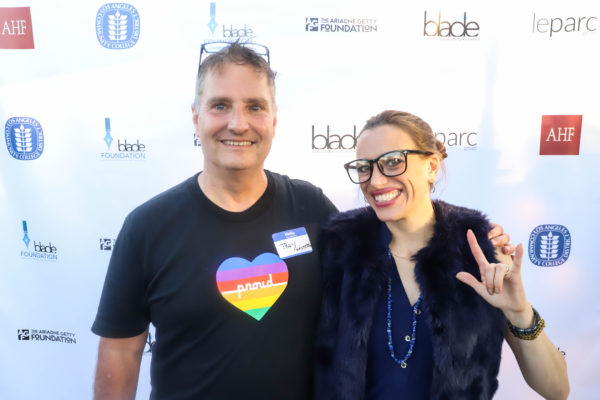 There were many individuals from the LACCD who helped make this moment possible such as Dr. Francisco Rodriguez, Chancellor for the LACCD. When talking about the event he said, "There's only one reason we're here – and that's for students."
Sofia Zaragoza, a queer student who was just recently accepted to University of California Berkeley described why she believes she was chosen by the Blade to be in the Next Generation of Pride article. "I think it's because of my diverse background in the academic sense. I have a real passion for education." For Zaragoza being an LGBTQ student can be challenging, but it "not only diversifies" but "enriches" her perspective in life.
The President of West LA College, James Limbaugh, told the Blade that he looks at students like Dee and Zaragoza and finds their stories to be inspirational. "I think it's important that every student has the right and access to college… Every student has potential, so my responsibility is to make sure that all students have an opportunity." Dr. Morales from the LACCD's East LA College campus weighed in saying; "Diversity is really important to our district… Our district is a leader when it comes to helping and supporting students."
Deitch, the Southern California Motorcycle Contingent for Equality leader told the Blade; "I don't even have words to say how wonderful I think this is. Knowing that the community colleges have been very open to the LGTBQ community is nice, but stepping it up to this level is fantastic."
August Getty, called as the last speaker by Masters reflected; "At the end of the day, we are one entire family… Thanks to the LA Blade for giving us an outspoken voice for when we don't have one."
WATCH: The Los Angeles Blade celebrates the Next Generation of Pride
Hot new comic Karinda Dobbins is going to make you Black & Blue
Even if your day to day world is not one of bug killings, pets, lesbian weddings and psycho showers, this one is for you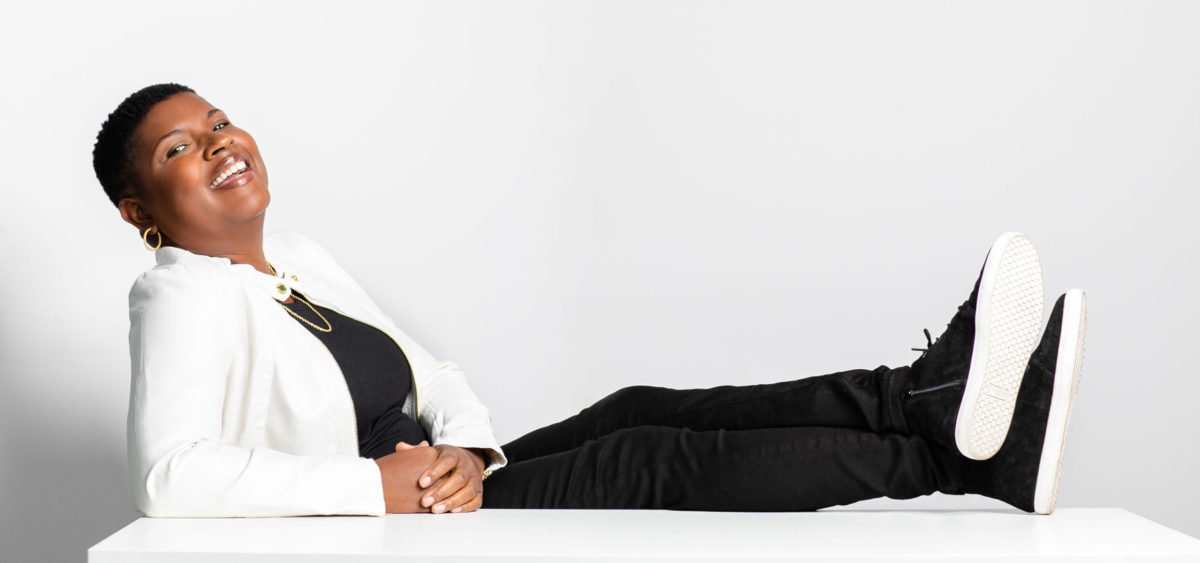 HOLLYWOOD – The world gets funnier on February 4th.  That is the day that Blonde Medicine releases Black and Blue, the debut comedy album from Karinda Dobbins.
If you have not heard of the Bay Area comedian, you may not be alone, but the who's-who of the comedy world thinks you should, and you will. Wanda Sykes sings her praises. SFist named her one of the "13 San Francisco Stand Up Comedians to Go See Now". Bitch Media called her one of the "Six Female Comedians You Don't Know Yet—But Should."
She is getting around. She has opened for a pack of A listers. "It is inspiring," she says. Big names she has opened for include W. Kamau Bell, Trevor Noah, Gina Yashere, Michelle Wolf, and Dave Chappelle. "I'm not on Tik Tok yet," she tells me when we sat down for an episode of my podcast Rated LGBT Radio. "Everybody is telling me I should be. But I haven't gotten around to that yet. "
There are lots of issues on which Karinda could get angry. She grew up in a militantly political family. She has done benefits to fight rape, she has done benefits to fight gun violence. But she is pretty mellow and has earned the nick name "Cool Breeze". She does not get mad, she gets funny.
Gina Yashere advised her on how to navigate the industry as a black woman. "We are kind of held to a different standard. Being funny and being prepared. Always be on time. We can't slack off like white guys. We always have to have our ducks in a row." Karinda is not entering the scene kicking and punching, she is cool breeze all the way.
Karinda was born in Detroit and grew up making her family laugh. She acknowledges that being funny in a living room is not the same thing as breaking up an audience from a stage. After coming to California, starting a career in bio tech, having a child, then coming out as lesbian, being a comedian still was not on her radar. "It was never a dream to do stand up. I did not think it was something special. It was not something I aspired to do."
Her girlfriend coerced her into it. "My girlfriend asked me that if she found an open mic, would I go. I said yes, because I thought she never would find one. She found one."
Karinda now has 40 to 50 notebooks filled with jokes. "I would love to do a sitcom playing a black woman in bio-tech. There were so many funny and cringy moments I could write about. I have the characters, the office, it's hilarious and ready set go. I don't think there has ever been a show about a black person in tech. It would be hilarious."
Karinda is fearless in her material and does not bend to the fear of any perception of a "cancel culture' threatening comedians in the present environment. "I don't think it's true. There has always been things that comedians have said that people don't like. So they just don't go see that comedian. People don't like a comic, they don't like what they say, or how they say it, but I have yet to see one cancelled in comedy for anything they say. Even Louis CK has a show out now. I don't think 'cancel culture' is a thing. I have yet to see it. If you don't like a comic, don't support them."
On her album, she has a lot of material about pets. It is not that she does not like pets, even though, true, she herself does not have one. "I don't like what people do WITH pets," she confesses to me. "They do things with them that they just should not be doing. They have clothes on them… which is HIGHLY unnecessary. I'm like, your pet can't make sense of that. It's pet abuse. They have fur. I mean, what are you doing putting a wool jacket on them?"
The album was recorded in a quick window between Covid shut downs, over the course of two nights in front of live audiences. On it, she talks about topics that range from Hollywood type casting, to Harriet Tubman, to the "joys of lesbian weddings." On the latter, she asks me, "Have you been to a lesbian wedding?? Lesbians in general like things outdoors, and that includes weddings. I'm not that kind of lesbian." Her disdain for things outdoors continues into sets that include her talents for killing bugs, to a black woman delving into the adventure world on a track called "Hiking While Black." Then there is praise, or rather guidance, for the shower in the movie Psycho. You'll just have to hear it.
Blonde Medicine releases Black and Blue on February 4th. Even if your day to day world is not one of bug killings, pets, lesbian weddings and psycho showers, this one is for you. Let a cool breeze carry you to an earful of laughter.
Blonde Medicine is a record label and production company based out of the San Francisco Bay Area. With roots in comedy and music production, they aim to help Artists make great art, no matter what form it may take. Their genre-spanning releases can be found at blondemedicine.com and www.blondemedicine.com/bm073-black-blue .
Follow Karinda on https://karindadobbins.com/ .Pre-order Black and Blue here: https://music.apple.com/album/id/1603346065
********************
Listen to the show:
********************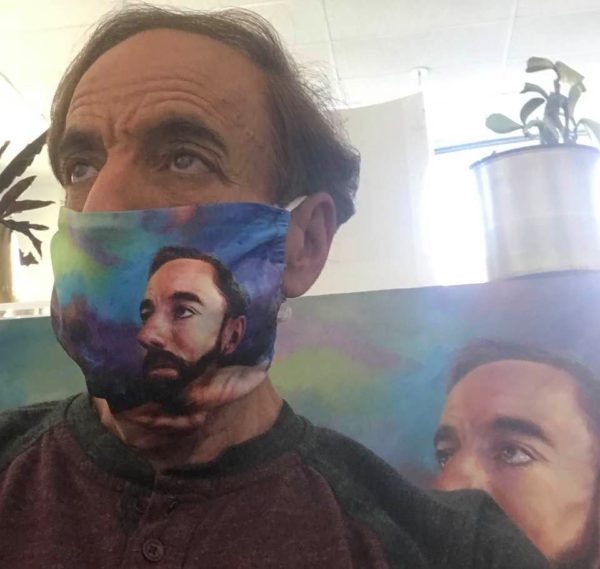 Rob Watson is the host of RATED LGBT RADIO, a national podcast and he's one of the founders of the evolequals.com.
A gay dad, business man, community activist and a blogger/writer, Watson is a contributor to the Los Angeles Blade covering entertainment, film, television, and culture with occasional politics tossed in.
********************
2022 Best of LGBTQ LA Readers' Choice Award Finalist Voting
Vote for your favorite finalists in our 2022 Best of LGBTQ LA Awards through January 9th.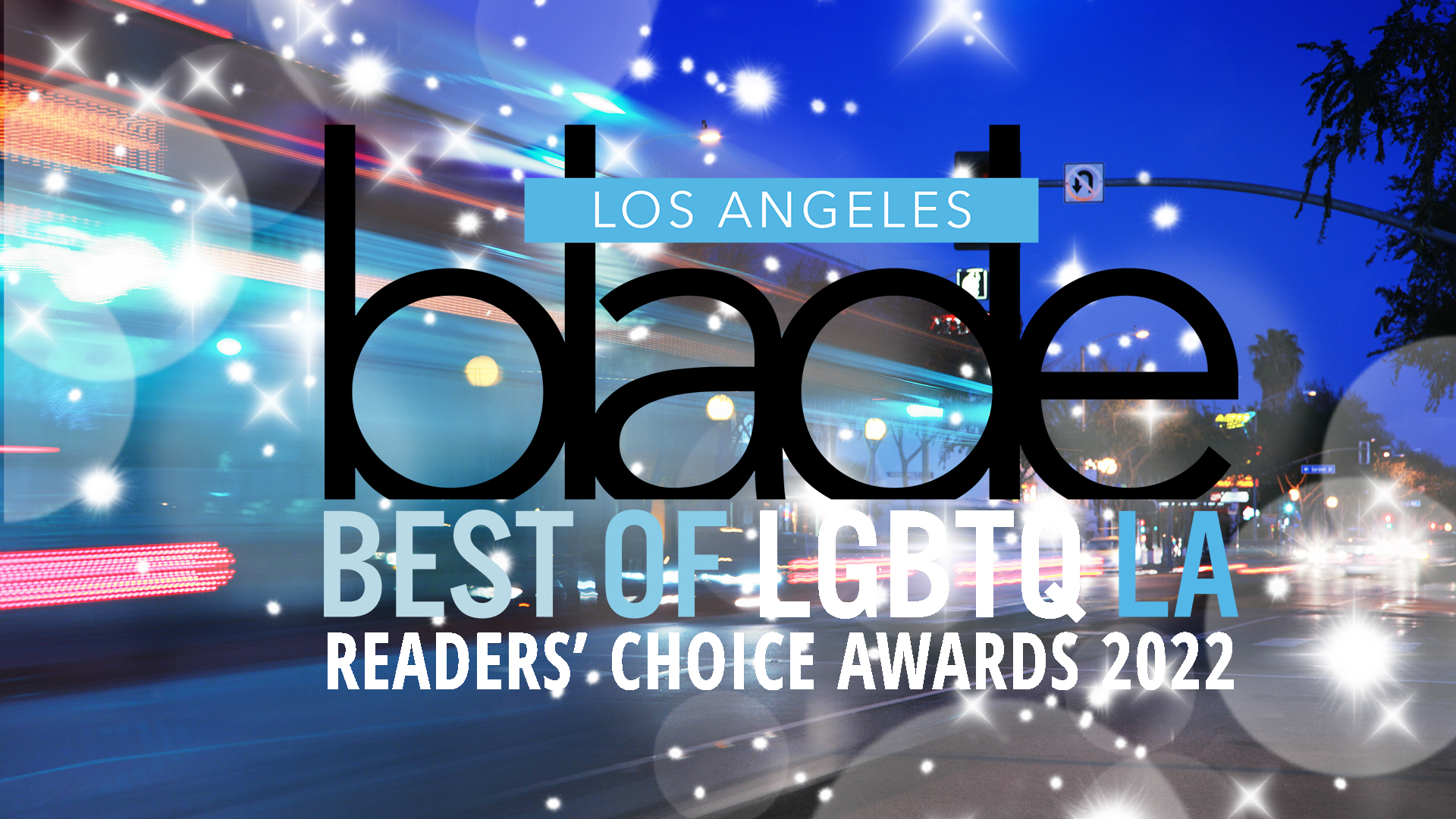 It is Decision 2022! You nominated and now we have our Top 5 finalists. Vote for your favorites in our 2022 Best of LGBTQ LA categories through January 9th. Our 2022 Best of LGBTQ LA will be announced in our special issue will come out on Friday, January 28th.
Vote below or by clicking HERE.
Gay Men's Chorus of Los Angeles at Westfield Century City this Friday!
LOS ANGELES – GMCLA is once again out and about in the community, spreading our message, music, and holiday cheer!  This Friday you can find us at the Holiday Market at Westfield Century City. Catch us between 5:30 – 7pm!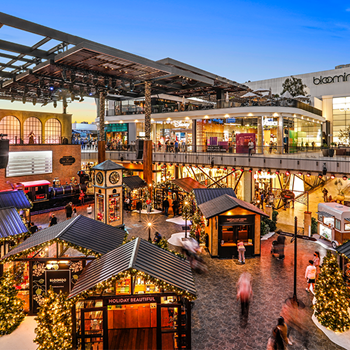 GMCLA thanks its generous sponsors: