The Los Angeles Blade celebrates Next Generation Pride
"Diversity is really important to our district… Our district is a leader when it comes to helping and supporting students."
WEST HOLLYWOOD – On June 27, the Los Angeles Blade honored and recognized the achievements of LGBTQ+ students, faculty, staff and the administrators of the Los Angeles Community College District, (LACCD) as about 75 invited guests gathered at West Hollywood's Le Parc Suite Hotel's Skydeck rooftop lounge and pool area to celebrate the LGBTQ+ students, and celebrate the creation of a scholarship program between the Los Angeles Blade and LACCD.
"The reason LAACD is able to be progressive, forward looking— the reason we are able to do an LGBTQIA Bill of Rights and ensure that everyone of our students is safe —is because we have a tremendous Board of Trustees who believe in a vision that every student deserves to be educated and safe," said LACCD's Chancellor Dr. Francisco C. Rodriguez.
Those are strong words from an LGBTQI Ally who heads one of the world's largest community college systems spread out over a nine campus system with a 250,000 strong student body.
The late afternoon event was sponsored by the Los Angeles Blade, The Ariadne Getty Foundation, the AIDS Healthcare Foundation, GT's Living Foods, and the Le Parc Suite Hotel.
Also in attendance bestowing proclamations honoring the achievements of the administrators, trustees and the LGBTQ+ student body of the LACCD, was the City of West Hollywood's Mayor Lindsey Horvath and City Councilmember John Erickson.
Rhea Litré, voted by the readers of the Blade as Best Drag Queen and one of West Hollywood's brightest stars of drag — most recently famous for her Instagram Live show "Quarantine Queen" — kicked off the night with a warm welcome and introduced the Blade's publisher Troy Masters.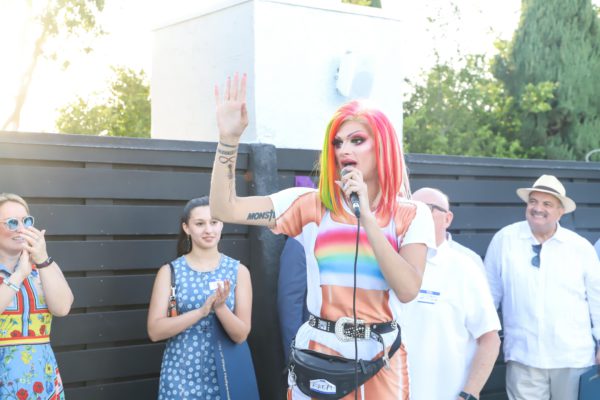 In his speech, Masters explained that LACCD's LGBTQ+ program had touched him deeply; "The cover of the Los Angeles Blade Pride issue is an example of something they are doing really touched me a lot. The school uses a Monarch Butterfly emblem which they wear to denote that a person is a safe person to interact with openly and that an area or room is a safe space for them.
"That really touched me, because it made me aware that their situation is different than what we may be used to. They have a deep need for safe, supportive people and spaces. They have a very deep need to be who they are and be with people and places that are safe, accepting and good for them," he said.
"We are here tonight just to celebrate that, celebrate the colleges and celebrate the people who are profiled in the current issue of the Los Angeles Blade, he added."
In addition to politicos in attendance, some of the LACCD's top leadership were on hand; Dr. Francisco C. Rodriguez, the Chancellor of the LACCD, Deputy Chancellor. ​Dr. Ryan M. Cornner, Dean for Student Success Deborah Harrington, LACCD Board of Trustees member Mike Fong, David Vela, the only openly LGBTQ+ LACCD Trustee, Felipe Agredano-Lozano, the LGBTQ+ Faculty Liaison for the LACCD, Dr. Marcel Morales,​ Department Chair and Professor of Sociology at ELAC, James Limbaugh, the President of West LA College and Michael P. Fuller, LACCD's Director of Institutional Advancement.
The mixer was filled with many familiar faces from greater the Los Angeles community including August Getty who represented the Ariadne Getty Foundation as well as his LA-based fashion house, August Getty Atelier; Marna Deitch, Southern California Motorcycle Contingent for Equality leader and interpreter for the deaf at community colleges; Michael Weinstein, Executive Director of the world's largest AIDS healthcare organization, the AIDS Healthcare Foundation; lesbian activist and comedian Robin Tyler accompanied by her pug Oscar Wilde; composer and lyricist Todd Pawelek and Stephen Rutgers representing the Washington Blade and Blade Foundation.
Masters thanked all the events sponsors and several individuals who helped make the event possible and expressed gratitude for everyone who attended.
"I want to acknowledge some people who are extremely dear to me," Masters paused, "Ariadne Getty is our most generous benefactor and her son August is here tonight." And while the crowd broke out into cheers for August, Masters' voice broke when he said, "I want to thank them for an immense amount of love and a lot of compassion — thank you for making us part of your family." Getty stood and was clearly moved.
Masters also thanked Michael Weinstein of the AIDS Healthcare Foundation for his role in executing a successful LGBTQ focused Covid-19 vaccination program. "Michael is one of our largest supporters as well. And we appreciate Michael and appreciate the work of the AIDS Healthcare Foundation," Masters said.
"We can thank Michael in part," said Masters, "for the working to ensure that West Hollywood and the LGBTQ community are near fully vaccinated." He added, "As a community we are well on our way."
AHF says it has fully vaccinated tens of thousands of Angelenos. The agency also famously worked hard during Covid crisis to make sure its patients were able to keep up with HIV medications and healthcare requirements. According to LA County Department of Public Health, in fact, the City of West Hollywood is more than 72 percent fully vaccinated.
Masters said his observation about the community being "nearly 100 percent vaccinated" is anecdotal. "Actual LGBTQ statistics have not been maintained during the Covid-19 crisis, something the Los Angeles Blade has exposed in many articles," he said.
Michael P Fuller called out the LACCD luminaries and the student honoree Sofia Zaragoza, Chancellor Rodriguez, Trustees Fong and Vela who all gave short speeches.
West Hollywood Mayor Lindsey Horvath took the mic greeted and proclaimed "Happy Pride Month!" The Mayor, joined by City Councilmember Erickson then handed out proclamations to the LACCD leadership from the City of West Hollywood:
The Proclamations read:
The City of West Hollywood honors the Los Angeles Community College District for
EXEMPLARY SERVICE TO LGBTQ YOUTH on the occasion of Los Angeles Blade's NEXT GENERATION PRIDE EVENT
Whereas, the Los Angeles Community College District (LACCD) supports the rights, freedoms, and equality of persons who are lesbian, gay, bisexual, transgender, queer, intersex, and/or asexual (LGBTQIA+) and serves more than 20,000 LGBTQIA+ students through safe and inspiring learning environments;
Whereas, LACCD adopted a groundbreaking LGBTQIA+ Bill of Rights to create welcoming college communities that affirm the lives of LGBTQIA+ students, faculty, and staff;
Whereas, LACCD provides academic opportunities for LGBTQIA+ students to accomplish their educational goals, including courses and programs recognizing the contributions of LGTBQIA+ communities;
Let it be known, the City of West Hollywood commends LACCD's inclusionary vision and leadership in supporting and advancing the LGBTQIA+ members of our community.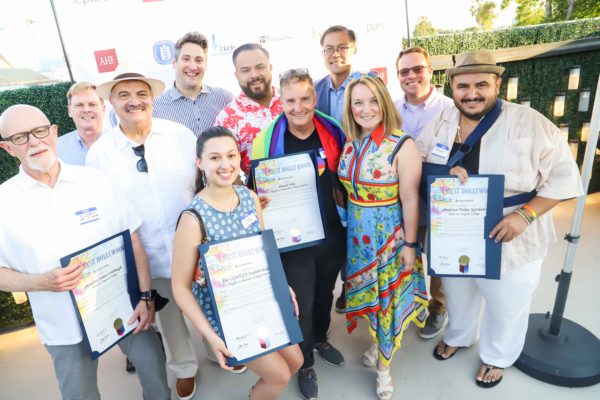 The Blade interviewed several of the attendees.
Litré said, "We have raised amazing money for kids that want to go to college." One of the individual's who received a scholarship, Jamey Sinardi who was also profiled in the three-part series in a special issue of the Blade this past week was also briefly interviewed at the event.
Dropping out of high school due to severe scoliosis and battling cancer twice is an uphill battle, but Sinardi won and was able to achieve her goals in education, in part, due to the LA Promise scholarship program. The LAACD promise program is a program that gives two years of tuition free education to community college students. "If it wasn't for Promise," she said, "I don't know where I'd be honestly."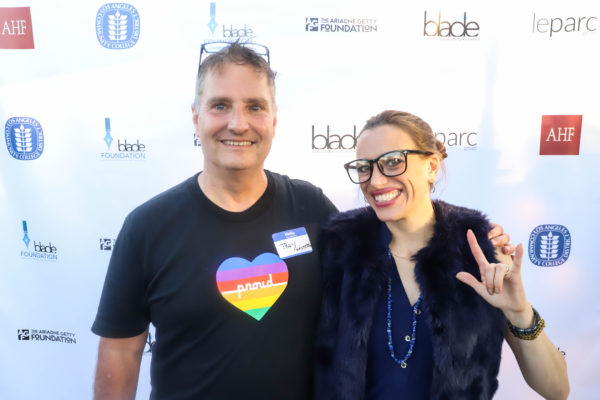 There were many individuals from the LACCD who helped make this moment possible such as Dr. Francisco Rodriguez, Chancellor for the LACCD. When talking about the event he said, "There's only one reason we're here – and that's for students."
Sofia Zaragoza, a queer student who was just recently accepted to University of California Berkeley described why she believes she was chosen by the Blade to be in the Next Generation of Pride article. "I think it's because of my diverse background in the academic sense. I have a real passion for education." For Zaragoza being an LGBTQ student can be challenging, but it "not only diversifies" but "enriches" her perspective in life.
The President of West LA College, James Limbaugh, told the Blade that he looks at students like Dee and Zaragoza and finds their stories to be inspirational. "I think it's important that every student has the right and access to college… Every student has potential, so my responsibility is to make sure that all students have an opportunity." Dr. Morales from the LACCD's East LA College campus weighed in saying; "Diversity is really important to our district… Our district is a leader when it comes to helping and supporting students."
Deitch, the Southern California Motorcycle Contingent for Equality leader told the Blade; "I don't even have words to say how wonderful I think this is. Knowing that the community colleges have been very open to the LGTBQ community is nice, but stepping it up to this level is fantastic."
August Getty, called as the last speaker by Masters reflected; "At the end of the day, we are one entire family… Thanks to the LA Blade for giving us an outspoken voice for when we don't have one."
WATCH: The Los Angeles Blade celebrates the Next Generation of Pride
BenDeLaCreme's new solo show is wonderful 'wedded' bliss
"BenDeLaCreme is…Ready to be Committed" plays Dynasty Typewriter at the Hayworth Theatre (2511 Wilshire Blvd.) Thursday-Sunday, May 12-15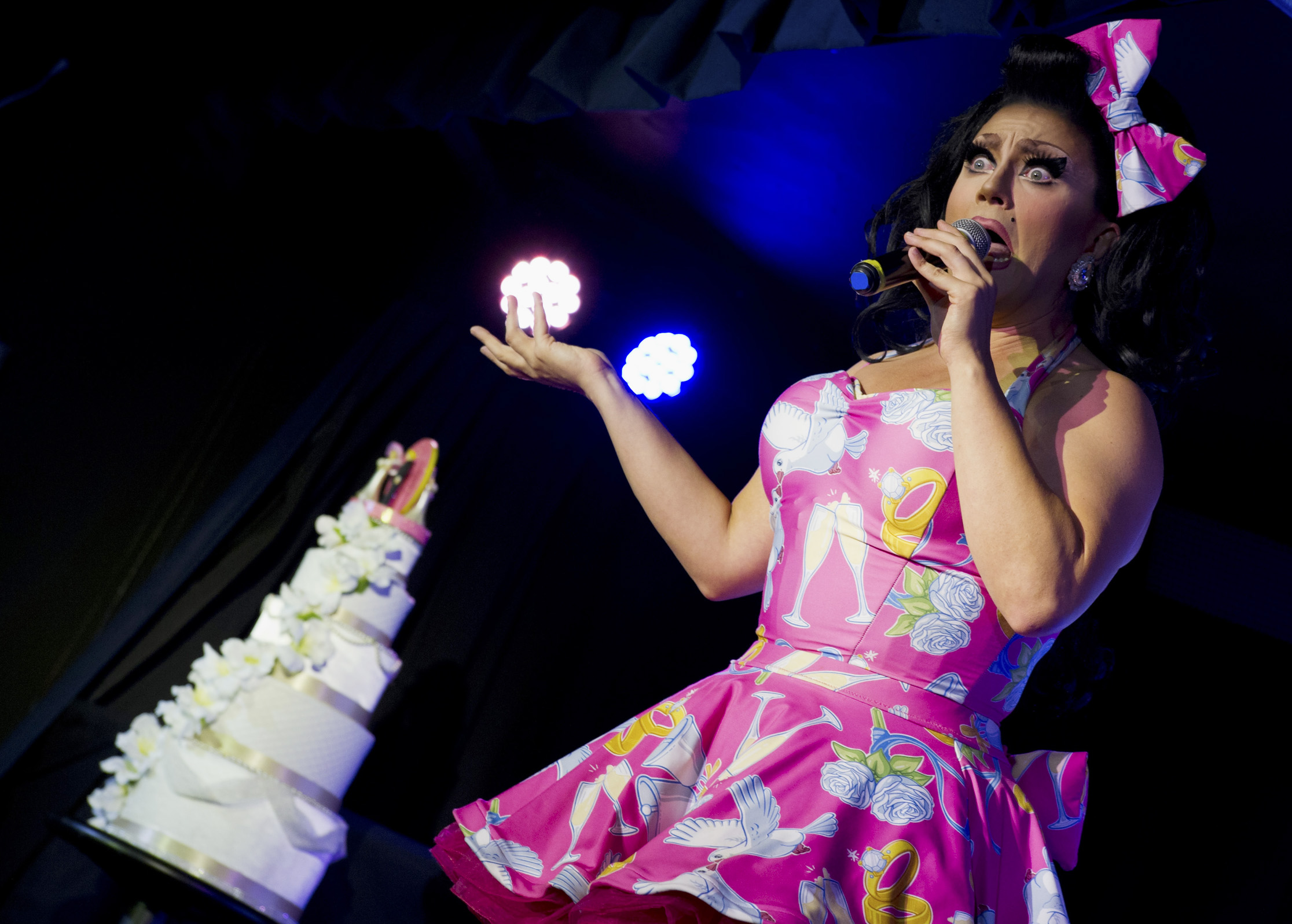 LOS ANGELES – If you plan to tie the knot in the United States this year, you're in good company. Sidelined for the past two years by COVID, relaxed public gathering protocols mean that 2022 will see an unusually high amount of packed pews and reception halls.
Indeed, wedding prep website theknot.com puts at 2.6 million the number of matrimony mishegas expected to take place this year. But before you apply for a marriage certificate or book an officiator, may we suggest seeing the new solo show from world-renowned, multi-talented, preternaturally capable drag queen BenDeLaCreme?
Billed as a "narrative-cabaret," BenDeLaCreme is…Ready to be Committed sees she of the eternally sunny disposition vow to take herself into thoroughly unexplored territory, by getting married. The project proves to be a bit of a fixer-upper, as DeLa isn't even engaged… or dating—a minor matter for someone whose obsessive attention to detail, drill sergeant-like way of rallying the troops, and laser-focused eye on the prize would put even the most exacting Bridezilla to shame.
Highly capable as she is, DeLa's also got an aggressive streak of naivete which renders her oblivious to roadblocks both major and minor. Thus, the breezy primer on putting together a wedding becomes the prism through which societal expectations, perfectionism, and self-image get a thorough dressing down and a drag queen-level makeover that redefines them for the modern age.
Performed at a quicksilver pace and in a manner that mashes up everything from burlesque and vaudeville to high camp, history, philosophy, and puppetry, Ready to be Committed deserves the blanket description of "art" just as surely as DeLa has earned the moniker of "artist."
And that assessment of actor, director, writer, and producer (DeLa serves as all four on this production) is based on a very early performance in July of 2019, at NYC's Laurie Beechman Theater. The performance was meant to be a prelude to a national tour, which is finally under way after numerous COVID-caused delays.
So what does it say about our abovementioned quadruple threat that precious little about the show's script and delivery has changed between 2019 at the Beechman and last week's performance at NYC's Sony Hall? The short answer is, BenDeLaCreme knows what she's doing, and delights in doing it. See the below Q&A for proof.
Scott Stiffler, for The Los Angeles Blade (Blade): All of the same basic plot points and subject matter seem to remain in place, from when you premiered the show back in 2019. Has the COVID era that delayed your present tour informed the material?
BenDeLaCreme (DeLa): With the time I've found myself with, I've been working to up the ante on the production values. I was wondering if anything would hit differently now in a COVID world, but I really find the exploration of how we view love and relationships in our culture holds pretty fast and if anything feels, I think, even more immediate and relevant. We've all gone through something that's emphasized how important connection and even the act of being physically present with somebody is, which I think has only helped the material…
Blade: You've had several successful solo shows starring DeLa, but this one shows us facets of her character previously addressed but not fleshed out. Why use this as a vehicle to do so?
DeLa: I have explored a lot of different subjects through DeLa, from science to religion, but I've never really had her touch on something that is sort of more personal and intimate to the character. She's always been sort of pretty aggressively asexual and just sort of oblivious to the idea of partners or relationships, so this is the first time that I'm really bringing her there. And I think part of why it works is because she doesn't even really realize she's going there.
Blade: How do you play that cluelessness in a way that doesn't get the character, or the show, stuck in one place?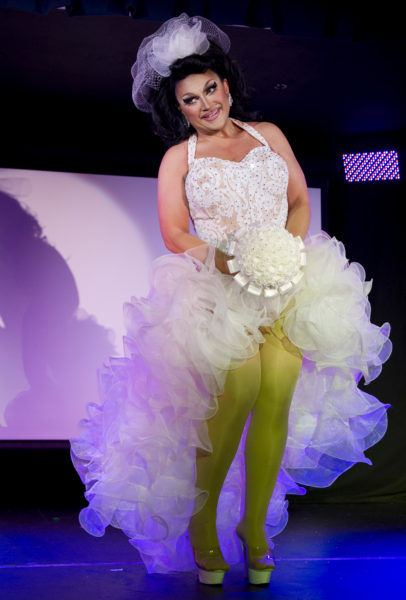 DeLa: One of the things that I really love about this camp tradition is there's a really fun thing where the audience gets to be in on something they also know the writer and the actor are in on, but the character is not. You can constantly give a commentary because the audience can tell that the writer and the character are actually thinking almost opposing things. From the beginning of the show she is sort of meandering and unfamiliar, but we can see what she's missing and what complexity and nuance she's unwilling to look at—so that by then end, when she finally arrives, I think there's a satisfaction that she is completing this journey, and I think it works specifically because she has this wide-eyed, ditzy demeanor that lets people come at things from a fresh place… But it [both character and plot] definitely goes in unexpected directions. I think that people expect "a gal goes out there looking for 'the one' and we see the results of it"—but I really, in the writing process, tried to take it in a direction that spoke to something more universal, about how we relate to those ideas whether we find ourselves with someone or not… We all deal with the stories we've been told about what love should be, about what relationships should be, what true love is. That really messes with people's perception and their ability to have a real connection as opposed to comparing it to this ideal fairy tale.
Blade: It's funny that in order to deconstruct the fairy tale world, you often use puppets—something just as make-believe and fantastic—as a comedic foil or divisive device.
DeLa: Puppetry has spoken to me since I was a little kid. I fell in love with the Muppets and Jim Henson's work only a few years before I discovered drag. I mean, Miss Piggy was basically my first drag queen. The kind of camp drag that I love, that I've always been pulled towards through Varla Jean Merman, Charles Busch, it's very much in the same world as this puppetry storytelling. They're kind of these larger than life, sort of ridiculous characters that we have to use our suspension of disbelief to belief to believe are really grounded and live in a real universe. But for some reason they're so inviting and colorful and fun that we're willing to go on that journey and when you're dealing with something that's big and campy like a drag queen or big and campy like a puppet, you are willing to go be sort of led down more complicated paths… I want things to stay fun and lighthearted. I want audience to laugh and have a great time, but I also really like to explore some ideas that are a little more complicated than the character of DeLa could ever wrap her head around. So she needs somebody else who can lead her into these subjects and some of these subjects are maybe a little too heady and hard to get into in a playful setting unless it comes from some ridiculous inanimate object come to life.
Blade: Let's talk a little about your body of work with the great Jinkx Monsoon. As we've previously noted, the two of you are working a buddy/comedy team dynamic that draws from the classics but also brings something new to the table. How did that dynamic develop?
DeLa: Jink and I have known each other for a long time, well over a decade at this point. We were both sort of up-and-coming performers in Seattle when I first came across her. I thought, "This queen is really working in the same world. We have the same sensibilities. We better join forces now or we'll wind up being each other's competition." So when we started, there was more of maybe an even-keeled, more expected give-and-take. We were less oppositional. It [being warring besties who eventually reconcile] really started once we moved into creating these Christmas shows. I have always had my sort of naïve, wide-eyed character on stage and she has always had her boozy, brash character—but when we bump up against each other, it brings out new levels of it. I mean, the Jinkx and DeLa version of DeLa is infinitely dumber than any other version of DeLa, and Jinkx is more kind of cynical and snarky than she can be. We really do balance each other out well and I think a big part of it is we have these very oppositional characters, who we use to say the same things. Both Jinkx and I as artists, as writers, have a lot of the same mission statements. We feel similarly about the holidays and the difficulties of it, and the importance of community, the importance of creating your own rules and your own life. But through the characters… You know, DeLa has to not get it so aggressively that we know the writer gets it. And Jinkx has to be so pushed to the extreme that it is blocking her ability to experience joy that we [the audience] understand we're at opposite ends of the same commentary.
Blade: Commetary. That brings us to the end—of Committed when I saw it in 2019, the awesome Jinkx and DeLa Holiday Special (2000), and your 2021 holiday stage show with Jinkx. There's so much innuendo, rancor, camp, and gleefully sexual content throughout—but every show ends at a place of earned sincerity, with a serious, even sober, message about the importance of community. That's really tricky to pull off.
DeLa: I do always do that within in my shows and the shows I do with Jinkx, but I'd say it's less of an obligation and more of a mission statement. I mean, everything else is really fun—but if it lacks that heart, it's not the show I care about making. It's gotta have that sincerity and that vulnerability. But vulnerability and sincerity are hard sells these days. People do not feel comfortable with something that they perceive as too schmaltzy or too sincere—and I think that it's all those cynical digs [preceeding the sincerity] that allow people… You know, it's sort of this ratio: You can give them 90% dick jokes and snark and then they will go with you in that 10% of genuine, intimate, vulnerable emotion—and that's why I love it, and that's why I love the camp and the puppets and all of it. People will go there with you. I think there's something about artifice that leads to truth when truth alone is too scary for people.
Blade: One last question: Will you and Jinkx be touring with a new holiday show this year?
DeLa: We've not announced anything yet, but I think most people assume what is the truth—which is, we will back on the road with another Christmas how this next holiday season… and I think that's something we'll be prioritizing for years to come.
"BenDeLaCreme is…Ready to be Committed" plays Dynasty Typewriter at the Hayworth Theatre (2511 Wilshire Blvd.) Thursday-Sunday, May 12-15, at 8PM. Tickets are $45 general admission, $120 VIP (includes meet & greet and VIP access). For reservations: https://www.eventbrite.com/e/bendelacreme-is-ready-to-be-committed-tickets-252455931487. Proof of full vaccination is required upon entry; name on vaccination card must match your ID.