TikTok's algorithm promoted anti-LGBTQ content during Pride Month
This has created a situation in which TikTok can quickly generate an overtly hateful feed of anti-LGBTQ content

By Olivia Little | WASHINGTON – TikTok's "For You" page recommendation algorithm circulated videos promoting hate and violence targeting the LGBTQ community during Pride Month, while the company celebrated the month with its #ForYourPride campaign.
Media Matters reviewed videos that TikTok recommended to our "For You" page after we showed interest in anti-LGBTQ content. After we clicked "like" on one anti-LGBTQ video, TikTok almost instantly began recommending more. As similar videos were liked, our "For You" page quickly became dominated by almost exclusively anti-LGBTQ content. Some of these videos even went viral, with one showing a celebration of LGBTQ people being arrested racking up roughly 9.4 million views. This video was from an explicitly anti-LGBTQ account with fewer than 55,000 followers — meaning TikTok's algorithm had picked up and widely circulated the video. In each case, this content was placed on our "For You" page and required no additional searching.
It is difficult to explain in words just how many videos targeting the LGBTQ community were — and continue to be — promoted by TikTok's recommendation algorithm. However, seeing the content as a user scrolls the "For You" page provides a stark visual.
The active spread of explicitly anti-LGBTQ videos isn't a new problem for TikTok, but it appears that the platform has yet to stop it — even though the company claims to prohibit discriminatory and hateful content targeting sexual orientation and gender identity. TikTok also posted an update in early June celebrating Pride Month and promising to "foster a welcoming environment" and "remove hateful, anti-LGBTQ+ content or accounts that attempt to bully or harass people on our platform." Given the content being circulated by the algorithm once a user begins interacting with anti-LGBTQ videos, it is clear that TikTok has yet to fulfill these promises.
Instead, TikTok is curating far-right echo chambers for its users. The platform's popularity arose from its ability to hyper-personalize recommendations to the interests of individual users, but this has created a situation in which TikTok can quickly generate an overtly hateful feed of anti-LGBTQ content. It's long past time for TikTok to enforce its own policies against the bigotry and discrimination being promoted on its platform
.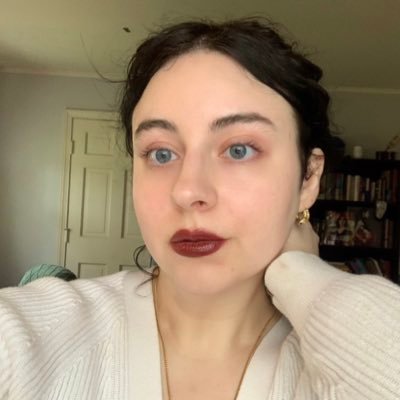 Olivia Little is a researcher at Media Matters. She holds a bachelor's degree in law and public policy from Indiana University. Olivia previously worked as a research associate for Sen. Bernie Sanders' 2020 presidential campaign.
The preceding article was originally published by Media Matters for America and is republished by permission.
Did Marvel Comics just reveal a classic X-Men character is trans?
Until now, the X-Men have never had a trans member That may have just changed with the publication of X-Men Blue: Origins #1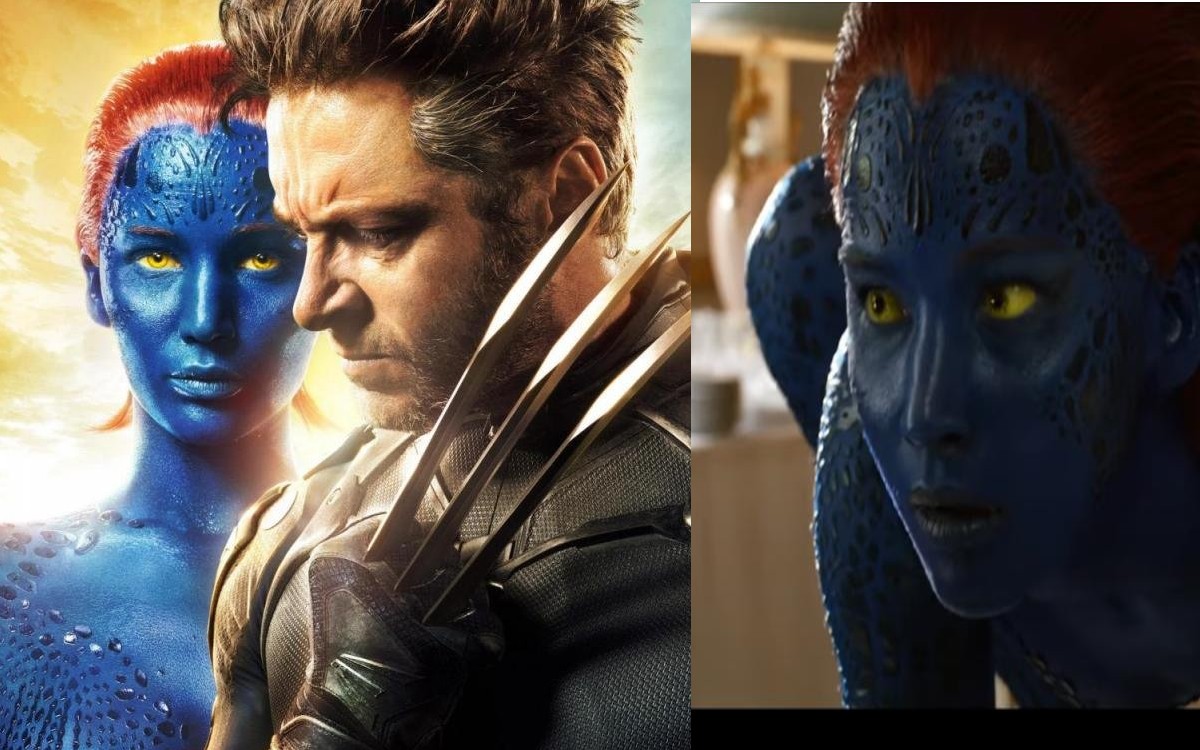 By Rob Salerno | HOLLYWOOD – Marvel Comics' mutant superheroes the X-Men have always been a metaphor for the struggle against prejudice, boasting a diverse cast of characters that have represented a wide spectrum of characters of different races, sexual orientations, and even species. But until now, the X-Men have never had a trans member.
That may have just changed with the publication of X-Men Blue: Origins #1 by Si Spurrier, Wilton Santos, and Marcus To this week, a story that finally gives the full origin of the mysterious Nightcrawler, who had previously been established as the son of the shape-changing Mystique and a demon named Azazel – all three characters who have appeared in Fox's X-Men films.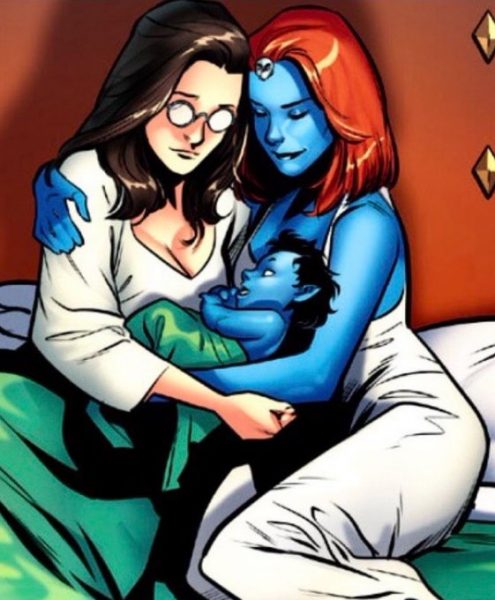 Be warned, spoilers follow from here.
In the new issue, Mystique finally confesses the truth of Nightcrawler's birth. As Mystique now tells it, she didn't actually give birth to Nightcrawler – her female partner and longtime lover Destiny did. And Nightcrawler's father? Well, Nightcrawler's biological father is actually Mystique, who explains that with her shape-changing powers, she has lived as both male and female.
Does that make Mystique trans? Well, the T-word is never actually uttered in the comic, but Mystique's own words when Nightcrawler protests that she's female are a firm rejection of the gender binary.
"Don't be pathetic. I have lived for years as sapiens males. Years more as females. Do you know what I have observed? They're all as awful as each other. The only true binary division lies not between the genders or sexes or sexualities. It lies between those who are allowed to be who they wish, and those denied that right," she says.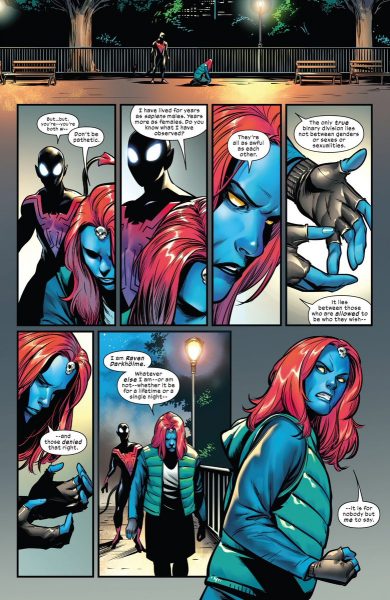 The revelation isn't entirely unprecedented. It has long been known in fan circles that Mystique's creator and longtime X-Men writer Chris Claremont had intended to reveal that Mystique and Destiny were Nightcrawler's parents, but that Marvel Comics wouldn't permit queer characters in their books in the 1980s. 
Eventually Marvel reversed that policy, and Mystique and Destiny's relationship is a main story in current X-Men comics, with Marvel even referring to them as "the greatest love story in mutant history" in a recent press release. Marvel has also published comics set in an alternate universe where Mystique is portrayed as male.
While more openly trans characters have appeared in mainstream comics in recent years, these characters have mostly been relegated to guest-starring and supporting characters. For example, Marvel introduced the trainee member Escapade in the X-Men spinoff comic New Mutants last year, while Marvel's TV shows Jessica Jones and She-Hulk: Attorney at Law gave both heroines trans assistants.
Mystique is now arguably the highest-profile trans character in mainstream superhero comics, as a major character in comics' biggest franchise, and having been portrayed by Jennifer Lawrence and Rebecca Romijn in seven X-Men films.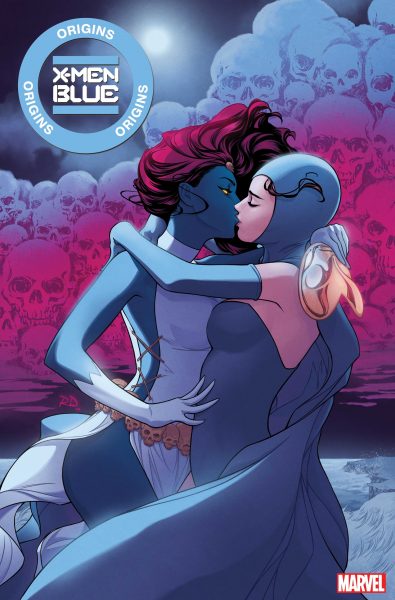 Early reaction to the story has been incredibly positive from X-Men's queer fandom.
"The heart of the story is Mystique embodying the trans ideal of complete and total bodily autonomy, transcending sex and gender to create life with the woman she loves," wrote @LokiFreyjasbur on Twitter.
Marvel Comics is wholly owned by Disney.
Marvel advancing a story about a gender-nonconforming character flies in the face of a disturbing recent trend in corporate America of being overly cautious about LGBT issues in the wake of far-right backlash after Bud Light partnered with a trans influencer and Target put up its annual Pride display.
******************************************************************************************
Rob Salerno is a writer and journalist based in Los Angeles, California, and Toronto, Canada.