Concerns with Delta variant prompts restaurant closures as COVID surges
Public Health confirmed 2,767 new cases of COVID an 80% increase over last week. It was also second day in a row 2,000 cases in a single day.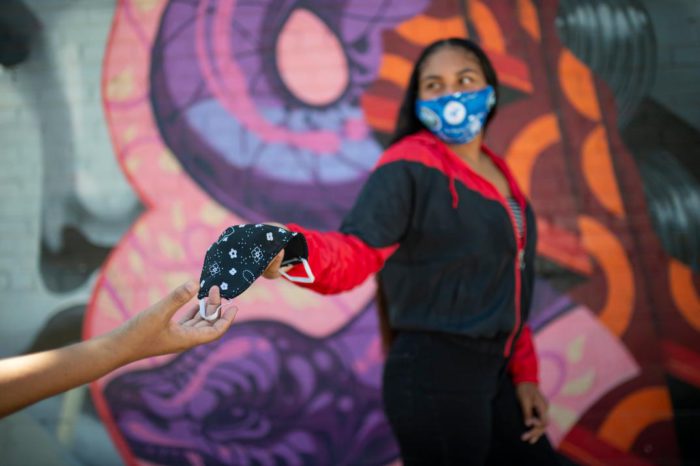 LOS ANGELES – The alarming surge in coronavirus infections continues to accelerate as cases climb to levels not seen since the beginning of this year when the greater Los Angeles region was in perpetual crisis mode with hospitals overwhelmed.
Los Angeles County continues to see a rapid rise in COVID-19 transmission countywide with cases doubling over the last 10 days. The Los Angeles County Department of Public Health confirmed 2,767 new cases of COVID-19 Thursday; an 80% increase over last week. It was also the second day in a row that Public Health recorded over 2,000 cases in a single day.
Even as the County's Public Health Department reordered facial coverings indoors, which included fully vaccinated Angelenos, the warp speed at which the Delta variant has spread has now caused local businesses, particularly in the hospitality and restaurant industry to reclose.
"Out of an abundance of caution for the health and safety of our guests and staff, we have decided to close," Bottega Louie in West Hollywood announced on Instagram. The restaurant noted that the closure, albeit for a few days, was due to increasing Covid-19 cases. "We apologize for any inconvenience and will keep you apprised of our re-opening date," the notification continued.
The test positivity rate on Thursday was 5.2%; an increase from the rate of 1.2% on June 15 when physical distancing restrictions and capacity limits were lifted across all sectors by Governor Gavin Newsom.
Of the 27 current outbreaks of three or more cases reported at non-residential settings countywide, eight are at eateries or bars, according to the L.A. County Department of Public Health.
Another popular eatery, the Village Idiot in the Fairfax neighborhood temporarily closed because a fully vaccinated staff member tested positive for the virus, according to their Instagram page.
Public Health has detailed the rise of the Delta variant among strains sequenced in the Los Angeles County area for weeks. While emerging data affirms that fully vaccinated people are well protected from severe infections with Delta variants, people with only one vaccine are not as well-protected, and there is increased evidence that a small number of fully vaccinated individuals can become infected and may be able to infect others.
From July 11 to July 17, the number of sequenced Delta variants was 201, 84% of all sequences collected that week. This is consistent with the rise of Delta nationwide: earlier this week, the Centers for Disease Control and Prevention (CDC) estimated that Delta strains accounted for 83% of circulating COVID-19. Given that about 4 million residents in L.A. County are not yet vaccinated, the risk of increased spread of this variant within L.A. County remains high.
During a question and answer statement after a meeting on the pending infrastructure bill in Congress, in answer to a White House Pool reporter's question on what conversations he's had with health officials about possibly changing the mask guidelines for vaccinated Americans, President Joe Biden responded;
"We have a pandemic among the non vaccinated. …If you are vaccinated, you are safe. If you're vaccinated, you have over a 98% chance of never catching the virus at all. If you catch it, you're likely, the overwhelming proof so far, is you're not going to be hospitalized, you're not going to be sick, you're probably going to have no signs that you had it and you're not going to be die. It's a simple proposition. What they're doing is they're going to be investigating any aspect of any change that could or might take place. But the vaccine are good against all of the variants out there, including the delta variant."
Despite the actions taken by Los County to reorder masks, the Centers for Disease Control and Prevention (CDC) has not changed its guidance on mask wearing.
Rochelle Walensky, director of the CDC, said that the Delta variant of coronavirus "is now spreading with incredible efficiency" in the US and that, compared with the original coronavirus strain that broke out in the US in early 2020, this variant is "more aggressive".
"It is one of the most infectious respiratory viruses we know of and that I have seen in my 20-year career," she said at a White House briefing on Thursday, noting that the US is "not out of the woods".
Walensky warned; "We are at another pivotal moment in this pandemic, with cases rising again and some hospitals reaching their capacity in some areas."
The Delta variant now accounts for more than 83% of new coronavirus cases across the United States. Dr. Anthony Fauci, director of the National Institute of Allergy and Infectious Diseases and the chief medical advisor to President Biden, said Thursday that there are some areas of the country where Delta accounts for more than 90% of new infections.
"And if you look at the recent seven-day or 14-day averages of cases, for example, the cases are up by, like, 195%. The hospitalizations are up 46%. And the 14-day average for deaths are up 42%…it's not the direction we want it to be," Fauci told NPR News, adding: "We've got to do much better."
Speaking to reporters the CDC Director said; "Fully vaccinated people are protected from severe illness," she said but added that in areas with high numbers of cases, low vaccination rates and where the Delta variant is rising "you should be wearing a mask if you are unvaccinated. If you are vaccinated you get exceptional protection from the vaccine but you have the opportunity to make the personal choice to add extra layers of protection if you so choose."
On Wednesday, Erin Myers and Steve Kuzj reported for the KTLA 5 Morning News that there are now some Southern California bars requiring customers to show proof of vaccination to enter in hopes of stopping the spread of the highly contagious delta variant.
Also, according to the local cultural scene media outlet L.A. Taco, that list is rapidly growing.
Serious Setbacks Across U.S. With Covid Infections & Hospitalizations from NBC News. WATCH:
Newsom announces end of the COVID-19 State of Emergency
California's pandemic response efforts have saved tens of thousands of lives, kept people out of the hospital and protected the economy
SACRAMENTO – Today, Governor Gavin Newsom announced that the COVID-19 State of Emergency will end on February 28, 2023, charting the path to phasing out one of the most effective and necessary tools that California has used to combat COVID-19.
This timeline gives the health care system needed flexibility to handle any potential surge that may occur after the holidays in January and February, in addition to providing state and local partners the time needed to prepare for this phaseout and set themselves up for success afterwards.
With hospitalizations and deaths dramatically reduced due to the state's vaccination and public health efforts, California has the tools needed to continue fighting COVID-19 when the State of Emergency terminates at the end of February, including vaccines and boosters, testing, treatments and other mitigation measures like masking and indoor ventilation.
As the State of Emergency is phased out, the SMARTER Plan continues to guide California's strategy to best protect people from COVID-19.
"Throughout the pandemic, we've been guided by the science and data – moving quickly and strategically to save lives. The State of Emergency was an effective and necessary tool that we utilized to protect our state, and we wouldn't have gotten to this point without it," said Newsom. "With the operational preparedness that we've built up and the measures that we'll continue to employ moving forward, California is ready to phase out this tool."
 
To maintain California's COVID-19 laboratory testing and therapeutics treatment capacity, the Newsom Administration will be seeking two statutory changes immediately upon the Legislature's return: 1) The continued ability of nurses to dispense COVID-19 therapeutics; and 2) The continued ability of laboratory workers to solely process COVID-19 tests.
"California's response to the COVID-19 pandemic has prepared us for whatever comes next. As we move into this next phase, the infrastructure and processes we've invested in and built up will provide us the tools to manage any ups and downs in the future," said Secretary of the California Health & Human Services Agency, Dr. Mark Ghaly. "While the threat of this virus is still real, our preparedness and collective work have helped turn this once crisis emergency into a manageable situation."
 
Throughout the pandemic, Governor Newsom, the Legislature and state agencies have been guided by the science and data to best protect Californians and save lives – with a focus on those facing the greatest social and health inequities – remaining nimble to adapt mitigation efforts along the way as we learned more about COVID-19. The state's efforts to support Californians resulted in:
Administration of 81 million vaccinations, distribution of a billion units of PPE throughout the state and processing of 186 million tests.
Allocation of billions of dollars to support hospitals, community organizations, frontline workers, schools and more throughout the pandemic.
The nation's largest stimulus programs to support people hardest hit by the pandemic – $18.5 billion for direct payments to Californians, $8 billion for rent relief, $10 billion for small business grants and tax relief, $2.8 billion to help with overdue utility bills, and more.
California's pandemic response efforts have saved tens of thousands of lives, kept people out of the hospital and protected the economy:
California's death rate is the lowest amongst large states. If California had Texas' death rate, 27,000 more people would have died here. If California had Florida's rate, that figure jumps to approximately 56,000 more deaths.
In only the first ten months of vaccines being available, a study showed that California's efforts saved 20,000 lives, kept 73,000 people out of the hospital and prevented 1.5 million infections.  
California's actions during the pandemic protected the economy and the state continues to lead the nation in creating jobs and new business starts:

"'Lockdown' states like California did better economically than 'looser' states like Florida, new COVID data shows," with California's economy having contracted less than such states – economic output shrank 3.5% on average for the U.S., compared with 2.8% for California.
Since February 2021, California has created 1,628,300 new jobs – over 16% of the nation's jobs, by far more than any other state. By comparison, Texas created 1,133,200 jobs (11.3% of the nation's) and Florida created 787,600 jobs (7.9% of the nation's) in that same timeframe.
Since the beginning of 2019, data from the Bureau of Labor Statistics shows that over 569,000 businesses started in California, by far more than any other state.