New Public Justice President 'sickened' by anti-Trans attacks
'This is a critical moment for our country & Public Justice has a pivotal role to play in addressing it'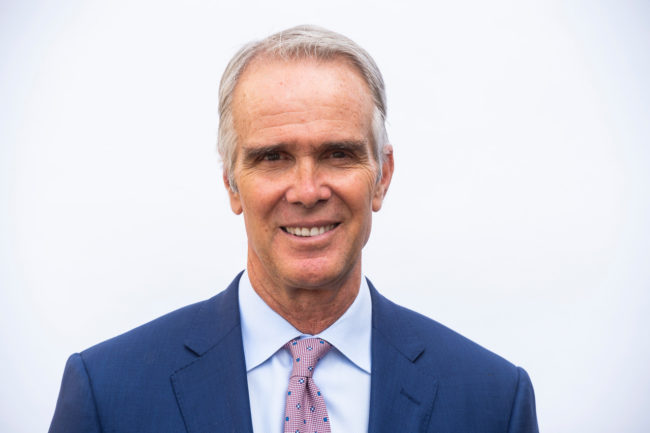 By Karen Ocamb | OAKLAND, Ca. – Native North Carolina attorney Dan Bryson loves people and emphatically hates discrimination. He still experiences a PTSD gut-punch whenever he recalls the national trauma visited on his beloved state in 2016 by rightwing conservatives ruthlessly seeking crass political power at the expense of the LGBTQ community through House Bill 2 (HB2), The Public Facilities Privacy & Security Act, otherwise known as the anti-transgender "bathroom bill."
"What absolutely just repels me to my very core throughout my whole life is discrimination of any type. Whatever it is, it sickens me and I don't understand it. I really don't understand why every single human being on this planet can't treat every other single human being with the respect and professionalism and love that they deserve," Bryson says. "[HB2 was] the worst thing ever. It makes my hair go on fire to this day."
It is this visceral commitment to LGBTQ equality that Bryson, a founding partner at the global law firm of Milberg Coleman Bryson Phillips Grossman, is expected to bring to his new post as President of Public Justice, the national nonprofit legal advocacy organization based in Washington DC and Oakland, California. His personal response to HB2 also illustrates his desire to find creative ways to engage others in discussions aimed at the public interest. Not only did Bryson financially contribute to those who opposed HB2, he commissioned artists to paint a mural on the wall of his office building opposite a popular restaurant in Raleigh, North Carolina.
"There is a big heart right in the middle, like a Valentine heart," he says. "And on the sides are a number of arms reaching to try to get to the heart. Some are white, some are Black, some are green — they're all different colors. The clothing on the arms may be female, may be male clothing. You just don't know. But the point is that everyone is just to trying to find love — and why couldn't we be a little bit more accepting as a society?"

While HB2 impacted him personally, Bryson's deep commitment to civil rights actually reflects the work Public Justice has done throughout its almost 40-year history. To paraphrase a protest poster during the George Floyd demonstrations, Public Justice has been supportive of civil rights even "when it's not trending." Adele Kimmel, Director of Public Justice's Students' Civil Rights Project, for instance, is a widely recognized litigator on gender and sexual violence and the legal intricacies of Title IX. She has educated youth, families, school officials and other lawyers on how to use Title IX of the Education Amendments of 1972 to stop bullying of LGBT students.
Along with Public Justice Kazan Budd Attorney Alexandra Brodsky, she represents out gay retired Army Major Steve Snyder-Hill in his sexual abuse lawsuit against Ohio State University and, in a case challenging former Secretary of Education Betsy DeVos's revised Title IX rules, represents Berkeley High School students, including nonbinary students, who are seeking to reverse DeVos's changes, which significantly rolled back many protections for students.
Public Justice also teamed up with the National Women's Law Center, Lambda Legal, the National Center for Transgender Equality and 46 other organizations and individuals in a 2017 campaign to reach the Departments of Education in each state telling them to properly follow federal law – and protect transgender students – or risk litigation.
"Schools that discriminate against transgender students, such as by denying them access to bathrooms and other single-sex facilities that correspond with their gender identity or failing to protect transgender students from harassment, are violating Title IX and the Constitution's Equal Protection Clause," the letter read in part. "Schools are obligated to protect transgender students in compliance with the law, regardless of whether they face legal recourse from the federal government. And when schools fail to comply with the law, they will continue to be subjected to lawsuits filed by and on behalf of aggrieved students."
Public Justice also strongly supports the Equality Act , has spoken out against the Republican wave of anti-trans bills, and works with civil rights coalition members such as The Leadership Conference, the Human Rights Campaign, as well as local groups such as the San Francisco-based Equal Rights Advocates.
Under Bryson, fighting systemic oppression is only going to get deeper. "This is a critical moment for our country and Public Justice has a pivotal role to play in addressing it. As [recent Public Justice "Champion of Justice" honoree] Ben Crump's own work shows, attorneys can be an essential part of addressing and ending injustice in America. That's what this organization is all about and every aspect of our work aims to move us forward to a better, more equitable society and justice system," Bryson told the audience during the organization's recent gala. "As a North Carolinian, I've seen the impact of ugly, hateful laws up close. We fought hard in my home state to battle the so-called transgender 'bathroom law' and we're fighting equally hard at Public Justice to take on the despicable effort to deny transgender athletes an opportunity to participate in school athletics.…. As President, I look forward to working with the staff to continue that expansion and maximize the impact of our work to tear down systemic injustice and work for a legal system – and a country – that is fairer, more inclusive and more equitable for all."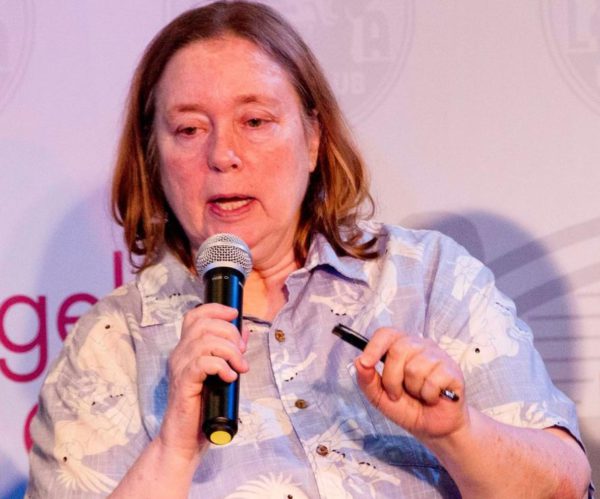 Karen Ocamb, is the Director of Media Relations for the Oakland, California based Public Justice.
Public Justice is a national nonprofit legal advocacy organization. They protect consumers, employees, civil rights & the environment.
DeSantis targets Orlando non-profit over holiday drag show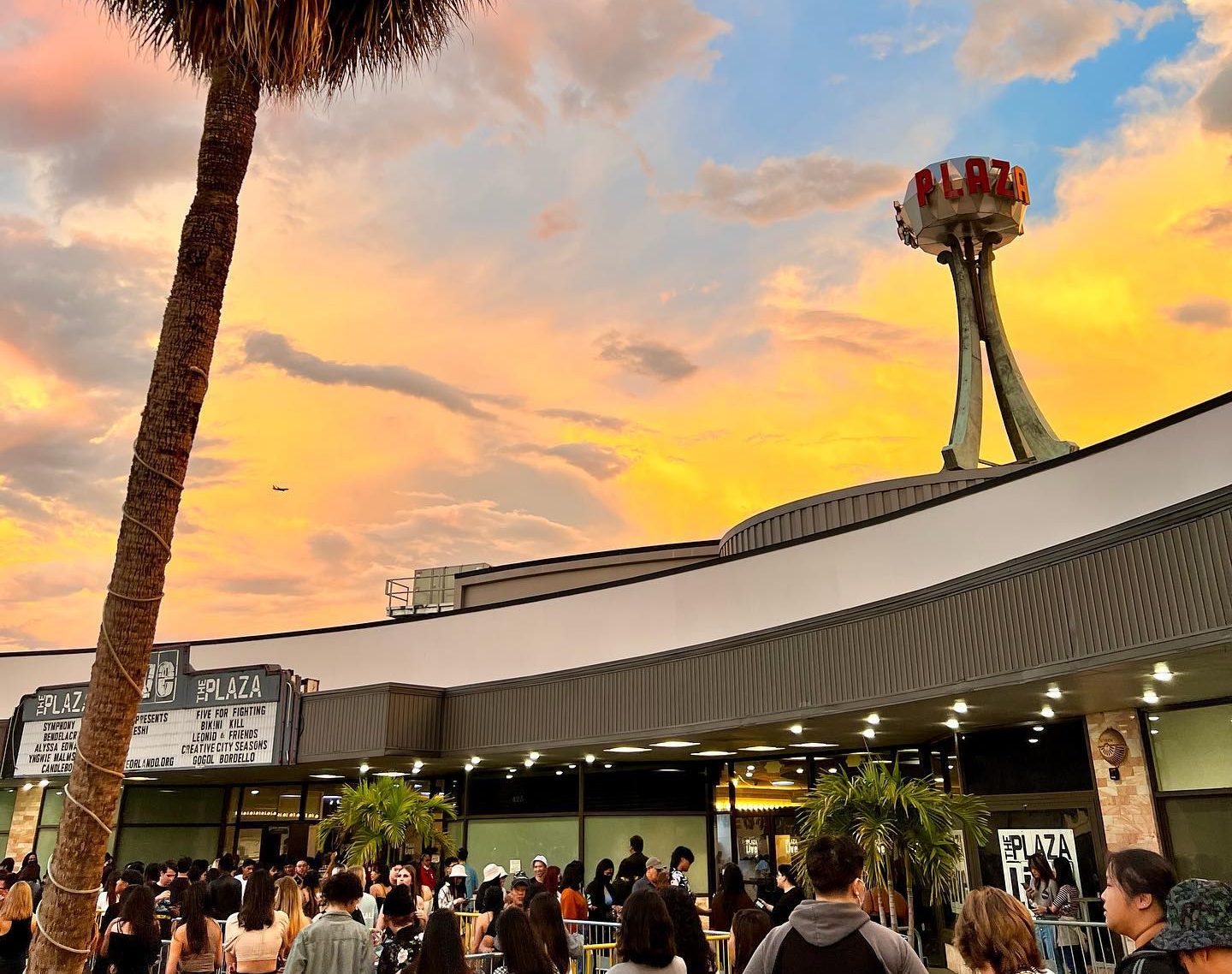 ORLANDO – Florida's Republican Governor Ron DeSantis escalated his war on the state's LGBTQ+ community ordering a state agency to launch a complaint against a Orlando non-profit over a drag holiday event it hosted in which children under age 18 were allowed to attend.
The state's Division of Alcoholic Beverages and Tobacco under the Department of Business and Professional Regulation filed the complaint on Friday against the Orlando Philharmonic Plaza Foundation alleging the foundation violated Florida law in allowing for a person to "commit lewd or lascivious exhibition" in the presence of an individual who is less than 16 years old. 
"A Drag Queen Christmas" was hosted by the foundation on Dec. 28 and during the performance sold alcoholic drinks at its Plaza Live venue. In the complaint, the agency states that the foundation used "Christmas-themed promotional materials" that did not give advance notice of the "sexually explicit nature" of the show's contents.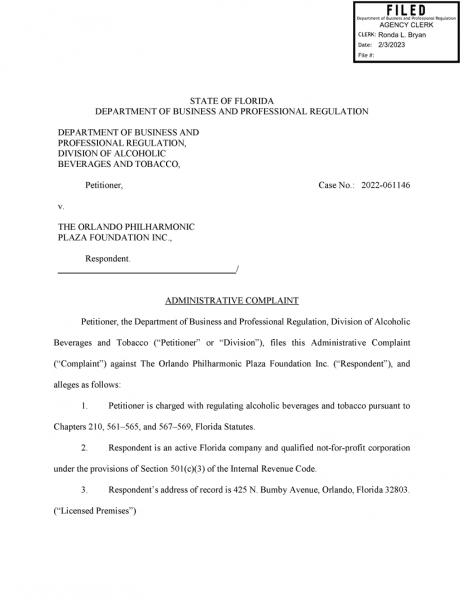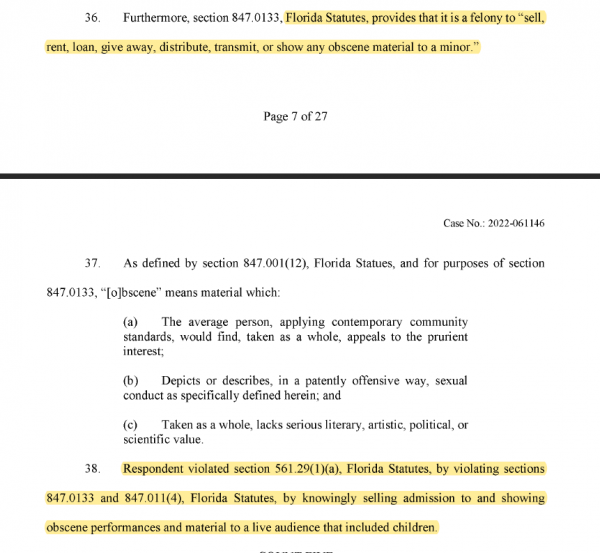 The complaint also states that the division sent the foundation a letter ahead of the show saying "sexually explicit drag show performances constitute public nuisances, lewd activity, and disorderly conduct when minors are in attendance" and the foundation's license could be subject to penalties if it did not ensure minors could not attend the event.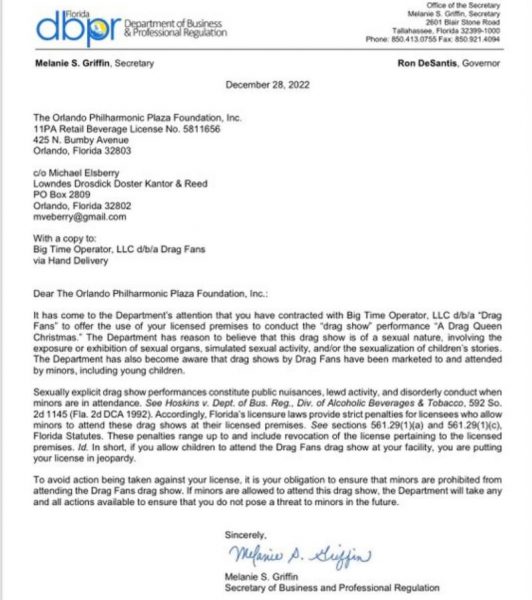 In its capacity as a regulator of alcohol, the division attempting to revoke the foundation's liquor license for six alleged counts of violating Florida statutes. 
When asked about the move by the DeSantis administration targeting the non-profit, Bryan D. Griffin, the spokesman for DeSantis said "Governor DeSantis stands to protect the innocence of children, and the governor always follows through when he says he will do something."
Orlando Weekly writer Matthew Moyer noted that The Plaza Live — besides serving as the performing home base of the Orlando Philharmonic — hosts a robust slate of touring bands, comedians, YouTubers and, yes, drag performers.
State Rep. Anna Eskamani released a statement to Orlando Weekly late Friday afternoon, condemning the state's actions in no uncertain terms. "Governor Ron DeSantis' culture wars are destroying people's jobs and livelihoods. The very notion of shutting down a small business over a drag show is insane and extreme," said Eskamani. "In the United States we do not allow the government to determine what we can read, see or hear or who we can gather with. Targeting drag performances limits everyone's freedom of speech and is all a part of the Governor's sick anti-LGBTQ+ agenda."
This is about dehumanizing LGBTQ people and targeting them for retribution by the state by portraying LGBTQ people as abberant and deviant. It's absolutely disgusting and should not be tolerated.

— Alejandra Caraballo (@Esqueer_) February 3, 2023
DeSantis previously filed a complaint against a popular restaurant and pub in the Miami's Wynwood neighborhood in July, alleging that it violated a public decency law in allowing children to attend a drag show.
The R house, is a unique casual fine dining establishment and lounge with an integrated gallery right in the heart of the vibrant Miami-Wynwood arts district named for Rocco Carulli, the executive chef as well as creator of the restaurant. The R House identifies itself on its Facebook page as "the proud home of South Florida's most popular weekend drag brunches! Make some time to check us out and experience R House."
The complaint was filed by the Department of Business and Professional Regulation on asking that the R House restaurant is a declared a public nuisance and has its liquor license revoked. 
According to the South Florida Sun Sentinel, the complaint was issued after a video of a recent performance at the bar's drag brunch went viral. A topless drag queen wearing lingerie stuffed with money can be seen in the video attempting to dance with a young girl, who the DPBR estimates is "between three and five years old." Twitter account "Libs of Tik Tok" originally found the footage on Tik Tok, posted by a user who wrote, "Children belong at drag shows!!!! Children deserve to see fun & expression & freedom."
The department cited multiple incidents of inappropriate drag performances with kids in the audience, including one in which a child "between the ages of ten and twelve" was "seen recoiling and turning away in her seat as a Brunch performer climbed on the back of the child's bench, squatted, and gyrated a couple of feet above the child's head."