Newsom recall threatens to trash LGBTQ progress
LGBTQ rights & protections come under attack during the Trump administration — and they will come under attack again if Republicans prevail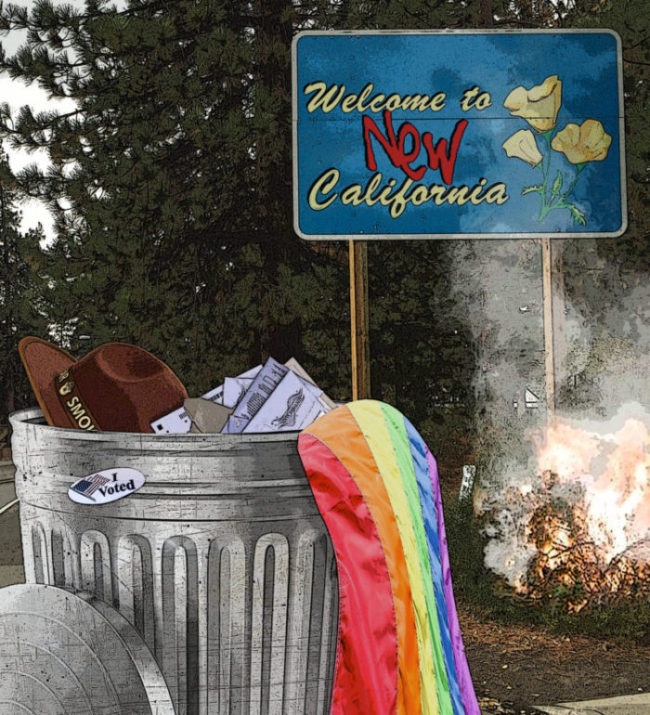 LOS ANGELES – In less than two weeks California voters will decide for the 55th time in the state's history to recall a sitting governor, Democrat Gavin Newsom. The only successful campaign was in 2003 when voters recalled Gov. Gray Davis (D).
In that election, 135 candidates ran and the winner, actor and businessman Republican Arnold Schwarzenegger received 48.6% of the vote to replace Davis.
The recall effort according to Newsom is a "Republican recall — backed by the RNC, anti-mask and anti-vax extremists, and pro-Trump forces who want to overturn the last election and have opposed much of what we have done to fight the pandemic."
Californian voters must answer two questions. The first asks whether Newsom should be recalled. The second asks who should succeed Newsom if he is recalled. A majority vote is required on the first question for the governor to be recalled. If that majority is reached, then the candidate with the most votes on the second question wins the election, no majority required. Voters may vote on both questions regardless of whether they vote in favor or against the recall.
The first question is in itself problematic according to politicos in progressive circles who echoed Newsom's characterization of the real effort behind the recall election. An updated chart by Nate Silver's FiveThirtyEight website that specializes in political data analysis as of August 31 shows Newsom with an averaged 5 point lead.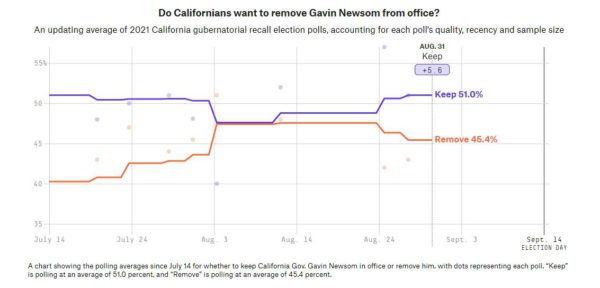 Forty-six candidates—including nine Democrats and 24 Republicans—appear on the ballot for the second question, including YouTuber Kevin Paffrath (D), 2018 gubernatorial candidate John Cox (R), radio host Larry Elder (R), former San Diego Mayor Kevin Faulconer (R), California State Board of Equalization member Ted Gaines (R), former Olympian and television personality Caitlyn Jenner (R), and Assemblyman Kevin Kiley (R).
The front runner out of those forty-six candidates Larry Elder, however, is a person who has a long and well established anti-LGBTQ+ animus and other conservative viewpoints that rankle progressive leadership in California's Democratic Party.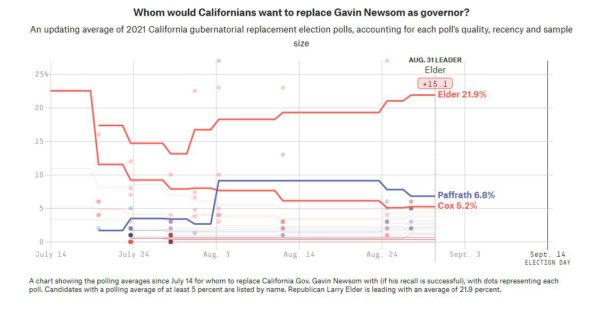 Calling themselves "Elderados," the radio show host's base is a coalition of longtime fans, evangelicals and Trump backers, many who have expressed disdain for LGBTQ+ equality and civil rights.
For California's queer population, fear of long-term adverse effects
Newsom in a tweet this last week acknowledged the damage the recall could do overall with a list detailing the top concerns including; a potential United States Senate seat, the Care economy, Child care, Preschool for all, and Free community college. Speaking with political pundit Brian Tyler Cohen on his No Lie with BTC podcast on Monday, the governor reflecting on his potential defeat in the recall election; "I think it'd have tectonic implications."
The long-term impact of the loss of the current Senate seat occupied by Diane Feinstein, 88, a seat she has held since 1992, to a Republican or as one progressive pundit privately expressed, an ' Elderado' directly affects the current precarious balance for the Democrats in the Senate and would almost ensure that LGBTQ Equality would become a mute issue should the Republicans regain a Senate majority.
In an email Wednesday, California's junior U.S. Senator Alex Padilla told the Blade; "Governor Newsom has been a national champion for LGBTQ rights. Since his early days as Mayor of San Francisco, Governor Newsom has taken bold, unprecedented actions to defend the rights of the LGBTQ community. We watched LGBTQ rights and protections come under attack during the Trump administration — and they will come under attack again if the Republican recall of Governor Newsom prevails. A vote NO is a vote for equality. Californians must stand up for our LGBTQ communities by voting NO before September 14."
Beyond the Federal implications, Rick Zbur, the outgoing Executive Director of Equality California told the Blade; "Recalling Gavin Newsom — the most pro-equality governor in California history — would be disastrous for the LGBTQ+ community. Everything we've fought for — LGBTQ+ equality, reproductive freedom, gun safety reform, environmental protections and racial justice — are all on the line. There's too much at stake for our LGBTQ+ community and the diverse communities to which we belong to sit on the sidelines.
Zbur added; "Let's just say that when Mike Huckabee is supporting a campaign, you can safely assume it's not going to help the LGBTQ+ community. They want to roll back the progress California has made under Governor Newsom's leadership — on LGBTQ+ civil rights, gun safety reforms, criminal justice reform, the environment and healthcare.
They want to take California backwards — while we and Governor Newsom are focused on moving forward — on beating this pandemic and building a brighter future for everyone. A future that is healthy, just and fully equal for all LGBTQ+ people — and for all Californians. A future with racial justice and equity and in which everyone has access to the quality healthcare and housing that they need."
LGBTQ+ Californians — who represent 12% of registered California voters — will be leading the fight to defeat this recall — just as Governor Newsom has been leading the fight for full, lived LGBTQ+ equality.

Rick Zbur, equality California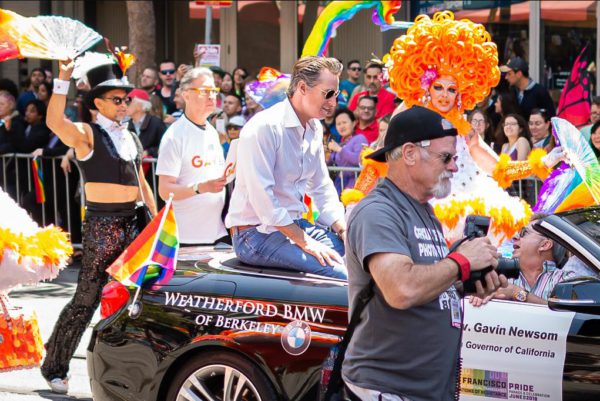 In a state of 22 million registered voters and 40 plus million residents with a long arc bending towards progressive politics, there are still those in the LGBTQ+ community who see that a change in allyship in the Governor's chair would spell disaster for ensuring that legislative actions, even if passed by a Democratically controlled Assembly and Senate would continue to be signed into law- let alone get favorable attention.
State Senator Scott Wiener, (D-11,SF) the former chair of the California Legislative LGBTQ Caucus speaking to the Blade warned, "The Republican recall is an existential threat to California. As a gay man, it is terrifying to imagine someone like Larry Elder becoming governor. He's said many hateful things about LGTBQ people and will move us backwards on LGBTQ rights."
Wiener added; "When it comes to important issues, Larry Elder or any number of the Republicans running to replace Newsom would be a disaster; we need real, progressive leadership to manage wildfires, build more housing near jobs and transit, invest in public transportation, reform our criminal justice system, address our addiction and mental health crises, and get us to a clean economy and 100% renewable energy. We can't afford to lose a couple of years with a right-wing governor. Democrats, there's no mincing words: we need you to get involved. Now is the time to turn in your ballot and vote no on the recall, and tell everyone in your community to do the same."
In addition to his disdain for LGBTQ+ equality, on another contemporary pressing issue, the current coronavirus pandemic, which was the spark that lit the match leading to the recall, Elder in a Monday interview with CNN's Joe Johns in Los Angeles said he doesn't think it's necessary for young people to get vaccinated against Covid-19 or for children to wear masks at school, and he vowed to repeal any mask or vaccine mandates for California's state workers if he is elected to replace the Democratic governor in the September 14 special election.
"I don't believe the science suggests that young people should be vaccinated. I don't believe the science suggests that young people should have to wear masks at school," Elder said.
While the election will be held on Sept. 14, the results will not be certified until Oct. 22. A semifinal official canvass of the votes will begin at 8:00 p.m. on election day and election officials may begin counting absentee/mail-in ballots on Sept. 7. This means initial returns may be released soon after polls close. The official canvass will begin on Sept. 16 and must be completed no later than Oct. 14.
Newsom highlights blueprint investments in infrastructure & transportation
Transportation is the largest source of greenhouse gas emissions, accounting for more than 50% of emissions
SANTA CLARA – Governor Gavin Newsom Thursday touted his California Blueprint's major investments in transportation and infrastructure while visiting the Santa Clara Depot rail station, highlighting the plan's $9.1 billion in funding for climate-friendly clean transit projects that will create thousands of jobs.
The Blueprint also includes $2.3 billion to support ports and goods movement throughout the state and an additional $6.1 billion to accelerate the state's transition to zero-emission vehicles – creating a total package of $10 billion that will invest in affordable cars, clean trucks and buses. The Santa Clara Depot serves several transit agencies, including Caltrain, which is scheduled to complete electrification of its system in 2024. 
"These bold investments will deliver safer, faster and greener transportation options connecting communities across the state while creating thousands of jobs and tackling our largest source of harmful pollution and emissions," said Governor Newsom. "With California on the frontlines of the intensifying climate crisis, the state is committed to building a clean transportation future that protects the health of our communities, environment and economy."
Transportation is the state's largest source of greenhouse gas emissions, accounting for more than 50% of emissions when considering the production and deployment of fuels. California's commitment to decarbonizing the transportation sector also advances the state's affordability goals, increasing access to opportunity and amenities through a network of affordable, clean transportation options and pushing zero-emission vehicle innovation to continue driving down costs for everyone.
The California Blueprint includes a proposed $9.1 billion package to advance clean transit initiatives that support the state's climate and public health goals, promote equity and bolster the green economy, including $4.9 billion for transit and rail projects to improve connectivity, climate adaptation, bicycle and pedestrian safety and more locally driven initiatives. In addition, the Blueprint proposes a $4.2 billion investment in California's High-Speed Rail project, which will eventually share the electrified Caltrain corridor, as well as funding for projects that encourage active modes of transportation and improve equity and safety, including converting underutilized highways into corridors that better serve residents. The Blueprint positions California to take advantage of additional federal infrastructure investments.
The California Blueprint also furthers the Administration's ongoing work to support ports and build supply chain resilience, outlining a $2.3 billion package that includes $1.2 billion for port-related infrastructure projects that increase goods movement capacity and additional funding for zero-emission port equipment, drayage trucks and infrastructure. The Governor in October issued an executive order directing state agencies to help identify additional ways to alleviate congestion at California ports and announced a state-federal partnership to help kick-start infrastructure projects designed to improve goods movement. In addition, the Governor has launched a multi-agency Supply Chain Task Force working to find opportunities to lease state and privately-owned land for container storage space, Caltrans has issued temporary truck weight exemptions on State Highways to keep goods moving efficiently and the Department of Motor Vehicles has worked to nearly double its capacity to conduct commercial driving tests.
The Blueprint also builds on the California Comeback Plan's $3.9 billion zero-emission vehicle (ZEV) package with an additional $6.1 billion in proposed investment to accelerate the transition. The additional funding will add thousands of affordable clean cars, zero-emission trucks and transit buses, support school transportation programs and electrify our school bus fleet, expand equitable access to ZEV charging infrastructure and fund equity-focused clean transportation community projects.
Governor Newsom in 2020 made a commitment to require that sales of all new passenger vehicles be zero-emission by 2035 and aggressively decarbonize heavy-duty vehicles such as trains, trucks and buses. The state has targeted emissions from the heavy-duty sector with bold action to reduce pollution in disproportionately impacted communities.
Intersex civil rights legislation killed after fails to advance
These irreversible genital reconstruction surgeries usually performed when intersex children are infants have lifelong consequences
SACRAMENTO – Senator Scott Wiener (D-San Francisco) announced Tuesday that he will not be moving forward with Senate Bill 225: the Intersex Bodily Autonomy, Dignity and Choice Act. This civil rights legislation would ban medically unnecessary, irreversible genital surgeries on intersex infants and other young children.
Wiener has pursued this civil rights legislation that would provide children and their families with a chance to make informed decisions about major, life-altering genital reconstruction surgeries for three consecutive years.
He has been unable to pass the bill out of its first policy committee, the Senate Business & Professions Committee, due to lack of sufficient votes in the committee. SB 225 was co-sponsored by Equality California, interACT: Advocates for Intersex Youth, the National Center for Lesbian Rights, and the ACLU of California.
"SB 225 was a basic civil rights law, standing for the important principle that people should be able to make decisions about their own lives, as opposed to having other people make those decisions for them. These irreversible genital reconstruction surgeries – usually performed when a child with variations in their genitalia are infants – have lifelong consequences. These consequences can include chronic pain, scarring, loss of sexual sensation, and more," the Senator said in a media statement.
"SB 225 is vitally important civil rights legislation for intersex people and the larger LGBTQ community, and I'm disappointed and saddened that it does not appear to have a viable path forward at this time. For three years, we've worked to advance the legislation, and it's become apparent that we continue to lack the votes to pass a meaningful bill — one that actually protects intersex people — through committee, he added.
"Pausing medically unnecessary genital surgeries until a child is old enough to participate in the decision isn't a radical idea. Rather, it's about basic human dignity. In countries like Germany, Colombia, and Malta, these infant surgeries are banned. The United Nations and three former U.S. Surgeons General have called for these surgeries on babies to be banned. I'm fully committed to protecting the rights of everyone with variations in their genitialia, including intersex people. I'm not giving up, and I stand in solidarity with the intersex community in its fight for bodily autonomy, dignity and, choice," Wiener said.
The California Medical Association, the politically influential professional organization representing nearly 50,000 physicians in the state of California, was opposed to the legislation and actively lobbied against it.
"We're proud to stand with Senator Wiener and the intersex community in this important fight to safeguard the human rights of all Californians and are immensely grateful for his leadership on SB 225," said Equality California Legislative Director Tami Martin. "We're disappointed that there is not enough support to pass this bill out of committee this year, but our fight will continue until the work is done."
One to two percent of people are born with variations in their genitalia and sex anatomy, some of whom identify as intersex. Parents of children with these variations are often offered medically unnecessary surgical interventions – such as major surgeries to cut a clitoris, create a vagina for penetrative sex, remove hormone-making organs, or move a working urinary opening – which are typically performed on children under two years old and often without a complete discussion of the various risks.
These surgeries may result in extreme scarring, chronic pain, chronic incontinence, loss of sexual sensation, post-traumatic stress disorder, incorrect gender assignment, and the need for additional surgeries to treat complications from the original surgery. SB 225 would allow parents to make a decision, in consultation with their child and medical professionals, once a person is old enough to participate in decision-making about whether or not a surgery to change sex anatomy is right for them.
"While this particular bill did not become law, we are deeply grateful to our allies and proud of getting one step closer to protecting intersex bodily autonomy in California," Alesdair Ittelson, Director of Law & Policy and Interim Executive Director of interACT said. "interACT will continue to demand self-determination instead of pathologization for intersex people and we are not deterred by the paternalistic approach of a rapidly shrinking number of individuals who stand in the way of protecting intersex human rights. Intersex people will prevail in their fight for control over their own bodies and we applaud all of those who supported SB 225."
Becca Cramer-Mowder, Legislative Coordinator and Advocate with ACLU California Action, noted: "We are disappointed that California is not yet ready to lead on this important civil rights issue, and we will continue to work with intersex individuals and advocates to move the state forward towards recognizing the bodily autonomy of intersex Californians."
Anti-LGBTQ+ Devin Nunes officially resigns from Congress
He is slated to take over as chief executive officer for former president Donald Trump's Trump Media & Technology group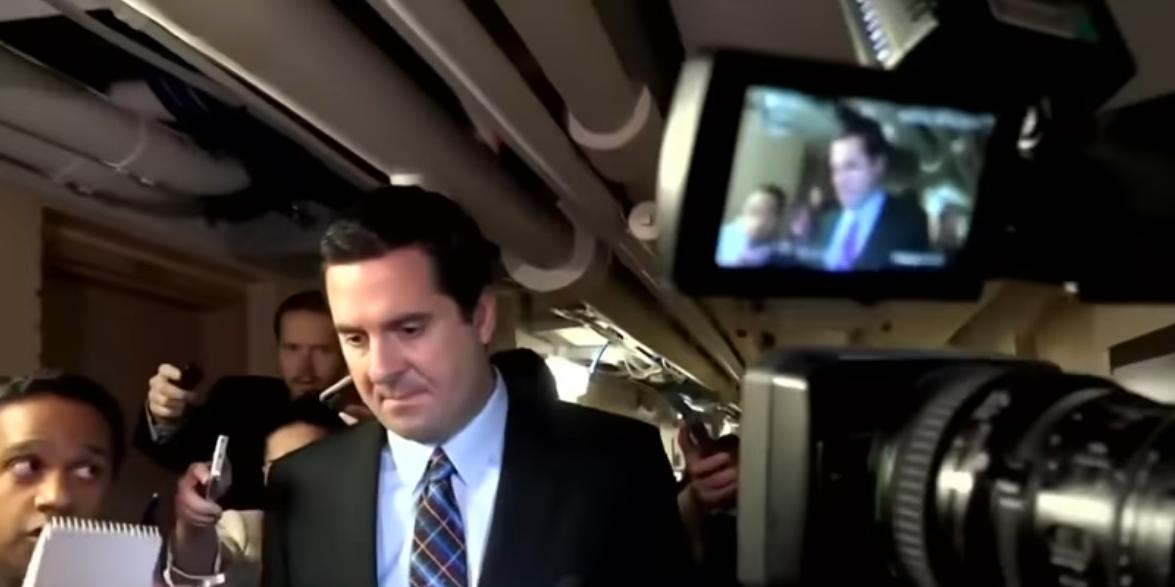 WASHINGTON – In a letter Saturday to U.S. House Speaker Nancy Pelosi, (D-SF), Republican Rep. Devin Nunes, who represents California's 22nd Congressional District, officially resigned his seat in Congress.
"It has been the honor of my life to represent the people of California's San Joaquin Valley for the last 19 years," Nunes wrote. He is slated to take over as chief executive officer for former president Donald Trump's Trump Media & Technology group, which is expected to launch expected to launch Truth Social later this month, a conservative right-wing alternative to Twitter and Facebook.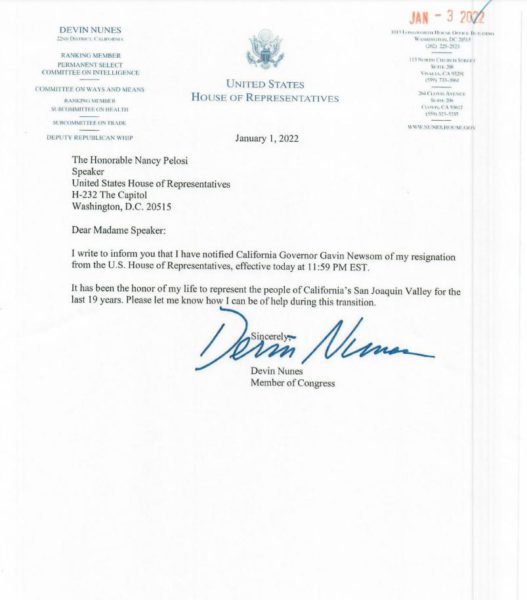 One of the former president's ardent loyalists, Nunes has repeatedly been at the center of controversy during his entire career on the Hill. In addition to his support of Trump, he has been openly antagonistic towards the LGBTQ community.
In 2010, Nunes voted against the repeal of "Don't Ask, Don't Tell," the law that prohibited gays from serving openly in the U.S. military. He also consistently received a "0" rating on LGBT issues from the Human Rights Campaign's Congressional Scorecard, which has a rating scale of 0 to 100.
He opposed legal recognition of same-sex marriage, and he also refused to back any LGBTQ+ legislation.
Over the years he has also been involved in a series of high-profile lawsuits, including a 2019 $435 million defamation lawsuit in which he claimed CNN libeled him by reporting he was digging up dirt on Joe Biden and Ukraine.
U.S. District Court Judge Laura Taylor Swain in Manhattan dismissed the suit against CNN on a technical ground: She found California law applied to the case and Nunes had failed to request a retraction as required under the laws of the Golden State. Nunes' lawyer had argued that the laws of Virginia or Washington, D.C., should apply, but the judge said it made the most sense to apply the laws of Nunes' home state to the dispute, Politico reported.
In 2019, Nunes also sued Twitter over two parody accounts that he claimed harassed him, @DevinNunesMom and @DevinCow. That lawsuit brought on merciless ribbing from late night show hosts and other comedians. The Late Show host Stephen Colbert mocked the Republican congressman explaining how Nunes' lawyers arrived at the $250 million amount for the lawsuit: "You take the value of Devin Nunes' reputation and you add $250 million dollars."