Anti-LGBTQ extremist Bob Enyart who spread COVID lies- dies from virus
Enyart proudly referred to himself as "America's most popular right-wing, religious fanatic, homophobic, anti-choice talk show host"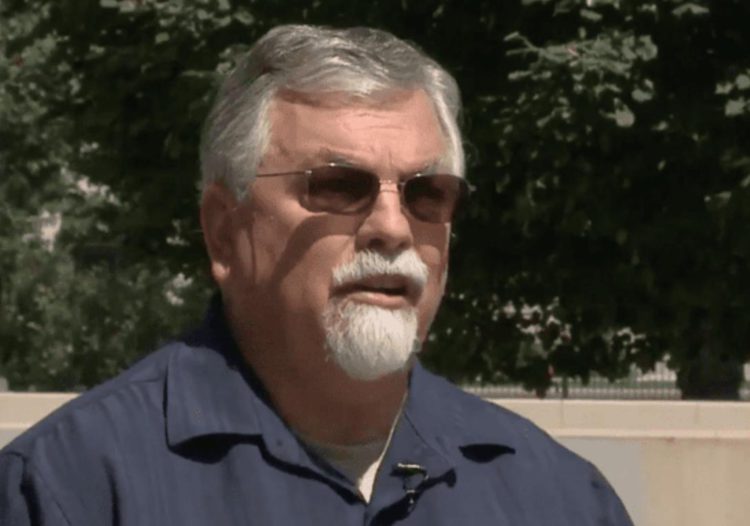 DENVER – The vehemently anti-LGBTQ preacher who made national headlines over his gleefully reading out the obituaries of AIDS victims on his cable television show, while cranking out the song "Another One Bites the Dust" by Queen- whose lead singer, Freddie Mercury, died from that disease, has himself died from complications after contracting COVID-19.
Bob Enyart, 62, who had proudly referred to himself as "America's most popular self-proclaimed right-wing, religious fanatic, homophobic, anti-choice talk show host" and pastor of the Denver Bible Church, died Monday after a short battle with the coronavirus. The news was confirmed by his longtime radio and podcast show co-host Fred Williams in a Facebook post Monday.
Enyart and his second wife Cheryl, had both contracted COVID-19 after refusing to take the vaccine citing pro-life reasons; "Bob and Cheryl Enyart have sworn off taking the Pfizer, Moderna, and Johnson vaccines because, as those firms admit, they tested these three products on the cells of aborted babies," according to a statement in August on Enyart's webpage.
In addition to falsely claiming that the vaccines were developed using fetal tissue, Enyart urged his followers to boycott the vaccines to "further increase social tension and put pressure on the child killers. (Remember, many institutions and celebrities who have been "pro-choice" all along are now also calling to legalize infanticide, what they call after-birth abortion."
In October of 2020, Enyart filed a federal lawsuit in U.S. District Court in Denver asking to overturn the Colorado State Public Health order on facial masks at religious services, as well as rules limiting gatherings to 175 people amid the pandemic.
U.S. District Court Judge Daniel Domenico, who was appointed by President Trump, granted a temporary restraining order against the health order.
Church challenges health department COVID restrictions, echoes Martin Luther's '95 theses' | News | Lifesitenews #covid #fauci https://t.co/817XpHAuiu

— Bob Enyart Live (@BobEnyart) March 3, 2021
A long time radical anti-abortion activists and a spokesperson for the pro-life Colorado Right to Life, Enyart in 2009 along with other antiabortion protesters were jailed over protest at Focus on the Family after the group accused Focus founder James Dobson of not being antiabortion enough.
After attempting to deliver a letter to Focus president James Daly deploring Dobson's endorsement of 2008 Republican presidential nominee John McCain, American Right to Life Action members staged an hour long standoff with ministry security, according to the Colorado Springs Gazette.
In addition to his open hostility towards the LGBTQ community on air, in 2016 protesting the U.S. Supreme Court ruling the previous year that granted same-sex couples the right to marry, the Huffington Post reported that he released a bizarre video as part of the National Organization for Marriage (NOM) boycott of Starbucks, after the coffee-based chain announced its support of same-sex marriage.
As first reported by Good As You blogger Jeremy Hopper, Pastor Bob Enyart of Denver Bible Church purchased a Starbucks coffee before proceeding to dump it down a sewer in protest.
"Jesus Christ said God made us male and female at the beginning of the creation," Enyart proclaims. "Starbucks, in a move that's not wise for eternity and not good for business here and now, has decided to promote homosexual marriage."
In a historic first, Colorado now has a 1st gentleman as Gov. Polis marries
The governor and his now husband decided to hold their nuptials on the 18th anniversary of their first date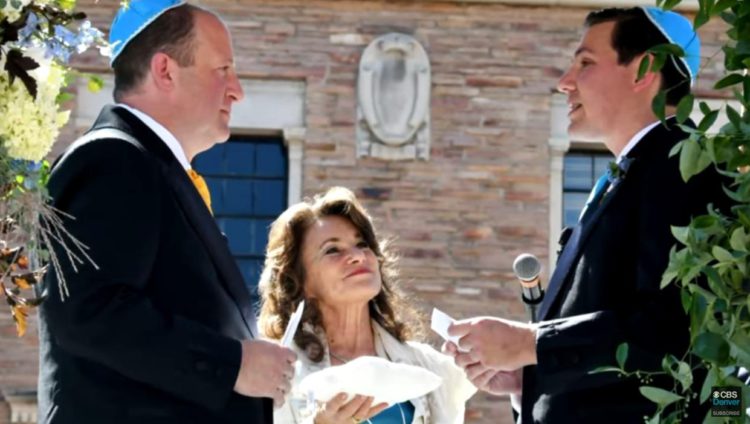 DENVER – Colorado's Democratic Governor Jared Polis married his longtime partner Marlon Reis in a ceremony that marked the first same-sex marriage of a sitting Out governor in the United States.
The couple was married Wednesday in a small traditional Jewish ceremony at the University of Colorado at Boulder, where Reis had matriculated and graduated from. The governor and his now husband decided to hold their nuptials on the 18th anniversary of their first date.
"We met online and went out on a date and we went to the Boulder bookstore and then went to dinner," Polis told KCFR-FM, Colorado Public Radio (CPR).
In addition to family and close friends in attendance, the couple's two children participated with their 7-year-old daughter serving as the flower girl and their 9-year-old son as the ring bearer.
The governor joked that their daughter was probably more thrilled than anyone about the wedding. "She was all in on being a flower girl. She's been prancing around. She got a great dress. She's terrific," he said CPR reported.
Their son was also happy, but more ambivalent about it all according to Reis. "Kids are so modern that their responses to things are sometimes funny. Our son honestly asked us, 'Why do people get married?"
The greatest lesson we have learned over the past 18 months is that life as we know it can change in an instant. We are thankful for the opportunity to celebrate our life together as a married couple.

After 18 years together, we couldn't be happier to be married at last. pic.twitter.com/psBhfEoEny

— Governor Jared Polis (@GovofCO) September 15, 2021
Colorado's chief executive, sworn in as the 43rd governor of Colorado in January 2019, over the course of nearly 20 years as a political activist and following in public service as an elected official has had several 'firsts' to his credit.
In 2008 Polis is one of the few people to be openly Out when first elected to the U.S. House of Representatives as well as being the first gay parent to serve in the Congress. Then on November 6, 2018, he was the first openly gay governor elected in Colorado and in the United States.
********************
Gov. Jared Polis And First Gentleman Marlon Reis Are Newlyweds
Anti-LGBTQ Colorado baker loses Trans birthday cake court case
Phillips violated Colorado's ant-discrimination law citing the fact that at issue was a 'product' not freedom of speech or expression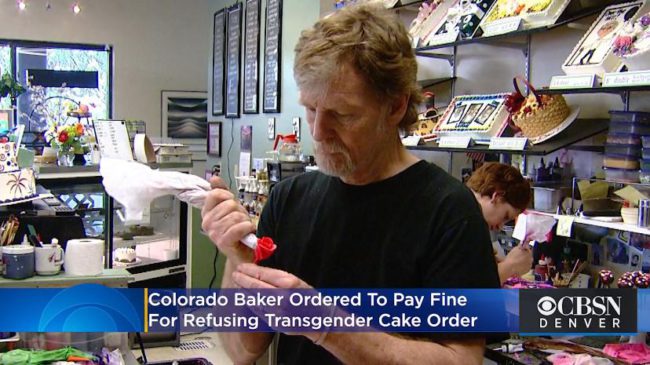 DENVER – A Colorado State District Court Judge ruled against the baker who had previously refused to bake a cake for a same-sex wedding and won at the U.S. Supreme Court a partial narrow victory in that case in 2018.
CBSN Denver reported that Denver District Judge A. Bruce Jones order found that Jack Phillips violated Colorado's anti discrimination law Tuesday, citing the fact that at issue was a 'product' not freedom of speech or expression.
In court documents, Jones said that Phillips refusal to make the plantiff, Autumn Scardina a cake made with blue icing on the outside and pink on the inside to celebrate her gender transition on her birthday because of her transgender status but without a written message, was in violation of the law. Phillips was ordered to pay a $500 fine.
Jones noted in his ruling that Phillips testified during a trial in March that 'he did not think someone could change their gender' and he would not celebrate "somebody who thinks that they can."
"The anti-discrimination laws are intended to ensure that members of our society who have historically been treated unfairly, who have been deprived of even the every-day right to access businesses to buy products, are no longer treated as 'others,'" the judge wrote.
The Scottsdale, Arizona based Alliance Defending Freedom, an anti-LGBTQ legal group that has been place on the Southern Poverty Law Center's Hate Watch List for spreading propaganda and lies about LGBTQ people, told CBSN that the group would appeal Jones' ruling.
"Radical activists and government officials are targeting artists like Jack because they won't promote messages on marriage and sexuality that violate their core convictions," ADF's general counsel, Kristen Waggoner, said in a media statement.
The maximum fine for each violation of Colorado's Anti-Discrimination Act is $500. But it was not clear from the ruling if the fine was for the two attempts that Scardina made to order the cake or just one.
BREAKING: A court has ruled Jack Phillips should be punished for not designing a cake celebrating a gender transition, an act that would violate his conscience.

Jack has been enduring this harassment for a decade and it must STOP.@AllianceDefends will appeal this decision.

— Kristen Waggoner (@KWaggonerADF) June 16, 2021