Caitlyn Jenner: A one percenter gets one percent (actually 1.1%)
"If he doesn't get recalled, I pity the people of California- It's a shame, honestly you kind of get the government you deserve."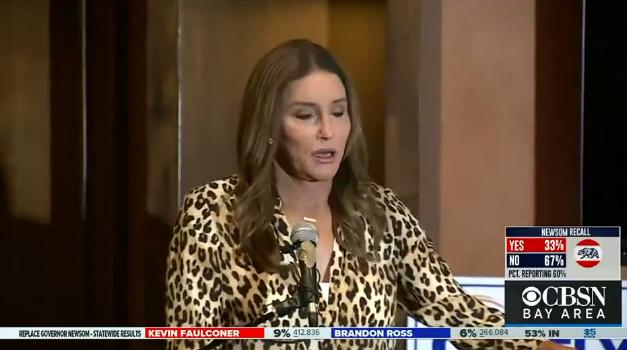 LOS ANGELES – It was not the measured tones of a seasoned politician who had experienced the successes and failures inherent with any campaign for public office. Instead, in a speech given to a small gathering of supporters once it became clear that the recall effort against Democratic California Governor Gavin Newsom had failed, reality television celebrity Caitlyn Jenner took to the microphone and groused.
Sounding bitter Jenner said; "He didn't campaign on not one of his successes, because he doesn't have any," she said. "I can't believe that this many people actually voted to keep him in office. It's a shame, honestly, it's a shame. You kind of get the government you deserve."
Caitlyn Jenner, a GOP candidate in California's recall, speaks after the vote to remove Gov. Newsom failed: "I can't believe that this many people actually voted to keep him in office. It's a shame." https://t.co/cagDpkFQdS pic.twitter.com/2cONQbrtMu

— CBS News (@CBSNews) September 15, 2021
Jenner's 'it's a shame' echoed remarks she had made earlier during the day Tuesday when she told right-wing media outlet Newsmax; "For me, it's just so up in the air [with] what is going to happen," she said. "Number one, we gotta get Gavin Newsom outta there. I think it's going to be difficult doing that, but I'm hoping for the best […] If he doesn't get recalled, I pity the people of California."
In the accumulated vote count tabulations listed Wednesday evening, Jenner had placed 12th in the field of candidates after fellow Republican frontrunner, conservative right-wing radio-talk show host Larry Elder, who had garnered 2,386,710 votes and 46.92% to Jenner's 56,016 votes and 1.1%. (72.65 % Precincts Reporting | 74% expected vote as of Sep. 15, 2021 8:48 pm)
The Newsmax host also asked if she would consider running in 2022 in the regular gubernatorial race or a potential congressional race, Jenner indicated she "would keep her options open."
"One thing I can say is I have thoroughly enjoyed this process," she said. "It has been uplifting, rewarding. I'm a compassionate person. I love the people. The process has been great. Once this is over with, we're gonna evaluate, see where we're at."
Palm Springs mayor pro tem Lisa Middleton running for state senate
"Lisa has been a trailblazing champion for the LGBTQ community as well as a dedicated public servant and activist working to uplift her city"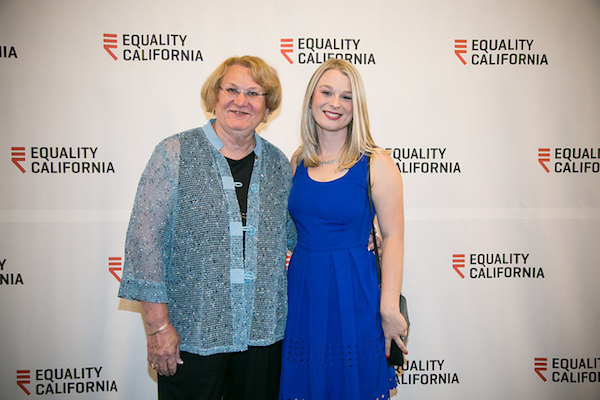 PALM SPRINGS – Palm Springs Mayor Pro Tem Lisa Middleton officially entered the race for California's 28th State Senate District with the powerful support of the California Legislative LGBTQ Caucus and former United States Senator Barbara Boxer.
Middleton, who made history in 2017 by becoming the first transgender person in California history elected to a non-judicial position, currently serves as Palm Springs' Mayor Pro Tem. She would be the first openly transgender State Legislator in California's history. SD-28, an open seat that went for Joe Biden in 2020, currently has a two-point Democratic registration advantage.
Middleton launched her campaign for Senate by releasing the following statement:
"I'm thrilled today to be announcing my campaign for State Senate District 28. I'm running to make a difference in Sacramento and be an effective voice for the 28th District by bringing pragmatic, practical solutions that will improve the lives of all Californians.
I grew up in a working-class East Los Angeles community. The grandchild of Dust Bowl Oklahomans, I grew up in a California that made it possible for me to be the first in my family to attend college. The California that won the 20th century provided world-class education, transportation networks, communication systems and economic opportunity. We can do this again.
I spent my adult life in California state government in our workers' compensation system. I have seen up close government succeed, and I have seen it fail. The difference always comes down to leadership.
Throughout my career, I have been a leader who listens, unifies and gets things done for the people I represent. It is time that Riverside County and the 28th District receive our fair share of California's budget. Our region is one of the fastest growing regions of the country. To win the 21st century, we need a local and regional infrastructure built for the 21st century. We cannot wait to address climate change. It is past time we ensure opportunity for all does in fact include everyone.
Growing up, I remember standing in line in my elementary school to get the polio vaccine at a time the disease was ravaging America. The government came together to administer a life-saving vaccine, and there was nothing political or partisan about it. Tragically today, when we are yet again threatened by a virus that kills hundreds of thousands of people, some for the sake of partisan warfare are provoking fear, division and irresponsibility. I will lead by example.
In the State Senate, I will work to return our state and country back to a place where a crisis—whether it be a pandemic, wildfire, or earthquake— is not an opportunity for partisanship but for us to work together to save lives. In our state, it is always going to be not if, but when and how bad is the next emergency.
My foundation is the neighborhoods I represent. My path to being the first transgender Californian to be elected to a political office began by standing up for Palm Springs neighborhoods and street repair funding. I will go to work every day in the State Senate to improve the quality of your life, in your neighborhood.
The simpler tasks have already been accomplished. The challenges left for our region are the tough ones — climate change, inequity, crime, economic security, healthcare access, rebuilding our infrastructure and homelessness. I am a clear-eyed optimist who believes our best years are in front of us. This is America. We are Californians. We inherited tremendous opportunity. Now it is our responsibility to build on the investments of our parents and grandparents.
My newly-born grandson is expected to live to see the 22nd century. The business of California is building the schools, the equality of opportunity, transportation and communication networks, the jobs and climate that give my grandchild and every child the foundation to build their California Dream.
Please join me. I would be honored to have your support."
The California Legislative LGBTQ Caucus also released the following statement with their endorsement of Middleton's campaign:
"The California Legislative LGBTQ Caucus is thrilled to endorse Lisa Middleton's candidacy for State Senate because we need more bold, innovative LGBTQ+ leaders who are ready to take on California's toughest issues and deliver for our communities. Throughout her career, Lisa has been a trailblazing champion for the LGBTQ community as well as a dedicated public servant and activist working to uplift her city, particularly on the Palm Springs City Council. Additionally, the California Legislature should reflect our state's dynamic population, and it's far past time that transgender Californians were represented in Sacramento. We know that Lisa will be a pioneering, relentless advocate for the 28th District and all Californians, working tirelessly to make the state more inclusive, fair, and just. We're with her 100% and look forward to helping Lisa get elected."
Additionally, former U.S. Senator Barbara Boxer released the following statement with her endorsement of Middleton's campaign:
"I'm thrilled to announce my support for Lisa Middleton's campaign for Senate District 28. A fearless fighter for the people she represents, Lisa is a compassionate, principled and savvy leader who will fight for those most in need in Sacramento while bringing people and ideas to the table to solve big problems. California needs Lisa's forward-thinking ideas, compassion, grit and determination in the State Senate. I'm proud to offer her my enthusiastic endorsement."
Middleton is a neighborhood leader and longtime public servant was first elected to the City Council in 2017. She became the first transgender person elected to a political office in the state of California.
On the Palm Springs City Council, Middleton helped deliver PPE and vaccines to residents during the COVID pandemic, led passage of a solar requirement on all new homes, increased the utilization of green energy by Palm Springs residents and businesses, helped support a booming local economy, increased funding for public safety services and street repairs, helped lead efforts for a generational public works project to bring daily rail service to the San Gorgonio Pass and Coachella Valley, addressed inequity, highlighted the unique challenges of LGBTQ seniors and led by example as a transgender woman in elected office.
Additionally, Middleton currently serves on the Riverside County Transportation Commission (RCTC) and the Sunline Transit Board of Directors, where she works with partners from neighboring cities to provide high-quality transportation services to the region.
She is also a dedicated regional and statewide leader as a member of the League of California Cities (Cal Cities) Board of Directors, including serving as Chair of the Cal Cities Revenue & Taxation Policy Committee, and the California State Department of Transportation Zero Traffic Fatalities Task Force.
Prior to her election to the City Council, Middleton served as a member of the Palm Springs Planning Commission, Chairwoman of the Organized Neighborhoods of Palm Springs (ONE-PS), and Interim Executive Director of the Desert LGBTQ Center.
In April 2019, Governor Gavin Newsom appointed Lisa to the Board of Administrators of the California Public Employees Retirement System (CalPERS), which provides pensions to 1.9 million people and health benefits to over 1.5 million people with investment assets exceeding $450 billion. She serves as Chair of the organization's Risk & Audit Committee and Vice-Chair of the Governance Committee.
This came after Middleton retired from her 36 year-career with California's State Compensation Insurance Fund, where she moved her way up the ranks. Her first job in government entailed performing workers' compensation audits in the factories and meat-packing plants not far from where she grew up. At her retirement, she was the Senior Vice President of Internal Affairs; she also previously Chaired California's Fraud Assessment Commission.
A first-generation college student who grew up in a working-class community in East Los Angeles, Middleton is a graduate of East Los Angeles College, UCLA and USC, receiving her Master's in Public Administration from USC.
Middleton has been widely recognized for her work, earning awards from the California Workers Compensation Institute, Palm Springs Pride Association, Equality California, Democratic Women of the Desert, SAGE/LGBT Senior Advocates, Desert LGBTQ Center and the California State Legislative LGBTQ Caucus.
Together since 2000, Middleton and her wife Cheryl married in 2013 shortly after they moved to Palm Springs. Middleton is also the proud parent of "two accomplished educators."
It's official- Rep. Karen Bass enters race to become the next mayor of LA
If elected she would be the first Black woman & second Black mayor after legendary Tom Bradley who served as 38th Mayor from 1973 to 1993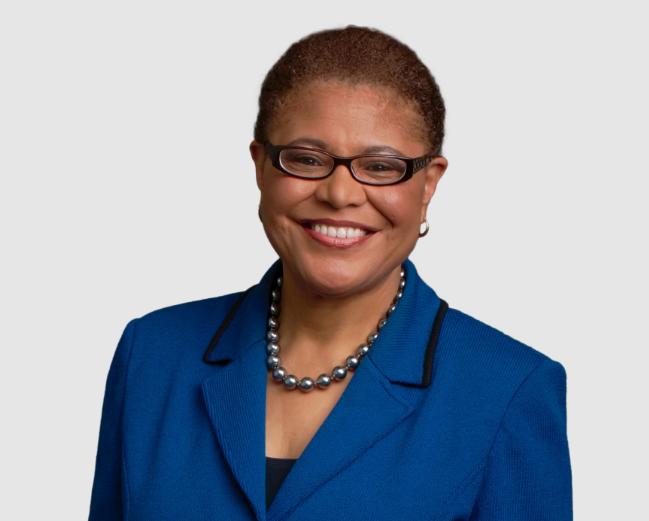 LOS ANGELES – Congresswoman Karen Bass officially announced her entrance Monday as a candidate to replace her fellow Democrat outgoing Los Angeles Mayor Eric Garcetti.
"Our city is facing a public health, safety and economic crisis in homelessness that has evolved into a humanitarian emergency," she said in a statement announcing her candidacy. "Los Angeles is my home. With my whole heart, I'm ready. Let's do this — together."
If Bass were to win election she would be the first Black woman mayor and the second Black mayor after Thomas Bradley, the legendary politician and former police officer who served as the 38th Mayor of Los Angeles from 1973 to 1993.
With my whole heart, I'm ready. Let's do this — together.

I'm running for mayor.https://t.co/CLkJfFddHT

— Karen Bass (@KarenBassLA) September 27, 2021
KABC 7 noted that she would be the first sitting House member to be elected mayor of Los Angeles since 1953, when Rep. Norris Poulson was elected. Then-Reps. James Roosevelt, Alphonzo Bell and Xavier Becerra lost campaigns for mayor in 1965, 1969 and 2001.
The 67-year-old member of Congress currently represents the 37th Congressional District, which encompasses Los Angeles neighborhoods west and southwest of downtown including Crenshaw, Baldwin Hills, Miracle Mile, Pico-Robertson, Century City, Cheviot Hills, West Los Angeles, Mar Vista and parts of Westwood, as well as Culver City and Inglewood. Bass was a member of the California Assembly from 2004-10, serving as that body's speaker from 2008 to 2010.
Bass is entering an already crowded field of candidates including Los Angeles City Attorney Mike Feuer and two members of the City Council – Kevin de León and Joe Buscaino – who have already announced their campaigns for mayor.
When speculation as to her running surfaced last week, Bass spokesman Zach Seidl told the Los Angeles Times that her running was due to the fact that "Los Angeles is facing a humanitarian crisis in homelessness and a public health crisis in the disproportionate impact this pandemic has had on Angelenos," Seidl said in a statement. "She does not want to see these two issues tear the city apart. Los Angeles has to come together. That's why the Congresswoman is considering a run for mayor," he added.
That seems to be the focal point and whoever is elected will face the city's massive homelessness crisis.
Bass acknowledged this in her candidacy announcement statement this morning, writing "I've spent my entire life bringing groups of people together in coalitions to solve complex problems and produce concrete change — especially in times of crisis."
Rep. Karen Bass to enter Los Angeles mayoral race
Bass has been working to dismantle systemic racism, as well as other forms of social, racial and economic injustice, for decades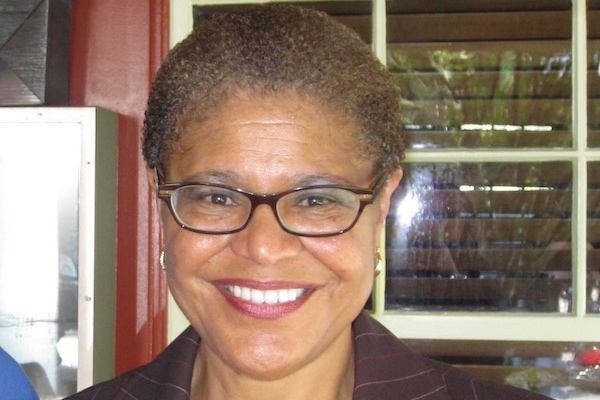 LOS ANGELES – In a breaking story published Friday morning, the Los Angeles Times reported that Democratic Congresswoman Karen Bass, who represents California's 37th congressional district, which covers several areas south and west of downtown LA will enter the mayor's race.
U.S. Rep Karen Bass (D-Los Angeles) intends to run for Los Angeles mayor, according to three people familiar with her plans. Such a move would shake up a contest that, until this past week, which saw the field of candidates increase, had been a fairly sleepy affair. Bass, a high-profile Democrat who has served in both Sacramento and Washington, D.C., could announce her entry into the mayor's race as early as next week, those sources told The Times.
Bass has been working to dismantle systemic racism, as well as other forms of social, racial and economic injustice, for decades. She is a community activist who was raised on civil rights activism in LA's Jewish Venice-Fairfax district, volunteered for Bobby Kennedy's presidential campaign in middle school, graduated from Hamilton High School in West LA in 1971, studied philosophy at San Diego University but switched her attention to healthcare, graduating from USC's Keck School of Medicine Physician Assistant Program. She subsequently received her BA in health sciences from Cal State/Dominguez Hills and her Masters in Social Work from USC.
Bass focused that training on fighting the crack epidemic in South LA, where she founded the Community Coalition to fight for substance abuse prevention programs and better foster care and relative caregivers, like grandmothers.
She also fought the AIDS epidemic — all experience directly applicable to dealing with the ongoing Opioid crisis, as well as COVID-19.
"I went through the AIDS crisis from its very beginning. I watched all of Santa Monica Boulevard get wiped out near Vermont (Ave.). That whole area there. I watched everybody die within a matter of two years," Bass told the Los Angeles Blade. "But I think that this [COVID-19 crisis] is really hard because you don't have to have any physical contact….People are building the plane while it's flying."
Torie Osborn, the executive director of the Los Angeles Gay and Lesbian Community Services Center in 1989, met Bass at a meeting of progressive grassroots activists in a South LA church basement.
"This woman I didn't know came up, introduced herself as Karen Bass from South LA, an anti-police violence activist and a physician assistant," Osborn says. The two talked all day with Bass noting that the gay community's experience of AIDS deaths was similar to what the Black community was experiencing during the crack epidemic.
"I had never heard anything like this before. She knew gay men. She clearly was an ally," Osborn says.
Last summer the Biden campaign vetted Bass as a potential candidate for the number two spot on the Democratic ticket in the race for the White House, which ultimately ended up with then California U.S. Senator Kamala Harris as Biden's choice.
"Los Angeles is facing a humanitarian crisis in homelessness and a public health crisis in the disproportionate impact this pandemic has had on Angelenos," Bass spokesman Zach Seidl said in a statement, when asked for comment by the Times. "She does not want to see these two issues tear the city apart. Los Angeles has to come together. That's why the Congresswoman is considering a run for mayor."
Earlier this past week, another LGBTQ ally, Los Angeles City Councilman Kevin de León, a Democrat, announced his intention to seek the mayor's chair after current Mayor Eric Garcetti, who was elected for a four-year term in 2013 and again in 2017- who's limited to serving no more than two terms- was picked by President Joe Biden to serve as the U.S. ambassador to India on July 9, 2021.