Californian voters reject Republican effort to recall Newsom
A Democratic party insider source told the Blade, "Look- this recall turnout means Californians rejected Larry Elder and Trumpism"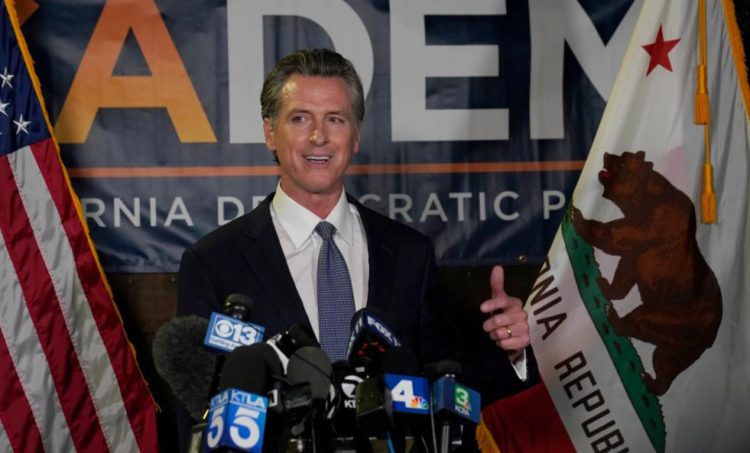 LOS ANGELES – The early results of the special recall election to remove Democratic California Governor Gavin Newsom revealed that a majority of the Golden State's voters were not inclined to oust him. With 62.17 % precincts reporting at 11:00PM Tuesday, the 'No' vote was 65.66% versus the 'Yes' vote at 34.34%.
Speaking to Californians in a broadcast in the hours after polls had closed Newsom thanked his supporters but also cautioned that while the victory retains him in office- "Trumpism is still a threat," the governor said.
"'No' is not the only thing that was expressed tonight," Newsom said. "I want to focus on what we said 'yes' to as a state: We said yes to science, we said yes to vaccines, we said yes to ending this pandemic, we said yes to people's right to vote without fear of fake fraud or voter suppression."
The driving force to the recall had been the underlying conditions brought about by the coronavirus pandemic and anger over crushing job losses from business closures, shuttered schools and restrictions that kept most children out of classrooms. Rising homicides, a homelessness crisis and an unemployment fraud scandal further angered some voters particularly in Republican circles.
"Let's be gracious in defeat. We may have lost the battle, but we are going to win the war," Newsom said, later adding that the recall has forced Democrats to focus on issues such as homelessness and California's high cost of living.
A UC Berkeley Institute of Governmental Studies poll cosponsored by the Los Angeles Times released last Friday, showed that 60.1% of likely voters surveyed oppose recalling Newsom compared with 38.5% in favor of ousting the governor.
The rise of the highly contagious delta variant had also led the governor to frame the race as one of "life or death" consequences. Newsom would point out that measures he had taken versus actions by Governor Greg Abbott in Texas and his fellow Republican Governor Ron DeSantis Florida, which experienced worsening surges as Abbott and DeSantis both rejected mask and vaccine mandates.
Newsom warned that if conservative talk show host Larry Elder were to take the governor's chair, California could become as bad off as Texas and Florida as Elder has expressed his opposition to mandatory mask orders and vaccination mandates for state workers.
Polling from the Public Policy Institute of California showed Newsom's approval rating remaining above 50% throughout the pandemic. With weeks to go, the institute's poll showed 60% of Californians approved of Newsom's handling of the pandemic.
In a phone interview Tuesday evening after the polls had closed and it was apparent Newsom would remain Governor, Assemblymember Evan Low, (D) who represents the 28th California Assembly District and is the Chair of the California Legislative LGBTQ Caucus reflected on the results.
"I think that this shows two things- a resounding victory but also a clear rebuke of the general strategy of the GOP, " Low said. "This is an affirmation- a yes on vaccines, a yes to addressing climate change, a yes on women's rights and a yes to inclusiveness for LGBTQ people from the highest officeholder in the state," he added.
"This shows that voters think the state is headed in the right direction and that they are behind having Newsom as the 'CEO' of the 5th largest economy in the world," Low said.
"There is a mandate- really there's a wide range of reasons but importantly having a pro-LGBTQ governor is critical, especially when you look at the divisiveness of the GOP and their policies," Low told the Blade.
Rick Zbur, the outgoing Executive Director of Equality California, said in an emailed statement;
"Tonight, we have defeated the anti-LGBTQ+, anti-abortion, anti-immigrant, anti-science and anti-worker Republican Recall. We have affirmed our California values and our support for Gavin Newsom, the most pro-equality governor in California history, and his tireless efforts to build a California for all. LGBTQ+ Californians — 12% of registered voters in the Golden State — and our pro-equality allies played a decisive role in this resounding victory.
"To be clear, California has big challenges ahead of us. We need to beat this pandemic, rebuild our economy, safeguard reprodutive freedom, solve our homelessness crisis, save our planet from climate change and create a world that is healthy, just and fully equal for all LGBTQ+ people. Governor Newsom is up for the task, and so are we. Let's get back to work."
A Democratic party insider source told the Blade, "Look- this recall turnout means Californians rejected Larry Elder and Trumpism. This was also a referendum on LGBTQ equality- Gavin is the most pro-LGBTQ politician- hell he ran and continues to run on LGBTQ issues, tonight voters agreed that those matter, that people matter, and that Newsom is their choice to continue to lead the state."
Although Newsom was handed as victory of sorts, the Los Angeles Times pointed out that the conservative right-wing radio host who emerged as the front runner will very much have a say as the Republican party looks to 2022.
"Although the effort to recall California Gov. Gavin Newsom failed, the lightning two-month campaign appears to have had at least one clear beneficiary – Larry Elder.
The outspoken conservative talk show host is now the leader of the California Republican party, and a growing national figure. So what is next for Elder? He now has opportunities but also big challenges to broaden his appeal in a very blue state."
The White House on Wednesday morning released a statement from President Joe Biden who had traveled to Long Beach to campaign for Newsom on Monday:
"Congratulations to Governor Gavin Newsom on defeating the recall vote. This vote is a resounding win for the approach that he and I share to beating the pandemic: strong vaccine requirements, strong steps to reopen schools safely, and strong plans to distribute real medicines—not fake treatments—to help those who get sick. The fact that voters in both traditionally Democratic and traditionally Republican parts of the state rejected the recall shows that Americans are unifying behind taking these steps to get the pandemic behind us."
We did it! The Republican Recall has been DEFEATED!!!

Thank you to everyone who voted, encouraged family and friends to vote and those who put in the work to help beat the anti-LGBTQ+ recall! pic.twitter.com/lFHUM2mqEu

— Equality California (@eqca) September 15, 2021
Zbur is Assemblymember-elect as Abramson concedes
When Zbur is sworn in on December 5 and takes office, he will join the largest Legislative LGBTQ+ Caucus in California history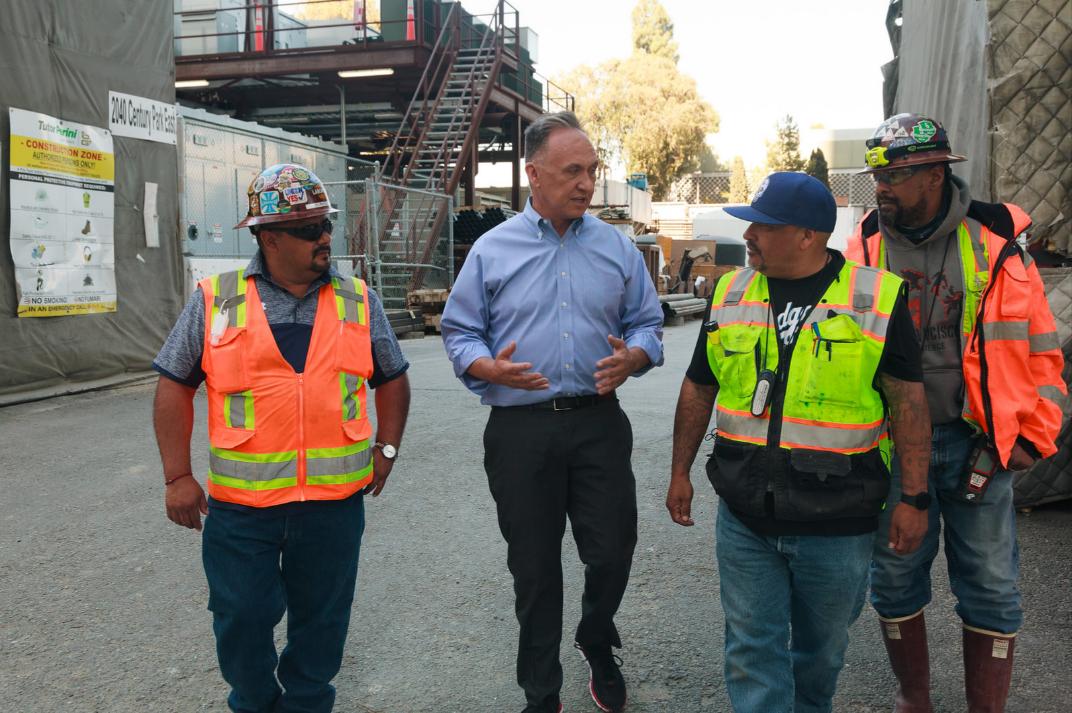 LOS ANGELES – The latest election results released by the Los Angeles County Registrar-Recorder/County Clerk's office on Tuesday indicated that former Equality California Executive Director and leading environmental attorney, Rick Chavez Zbur, had won the seat to represent California's 51st Assembly District.
Zbur's opponent Louis Abramson issued a statement of concession congratulating the Assemblymember-elect:
"One of our campaign mantras is: The hard part comes after the hard part. Well, this is the hard part. While many votes are outstanding, we're at 44.6%. Having been outspent nearly eight to one by a well known opponent, this achievement is incredible. Nonetheless, we don't see a path to 50%+1. With a full heart and a grateful soul, it's time to close this chapter.
I want to congratulate Rick Zbur on his victory in this race. I will do everything I can to help him succeed in confronting the existential challenges facing our shared community—homelessness, housing affordability, mental health reform, and climate change.
Rick ran with generosity and kindness. His previous work made California more equitable and just. It has been a privilege to campaign with him and to have the opportunity to advance that work. Rick will be an effective advocate for our district. I look forward to being his partner in repairing our world, and I invite you all to join me." 
In an email to the Blade Tuesday afternoon, Zbur wrote:
"As the votes continue to be counted, our campaign is confident that our margin of victory will continue to grow.  I'm incredibly humbled and grateful to the voters across AD-51 who powered our campaign to a victorious finish. We are proud that we won with a substantial margin in every city across the district.  This victory was only possible because of the dedication and effort of thousands of people —supporters, contributors, and volunteers who fueled our campaign, and I am incredibly grateful. I'm also deeply proud that my victory ensures that the 51st District—and the County of Los Angeles—finally has the LGBTQ+ representation in the State Assembly that it deserves. 
I would like to congratulate my opponent Louis Abramson for his dedication to our community, and for running an energetic campaign that was focused on the issues—many of which we agree about. I appreciate his gracious congratulations call yesterday and his offer to work together in the future to improve the lives of the people of California.
Our campaign was never about one person – it was about ensuring real change and lasting progress to improve the lives of the people of California and the 51st District. It was about assuring that our government tackles effectively the issues that matter most—affordable housing and homelessness, climate action, safer and sustainable communities, good jobs with good pay and safe working conditions, civil rights and social justice for all, and more. I'm proud of the movement we have built and I look forward to beginning the hard work to achieve a government that works for every Californian, especially our most vulnerable.  I am excited to begin my work in the Assembly to deliver for families across the 51st District."
Early on in his candidacy Zbur received the backing of various organizations and political groups including labour, civic, environmental as well as this newspaper. Zbur was endorsed by Equality California early in April 2021, alongside the California Legislative LGBTQ+ Caucus.
When Zbur is sworn in on December 5 and takes office, he will join the largest Legislative LGBTQ+ Caucus in California history.
Equality California released the following statement from its Executive Director Tony Hoang celebrating the victory:
"My friend Rick Chavez Zbur has spent his career fighting for justice and is exactly the type of champion LGBTQ+ Californians need in the Assembly. From a small farming community in the Rio Grande Valley to the halls of the California Capitol, Rick's life has been defined by service to his community and his country. I know that his bold, experienced leadership will continue to move our state forward, and he will deliver progressive results for the people of the 51st Assembly District.
"Equality California looks forward to being a partner to Rick in his new role, as we continue our shared fight for a world that is healthy, just and fully equal for all LGBTQ+ people." 
California's 51st Assembly District includes West Los Angeles, Hollywood and West Hollywood.
MEMBER OF THE STATE ASSEMBLY, 51st District
| Candidate(s) | Votes | Percent |
| --- | --- | --- |
| RICK CHAVEZ ZBUR (D) | 57,323 | 55.40% |
| LOUIS ABRAMSON (D) | 46,145 | 44.60% |