Hungarian PM Viktor Orban says EU blocking funds over LGBTQ policies
A spokesperson for the EU said its refusal to sign-off on Hungary's recovery plans is not related to the anti-LGBTQ laws.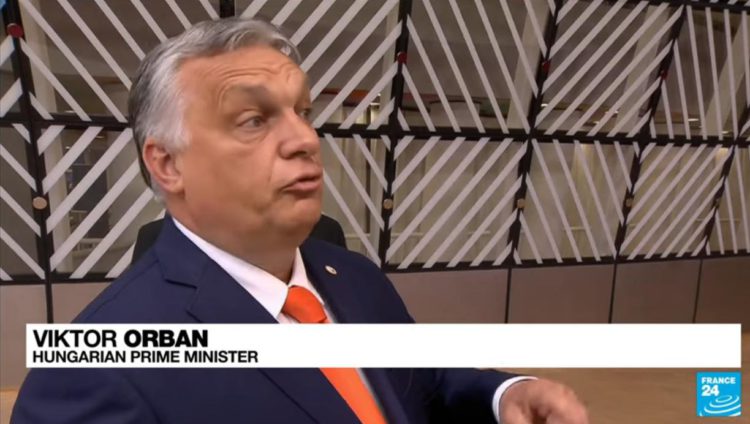 BUDAPEST – In an interview with Hungarian state media this past Friday, Hungarian Prime Minister Viktor Orban accused the European Commission, the executive branch of the European Union, of blocking funding for his country's coronavirus recovery plan over its anti-LGBTQ policies.
"The funds are loans that Brussels does not want to give us because of the debate on our LGBT policy," he said.
A spokesperson for the EU said that the refusal to sign-off on Hungary's planned spending and validation of Hungary's recovery plans is not related on the recent passage of anti-LGBTQ laws. The EU maintains that its concerns are the lack of independence of the Hungarian judiciary coupled with an insufficient fight against corruption.
The deadline for the EU Commission to review Hungary's plan was extended until the end of this month. Orban's government had submitted its plan last May. The EU has yet to disburse the allocated €7.2m in grants.
The Hungarian National Assembly approved legislation in June that prohibits sharing with anyone under the age of 18 any material that portrays or describes homosexuality or gender identity linking it to another legislative measure by amendment that purports to protect minors against paedophilia.
In a statement to France 24 English in June Orban defended the law saying that he was supportive of LGBTQ rights but he characterized the law as to defend the right of parents to educate their children in regards to human sexuality.
European Commission President Ursula von der Leyen has publicly labeled the law a "disgrace".
"This bill clearly discriminates against people on the basis of their sexual orientation and it goes against all the values, the fundamental values of the European Union and this is human dignity, it is equality and is human fundamental rights, so we will not compromise on these principles," said von der Leyen.
In July the law, which had added a provision banning sex-reassignment surgery to minors, took effect.
Despite the increasing backlash to the anti-LGBTQ law and policies, Hungarian officials continue to support the measures. On Facebook this past Wednesday Hungary's Justice Minister Judit Varga wrote that it is her country's right to protect its "culture, national identity and the family values rooted in them." taking aim at EU Commissioner Thierry Breton, Varga noted, "We reject categorically the assumption that the purpose of the law would be exclusion or discrimination. […] It's only about the upbringing of Hungarian children and the protection of minors.
Giorgia Meloni: Italy's far-right anti-LGBTQ party leader wins
After years of activism she carved a space for herself in the Italian political arena & is now set to be Italy's first female prime minister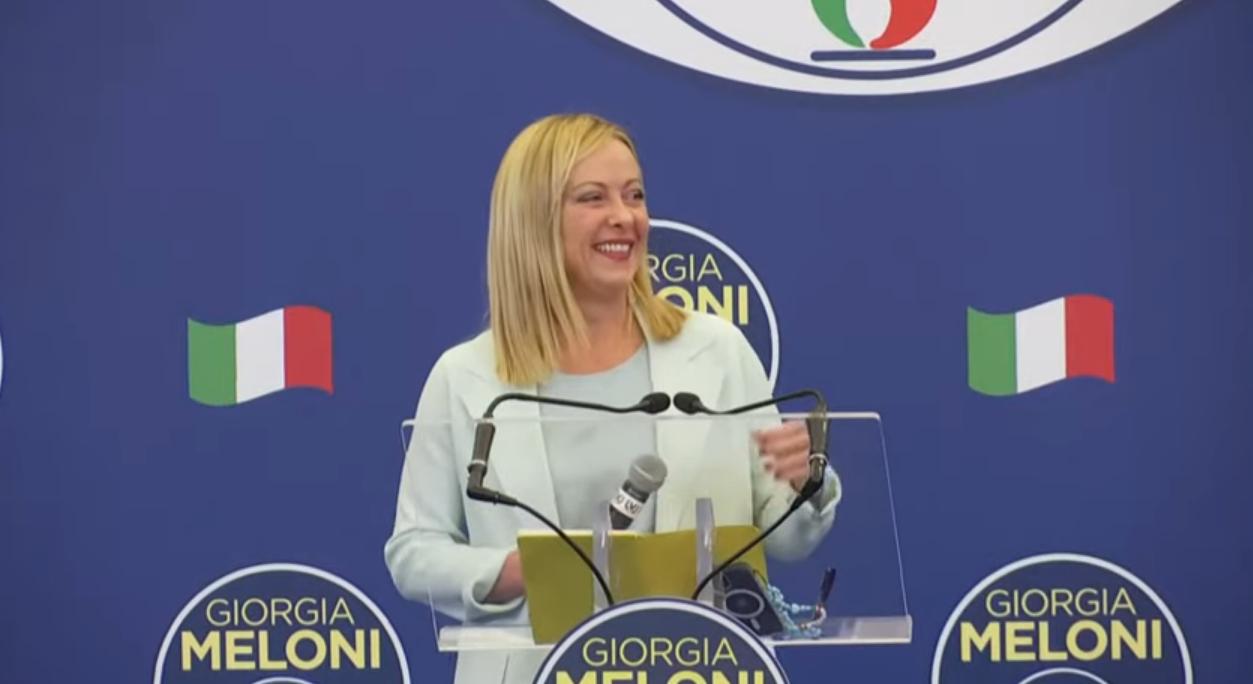 ROME – Italy's far-right leader Giorgia Meloni, head of the Brothers of Italy party, appeared to have won in Sunday's snap general elections according to exit polling. In a coalition with other right wing parties, Meloni's right-wing alliance now looks to have control of both houses, with a projected 42.2% of the Senate vote.
This will lead to her forming Italy's most right-wing government since World War Two and Meloni is now set to be Italy's first female prime minister. However, the final say will rest with Sergio Mattarella the President of Italy, a decision that is expected to take some time according to political observers in Rome familiar with the inner workings of the Italian government.
Turnout for Sunday's elections was dramatically low – 63.82% by the time polls closed – said Italy's interior ministry, almost 10 points down on 2018. Voting levels were especially poor in southern regions including Sicily.
Meloni's Facebook post made after the results had been announced translates to:
History we made today.
This victory is dedicated to all the militants, managers, supporters and every single person who – in these years – has contributed to the realization of our dream, offering soul and heart spontaneously and selflessly.
To those who, despite the difficulties and the most complex moments, have remained in their place, with conviction and generosity. But, above all, it's dedicated to those who believe and have always believed in us.
We won't betray your trust. We are ready to lift Italy up.
THANK YOU !
Meloni is seen as polarizing figure with some of her political stances and rhetoric on the European Union aligning her close to Hungary's nationalist leader Viktor Orban. However, Professor Gianluca Passarrelli of Rome's Sapienza University told the BBC he thought she would avoid rocking the boat on Europe and focus on other policies: "I think we will see more restrictions on civil rights and policies on LGBT and immigrants."
Meloni has long displayed antagonism and intolerance towards the LGBTQ+ community. She has stated that she perceives sees LGBTQ as menacing and threatening Western civilization.
The BBC noted that earlier this year she outlined her priorities in a raucous speech to Spain's far-right Vox party: "Yes to the natural family, no to the LGBT lobby, yes to sexual identity, no to gender ideology… no to Islamist violence, yes to secure borders, no to mass migration… no to big international finance… no to the bureaucrats of Brussels!"
As LGBTQ+ equity and equality rights are foundational to the European Union and its governing commission, some see Meloni as combatting the EU over LGBTQ+ issues in the same vein as Hungary's Orban.
On other issues Meloni doesn't claim to "oppose" Europe, but rather she outlines a model of integration that may or may not go down well in Brussels euronews reported.
"If we had an EU more like the one we imagine, we would have developed a more effective defence policy, invested in energy security and maintained short value chains to avoid reliance on third – often untrustworthy – countries for gas, raw materials, commodities, chips and other goods," she stated.
Greece urged to combat intolerance, Cypriot Pride parade goes on
Despite the national LGBTQ+ equality plan, LGBTQ+ pupils continue to face "intolerant and discriminatory attitudes and behaviours in school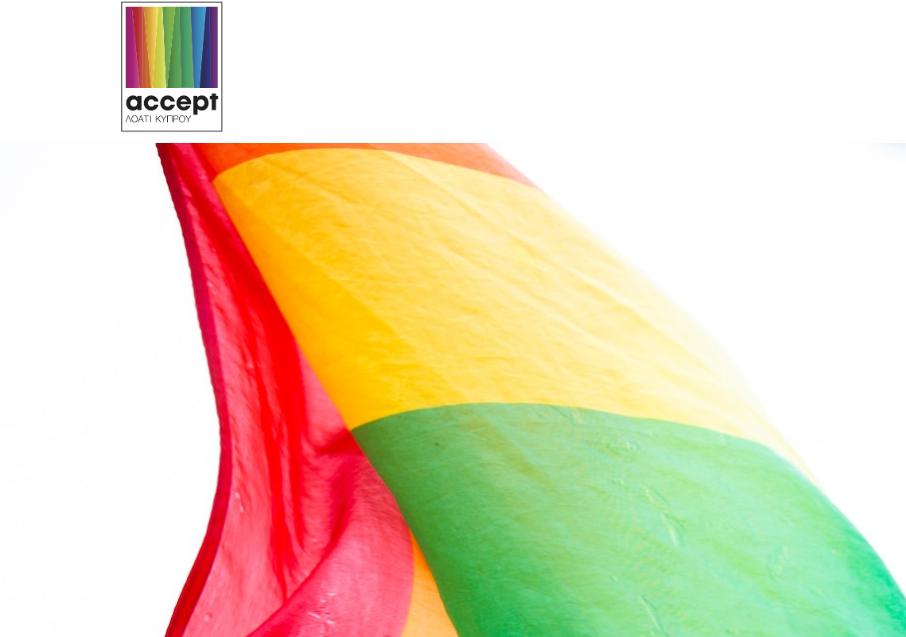 STRASBOURG – The European Commission against Racism and Intolerance (ECRI) released its overview report this week of efforts by the Grecian government of President Katerina Sakellaropoulou, to curb continued discrimination to LGBTQ+ pupils in the nation's schools and address intolerant hate speech in public especially by national media outlets.
The ECRI report congratulated the Greek governmental efforts as outlined in its 2020 National Action Plan against Racism and Intolerance, and acknowledged Greek broadcasters who have adopted use of a technical delay function, whereby the actual emission of "live" broadcasts is slightly delayed, permitting stations to stop hate speech from being broadcast.
However, the ECRI expressed concerns that Greece's equality body – the Greek Ombudsman – still lacks competence to provide legal representation to victims of discrimination or intolerance in court, to pursue strategic litigation or to bring cases before the courts.
The report also noted that despite the national LGBTQ+ equality plan, LGBTQ+ pupils continue to face "intolerant and discriminatory attitudes and behaviours in school, including from teachers."
Another area of concern for the ECRI was that intersex persons, notably children, sometimes face "serious forms" of discrimination and intolerance, including from medical professionals who reportedly often recommend abortion of intersex children to expecting parents, while medically unnecessary surgery on intersex children is also common.
Additional highlights included that ECRI founds that frequent hate speech – at times involving politicians and even state officials – targets migrants, as well as members of LGBTQ+ communities and Roma (Gypsies).
Although the Hellenic Parliament has made improvements, the ECRI report raises concerns over the ability of NGOs in Greece to assist migrants, which was put at risk by a 2020 Ministerial Decision introducing stricter registration and operation rules for NGOs active in the sectors of international protection, migration and relocation, or the social integration of migrants. 
The report's key findings and recommendations included:
· Provide teachers with appropriate training to address LGBTI-phobic intolerance and discrimination in schools.
· Take action to prevent intolerance and discrimination against intersex persons, including by prohibiting medically unnecessary sex-"normalising" surgery on young children and by developing guidelines and training on intersex equality rights for relevant professionals.
· Establish a comprehensive monitoring system for hate speech incidents (including online), accompanied by public awareness campaigns.
· Ensure that Roma are not evicted illegally and without proper notice or opportunity for rehousing in decent accommodation.
· Review the applications of recent registration rules to ensure that all relevant NGOs can provide suitable support services to migrants.
·         Introduce decisive measures to enhance the effectiveness of investigations into police misconduct, be it motivated by racism or LGBTI-phobia, followed by, where warranted, effective sanctions against perpetrators.
Cyprus LGBT+ pride marchers seek equal family rights
This past Saturday, Sept 24, hundreds of activists marched in the streets of the Cypriot capital of Nicosia in a push for equal rights irrespective of sexual orientation, Reuters reported.
"Marriage for all" was the slogan of a parade using the Cypriot vernacular "Gamos Gia Oullous" to emphasize how local mentalities morphed policies. Marriage of same-sex couples is not permitted in Cyprus, while same-sex civil partnerships with a limited set of rights are legal.
Activists say a lack of a family law framework for same-sex couples deprives them from the right to adopt children, or give equal parental rights to a couple in a same-sex civil partnership.
"It's virtually no-where, no discussion (at an official level) has started," Antonis Papageorgiou, vice-president of Accept-LGBTI, the organizers of Sunday's parade told Reuters.
LGBTQ+ activists are pushing the Cypriot government to finalize legal gender change recognition on state documents. Introduced in 2015 the measure approved by the executive has now gone to Parliament where it awaits final approval.
Papageorgiou told Reuters; "We simply cannot wait years for pieces of legislation to pass."
EuroPride 2022 ends with no major incidents or disruptions
Thousands of LGBTQ+ people, advocates, activists and allies marched under rainy skies in the Serbian capital Saturday afternoon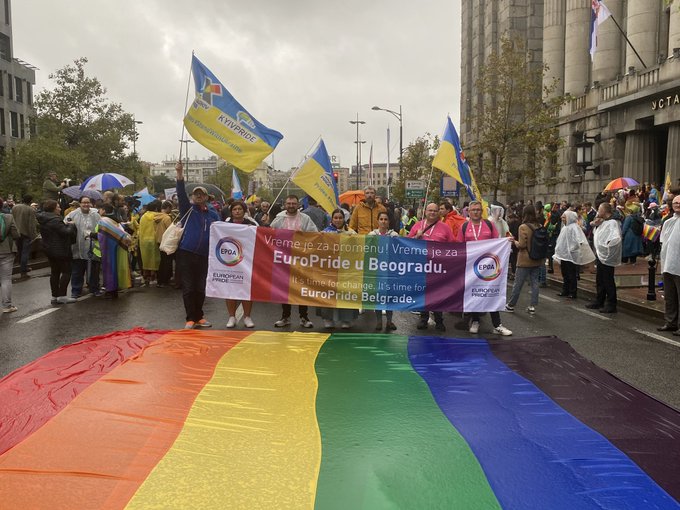 BELGRADE- As thousands of LGBTQ+ people, advocates, activists and allies marched under rainy skies in the Serbian capital Saturday afternoon, there were only minor clashes between anti-LGBTQ+ protestors and Serbian Police, who had been deployed in overwhelming force along the parade route.
According to the Serbian Ministry of Interior nearly 6,000 uniformed police in riot gear and accompanied by plainclothes security personnel cordoned off the march area around the Constitutional Court in Central Belgrade. The Interior Minister Aleksandar Vulin had warned in a statement that "we will not tolerate any violence in Belgrade streets, any more than illegal marches."
NEWS: Belgrade EuroPride "the most important in our history" despite tumultuous weeks leading up to #EuroPride2022. https://t.co/cCZ33PPclu

— EPOA • EuroPride (@EuroPride) September 18, 2022
European media outlets France 24 and Agence Presse France reported that 64 people were arrested as anti-LGBTQ+ demonstrators clashed with police in attempts to disrupt the Pride march. Once group of half a dozen people carrying crosses and religious icons managed to get past police cordons to where the EuroPride parade participants were gathering, treading on the rainbow flag which was on the road, praying and singing. Police managed to remove them in minutes.
Serbian state media outlets reported that anti-pride protesters were also stopped by police in riot gear at the central Slavija square. The large group of protesters wanted to get past the cordon and head towards the parade gathering.
The violence by far-right hooligans against participants @EuroPride was orchestrated by Serbian religious & political leaders.

I am starting investigations against the responsible to submit to the EU Human Rights Sanctions Regime.

Human rights violators are not welcome in 🇪🇺! pic.twitter.com/6EBCkhALcH

— Rémy Bonny 🏳️‍🌈🇪🇺🇺🇦 (@RemyBonny) September 18, 2022
An N1 reporter said that a large group of football hooligans clashed with police near St Sava Temple, throwing firecrackers and torches at the police. The police cordon managed to push them back.
An Orthodox monk hits an N1 News cameraman in the stomach with a bottle during a protest against the LGBT EuroPride rally in Belgrade. pic.twitter.com/CLoAzEuJxo

— Ioan Haboczki (@haboczki) September 17, 2022
"I am here to preserve Serbian traditions, faith and culture which are being destroyed by sodomites," Andrej Bakic, 36, a counter-protester in a group surrounded by riot police told AFP on Saturday.
https://t.co/qveihCLqZC
The pride parade as part of "EuroPride 2022" is taking place today, and the walk of Pride participants started from the Constitutional Court.

— B92.net in English (@b92english) September 17, 2022
During a routine Saturday press conference at the end of last month Serbian President Aleksandar Vucic announced that the international EuroPride event scheduled to be held in the Serbian capital city from September 12-18 was cancelled.
The Serbian leader told reporters that his government had come under intense pressure from far right-wing groups and the leadership of the Serbian Orthodox Church to cancel the event. Vucic acknowledged that LGBTQ+ rights and people in the Balkan nation were under siege and threatened. However he deflected on the issue, "It is not a question of whether [those pressures] are stronger," he said. "It's just that at some point you can't achieve everything, and that's it."
Reaction to the Serbian leader's remarks was swift with the European Pride Organizers Association that licenses EuroPride writing in a statement that any ban would be in violation of articles of the European Convention of Human Rights in regards to human rights and protections for sexual minorities.
The government of Serbian President Aleksandar Vucic reversed its late August decision to ban the international EuroPride parade event this past Thursday, Serbian state media reported.
Same-sex marriage is not legally recognised in Serbia, where homophobia remains deep-seated despite some progress over the years in reducing discrimination.
More than 20 embassies — including the US, France and Britain — had issued a joint statement urging the authorities to lift the ban.
There has been violence at previous Pride events being held in the Serbian Capital city, most notably on October 10, 2010 when anti-LGBTQ+ and ultra nationalist anti-government protesters fought with about 5,000 armed Serbian police resulting in 78 police officers and 17 civilians that were injured some seriously and over 100 arrests and detentions.
The violence also severely damaged the car-park building of the ruling pro-European Democratic Party in an act of arson, the state TV building and the headquarters of other political parties were also damaged.
The rioting came as Serbia was seeking admittance as a European Union member state.
A spokesperson for the ILGA-Europe said that since 2014 Pride events were held in Belgrade under mostly peaceful conditions, but there is extreme pushback from the ultra-nationalist groups and especially those groups aligned with the Orthodox Church.
Media outlet euronews reported that a group of about 10 Albanian LGBTQ+ activists, who had attended the EuroPride parade were attacked by Serbian extremists, but the attack occurred roughly a couple of hours after the parade had ended as the Albanians were apparently headed into their hotel.
A local journalist, Isa Myzyraj , said that 2 of the group ended up in hospital. He added that the group was not identifying themselves as parade participants with clothing signs etc. and that even though the Serbian police were literally not but a few meters away they didn't intervene.
The attackers were thought to be far right nationalists who were still in the area after the parade ended. Myzyraj said that he was not sure if the Albanian group was attacked specifically because of being LGBTQ+ or if their nationality played a role.