Pronoun use sparks battle- LGBTQ publisher attacks policy on Facebook
"After outing him as publisher of The Pride LA, he deleted his comment from the thread in the Facebook Group and blocked me on Facebook"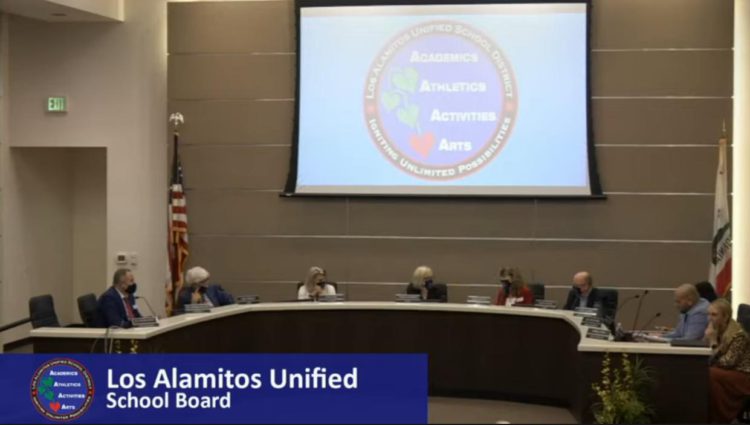 LOS ALAMITOS – Tensions are running high in the Los Alamitos Unified School District after parents learned that a teacher at Oak Middle School at the start of the school year asked his students to let him know what their preferred pronouns are during classes.
Current and former students told Spectrum News Orange County Bureau that it was the teacher's way of creating an inclusive and welcoming classroom experience.
"He wanted his students to know that they are in a safe space," said a student who did not want to be named.
This past week's school board meeting was conscientious as numerous people spoke out passionately about their viewpoints, with those vehemently opposed saying that the blame is directly on the school board for fostering what they claim is a growing leftist woke agenda.
A parent who said she pulled her children out of the schools told Spectrum News she will run for the school board in part because; "The CRT (critical race theory), everything has gone so woke and so left that I can't take it anymore." She then added, "I am concerned about what they are teaching, about what's being dripped in the classroom with the racism, the CRT, the sexual stuff, everything. There's so many things. Even a tiny comment could twist a kid's brain."
Numerous students took to the podium to defend the teacher's actions telling school board members that affirming support for LGBTQ+ students was critical.
One of the parents who is organizing a recall petition for the school board implied that the teacher was acting in a deviant manner. "[The teacher] had been asking students to share their gender identification and gender preference and not be scared to do that, but you could see it as a certain way of communicating with children," Robert Aguilar said to Spectrum News outside the school board meeting. "However, there are parents that believe that is not the place for a science teacher. There was some concern, 'Why would an adult man be asking minor children under the age of 14 about their sexuality?'"
The battle over the pronouns took to social media in a Facebook group as well. In an email and a phone call with the Blade Thursday, Los Alamitos resident Larry Tenney explained:
"Rossmoor is a subdivision in Los Alamitos, CA. Local schools fall under the jurisdiction of the Los Alamitos Board of Education. Like many communities around the country this past year or two, Los Alamitos has seen a rise in activists on the right attacking its board of education. At the core are issues re: LGBTQ students & education and Critical Race Theory," Tenney wrote. "There are rumblings about recalling the members of the Board of Education who local homophobic MAGAs call liberals & marxists. For the most part, the school district is simply following the laws and guidelines of the State of California."
Neighbors in Rossmoor have created and maintain a Group board on Facebook.
Tenney explained;' "As an Orange County local with family living in the Rossmoor subdivision, I'm a member of the Facebook Group. Today I noticed one of the group's moderators had posted this article, [Spectrum News] After reading the article, I scanned the comments on Facebook. I found one comment in particular to be both ignorant and offensive. The comment was left by Mr TJ Montemer in regards to a questionnaire a middle school teacher had asked his students to fill out at the beginning of the year noting their preferred name/nickname and pronouns. By his post, Montemer seemed disgusted, outraged even, with the idea."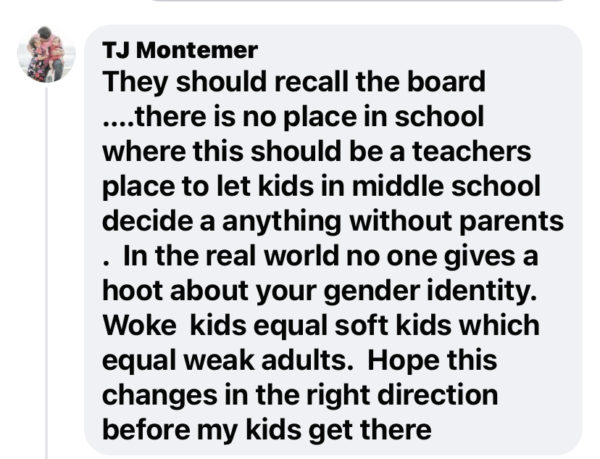 "I wasn't familiar with Mr Montemer so I did some Googling and discovered based on his digital footprint that he was the owner of Mirror Media Group which publishes a handful of local tabloids in the West LA/Santa Monica area and an LGBTQ tabloid called The Pride LA. The later shocked me given Mr Montemer's ignorant comment on Facebook," Tenney told the Blade.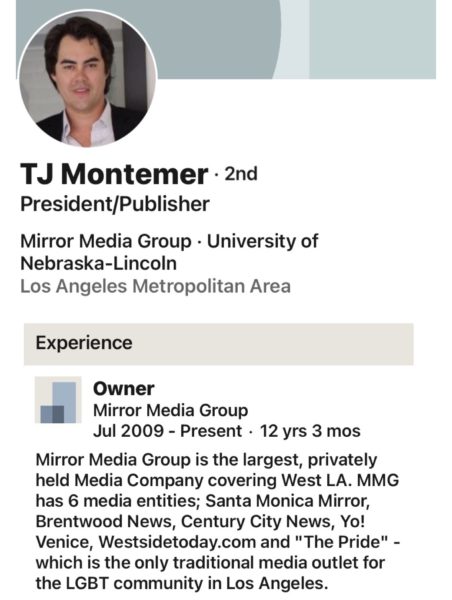 "Realizing this, I went back to the Facebook Group and decided to leave a reply to Montemer expressing my disgust that the publisher of The Pride LA would be posting such ignorant homophobic things. I also informed him that California law requires 7th grade students receive 10-13 hours of sex education and that includes LGBTQ awareness and understanding," Tenney explained.
Various other members of the group had replied to Montemer too Tenney said adding that he had tweeted about the comments.
"After outing Montemer in the Facebook Group as publisher of The Pride LA, he deleted his comment from the thread in the Facebook Group and blocked me on Facebook but not before I had screenshot his original comment. I don't know, maybe he didn't want his right-wing Orange County friends to know he was publisher of The Pride LA?" Tenney said.
Attempts to reach Montemer or any staff of The Pride LA by the Los Angeles Blade were unsuccessful.
Absolutely disgusting that the publisher of @thepridela , a newspaper servicing the LGBTQ+ community in Los Angeles, would publicly condemn a teacher for asking students their preferred pronouns. https://t.co/9CTkvFx2f0

— InMinivanHell (@inminivanhell) October 1, 2021
The battle over the use of pronouns in the Los Alamitos Unified School District is reflective of controversies in thousands of school districts across the United States over the past 14 months, driven in part by severe disagreements over requirements for face masks and vaccinations to battles over the rights of Transgender students.
The Los Alamitos school board is not alone. Across the country, conservative parents and right wing political groups have organized and protested local school boards over the same issues.
The atmosphere has become so alarmingly toxic that The National School Boards Association sent a letter to President Joe Biden this week begging for Federal protection. The group was founded in 1940 and represents over 90,000 school boards nationwide.
We sent a letter to President Biden this morning asking for federal assistance to stop threats and acts of violence against public schoolchildren, public school board members, and other public school district officials and educators: https://t.co/q6bHM0aawQ

— National School Boards Association | NSBA (@NSBAPublicEd) September 30, 2021
The letter read in part; "Coupled with attacks against school board members and educators for approving policies for masks to protect the health and safety of students and school employees, many public school officials are also facing physical threats because of propaganda purporting the false inclusion of critical race theory within classroom instruction and curricula.
This propaganda continues despite the fact that critical race theory is not taught in public schools and remains a complex law school and graduate school subject well beyond the scope of a K-12 class."
According to the Associated Press, there are more than 30 school board recall efforts nationwide. School boards have become political war zones in the battle for control over children's minds and beliefs.
Los Alamitos USD Board Meeting Tuesday, September 28, 2021:
Accused killer of gay U of Penn student found competent for trial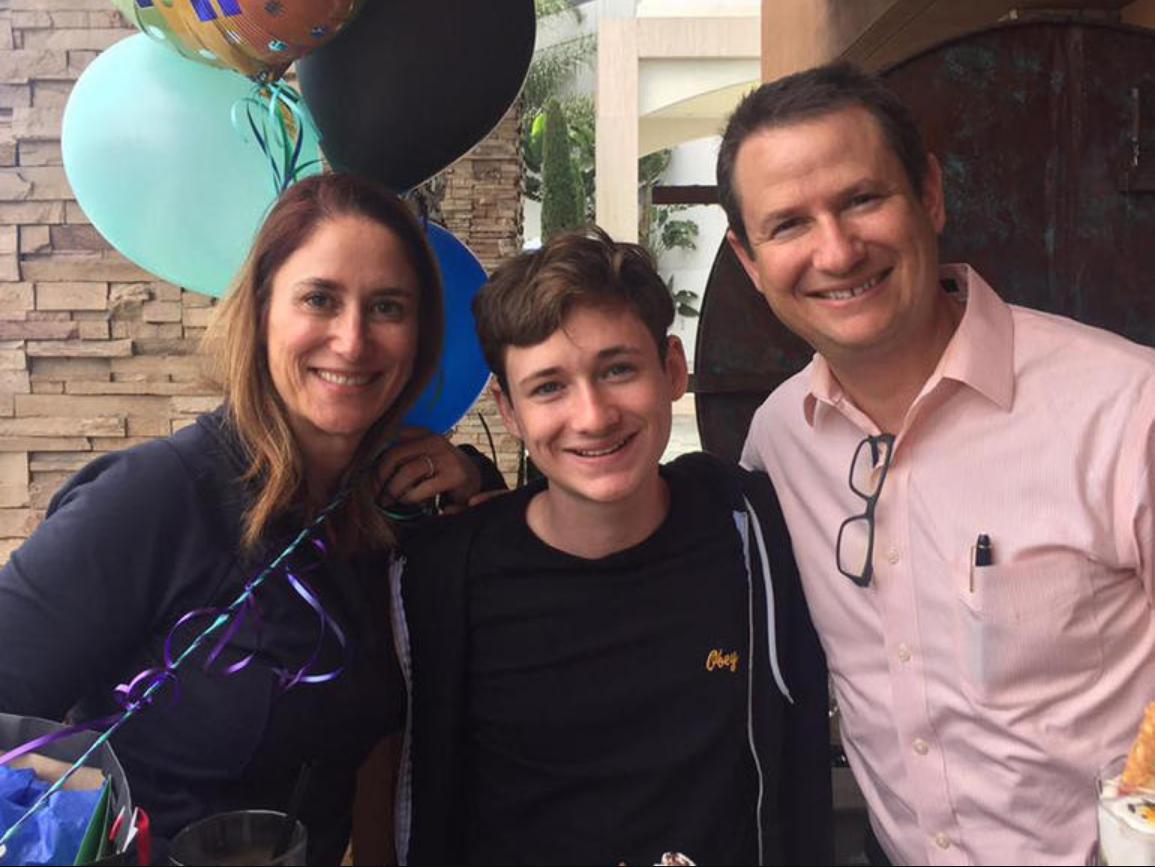 SANTA ANA – The accused killer of Blaze Bernstein, 19, a gay Jewish University of Pennsylvania student brutally stabbed to death four years ago has been found competent to stand trial Assistant Orange County Public Defender Ken Morrison told a Superior Court judge on Friday morning.
Samuel Lincoln Woodward of Newport Beach, who was 21 at the time of the murder, had the criminal court proceedings first procedurally delayed and then again after his previous defense lawyer raised the issue over his mental competency.
On Nov. 9, 2018, Woodward had entered a plea of not guilty to murder  in Orange County Superior Court. Judge Kimberly Menninger denied bail, saying she thought Woodward posed a danger to the community after seeing troves of evidence linking Woodward to anti-gay, anti-Semitic messages and propaganda from the neo-Nazi group Atomwaffen Division, which apparently reveled in Bernstein's brutal murder.
"I love this," one member wrote of the killing, according to copies of the online chats obtained by ProPublica, which exposed Woodward's involvement with Atomwaffen on Jan. 26. "Sam did something stupid," wrote one member. "Not that the faggot kike didn't deserve to die. Just simply not worth a life in prison for."
Many of Bernstein and Woodward's classmates from their former Orange County high school thought it was odd that the two were together because, Bernstein's best friend Raiah Rofsky told CBS News "48 Hours," Woodward "was literally known as being a crazy, homophobic, racist guy."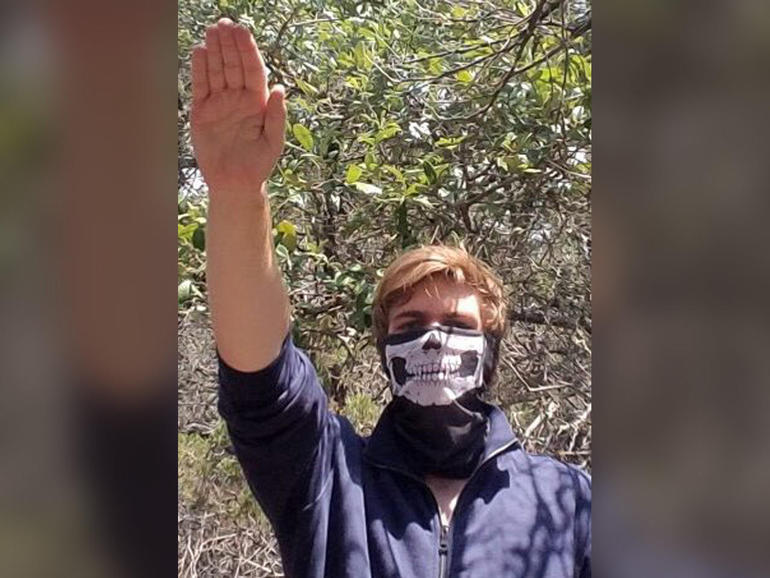 The Orange County Register reported Friday two mental health experts who evaluated Woodward — one chosen by the defense, the other by the prosecution — determined that Woodward is competent to stand trial. 
The Register noted that the reports from the mental health experts who evaluated Woodward were filed under seal, and their contents were not discussed during the brief hearing on Friday morning. For a defendant to be considered competent to stand trial, they must be capable of understanding the proceedings and able to assist with their own defense.
A previous defense attorney in mid-July raised unspecified concerns about Woodward's mental competency. The competency decision was delayed in early-September after Woodward refused to meet with one of the experts assigned to evaluate him. It isn't clear whether such a meeting ultimately took place before the experts submitted their reports to the court.
Bernstein, 19, a brilliant gay Jewish University of Pennsylvania student was home for the holidays and disappeared January 2, 2018. His body, with 20 stab wounds to the face and neck, was discovered in a shallow Borrego Park grave a week later. DNA evidence led authorities to Woodward, Bernstein's Orange County high school classmate, who was arrested on Jan. 12. Bernstein's blood found was in Woodward's car.
When Orange County investigators first went to meet with him, Woodward was apparently cooperative, telling them and Blaze's parents "that he and Blaze went to Borrego Park to hang out." According to Woodward, after awhile Blaze walked down a path alone and disappeared into the brush. Later OC investigators say that Woodward claimed Bernstein tried to kiss him while they both sat in a car at Borrego Park and then he told investigators that he pushed Bernstein away.
Prosecutors allege that Woodward actually stabbed Bernstein to death and buried him in the dirt at the edge of of the park, where the body was discovered six days later.
A pretrial hearing was set for Jan. 27 , 2023 and a date for the jury trial has not yet been scheduled.
After their son's murder, Gideon and Jeanne Pepper Bernstein established a scholarship fund for foster care and at risk kids at Blaze's former Orange County high school.
Additional Los Angeles Blade archival reporting from Karen Ocamb