"The absolute worst campuses for LGBTQ youth" in the nation
Most exhaustive update to 'The Worst List' since 2016 adds 50 new campuses for total of 180 unsafe campuses for LGBTQ youth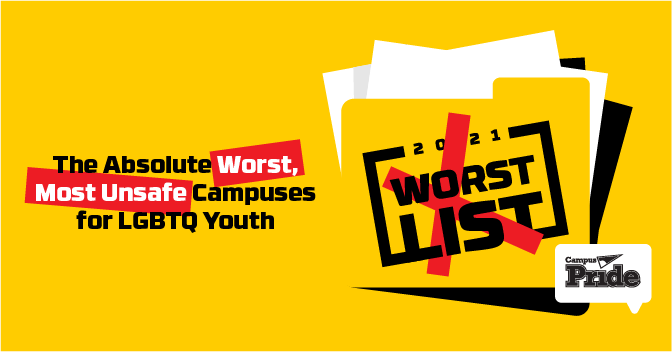 CHARLOTTE – Campus Pride officially released its 2021 Worst List, naming 180 campuses across the country as "the absolute worst, most unsafe campuses for LGBTQ youth."
The colleges and universities included in this year's list have either received or applied for a Title IX religious exemption to openly discriminate against LGBTQ youth, or they have a demonstrated history of anti-LGBTQ policies, programs and practices. 
In March of 2021, 33 LGBTQ students and alumni from 29 campuses filed a class action lawsuit against the U.S. Department of Education demanding that they stop granting religious exemptions to tax-payer funded religious colleges and universities that discriminate against and abuse their LGBTQ students.
In 2019, 41 campuses filed an amicus brief in Bostock v. Clayton County voicing their support for employment discrimination at religious institutions for LGBTQ employees. Ultimately, the U.S. Supreme Court ruled in the landmark case last year determining that discrimination against gay and transgender workers is unlawful and violates the Civil Rights Act of 1964.
"Campus Pride was founded 20 years ago with a vision of campuses and a society free of anti-LGBTQ prejudice, bigotry, and hate," said Shane Windmeyer, Founder and Executive Director of Campus Pride. "And while much progress has been made since then, clearly there remains a lot more work to do as we develop and train future leaders to create safer, more inclusive communities on campuses.
"This is the most exhaustive update to our annual 'Worst List' since 2016, with more than 50 new campuses added this year in part because of the lack of updates in filing procedures since the Trump Administration's Department of Education told campuses they did not have to apply for Title IX religious exemptions to openly discriminate against LGBTQ people. The Biden Administration has yet to clarify this DOE memo or mandate that a campus must apply for Title IX to discriminate based on religious beliefs."
Shameful mentions from this year's Worst List, includes Baylor University for its past and recent history of anti-LGBTQ discrimination and because it is one of the campuses named in the class action lawsuit, Hunter v. the U.S. Department of Education, for abuses to LGBTQ+ students.
Brigham Young University is included on the Worst List because former President of the University, Elder Jeffrey Holland denounced LGBTQ+ students, including Matt Easton's heroic act of coming out in his commencement speech as valedictorian of BYU's political science program, and for suggesting that BYU professors needed to use their "musket fire" agaiinst LGBTQ ideology rather than directing "friendly fire" against the church.
Malone University qualified for the Worst List after an associate professor was forced to resign after telling the administration that she would be getting married to a woman. In an email sent to the student body, the university shares how the professor was in violation of Malone's religious beliefs and their Community Agreement for Sexual Conduct, which states "sex should be exclusively reserved for the marriage relationship, understood as a legal, lifelong commitment between a husband and wife."
College of the Ozarks filed a lawsuit against the U.S. Department of Housing and Urban Development, arguing that the Fair Housing Act, which prohibits discrimination on the basis of sexual orientation and gender identity, "requires private religious colleges to open up female showers, restrooms, and dorm rooms to biological males who assert a female gender identity." College of the Ozarks is shamefully mentioned as one of the worst, most dangerous colleges for LGBTQ youth.
Lee University is also shamefully mentioned in this year's Worst List because of a past and recent record of anti-LGBTQ discrimination and because they specifically argued as a part of a 2019 amicus brief in Bostock v. Clayton County to allow employment discrimination against gay and transgender employees of religiious institutions. In September of this year, Lee University removed "gender identity" from the campus anti-discrimination policy.
For the full list of the 180 worst, most unsafe campuses for LGBTQ youth in the country, please visit www.campuspride.org/worstlist and find more details about how these campuses intentionally create an unsafe campus environment by openly discriminating against LGBTQ people.
Prospective students and families who are looking for LGBTQ-friendly campuses are encouraged to visit the Campus Pride Index at www.campusprideindex.com.
If you or someone you know is experiencing discrimination, bias or involved in a hate crime, please Report It at this online form.
Latino Equality Alliance 2021 LGBTQ Youth College Scholarship Awards
This year's awards were made possible by the fundraising efforts and donations by the Latinx LGBTQ community in Los Angeles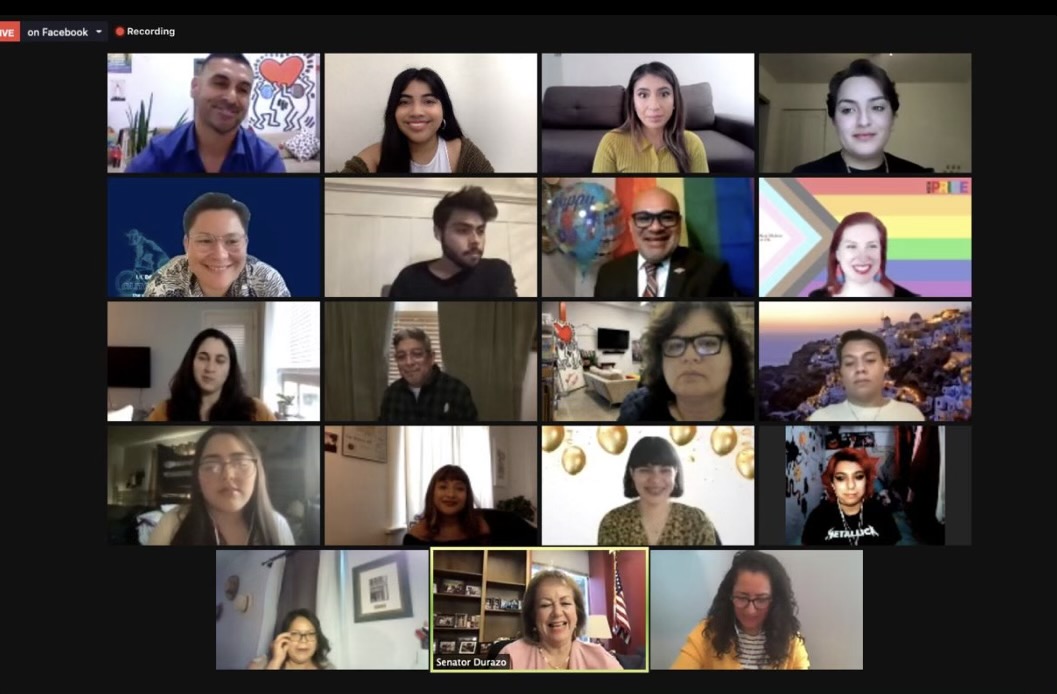 LOS ANGELES – Through a virtual awards ceremony, the Latino Equality Alliance (LEA) recently announced the recipients of the 2021 LGBTQ Youth College Scholarship Awards. This year, 13 LGBTQ-identified students were awarded scholarships ranging from $1,000 to $5,000.
In total, $33,000 was awarded through the scholarship fund and in partnership with Southern California Gas Company and Keck Medicine of USC.
The virtual ceremony was attended by scholarship recipients and their family members along with scholarship committee members, staff, and board members of the Latino Equality Alliance. During the presentation, California State Senator Maria Elena Durazo of the 24th District gave special remarks to the scholars in attendance. "I applaud the Latino Equality Alliance for supporting and uplifting LGBTQ+ youth. Through these scholarships, our youth will thrive. They will lead our Movement for Justice. They are our future teachers, scientists, firefighters, and Senators!," stated Senator Durazo.
This year's scholarship awards recipients are Jazmin Hernandez Perez (UC Berkeley), Brandon Ramirez (Santa Monica College), Evelyn Avalos (UCLA), Kevin Palomo (CalPoly Pomona), Mel Avina-Beltran (UC Davis), Fatima Mendoza Choto (UC Irvine),Alejandra Chavez (UCLA), Katherin Velazquez (UC Berkeley), Asher Madariaga Rivera(LA Trade Tech), Alejandra Aguilar (Pierce College), Luka/Isa Gidwani (UCLA), GeorgeDel Real (UC Berkeley) and Blake Trejo (UC Berkeley).

The Latino Equality Alliance scholarship fund was established in 2018 to support the
higher education pathway for queer students of color. LEA's work is rooted in organizing and developing young leaders in low-income and communities of color to empower them and their families to fight for the resources and policies that will promote a healthy school climate and their academic success.
A scholarship fund was needed to ensure low-income students have the needed resources to purchase essential school supplies, meals and pay rent.
"Achieving equity among the Latinx LGBTQ community is a key part of LEA's mission.
Our youth scholarship program helps advance equity in higher education by providing
low-income LGBTQ students access to funds that will lessen the burden of financing
their studies compared to higher-income students," stated Edith Moreno, an LEA board
member and chair of this year's scholarship committee.
This year's awards were made possible by the fundraising efforts and donations by
supporters and community leaders in the Latinx LGBTQ community.
Javier Angulo, a longtime supporter of LEA states, "I am proud to support LEA and its
scholarship fund to provide opportunities to Latinx LGBTQ youth to achieve their
academic dreams, and I challenge others who have been rewarded with success to
donate what they can to support the growth of this fund."
Angulo along with LEA supporter Alberto Mendoza helped raise $15,000 for this year's
awards. "Supporting our LGBTQ youth is essential, a lot of us couldn't be when we were
in school or felt isolated and alone. I'm glad things have gotten better overall, and I am
proud to be in a position where we can provide this financial support to these amazing
scholarship winners," said Mendoza.
Keck Medicine of USC has been a strong supporter of the scholarship program for the
past three years. "Keck Medicine of USC has been a proud sponsor of Latino Equality
Alliance since 2017," said Lindsey Lawrence, scholarship committee member and chair
of Keck Pride, the health system's LGBTQ+ committee. "We are honored to recognize
two students pursuing health care careers with the second annual Keck Medicine of
USC scholarship award."
The mission of Latino Equality Alliance (LEA) is to advocate for equity, safety, and
wellness for the Latinx Lesbian, Gay, Bisexual, Transgender, Queer + community.
LEA is located at Mi Centro LGBTQ Community Center in Boyle Heights.
For more information on the services and programs of Latino Equality Alliance and/or to donate:
Please visit www.latinoequalityalliance.org.